Do you have a little one on the way? Stumped on what colors to use in your baby's nursery? Check out these nursery color ideas for inspiration!
Decorating a nursery for your new baby is an exciting task. One of the key issues to consider before you start is choosing a color for your baby's room.
Besides aesthetics, colors do have different effects on mood, with some colors creating a calm mood and others stimulating. If you're unsure of which color to use for your baby's nursery, here are some ideas for the best nursery colors.
Table of Contents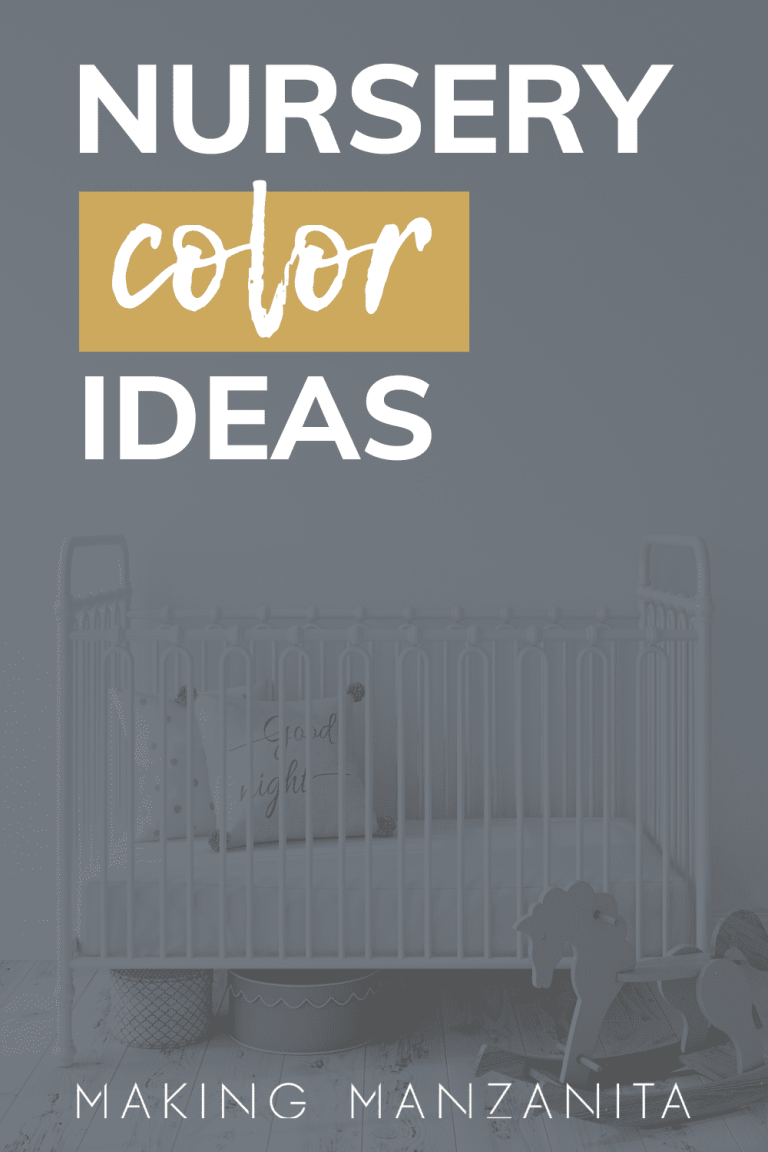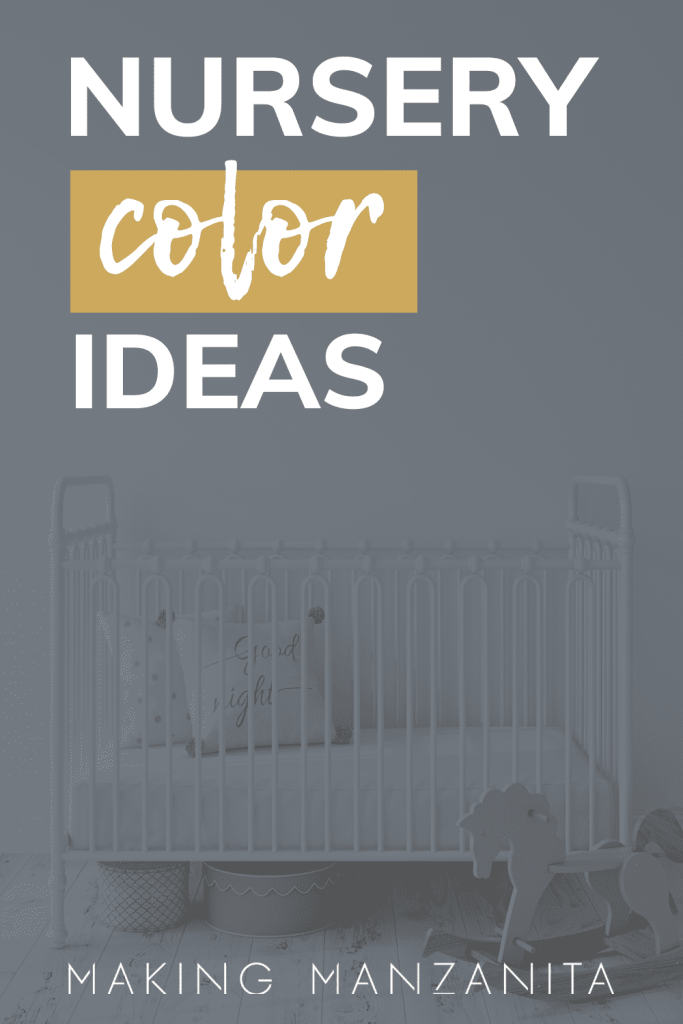 Choosing The Right Color Palette For A Baby's Nursery Can Prevent Overstimulation In Infants
The color of nurseries can determine how the room looks and feels. Cool colors, such as blue and green, work well for boys' rooms. Pinks and purples are commonly used for girls' rooms.
Warm colors, like red, orange and yellow, work great for large nurseries. Some bold colors stimulate the visual development of babies and should not be overused.
Neutral colors, such as a cream base color, beige, gray, and brown, work well to tone down overstimulating colors in the room.
Color Psychology 101
The psychology of color is real and scientific, friends! It has been proven that certain colors make humans (even babies) feel certain emotions. So this shouldn't be overlooked when you're selecting the paint color for your little one's nursery.
There is SO much that goes into the science of color psychology, but here's a quick 101.
Red – love, passion, energy, signifies danger, increases respiration rate and blood pressure
Green – nature, health, freshness, productivity, gentle and relaxing, beneficial to the mind and body, tranquility and calm (do you understand why we chose this green paint color for our bedroom?)
Blue – calm, serenity, lowers heart rate, sincere, peaceful, authentic
Brown – serious, stability, wisdom, safe, reserved, mature
Orange – rejuvenation, positivism, joy, happiness, success, determination
Yellow – fresh and creative, enhances mental activity and energy levels, morning time, attention-getter, fun fact: babies cry more in yellow rooms (what?)
Pink – gentle, tenderness, calming, hope, innocence
Purple – luxury and power, relaxation and stability, extravagance, creativity, magic
White – purity, new beginnings, serenity, freedom, invites reflection, comfort, cleanliness
Black – elegant, mysterious, power, strength and authority, formal and elegant (but can also be associated with negative connotations like grief and evil). When used in interiors, however, black can be cozy and modern.
What are the best colors for a nursery?
After learning more about the psychology of color, it should come as no surprise that most of the nursery color ideas featured here are white, cream, greens, blues, and pink because those are colors that are calming and relaxing.
However, black may not be for you! I think that black feels cozy and modern but some find it too depressing to be used as a wall paint color. If you're on the fence – maybe consider adding a feature wall of black shiplap to try it out.
What are the worst paint colors for a bedroom?
Because most of us are wanting to create a relaxing nursery for our little one, I would recommend staying away from red and yellow. However, if you love these colors I'll show you some ways to incorporate them in subtle ways so they don't overwhelm the nursery.
Nursery Color Ideas
True Blue Is One Of The Best Colors
Create a calming effect in a nursery by painting the walls a soft or pale shade of blue.
You can blue paint on wall four walls, like in this room.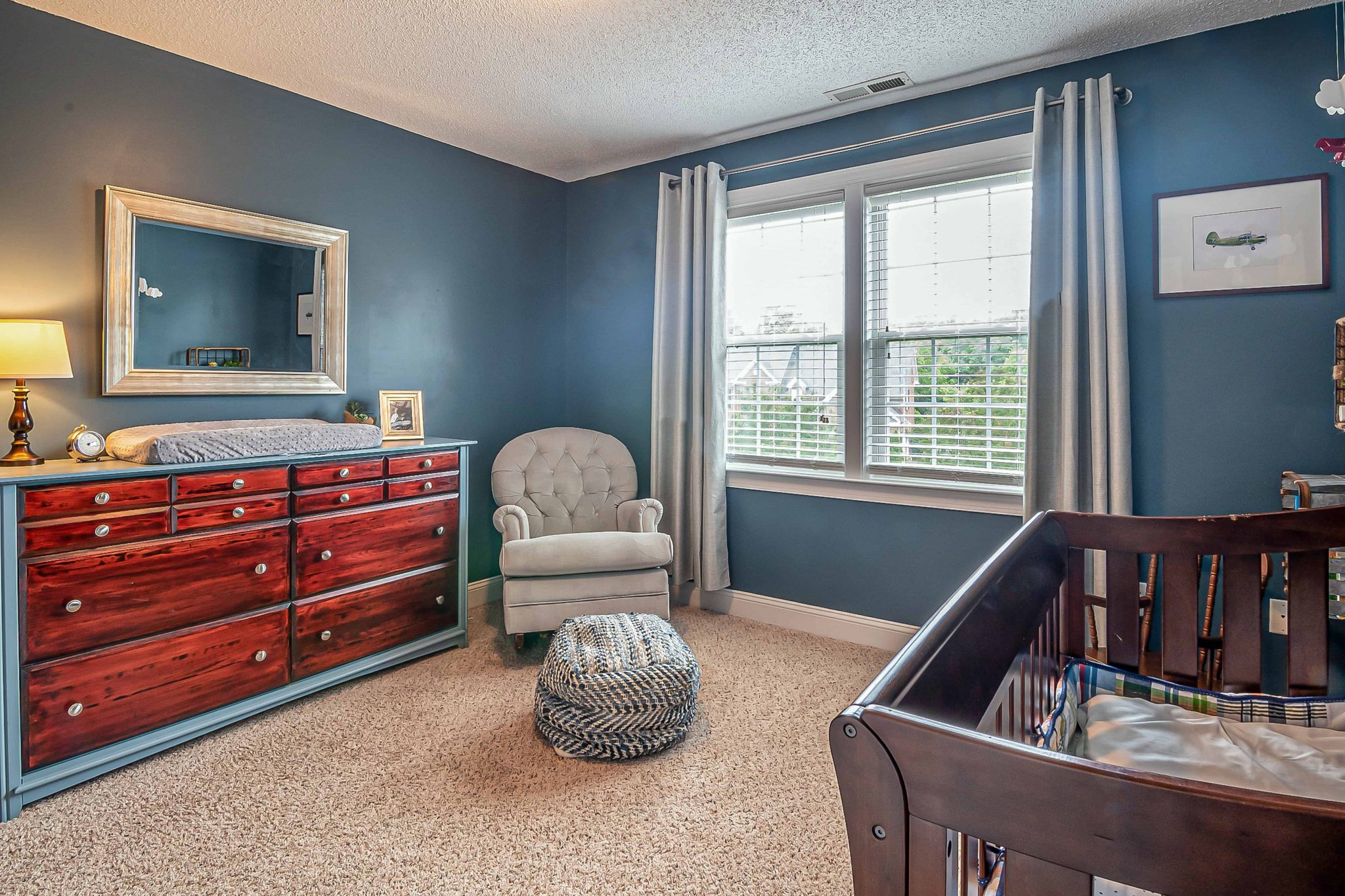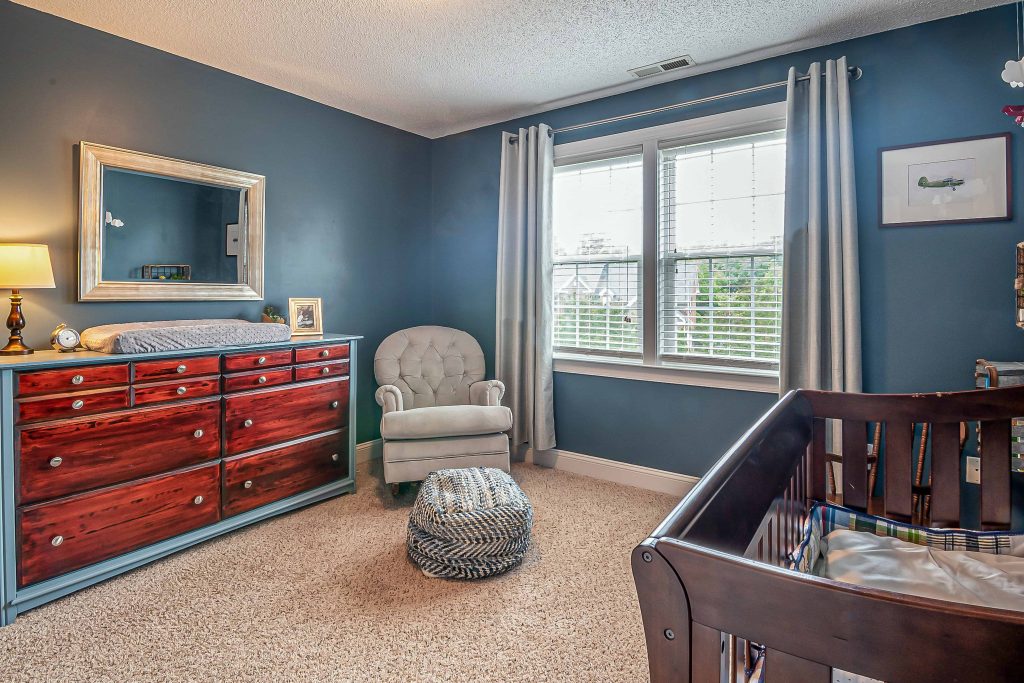 Dark blue can feel calming and leave babies very tired, but used as an accent this shade can have a striking effect.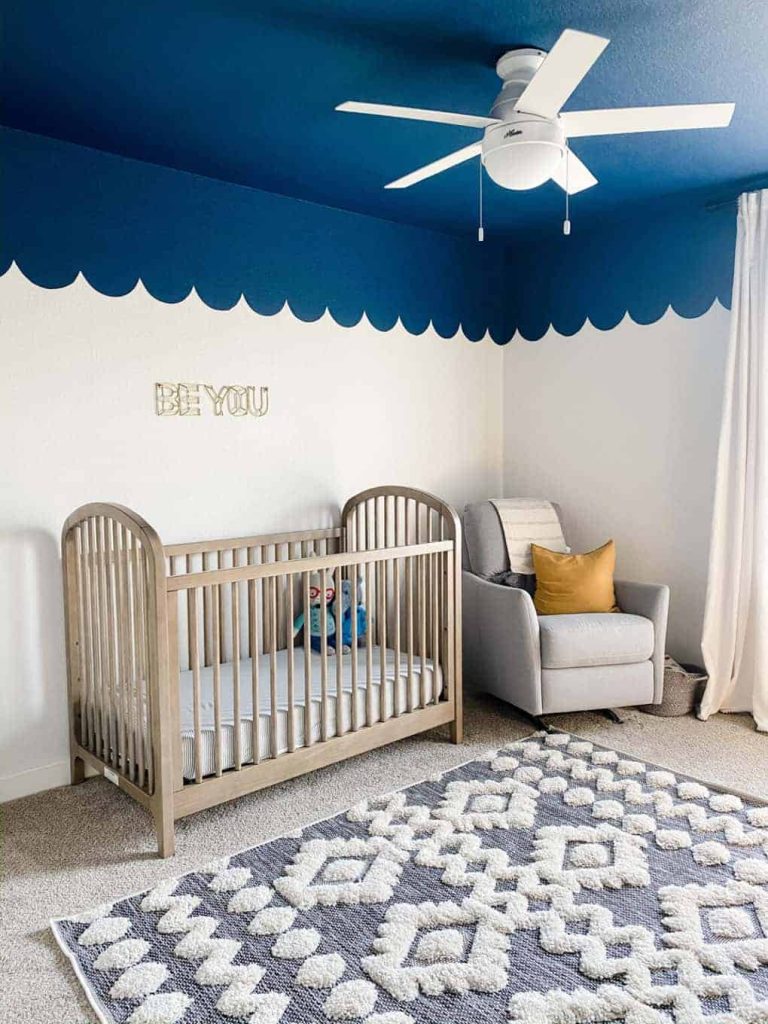 I love this adorable nursery from Love & Renovations with a blue-painted ceiling with a scallop design. She also incorporates gray, cream, and yellow into the color scheme in the room.
Check out the full room reveal to see a mustard yellow dresser that is the perfect combination for the blue-painted ceiling!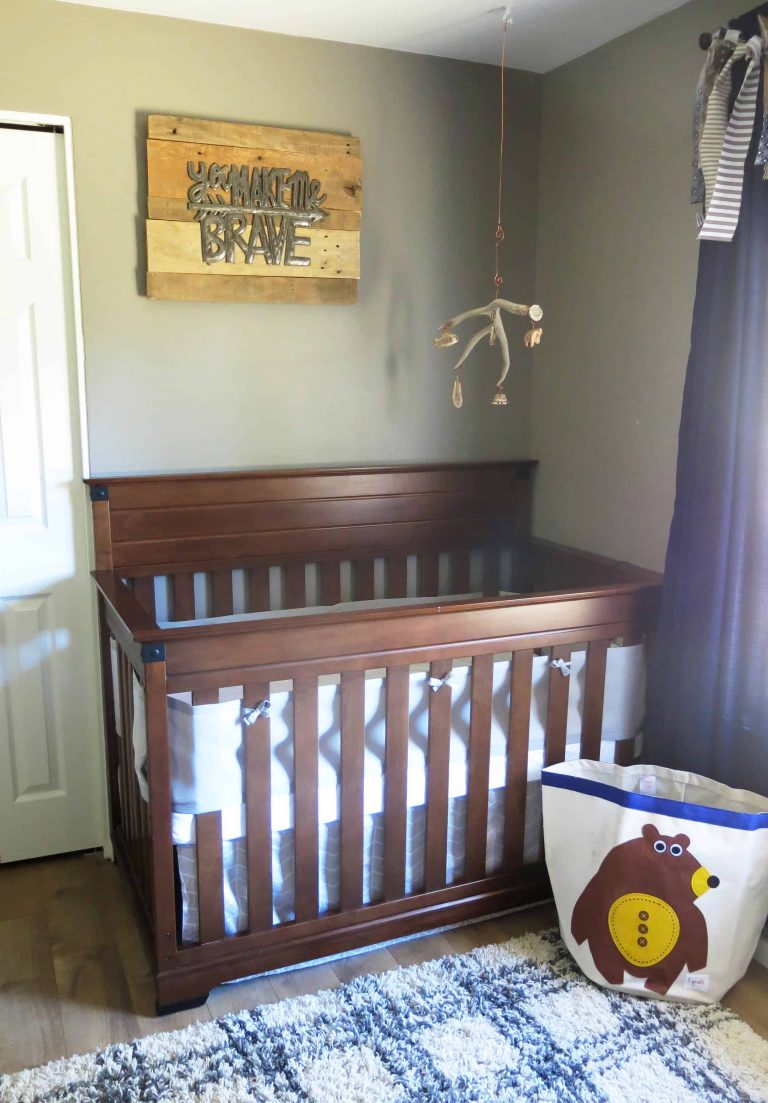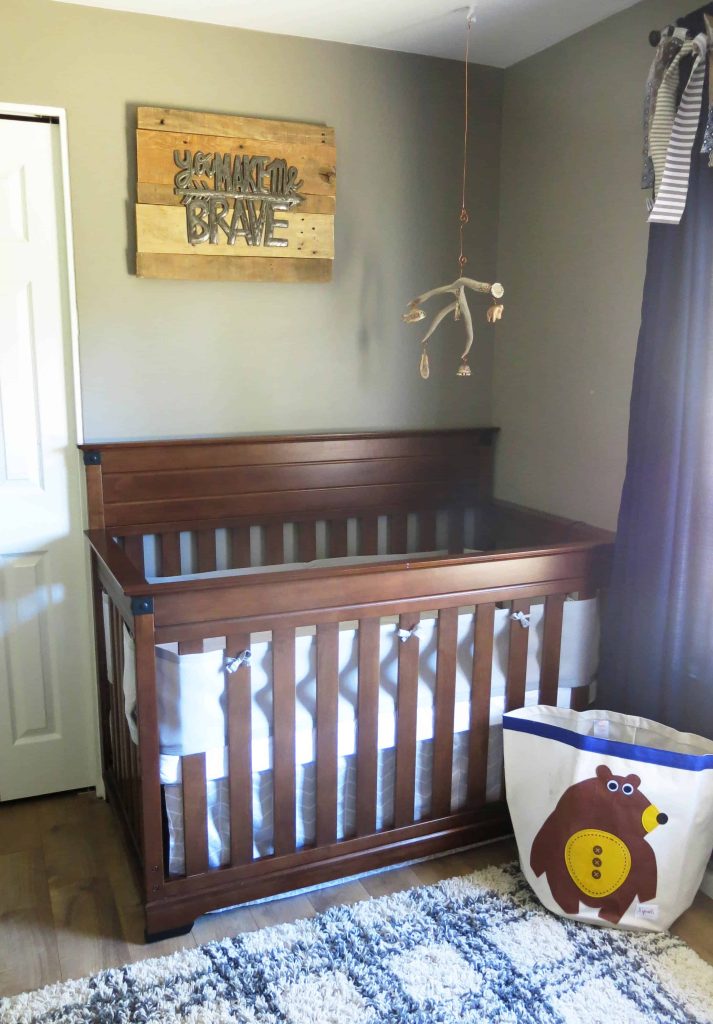 You don't necessarily have to paint the walls blue in your nursery to incorporate this color into your color scheme. We designed this woodland-themed nursery for our baby boy.
The walls were painted with Behr Fashion Gray and we added blue with curtains and other decorations.
Blue for Girl Nursery?
Renowned for helping to create a feeling of relaxation, pale blue doesn't have to be just a color that is used for boy's nurseries.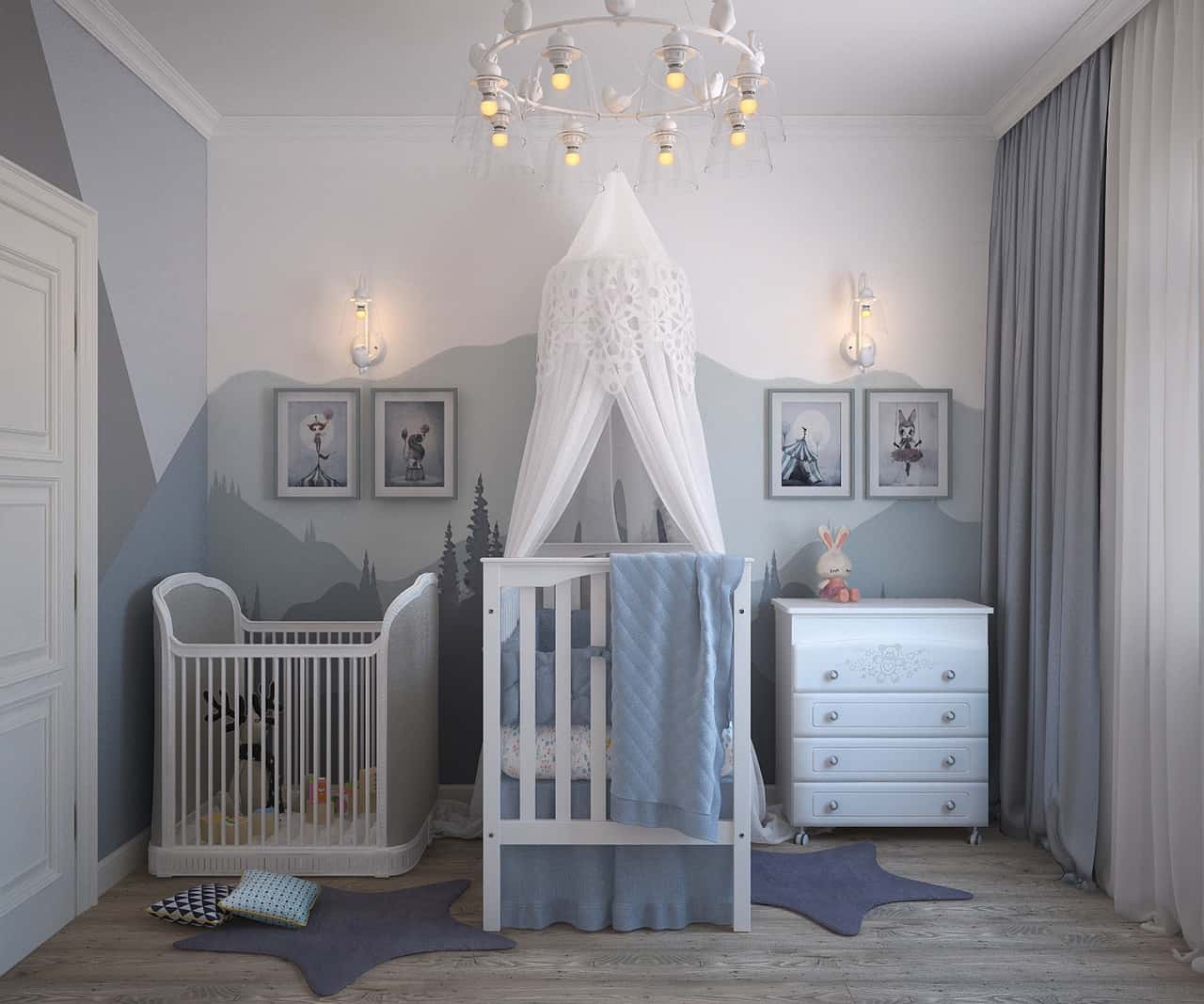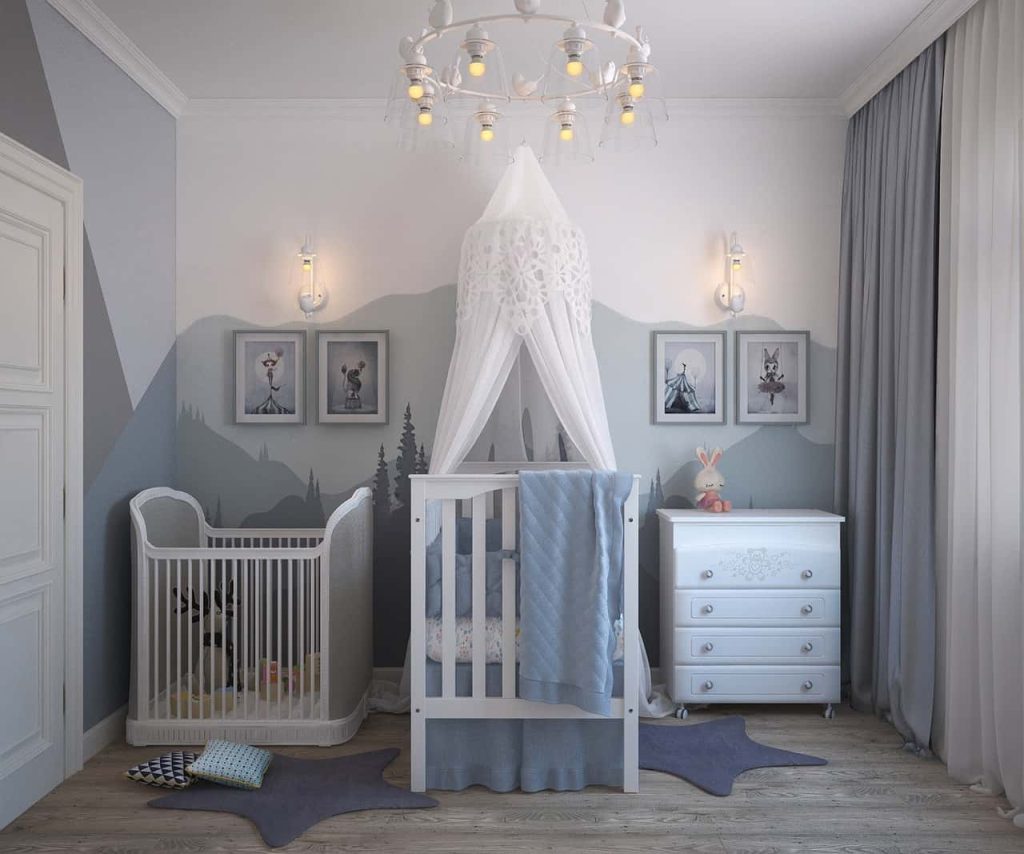 Team blue painted walls with pale green or pink curtains and bedding to make the color blue work for a girl's nursery design. Finish the design by adding florals, pink elephants, or rabbits around the room, or on one accent wall for a special feature.
Deep blue is a soothing color that can help promote sleep in babies. Soft blues can be used for either boys or girls, using pastel blue with pink, green, or yellow for a feminine touch.
Fresh Green For Your Nursery Paint Colors
Pick a shade of green, as it works effectively in nursery decor for boys and girls. Paint the walls in pale or deep green paint or even choose a green wallpaper.
Pair with green and white gingham curtains, a pale green carpet, and white-painted furniture for a fresh look. Add a matching mobile for your baby to watch as he goes to sleep.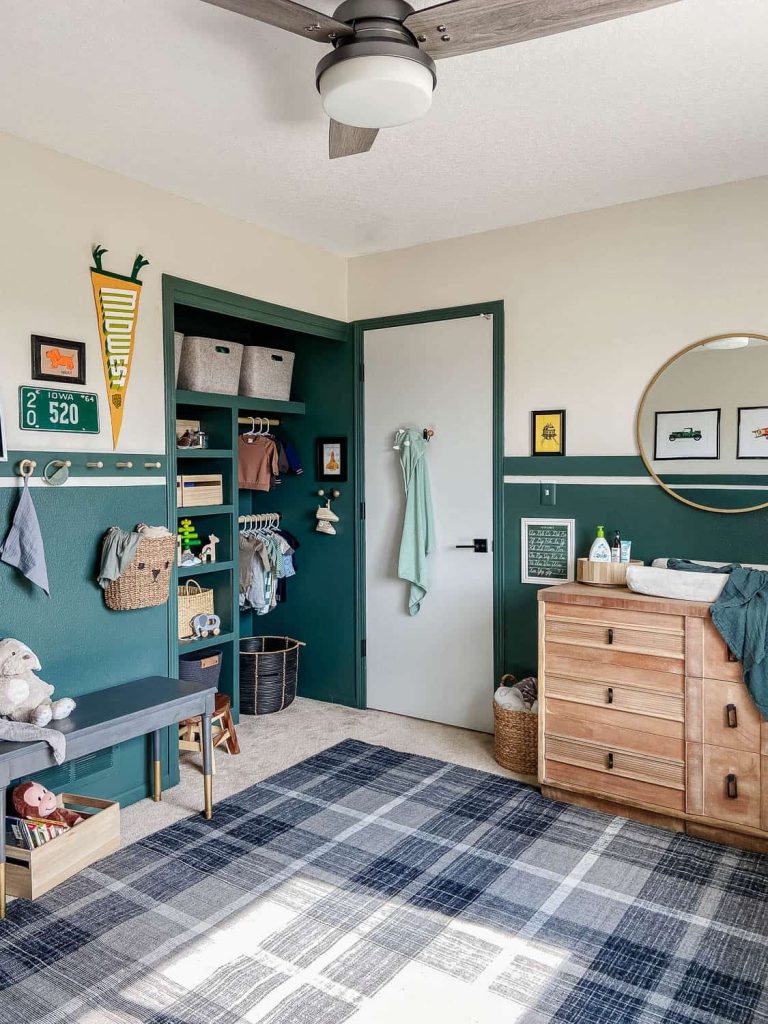 Green is used on the bottom portion of the walls here in this nursery from Small Stuff Counts with a fun stripe accent going around the room.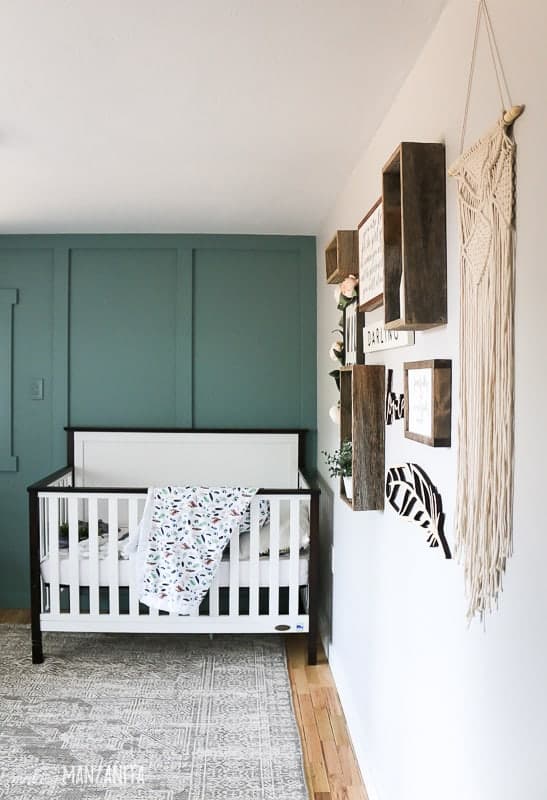 But green doesn't have to just be used in boy's nurseries! We used In The Moment by Behr green paint color on a board and batten accent wall in our baby girl's nursery.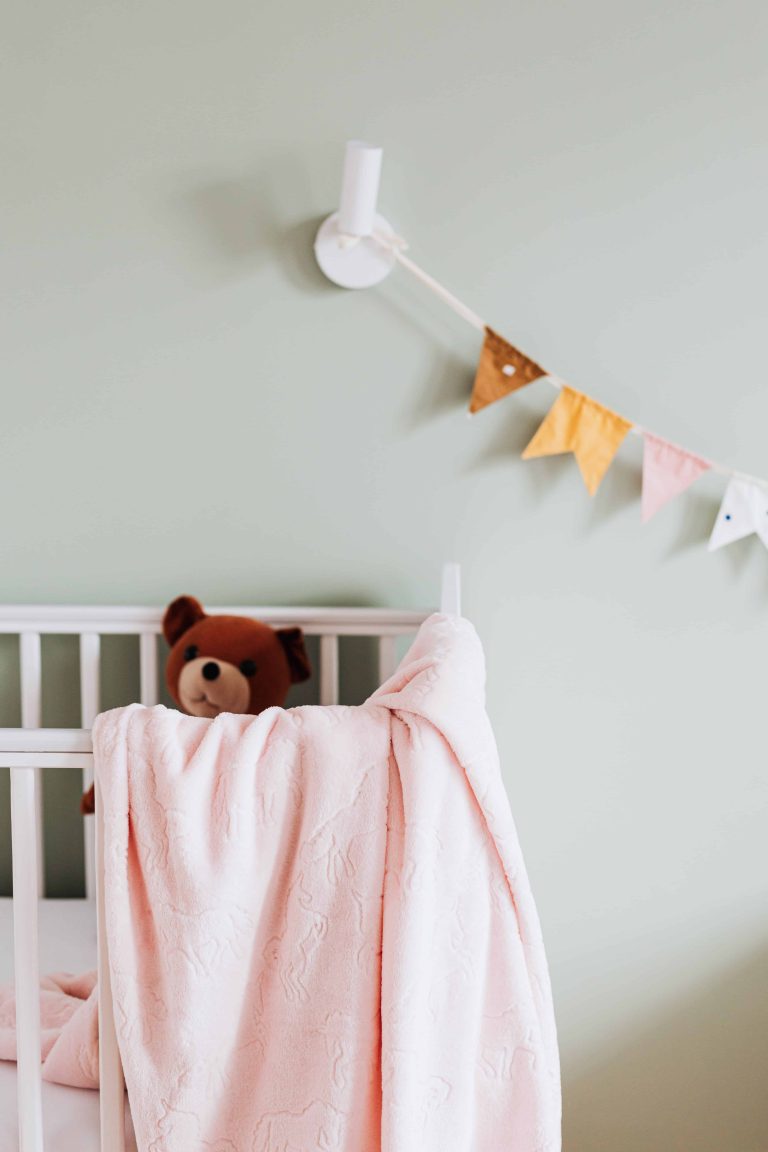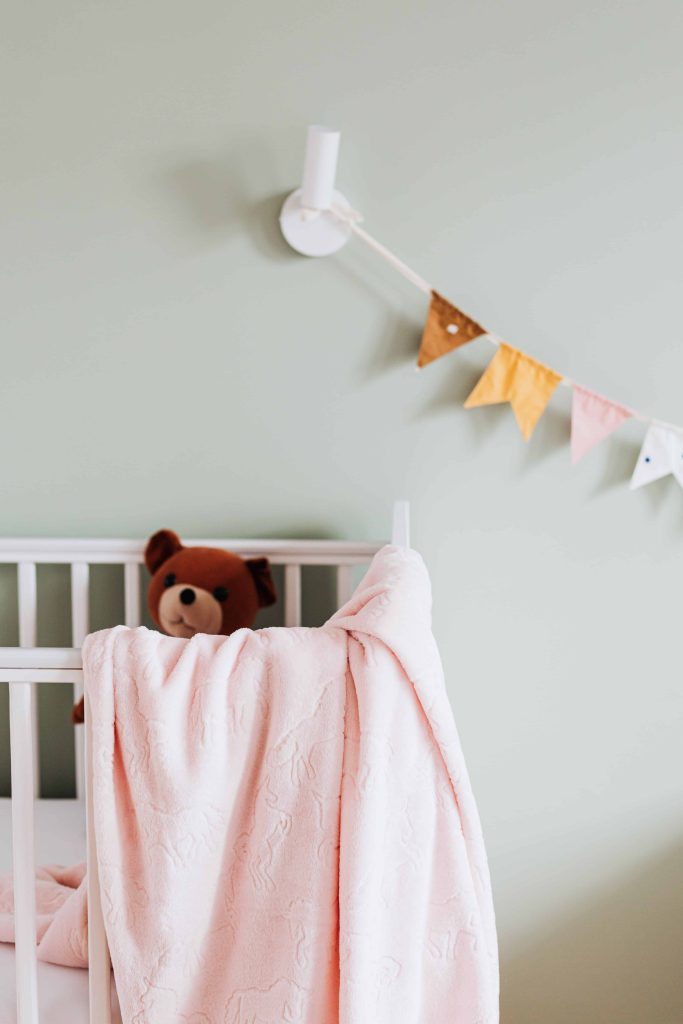 Love the subtle look of these pale green painted walls here paired with white nursery furniture.
Traditional Pink For A Nursery Theme
Create a traditional baby girl's nursery by using a classic pale pink theme. Use an appropriate shade of pale pink paint on the walls and couple it with matching curtains and carpet.
Too much pink can be overpowering, so break it up a bit by using white or gray accessories, such as bedding, lampshades, and painted white shelves for your little girl's toys and books.
Gray and Pink Make A Great Color Combination
Gray is a very common color to complement pink for a girl's nursery.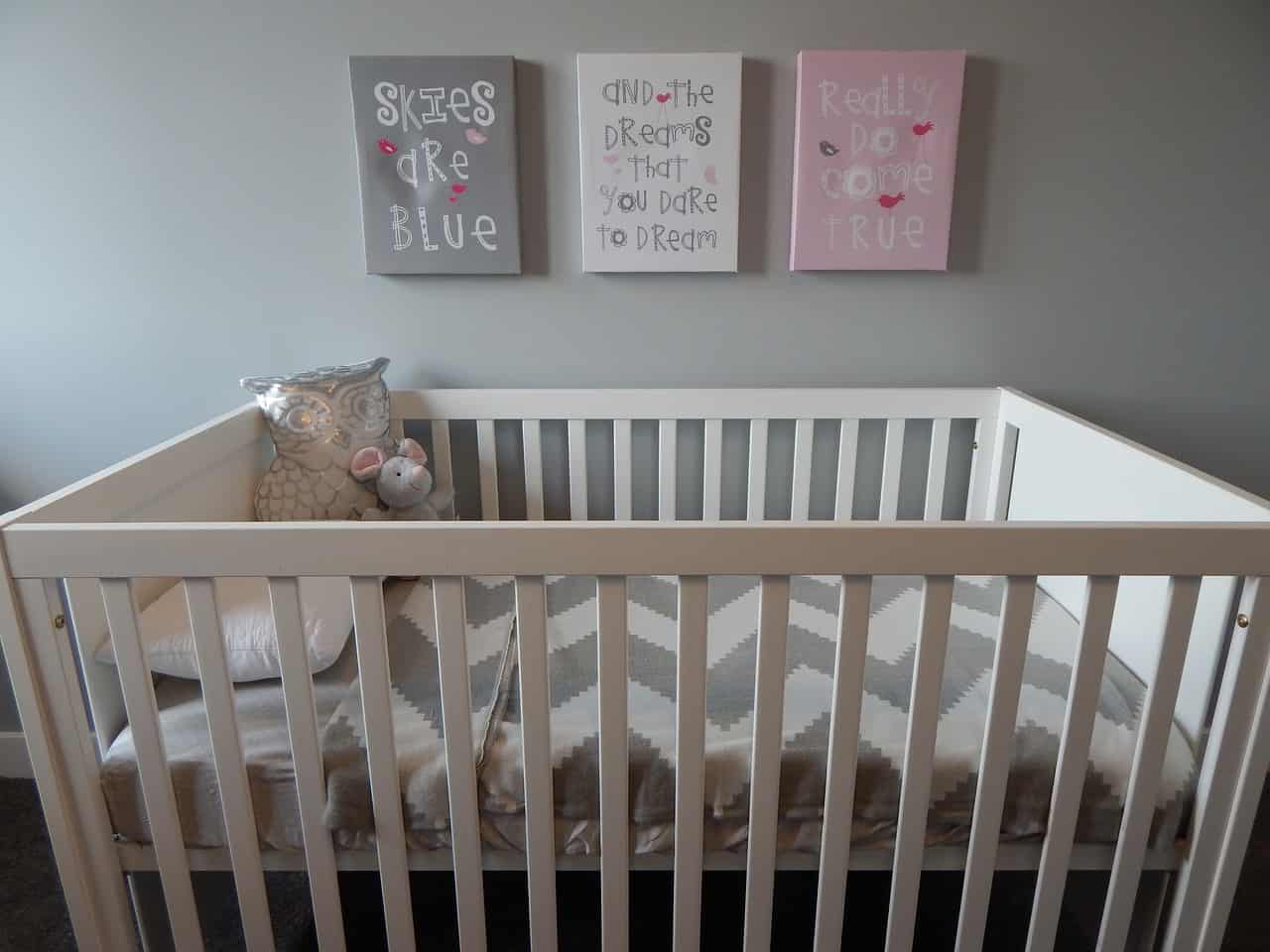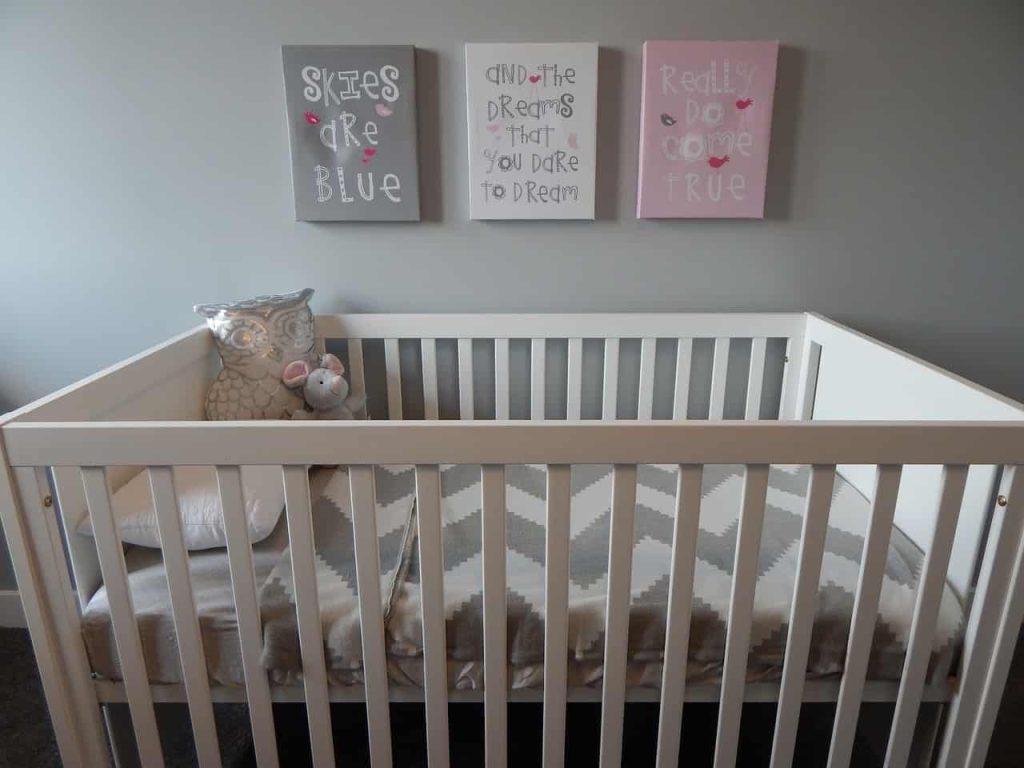 Instead of going with pink on the walls, choose to paint the walls gray and then bring in the pink shades with decor, bedding, and wall decor instead.
Red Only In Moderation
A red color adds a sense of warmth to a room, but it also is a very powerful color that may be too overstimulating for a baby.
Red colors used for the nursery should be soft, earthy shades instead of bright, vivid red. Red makes a good accent color for furniture, rather than being the main color.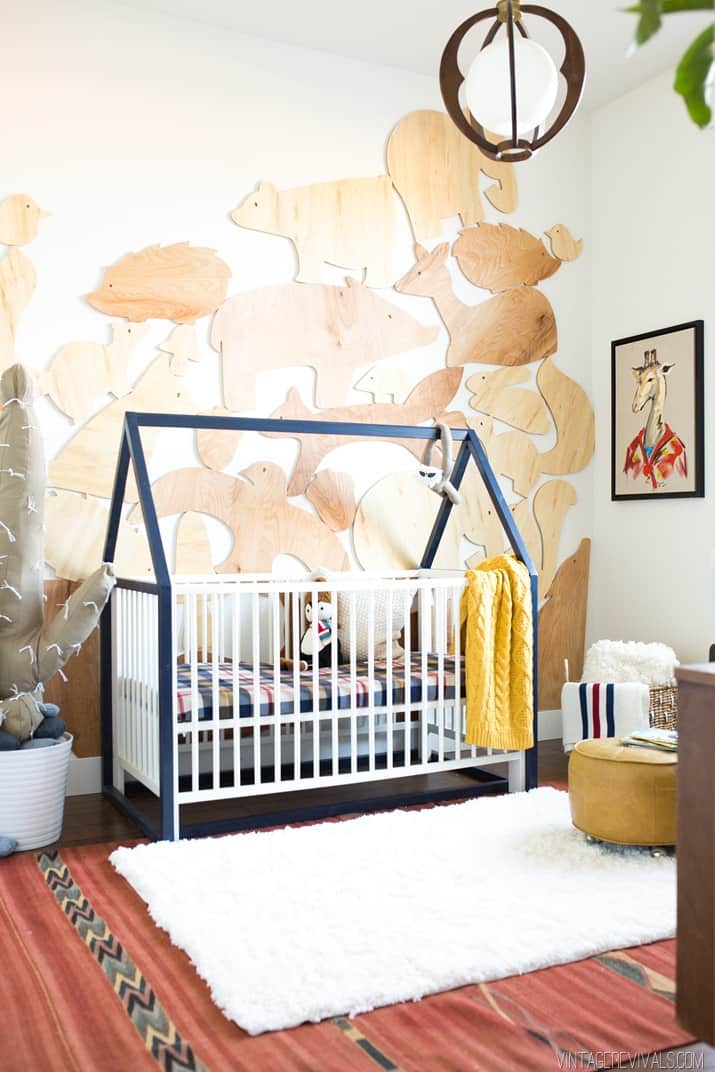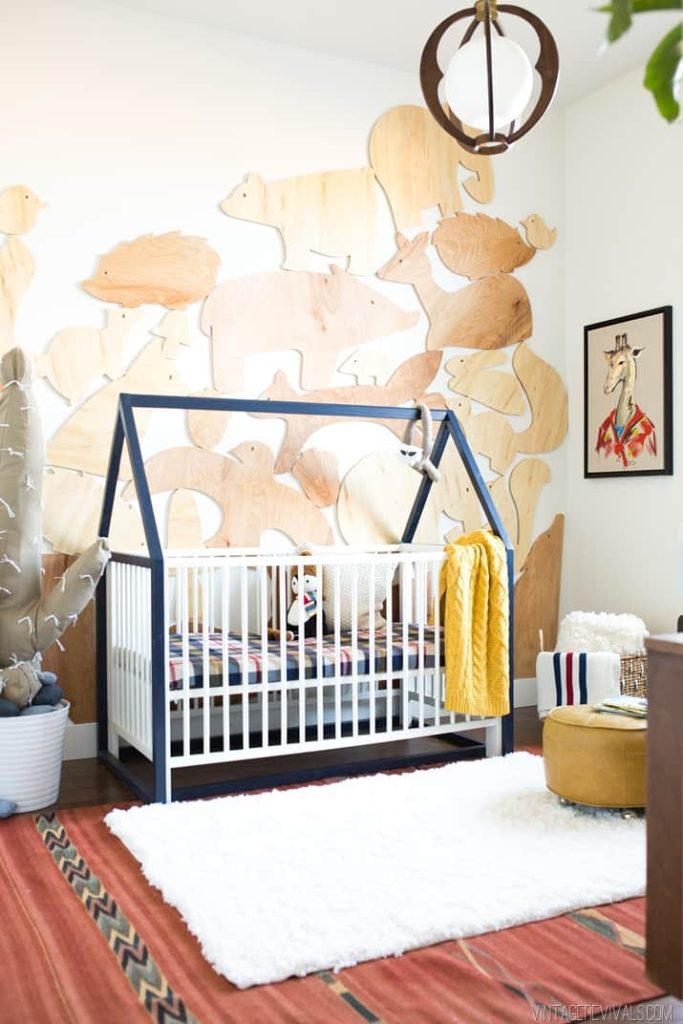 This baby boy's nursery incorporates red on the rust-colored vintage area rug and a few subtle splashes of red on the blanket, wall art, and plaid bedding. If you're going to have red be a part of your nursery color scheme, this is the way to do it!
Purple And Pink in Girl's Nurseries
Purple is a soothing color that works well for baby girl nurseries. Pastel purples with accents of light green and pink look great together.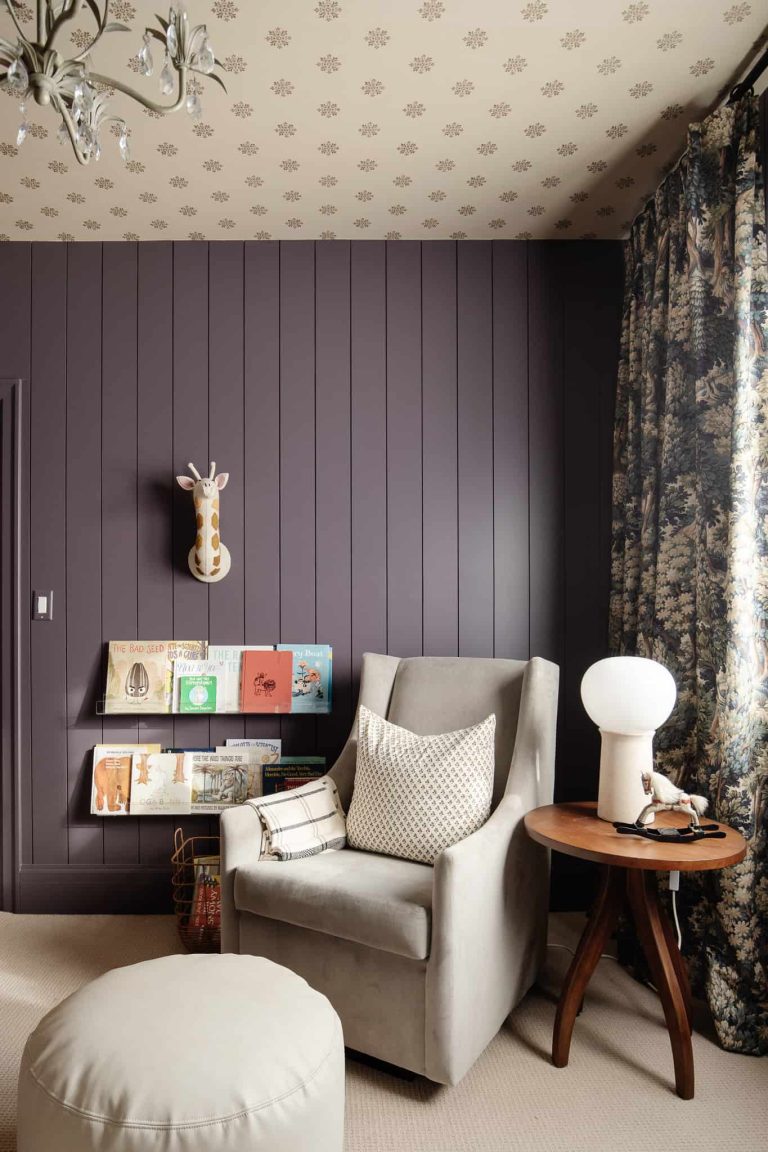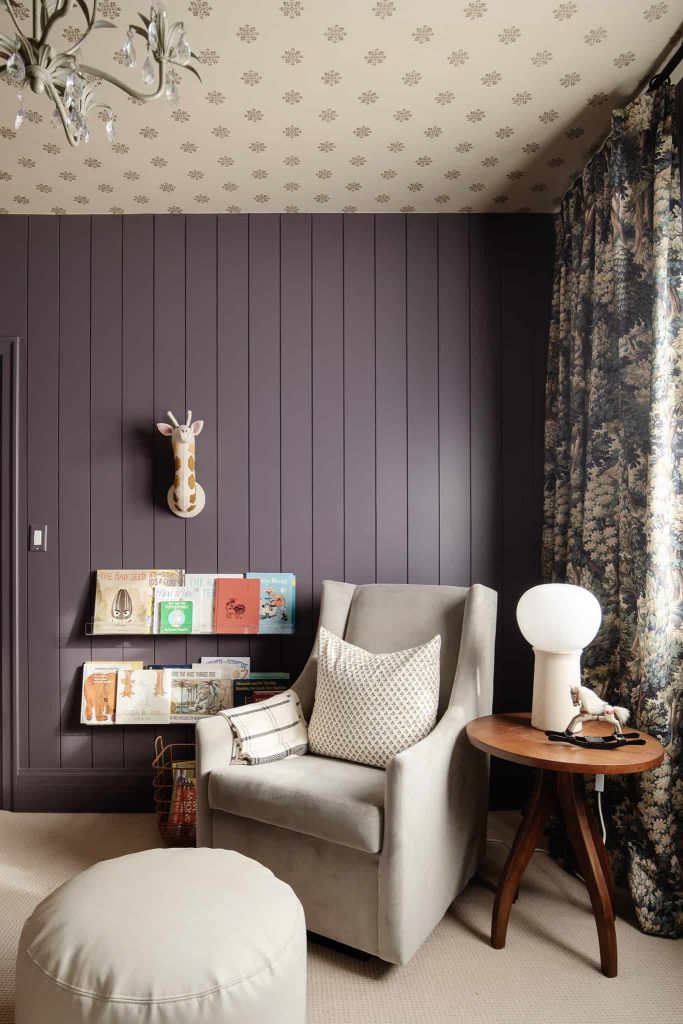 Or you can go with a deeper shade of purple like Chris Loves Julia did here on the vertical planked walls. Love this gorgeous room!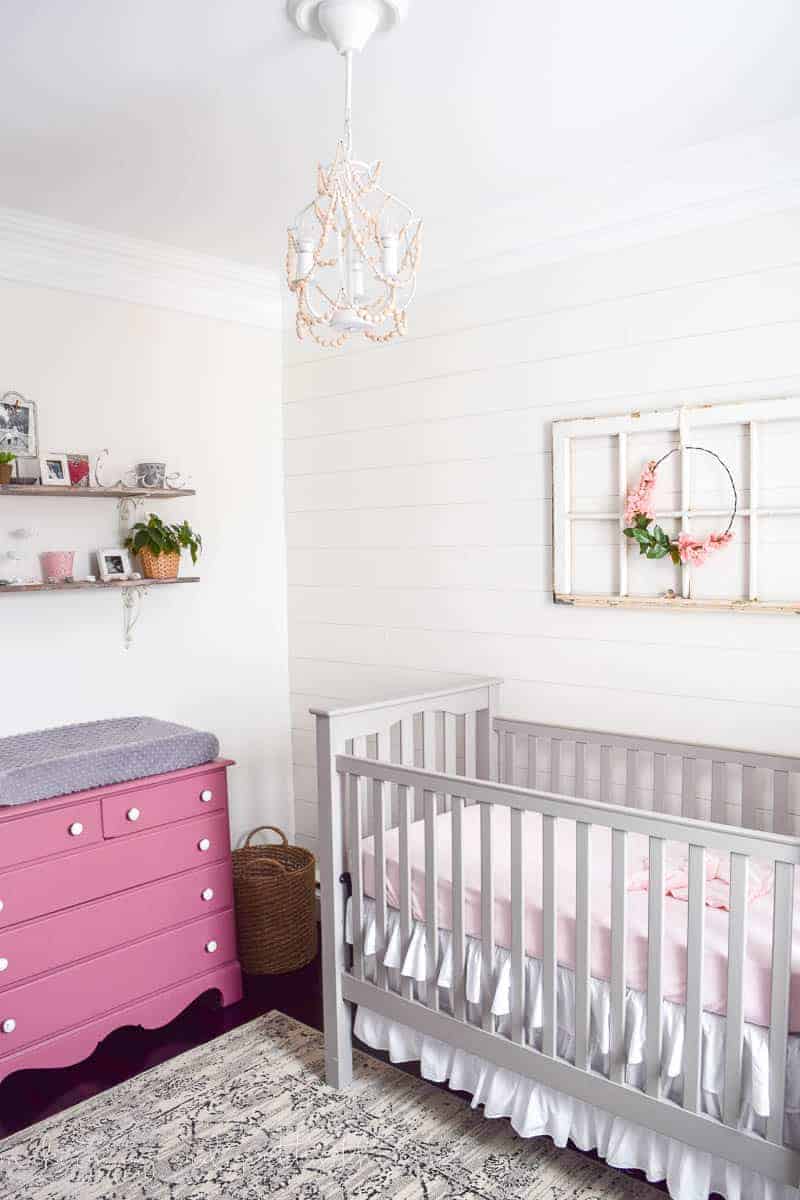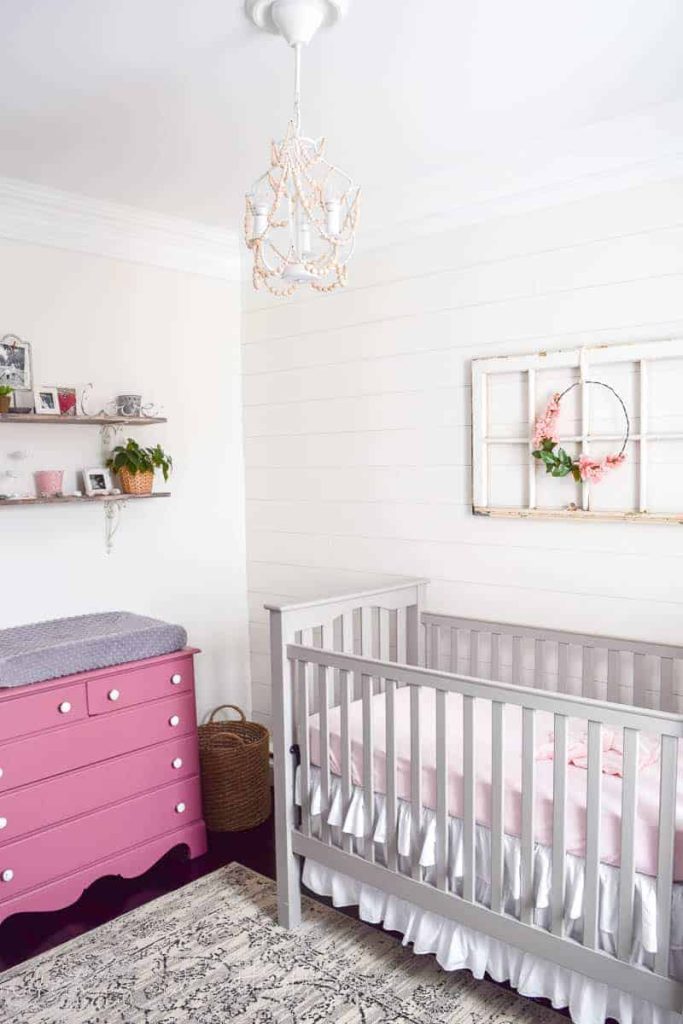 Pink also is a very popular color for baby girls. I love how it is incorporated in this farmhouse nursery with white walls using pale pink bedding, a bright pink-painted dresser, and other pops of pastel pink throughout the room.
Orange For Your New Bundle Of Joy
Orange is a warm color that is not too dramatic. When used in nurseries the shade should not be too bright or babies may get overstimulated. A soft tone of orange works great to give off a sense of comfort and calm.
Room for Tuesday really hit it out of the park with this mid-century nursery makeover for a baby girl. She subtly incorporated orange into the room with the burnt orange and blush patterned wallpaper.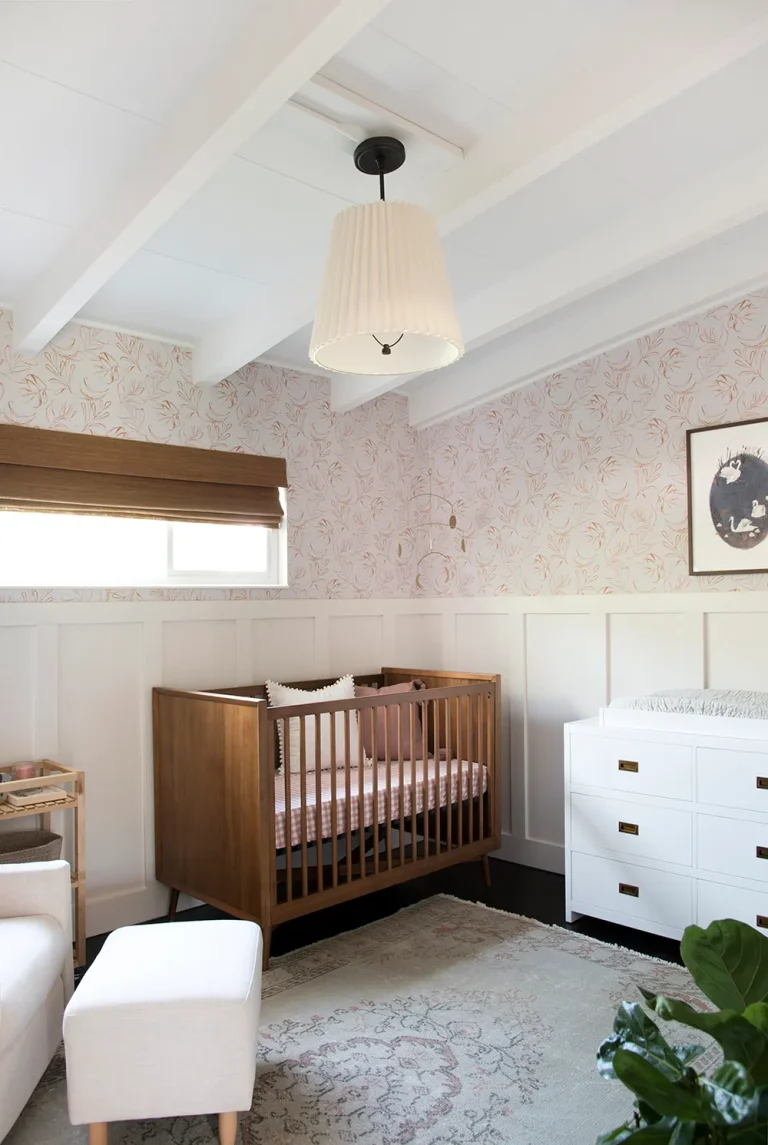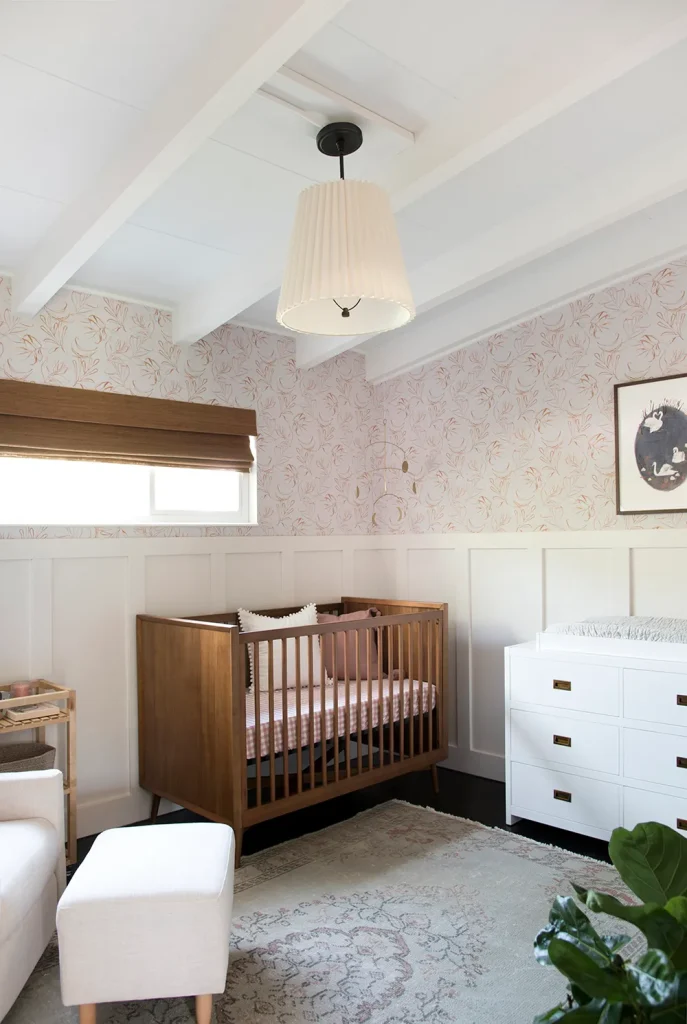 Neutral Colors For Baby's Room
Neutral nursery decor colors, such as brown, beige, cream, and ivory, have a warm and relaxing effect.
These colors can be used in nurseries for either boys or girls and can help enhance the size of a room and tone down any bolder colors.
Neutral shades work well in nurseries when used with bright splashes of fun colors.
Cream Nursery For A Lighter Shade And A Modern Look
Add a feeling of warmth to a room, by using a rich cream shade as the primary color for a nursery decor theme. Many people use yellow in nurseries, but it can be too stimulating. Cream or greige is a better alternative.
This pretty room incorporates cream, white, tan, and soft pink for a feminine and calming room.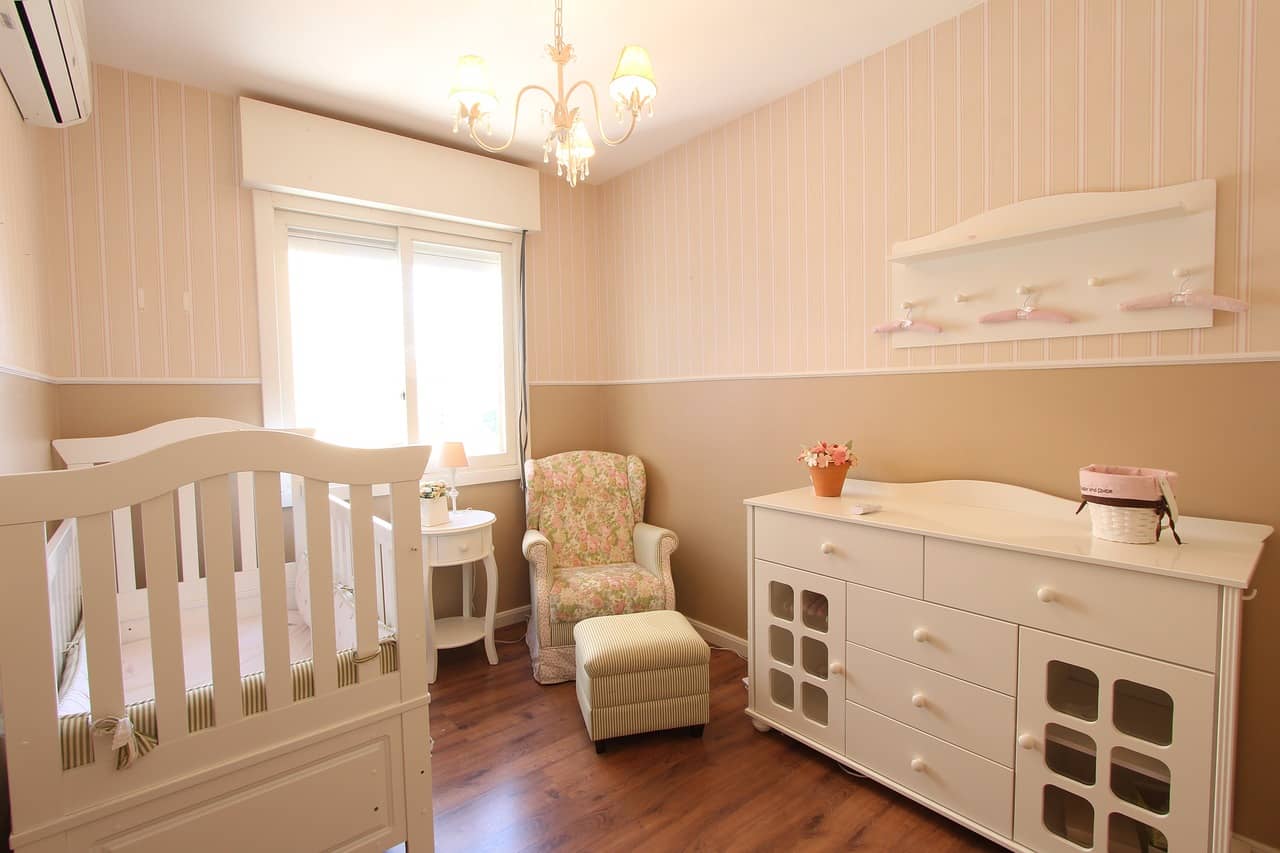 Paint the walls cream, then add other accents in brighter colors, even in primary colors if you want. Use wood finish laminate flooring to enhance the color scheme and choose curtains and accessories in a color that match the other colors in the room.
Pure White Walls Is The Perfect Choice For A Child's Room
Make a small nursery feel bigger by painting the walls white. This versatile color, which is suitable for use in boy or girl nurseries, reflects natural light so it can give the impression that a room is larger than it is.
Add extra color and interest to a nursery with white walls by choosing an accent color combination for curtains, bedding, and accessories like lilac, green or red.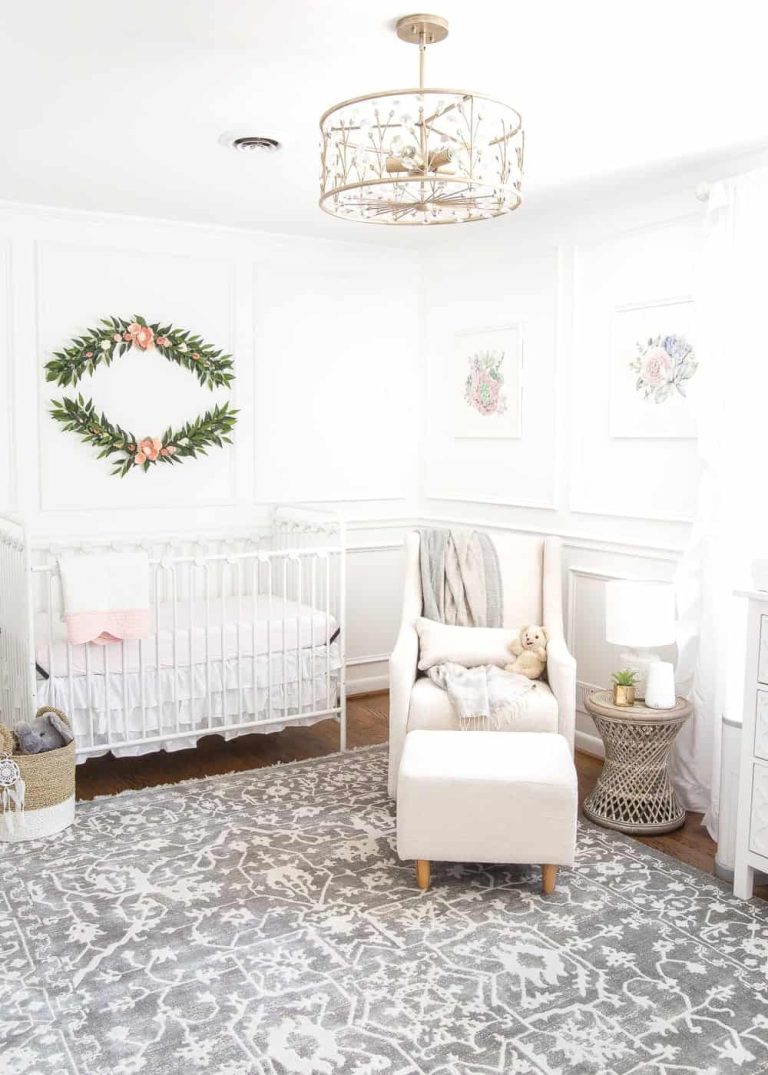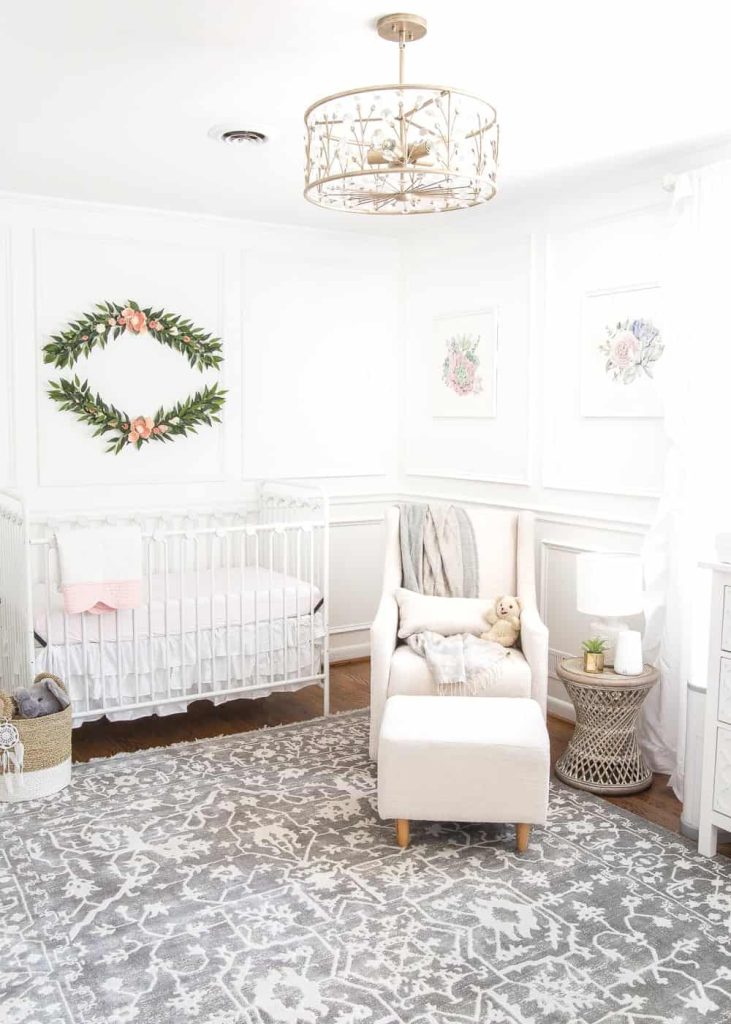 Lauren from Bless'er House incorporated a floral theme into this little girl's nursery with brightly painted white walls. She also incorporated gray into the color scheme here along with the colors from the flowers using pink, purple, and green.
Gray and White In Nursery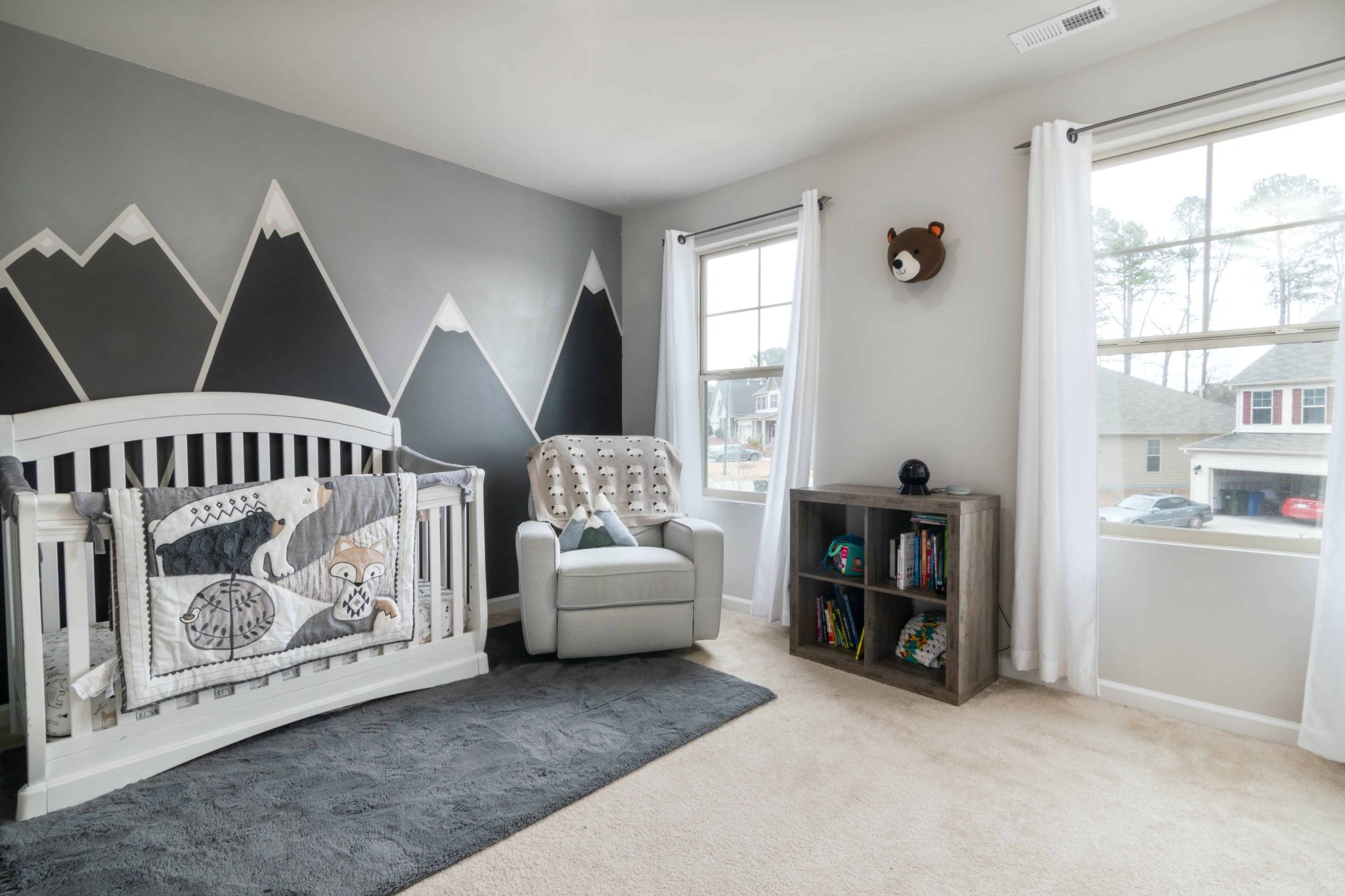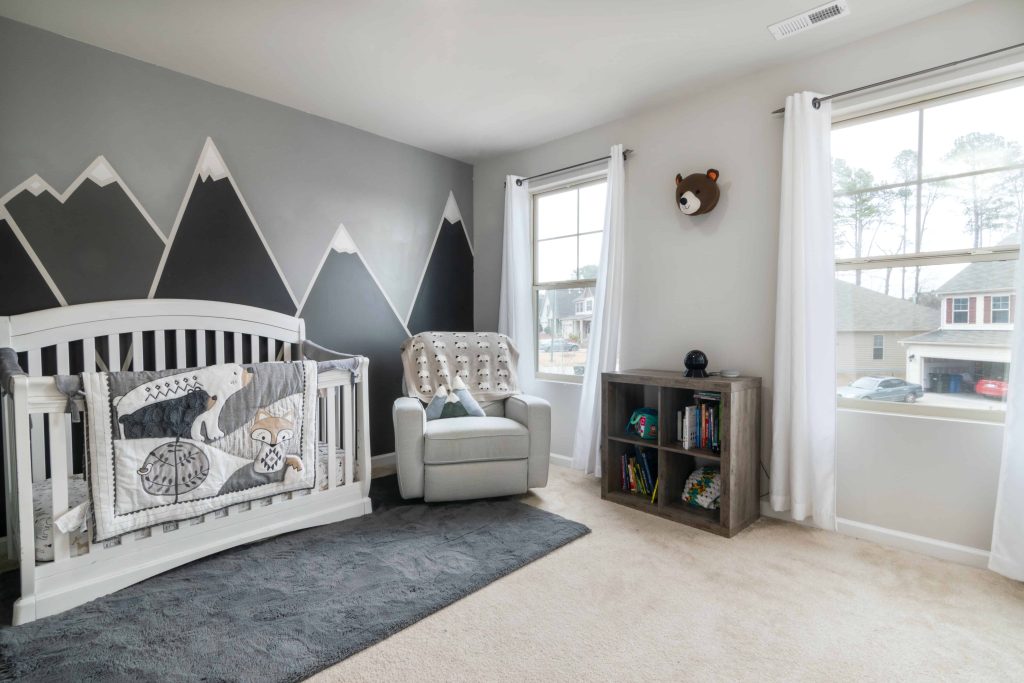 For a more monochromatic color scheme, try something with various shades of light and dark gray paired with white. I love the mountain wall in this room. Reminds me a bit of the mountain mural we added to our son's room.
Unisex Nursery Color Options
It's a lot of fun creating a soothing haven for your baby. If you are having a baby and do not know the gender, you will likely still want to decorate the bedroom before he/she is born.
That tends to eliminate using colors such as pink or blue if you don't want to end up having to redecorate. Many colors and nursery themes are suitable for both boys and girls.
Cream For A Cohesive Look
Cream is an ideal unisex nursery color that is warm and works well with just about any kind of decor. Paint the walls with cream-colored paint.
To offset the paint, add dark, espresso-colored wood furniture. Use the cream as the entire palette, or add in brighter colors such as orange for a pop of color.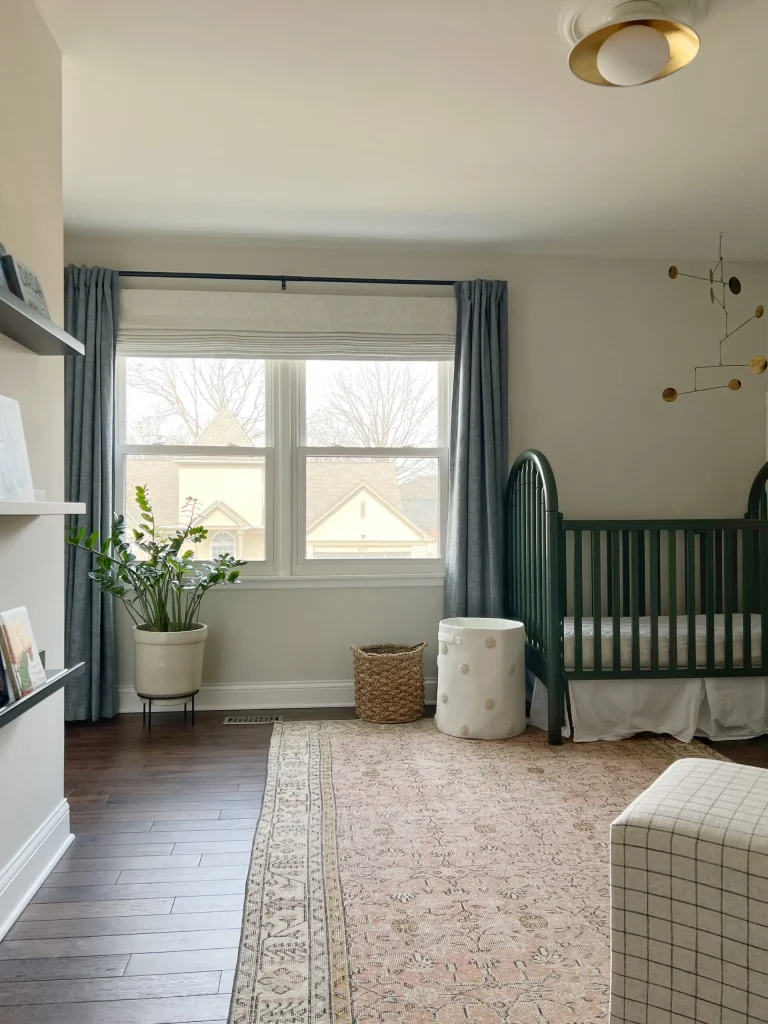 The Adored Abode used cream-painted walls in this gorgeous nursery that could work for a boy or girl with white wainscoting on the bottom portion of the walls. Other colors are added with blue curtains, gold accents,
Yellow For Young Children
Sunny or buttery yellow is a lovely backdrop in a nursery. Yellow is not indicated for one gender or another and comes in many tones.
You can choose to incorporate yellow with painted walls, bedding, and accessories. You can even use yellow in a theme nursery room, such as a farm animal-themed room, which is also unisex.
The color yellow promotes a feeling of happiness and works well to brighten a dark room, making it appear larger.
However, this color is very bold and may lead to overstimulation in babies and children. Yellow in the nursery works best as an accent color or just on one wall.
Green For A Gender-Neutral Baby Nursery
Green is a calming color that promotes tranquility and well-being. This color works well in brightening a dull room. The color green makes a great choice for nursery color ideas and can be used for either boys or girls. Green works well with accents of orange and red.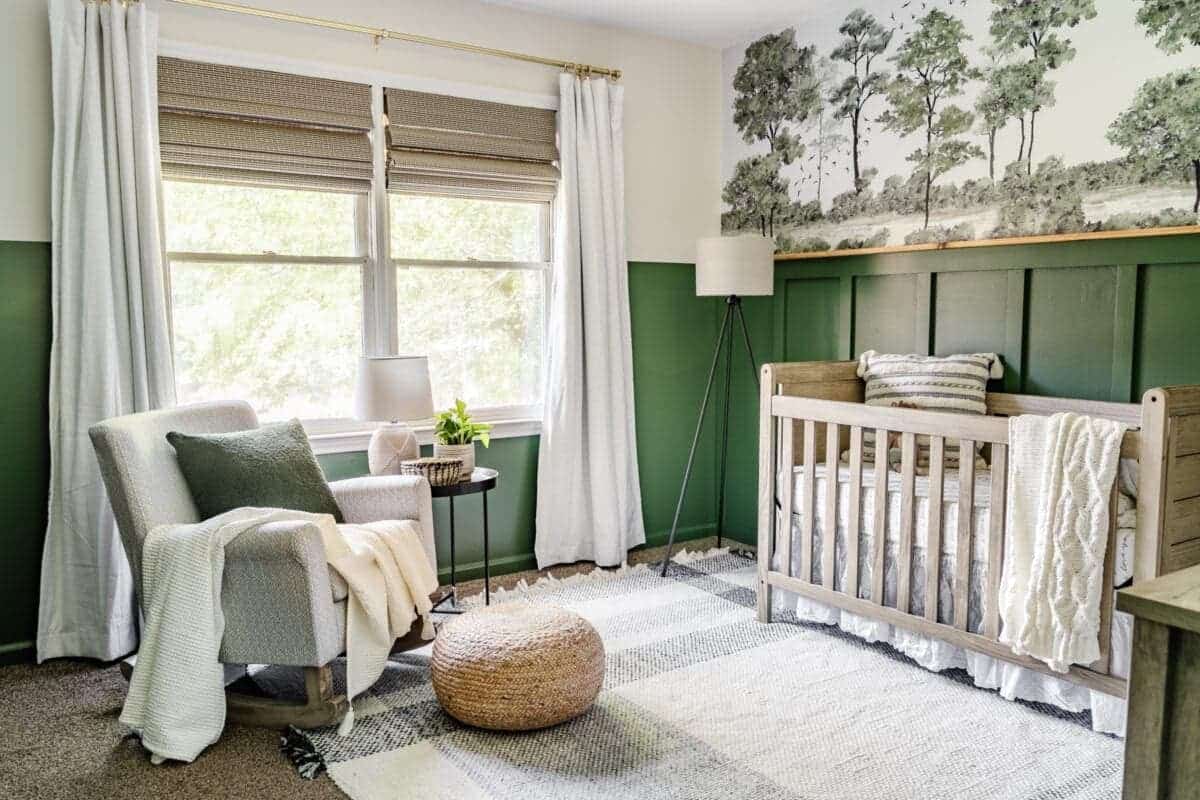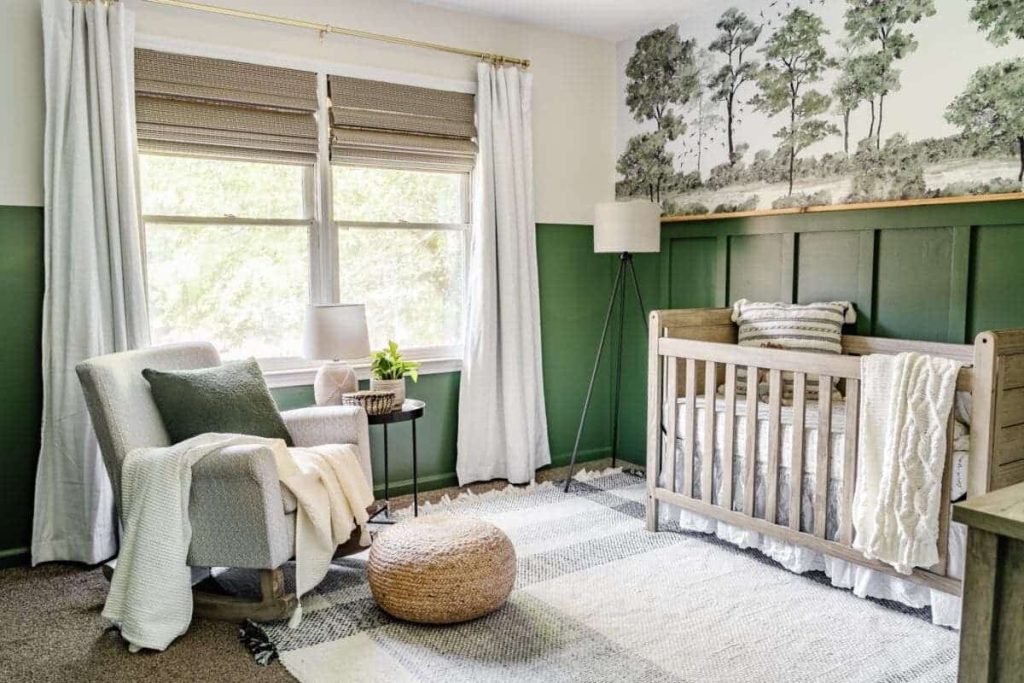 Love the earthy tones of this nursery with a woodland theme from Bless'er House. Green is used on the bottom portion of the walls with white above. One wall also got a gorgeous mural with trees.
Everything else in the room (from the furniture to the curtains) sticks with a more neutral palette to contrast with the green walls.
Green is definitely a color that is gender-neutral in just about any tone. The options range from soft sage green to deep emerald green for a color scheme with jewel tones.
Since this color works well in many different styles, from a contemporary nursery to one with a garden theme, it is great for both genders, and easy to decorate your little angel's room.
As you can see, there are tons of different nursery color ideas. Although the options may seem endless, start by reviewing color psychology and figuring out what kind of vibe you want for your little one's space.
Get inspired with these photos showing different nursery color ideas and choose the one that works the best for you!
What nursery color ideas are your favorites? Let us know in the comments below!