A rustic woodland nursery is just what you need for your baby boy. Check out this adorable themed nursery room reveal with a navy blue, tan, and gray color scheme. Sources included!
Woodland creatures and all the rustic things…that's what little boys are made of! I am so excited to share Cal's rustic woodland-themed nursery with you! These are the days that totally make your heart smile.
Before we completed this project, I created an entire source list of nursery inspiration with paint colors, designs, and DIY projects included.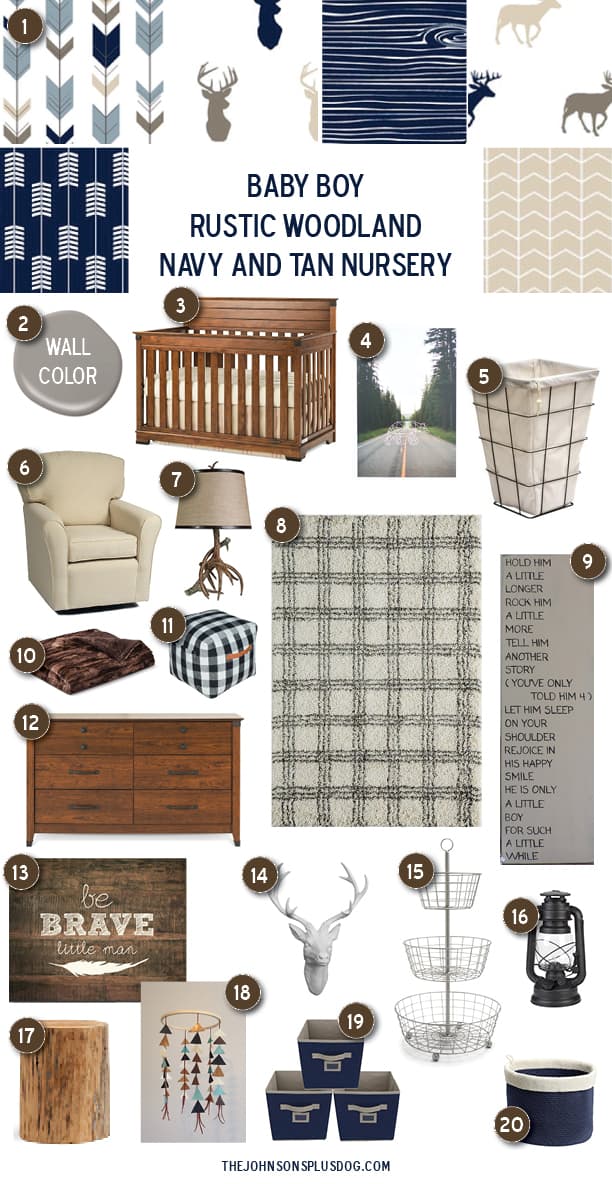 This woodland nursery post contains affiliate links, but nothing that I wouldn't wholeheartedly recommend anyway! Read my full disclosure here.
If you're a mom, you know how planning a nursery can be completely overwhelming. I knew I wanted his nursery to evolve with him as he matured, and I am so pleased with the way the whole thing came together. It's the perfect blend of sweet, baby things that can easily grow along with him.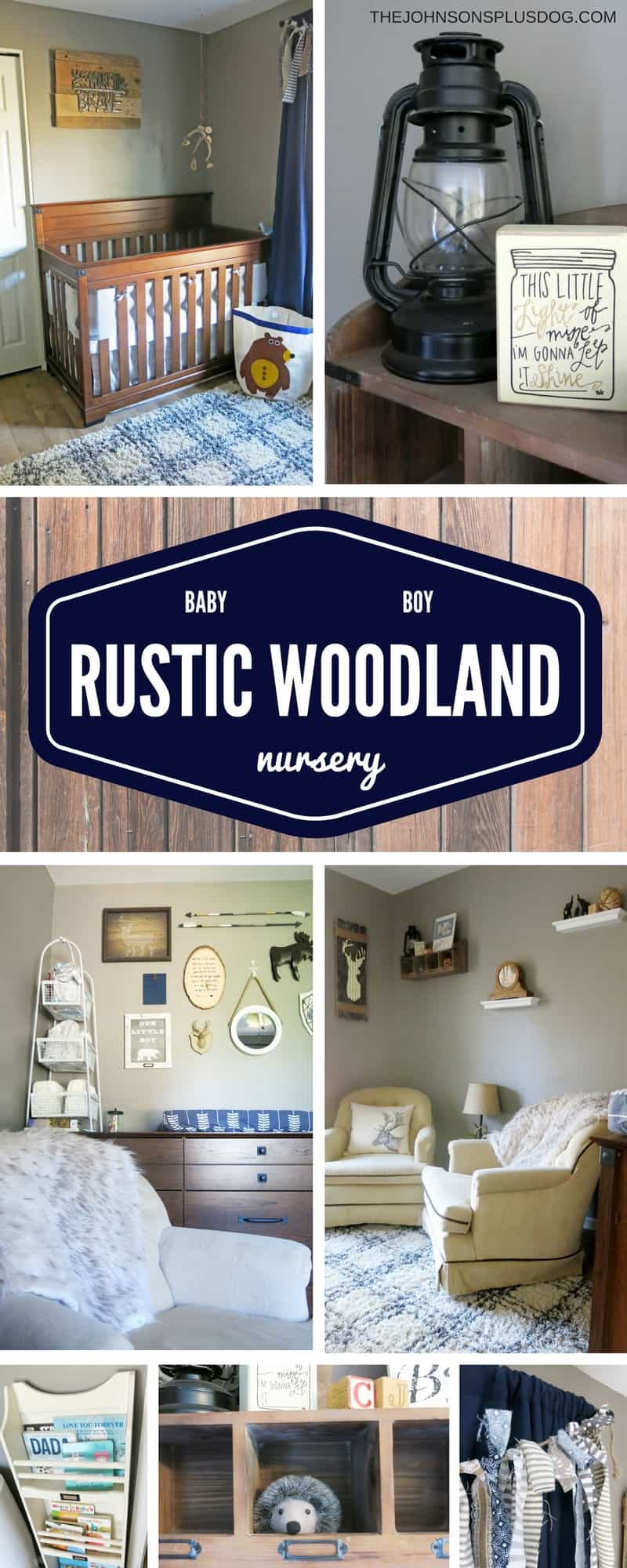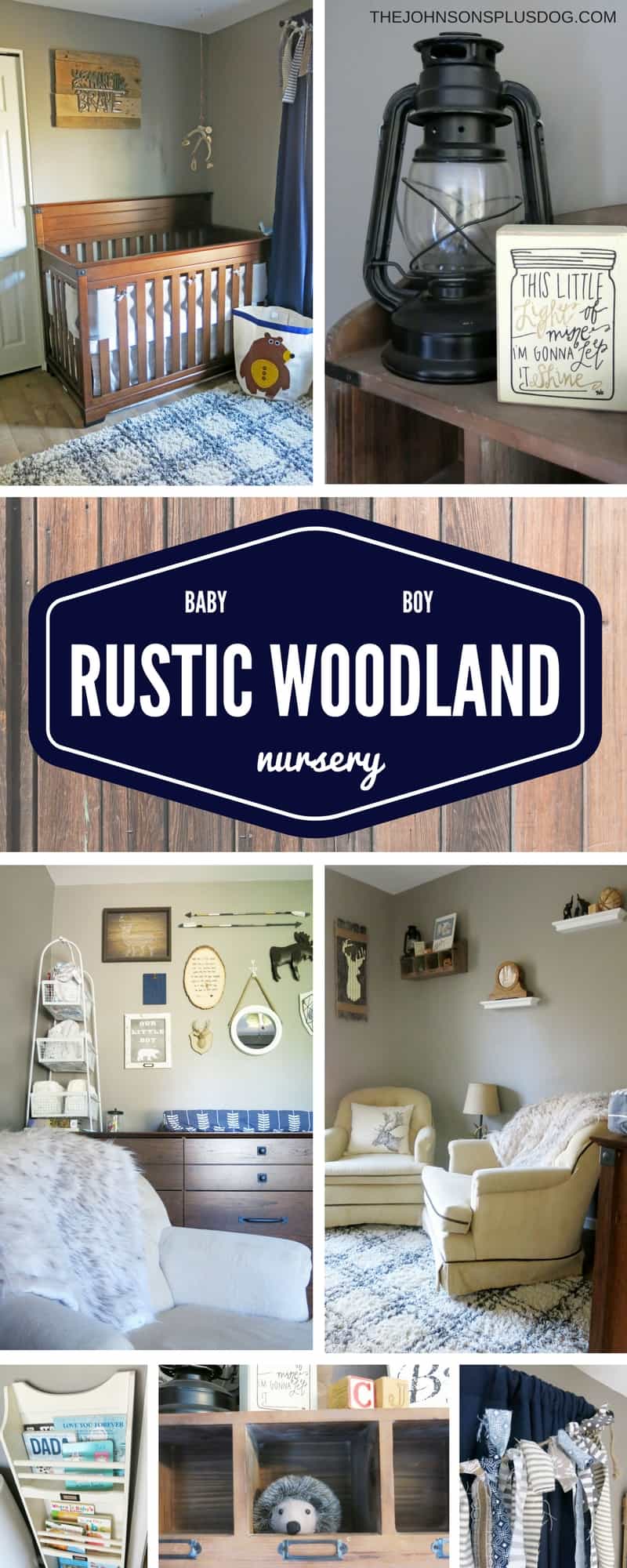 Baby Boy Rustic Woodland Nursery Room Reveal
Before we get into the reveal, I have to mention the crazy journey of this room!
When we first moved into this house, we kept his nursery room empty because we planned on having a baby soon and we didn't want to set up a room just to take it down later.
But this room served many purposes over the next several months. We slept on a mattress in here while we were putting laminate flooring down in the master bedroom and living room. That was really fun 6 months pregnant and all.
Then while we were finishing up the living room, we had our TV and two recliners in this room and used it as a VERY small living space. I'll never forget our first Christmas in this house. We had a little 3-foot fake tree on a nightstand in the corner. I did what I could to decorate that room because the rest of the house was torn apart.
I'm so glad we were finally able to get everything else out of here and get to work on creating the perfect woodland nursery for our baby boy!
Rustic Baby Boy Nursery Furniture
One of my favorite things about this nursery is the furniture we ended up with. I love how rustic they look. It really ties the room together.
Typically I'm a thrift store furniture kinda girl, but with all the other house projects we were trying to tackle, I knew we needed something more simple. I also liked the idea of having something clean, sturdy and new for our little man. We decided on the Child Craft Redmond set.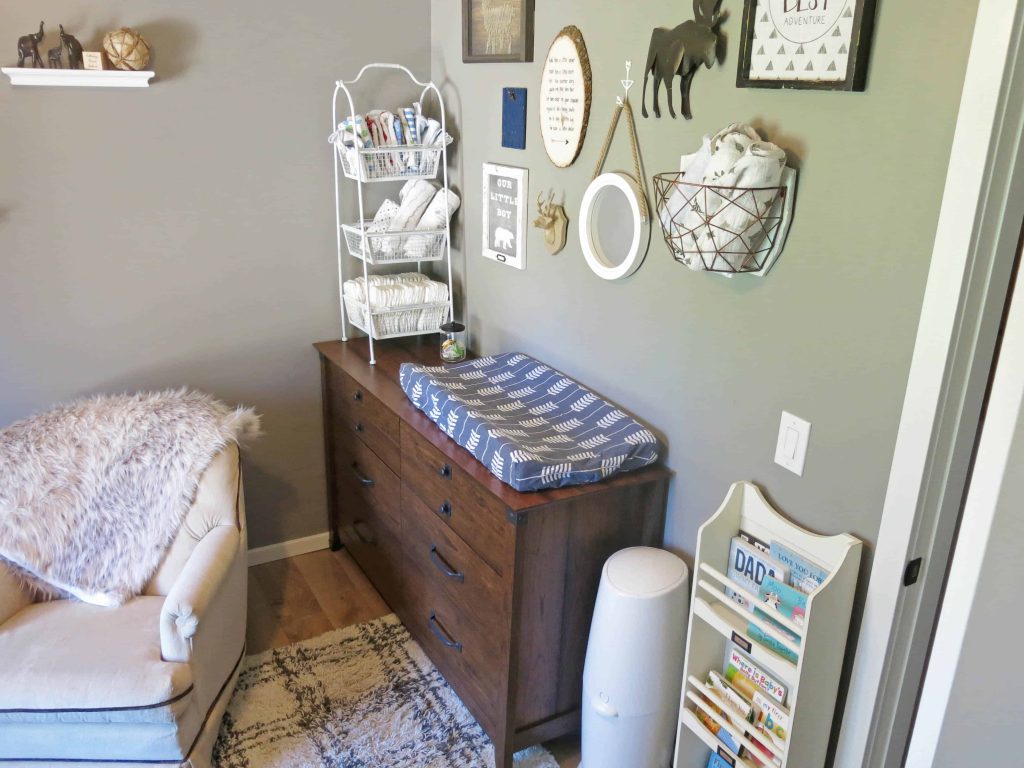 Although they make a changing table in the set, we just got the dresser and put a changing pad on top. I'll say that a traditional changing table isn't on the must-have list for a baby, so we created our own changing station.
In my opinion, this is a much better option that will grow with your child – rather than a piece of furniture that will likely only be used for a year, maybe two.
Using a dresser for a changing table saved us some space and cash! Whichever route you choose, make sure the changing station is organized with the necessities.
We are very happy with the dresser and crib so far!
These vintage chairs are seriously some of the most comfortable chairs I've ever sat in. We purchased them a couple of years ago at a thrift store in town. I think we paid $60 for the set.
We actually got that deer pillow for our wedding years ago. It was from Pottery Barn, but they obviously don't sell it anymore. Here's something similar you could use in a woodland nursery.
Woodland Nursery Bedding
We had the nursery bedding custom-made from a seller on Etsy. She created the arrow changing pad cover, bed skirt, and quilt. Unfortunately, her shop is no longer available – but here are some other awesome options for woodland nursery bedding.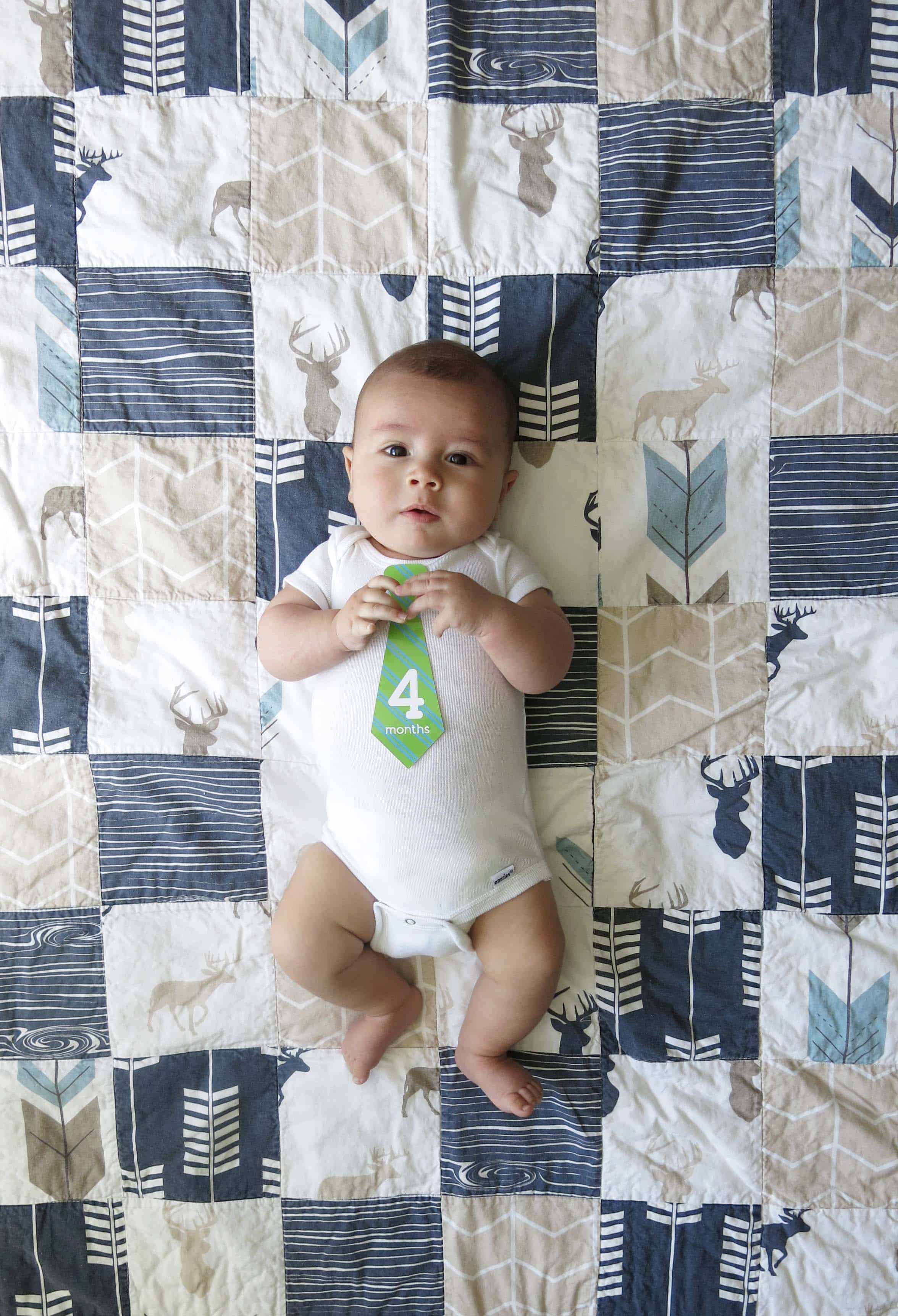 I added all of these items (even from Etsy!) to my Amazon baby registry, using Amazon's Universal Registry button. This registry is a breeze to use and especially handy if you have friends and family from out of town.
All they have to do is visit the registry page and purchase. It automatically updates the registry for you and ships the gift directly to the new mom. It's incredible!
Rustic Nursery Decor
I was planning on making a mobile for the nursery, but that project fell to the wayside with all of the other baby preparations.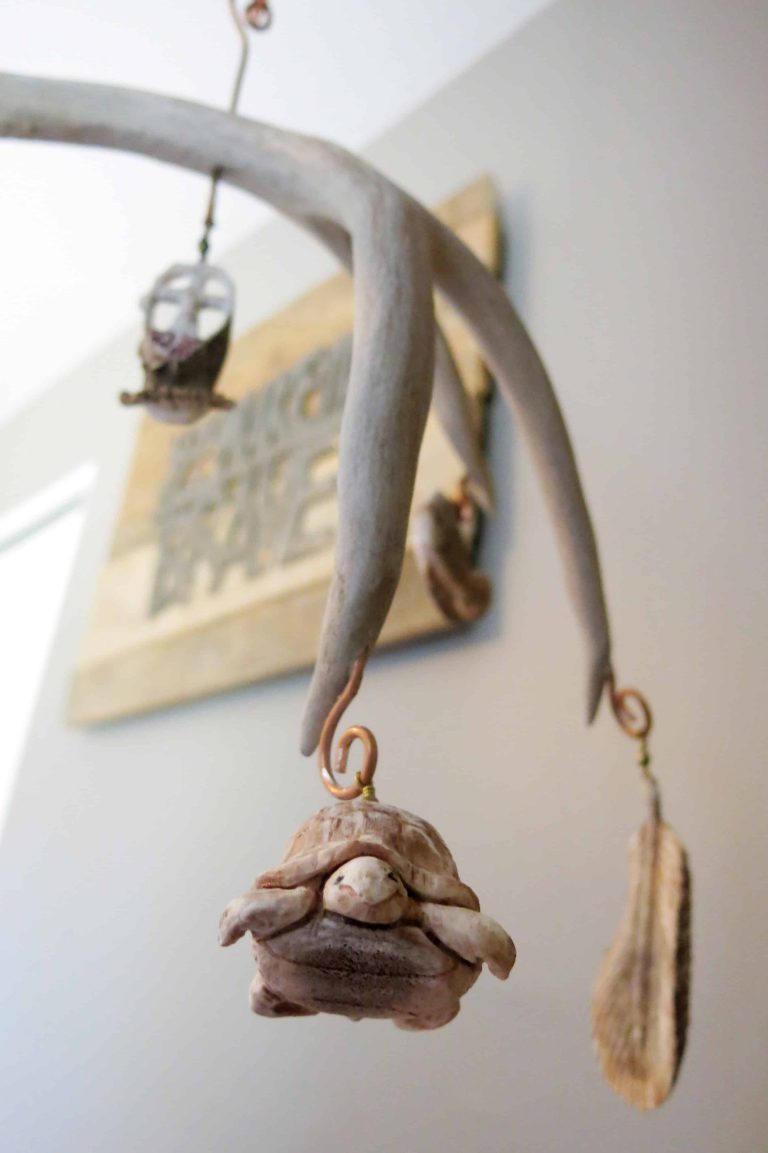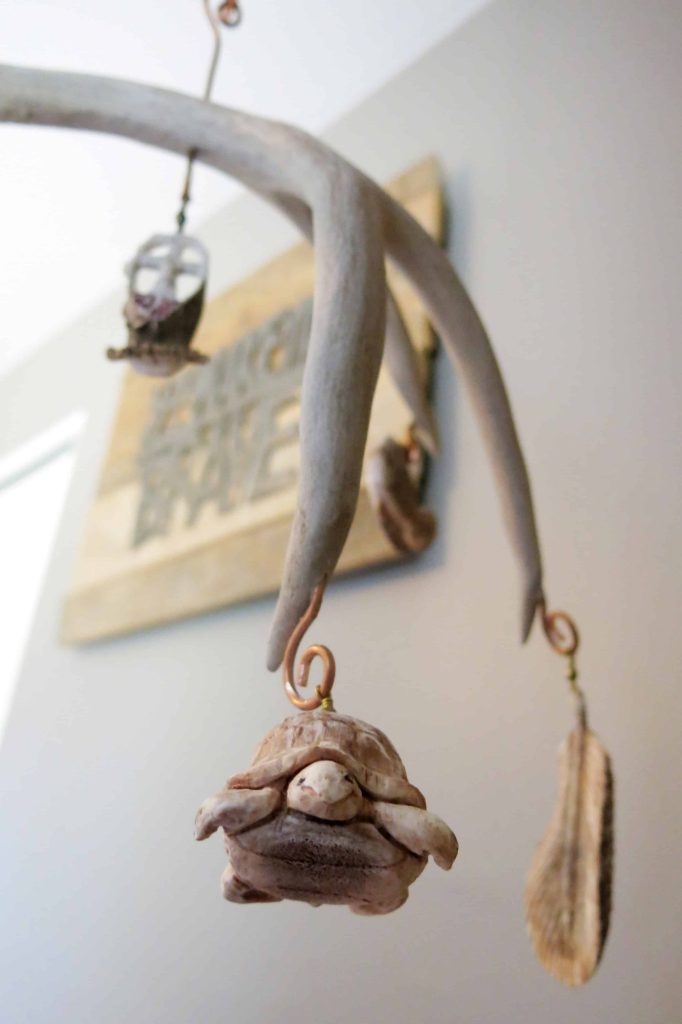 Then, I received this antler mobile with hand carved little animals and other rustic woodland items as a very special gift at my shower. I took one look at it and just about fell in love.
My halfway finished DIY mobile project came to screeching halt. 🙂 The lady that made the mobile for my Grandma was a family friend and doesn't have an online store or anything – but here's some adorable woodland mobile ideas to inspire you !
On a bookshelf, I added a lantern to give it a rustic feel. This would also be quite handy during midnight changes! I also found this little mason jar decoration at Hobby Lobby, I knew it was meant to be.
The "You Make Me Brave" piece above his crib is super special. Logan's sister, Amanda, started a non-profit called Unified in Mission a few years ago now and she is living part-time in Uganda, Africa doing mission work and spreading the love of Jesus there. They are doing some awesome things in Uganda, like building a school, running a child sponsorship program, and installing water tanks.
Since we have grey walls and I really wanted this metal sign to stand out, I mounted it on a pallet wood sign with command strips.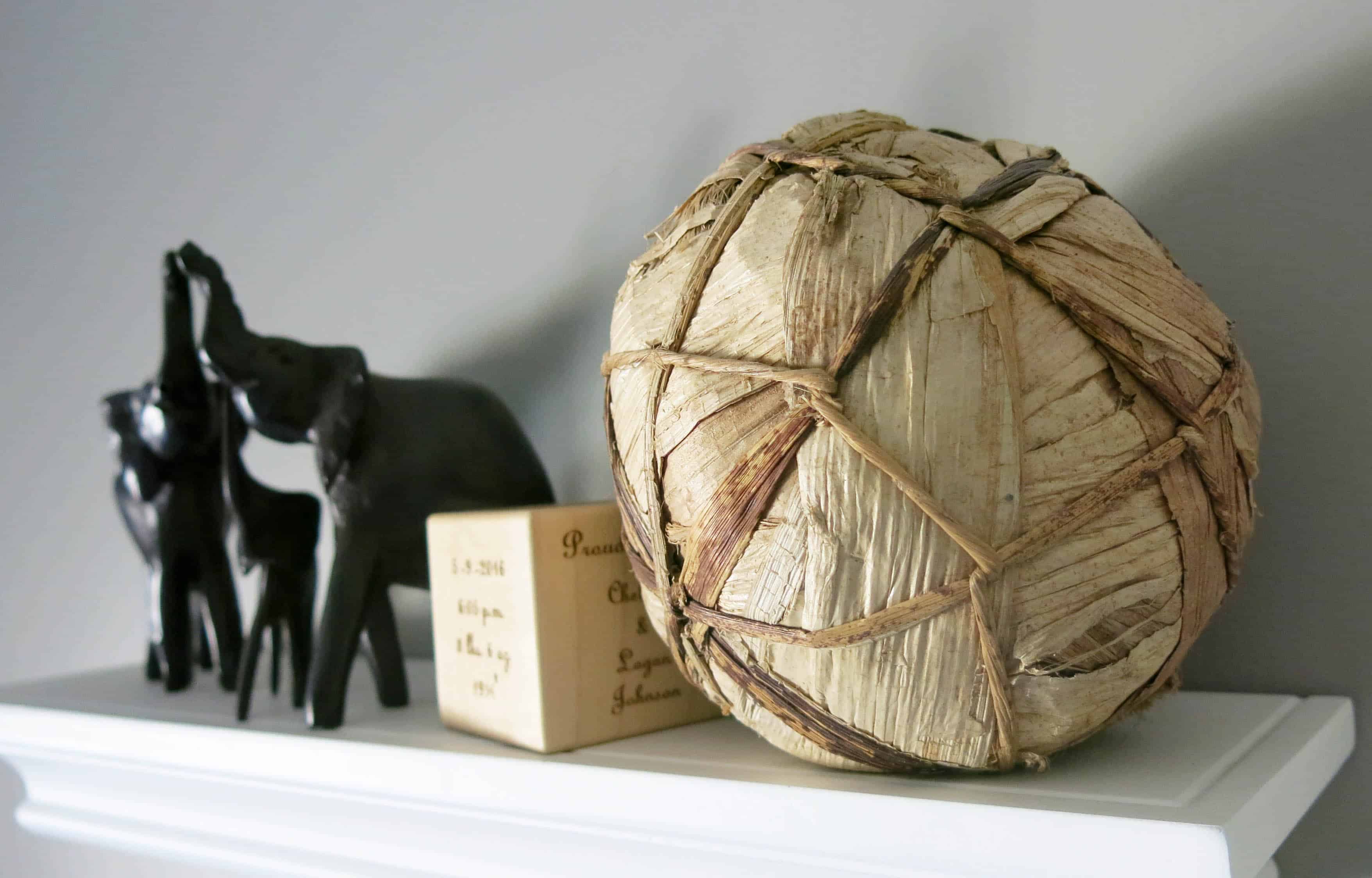 Speaking of Africa, here are some fun pieces that Aunt Amanda brought back from her just for Cal! The block in the middle is a personalized wood block with Cal's birth stats. This is a cherished gift that we received from a co-worker.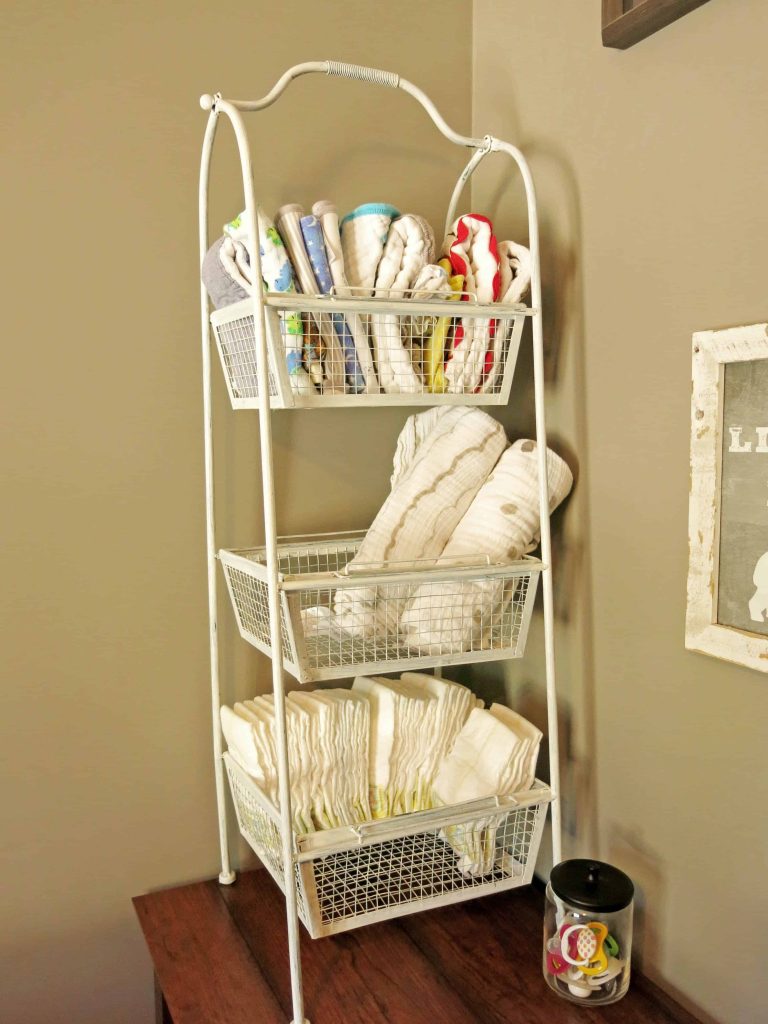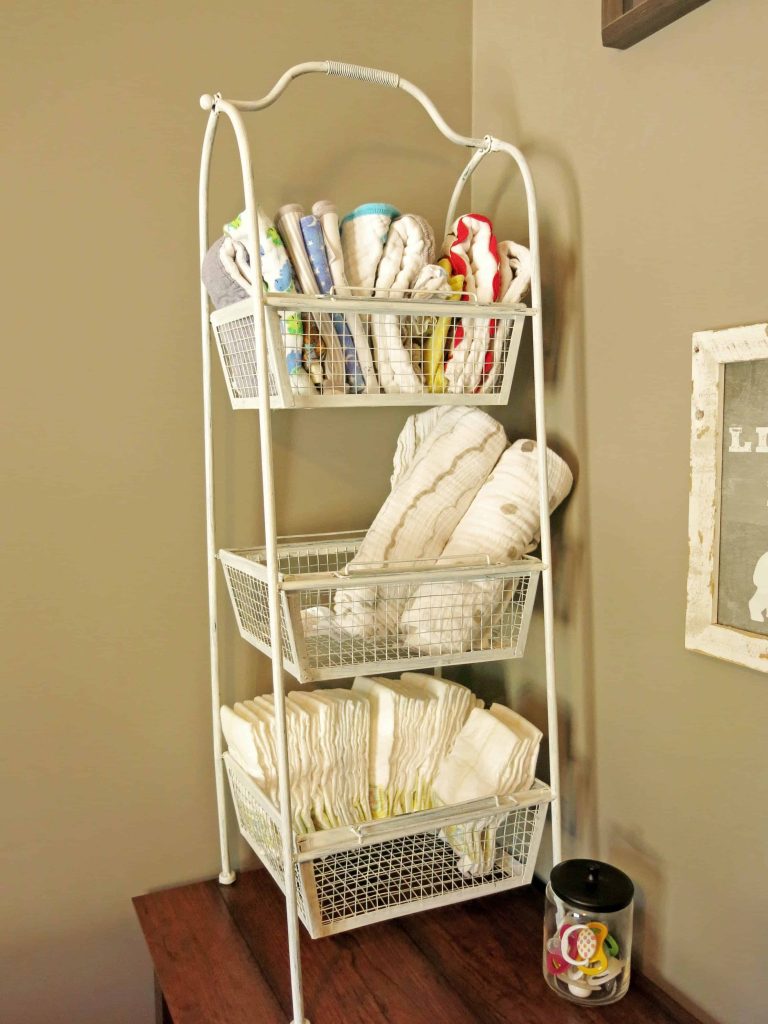 Baby Boy Nursery Storage Options
Storage is so important in a nursery, especially easily accessible, you-can-grab-it-with-one-hand type of storage.
I got this 3-tier basket rack at Hobby Lobby. It was originally teal (the teal one is no longer sold) and I painted it white. Then, I found this white one at Hobby Lobby a few weeks later. I guess it was a DIY for the sake of DIY!
Anyway, stacked storage options like this one are great for holding diapers, swaddle blankets, and tons of burp cloths.
Ladder-style storage for blankets would work great, too. Just make sure it's secured to the walls as they reach toddling age.
A recommendation for expecting moms: Keep a floating diaper caddy in the room where you spend the most time. For us, it was the living room! You will change a lot of diapers in those first weeks, and it's a lot easier to change them right there, then back and forth every few hours. You could do something like this DIY diaper caddy with wipes, diaper cream, diapers, and anything else you will use on a regular basis.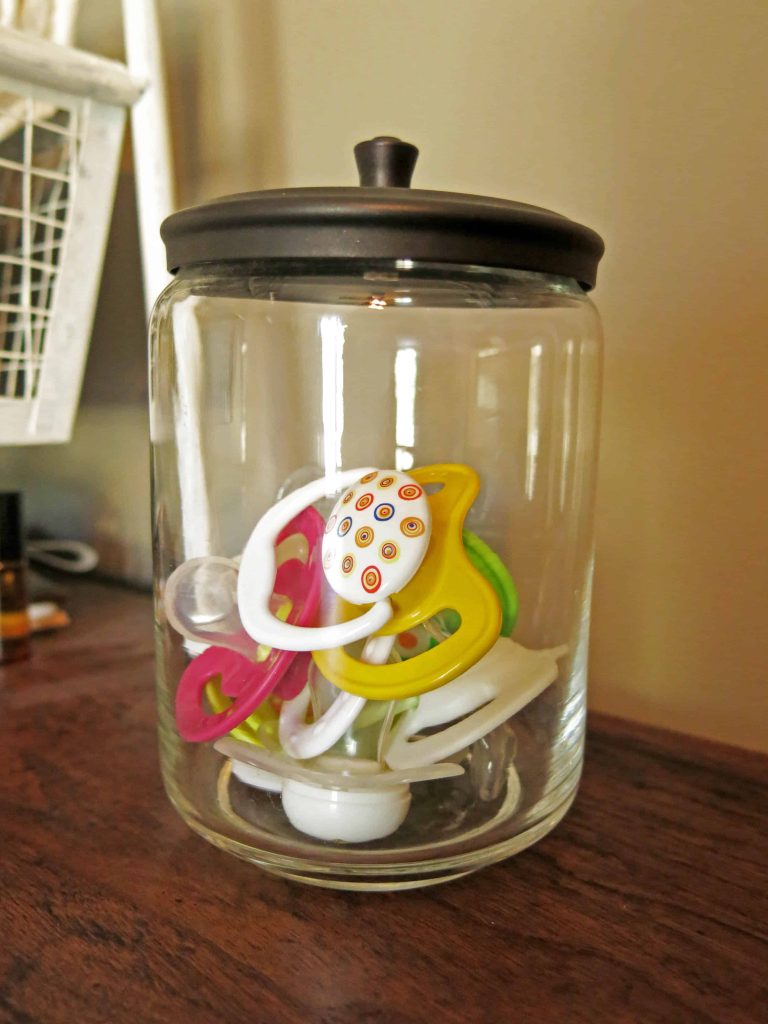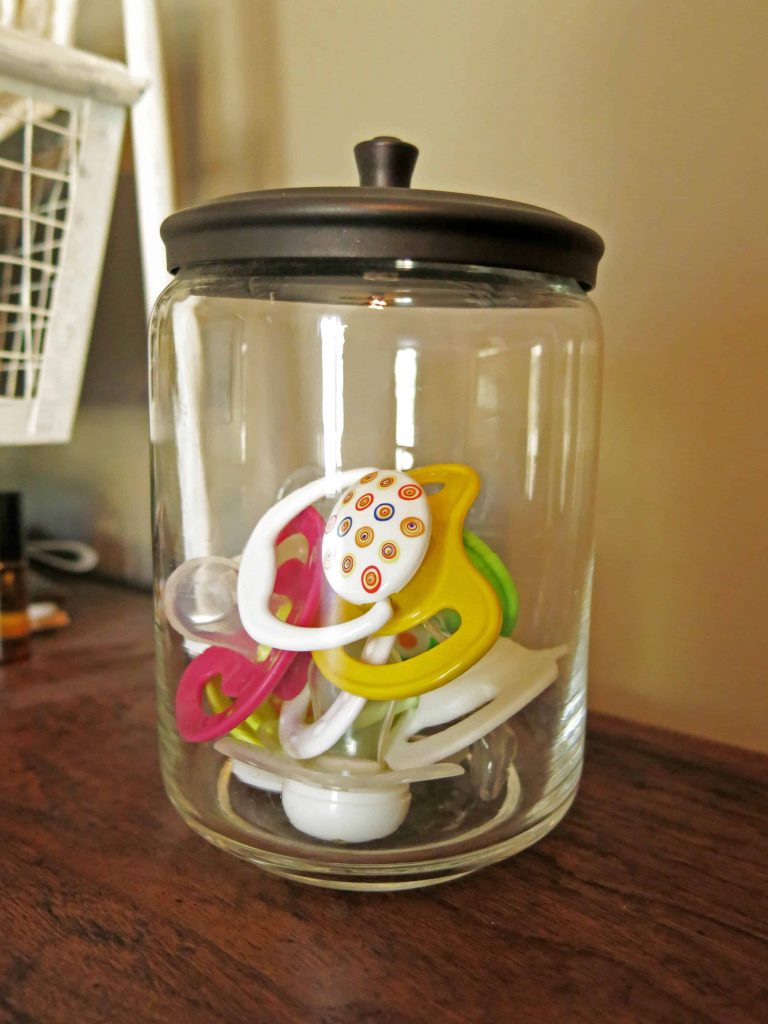 Speaking of nursery storage, I used this fun little glass jar with a lid to hold extra pacifiers on the dresser. With a little boy, you never know where the pee is going to end up, so this keeps the pacifiers nice and clean.
Rustic Woodland Nursery Wall Art & Decor
In true Chelsea form, I needed to add a few DIYs in his woodland nursery, and this poem is just the sweetest! It's such a great reminder to just stop and take in all the baby-ness. I have this available for purchase for your little one's rustic nursery in my Etsy shop (and here's the girl version of the sign too!)
Since we had the arrows on the changing pad cover, I wanted to bring more of them into the room as accent pieces. These arrows were so easy to make and a fun DIY project. They complement the rest of the rustic woodland decor perfectly.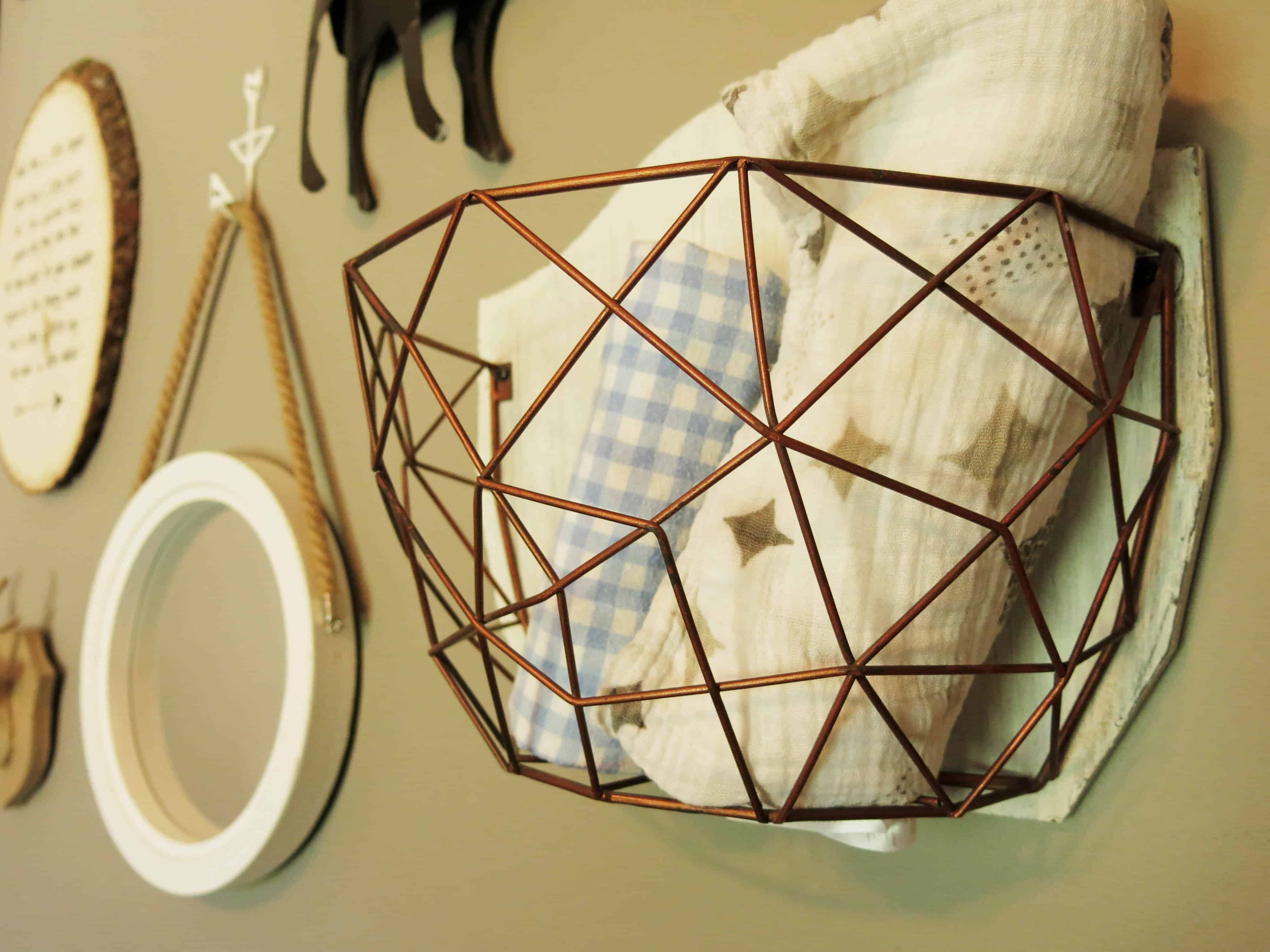 This geometric wall basket doubles as decor and storage! I found this at Hobby Lobby as it was going out of stock. I painted the background white so it would pop against our gray walls.
If you are creating a gallery wall like this one, any hanging baskets that sit flush with the wall is a great storage and decor combo. It's a great way to provide quick storage solutions for rolled up swaddle blankets or burp cloths.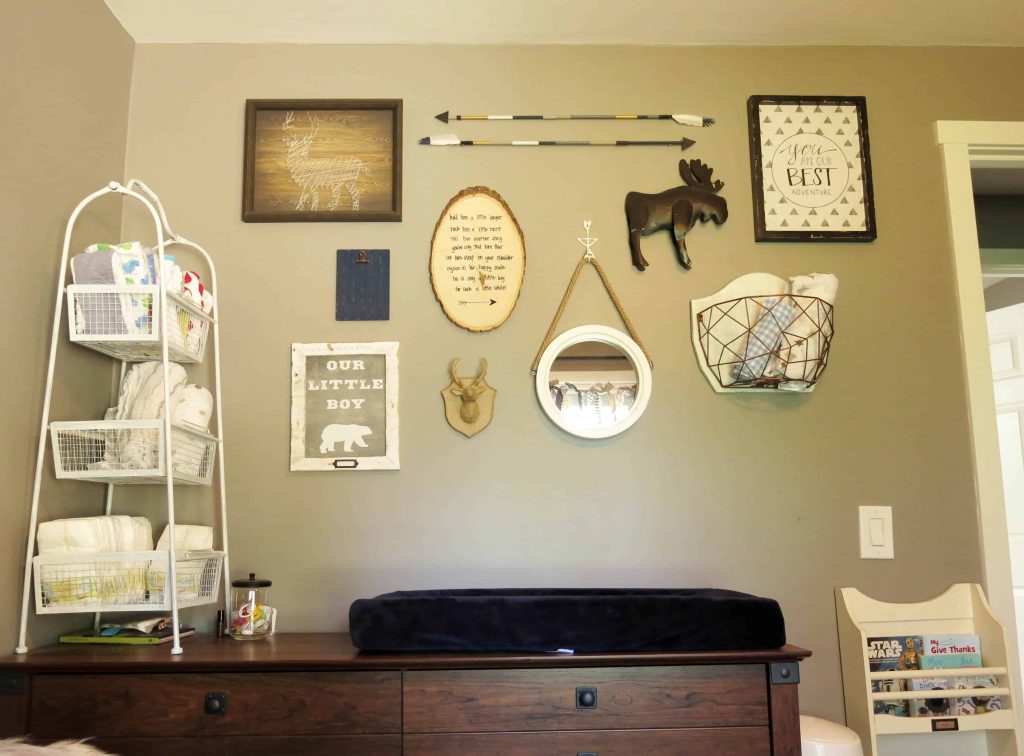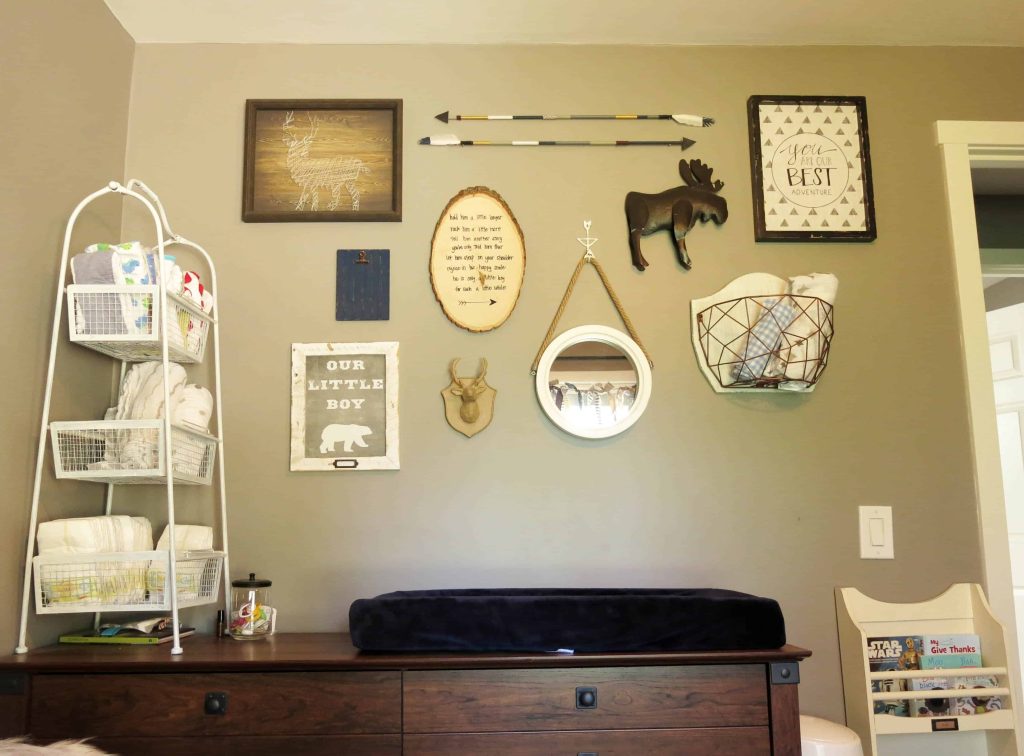 My gallery wall is one of my favorite parts of the nursery, but it did not come together easily.
It took me weeks to plan the layout and the pieces for this gallery wall. I had originally purchased a super awesome mirror from Michael's that I loved but once I got it home and started trying to build the gallery wall around it, I determined that it was just the wrong color blue and it was too big for the small space in our rustic boy nursery.
I returned it and got this white hanging mirror & white arrow hook (no longer sold, similar here). I am now convinced that I put it in the perfect spot on the wall too because Cal's new favorite thing is standing on the changing pad and looking at himself in the mirror. It's the perfect height for those giggles.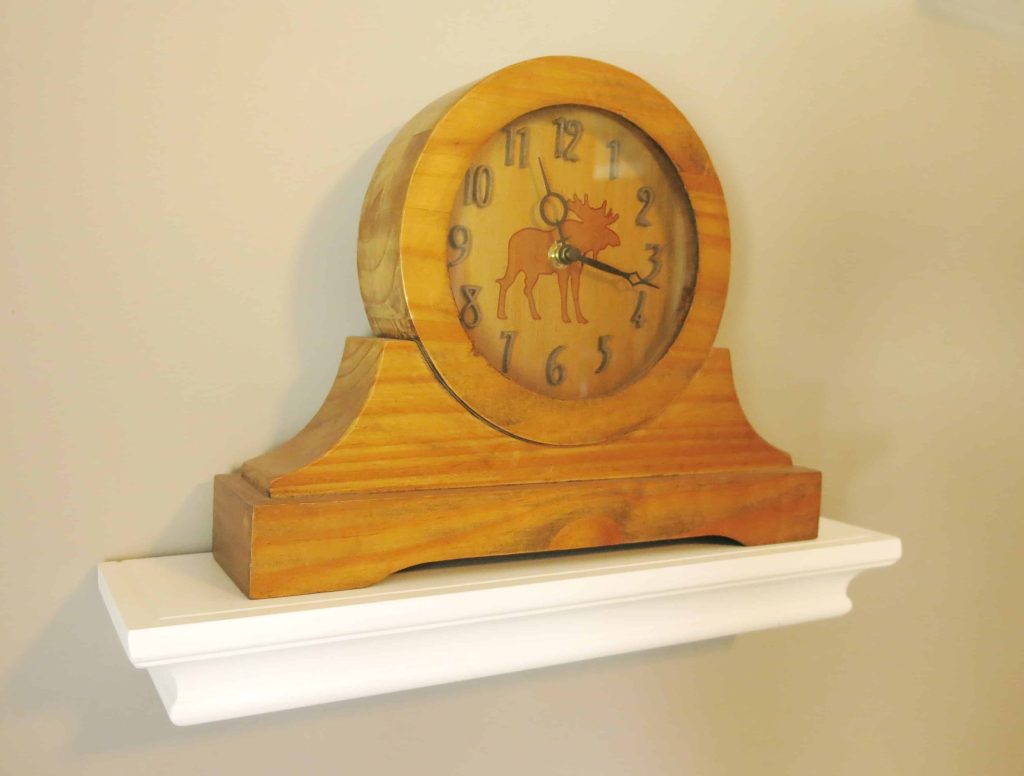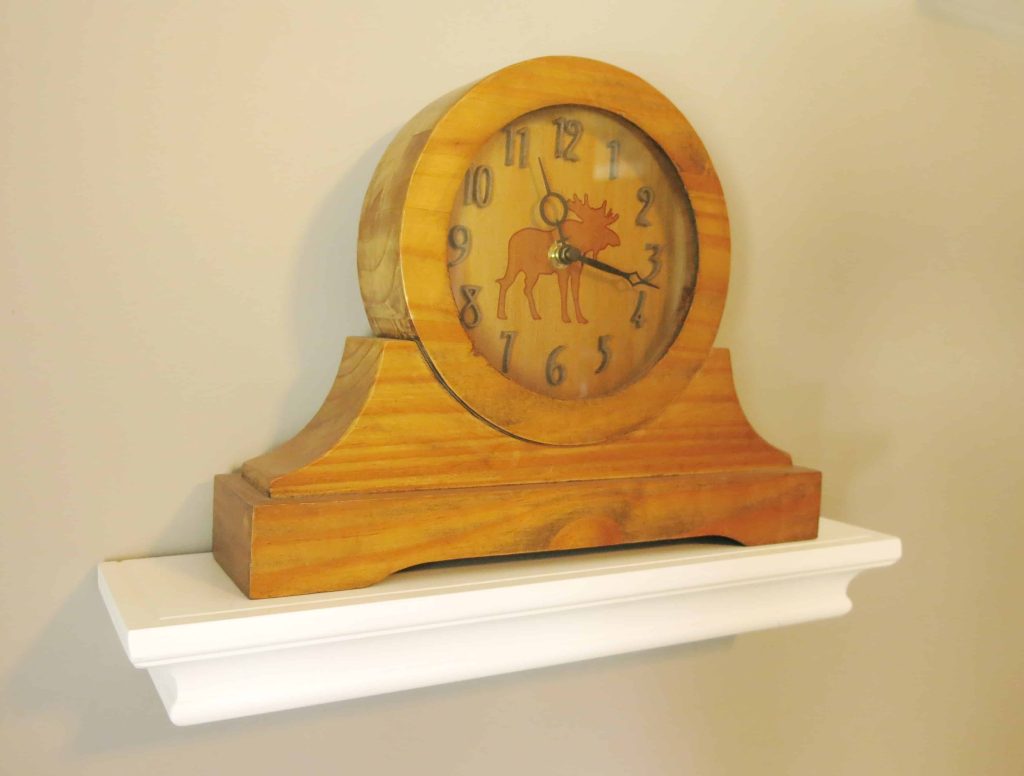 I snagged this clock at a garage sale last year for $5. Score! Love the way it looks in our guy's rustic nursery! Here's a pretty awesome Moose Clock on Etsy!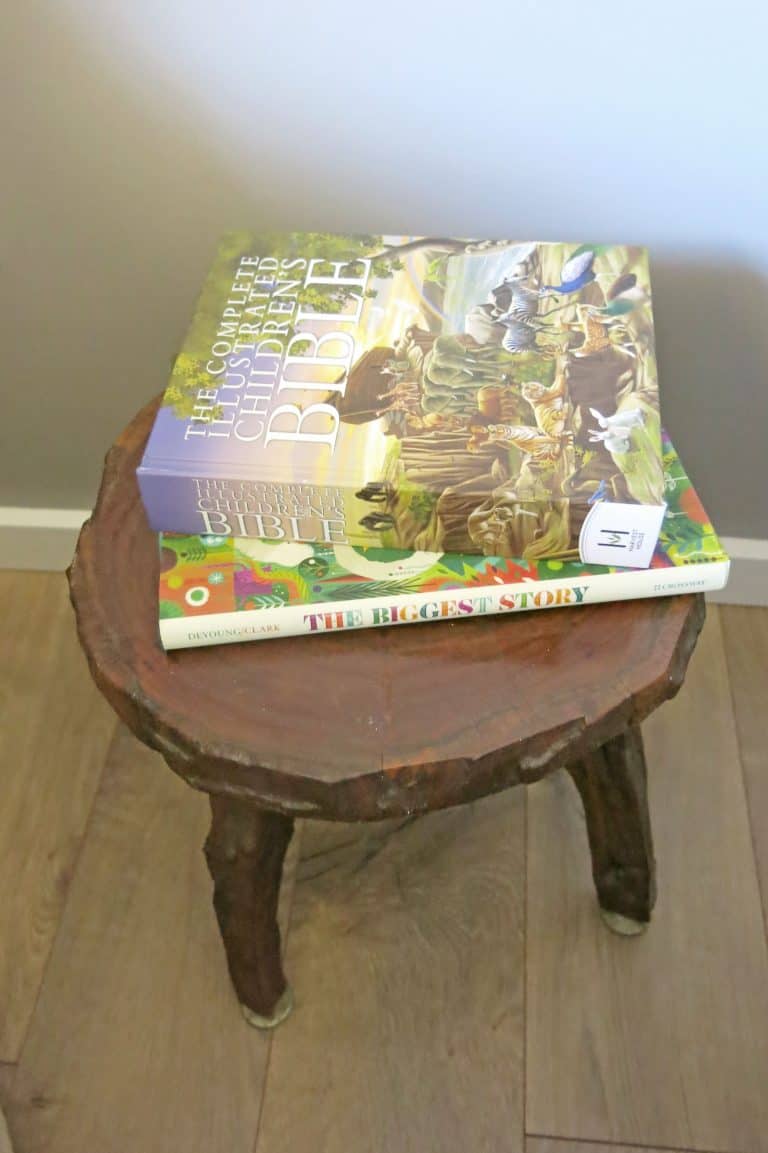 If you're looking for some great bedtime stories, these are our favorites. The Complete Illustrated Children's Bible is the most biblically accurate ones out there and has great realistic illustrations. The Biggest Story is a fun take on the Bible in a story format with very colorful and playful illustrations. We love them both!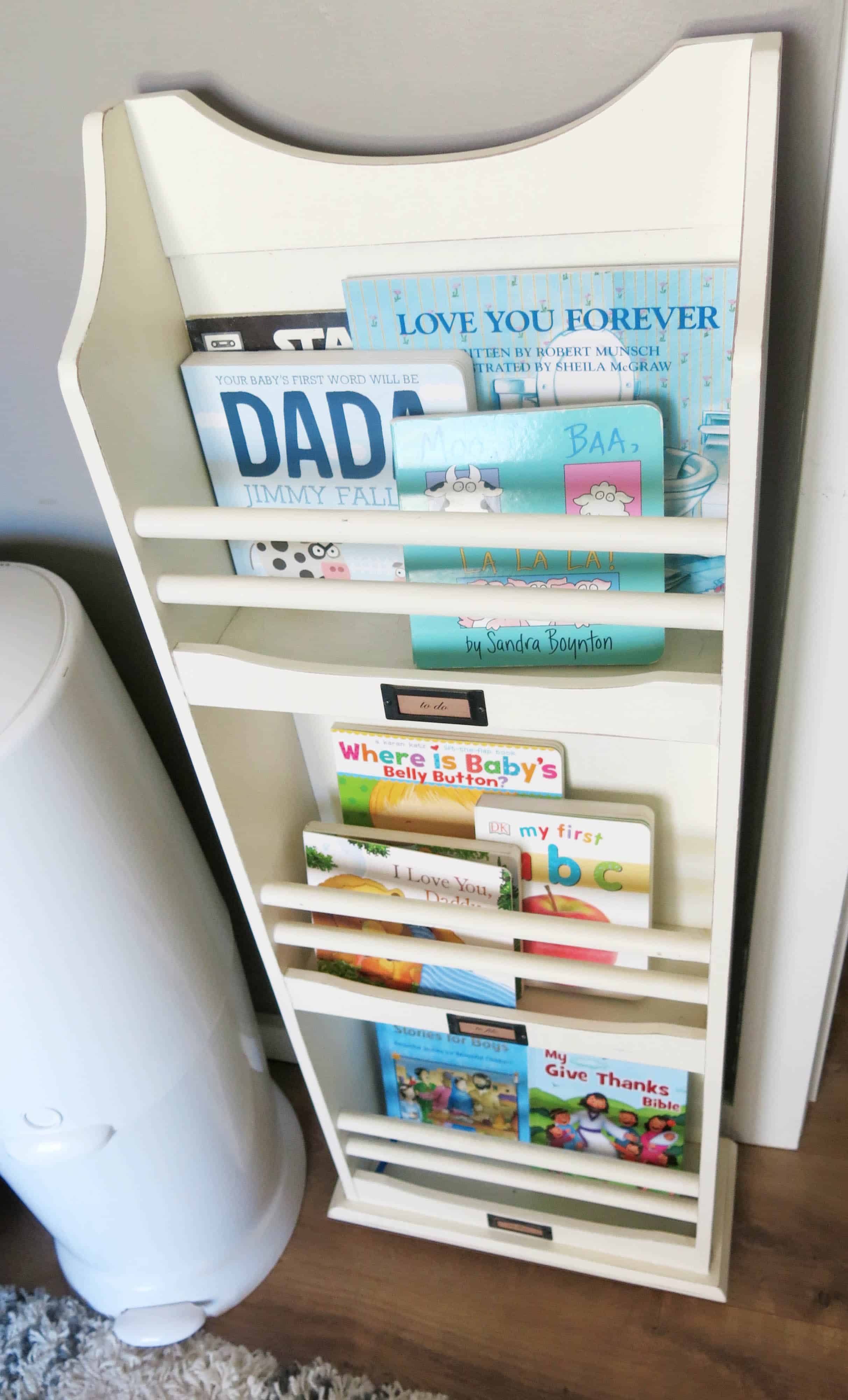 I got this shelf from T.J. Maxx years ago! It works perfect to hold our growing little library of baby books in our rustic boy nursery.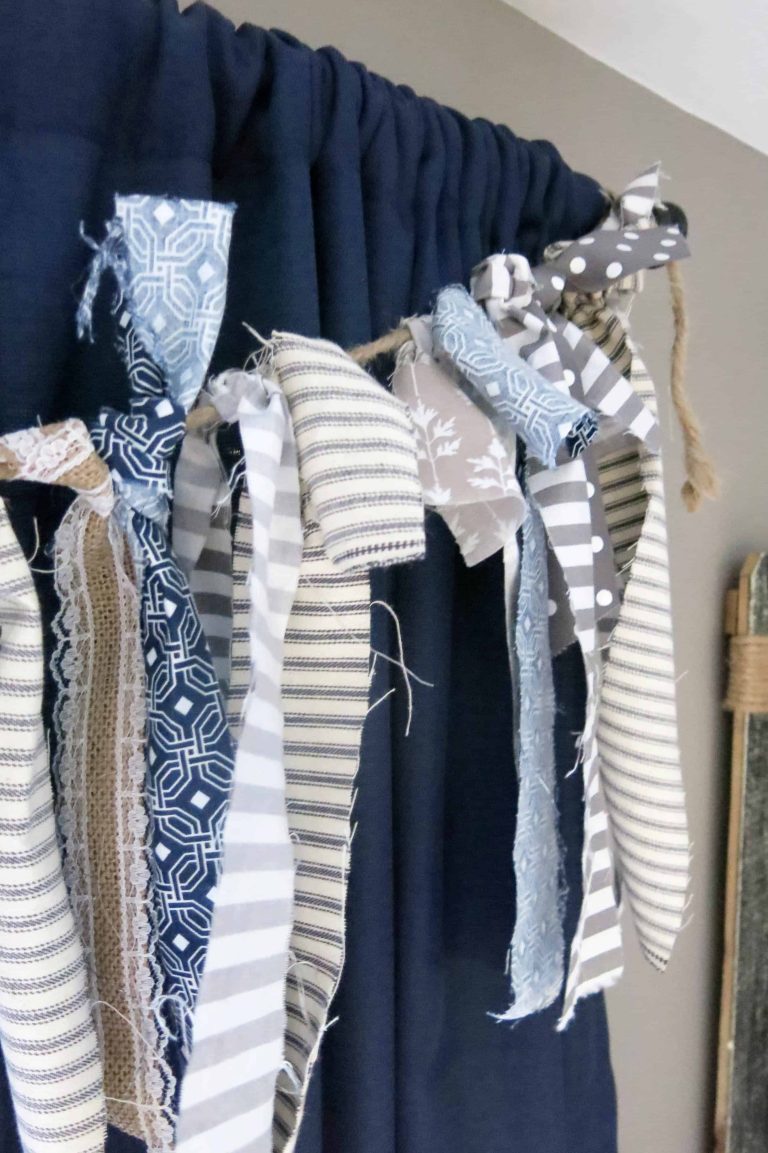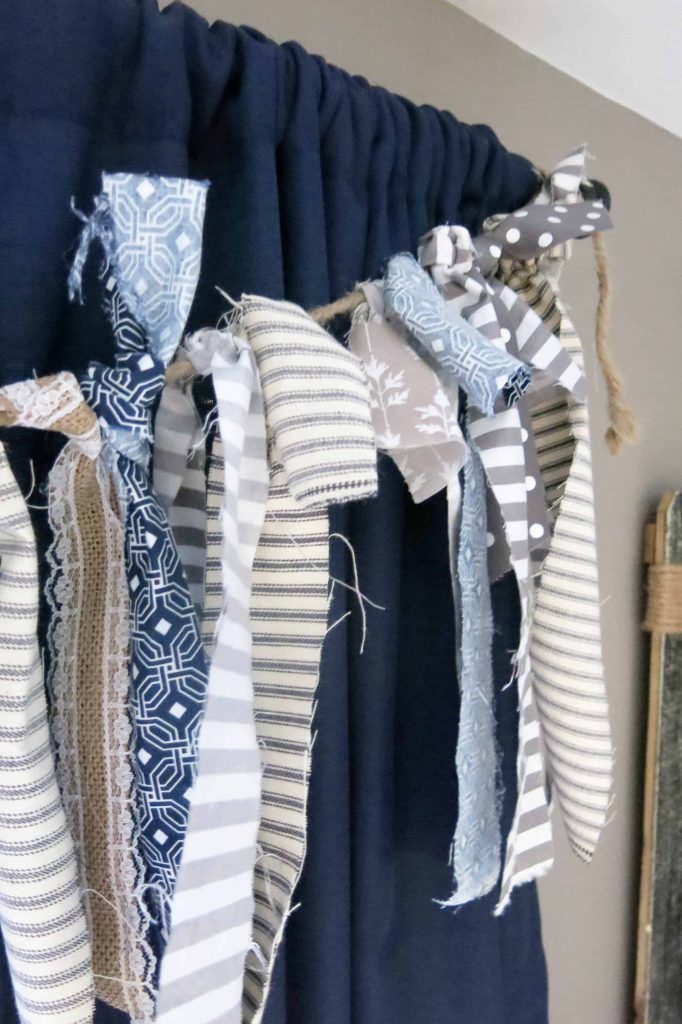 How perfect is this fabric banner?! I can't take credit for this one. It actually is one of the decorations from my baby shower. My amazing sister made it by taking cut and ripped fabric strips and ribbon tied to a piece of jute.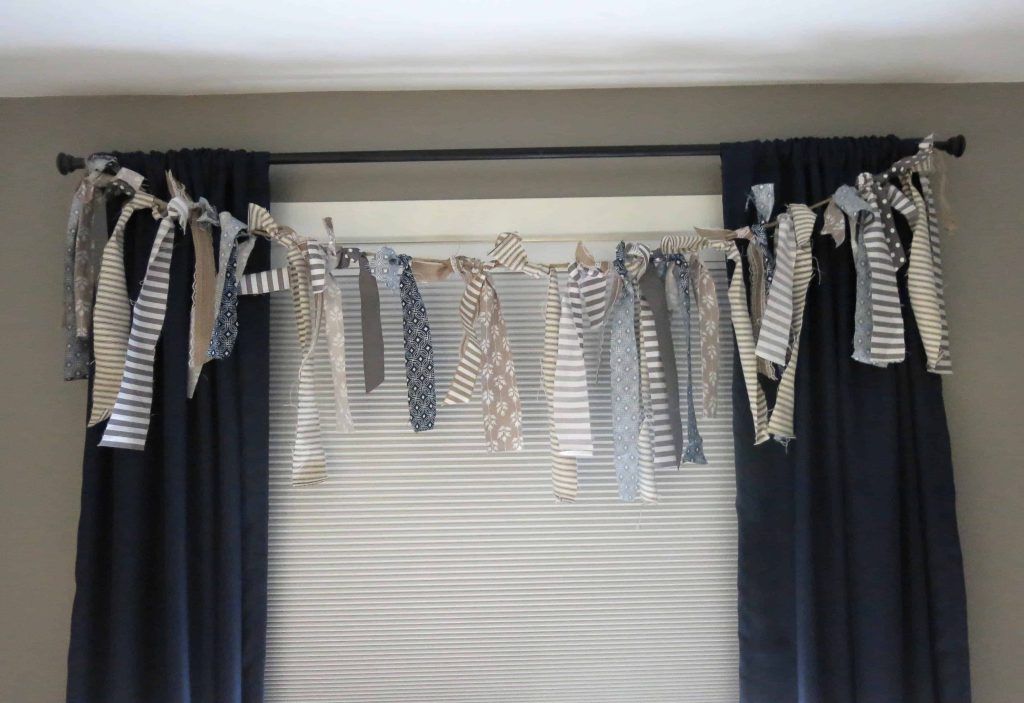 Those simple navy curtains are from Target and they work perfectly in here to add a touch of color.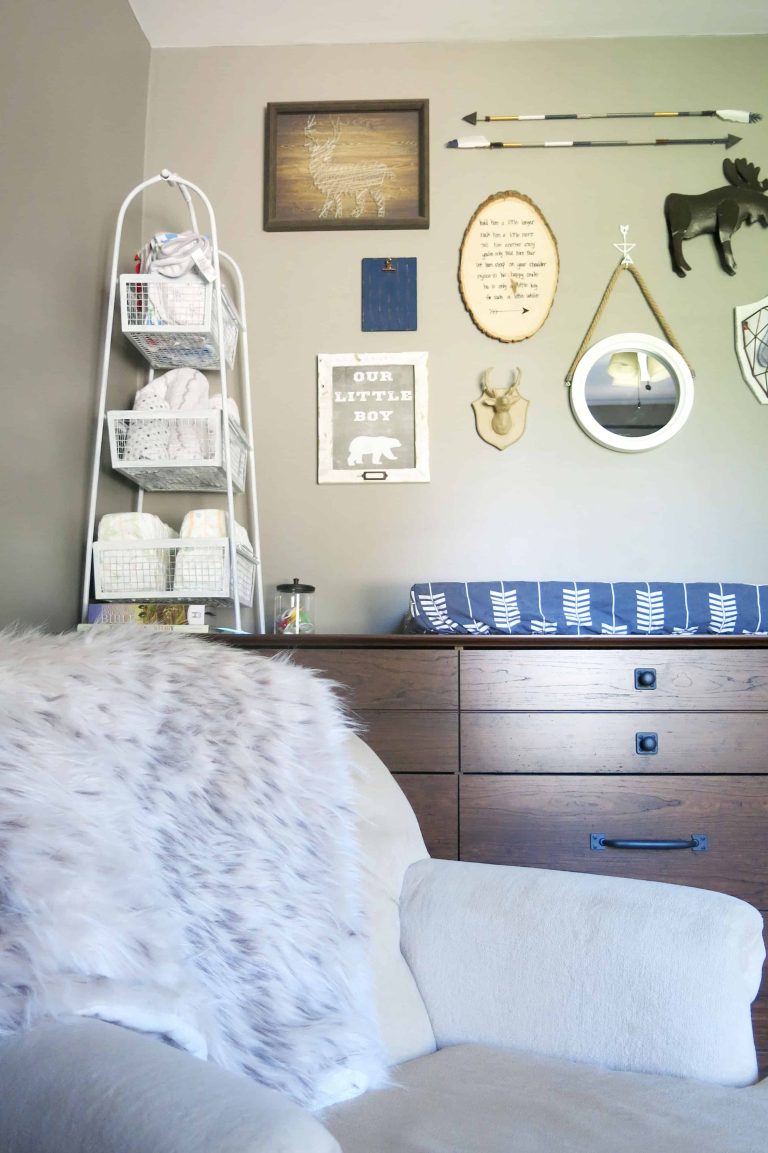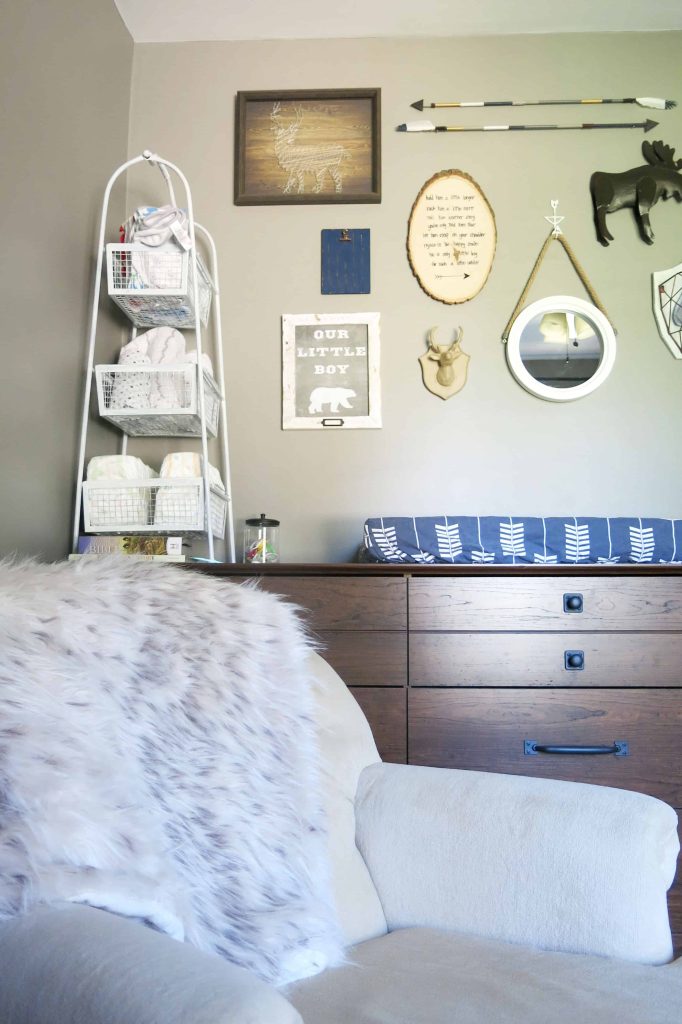 I had fun with that "Our Little Boy" framed art and I made it myself. I downloaded a grey chalkboard vector background and bear vector clip art and threw that little thing together in no time!
If you don't have graphic design software, I'd recommend Canva. It's free online and very easy to use. The white frame is from Michaels, but doesn't look it is sold anymore.
Here's a couple other good rustic white frames – version 1 – version 2.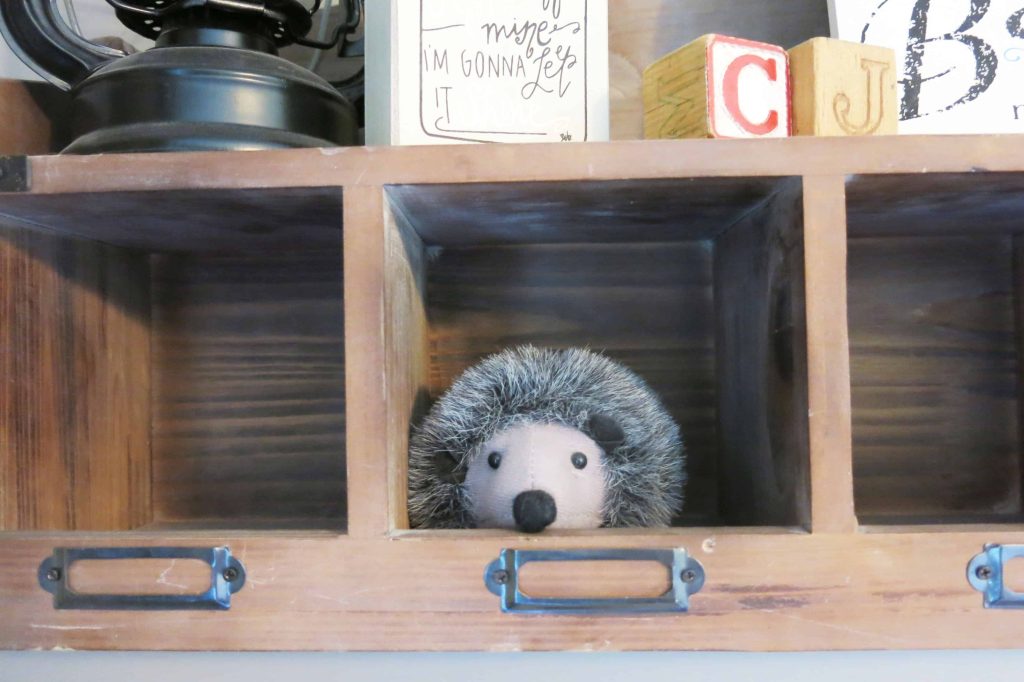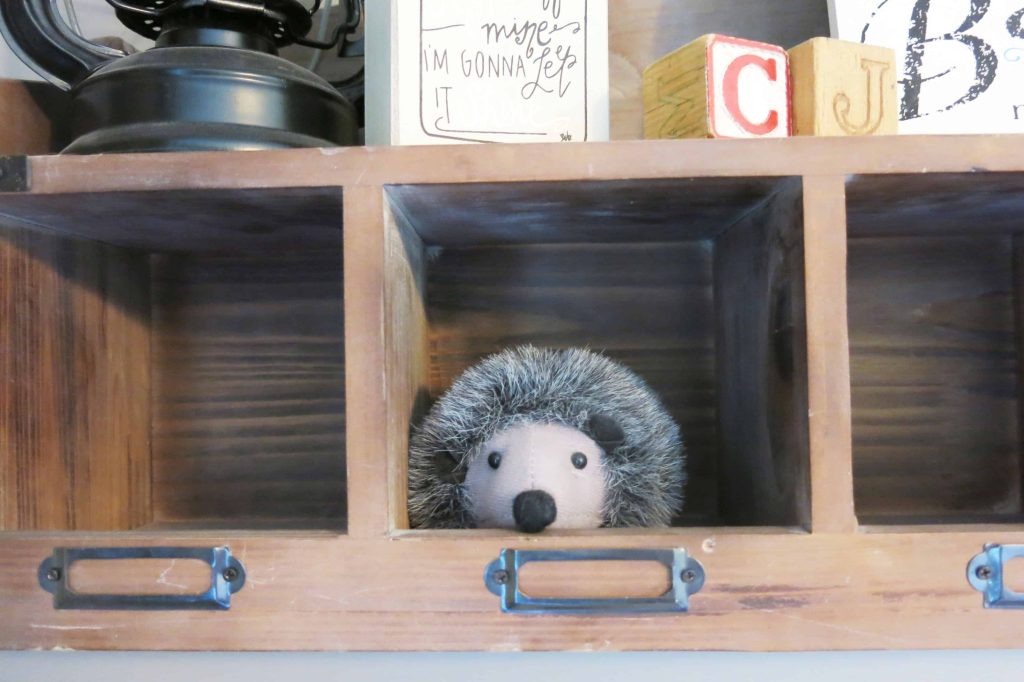 Oh hello there Mr. Hedgehog.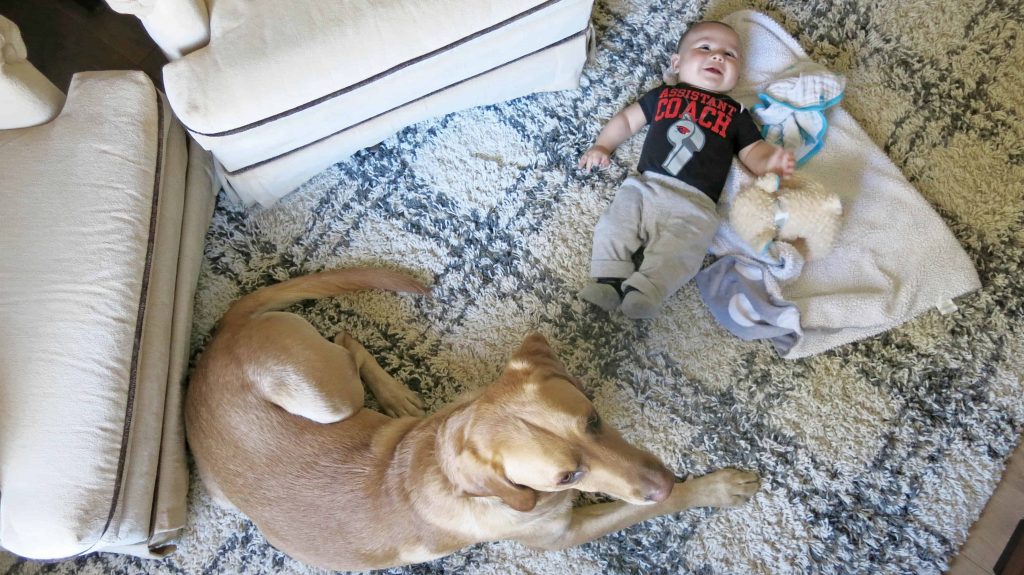 I had the cutest little audience while I was snapping these woodland nursery photos. They are just chilling on our all time fave Samos Rug from Target.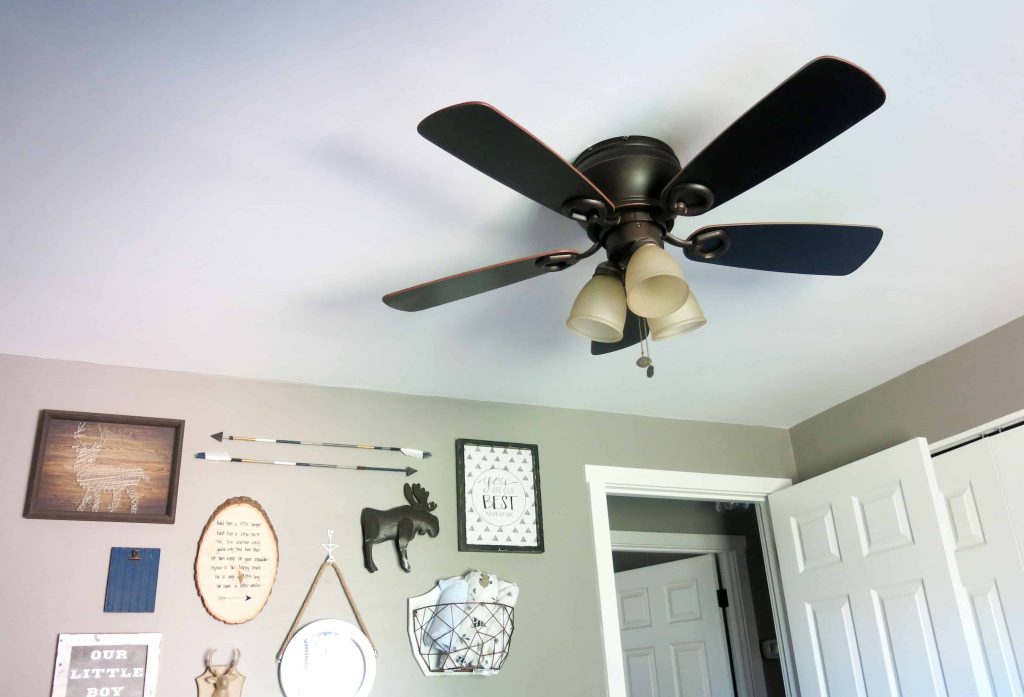 We replaced all of the light fixtures in the bedrooms and living room with oil-rubbed bronze ceiling fans.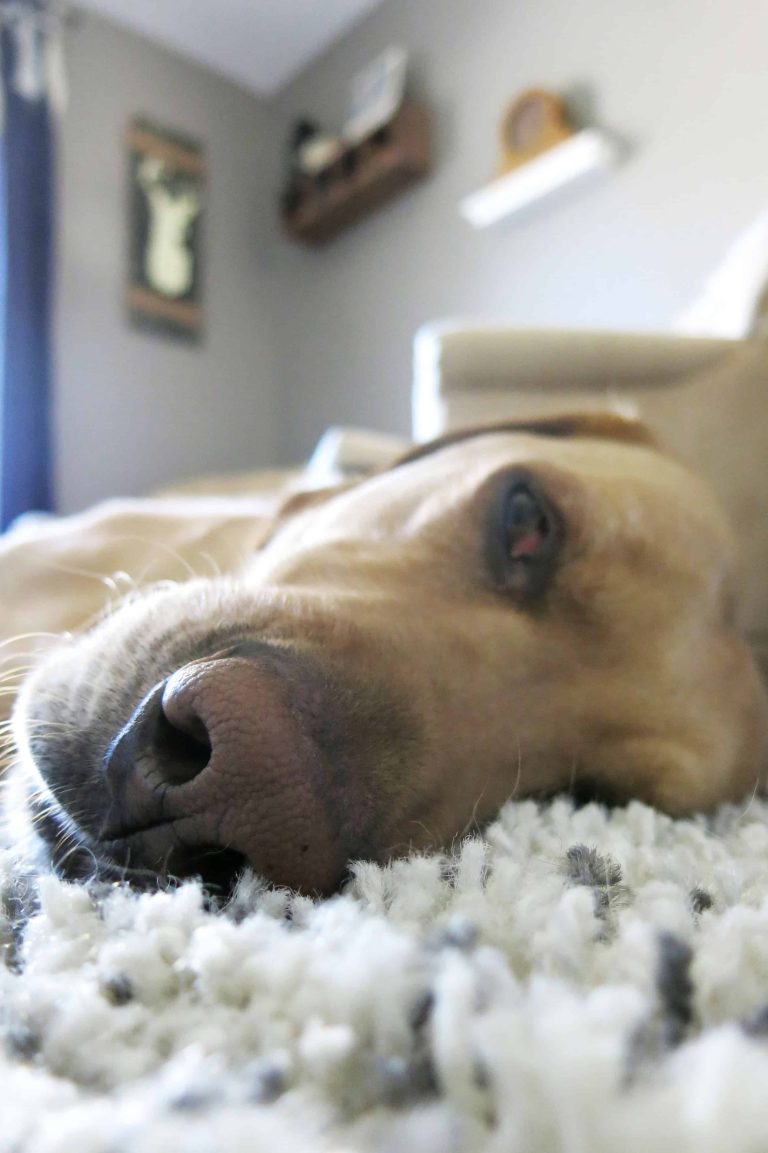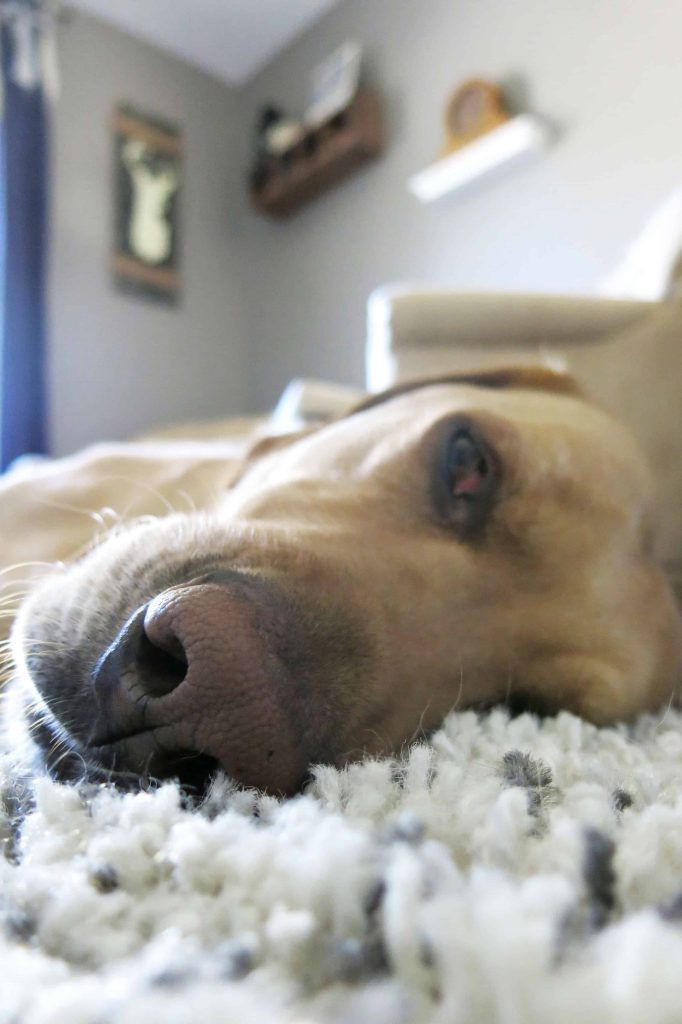 Well, that's a wrap. If Gannon had his way, we would all lay down and take a nice long nap on this rug here… doesn't that sound nice??
Source List For Rustic Woodland Nursery
Similar items are linked for the things that are no longer available
Dresser, currently unavailable
Gallery Wall
White 3-Tier Basket Rack (on dresser)
You Make Me Brave Metal Sign, no longer sold
Tan chairs, thrift store
White Shelves (above chairs)
Wood Cubby Shelf, similar here
Mason Jar "The Little Light of Mine" Decor, no longer sold
Fabric strip banner on window, handmade
Our rustic nursery is now, of course, my favorite room in the house. I love cuddling with Cal and reading him his bedtime stories in that comfy chair.
Looking for more nursery inspiration? Check out these other posts:
What was your favorite thing about our boy's rustic nursery?
Let me know in the comments below!!