This DIY arrow decor is the perfect simple project for your baby boy rustic woodland nursery. It fits in awesome in a gallery wall for adventure themed nurseries.
Arrows seem to be so trendy right now. They are everywhere. Are you a fan? I definitely am. Maybe we owe a thanks to Katniss! This DIY arrow decor is the perfect fit for a rustic woodland nursery like we were creating. I knew I wanted to incorporate some kind of arrow in Cal's nursery. I thought about putting this reclaimed wood arrow sign up (you can purchase from my Etsy store here). I also really liked this rustic decorative arrow sign that I found on Etsy. But then I fell in love with the arrows in this nursery and decided to make some for myself. It was such a simple and easy craft.
This post contains affiliate links, but nothing that I wouldn't wholeheartedly recommend anyway! Read my full disclosure here.

DIY Arrow Decor For Baby Boy Rustic Woodland Nursery
I promise to start sharing some bits and pieces of Cal's nursery, which is still not completely done (UPDATE: here's the room reveal). When you are pregnant and in the nesting phase, you want every little thing in the nursery done before the baby arrives. Every little piece of clothing washed and folded just right. Everything hung on the walls just like you imagined. Then reality sets in. You're tired and exhausted from literally building a human. Everything hurts. You're barely sleeping. You are working extra hours at work trying to prepare for your maternity leave. You're cleaning the house because let's face it, who knows the next time when the oven will be cleaned. If you are anything like us, you are in the middle of trying to finish the major projects of a home renovation. Those last minute touches to the nursery get pushed aside. And then your little one arrives and EVERYTHING gets pushed aside.
Cal is three months old now and we're just finishing things up in our baby boy rustic woodland nursery. A full room reveal is coming soon! (UPDATE: here's the room reveal). Check out our inspiration for the room here. 
Supplies for DIY Arrow Decor:
Wooden dowel
Twine/thread
Leather scraps – you only need a little for a small triangle at the tip. Alternatively you could use black cardstock paper.
Glue – I highly recommend the 3-in-1 glue! I was out of it at the time of making this, so I used my hot glue gun instead and it worked just fine too!
Paint brush
Step One: Paint dowel with color blocks
I used painters tape to mark off certain color blocks and then applied acrylic paint. Once that color block was done drying, I removed the tape and continued until the whole dowel was filled the colors. I left open areas where I wanted to put twine/thread. If you didn't want to paint your dowel, you could also attached some fabric scraps (using mod podge) or decorate with washi tape.

Step Two: String on your twine/thread
I used different textures and colors of twine and thread in different areas of the dowel in random increments and lengths. To attach I tied the twine around the dowel with a knot. Holding the knot in place with my finger, I then started wrapping very tightly. When I was finished with that section I tied another knot, cut the thread and secured with a dot of glue.

Step Three: Attach your feather to the end
First I painted the tip of my feather with a navy paint. Once that dried, I cut the base of the feather shorter so there was only about an inch below where the vanes end (and yes I had to look up what that part of the feather was called). I used lots of hot glue on the shaft of the feather and attached that directly to the end of the down. You want about half of the length of the feather to hang off the back edge of the dowel. Be sure to attach the feather to the dowel very quickly after putting on the hot glue. I learned the heard way and my glue was already cooled down a bit and didn't stick the first time or two. If you are using 3-in-1 glue, just be sure to hold it for about 30 seconds until the glue sets and you should be fine. Once that is dried, you can add twine to the base of the feather to cover it up and make it more secure.
Step Four: Add leather to the other end
For the tip of the arrow, I opted for a black leather triangle. I've seen other tutorials with some creative ideas for the top of the arrow (like this one which uses a pencil eraser!)

Step Five: Hang on wall
I just hung resting on top of a couple of nails, but if you wanted to hang them the other way (vertical instead of horizontal), you could always use some sort of sticky foam tape between the wall and the arrow.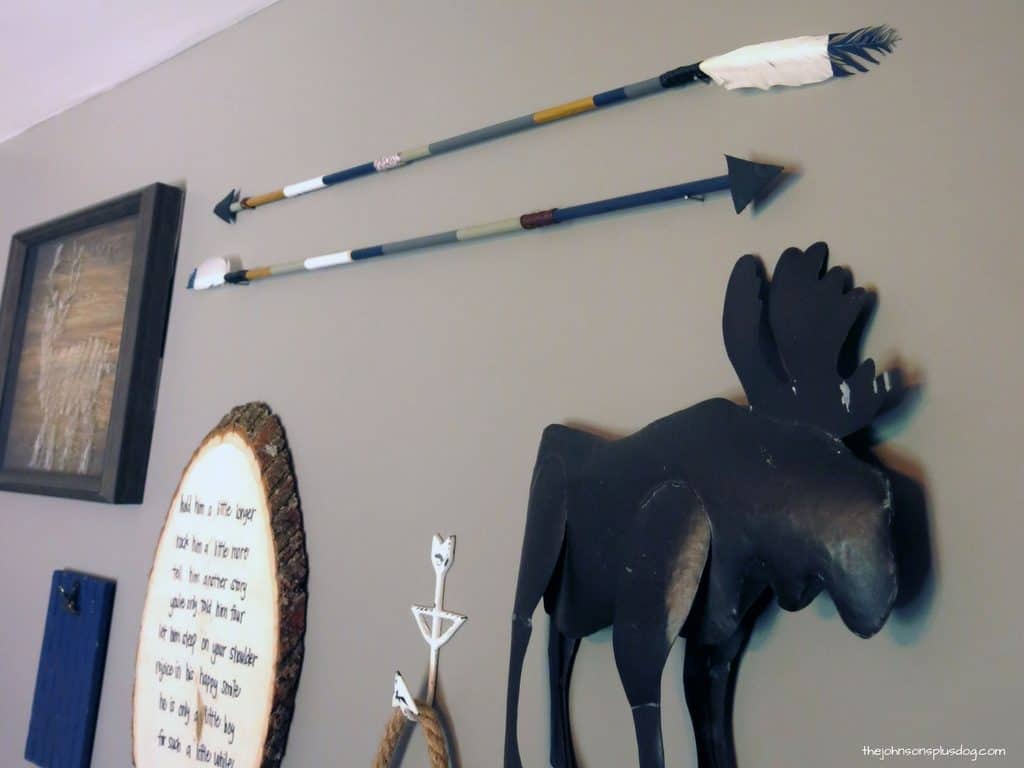 I just love the way the DIY Arrow Decor turned out and how well it fits in with our gallery wall in our baby boy rustic woodland nursery.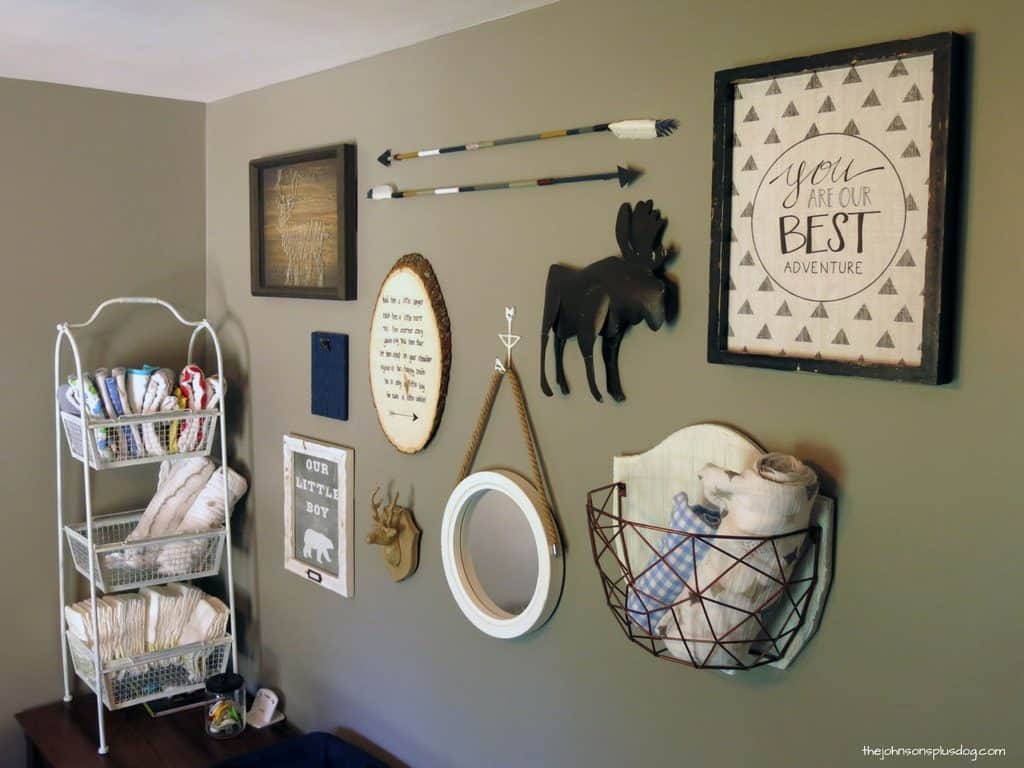 I'd love to see what you come up with and how you incorporate the DIY Arrow Decor into your home.

Want more baby boy rustic woodland nursery inspiration? Follow along on my Pinterest board!
Check out the full room reveal here!