If you're looking for baby boy rustic woodland nursery inspiration, you've found it! Today I'm sharing all of the design plans behind our little boy's nursery. It has a navy and tan color scheme and tons of cute woodland nursery ideas.
In case you missed our exciting announcement, we're gearing up to add a little guy to our family at the end of the April. Since we found out that we're pregnant, I've been daydreaming of setting up a cute little nursery in our empty back bedroom. We knew kids were in the near future, so we didn't move anything into that room yet and lucky me, I've got a blank slate to work from!
We are so extremely excited to become parents and there is so much other prep involved besides decorating a nursery; it almost seems trivial as we embark on the big journey of parenthood, but this nesting thing is real I tell you. Decorating the nursery is probably the 2nd most excited for during pregnancy. 1st is all these little kicks and punches that I feel everyday from my little miracle. It's amazing and I smile every time I feel him moving around.
I've finally settled on our inspiration behind the little man's nursery. We're going with a Navy and Tan color scheme and Rustic Woodland feel. Here's a little look book for you of our baby boy rustic woodland nursery inspiration.
Looking for girl woodland nursery inspiration instead of a boy? I love these great girl nursery woodland ideas.
This post contains affiliate links, but nothing that I wouldn't wholeheartedly recommend anyway! Read my full disclosure here.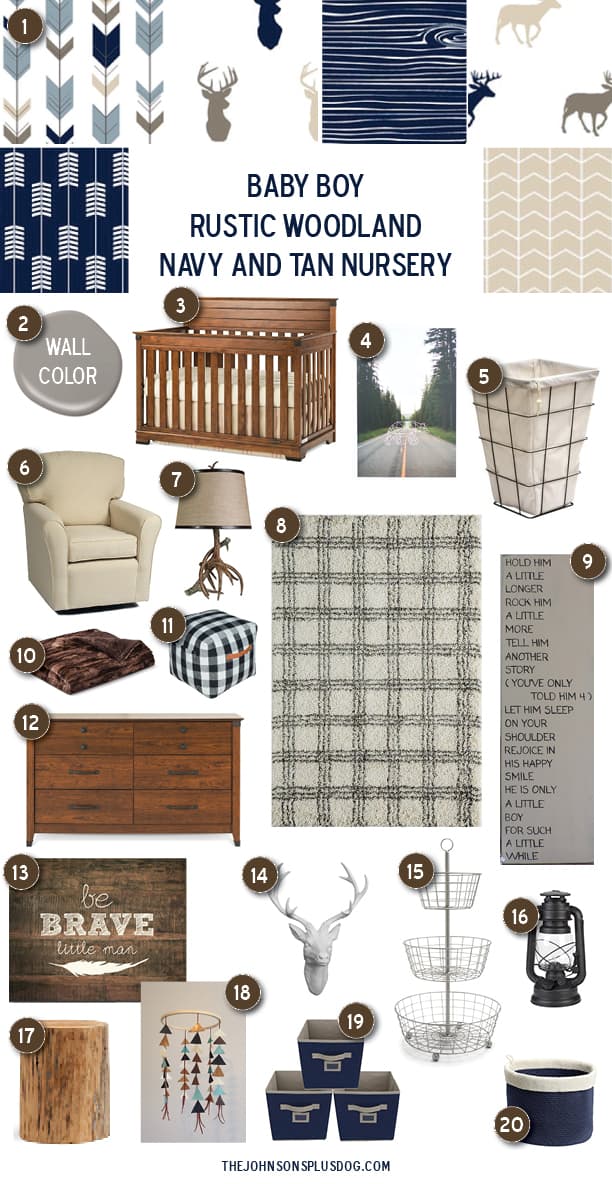 Prints – These fabulous prints will be the fabric pieces in our custom made quilt from Melissa at Little Oasis Nurseries on

Etsy

. It was so easy – I just chose the fabrics I would like and she's adding a custom listing for me with the blanket and a couple other goodies (crib skirt and changing pad cover) so that I can add it to my Amazon registry. These prints were the jumping off point for the rest of the inspiration.
Wall Color – This is the wall color we have throughout the house (at least the walls that are already renovated). It is Behr's Fashion Gray. I love it. It's going to work perfect for little man's room. I chose to go with a navy and tan/brown color scheme, rather than navy and gray, which was something else I was considering. I did this to avoid having the room feel too gray!
Crib – I was so happy when I stumbled across this little gem! I love the look of the Child Craft Redmond Crib. It's a 4-in-1 convertible crib and fits right in with the rustic look. There are more pieces to the Redmond set (see the dresser in #12), so the more the merrier.
Bear Print – I am in love with this print from one of my favorite blogs of all time, Vintage Revivals. You can grab this print in her shop here.
Hamper – How perfect is this wire laundry hamper? (UPDATE: I know it's a little different than the one shown in the pic, which is no longer sold).
Glider – True story, we're not getting a glider for the nursery. We have two vintage tan chairs that are SUPER comfy that swivel and rock that we're going to put in the nursery. I'm ALL for using the existing items we have for the nursery. I love that we'll also have two chairs in there for the times that we just want to both stare at the little guy together. However, if I was getting a glider, this Eddie Bauer tan glider from Target would probably be it (UPDATE: it's a little different than the one shown in the photo, which is no longer sold). It is almost the same color as our vintage chairs.
Antler Lamp – This is another item that we already have on hand. We have an antler lamp that's very similar to this one that we'll put in the nursery.
Rug – I love this rug from Target and how it almost resembles plaid.
Hold Him a Little Longer Hanging – My heart is so happy when I read this cute little poem. I'll probably end up DIYing something with this saying, but if I don't, I'll be purchasing this one from TellTheStoryDesigns on Etsy.
Faux Fur Throw – I love the rustic-ness (yes it's a word) that a little splash of fur will bring to the room. I love this faux fur throw. (UPDATE: this is no longer sold, here's something similar)
Plaid Ottoman – I can't get over how cute that plaid ottoman is (UPDATE: Sadly, Target doesn't sell this item anymore!)
Dresser – I was originally going to try to find a dresser from a thrift store or Craigslist, but it's inevitable that whatever we find will probably need some amount of work and we've got enough projects to finish up before the baby! Since the Redmond set has both a crib and dresser, it's a no brainer to get

this dresser.

Be Brave Print – I love this "Be Brave Little Man" print from ZoomBooneCreations on Etsy.
White Stag Hanging – I may choose to hang some real antlers instead of getting a hanging like this one on Amazon, but I haven't decided yet.
Tiered Wire Baskets – I'm planning on using this on the dresser (which will also be my changing table) for diaper supplies and other loose ends. I love this Three-Tiered Stand – it's a great size with the bottom basket measuring 15" across.
Lantern – Nothing says rustic woodland like a farmer's lantern. I already have one of these laying around my house so I'll re-purpose it and put in the baby's room for decoration.
Stump Side Table – I've always loved these Stump Side Tables, like this one from Pottery Barn Kids (UPDATE: Pottery Barn doesn't sell this item anymore, here's something similar on Etsy). We're actually planning a little DIY project for a table with some awesome supplies we have on hand – more to come 🙂
Mobile – How cute is this triangle mobile from HomeGoodsByHolly on Etsy?! I can't quite find something to buy that perfectly fits my dream. So, this is triangle mobile is just one piece of inspiration behind the mobile that I have in mind to DIY (think triangles, antlers and feathers….can't wait to put that little gem together!)
Storage Baskets – With all those little baby things, I know one thing that I need plan ahead for is STORAGE. These storage baskets (UPDATE: the ones shown in picture are no longer available, here's something similar) will match perfectly and help out organize the closet area.
Knit Round Bin – I love

this Navy/Ivory Round Bin

that is bound to grow with us from storing things like blankets and burp cloths to army men and dump trucks.
DIY Projects Planned
Some of the things I'm looking most forward to in the nursery is some DIY projects that we can make that will be unique and special. Some things we have planned.
To stay informed with all of my baby boy rustic woodland nursery inspiration, follow my Pinterest Board: Baby Boy Nursery
Those are some of the initial ideas floating around my head while I daydream about rocking my little guy to sleep in his woodland nursery.
BTW – I highly recommend both Target and Amazon for your baby registries!
UPDATE: Here's the tutorial for the fun DIY Arrow Decor that I made for our Baby Boy Rustic Woodland Nursery. I just love how they turned out and how they fit right in on our gallery wall.
UPDATE: You can check out the full room reveal here!