Wedding dress shopping is one of the most exciting aspects of the whole wedding planning process, but it can also be a stressful time spent worrying about budget, body image issues, pleasing others and it can possibly bring on anxiety as your big day begins to feel even closer. With my 15 Tips for Wedding Dress Shopping, hopefully some of these stresses can be eliminated or lessened.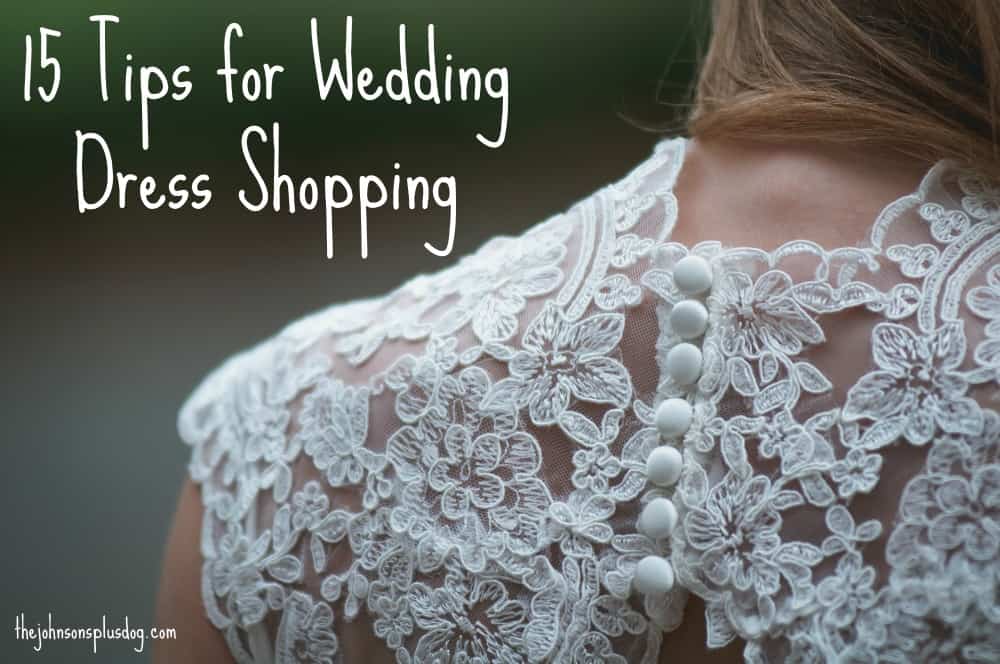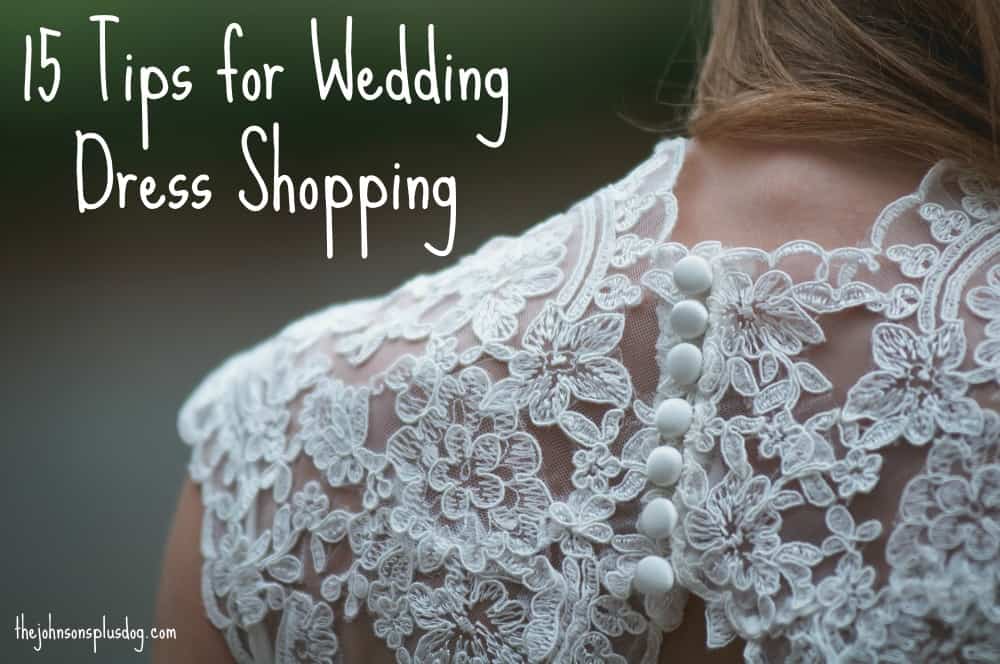 15 Tips for Wedding Dress Shopping
1.  Have a budget in mind 
Remember when we talked about wedding budgets here and here? Well, be sure you refer back to your wedding budget and see how much you have allocated for the dress. Now that you're further along in the wedding planning process, some of the budget items may need to change. For instance, your reception venue ended up being more than you originally planned (read some tips about booking your venue here). Be sure that you're constantly adjusting that wedding budget as needed. Before you even think about trying on that white dress, know exactly how much you're willing spend.
2. Don't forget about alterations
Speaking of budgets, did you have an extra line item for wedding dress alterations? This is something that I hadn't really planned on and I was shocked when the seamstress told me what the alterations were going to cost. My dress was ordered in the size closest to me as possible but it still required many alterations to fit my body perfectly. I also decided I wanted add hooks to be able to pull up the short train during the reception (SO glad that I did!).
3. Consider buying off the rack
Buying a dress "off the rack" is a great option! Off the rack means that you buy the ready-made wedding dress that you try on at the store, rather than having one custom made in your size. It's can be a more budget friendly route and a great option for a quicker engagement when you don't have the time to wait ±6 months for your custom dress. However, you are limited by the options the stores have on hand and the sizes they have available.
I actually started the dress shopping thinking I was 100% going to buy something off the rack. But the dress I fell in love with was only available five sizes too big – even the best seamstress couldn't make it work. Brides.com recommends here buying no more than two sizes bigger than what you measure.
Some stores have sample sales where they try get rid of their off the rack inventory to make room for a new season. It's a good idea to call around and see if any of the stores in your area have a sample sale coming up. But keep in mind that at those sales, you may not get the same one-on-one service you would otherwise because the store is so busy.
4. Plan out the stores and make appointments if possible
Ask your friends for bridal store suggestions, do your research and plan out the stores you want to tackle. Most stores will take appointments and it's a great idea to make an appointment if possible. That way you know you will have the undivided attention of a consultant and they can be a tremendous help!
5. Have a style in mind and bring pictures of inspiration
Don't be shy…I know you've been looking at wedding dresses on Pinterest before you even started thinking about getting married, am I right?! Most girls have a definite style in mind or something they've envisioned since they were a little girl. Be sure to bring along photos of wedding dresses you like to show the consultants.
6. Bring a friend or two, not a crowd
Some people may totally disagree with me on this one, but I am SO glad that I only had one or two of my best girlfriends with me the first couple times I went dress shopping. I can only imagine how stressful it would be to tackle it with a crowd the first time (too many opinions, you may feel rushed so people aren't waiting for you, some people may have different schedules, etc. etc.). Bring along someone you trust and someone that will let you make up YOUR mind (ie: if you think dress shopping with your mom would turn into her pushing you to buy the dress she likes the best, don't bring your mama the first time). Once you've decided and/or purchased the dress, it would be a fun idea to invite your bridal party or family to your first fitting so they can see you twirl in the pretty dress of yours!
7. Just try it on – you may be surprised
Some of the consultants I met with brought me some dresses that I would have never chosen for myself. I looked at some and thought "there's NO WAY!"…but just try it on. The more dresses you try on, you'll begin to figure out what styles look good on your body type and it will help narrow down what you're looking for. I was pleasantly surprised by some of the dresses that I tried on and actually liked way more than I thought I would.
Look at the wide range of some of my favorite dresses I tried on…and this was at one store. In the end, these were nothing like what I ended up getting but I did like them more than I thought I was going to!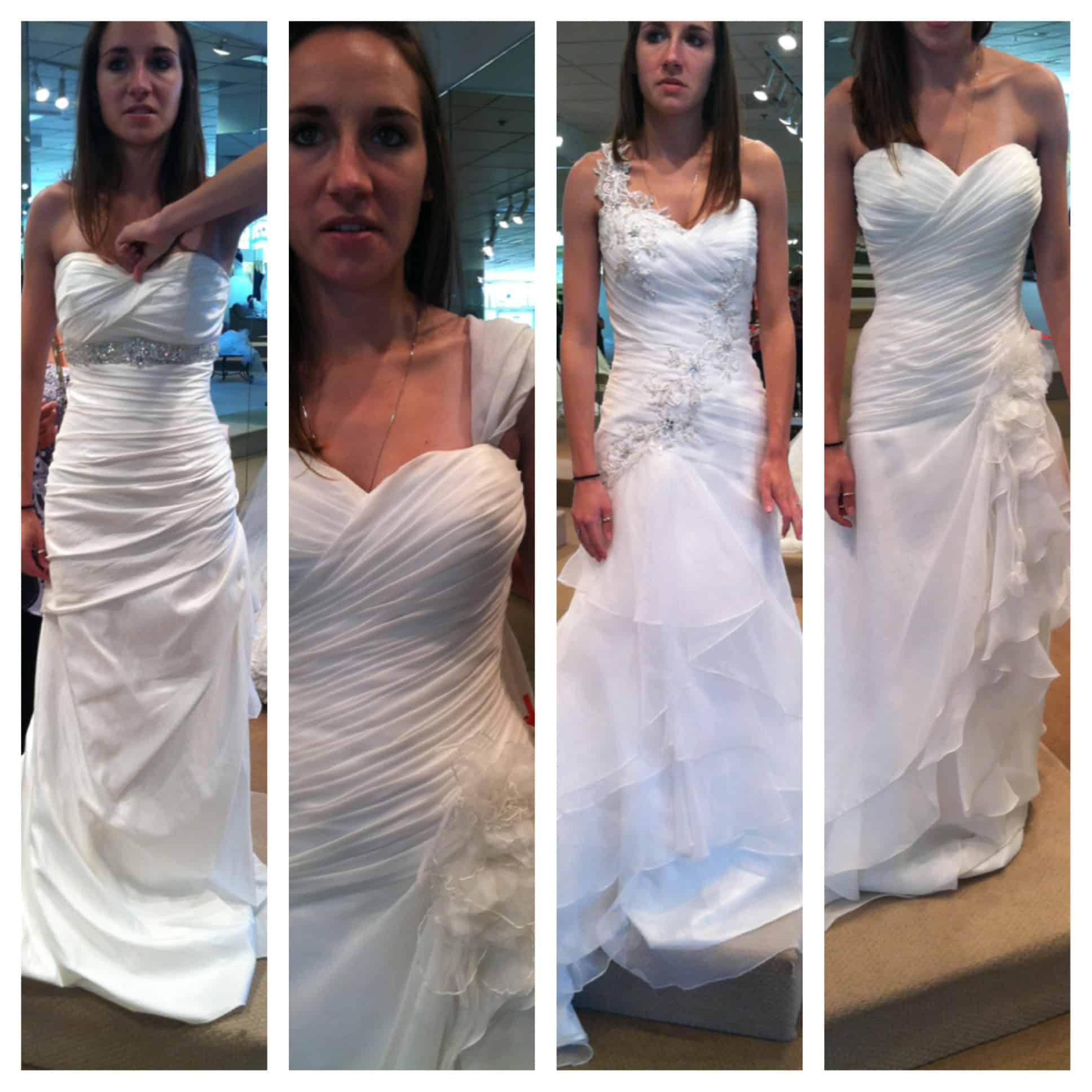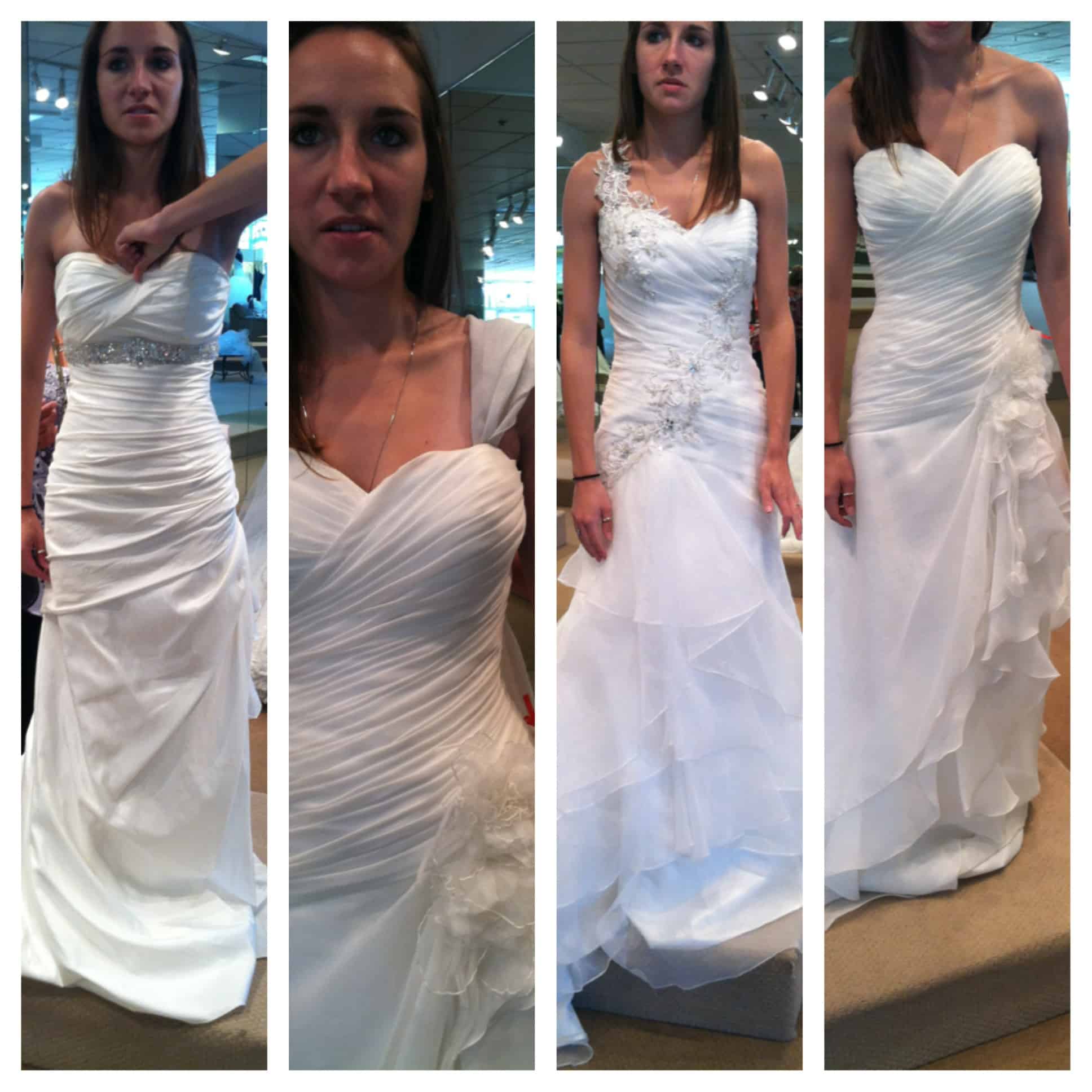 8. BUT, only try on dresses within your budget
"Just try it on" definitely needs to be echoed with… but only try on dresses within your budget. Be sure to tell the bridal consultants that you only want to see dresses in your price range. They may still bring you something over your budget anyway. By sticking to trying on only within your budget, you won't fall in love with something that you can't afford (which can make for a very disappointing experience).
9. Choose something comfortable
This totally depends on the bride, but I wanted a dress that was going to be comfortable. I've seen so many brides look miserable toting around a long train, waddling around in a mermaid gown while wearing heels or constantly pulling up their strapless dress for hours during the reception. I wanted to be able to bounce around from table to table, shake it on the dance floor and lift my arms for the hundredth time to give another hug. Remember your wedding day is a long day…a long wonderful day, but long none-the-less.
10. Wear something modest underneath while shopping
Most likely your consultant and your shopping mate/s will be in the dressing room with you at some point during the day. Be sure to wear modest undergarments and something tan if possible (hello there black thong… as you turn around in the white dress in front of a room full of mirrors, no thank you). Also don't forget to wear or bring a strapless bra and some heels (something similar in height to what you imagine you'll be wearing).
11. Don't forget to eat, but eat something light and nothing that will make you feel yucky
We've all seen Bridesmaids, right? You know what scene I'm talking about…the one where they go dress shopping and all end up getting sick while in the dresses. It's gotta be the best scene of the entire movie (if you've never seen it, check it out here… but just a warning, it is pretty graphic/gross and has one curse word). Avoid this disaster and eat something light and fresh on dress shopping day. You don't want to feel yucky or bloated. Plan your breakfast and/or lunch wisely. On the other hand, don't think that not eating at all would be any better. I don't know about you, but when I'm hungry… moodiness and anger shortly follow.
12. If your engagement is long, don't buy/alter too early
If you are planning on a 12+ month engagement, be sure to not buy or alter your dress too early. You may have some weight fluctuations overtime, so it's best to stick to buying your dress 6-7 months before the wedding (unless you're doing off the rack) and plan your alteration schedule so that your final fitting is about three weeks before your big day.
13. Take pictures of your favorites and stay organized
I think I tried on about 20-30 dresses the day I found mine and by the end of the day it was a blur. I was so glad that my MOH that was shopping with me had taken photos of the faves and created collages using her iPhone with a picture of the dress linked to the storefront signage or business card. This was so helpful to remember what dress was at what store.
Keep in mind that some stores have policies against taking pictures of the dresses, so ask before you click.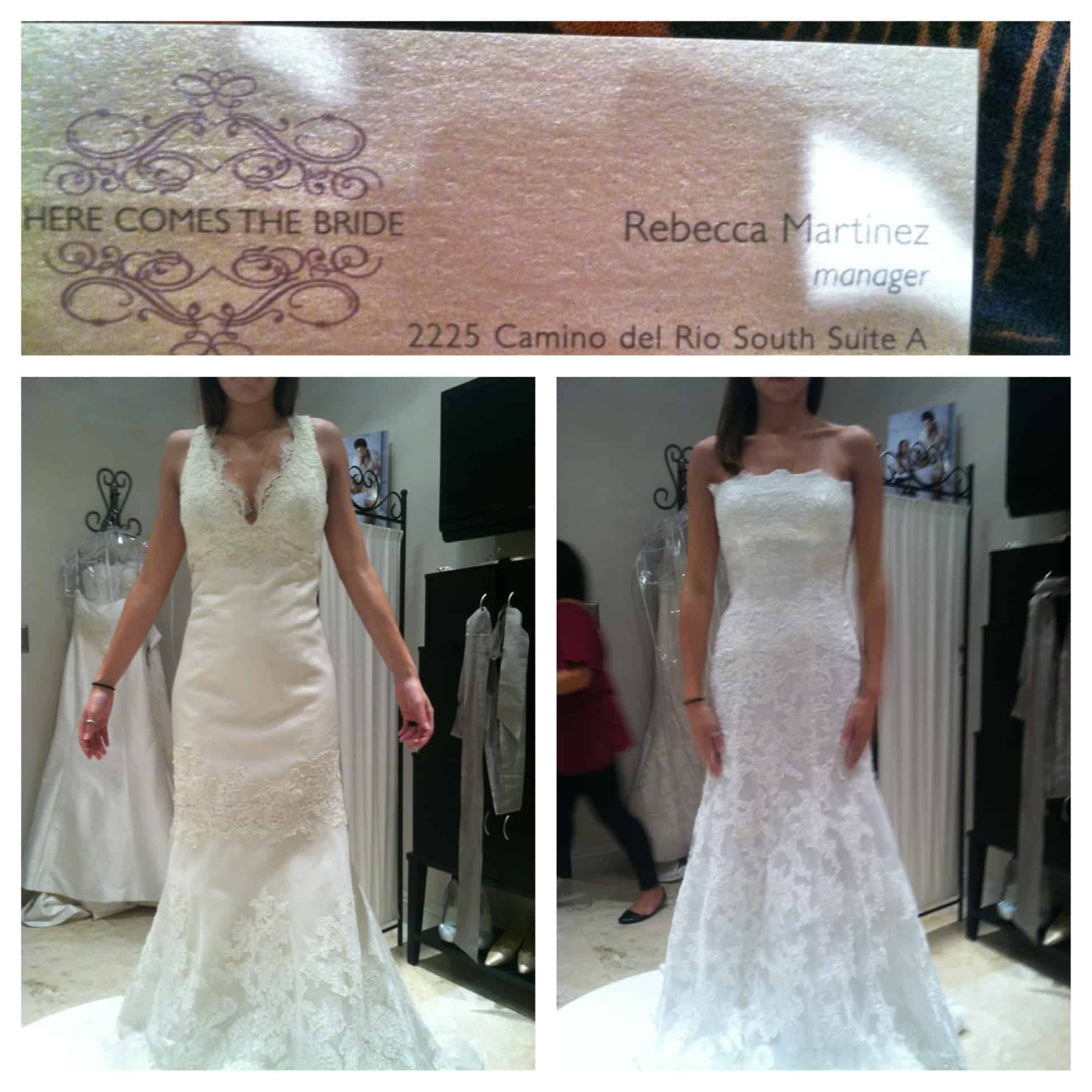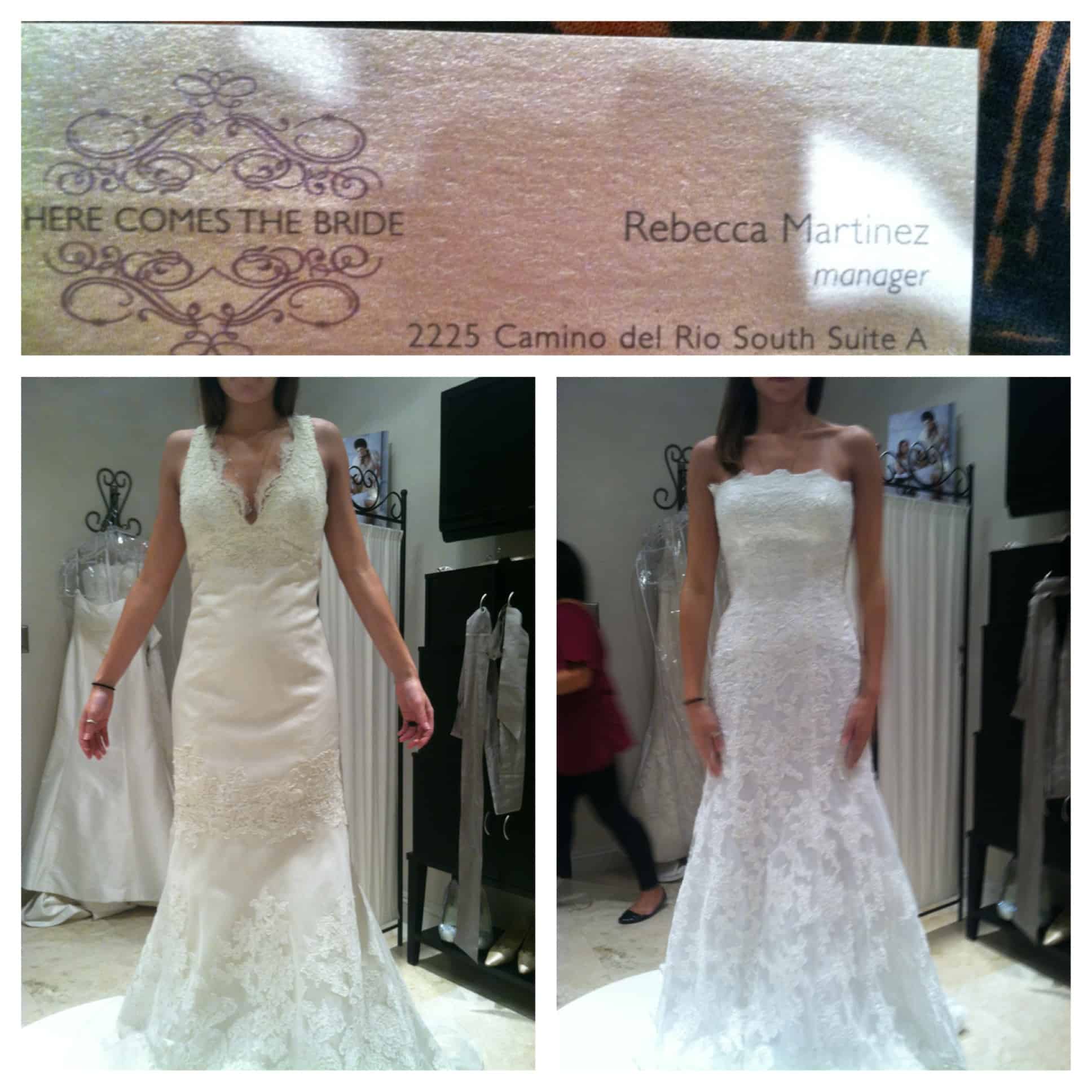 14. Sleep on it & go with your gut
If you have a big shopping day planned, it's best to sleep on it before you make a decision. It can be definitely be a blur and giving yourself sometime to think on it is a great idea. In the end, however, go with your gut. Here's the dress I feel in love with.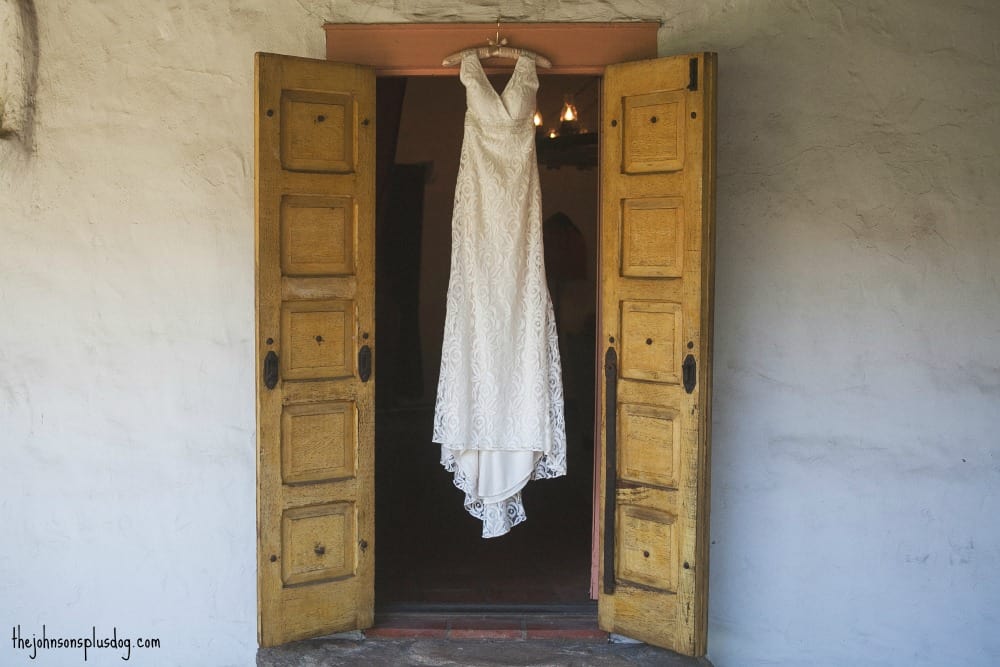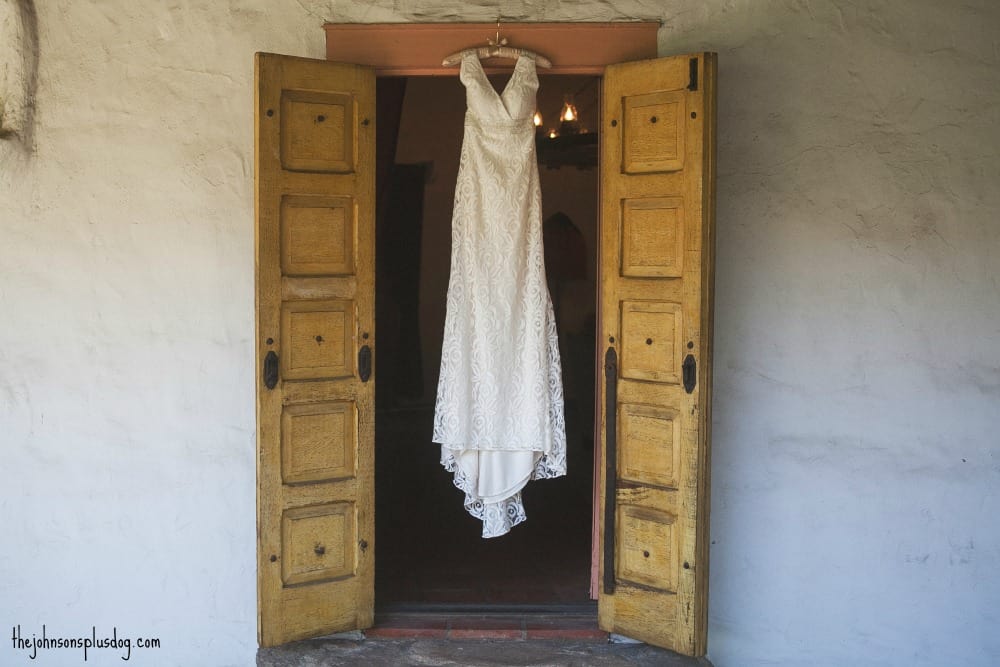 15. Have someone else store the dress
Once you do get the perfect dress and you're ready to take it home, it's a great idea to store it at someone else's house if you're keeping it a secret from your fiance. My MOH stored the dress at her house and she lived close enough that I could always go over and try it on with a new accessory I found or if I was freaking out that gained a pound thinking the dress wasn't going to fit anymore.
Using these 15 tips for wedding dress shopping, your anxiety and stress about shopping for your wedding dress can be eliminated. Best of luck during your shopping experience. Hopefully these tips for wedding dress shopping will help.
Any other wedding dress shopping tips you have for other readers!?
Share in the comments!