Calling all budget brides! Let's face it – weddings are expensive and you could use all the cheap wedding ideas you can get, right? Using these genius ways to save money to save money on your wedding will allow you to save thousands.
It's Wedding Wednesday again here and we've been making our way through my Ultimate Wedding Checklist. Today I'm pulling out the whole kit and caboodle and sharing all of the brilliant cheap wedding ideas with you.
Once you got engaged, you were probably thinking to yourself and instantly Googling ' how to have a cheap wedding '. Well, you're in luck because I've rounded up 36 ways to save money on your wedding.
When we were planning our rustic vintage & burlap wedding, we were constantly looking for cheap wedding ideas.
Anything that could cut costs here and there because let's face it – weddings are EXPENSIVE. The average cost of a wedding is $25,764 (source: Cost of Wedding) but I know you can do it for a lot less!
With these cheap wedding ideas, you'll be able to save thousands! I'd love to hear any other ways to save money on your wedding in the comments.
This cheap wedding ideas post contains affiliate links, but nothing that I wouldn't wholeheartedly recommend anyway! Read my full disclosure here.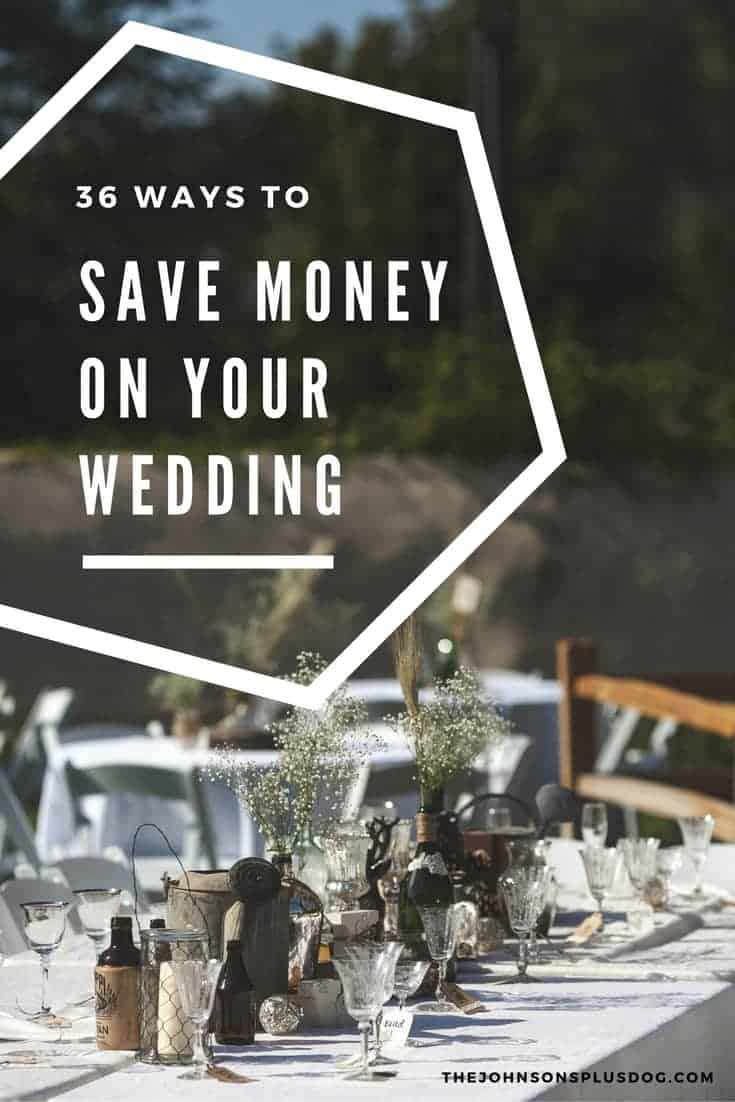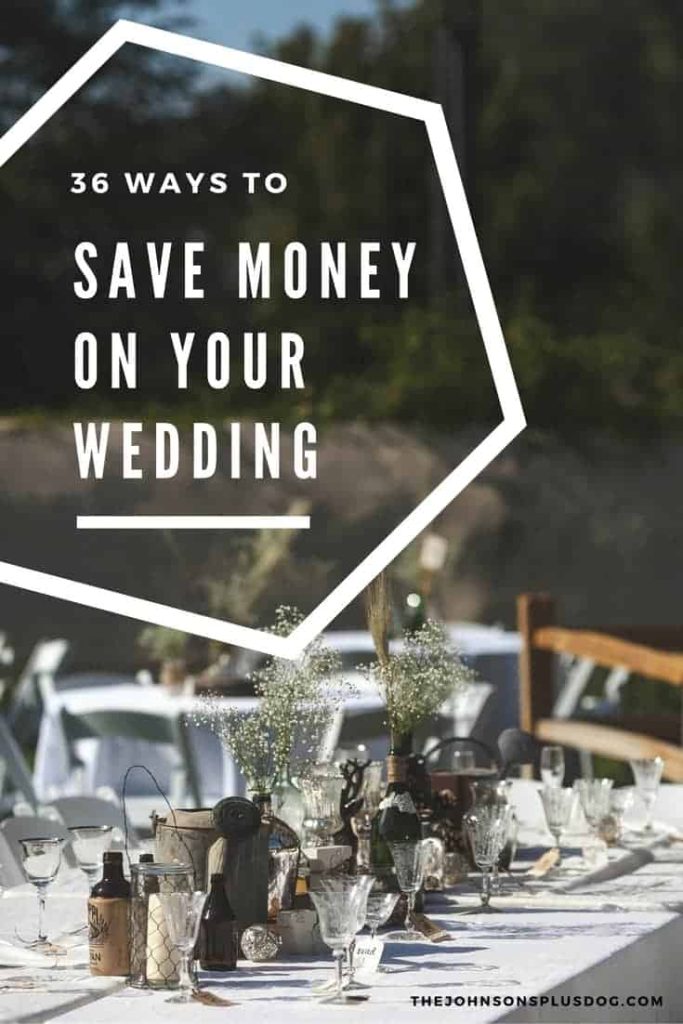 36 Genius Ways to Save Money on Your Wedding
Let's see those cheap wedding ideas!
1. Pick an off season to get married.
With "wedding season" (July-September) usually comes more expensive prices all around. By choosing an off-season to get married, you'll probably save quite a bit of money on your wedding costs – from venue prices to vendors.
Usually, the "deep winter months" (like January, February, and March) are the most affordable to get married.
Need more help choosing your wedding date? Read this article.
2. Choose an off day or time to get married.
If you are trying to squeeze the budget, you may ask yourselves, is it cheaper for us to get married on any other day or time but Saturday evening? Saturday evenings are the most popular and generally the most expensive day of the week to get married.
Wednesday and Thursdays are usually a little cheapest days, but most venues and vendors may also offer discounts for Fridays and Sundays too!
Daytime weddings with lunch served are also considerably more affordable. Many venues and vendors may have discounted prices for off-day weddings, be sure to ask what the price difference is for a daytime or weekday wedding.
It's also important to consider your guests and the time off they may need from work to attend your wedding. Typically Wednesdays are the easiest day of the week for someone to request off from work.
3. Develop and stick to a wedding budget.
You'll be less likely to spend money you don't need to if you have a budget written down. More tips on determining your wedding budget can be found here, but here's a quick summary of how to create a budget for your wedding:
Discuss priorities together
Determine who is contributing to the wedding funds
Figure out how much you can contribute
Set your categories and allocations (these will vary greatly, but here's what our wedding allocations were: catering 28%, photography 19%, venue 17%, decorations 10%, DJ 8%, coordinator 7%, dress and alterations 5%, flowers 2%, hair and makeup 1%, linens 1%, desserts and cake 1%, invites and save the dates 1.5%)
Add a contingency. Add 20% to your budgeted items for an unexpected bumps in the road. If you don't end up using the contingency, you'll have some extra spending money on your honeymoon.
Sticking to a budget is one of the most important ways to save money on your wedding.
4. Consider hiring just a day-of coordinator, instead of a full wedding planner.
What's the difference? I explained it here, but here's the short answer:
Simply put, a wedding planner will be with you every step of the way and a wedding coordinator will be with you the day-of your wedding (and probably a meeting or two before).
5. But remember, hiring a wedding planner may actually SAVE you money in the long run (and they save you a lot of time!)
Vendors often extend discounts or extras to clients of wedding planners.
Wedding planners will also save you a lot of time (and you know, time is money, right?). It's no mystery that planning your wedding is time-consuming and can feel overwhelming at times.
A planner by your side can help narrow the search for vendors and venues. They will be familiar with most of the venues in your area and have relationships with a lot of vendors to point you in the right direction and save you time.
6. Make your own wedding planning binder
Make your own wedding planning binder instead of buying one. I show you how to make a DIY wedding binder here!
I'm all for making the most of technology like Pinterest and Google Docs to help keep your wedding organized and inspired, but I still needed a physical wedding planner (call me old-fashioned, I guess!)
There's something rewarding about writing down plans and ideas in such a concrete way that made a wedding binder a no-brainer. It was also a great place to store flyers, brochures, business cards, wedding vendor contracts, floor plans, etc.
To make your own DIY wedding planner, all you'll need is a 3-ring binder, dividers, binder paper for taking notes, page protectors to protect the important pages, printer. You can organize your dividers into categories.
I used: Overview (with a separate subjection of calendar, checklist, contacts), Venue, Vendors, Ceremony, Reception, Decorations, Guest List, Attire, Budget.
You may also want to include sections for Transportation, Honeymoon, Travel, Lodging, Music, Rehearsal Dinner, Timeline or Schedule, Seating, etc.
7. Make your own bridal party proposal gifts.
One of the first things you'll do after you get engaged is decide who will you be in your bridal party (read my tips for choosing your bridal party here).
Once you've narrowed it down and decided who will be your bridesmaids, you need to ask them. There are so many cute bridal party proposal ideas out there. Here are some great ideas!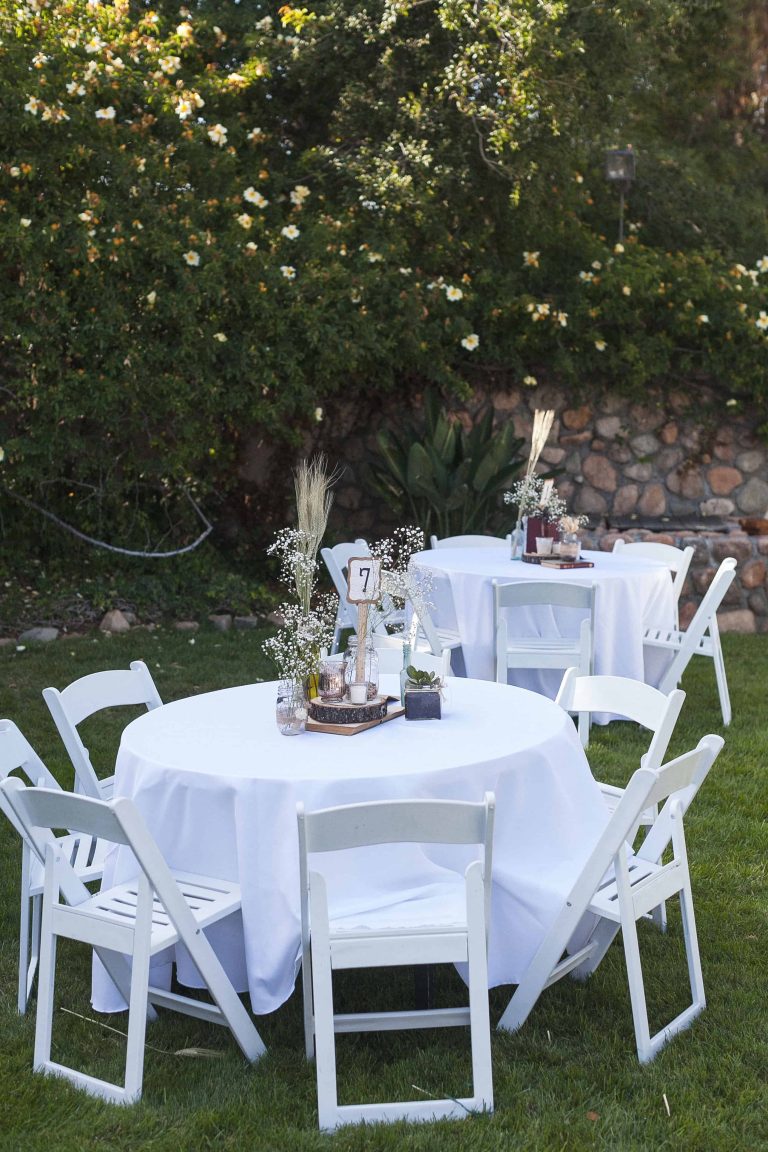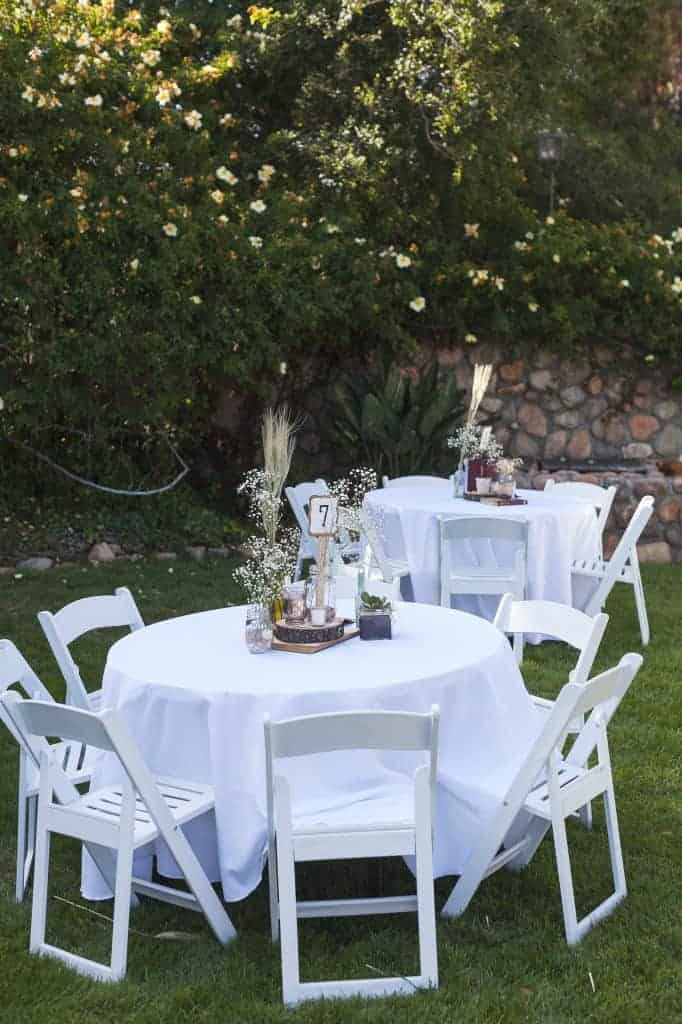 8. Consider mismatched centerpieces.
I purchased a lot of my wedding table decorations at thrift stores and yard sales! Every table was different and unique.
Some tables featured vintage books and candles. Others had rustic wood rounds, small potted succulents, and mason jars filled with dried wheat or babies' breath.
Read more about how I chose my wedding style here.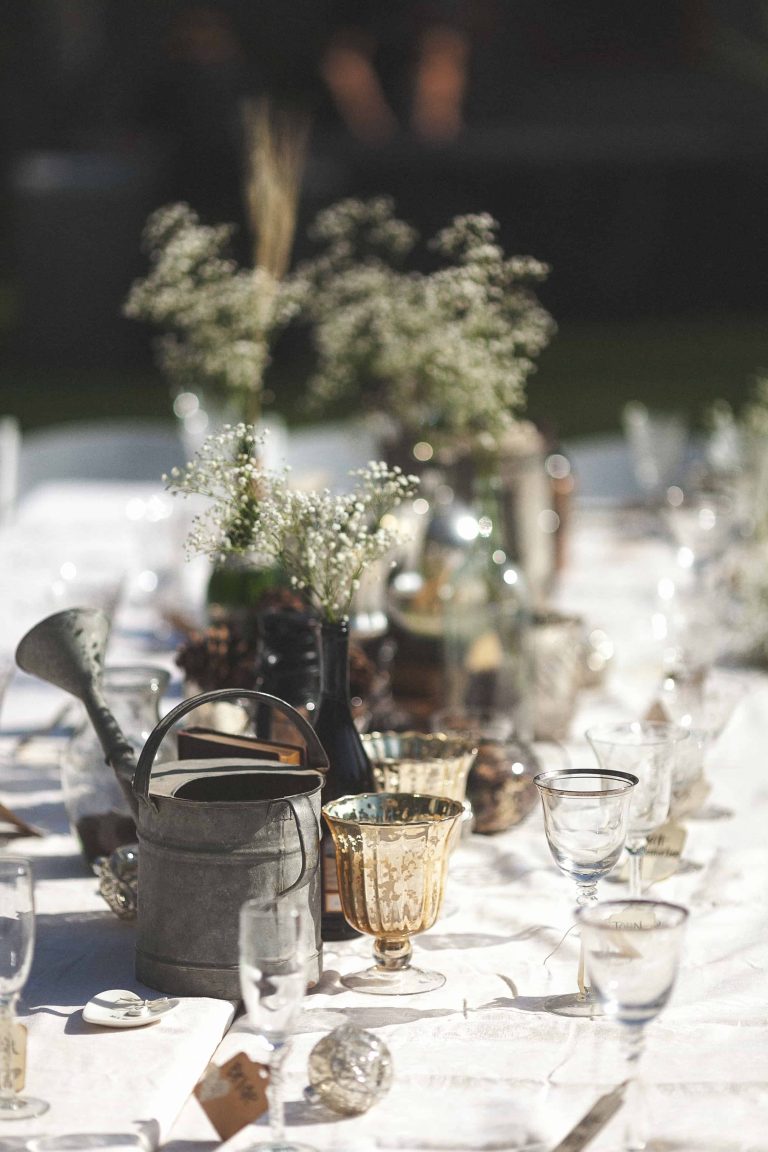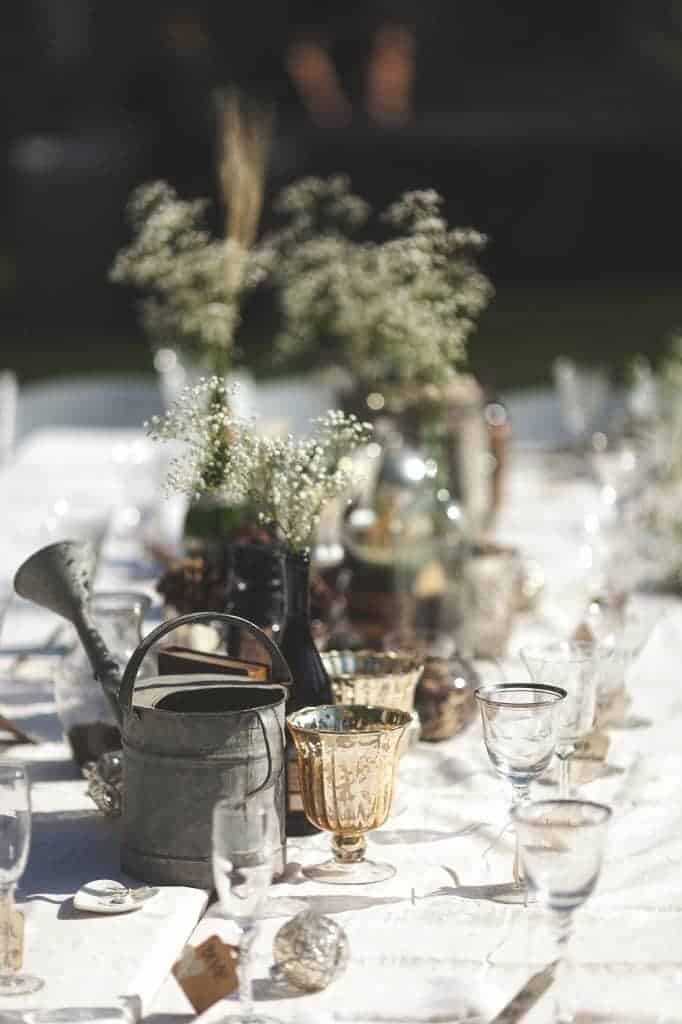 9. Buy your decor on after-Christmas sales.
Christmas is JUST around the corner. I got a lot of my decor pieces on a deep discount (like 70-90% off!) during the after-Christmas sales.
Seriously I got plastic champagne flutes for 90% off at Target after New Years' Eve, table cloths for 70% off at Target after Christmas…(they weren't even Christmas-themed), mercury glass candles 75% off at craft stores like Michaels and JoAnn after Christmas.
This is one of my favorite ways to save money on your wedding. (And if you're wondering, YES those are mercury glass ornaments sprinkled on my head table!!) Those big mercury glass candles were after-Christmas sale finds too!)
10. Choose a venue that allows you to bring in your own caterer.
This will give you added flexibility to choose who you want and get a caterer that is reasonably priced. I shared more tips about how to choose your wedding venue here.
11. Look around for different kinds of caterers.
We ended up choosing one of our favorite BBQ restaurants. They were much more reasonably priced than other caterers that specialized in weddings. This is a hidden gem among cheap wedding ideas!
Speaking of caterers, here are 45 questions to ask your wedding caterer. By asking these questions, you'll know just what to expect and know ALL of the costs for catering upfront.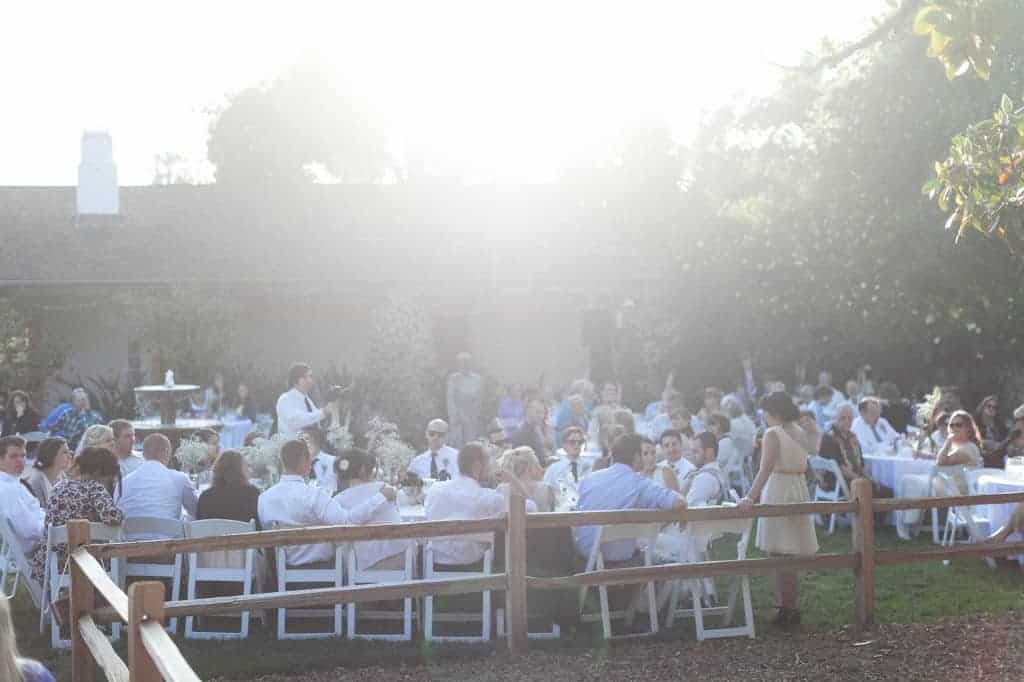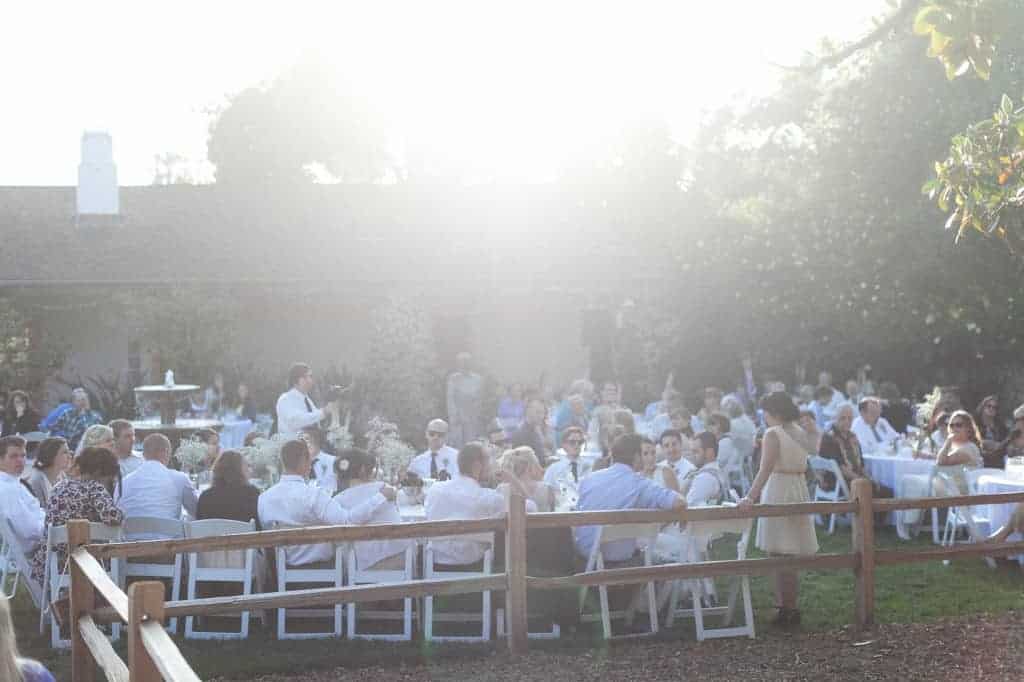 12. Consider a smaller town or suburb outside of the city.
We ended up getting married in Vista, which is about 50 minutes outside of Central San Diego. We saved money by getting married outside of the city.
13. Choose a venue managed by the city/county.
We chose an adobe that was run by the city. They were VERY reasonably priced because they weren't first and foremost a wedding venue.
We also looked at holding our wedding at local parks, which were also very reasonably priced.
14. Select a venue that has some infrastructure already set up for weddings
Selecting a wedding venue that is set up for weddings is a great way to save a little cash. It's also nice if the venue includes some items you can use (like tables and chairs).
Although I mentioned that city parks are a great reasonably priced venue, it can really add up quickly if you have to rent tables, chairs, linens, bathrooms, etc.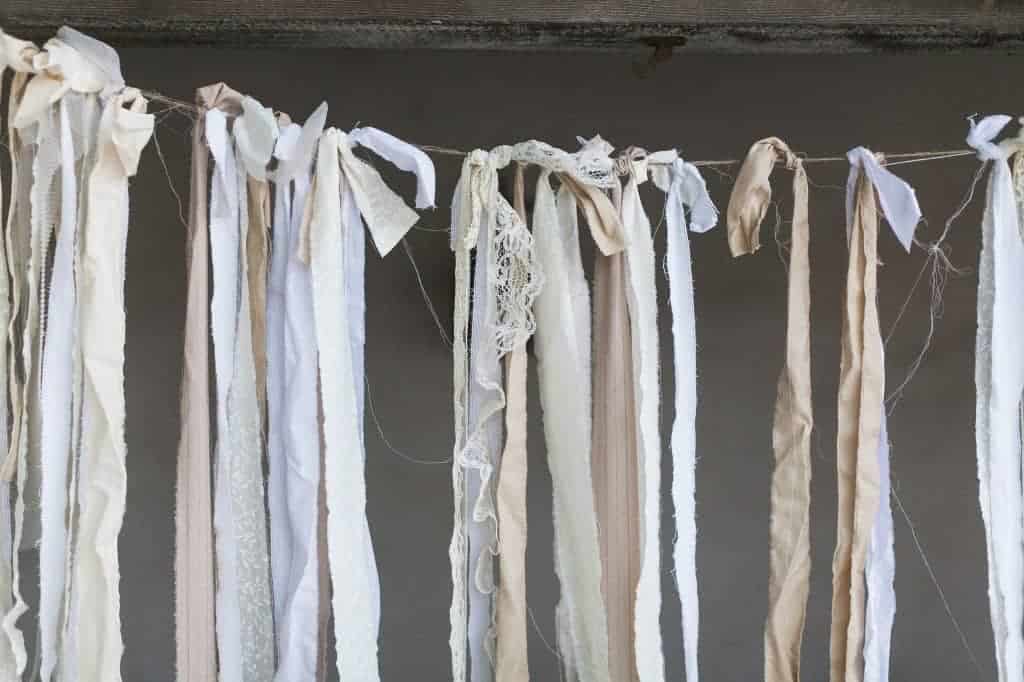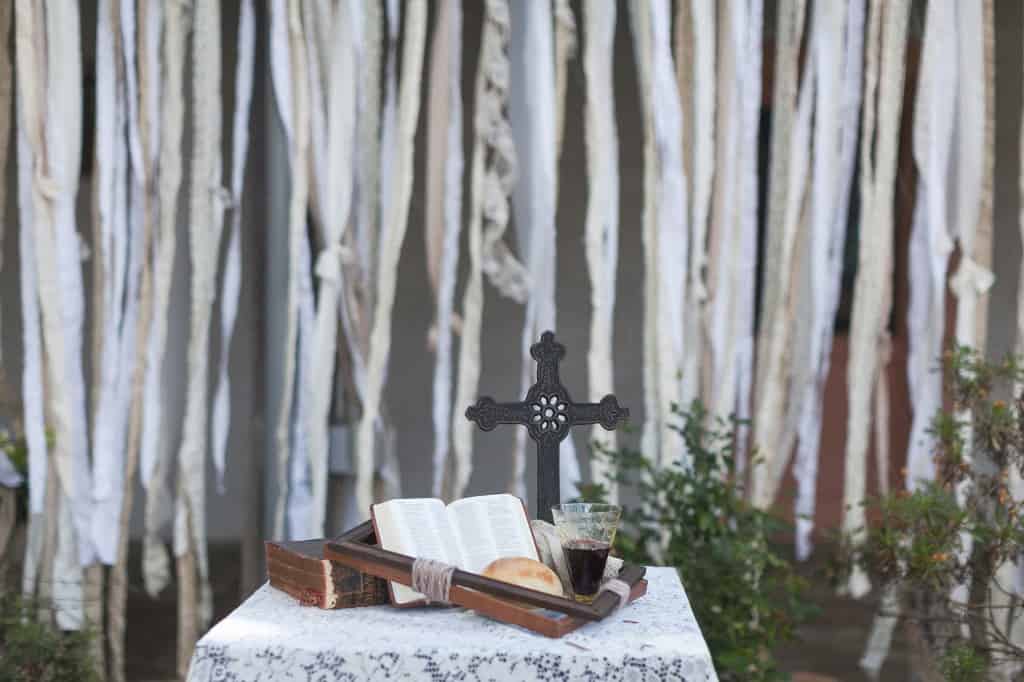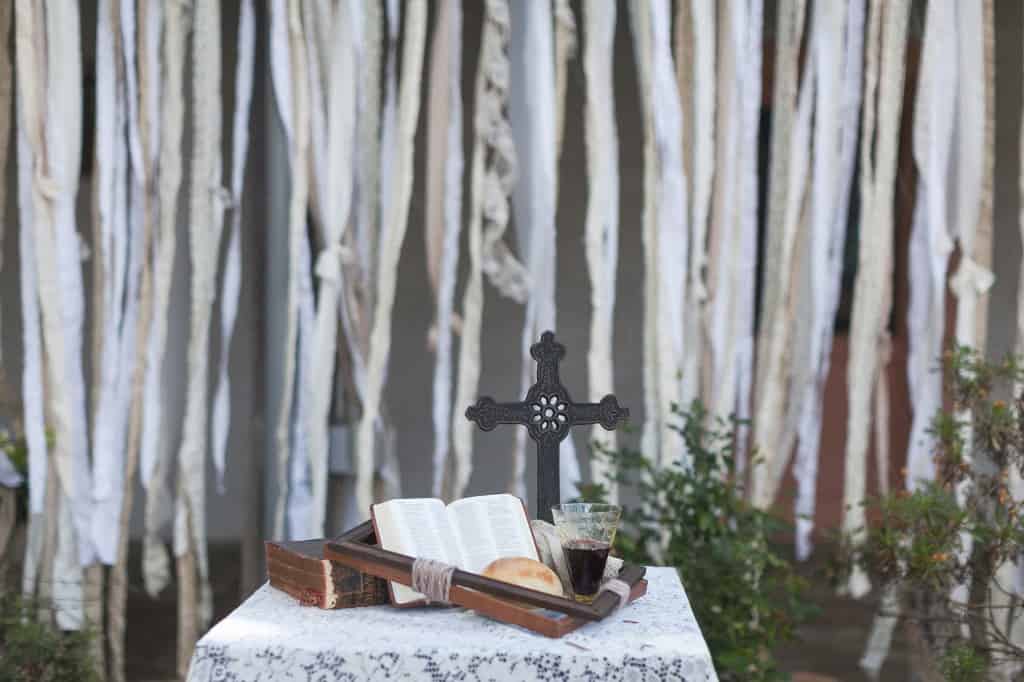 15. Keep your wedding ceremony decor simple.
If you have a beautiful venue, you typically don't need to decorate much in the ceremony space.
Here's some great creative wedding ceremony decor ideas to get you inspired. But you'll see here that most of the ceremony decorations mentioned here are fairly straightforward and simple.
For our wedding, I made my own super simple ceremony backdrop by just tying lace and strips of fabric to a piece of twine (see above).
16. Consider buying your wedding dress off the rack.
Buying a wedding dress "off the rack" is a great option! Off the rack means that you buy the ready-made wedding dress that you try on at the store, rather than having one custom-made in your size.
It can be a more budget-friendly route and a great option for a quicker engagement when you don't have the time to wait ±6 months for your custom dress. However, you are limited by the options the stores have on hand and the sizes they have available.
Some wedding dress stores have sample sales where they try to get rid of their off-the-rack inventory to make room for a new season. It's a good idea to call around and see if any of the stores in your area have a sample sale coming up.
But keep in mind that at those sales, you may not get the same one-on-one service you would otherwise because the store is so busy.
Read all 15 of my tips for wedding dress shopping.
17. DIY bouquets for bridesmaids with baby's breath.
I purchased baby's breath in bulk from Costco (we got a couple of these delivered). Baby's breath used to be considered just a filler flower, but nowadays you can totally get away with using this simple and chic flower in your wedding. It has such a rustic vibe!
Since I had 10 bridesmaids and the average cost of a bridesmaid bouquet is $50-90, this saved us over $500. Talk about cheap wedding ideas, right!?
All we did to make these was wrap bundles of baby's breath together using twine and then tie a bow.
Alternatively, you can wrap the base with floral tape, which has a bit of stretch to it. As you stretch the page around the flower steps, it gets sticky. If you use tape, you can cover it with a ribbon afterward. Secure the end of the ribbon with a couple of pins, pushing up toward the top of the bouquet.
They were so simple and quick to make!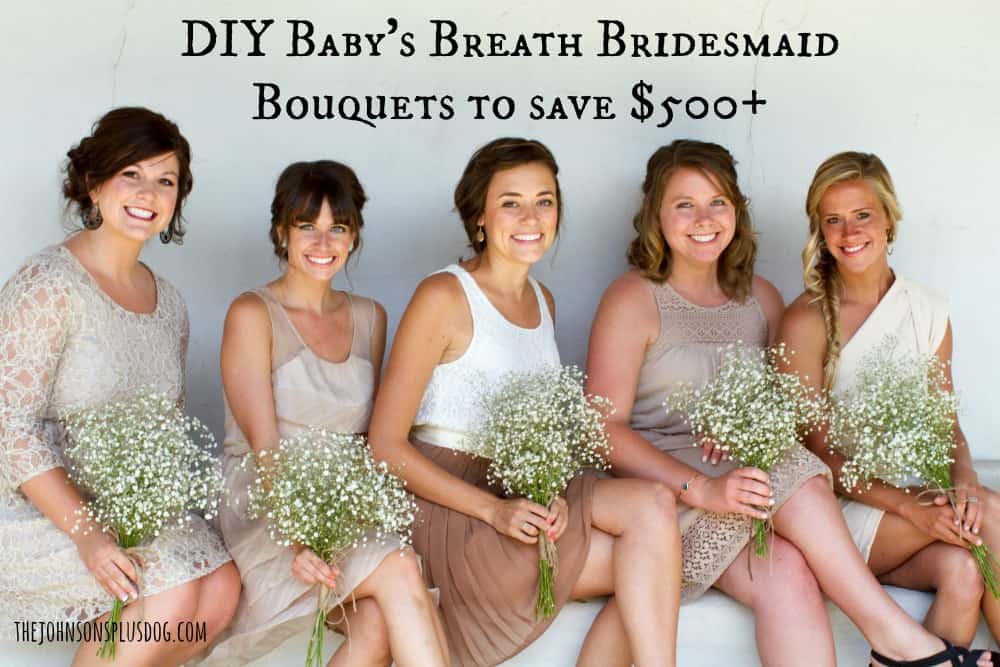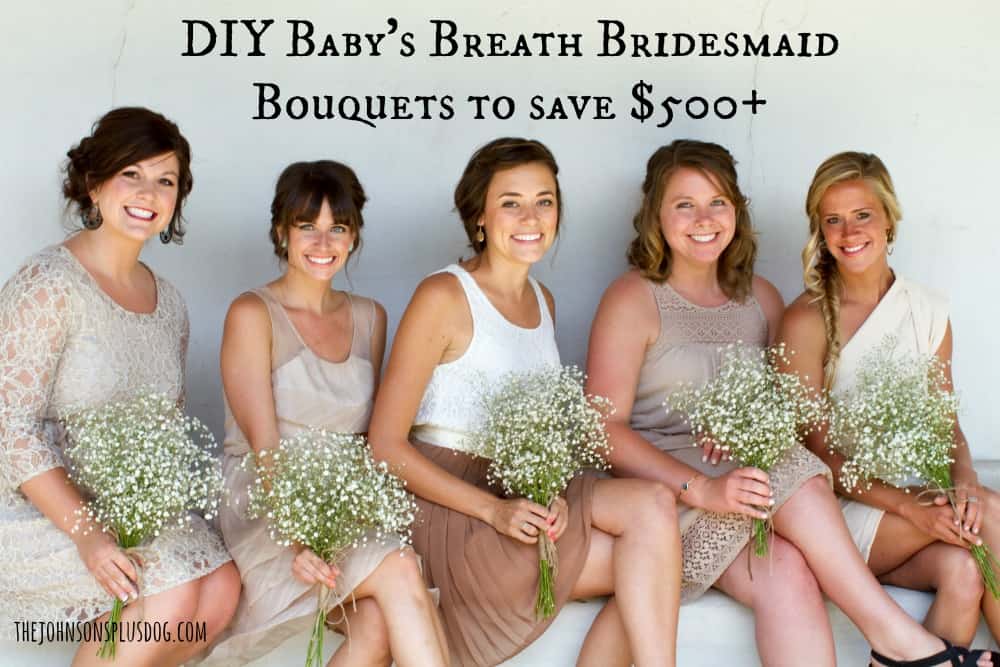 18. Ditch flowers on every table as center pieces.
Instead of buying floral centerpieces, we used a combination of vintage books, vases filled with extra baby's breath and dried wheat, potted succulents, mason jars, and other knick-knacks.
Floral centerpieces can range from $30-$100 and we had about 13 tables, so this saved us over $400+.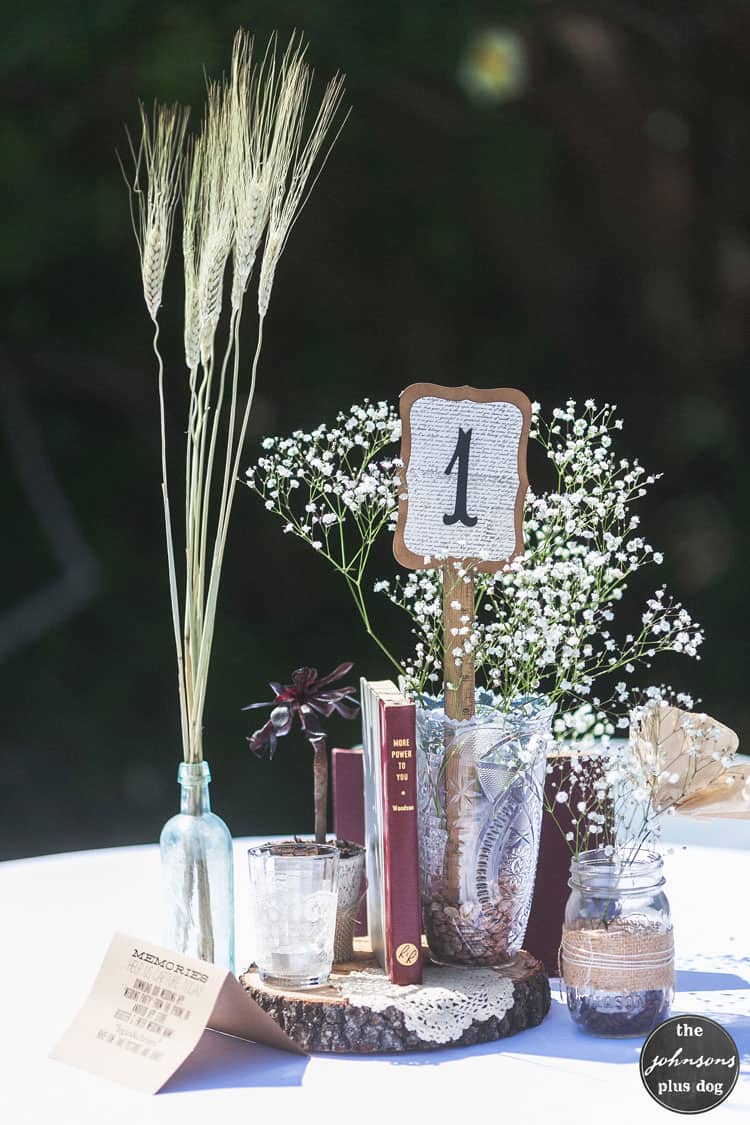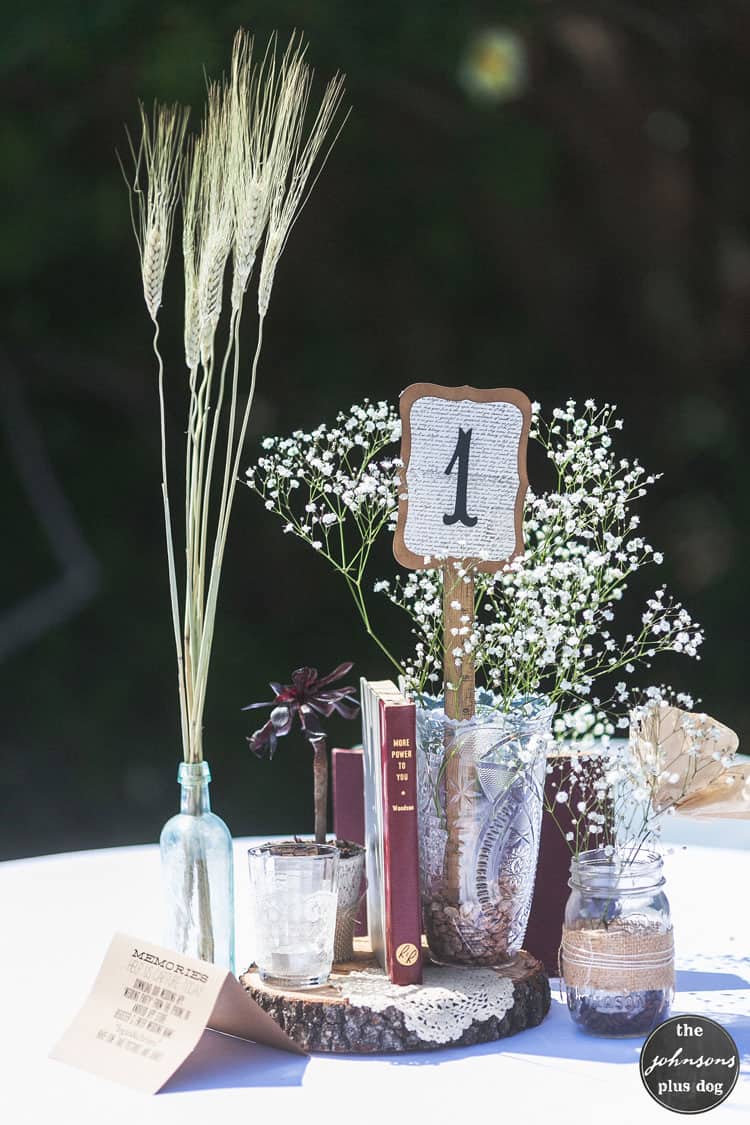 19. DIY your Groomsmen Boutonnieres
Just like the bridesmaid's bouquets, we made our own boutonnieres for the groomsmen and groom.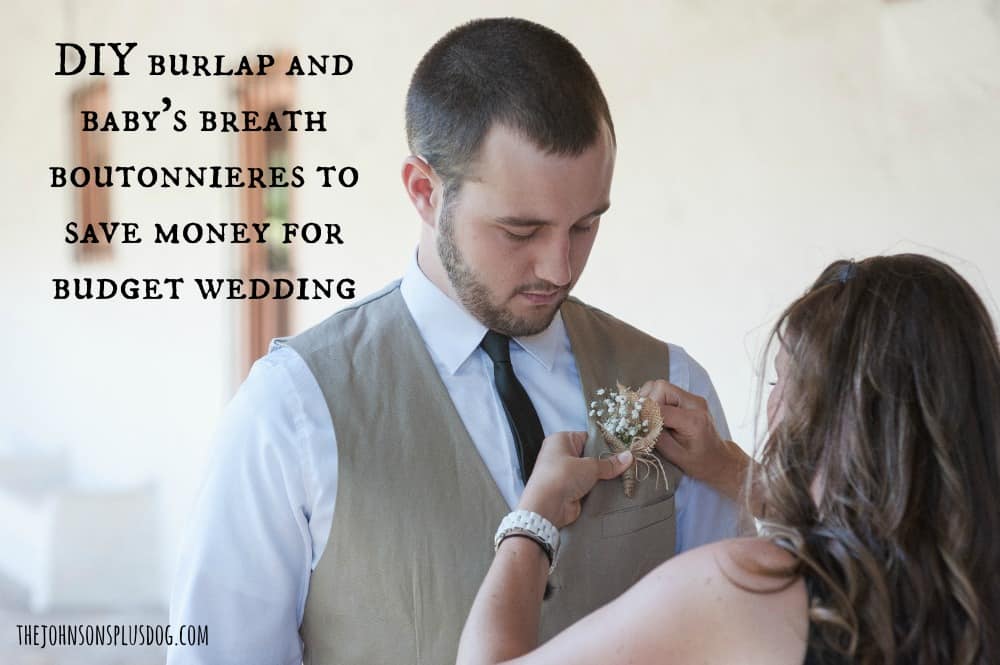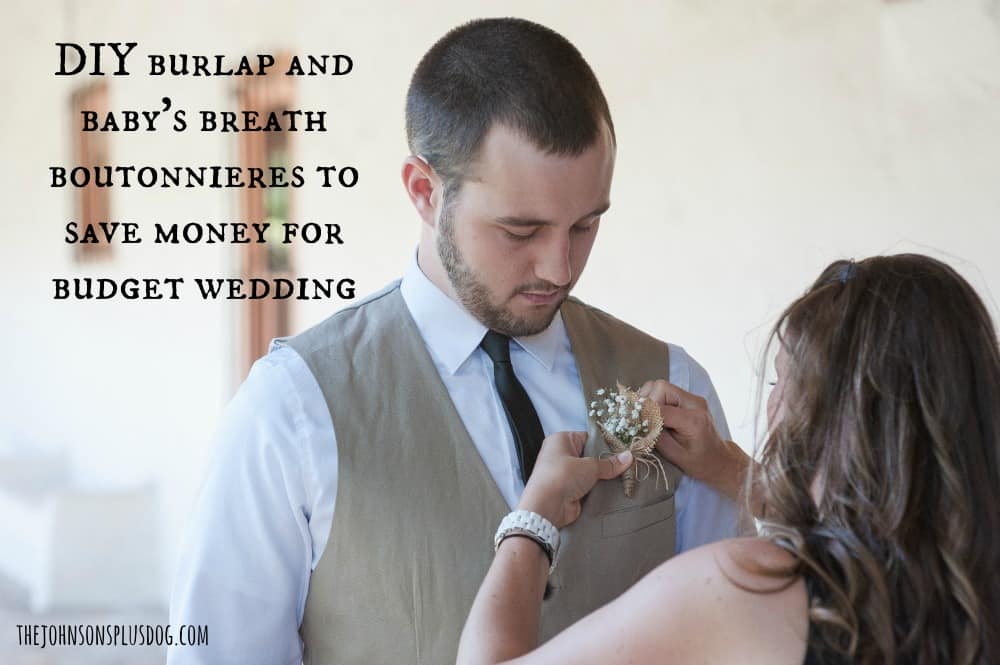 Using more baby's breath, twine, and burlap, these were pretty simple to make!
The average boutonniere costs $10-15 and we had 7 groomsmen plus Logan, so this saved us $80+.
20. Take advantage of all the perks of wedding registries.
Wedding registries have so many perks nowadays. By taking full advantage of the perks, you can actually save quite a bit of money.
For example, many stores have a completion discount for your wedding registry. Meaning that the times that are not purchased by your wedding that you have registered for, you can purchase at a discount! The completion discount sometimes includes items outside of your registry too and usually applies to a certain time period after your wedding, typically 3 months.
Other stores may have other discounts worked out with wedding vendors, like special discounts off of your invitations or tux rentals.
Some wedding registry stores even have bonus gifts from brands where you receive free products if you register for a certain number of products.
I've summed up tons of different stores perks and policies here to help you answer the question "Where Should We Register For Our Wedding?"
21. Create your own wedding website.
Although it may seem a little overwhelming to create your own website, it is really pretty simple using tools like Minted. You can learn all about how to create a wedding website to wow your guests here.
22. Use your wedding website to track RSVPs
Use your website to track RSVPs rather than paying for postage to have them mail back RSVP cards.
Postage is 47 cents at the time this post was published. I'll do the math for you. That's over $70 bucks with a wedding size of 150 (not including the costs of printing.
Almost everyone on your list has a computer and knows how to use it, right? The small number of those people that might not, like older family members, you can just ask if they are coming.
23. Send your save the dates via email
Send save the dates via email (or even text message!) using a website like Paperless Post, greenvelope, or evite.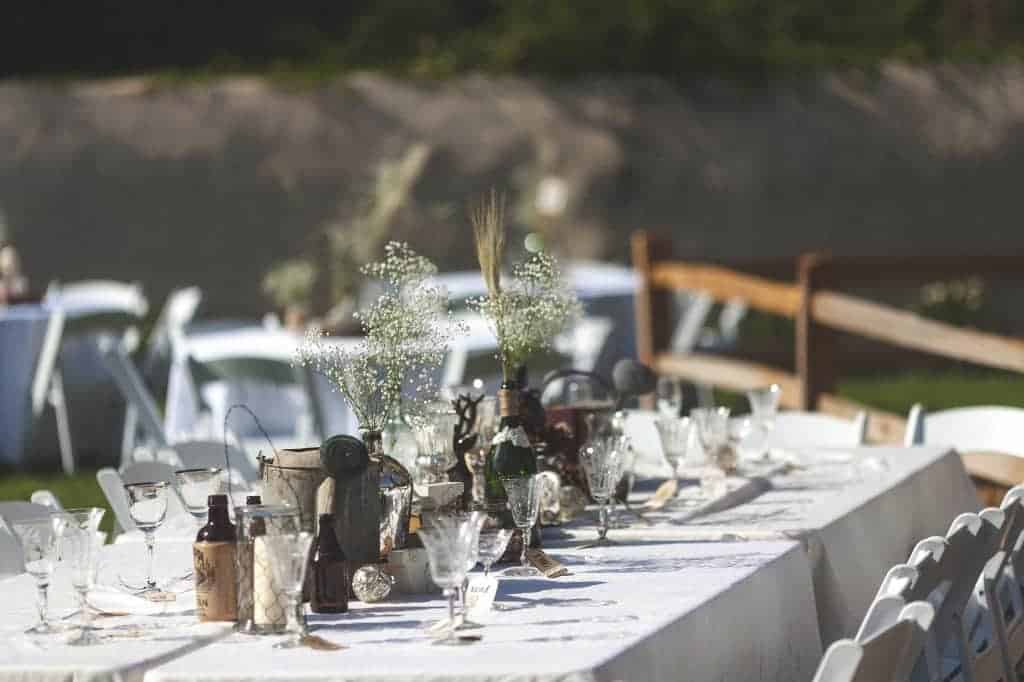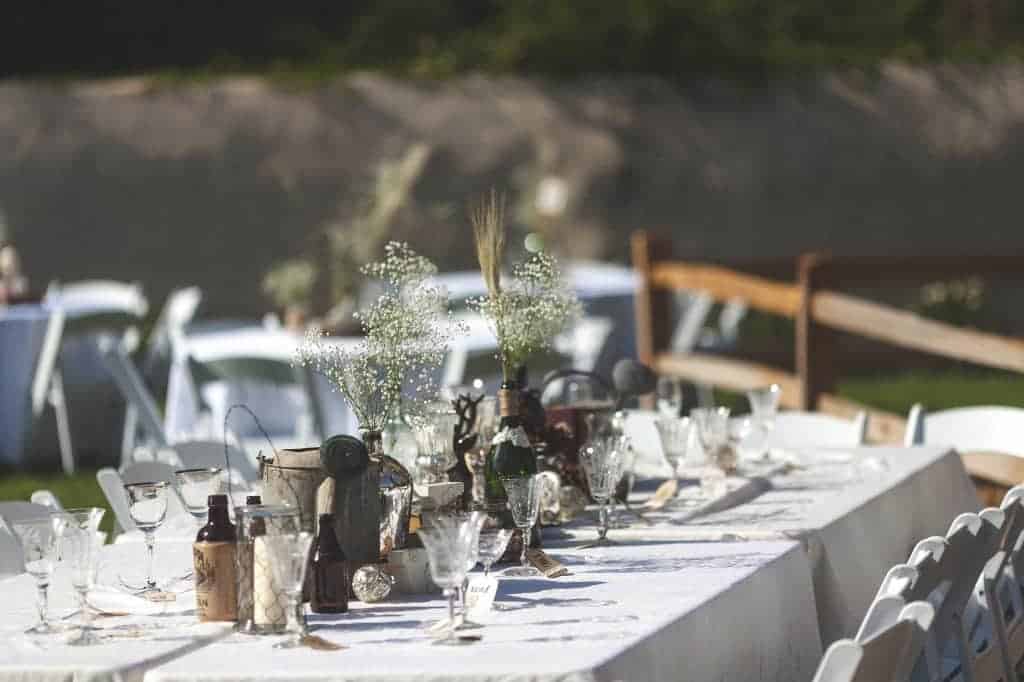 24. Borrow decorations wherever possible.
I borrowed tons of decorations from family and friends. All the wood rounds on the tables were from a friend that she had used in her wedding.
The vintage books on the tables were my mom's, Logan's mom's, and my Grandma's. What wasn't DIYed or purchased at a discount was definitely borrowed.
25. Consider paper plates and plastic cutlery.
Now I totally realize this isn't for everyone, but our wedding was casual. We served BBQ and it was outdoors.
The caterer was going to charge A LOT more for glass plates and silverware, so I opted out of that.
Another reason I didn't want them is that I absolutely HATE when people tap the glasses and you want to kiss, haha. I guess I worked at way too many weddings hearing that ALL.NIGHT.LONG.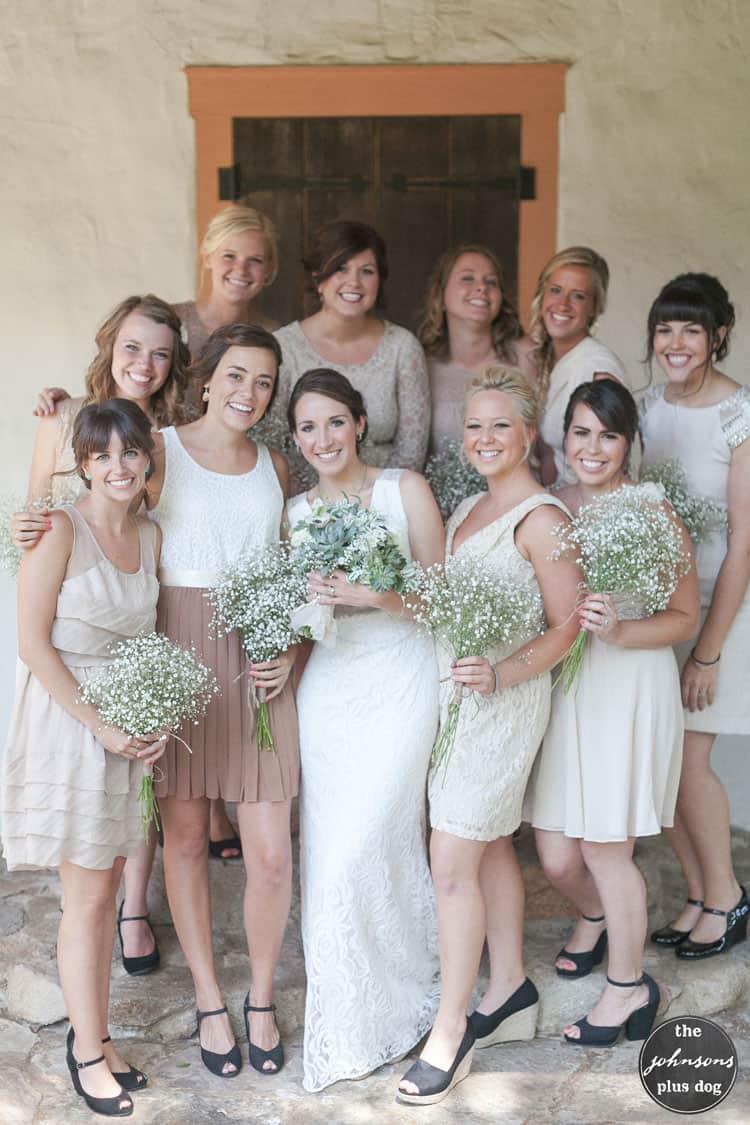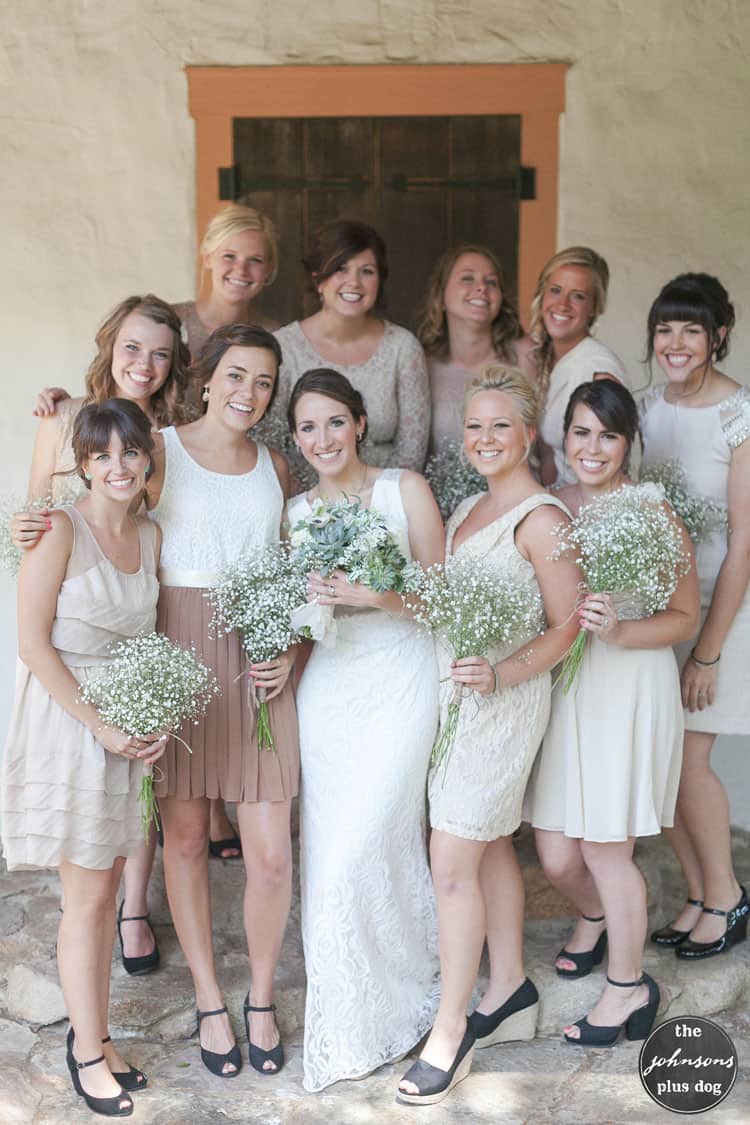 26. Have your bridesmaids dress in mismatched dresses in a similar color scheme.
This allows them to get their dresses wherever they want on their own budget.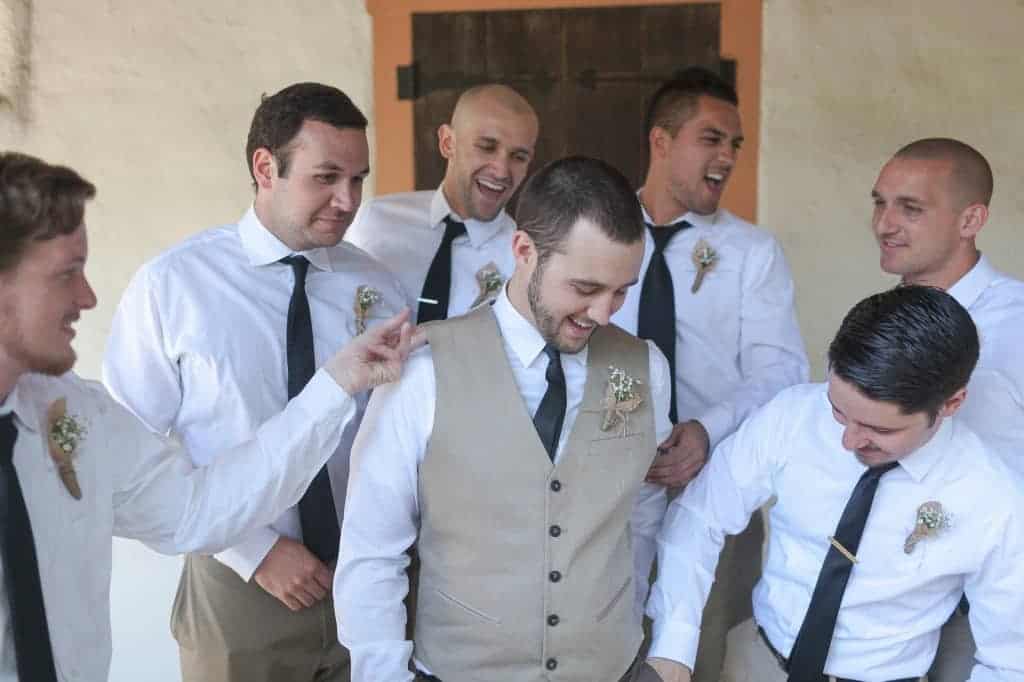 27. Allow your groomsmen (and groom) to wear clothing that probably already have in their closets.
We did white button-down shirts, black ties, and tan pants. (Logan wore a tan vest). Most people have these staples.
28. Ditch the favors.
This is definitely one of the easier ways to save money on your wedding. Seriously no one will notice if you don't have them.
29. Make your invitations (and save the dates) yourself and get professionally printed.
I designed mine using Photoshop Elements (a cheaper version of Photoshop that I already had on my computer), but Canva is a great free online site that works well too! I worked with a local printer to get them printed.
30. DIY a menu sign rather than have individual menus printed.
I love this one.
31. Make you own ceremony sign to replace printing programs,
like this one.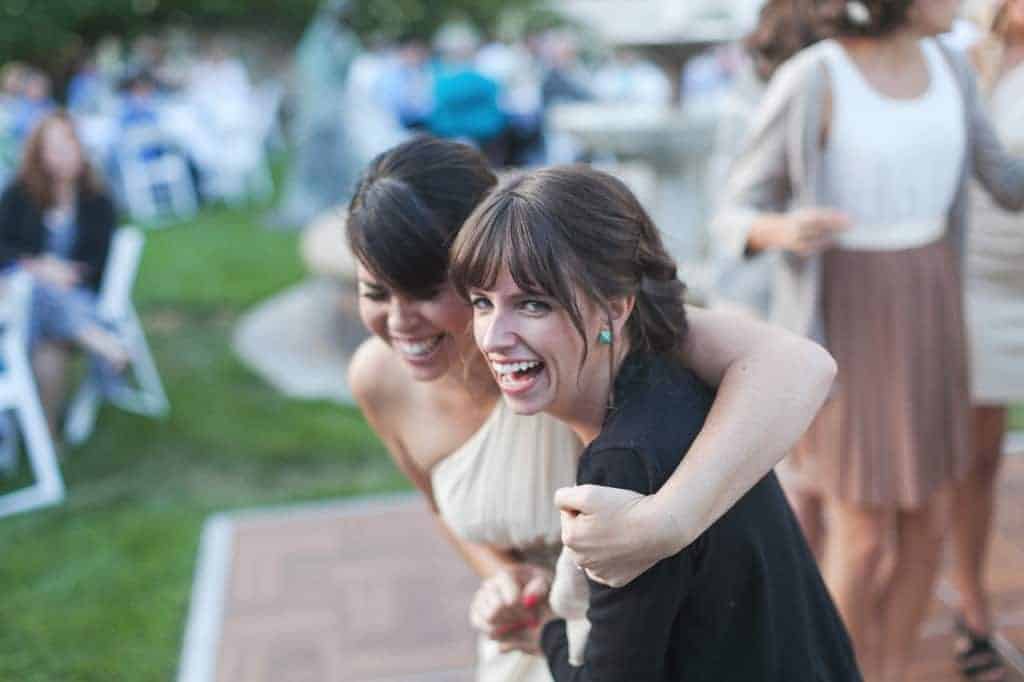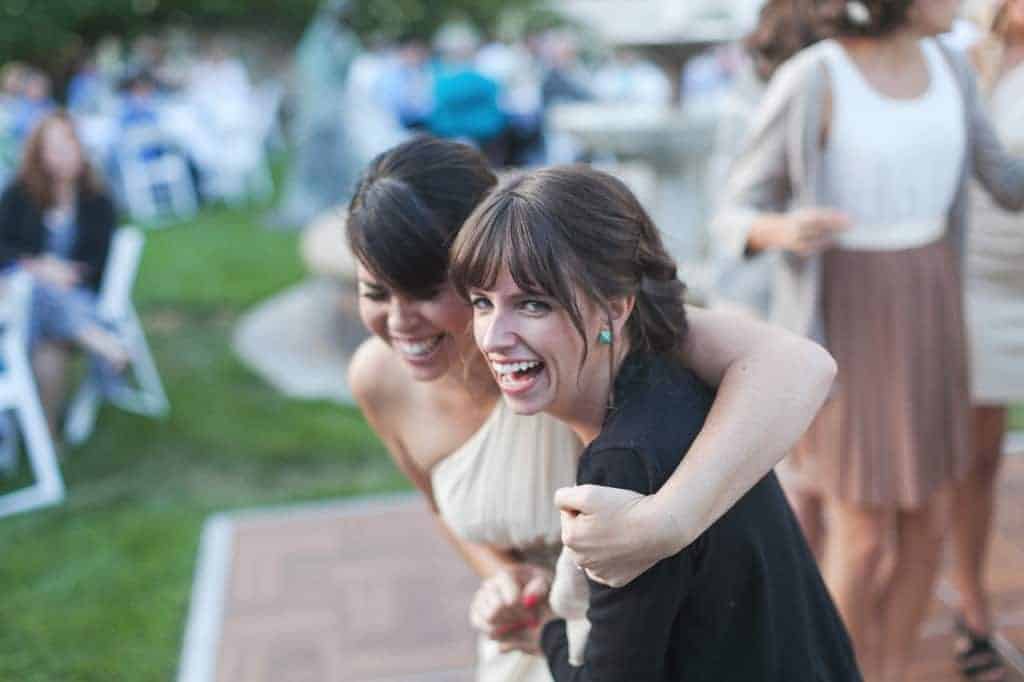 32. DIY your DJ.
I didn't do this but thought about it a lot.
It ended sounding like a lot of added stress that I wasn't comfortable taking on. Here's a good post about how they DIY'd it and she included her playlists to keep people dancin'!
33. Keep it small.
If I was the only one involved in planning my wedding, it would have been about a 1/3 of the size…hehe, but we had bigger families and slowly the guest list grew and grew.
According to ValuePenguin, the national average wedding cost per person is $307 (as of 2020).
Remember that stat as you put together your guest list (more tips on how to start your wedding guest list here). If you're really budget-constrained, try to keep it as small as possible.
Be sure to be upfront with your family that you are trying to keep it small as well.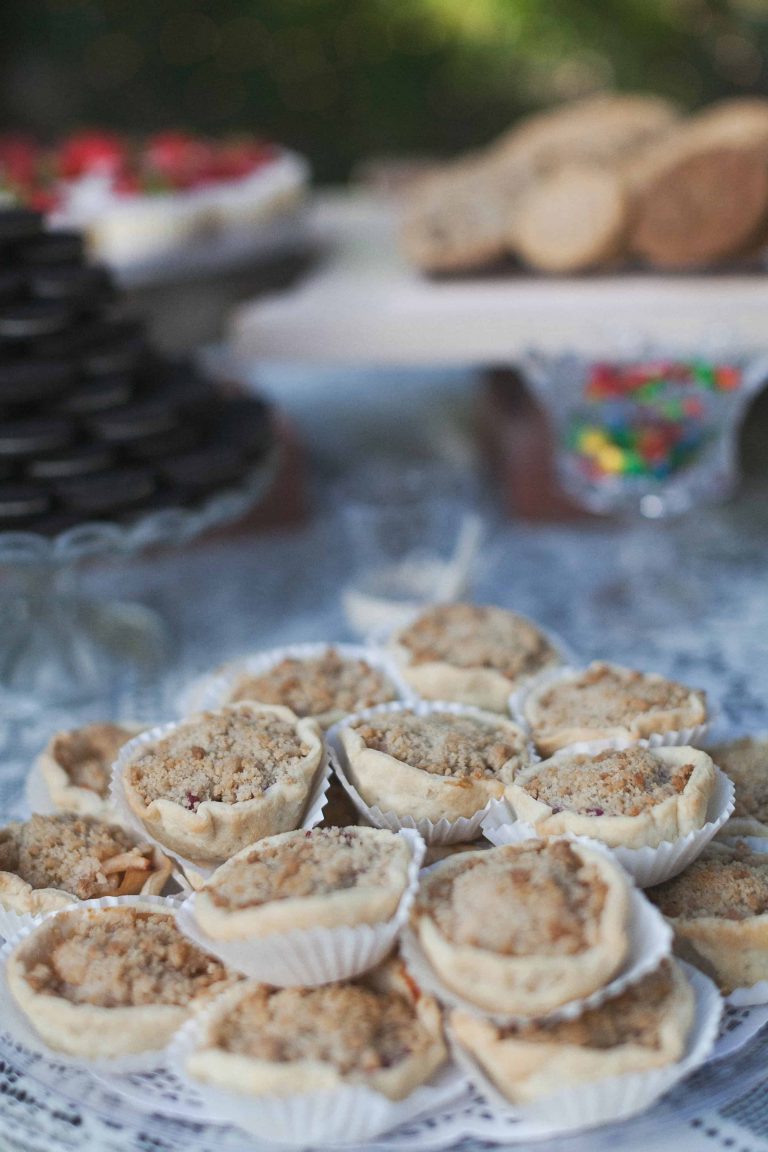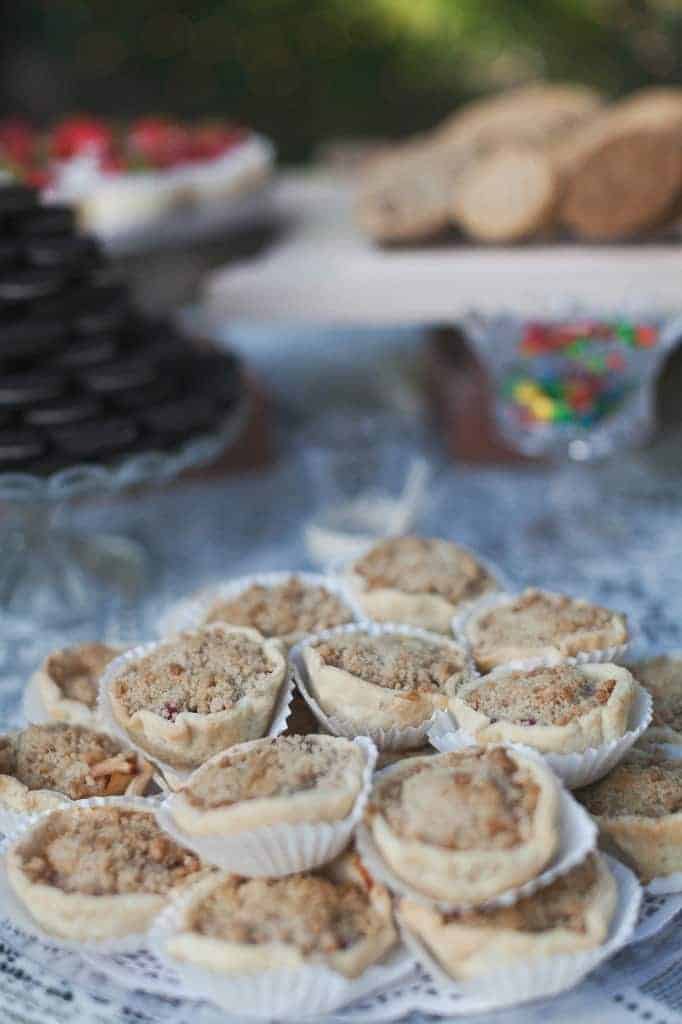 34. Do small homemade desserts at a dessert bar instead of cake.
Having worked in the banquets/weddings department at a large restaurant for many years, I worked at TONS of weddings, and honestly, there was SOOOO much cake wasted.
We had a family member do the dessert bar for us with a sampling of all sorts of different desserts and then we had a small cake for the cake cutting.
Another idea is to do a candy buffet. This post has some great candy buffet ideas!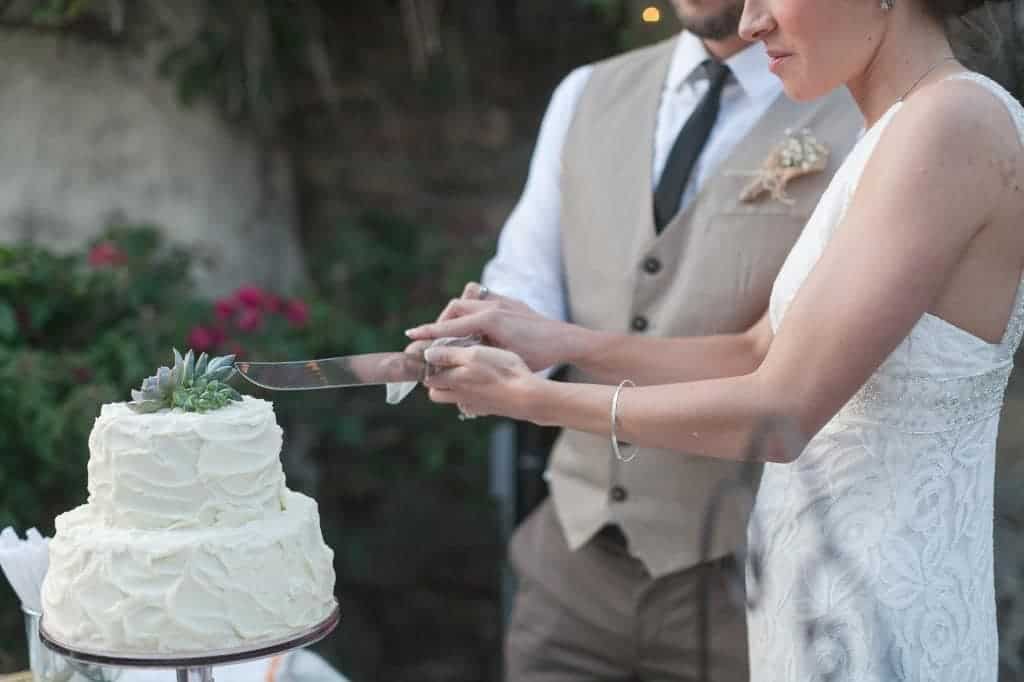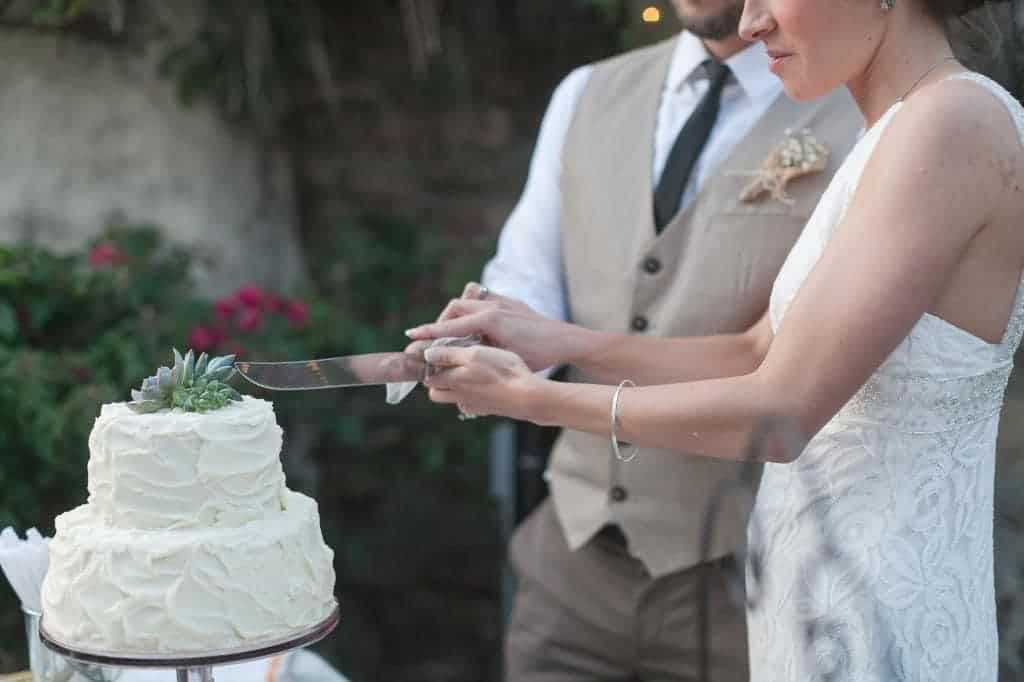 35. Just say no to open/full bars.
Cost Helper.com says that the average cost for bartender service at a wedding reception is $2,800, which can double or triple in larger cities or resort areas!
I've seriously worked at weddings where they spent $10k on alcohol.
An alternative is to just serve beer and wine.
Another great tip from Zola, is to ask the champagne toast glasses to only be filled halfway…most people don't finish the toast glasses anyway. Check out their post for 10 ways to cut alcohol costs.
36. Make tables bigger to cut down on table linen and decor.
Our venue provided the tables so we didn't have a choice on our table sizes, but I think this is one of the best ways to save money on your wedding that I've heard.
Weddings don't have put you out of house and home. By following the cheap wedding ideas, you can save thousands. Simply by getting creative, prioritizing, and taking advantage of steals and deals, you can have a budget wedding.
Did you get inspired by all of these cheap wedding ideas? Which one was your favorite? Do you have any more ways to save money on your wedding to share?
Let us know in the comments.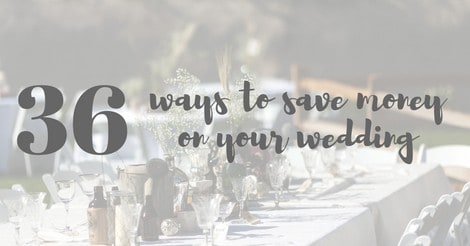 ---
If you loved this post of cheap wedding ideas, be sure to check out these articles for more budget wedding tips!