It's important to stay organized when you are planning a wedding. This tutorial walks you through how to make a DIY wedding planner binder and why you need a physical wedding planner. Creating your own DIY wedding binder allows you to save money, organize your wedding ideas and customize it for whatever you need while you're wedding planning.
Today I have a real-life example to show you how to make a DIY wedding binder. My mom asked me to put together a DIY wedding binder for a family member as a Christmas present and I'm just getting around to showing you how to make a DIY wedding planner binder 😉 !
If you JUST got engaged, you're ahead of the game! Start here by reading my engagement advice. It's important that you take a deep breath and go into the season of wedding planning with a clear head because sometimes it can feel overwhelming. When I am overwhelmed, I crave organization so I knew I needed a wedding planning binder.
This DIY wedding planner binder post contains affiliate links, but nothing that I wouldn't wholeheartedly recommend anyway! Read my full disclosure here.
Do you need a wedding planner if you have Pinterest and Google Docs?
You may start the wedding planning process and wonder if you really need a wedding binder, especially since you have all of your ideas cataloged on Pinterest anyway.
Now if you've been following along on my ultimate wedding planning checklist, next up on your to-do list is to start a wedding planner and/or Pinterest board (or boards!).
Pinterest and Google Docs can be very essential and super helpful tools in the wedding planning process, but I think getting organized with a real physical wedding planning binder is a necessity.
The wedding binder is a crucial part of your wedding planning organization that you don't want to skip. It helps to get your wedding binder set up as soon as you start your planning, so that you are organized from the get go.
How Pinterest can help you plan your wedding
Pinterest has become a huge part of the wedding planning process the last several years. I know that it made planning my wedding easier. However, you, of course, can't plan your entire wedding on Pinterest.
Pinterest should be a place of wedding inspiration and ideas. Your wedding planner binder or files should be your place of organization and action.
Using Pinterest is simple. You can create one or multiple boards for your wedding ideas. Don't forget that you can create secret boards. This is great a great way to keep certain elements of your wedding as a surprise to guests. Also, secret boards can be handy if you're planning a wedding but still looking for the groom or waiting for him to pop the question ;).
Another feature that I love about Pinterest is contributor boards. You can invite others to pin to your board. This is such a fun way to get your bridesmaids involved with your wedding planning, especially if they live far away.
The only potential downside to Pinterest is that you may get "pin-crazy" and end up with thousands of pins on your wedding board and you won't remember what you actually wanted to use.
Once you really start hunkering down on the wedding to-do's, it is a good idea to go through your board/s and save/copy/print the pins that you really want to work on incorporating into your wedding day. You could even create a fun photo collage and put the pages in your DIY wedding planner.
How Google Docs can help you plan your wedding
I, for one, used Google Docs for a majority of my wedding planning. You name it… my wedding budget, checklist, day-of timeline, contact lists, decor inventory, song lists, venue research, my guest list (complete with addresses & RSVPs and after the wedding, I even used it to track my thank you cards sent).
Here's a few things I love about Google Docs for wedding planning:
You can share the files with others and they are updated in real time. This was especially useful when working with my wedding coordinator (read my post on the benefits of hiring a wedding planner). You can share them with your MOH, your family members, and your other vendors (ie: song list with DJ, photo list with photographer).
You can view the files anywhere. There's a great app you can download for your phone or tablet. You can also access your Google Docs from any web browser by logging onto your Google account. This is great because it allows you to refer back to something while you're on the run. I'm the type of person that gets major satisfaction from checking something off my to-do list – so much so that I will write something on my list, just to cross it off. Having the app was great because I was able to check something off the list as soon as it was completed.
While we're on the topic of using brilliant technology to help plan your wedding, I loved these apps for wedding planning that Pop Sugar recently featured.
Why you still need a physical wedding planner
Call me old fashion, but I still needed a physical wedding planner after all of this amazing technology. Probably the same reason why I have to keep my handwritten to-do list on my desk at all times. There's something rewarding about writing down plans and ideas in such a concrete way that made a wedding binder a no-brainer. It was also a great place to store flyers, brochures, business cards, wedding vendor contracts, floor plans, etc.
In short, Pinterest should be a place of wedding inspiration and ideas. Your DIY wedding planner or files should be your place of organization and action.
Now, are you ready to learn how to make A DIY wedding planner binder??
Supplies for DIY Wedding Planner Binder:
Step One: Set Up overview for wedding binder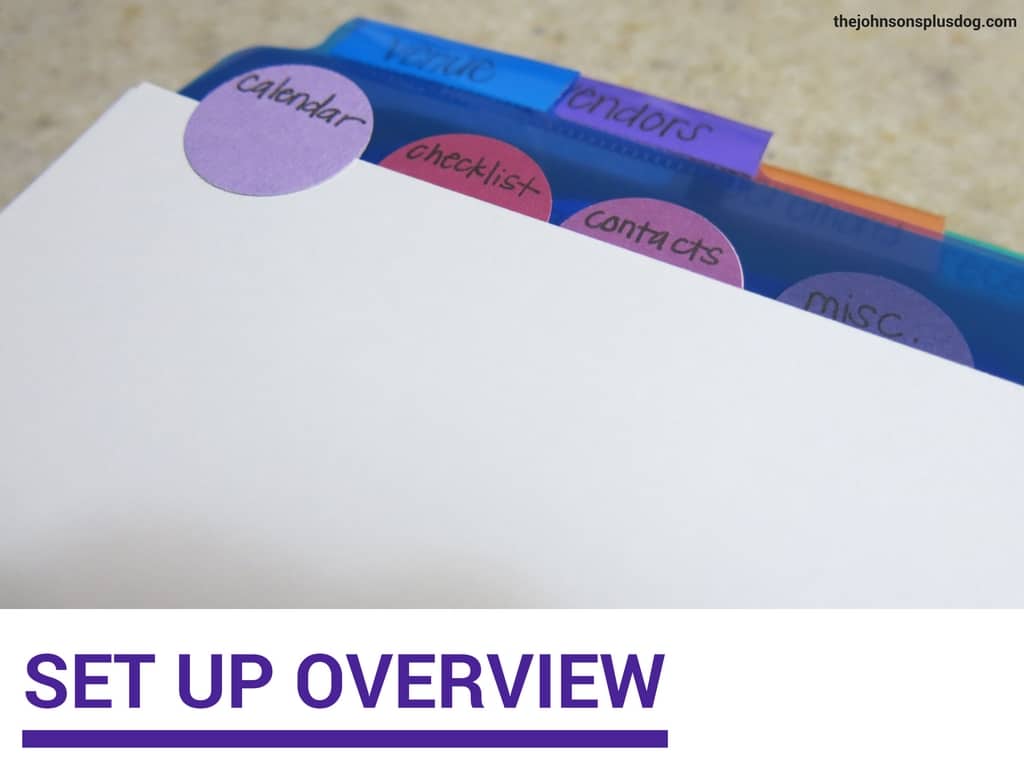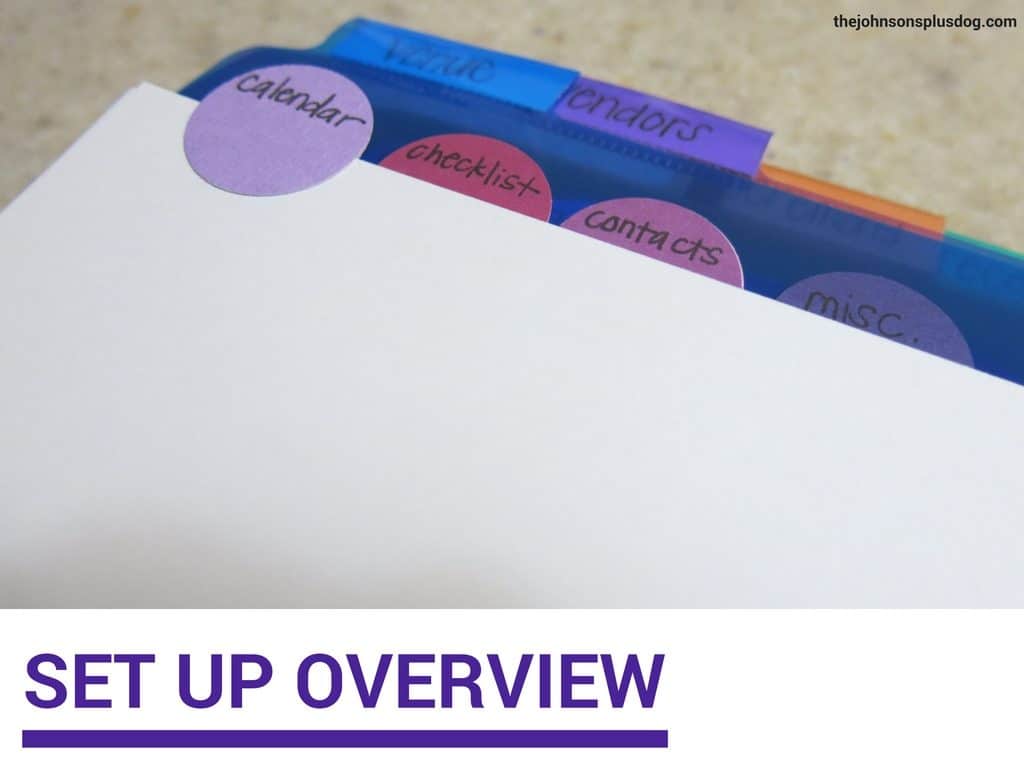 In the front of the wedding binder, I like to keep the items that you will reference the most.
In the overview I put subsection dividers for:
Calendar
Checklist
Contacts
Misc.
I made these fun and easy DIY dividers for the subsections. All you do is use your circle punch and punch out two circles for each divider, write your divider name and glue around (to the front and back of the paper) a piece of white card stock. Simple, right?!
Step Two: Print Calendar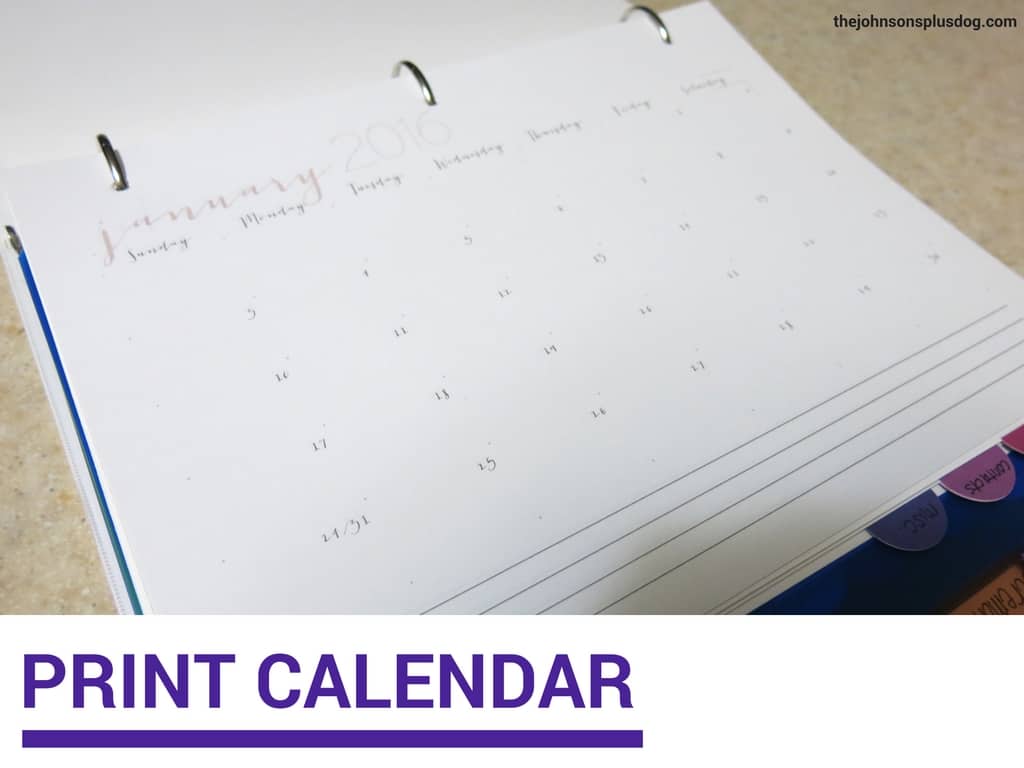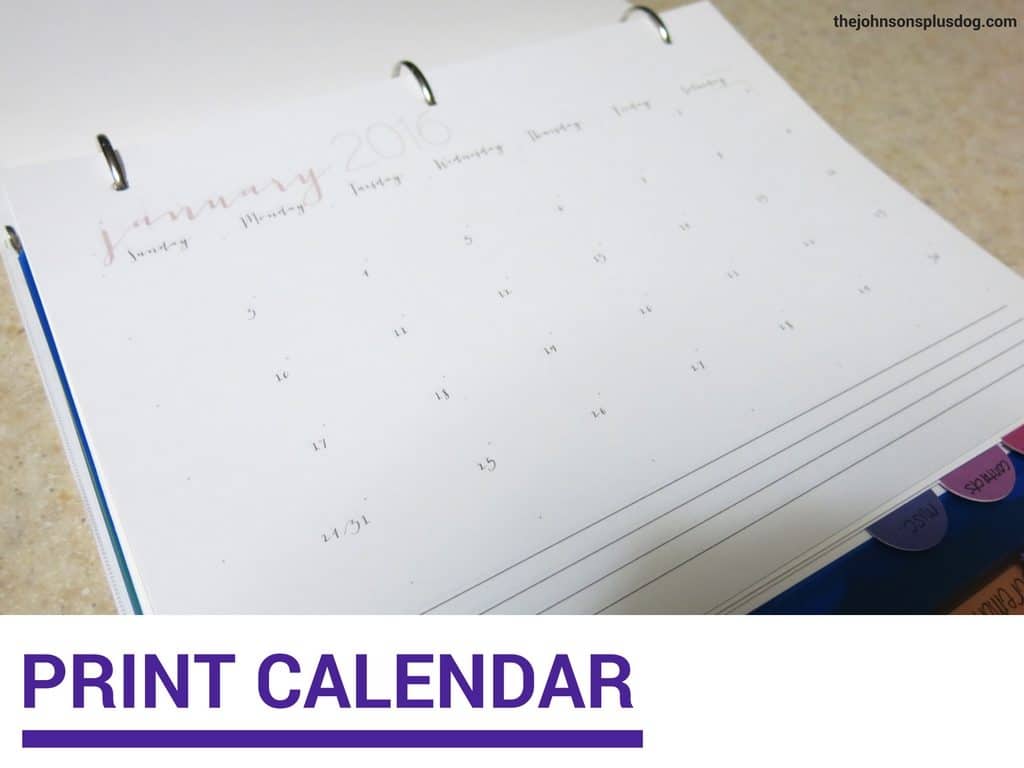 One of the most important parts of your whole binder is the calendar (in my opinion). Wedding planning is a busy season in your life and your calendar can get filled up, so be sure you write down all those vendor appointments, fittings, shower dates, etc.
Step Three: Print Checklist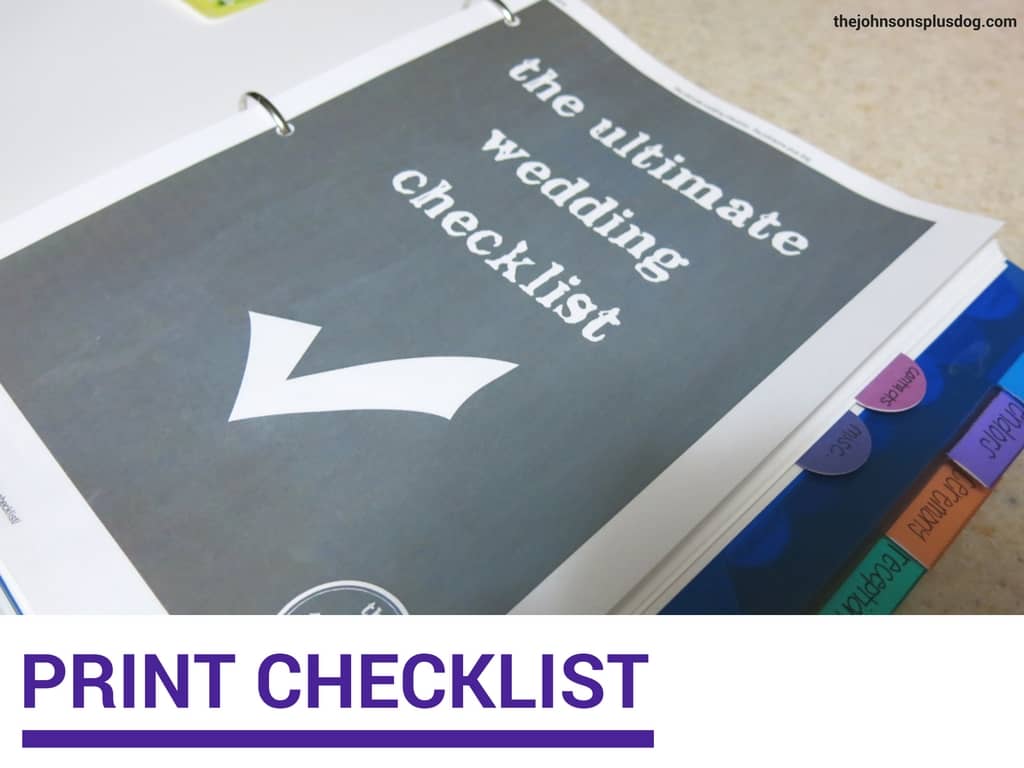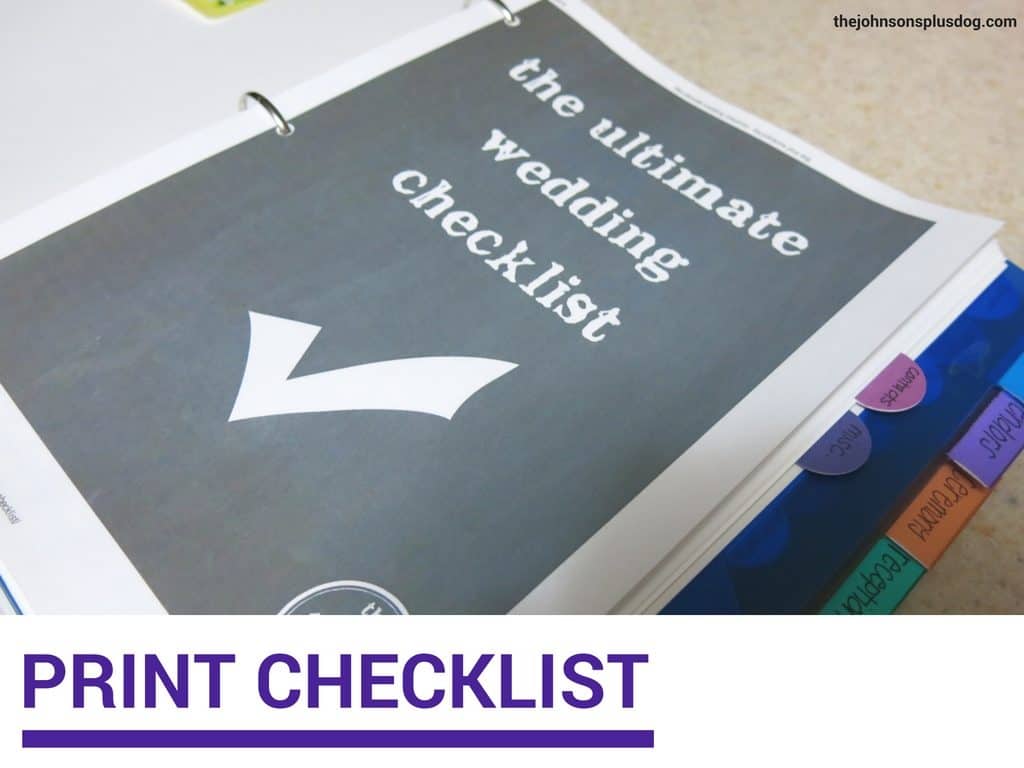 2nd most important item in your binder is your checklist. Click here to access my Ultimate Wedding Checklist, which has everything from when you say "yes" to when you finally say "I do".
Step Four: Set Up Dividers for DIY Wedding Binder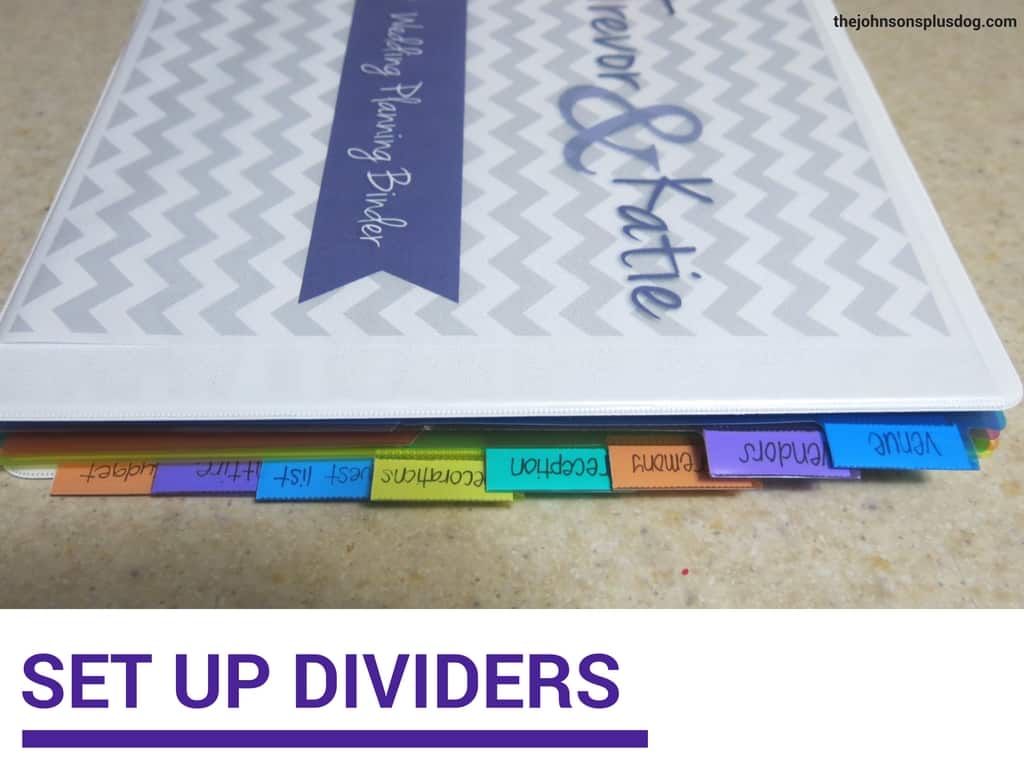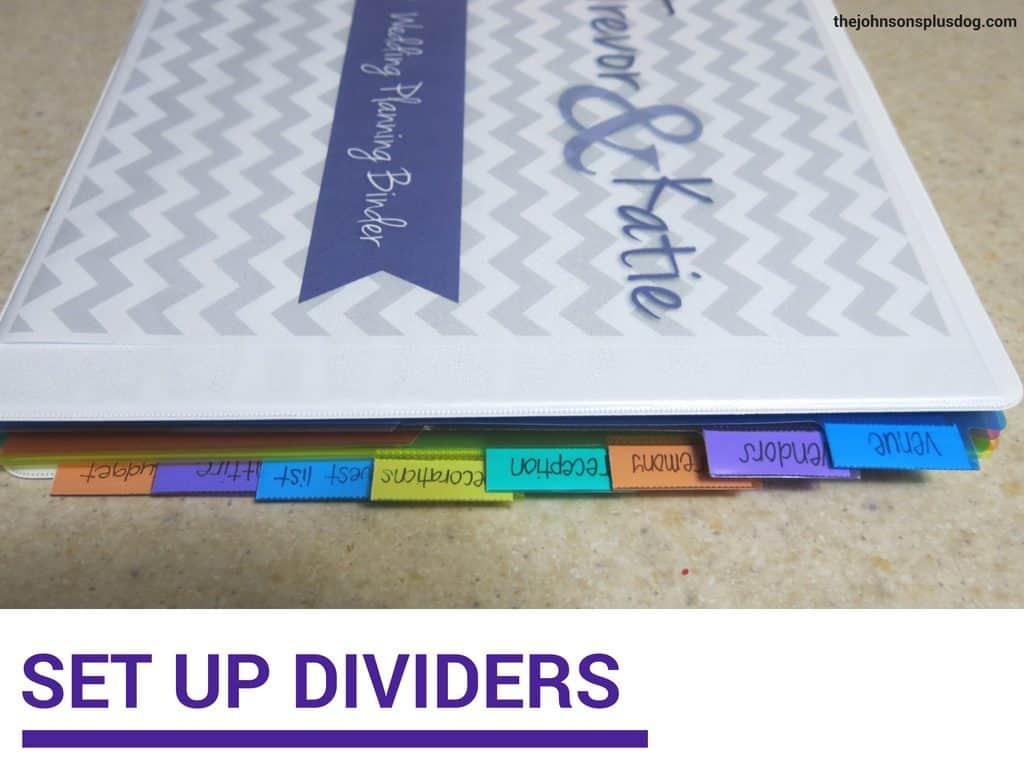 For this wedding binder we used: venue, vendors, ceremony, reception, decorations, guest list, attire and budget.
Other good divider ideas for your wedding planner may be: transportation, honeymoon, travel, lodging/accommodations, music, rehearsal dinner, timeline/schedule, seating, etc.
Step Five: Set Up Subsections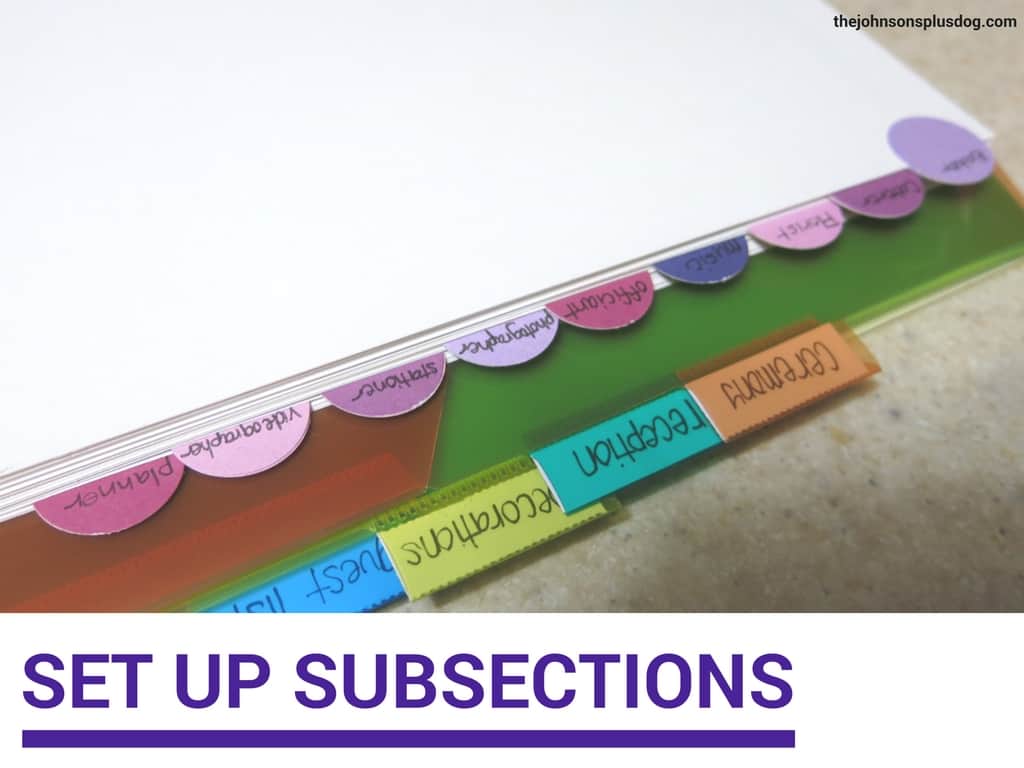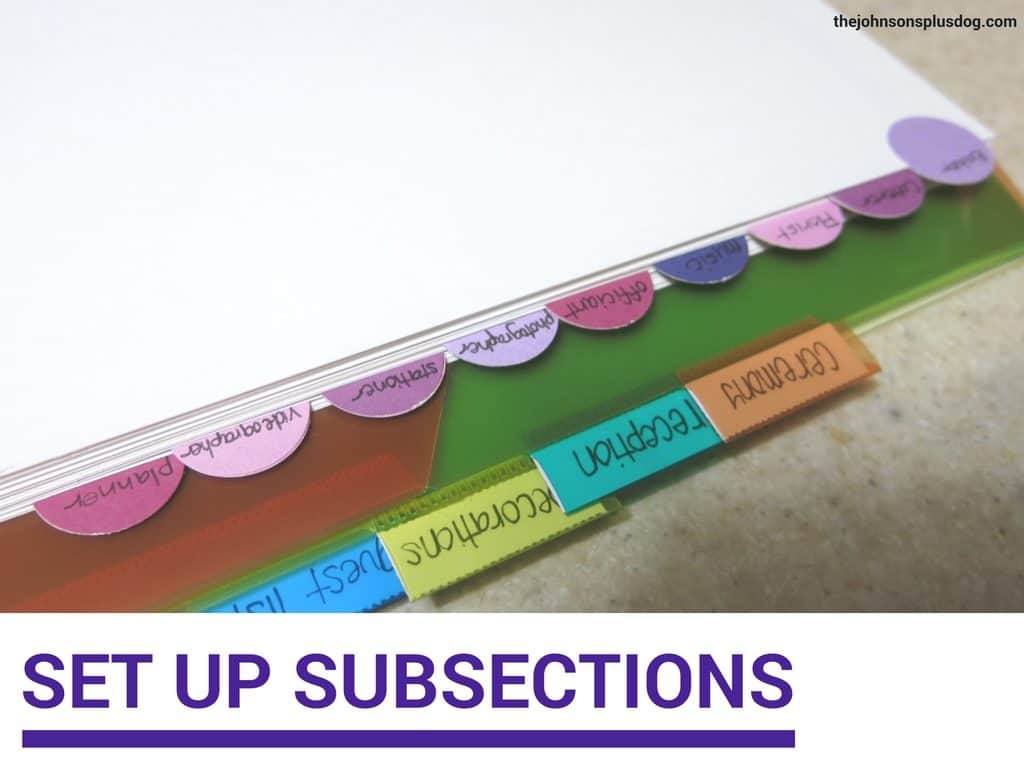 You don't have to use subsections in your DIY wedding binder, but there may be certain sections that require a little more breaking down.
In our case, it was our vendor section. I wanted to have a separate subsection for each type of vendor. Then you can hold important documents like vendor contracts and correspondence for each vendor there.
I created subsections for the following types of vendors: baker, caterer, florist, music/DJ, officiant, photographer, stationer, videographer and planner. Additional vendors may be: hotel room blocks, jeweler, bar services, photo booth, linens, rentals, tent, lighting, security, transportation, entertainment, etc.
Step Six: Add Paper & Protectors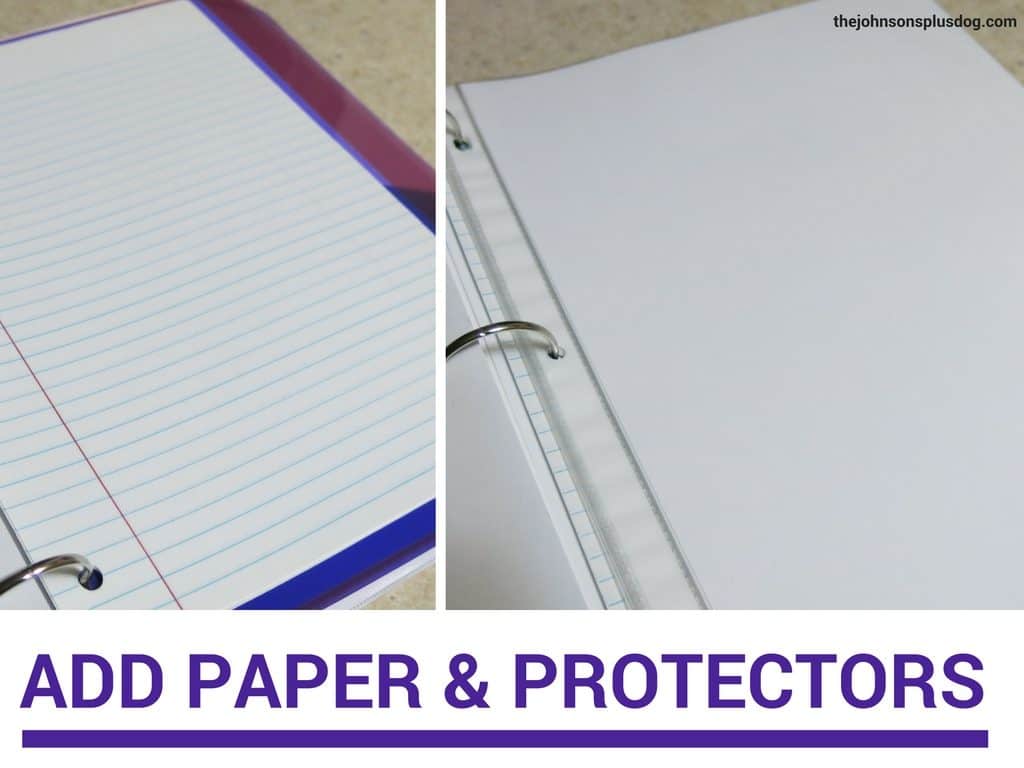 You will want to have plenty of paper to jot down notes during meetings and phone calls. The page protectors are great to hold papers without holes punched, business cards, brochures, magazine clippings, etc.
Step Seven: Add Printables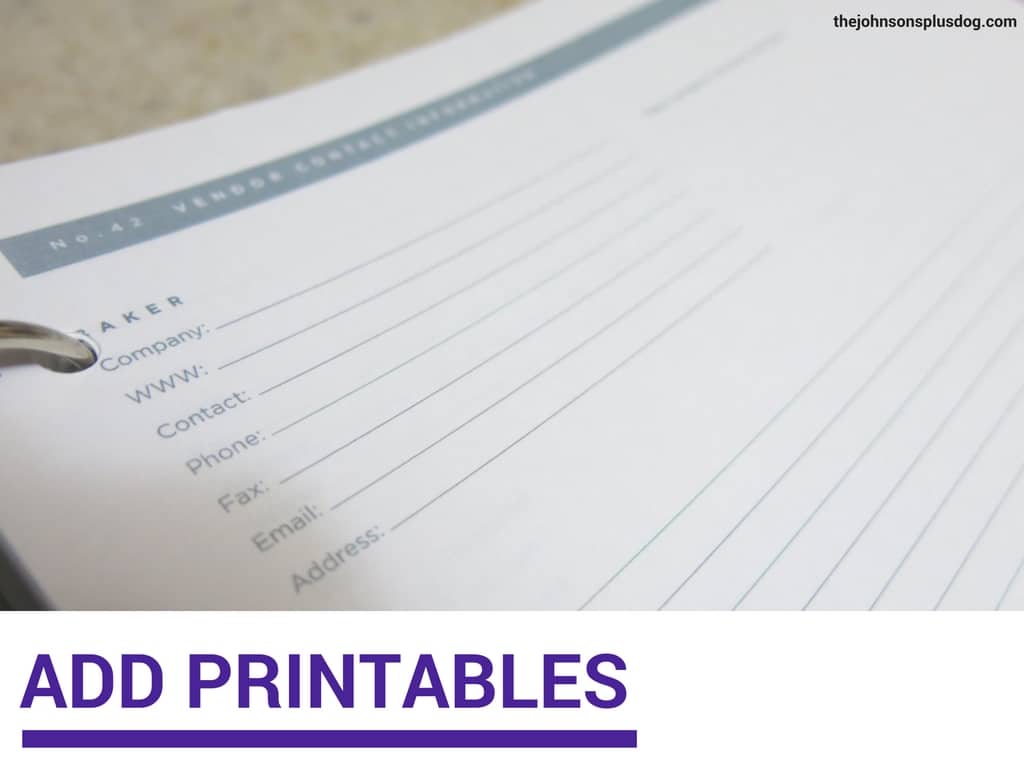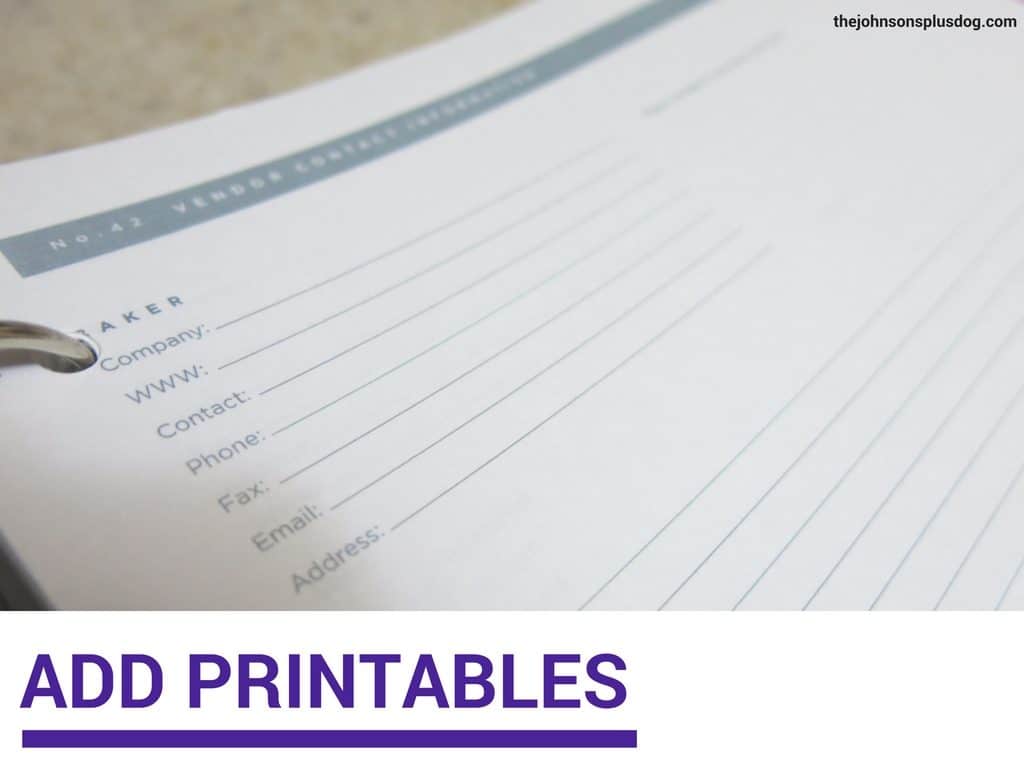 There are so many great free wedding planning printables out there for your DIY wedding binder. Here are some of the ones I used:
Step Eight: Print Helpful Tips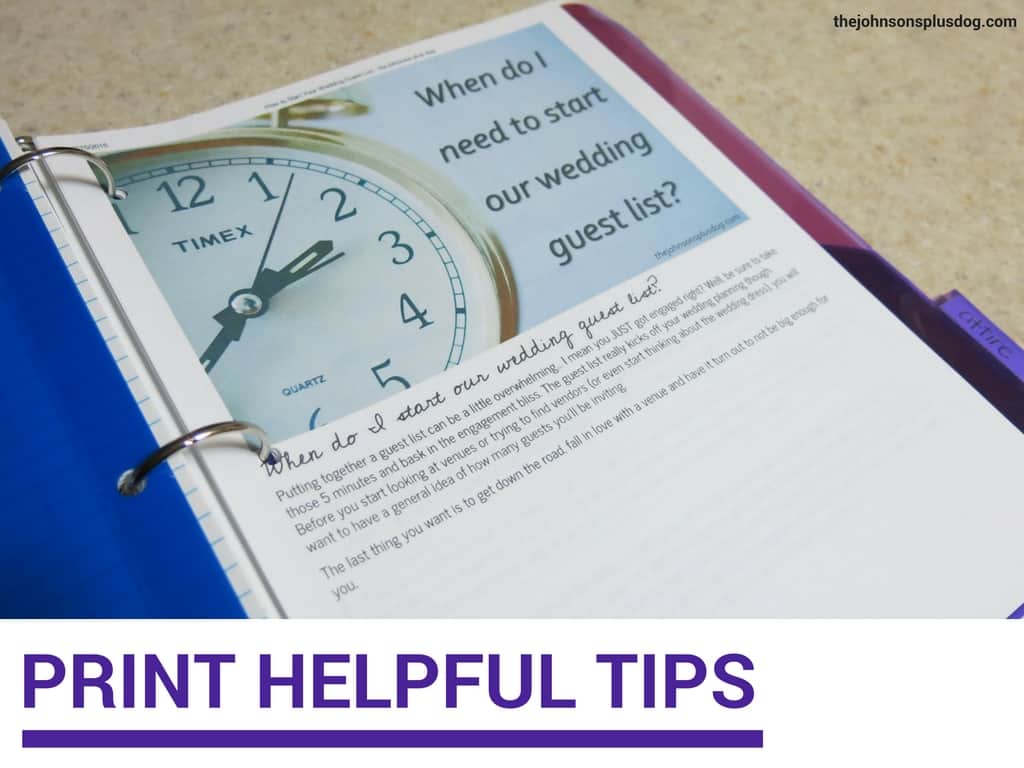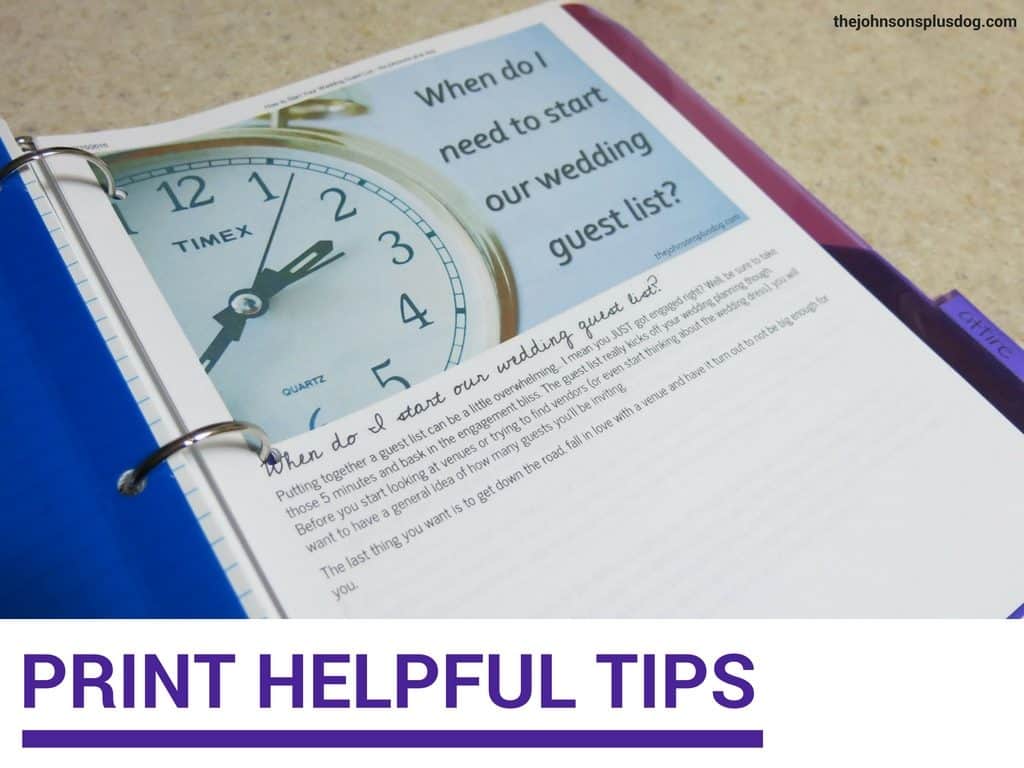 I printed out some of my favorite blog posts for this binder like: 15 Tips for Wedding Dress Shopping for "Attire" section, How To Find Your Wedding Venue for the "Venue" section and How To Start Your Wedding Guest List for the "Guest List" section.
It may be helpful to print out some infographics as well, like this one: Guest List in 30 Seconds. Whatever you choose to print, be sure to fill your DIY wedding binder with lots of helpful tips so it's your one stop shop.
Step Nine: Use Sticky Reminders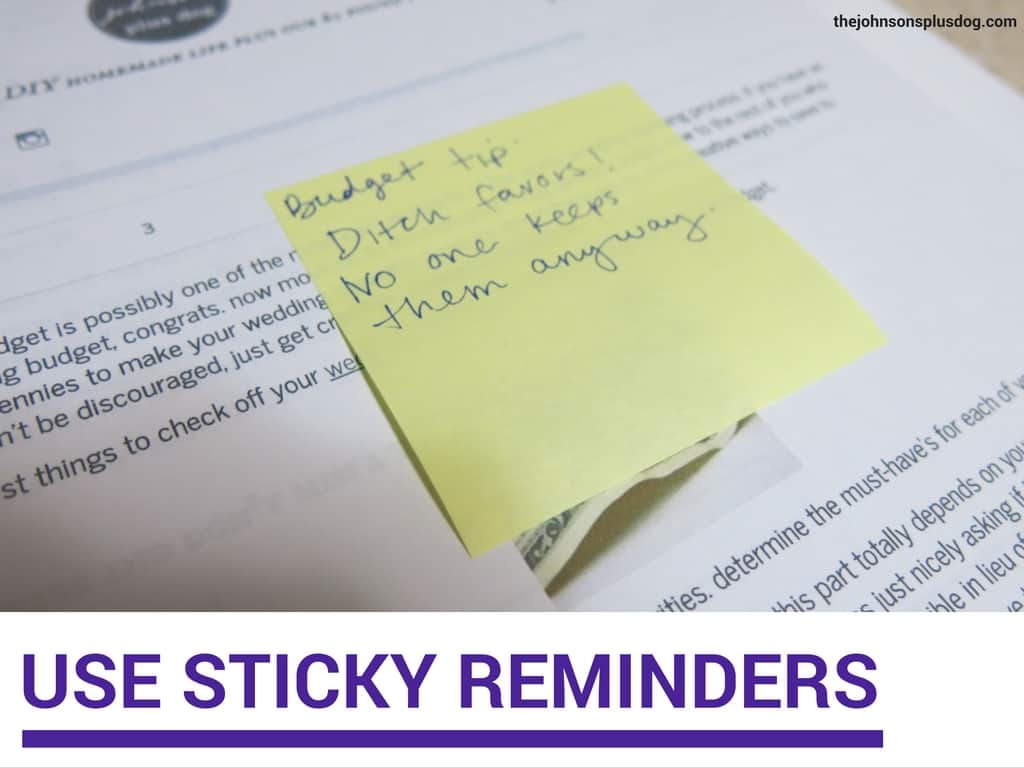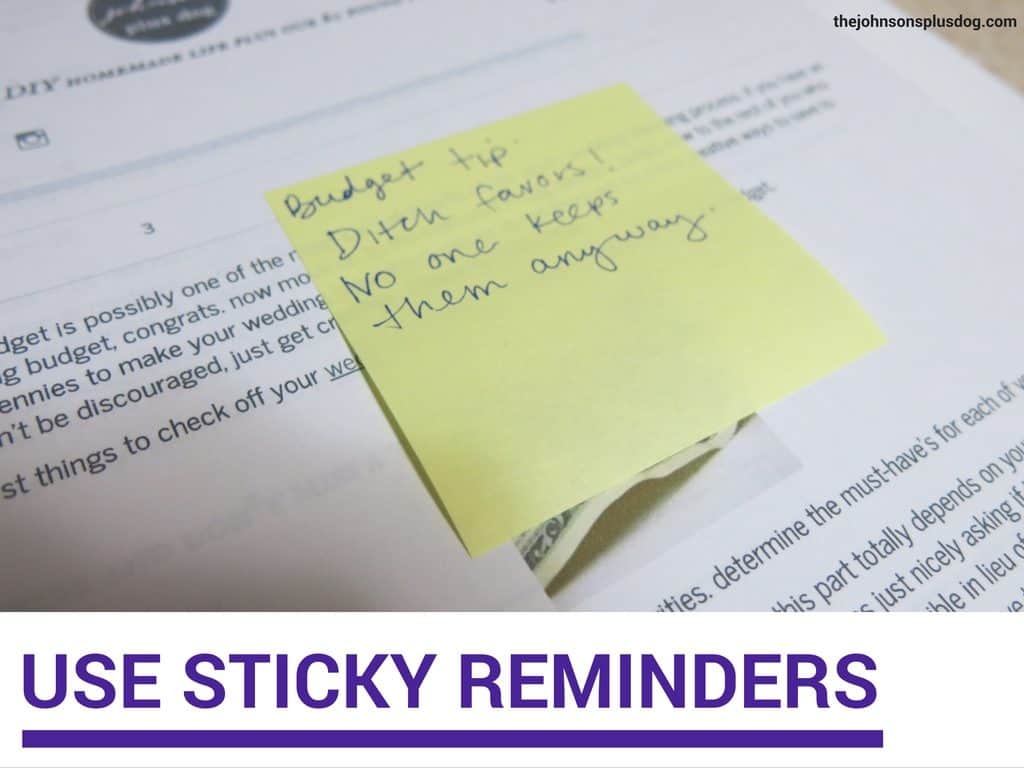 Since I was making this wedding binder for a bride-to-be, I used sticky notes throughout to give her my little tidbits of advice (like the one above: Ditch favors! No one keeps them anyway).
However, when I was getting married I used a lot of sticky notes throughout my wedding binder for little reminders to myself.
Step Ten: Get Busy & Organized!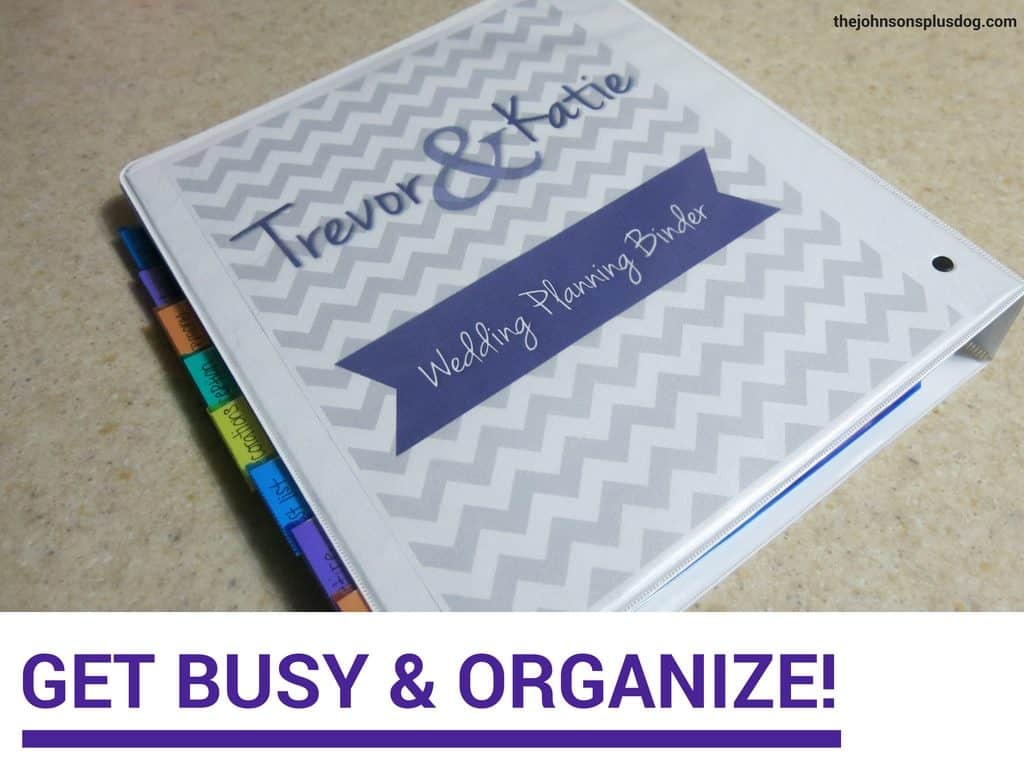 That's it folks! Now get out there and organize! Don't forget to continue to check back on the Ultimate Wedding Checklist as I post more wedding planning goodness!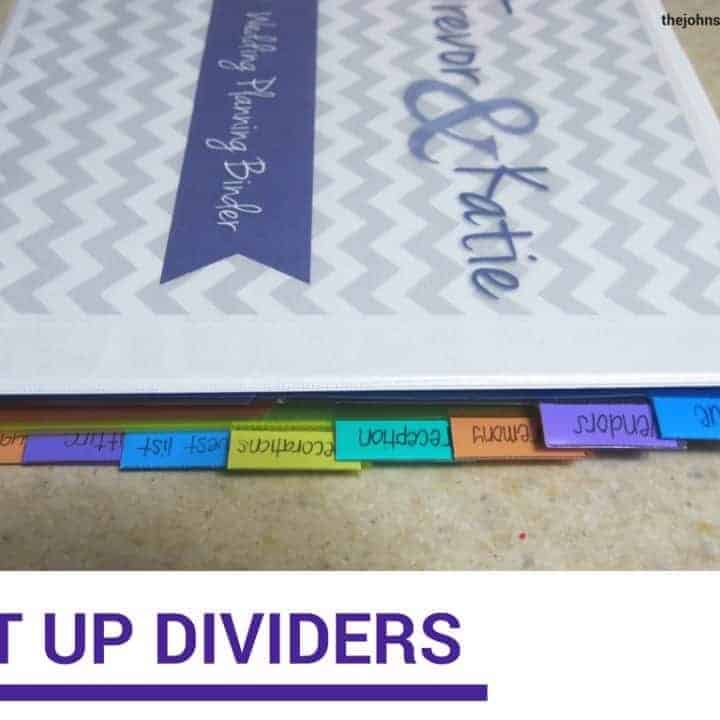 How To Make A DIY Wedding Planner Binder
It's important to stay organized when you are planning a wedding. This tutorial walks you through how to make a DIY wedding planner binder and why you need a physical wedding planner. Creating your own DIY wedding binder allows you to save money, organize your wedding ideas and customize it for whatever you need while you're wedding planning.
Materials
Lined binder paper
Page protectors
Decorative insert for front and back
Instructions
Set up overview for wedding binder.
Print calendar.
Print checklist.
Set up dividers for DIY wedding binder.
Set up subsections.
Add paper & protectors.
Add printables.
Print helpful tips.
Use sticky reminders.
Get busy & organize.