Budgeting for your wedding can be overwhelming, but staying organized is key! Here's 5 free wedding budget tools to keep you organized!
Wedding budgeting can be one of the most important parts of any wedding. I wrote about how to determine your wedding budget. Once you've set your budget, it's a whole other story just trying to keep all of the wedding expenses organized. Today we're going to talk about some great wedding budget tools to keep your wedding budget organized. I'd recommend using some of the awesome tools below.
This post contains affiliate links, but nothing that I wouldn't wholeheartedly recommend anyway! Read my full disclosure here.
Related – Wedding Budget & Organization Posts: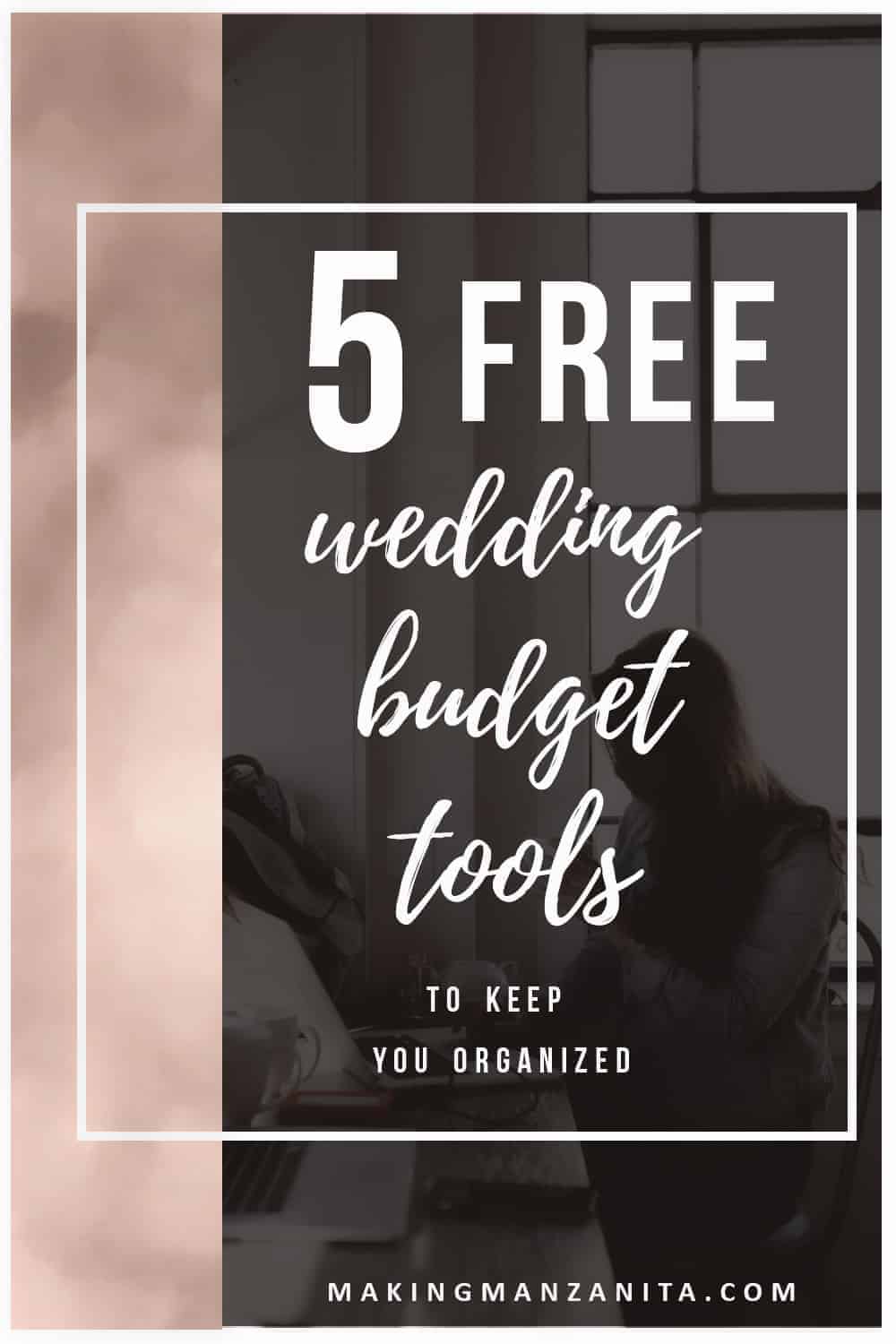 5 Free Wedding Budget Tools To Keep You Organized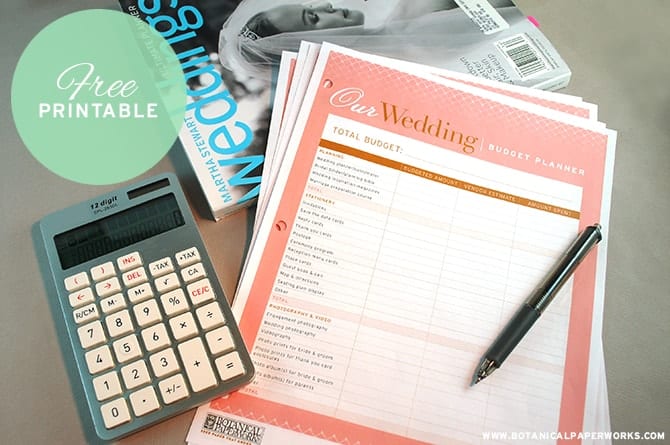 1. Here's a free printable wedding budget spreadsheet from Botancial Paperworks. This wedding budget planner has over 150 trackable budget items and is available in both PDF and excel (which you can edit yourself).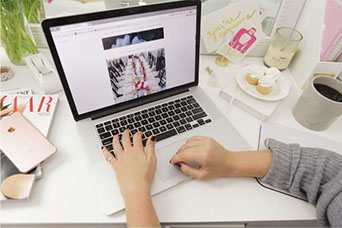 2. Here's another great free wedding budget tracking resource from Brideside. I love that this wedding budget spreadsheet allows you track your budget and compare it to your actual expenses, so you can see how you are stacking up against your planned wedding budget. Then you can adjust accordingly. This is a free download in Excel format, so it's fully editable.

3. This is an awesome website that helps you estimate the cost of your wedding by answering some simple questions at Cost of Wedding. This can be a helpful tool for showing family members the real costs of weddings in your area if you are asking for some help with the finances. These conversations can be tough, check out my tips for asking family to help fund your wedding here.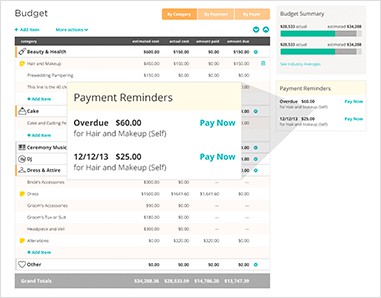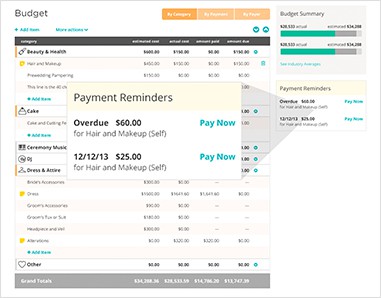 4. This planning tool on Wedding Wire is great as you can set payment reminders, track spending and much more! This is one of those awesome wedding budget tools that will help you out throughout the entire wedding planning process.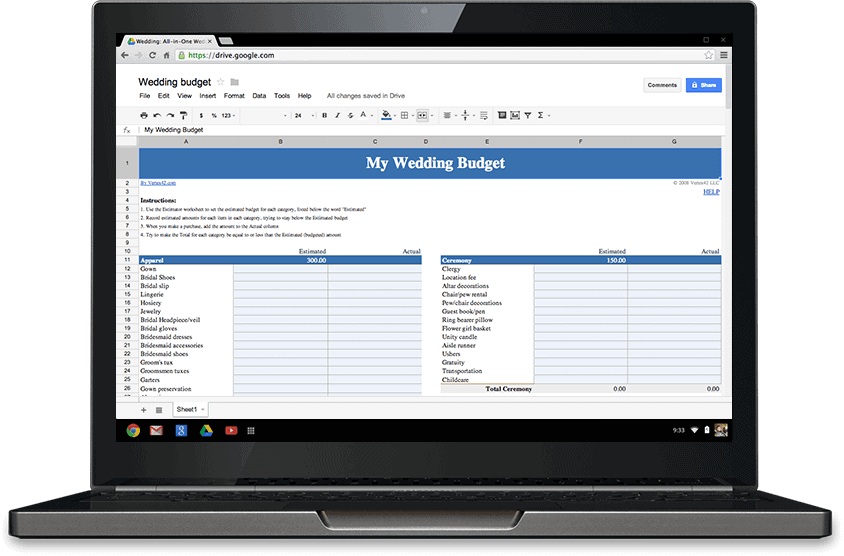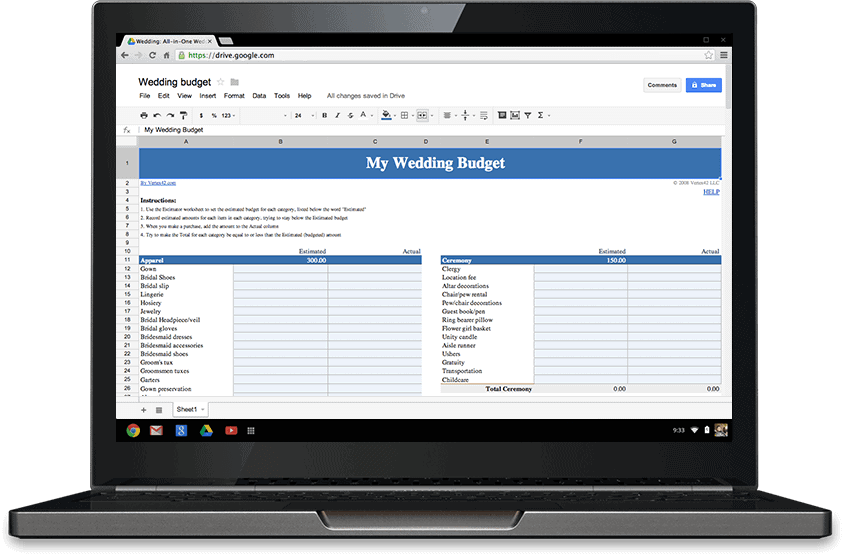 5. Last but certainly not least, Style Me Pretty has teamed up with Google Docs to create an all-in-one wedding planner on Google Docs. It's pretty awesome.
On that note, while we're talking about Google Docs, I would highly recommend to keep all your wedding related docs on your Google Drive. This allows you to pull them up if you're on the go on your phone using the App or while you're at home wedding planning. This was life changing for me!
Keeping your finances organized throughout the wedding planning process can sound daunting. I'm convinced that by using wedding budget tools you can stay organized, which will help you keep your wedding on budget. What are some of the wedding budget tools you use to stay organized with your wedding budget?
Hop on over to this post next about how to make your own DIY wedding binder.