Are you planning your own wedding? Need to learn how to plan a wedding step by step? Check out this massive guide of free wedding planning resources!
So, you're engaged, you just read my advice for the planning process and now you are ready to get down to business!
Below is a complete A to Z wedding planning guide full of SO many free wedding resources.
I created this wedding planning resource list by taking my wedding checklist (luckily I had it saved on my Google docs, like all my important wedding stuff). I removed the stuff that was specific to our DIY wedding and added in some traditional items back in that I didn't have.
This wedding resource guide contains affiliate links, but nothing that I wouldn't wholeheartedly recommend anyway! Read my full disclosure here.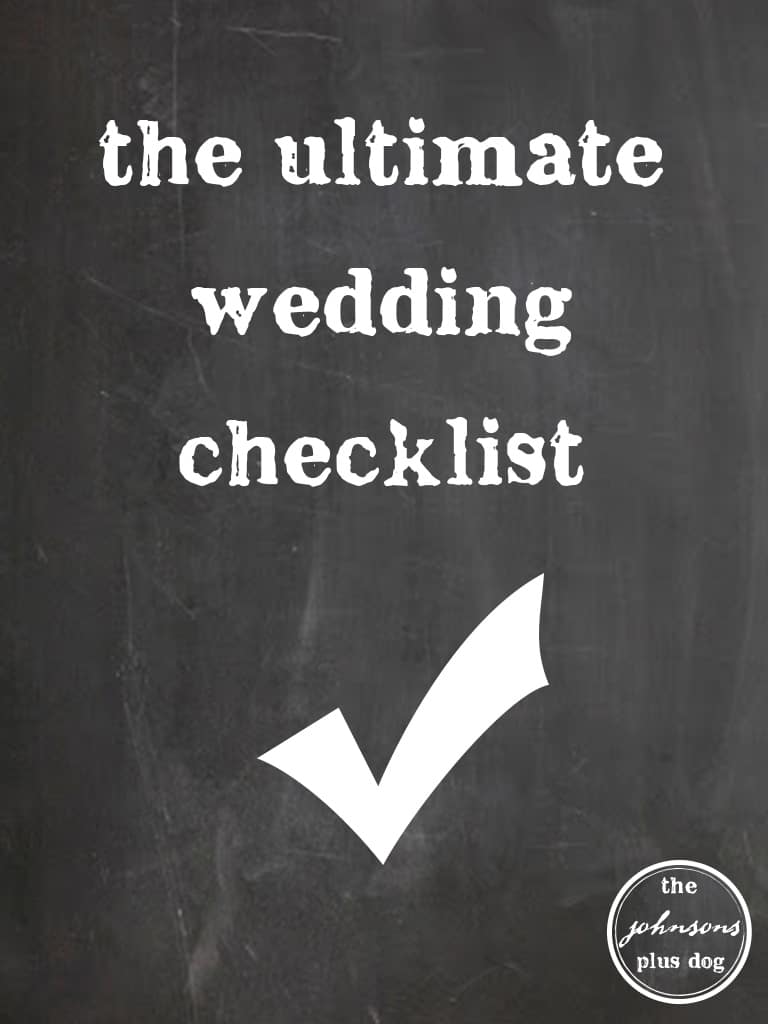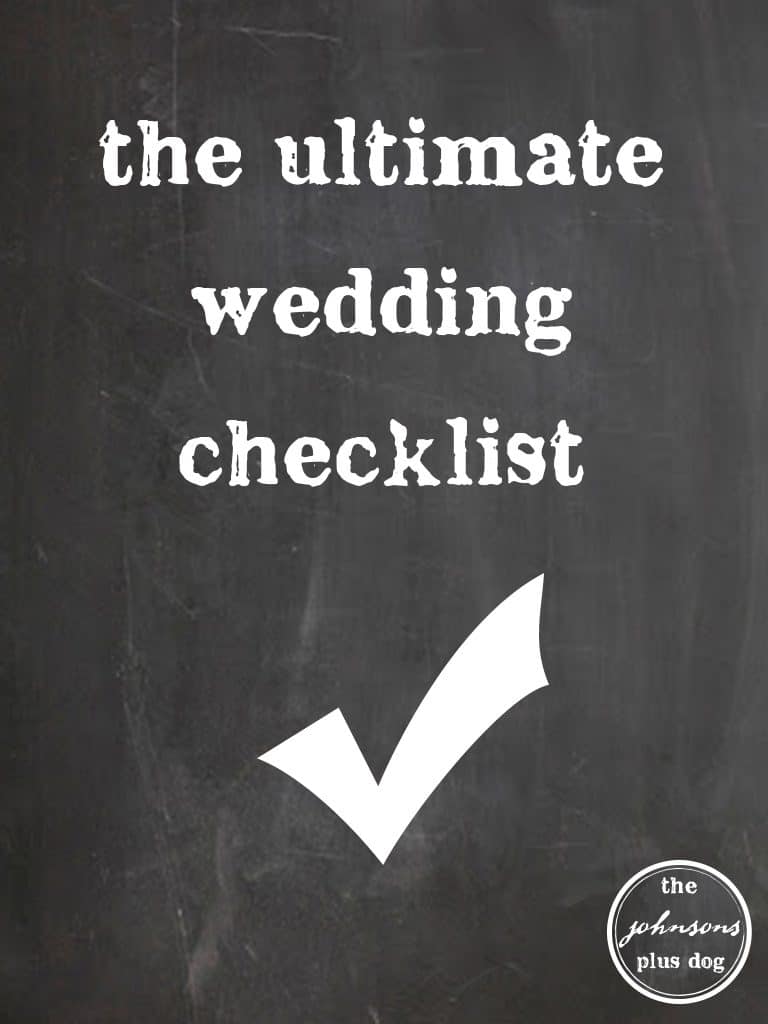 Why doesn't your wedding checklist have timing on it?
Great question! Most wedding checklists or timelines that are out there have 9-12 months, 6-9 months, etc.
This wedding to-do list does not, on purpose.
Our engagement was exactly 8 months & 24 days long.
To be honest, the checklists with timing on them frankly stressed me out.
Most of them were 12+ months long, so I always felt like I was behind.
I found it much more enjoyable to move through the wedding planning process from top to bottom and cross items off as I completed them.
Once you have your timing figured out and you set your date, you can always group them up to accommodate your goals and set some deadlines for yourself.
The wedding checklist below is (mostly) in order from when you say "yes" to "I do". So you can move through the entire list and learn how to plan a wedding step by step!
The list below is meant to be your base.
Take this, copy and paste it into a word doc or Google doc, delete the items that don't apply to you, add those special projects that you know you want to DIY, and make it your own.
Again, I am so excited to get through the process with you.
How to Plan A Wedding Step by Step: Wedding Resources, Blog Posts & More to Help Plan Your Big Day!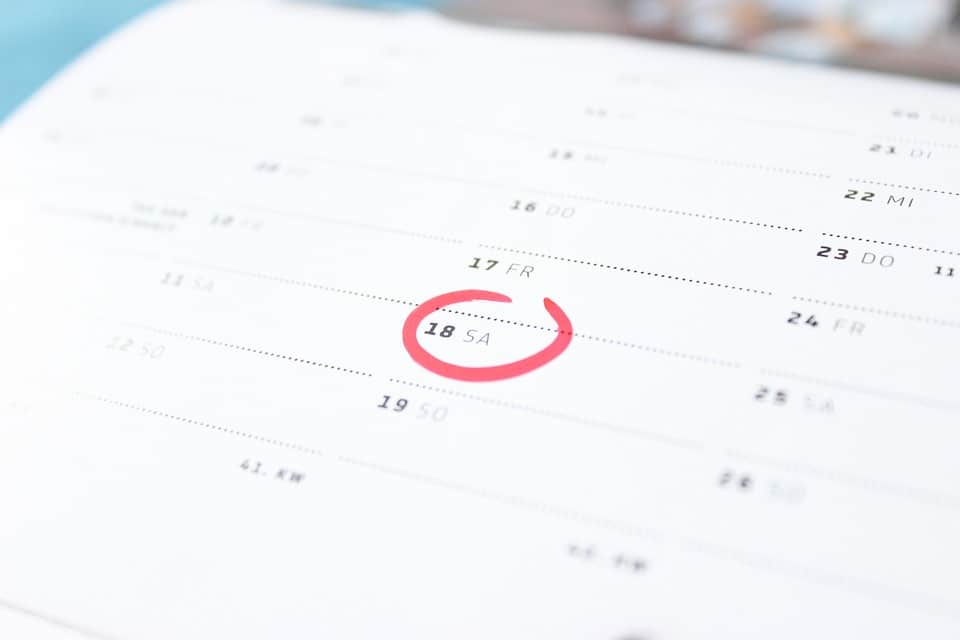 Pick your wedding date
One of the first things you need to do as you begin planning your wedding is to choose your wedding date, of course.
In this article, we outlined 7 questions to ask yourselves as you start narrowing your options and help answer the big question of how to choose a wedding date.
Create your wedding budget
Before you start booking things left and right for your wedding, it's best to start with a wedding budget! By figuring out this upfront you know how much you have to spend.
Determining your wedding budget is possibly one of the most stressful parts of planning a wedding, so here are 5 simple steps to help you figure out your wedding budget with your partner and family.
Once you've figured out how much you have to spend on your wedding, create a budget spreadsheet to track your spending. You can use one of these free wedding budget tools to stay organized or just throw everything into a Google Doc. Whatever works for you.
If your wedding budget isn't as much as you wanted, that's ok. There are so many creative ways to save nowadays. don't be discouraged, just get creative… Continue reading 36 genius ways to save money on your wedding.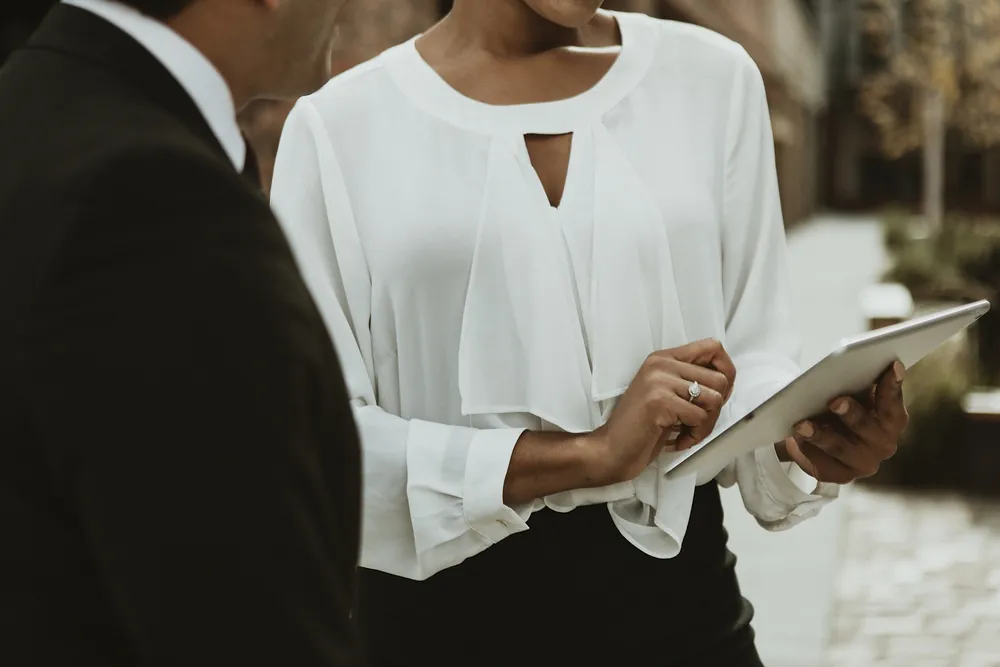 Decide if you will have a wedding planner, or day-of coordinator or do everything yourself
Are you wondering "Should I hire a wedding planner?"… This is a super common question that many brides ask. Deciding to hire a wedding planner, or not, is one of the first decisions you should contemplate in the wedding planning process.
If you're going to hire a wedding planner, you want to do it up-front so they can help you as much as possible.
Start a wedding planning binder, folder and/or Pinterest board
It's important to stay organized when you are planning a wedding. This tutorial walks you through how to make a DIY wedding planner binder and why you need a physical wedding planner.
Creating your own DIY wedding binder allows you to save money, organize your wedding ideas, and customize it for whatever you need while you're wedding planning.
Even if you have a Pinterest board to keep your wedding ideas saved, you still totally should have some sort of wedding binders to keep things organized.
Start the wedding guest list
Shortly after getting engaged, you will need to start putting together your wedding guest list. This can be a bit overwhelming!
Here are some great tips for how to start your wedding guest list. I've also included a free wedding guest list template just for you that can be used in Google Docs or in Excel!
You'll need to have an idea of your total headcount before you start looking for a venue, which is one of the next steps in the how-to plan a wedding process.
Ask your bridal party
If you're struggling to try to decide who your bridesmaids should be, I've got you covered! In this article, I give you 4 tips for choosing your bridal party!
Once you decide who will be in your bridal party, you'll need to ask them. If you're stumped on how to ask your bridesmaids, you're going to love these 8 brilliant bridal party proposal ideas!
If you're going to have a ring bearer and/or flower girl, you'll need to ask them too!
Choose your wedding style
If you're stumped and thinking "what should my wedding style be?", that's okay. It's common to be stumped.
Read this article for all of my tips for choosing your wedding style and what to do when you and your future spouse disagree on your wedding style.
Have an engagement party
An engagement party officially kicks off the wedding planning process. It is the first of many special events to come.
Not sure what to do? Check out this great engagement party guide!
Book the wedding reception venue
If you're wondering how to find your wedding venue, this article walks you through 3 simple steps to find your wedding venue.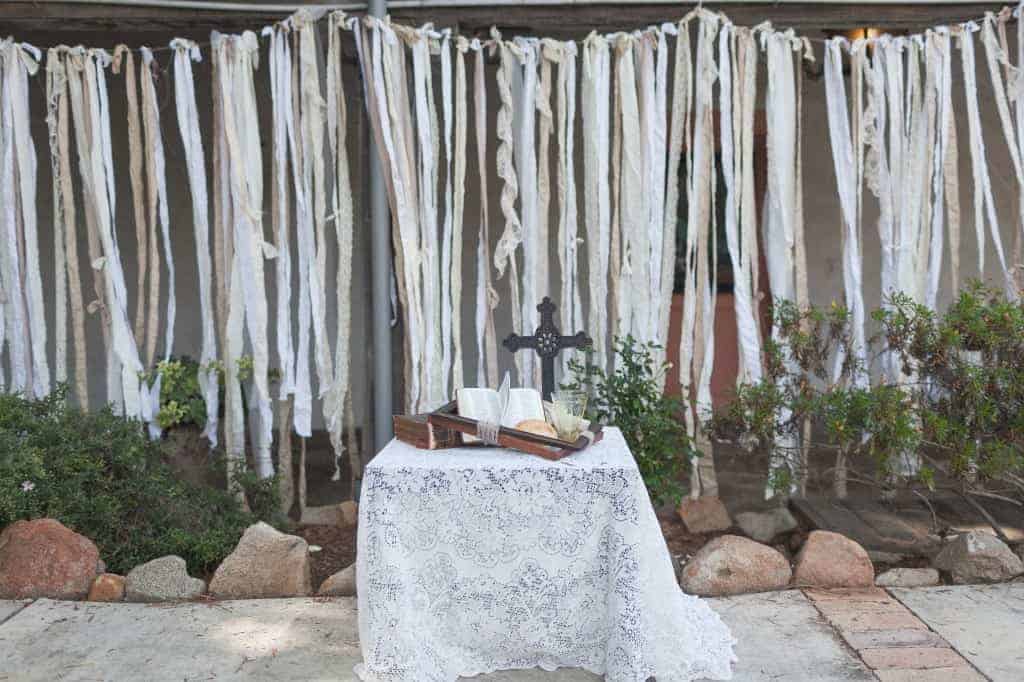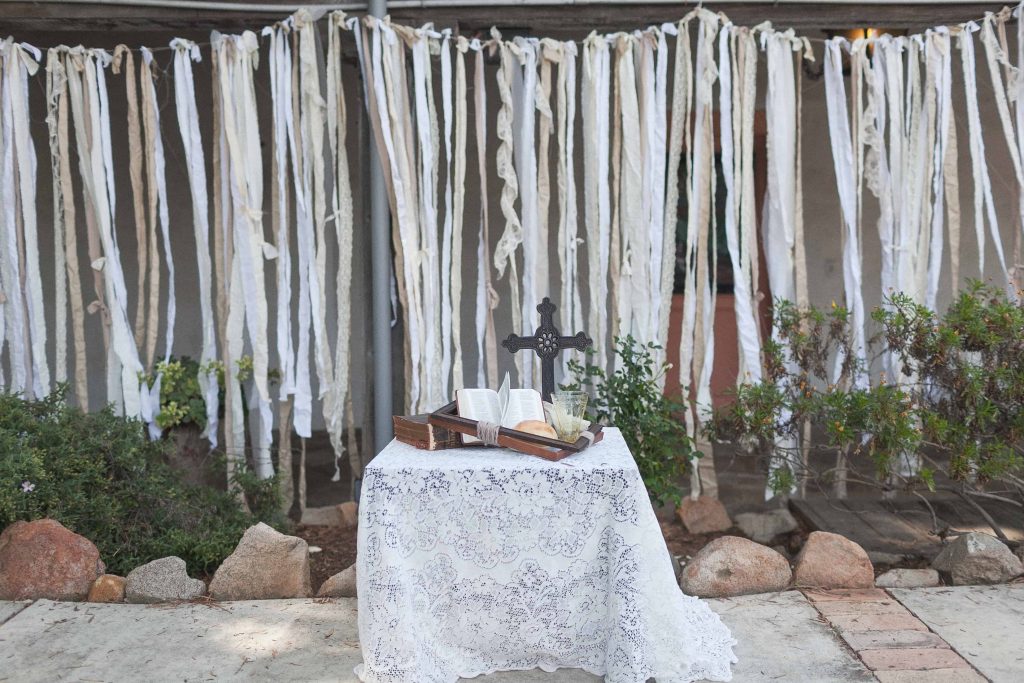 Book wedding ceremony site (if different than reception venue)
Many times your wedding reception venue will have a place for you to host your wedding ceremony as well. But your venue may not have this option or you may choose to get married in a church instead.
Your whole wedding is centered around the wedding ceremony, the act of two people madly in love getting married! The ceremony is a wonderfully romantic act and sometimes the actual wedding ceremony decor gets overlooked, while couples focus on the reception decor.
Once you book your wedding ceremony site, you can start planning the decor. Check out these creative wedding ceremony decor ideas!
Book wedding vendors
The next step in the how-to plan a wedding process is to book your wedding vendors. If you're wondering, the order of booking your wedding vendors totally matters. So I've put them in order below.
1. Wedding Officiant
Sometimes you already know who is going to marry you. For us, it was pretty easy. We had my stepdad (a pastor) and our mentor that did our pre-marital counseling conduct our wedding.
Some officiants even take engaged couples through premarital counseling (which you TOTALLY need to do).
If you're struggling, here is 6 steps for finding the right wedding officiant.
2. Caterer
Booking a wedding caterer can be overwhelming. Food and drinks will probably be the largest portion of your wedding budget, so choosing the right caterer is important.
Here's a list of 45 questions to ask your wedding caterer as you make this vendor decision.
3. Photographer (and videographer if desired)
Your wedding photography is such an important aspect of your wedding. But choosing a wedding photographer can be a bit mind-boggling.
Here are some helpful tips on how to choose a wedding photographer including where to look for a wedding photographer, questions to ask potential photographers, and a bit about how we chose our photographer.
If you want to have a videographer as well, now is the time to get them booked! Ask your wedding photographer if they have any recommendations. They probably have friends that they like to work with.
4. DJ and/or musicians
Music makes the reception, so you need a wedding DJ that can keep the energy all the way up. Narrow down your search with this guide to choosing the perfect DJ for your big day.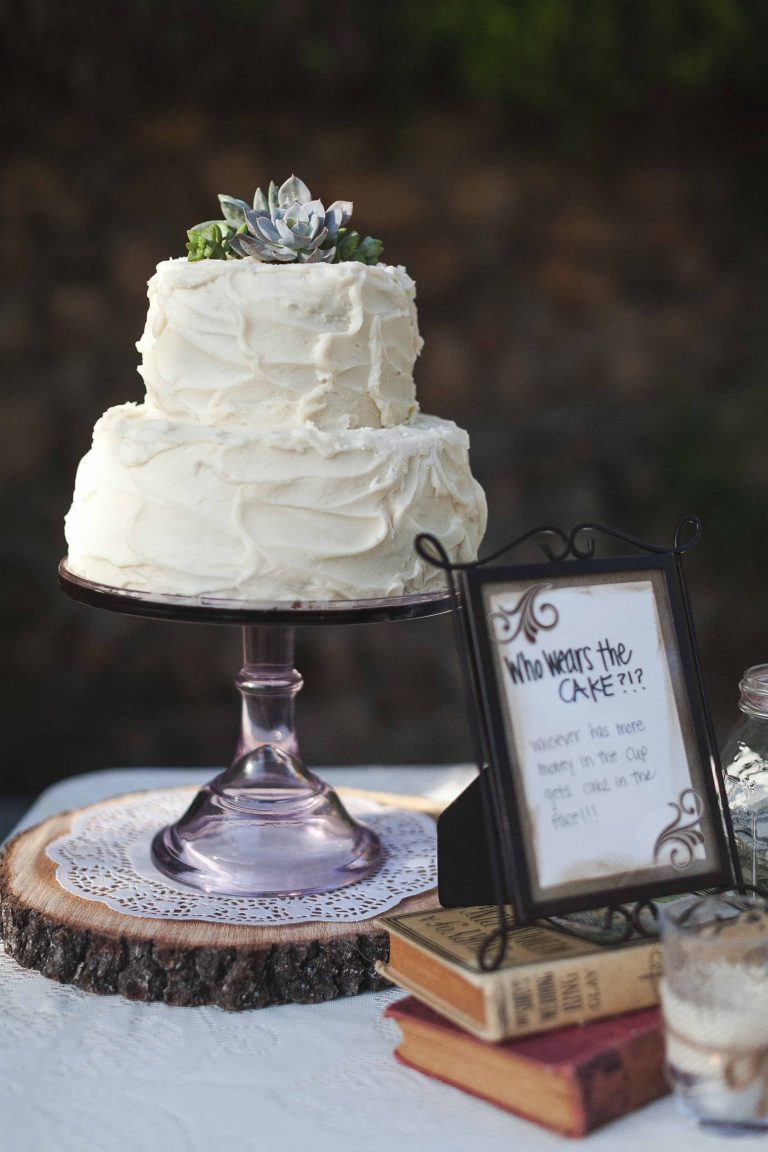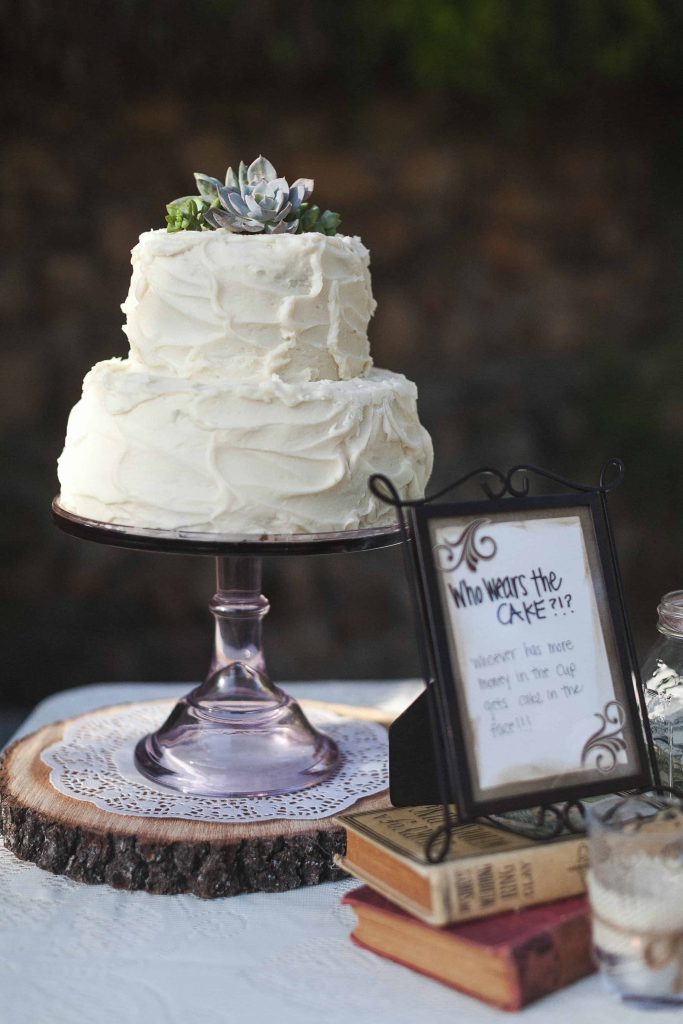 5. Cake Designer
Your wedding cake is more than just a dessert – it's the centerpiece for your big day décor. With that in mind, choosing your wedding cake designer is an important decision that requires a lot of thought, care, and attention.
6. Florist
From pinpointing your floral style to finally signing a contract, these experts weigh in on how to find your perfect wedding florist in 10 simple steps.
To save a little bit of money on our budget-friendly wedding, we opted to make our own bridesmaid bouquets, boutineers, and wedding centerpieces. The only thing I ordered from our wedding florist was the bride's bouquet.
7. Hair and makeup stylist
There are a few things you should consider when selecting your wedding hairstylist, like your budget. Here's a guide on how to choose a wedding hairstylist.
You should also book your wedding makeup artist at the same time. If you don't know who to use, ask your hair stylist if they have any recommendations.
It is also helpful to figure out if anyone in the family (moms, etc.) and the bridesmaids will also be getting their hair and/or makeup done.
8. Transportation
Lastly, if you plan on using any special transportation you'll need to get that booked.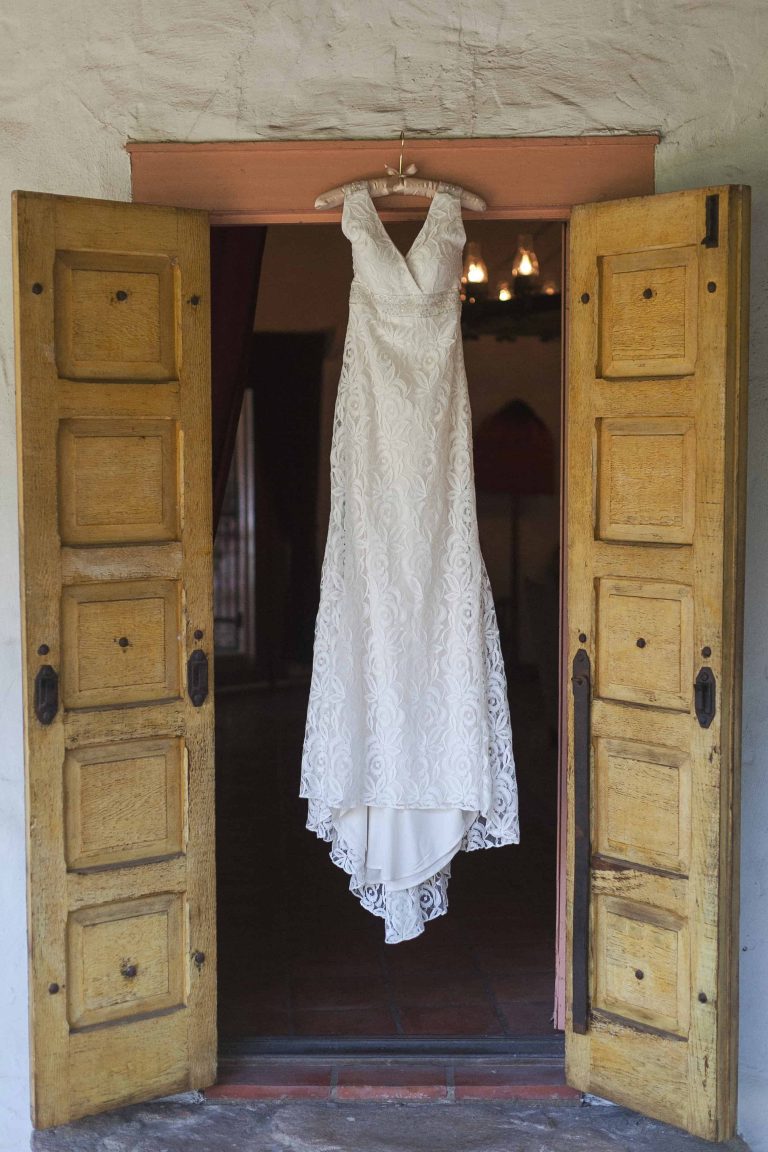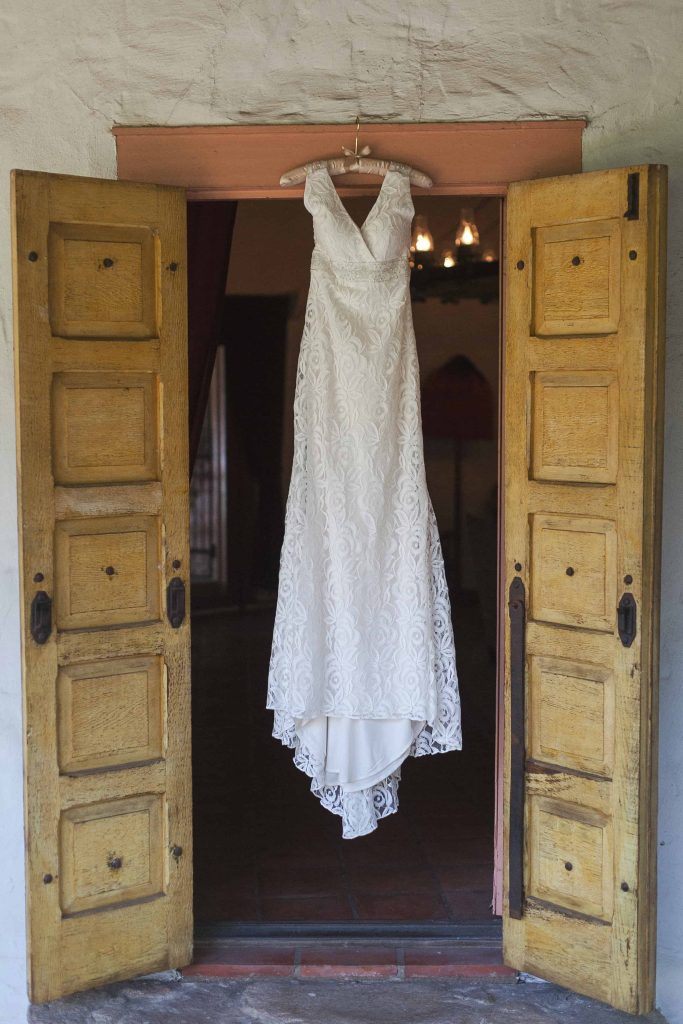 Purchase your wedding dress
Wedding dress shopping is one of the most exciting aspects of the whole wedding planning process.
But it can also be a stressful time spent worrying about budget, body image issues, and pleasing others and it can possibly bring on anxiety as your big day begins to feel even closer.
With my 15 tips for wedding dress shopping, hopefully, some of these stresses can be eliminated or lessened.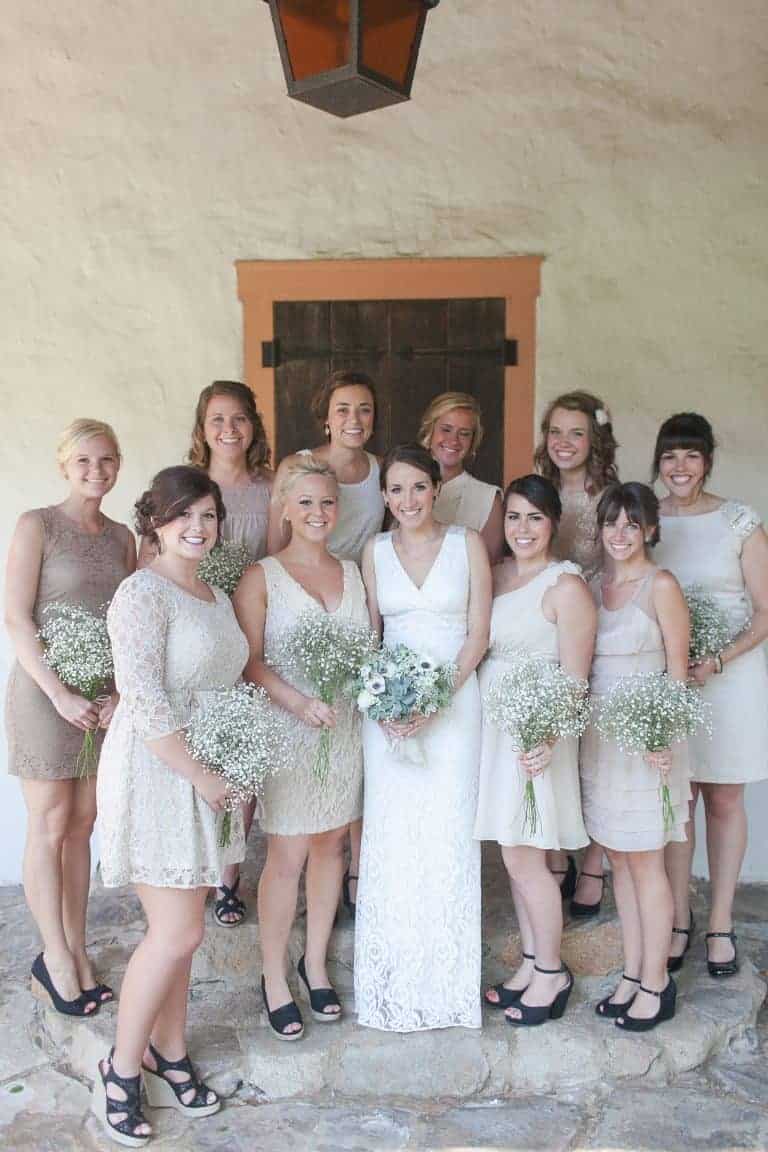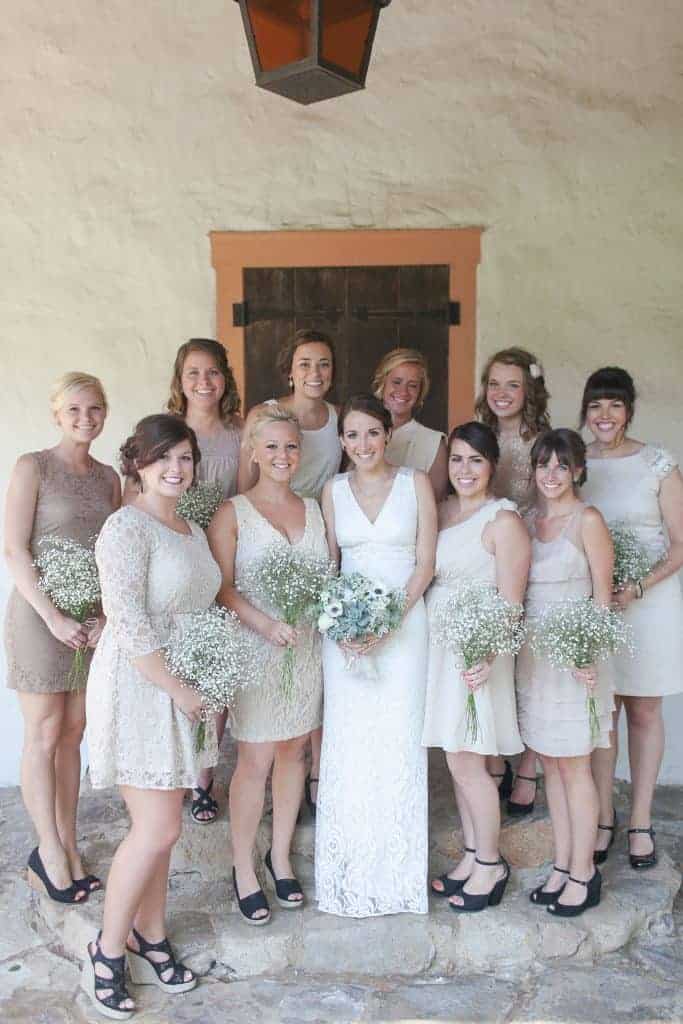 Choose bridesmaid dresses
There are so many frequently asked questions when it comes to bridesmaid dresses – like who pays for bridesmaid dresses or do bridesmaid dresses have to match?
Here's your ultimate guide to everything you need to know about bridesmaid dresses.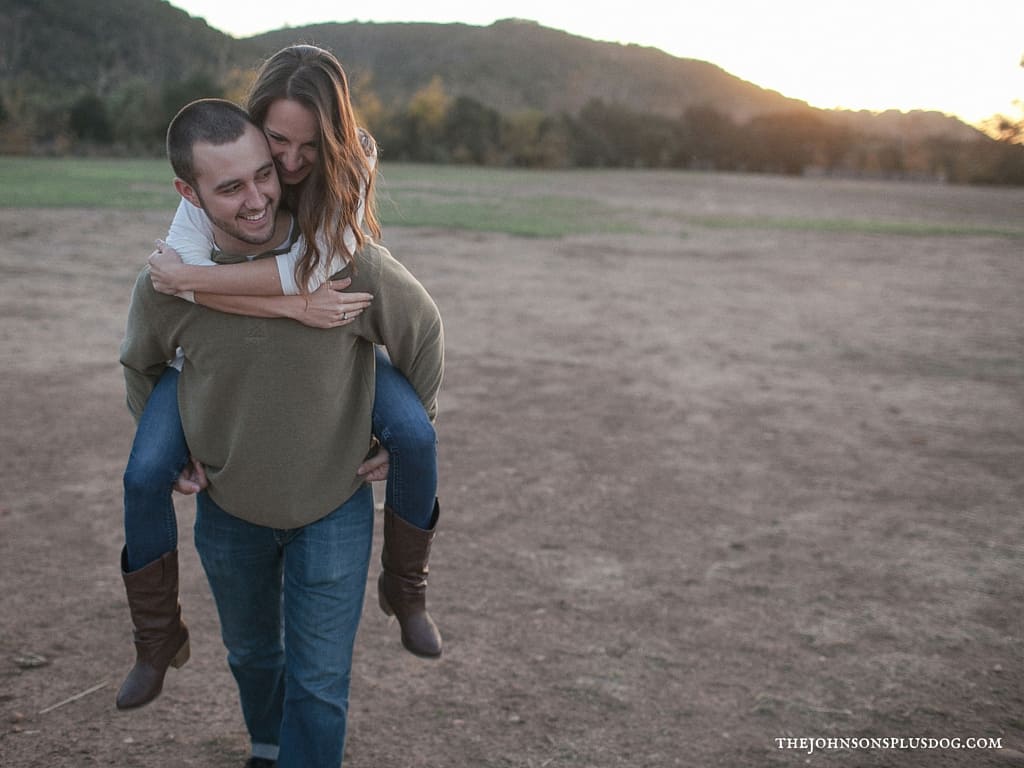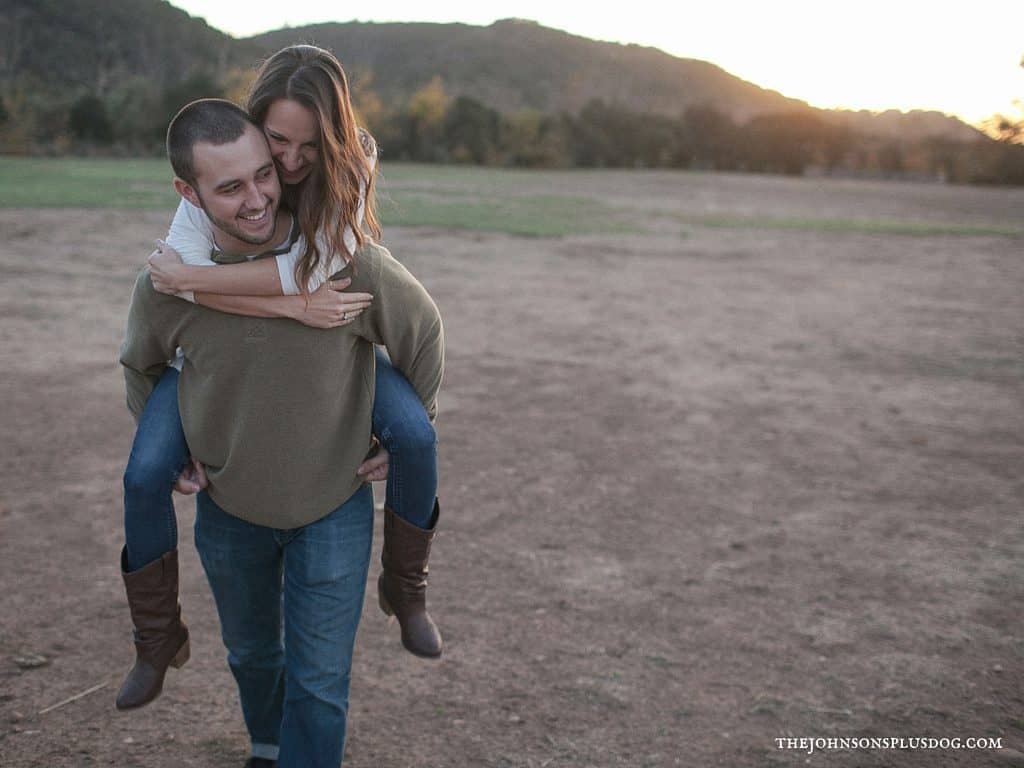 Take engagement pictures
Are you asking yourself "Should we get engagement pictures taken?" If you're anything like me, you are on the fence about whether or not you want to get engagement pictures done.
This engagement photo guide will walk you through that question, give you some tips if you are nervous about your photo shoot, and share some creative ways to cut money in your wedding budget so you can afford to add engagement pictures!
Create your wedding registry
Registering for your wedding doesn't have to be so confusing. Here are some of the best wedding registry tips & tricks to help you through the process.
The choice of where to register for your wedding is a bit overwhelming. If you're asking yourself "where should we register for our wedding" or "how many stores should I register at for our wedding", I've got you covered! Here are the top wedding registry stores and all of the different perks and policies that each store offers!
At the very least, you should register at a couple of different places. We highly recommend both Amazon and Target.
Registering for your wedding can be really overwhelming. This free printable wedding registry checklist will help make sure you don't miss anything.
If you're looking for something more unique for your wedding registry, you will love this post explaining 5 nontraditional wedding registries.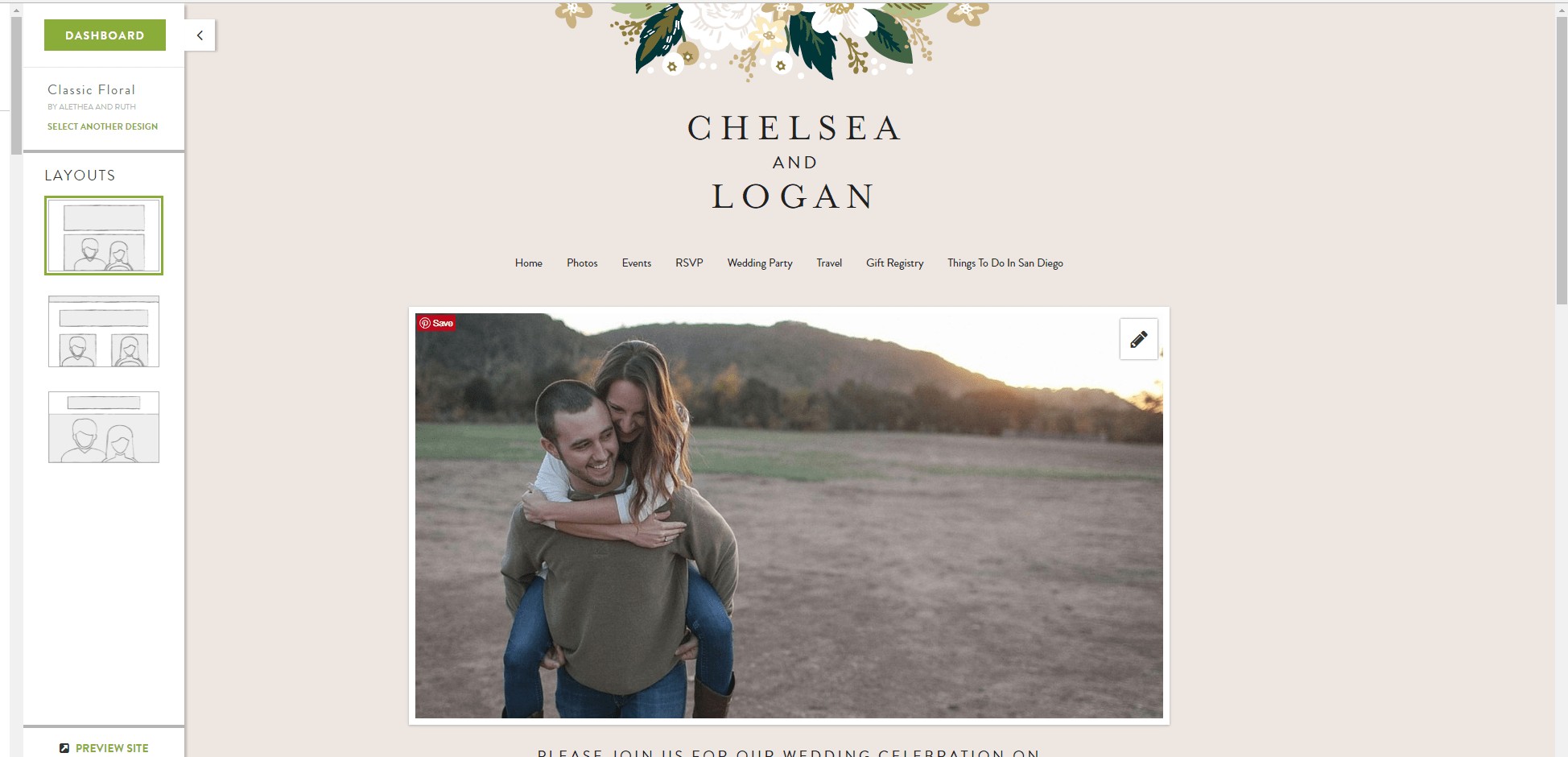 Create a wedding website
In today's virtual-focused society, wedding websites are becoming an assumed "must-have" for your wedding.
Creating a website sounds daunting, but it's really simple. Here's a simple tutorial on how to create a Minted wedding website that will amaze your guests.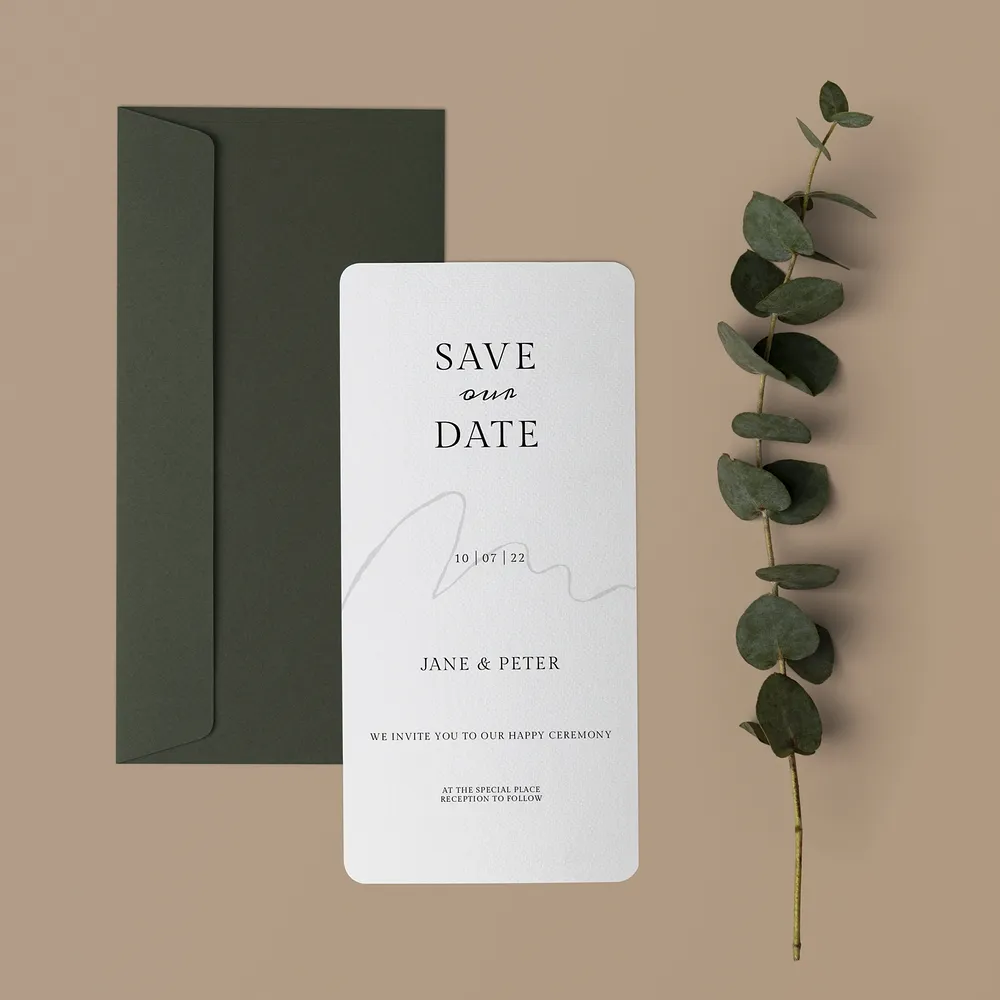 Send save-the-dates
Next up in the wedding planning process, you need to send out your save the dates, which is super exciting. This is your first correspondence with your wedding guests, which is a fun step!!
There are so many good save-the-date ideas out there, here are some of the most unique save-the-date ideas that I found.
Not sure if you really need to send out save the dates? In a nutshell, a save the date asks your guests to mark their calendars with your wedding date and serves as a quick note to inform guests that they are invited to the wedding, when and where you'll be exchanging "I dos," and that you will be in touch with further details (via the official wedding invitation, to be mailed out at a later date).
Still have questions? Here are ten key reasons why sending save the dates to your wedding guests might be a very good idea. 
Choose the groom's attire or book a tux
Are you going to with a traditional tux or something else? Here are 30 stylish groom outfits to inspire you and a guide all about wedding suits.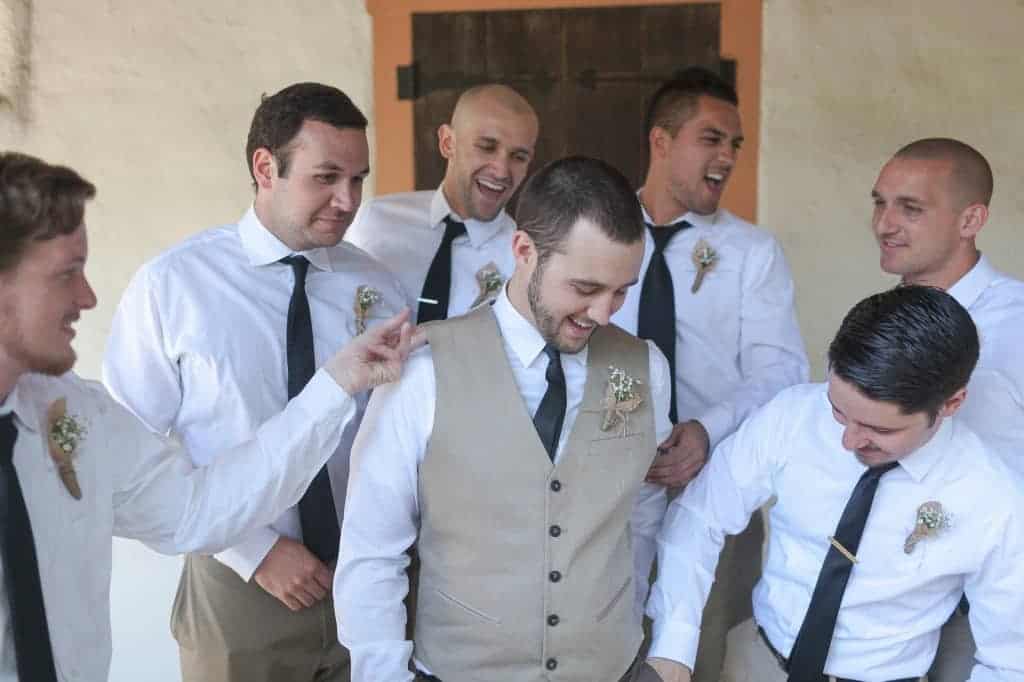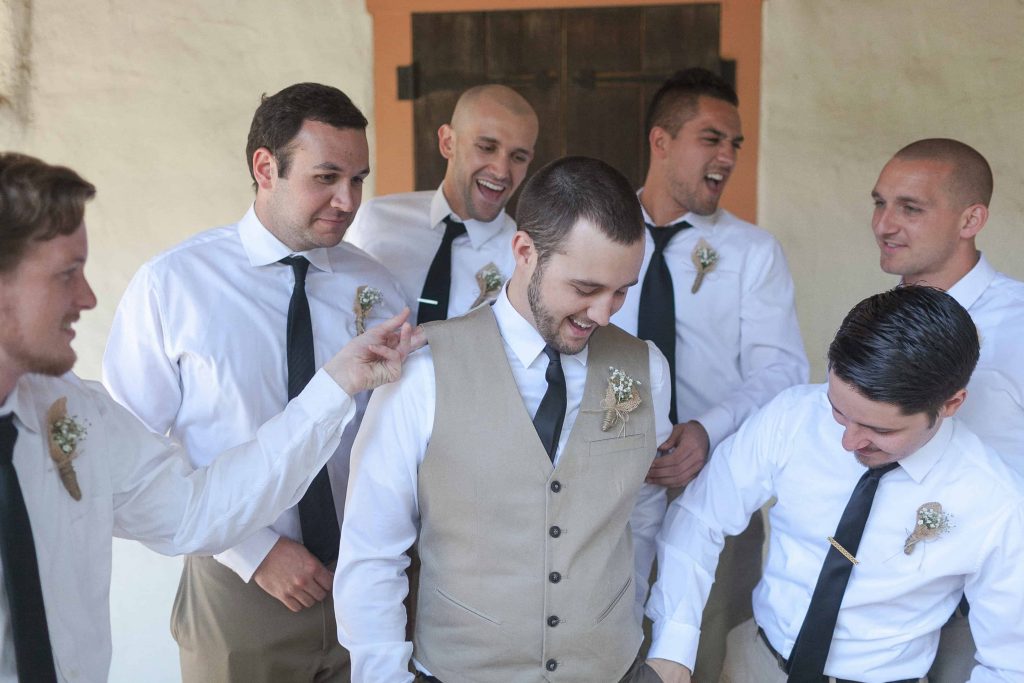 Choose groomsmen attire
After the groom's attire has been chosen, you need to think about the guys that will be standing by his side. Will they match him or be different?
Book your rehearsal at the ceremony venue
Can you believe it is time to start booking things like the wedding rehearsal? So exciting.
Traditionally the wedding rehearsal occurs on the evening (or afternoon) before the wedding at the ceremony venue. This is a great time to make sure everyone that is participating in the wedding knows how to walk in, where they will stand, etc.
Don't forget to check with your officiant for their availability! They will be a crucial part of the rehearsal!
Book rehearsal dinner location
After the reception is over, everyone goes out to dinner. Traditionally this is hosted by the groom's family, but you don't have to follow the rules if you're doing things different for your wedding!
Here's a guide for planning a rehearsal dinner that is super helpful. It includes rehearsal dinner etiquette and who should be invited.
Set up room blocks at hotels for out-of-town guests
A hotel block is a set of hotel rooms that are set aside for a wedding group at an agreed-upon rate. If you have a lot of guests traveling in from out-of-town, it can be a good idea to get a couple of room blocks at hotels nearby at varying price ranges.
Some hotels may require a minimum number of rooms to be used or have a cutoff take for guests to book their rooms. Hotels may or may not be willing to offer a discounted rate for your hotel block.
Call around and do some research to see what offers are available.
Then once secured, make sure that information is included in your wedding website and/or your wedding invitations.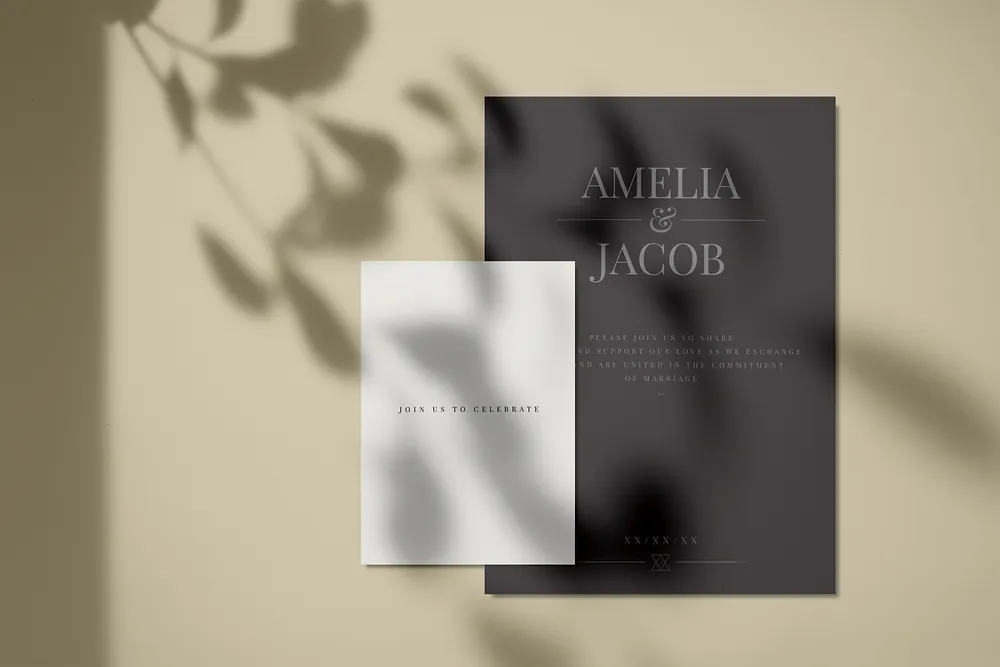 Select and purchase (or make) your wedding invitations
There are so many fun options for wedding invitations. You can work with a designer to make something custom for you (Etsy is a great place to look for a custom wedding invitation designer).
Alternatively, you can design something yourself using a template from Minted, Shutterfly, Vista Print, or another wedding invitation website. There are TONS of options out there.
Collect wedding guests' addresses
You should also be starting to collect your wedding guests' addresses, if you haven't already. Rather than spending hours contacting each guest individually and asking "I need your address" (either via email, text, or a phone call—all are way too time-consuming!), it's simplest and easiest to get addresses for wedding invitations digitally. Here are 2 great ways to collect addresses for your wedding invites.
Reserve any event rentals that you'll need
Now is a good time to reserve any event rentals that you will need for your wedding. Think table linens, lighting, heaters, tables, chairs, tents, dance floor, etc.
Be sure to check back in with your wedding venue to see what they provide. They may also have preferred vendors or recommendations that they like to work with for rentals.
Order wedding ring bands
You may have already selected your wedding ring bands when you went ring shopping before you got engaged. Alternatively, you may have purchased your engagement ring in a wedding ring set.
However, if you haven't purchased your wedding ring band yet now is the time.
If you aren't getting a custom ring band and it is premade, it will be ready in as fast as 1-2 weeks. However, if you're getting something made, it will take more like 4 to 6 weeks, so don't let this wedding task get missed.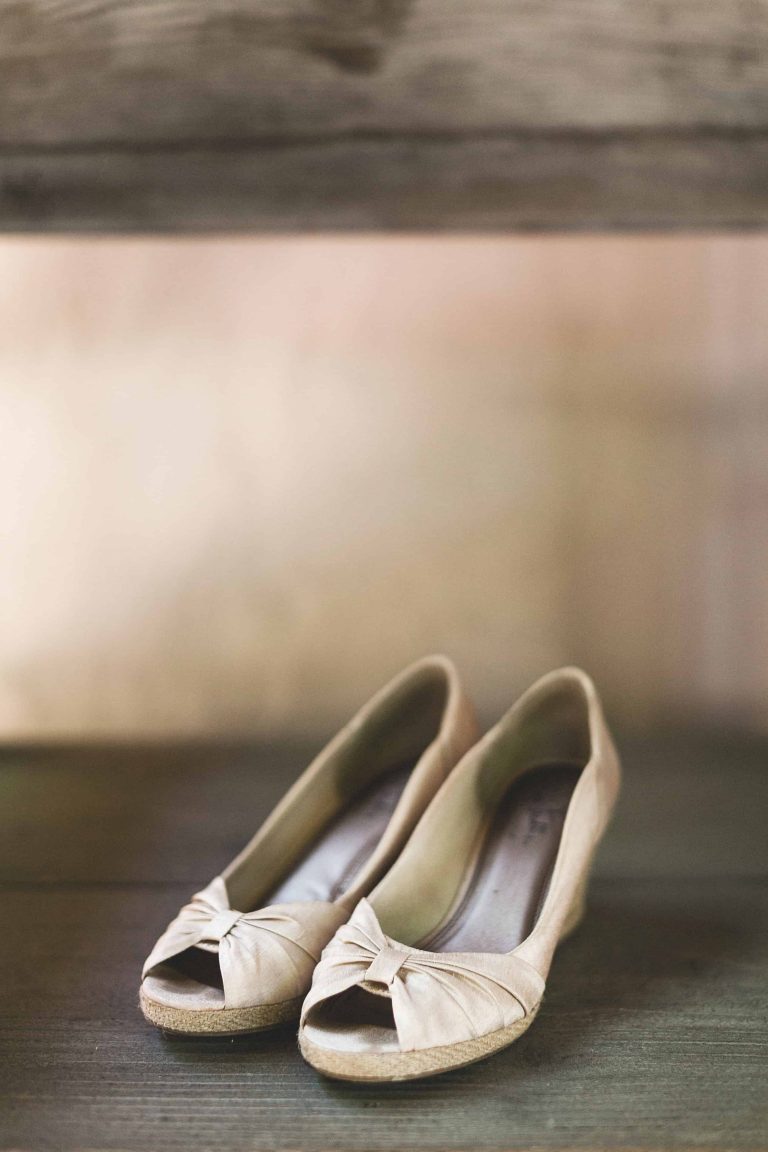 Purchase wedding shoes
The bride's wedding shoes should be comfortable and classy. You can go with any style you'd like – flats or heels, open-toe or closed-toe, wedges or stilettos… there are no rules! Here's a great guide on wedding shoes with tons of beautiful options.
Get any undergarments needed
The type of undergarments needed will definitely depend on the style of wedding dress you have. It can be a good idea to get shapewear to smooth everything out and make you feel more comfortable on your wedding day.
Because your dress is most likely white or ivory, it is important that your undergarments are as close to your natural skin tone as possible so they don't show through.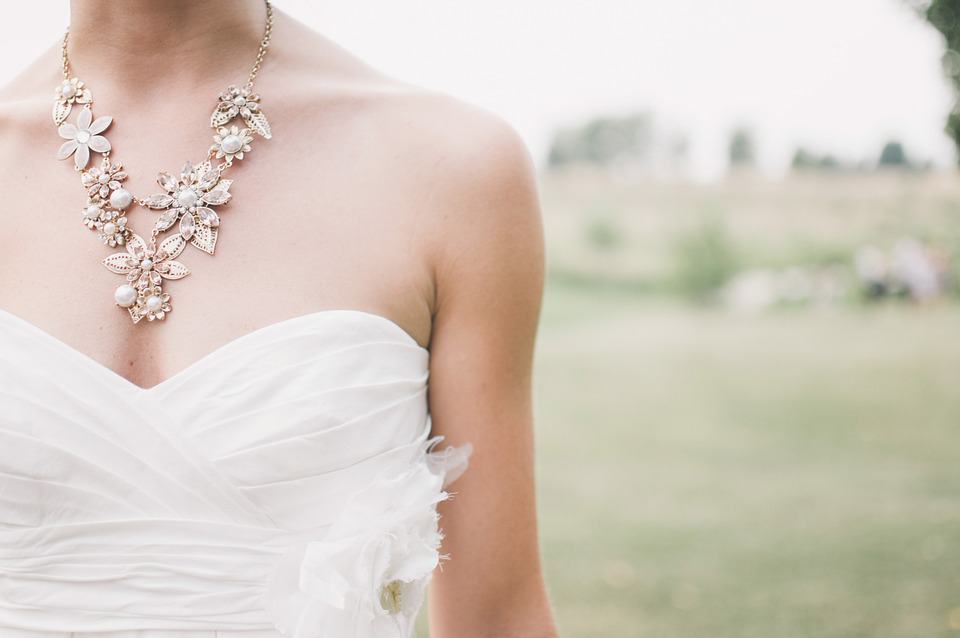 Purchase wedding accessories and jewelry
Your wedding accessories can include anything you want! From a floral hairpiece to a fur wrap, there are so many fun options that can fit specifically with your wedding style. Don't forget about jewelry too.
Wedding dress fitting and alterations
Once your wedding dress comes in, you'll want to schedule a wedding dress fitting. Be sure to bring along wedding shoes and undergarments.
Even if you had your wedding dress made to fit you, you'll likely still need to get some slight alterations.
If your bridesmaids or moms didn't come along with you for wedding dress shopping, it can be fun to include them in your wedding dress fitting!
Your dress may require multiple fittings as you get closer to the big day. Learn what to expect at your first wedding dress fitting in this article.
Attend your bridal shower
Attending your own bridal shower can be an exciting but nerve-wracking event to look forward to.
There are a lot of resources out there for how to plan your wedding, but something that gets often overlooked is the preparation, nerves, anxiety, and excitement that comes with attending your own bridal shower.
Here are some tips for attending your own bridal shower from a bride's perspective.
Send thank you cards for shower gifts or any early wedding gifts you've received
You'll be writing a lot of thank you cards, so it is best not to let your list pile up. Spend some time writing thank you cards for the bridal shower gifts and any early wedding gifts you've received. I love this set of 100 wedding thank-you cards!
Not sure what to say? Here's some great Thank you card wording ideas!
Purchase or create a guest book
You'll definitely want to have some sort of guest book at your wedding to help you remember all of the attendees. Traditionally you have a book somewhere at the wedding people sign their names and/or a short message. You can get one that fits right in with your wedding style.
Not that there is anything wrong with traditional guest books, but you may be wanting something a little more unique, memorable and long-lasting for your wedding guestbook. Here are some great wedding book alternatives.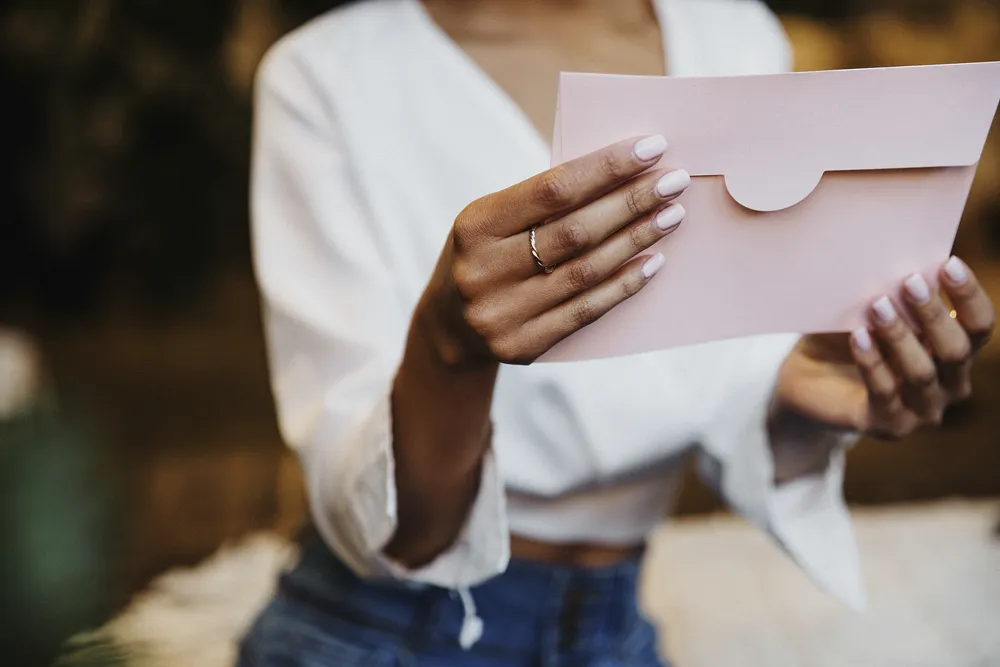 Address and send wedding invitations
Somewhere between 8 and 12 weeks before the wedding, you need to address and send your wedding invitations. Here are the dos and don'ts of addressing your wedding invitations.
If you are addressing them by hand, it can take a while (especially while you are planning the rest of your wedding) so be sure to give yourself adequate time!
Book honeymoon
A honeymoon is a vacation that is taken by newlyweds after the wedding. Traditionally the honeymoon occurred immediately after their wedding.
However, nowadays I hear of couples taking their honeymoons much later after the chaos of the wedding has died down.
You can go big with a tropical destination or keep it local with a staycation. Whatever you decide, be sure to soak in some quality time as a married couple and make fun memories together.
If you are going international for your honeymoon, make sure your passports are up to date and get any shots you need.
Decide on wedding night accommodations
Even if you're not going on a honeymoon right away, do yourself a favor and go to a fancy hotel for your wedding night.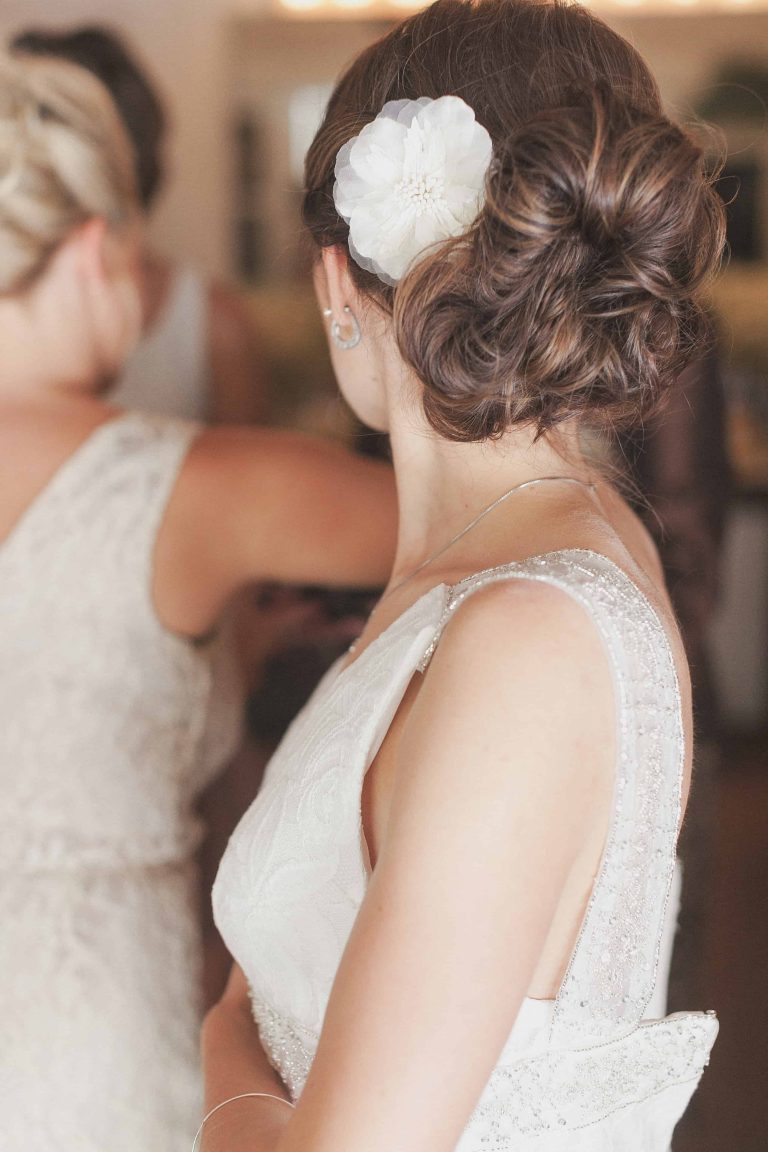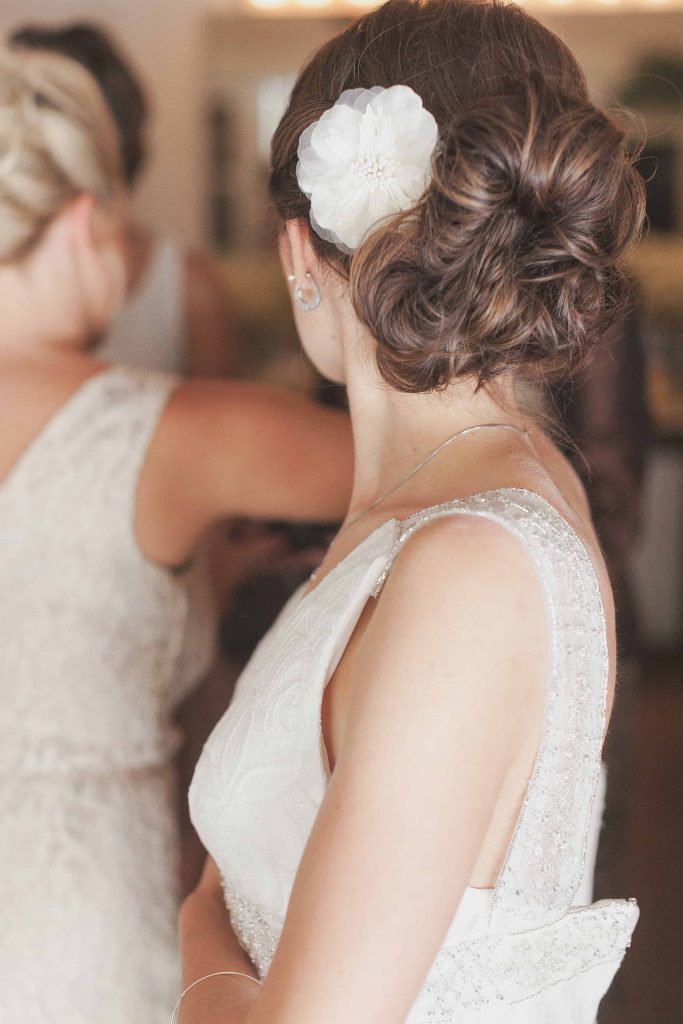 Hair and makeup trial run
Hopefully, you've been saving hair and makeup ideas on your wedding Pinterest board! Do a trial run on the style to make sure you love it and to ensure that your vendors are comfortable on the day of.
Give your rehearsal dinner guest list to whoever is planning that
As mentioned above, traditionally the groom's family hosts that rehearsal dinner, but you can do things differently. Whoever is planning the rehearsal dinner will need to get the guest list so they can send invites and get a headcount.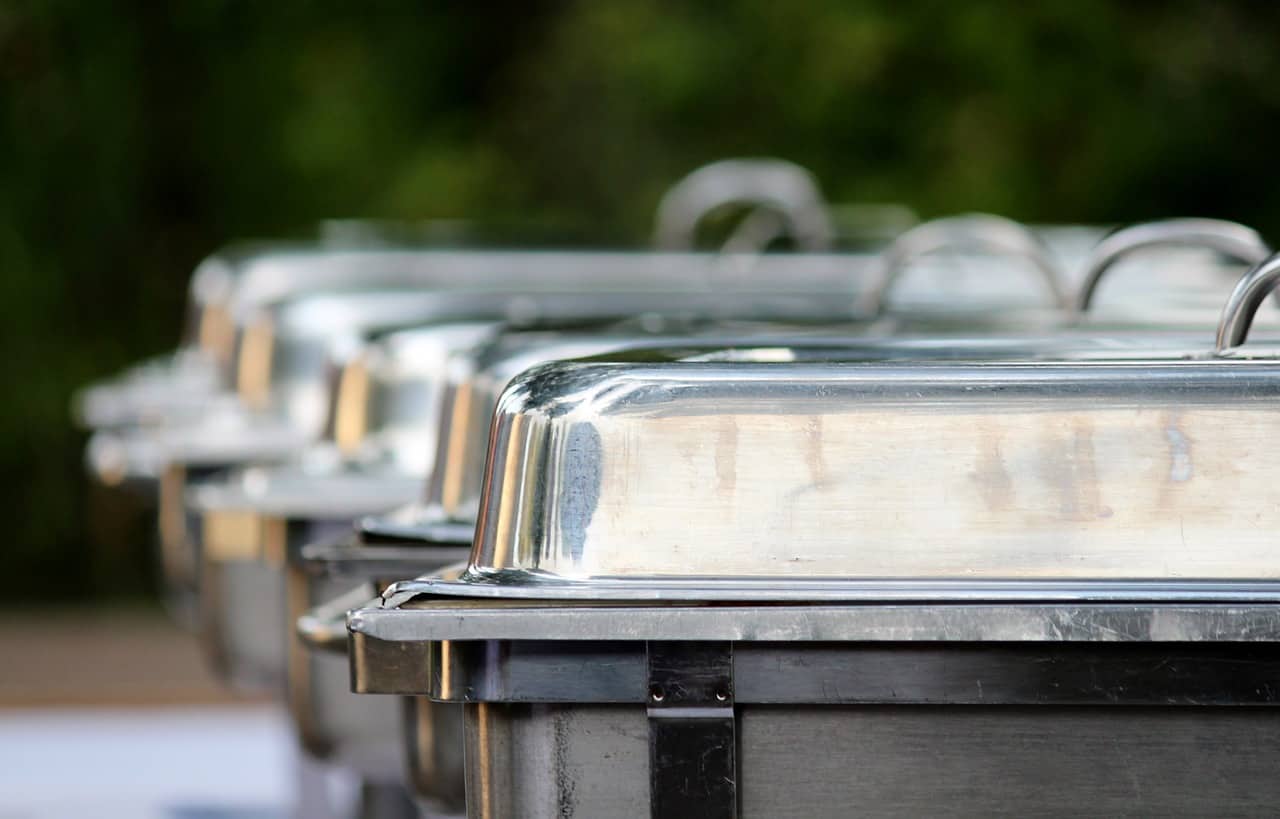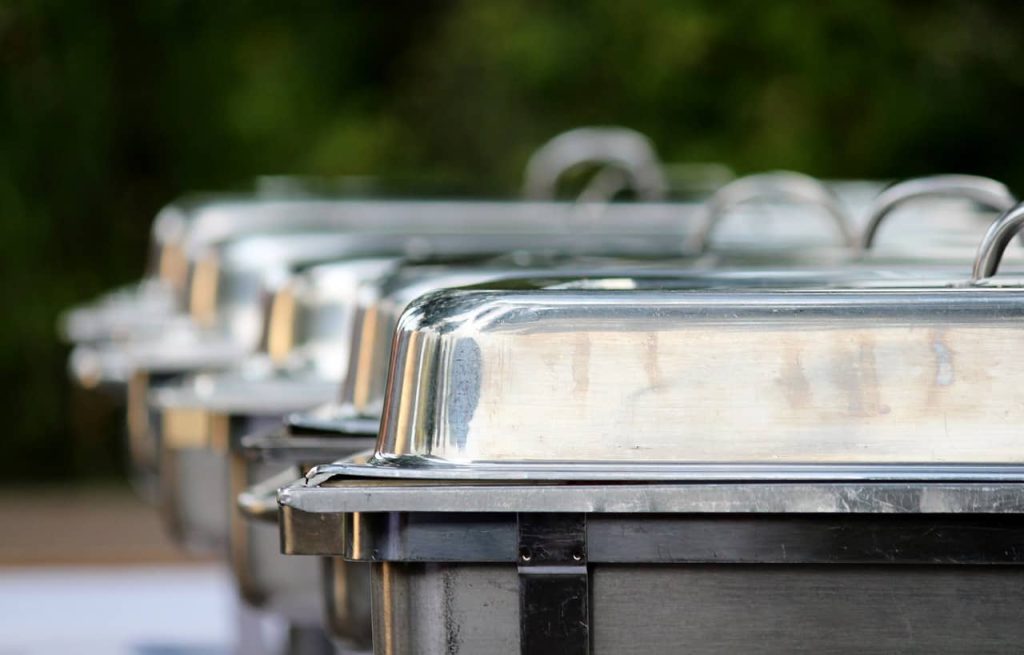 Finalize menu items
Work with your wedding caterer to finalize your menu items. Sometimes this will include a tasting so you can get a chance to try the food before making your final decisions.
The meal you serve at your reception should match the style and grandeur of the ceremony and keep with the overarching theme of the day. Check out this article for advice about how to choose a wedding menu and how to learn about various types of food for wedding receptions.
Order (or make) wedding favors, if desired
Wedding favors are totally optional and ditching them is a great way to save money on your wedding.
When you're trying to decide what kind of wedding favors you should give to your guests, one thing you should consider is if they'll keep them after your big day. After all, it's such a waste of money if your guests are trashing the favors as soon as they get home. Here are some wedding favor suggestions that will make your guests think twice about throwing them away.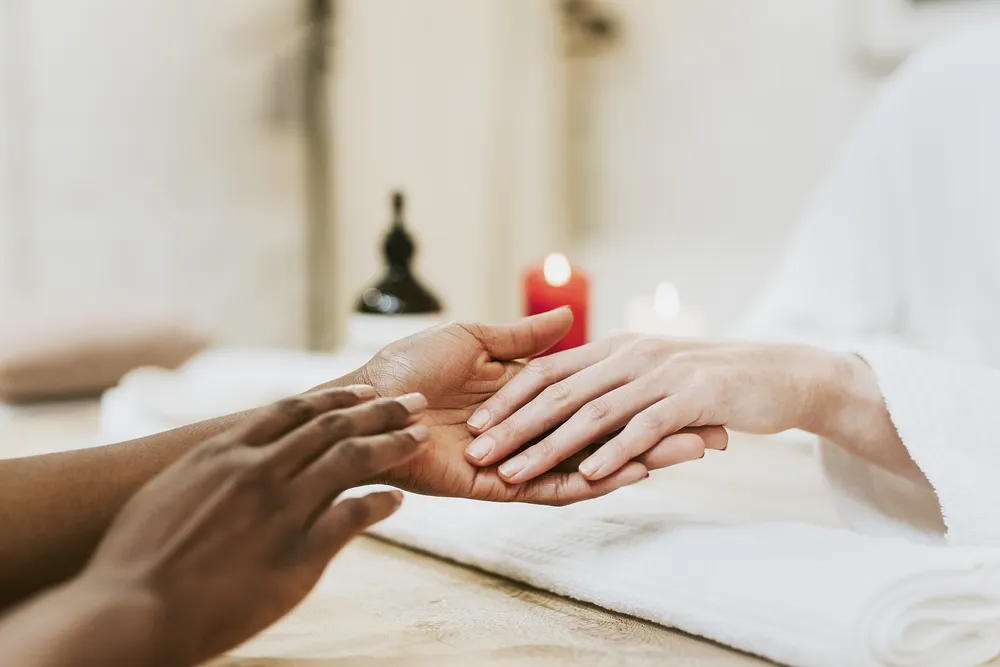 Determine what other needed wedding day items you may need
There are a lot of little things that may be needed for your wedding. It can be easy to forget about the little things.
You may want to have:
box or pillow for the ring bearer to hold
petals for the flower girl to throw
garter
cuff links
extra bouquet for tossing
Apply for a marriage license
To make your marriage official, you'll need to apply for a marriage license with your County.
It totally depends on the County, but you'll probably need to file for the license between 90 days and up to 1 week before the big day.
You may or may not need an appointment, so check with your County so you are prepared.
Start making day-of timeline
You've been planning your wedding for months, now you need to develop a day-of timeline so you can stay stress-free and on schedule.
To ensure your wedding day runs smoothly, it's important to create a detailed, hour-by-hour wedding day timeline. Getting your wedding day-of timeline right will help you stay organized, stress-free, and on time (because even running a few minutes late can throw the whole day off track). Check out these sample wedding timelines to get started!
Once you've drafted your wedding day timeline, share it with your bridal party members, wedding coordinator/planner, photographer, caterer, florist, and other vendors so everyone's on the same page.
Start making your wedding slideshow (if you're making one)
Slideshows are a great way to tell your stories with pictures and give your wedding guests a little glimpse into your relationship. It can also be a great way to break up the reception.
If you are going to make a wedding slideshow, figure out if you need a projector/screen or if there is one at your venue that you can use.
Meet with officiant to finalize ceremony and vows
You may have been meeting with your officiant for your pre-marital counseling, but if not, now is the time to schedule a meeting. You should get together to discuss your ceremony and talk about your vows.
There are so many different types of wedding vows out there to use in your ceremony. You can go with:
Check-in with all hotel blocks to see how many rooms are remaining
Remember those hotel blocks that you set up for your out-of-town guests? Give them a call and see how many rooms are remaining.
If you need to set up more hotel rooms or give your wedding guests other hotel recommendations, you can communicate with them on your wedding website.
Delegate someone to be in charge of transporting your gifts to your home
The last thing you want to worry about when your wedding reception is over is packing up all of those wedding gifts at the gift table. Ask someone you trust to pack up the wedding gifts and bring them to your home.
Keep in mind that there can be a lot of valuables and/or cash in the cards, so be sure that your wedding gifts are not left unattended. Here are some great and useful tips on how to keep your wedding gifts and cards safe!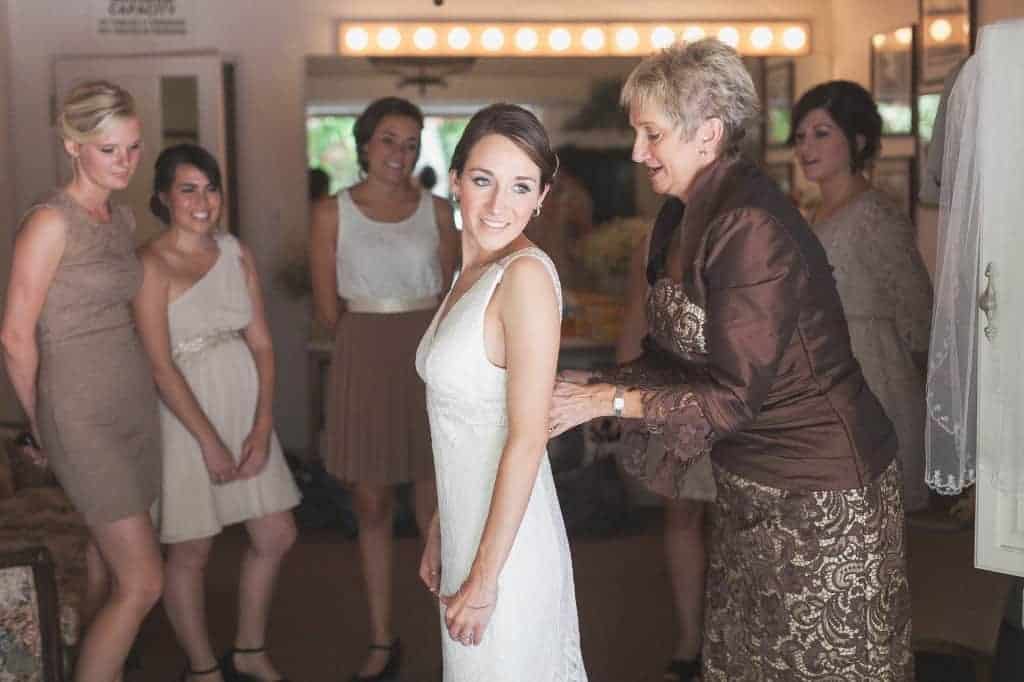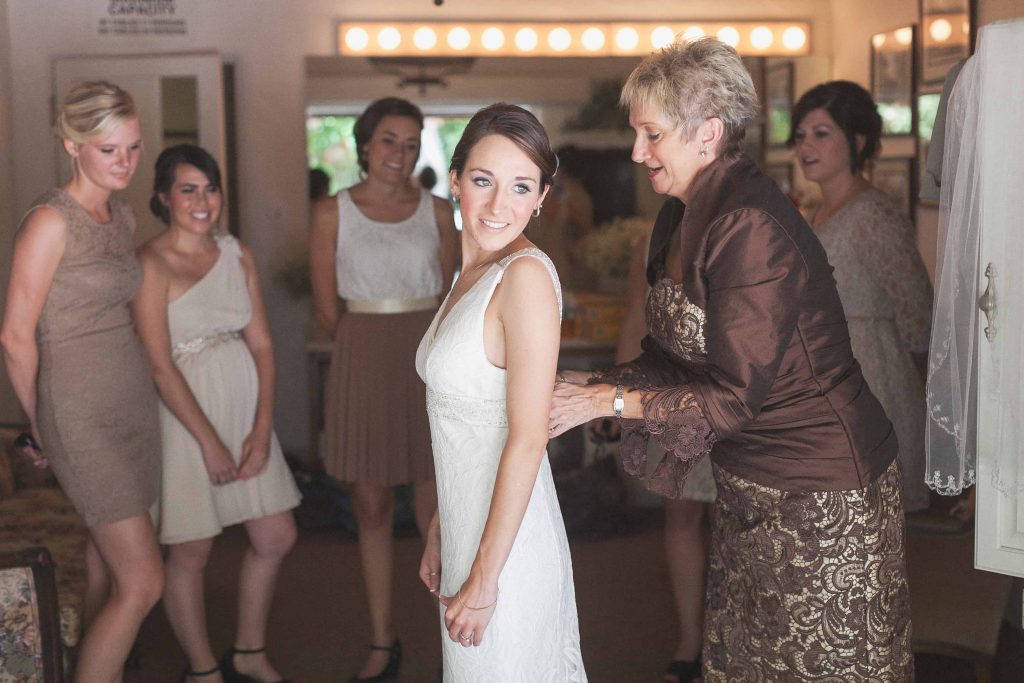 Determine where you will get ready on the day-of (both girls and guys)
There is something super special about getting all of the bridesmaids together on the wedding day to get ready. Choosing where to get ready on your wedding day might be the last thing on your wedding to-do list, but here's why you might want to make a plan.
Your getting-ready location will make all the difference for these treasured photos with your VIP family members and bridal party. Here are 8 things to consider when choosing your wedding day getting ready location.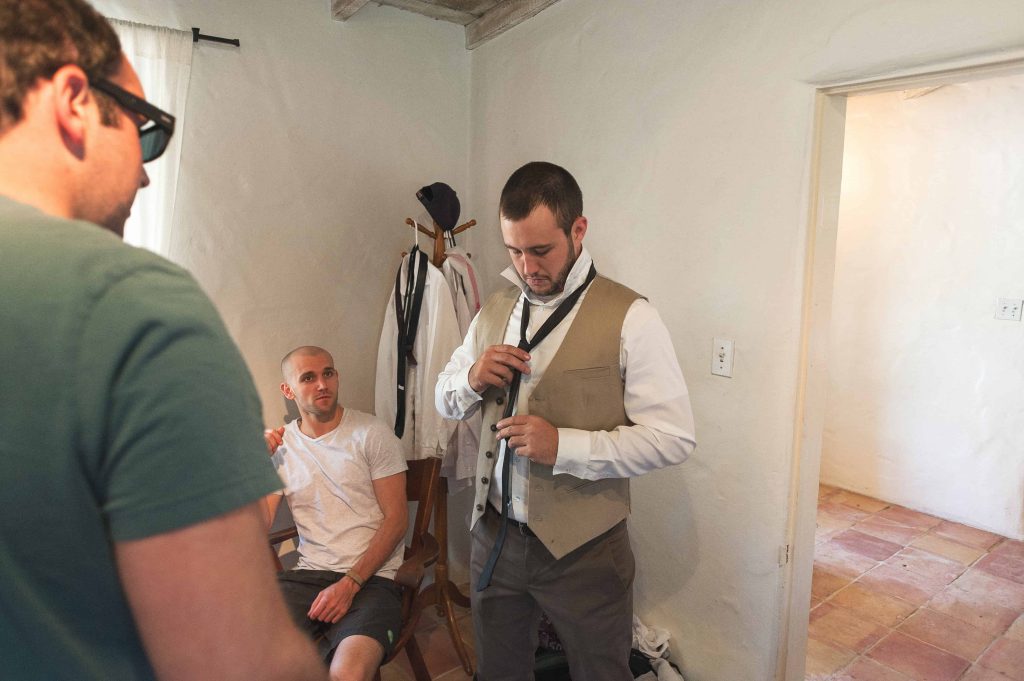 Don't forget that you'll also need to figure out a separate place for the guys to get ready!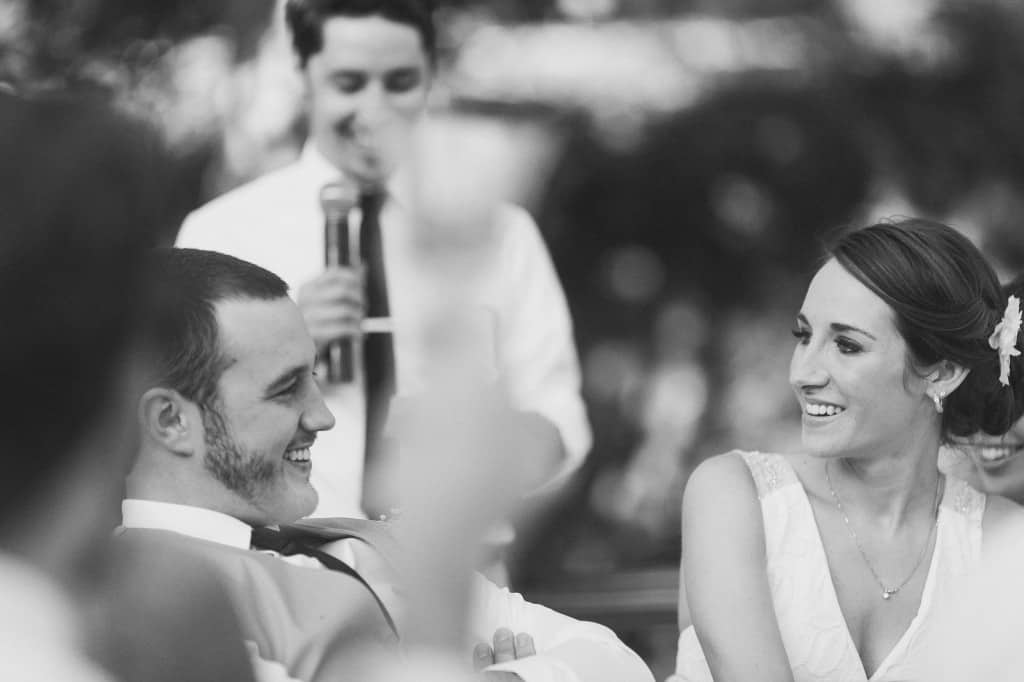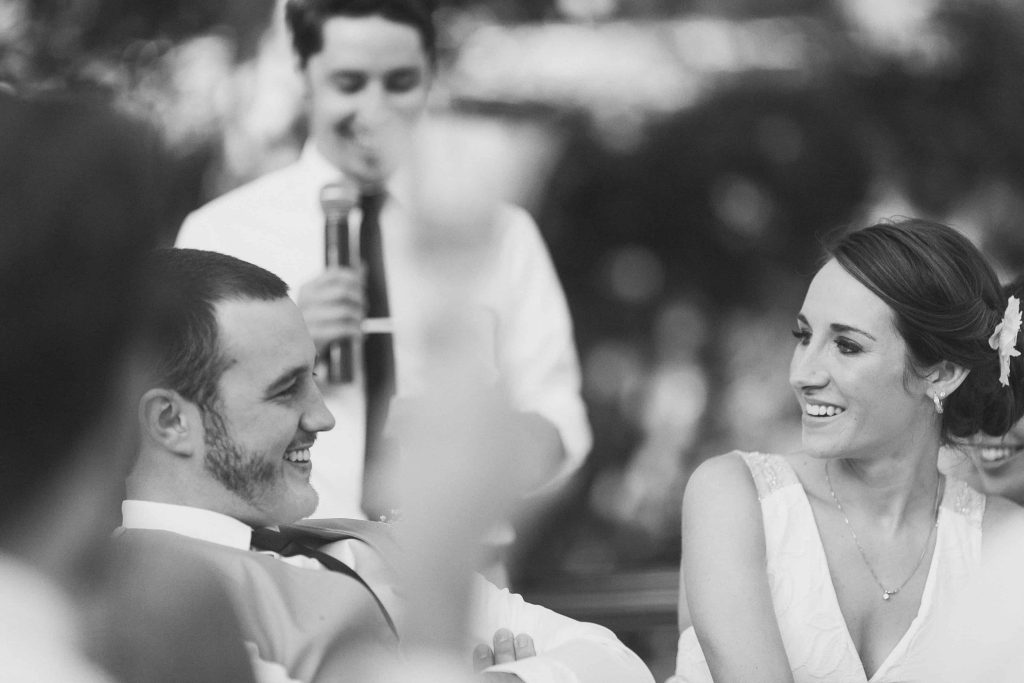 Ask the Best Man and Maid of Honor (or any other people) to give toasts
Traditionally the Best Man and the Maid of Honor give speeches or toasts during the wedding reception.
Occasionally the parents of the bride or groom will also give a welcome speech when the reception begins or say a prayer before dinner is served. That is a great way to incorporate your parents if you'd like.
You have the option to open up the floor to others for wedding speeches as well, but I would do this with caution. Unrehearsed speeches can go on and on and have the risk of getting uncomfortable if people have been drinking.
Schedule delivery times for all vendors (and be sure they have the address & directions to the venue)
Once you have your wedding day timeline set, you can organize delivery times with all of your vendors. When you do this, make sure that they have the address and directions to the wedding venue (including parking and loading instructions).
It is also a good idea to make sure they have contact information for whomever they will be meeting at the site.
Delegate someone to be in charge of transporting your decorations
Depending on your wedding venue, there may be quite a bit of wedding decorations that you're going to be bringing in to set up.
Ask someone to be in charge of transporting your decorations. Ideally, this person is not also in your bridal party because they will probably be getting ready with you, if so!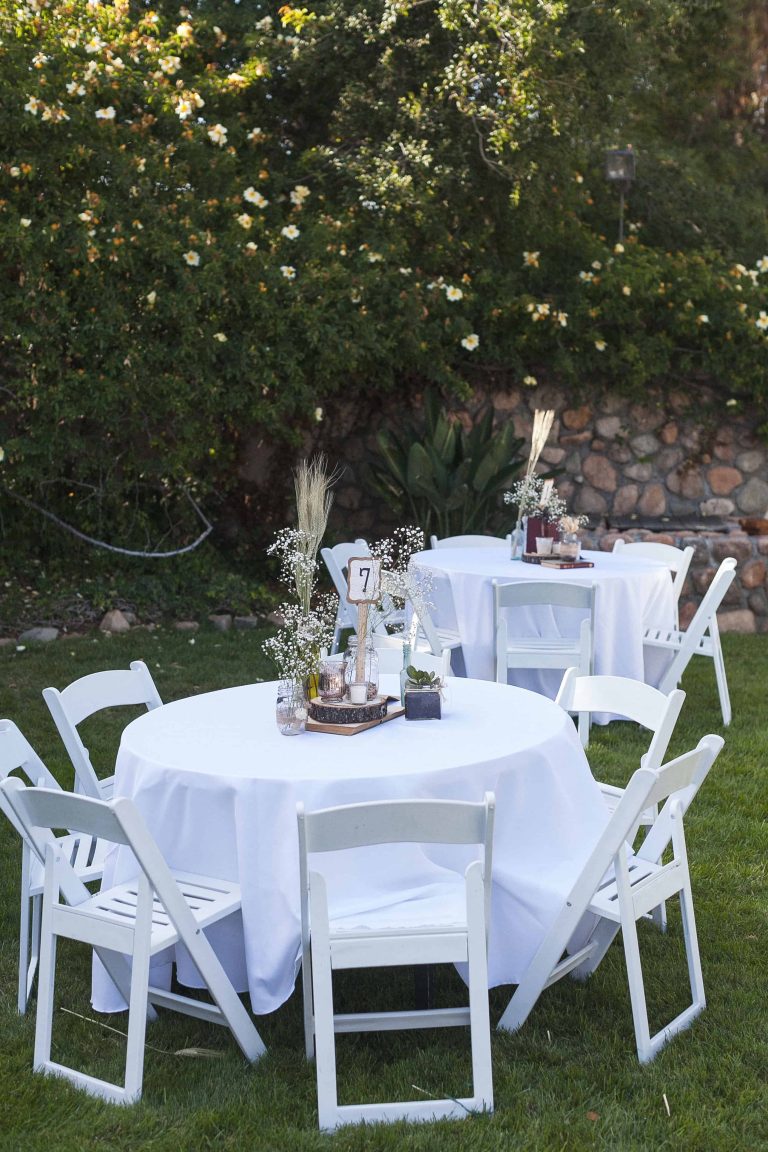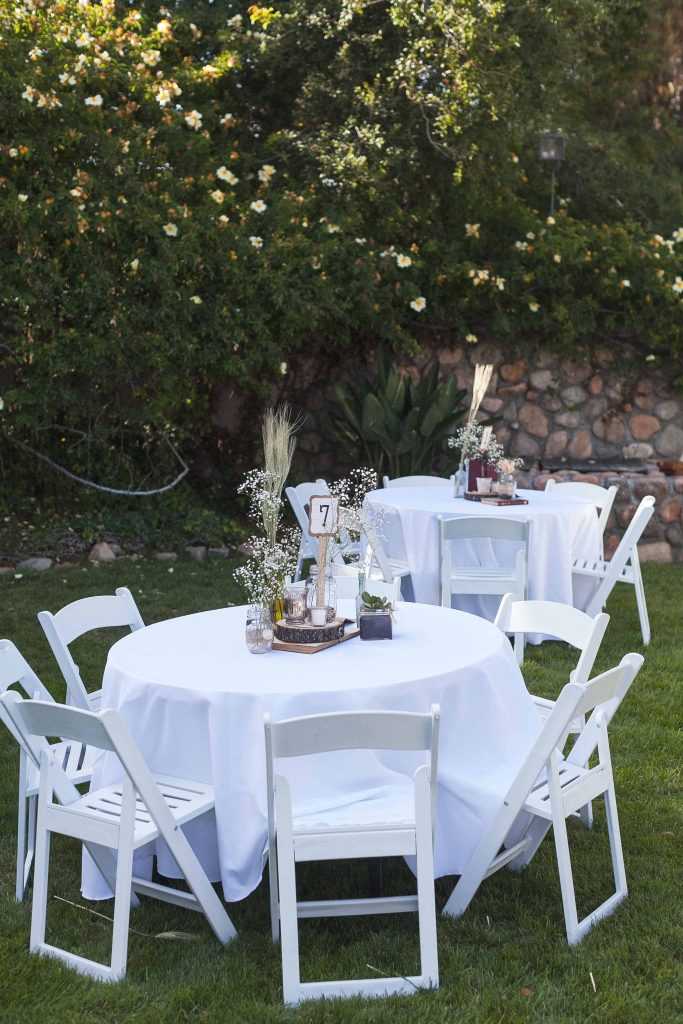 Ask for help with wedding decor setup
If you don't have a wedding coordinator (and even if you do), it is a good idea to start putting together a crew of people to help with setting up the wedding decorations.
That is literally the last thing that you're going to be wanting to do on the day of your wedding.
You've spent months purchasing all of the wedding things that are needed, but that is not enough. You also need to get those things to the venue, set them up, then pack them up and bring them home (or elsewhere).
If this whole step of the how-to plan a wedding process is stressing you out, you should check to out this guide with lots of great tips about wedding set up and tear down.
Purchase bridal party gifts (& gifts for anyone going out of their way to help you out)
While giving your bridesmaids thank-you gifts isn't required, it never goes unappreciated.
From pitching in for the bridal shower to organizing a bachelorette getaway and volunteering their time for bridesmaid dress fittings, it's safe to say your crew has earned some appreciation. I love these 55 ideas for what to give your bridesmaids as a gift!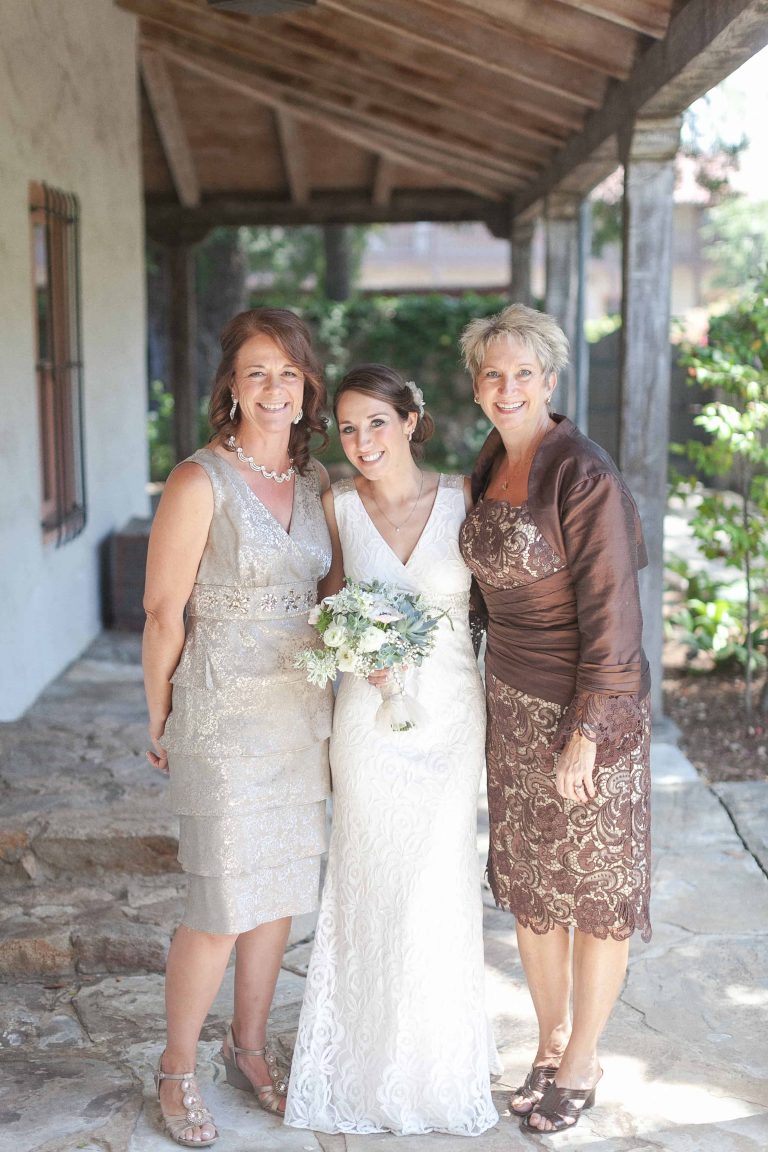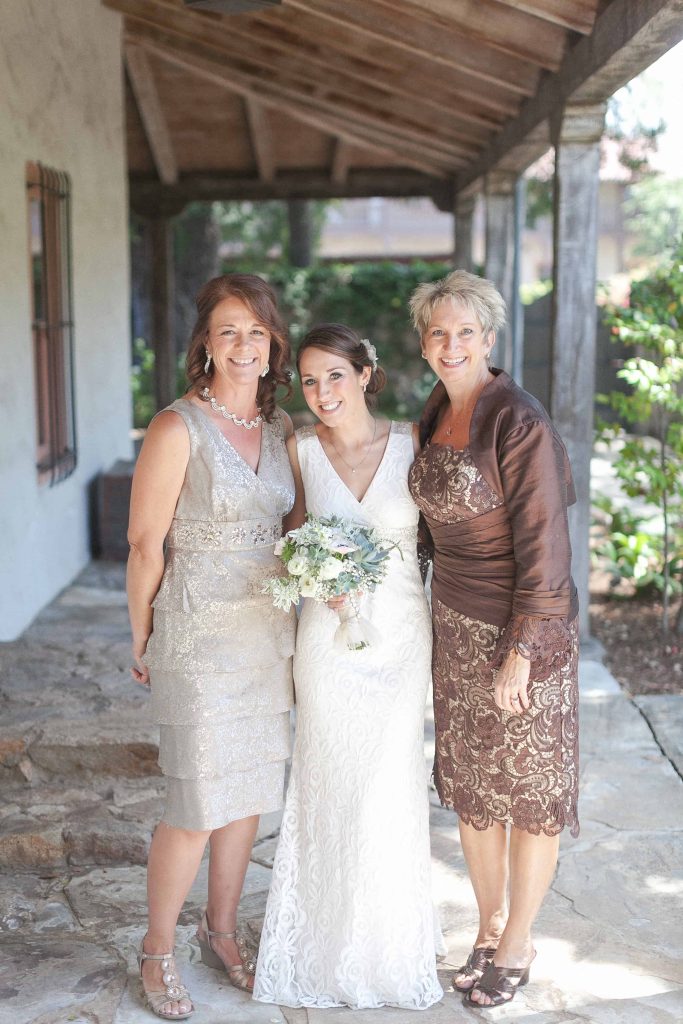 Put together a list of family photos and must-have shots you would like for your photographer
First, start by checking with your photographer to see if they have a shot list already. Many seasoned wedding photographers will have a checklist and you can communicate which of the photos you want to make sure they capture.
When it comes to the family photos and other group shots, like the bridal party, you need to make sure you're super organized. Working with that many people can be tough to make sure everyone is where they need to be at the right time.
Many times you're taking photos right after the ceremony during the cocktail hour, while your guests are waiting for the reception to begin.
Having an organized process for taking wedding photos with a shot list is a great way to keep things moving so you can wrap up pictures and get to partying.
Here's a good starting point for a list of family photos that you may want to capture.
Delegate someone to help out with family photos
One more tip about family photos: Have someone designated who can help the photographer get people organized so whoever is next up is ready to go.
Your photographer doesn't know Aunt Mary from Cousin Linda. Delegate someone who knows most of your family/families.
For us, we asked my Mom's best friend and she was thrilled to lend a helping hand.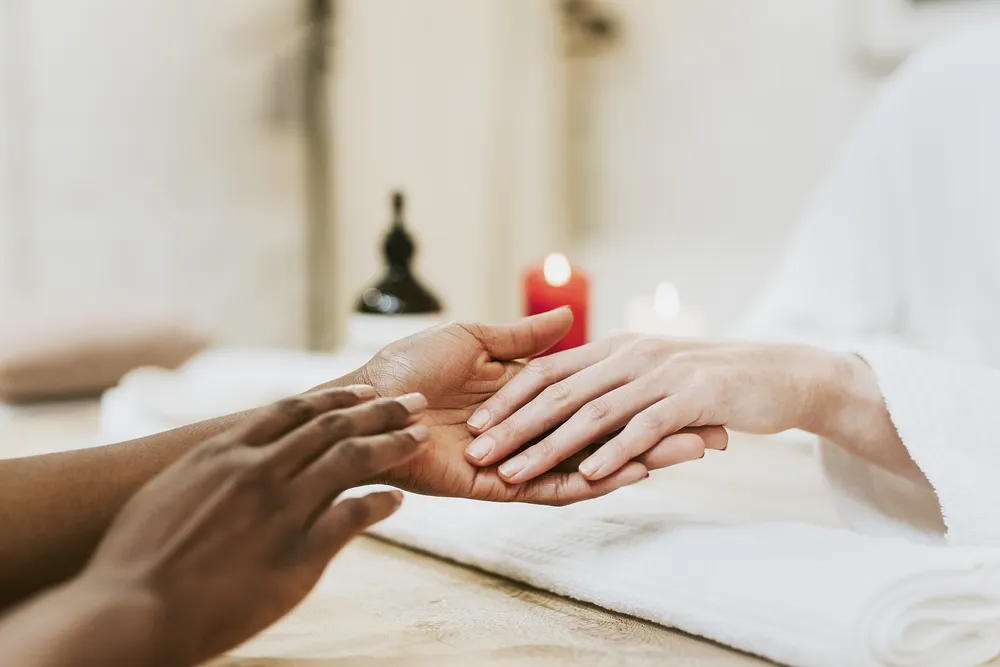 Book nail appointments for the day before
Getting your nails done with your bridesmaids the day before the wedding is a great way to kick things off as you prepare for your wedding.
Get a headcount of those who would like to participate and book an appointment to get manicures and pedicures together.
A great time to get your nails done is in the morning or mid-day before the wedding before you will be needed for the rehearsal. Don't get your nails done more than a day or two before the wedding so they look nice and fresh and not chipped.
Follow up with people who haven't RSVPd
What if your guests don't respond to your wedding invitation? This can be, well, awkward. Here are 5 steps for handling guests who don't RSVP.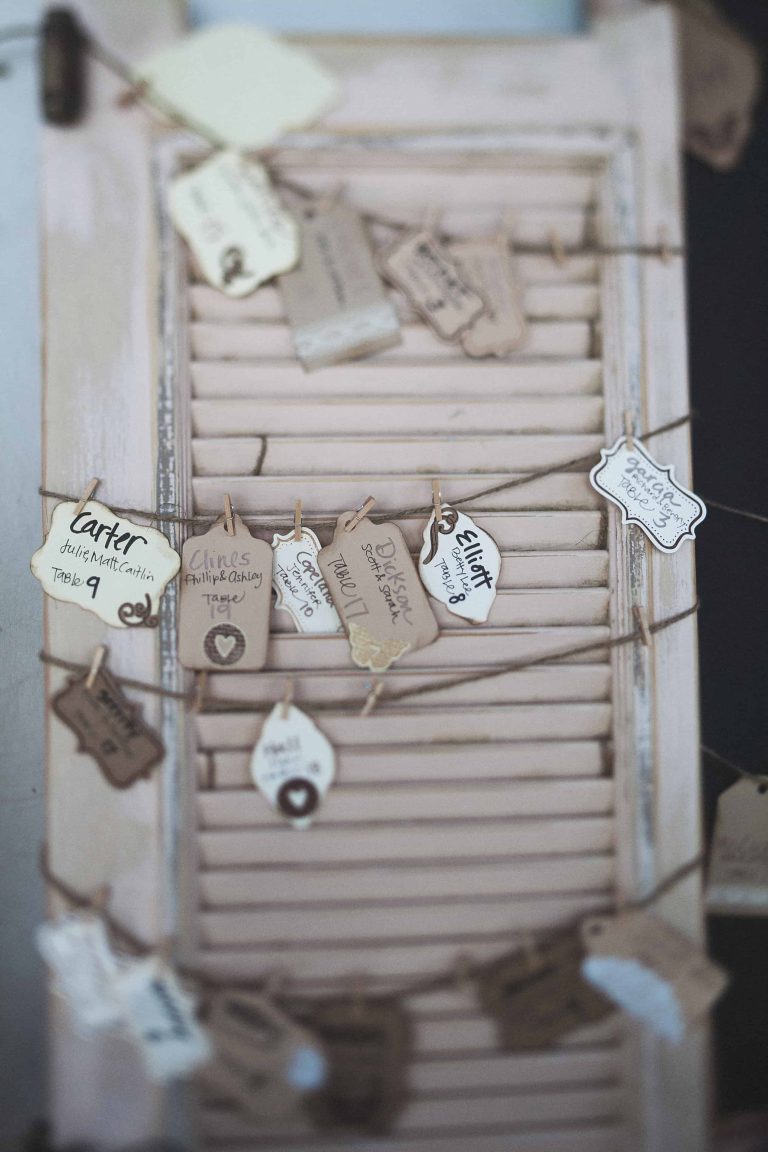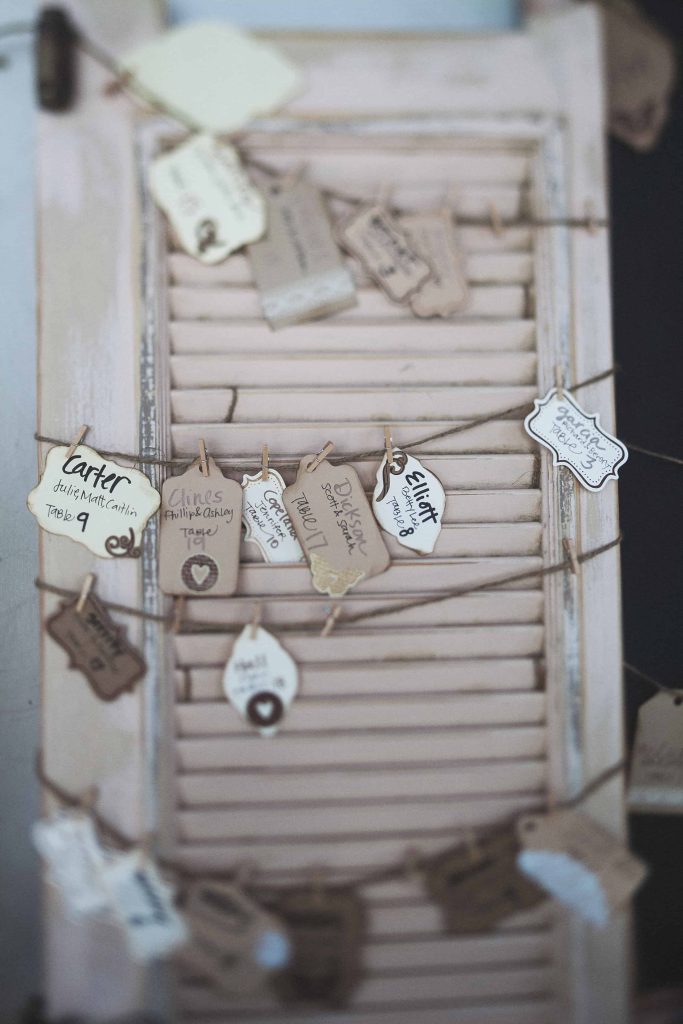 Begin seating assignments
Now that the RSVPs are in, it's time to figure out where everyone will be sitting at the wedding reception. Keep in mind that the wedding seating chart is one of those last-minute tasks that sneaks up on you and often takes a lot longer than you anticipate! Learn how to create your wedding seating assignments here!
Escort cards (also called place cards) are a classic and traditional way to direct guests to their assigned dinner table.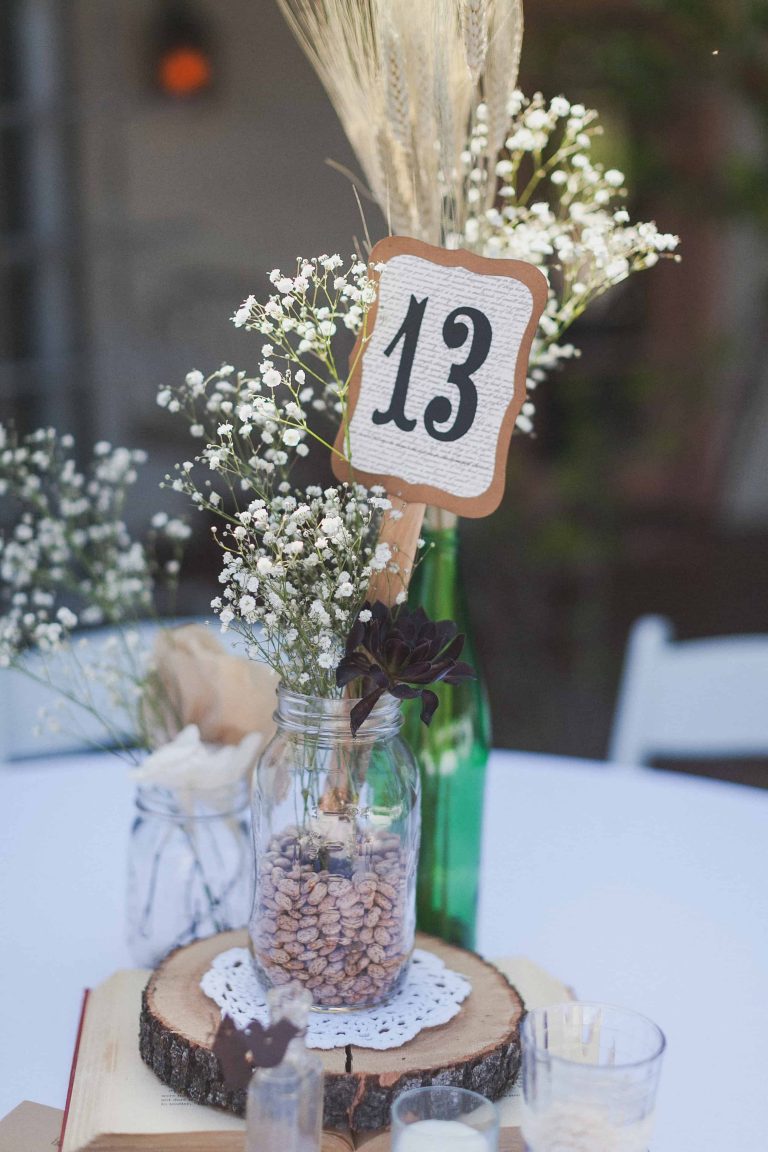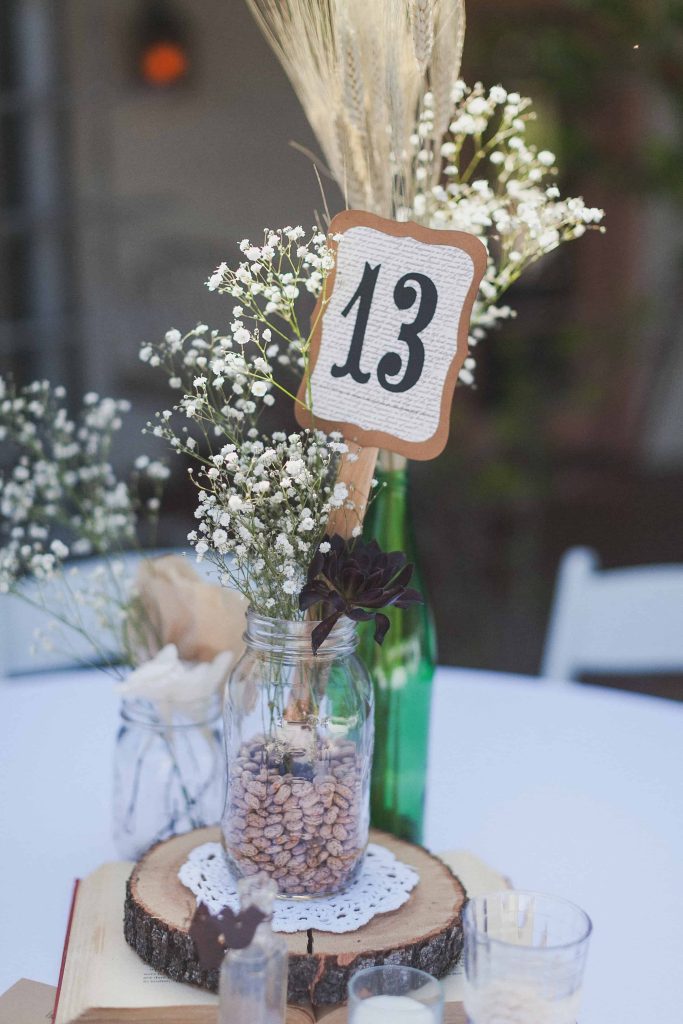 The individual cards are printed with each guest's name and table number, and the cards are typically arranged neatly on a table near the reception entrance.
But if escort cards aren't quite in line with your wedding vision, then a single wedding seating chart, like one of these, might better suit your style.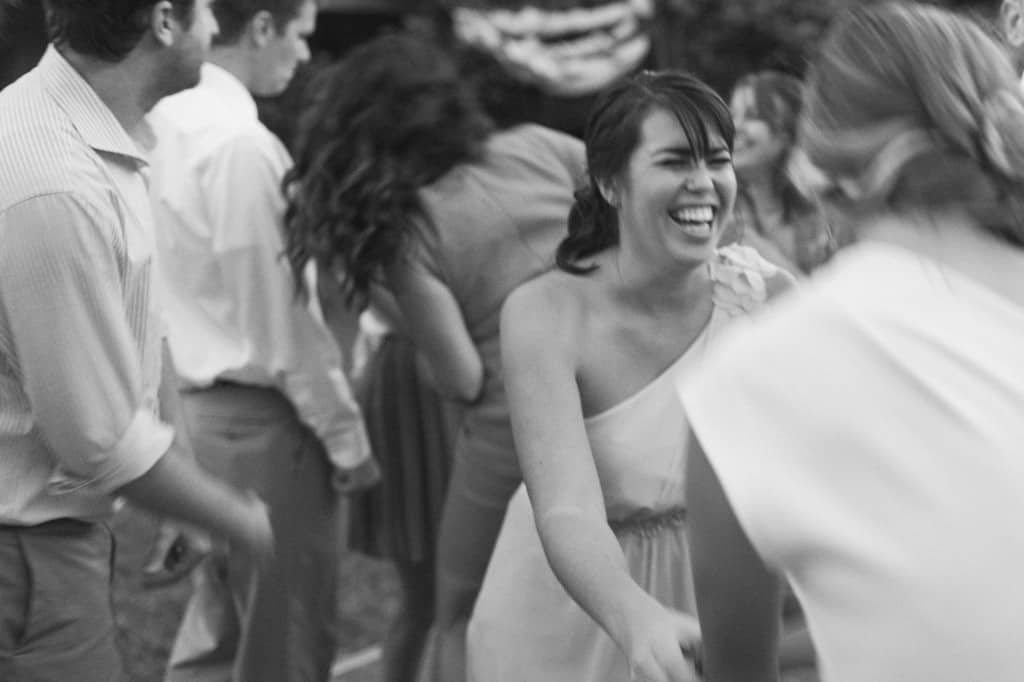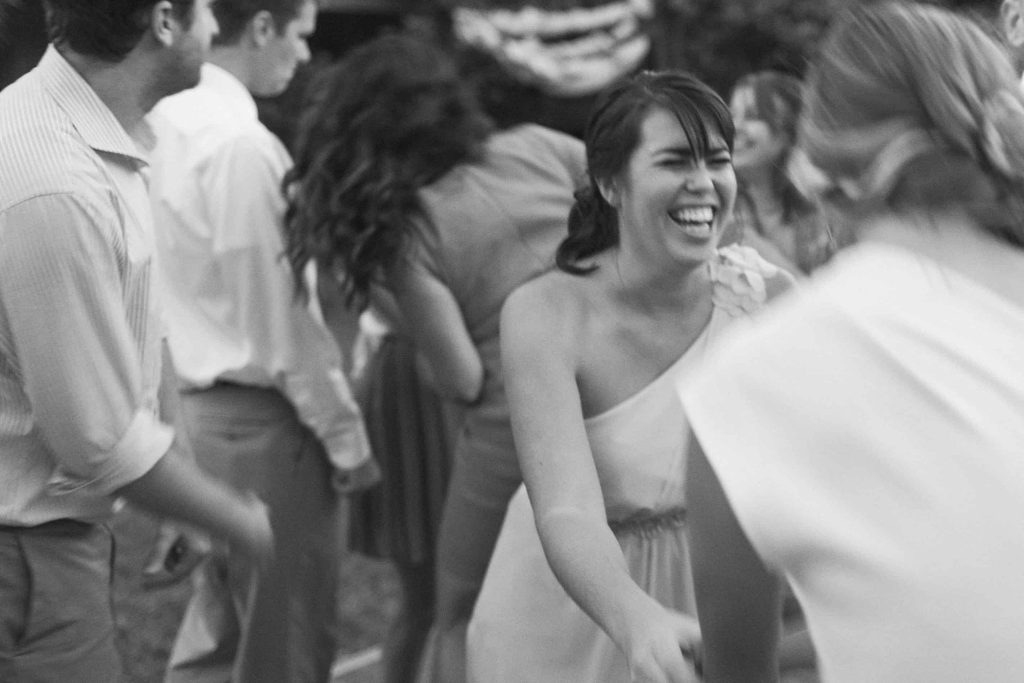 Choose music for the ceremony and reception
There are a surprising amount of songs that you need to decide for your wedding ceremony and reception. Here's a quick list: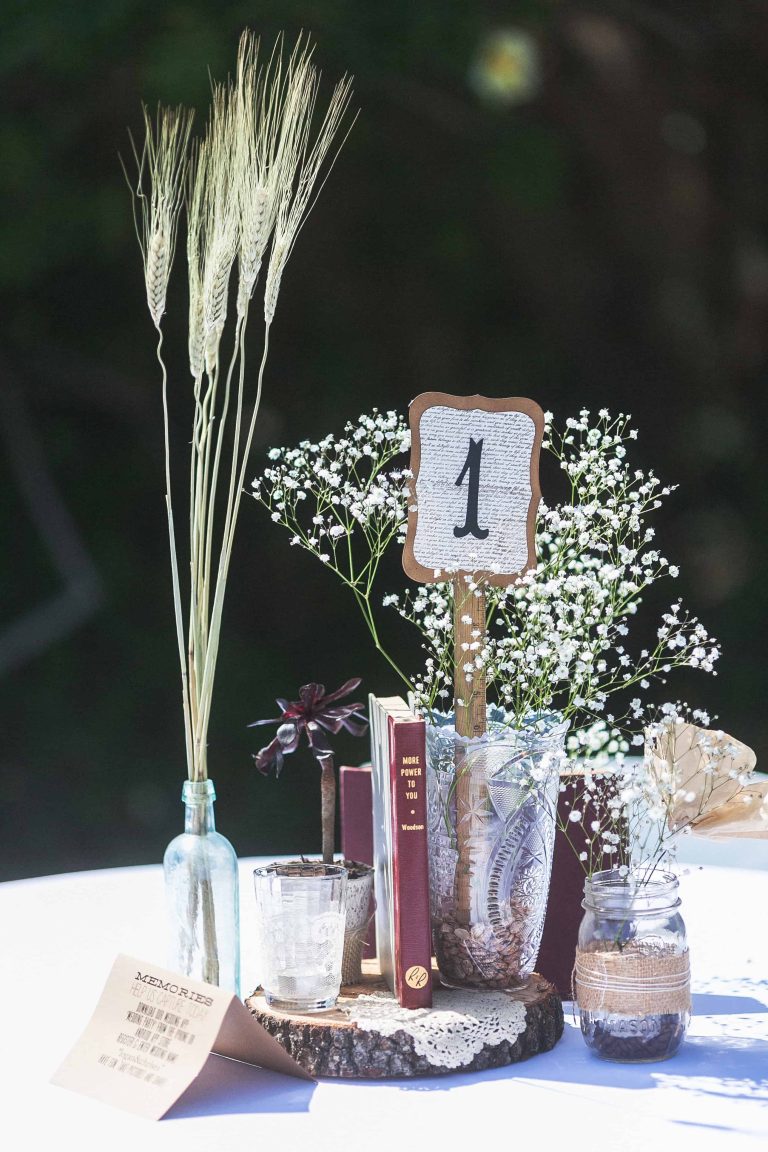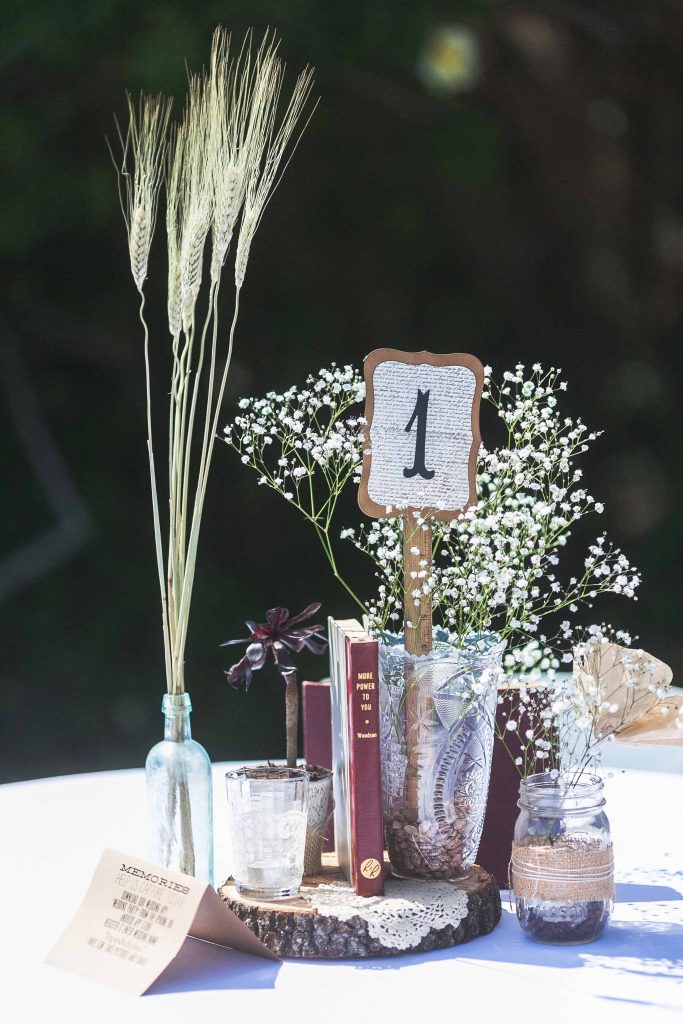 Layout mock table set up and take photos to help out the people that are setting up to get your "vision"
Since you won't be the one setting up your wedding decor that you've spent so much time planning, it is recommended that you give a little direction so the people setting it up can get your vision.
Set a mock table set up and take a few photos to help out the decorators. Print these photos out and put them in with the boxes of decorations so it is super easy for someone to grab a box of decor and know exactly what it is supposed to look like.
Finish the wedding slideshow and export it to the format you need for whoever will run it
If you haven't finished that wedding slideshow that you started, do so now. Check with the person that will be running it for you to see what type of format they will need it in.
Confirm that they have everything they need to display it (ie: projector, screen, sound, etc).
Make any reservations needed for the honeymoon
Your honeymoon is probably already booked by now, but there may be a few other types of reservations that are needed at this point. Transportation, meals, hotels, etc. Make sure everything is taken care of now so you can have a stress-free vacation.
Take care of as many final vendor payments as possible
Ask your vendors if they will accept final payments beforehand. This way you don't have to worry about many payments on the day of the wedding or afterward.
Make escort cards (aka place cards)
First things first: What's the difference between a place card and an escort card?
While both are meant to help guide guests on your big day, place cards designate specific seats for guests. For sit-down receptions, a place card can also indicate which meal guests are receiving without interrupting any conversation.
Think of escort cards as the more casual option that helps guide guests to a pre-assigned table, but gives them the freedom to choose their seat.
Leaving escort cards arranged on a welcome table is perfectly acceptable. But, if you're feeling extra creative, here you'll find 20 unique escort card ideas that will not only help direct guests at your wedding but also add to the aesthetic of your special day.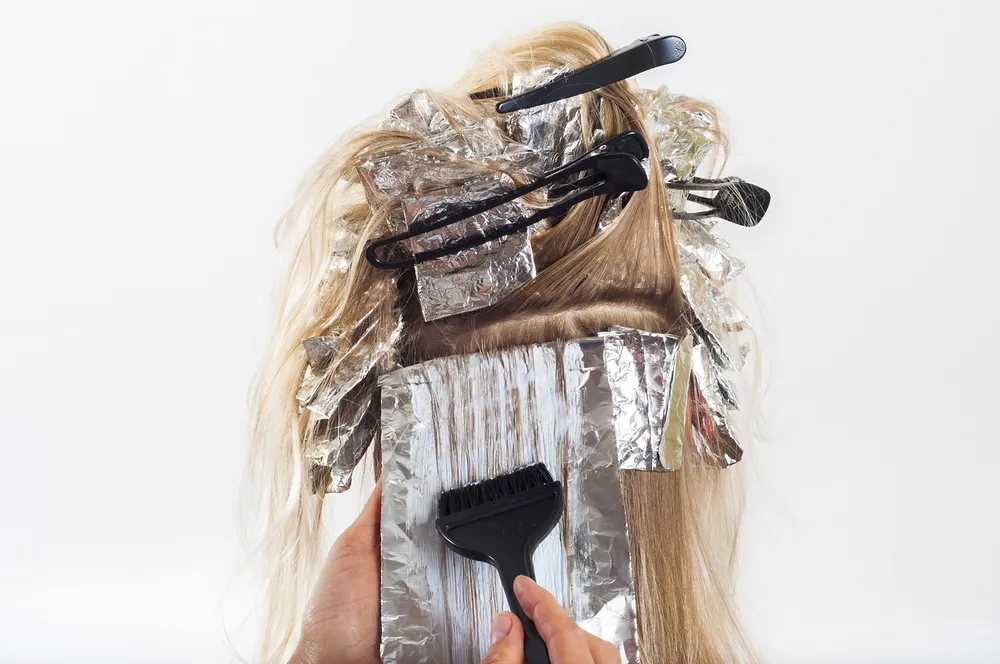 Cut/color your hair, if desired
If you are planning on getting your hair cut or colored before your wedding, keep in mind that you should have the color done about 2 weeks before the wedding to look more natural and cutting should be done 4-5 weeks before your wedding (just in case there are any mistakes).
Attend your bachelorette party
Attending your own bachelorette party is a bit like attending your own bridal shower. Be prepared to have a lot of attention on you!
Once there, take a big breath, relax, and have fun. That's the whole point, right?
Finalize all rental orders
If there are any rental orders that need to be finalized after you have your final headcount, you'll be able to do that now. Think tables, chairs, linens, napkins, etc.
Buy or reserve any items for the reception you will provide yourself (booze, soda, appetizers, dessert, etc).
Sometimes you'll need to bring in some outside food, desserts, drinks, or snacks for your wedding reception (depending on your venue and caterer of course). If so, get those reserved or figured out now.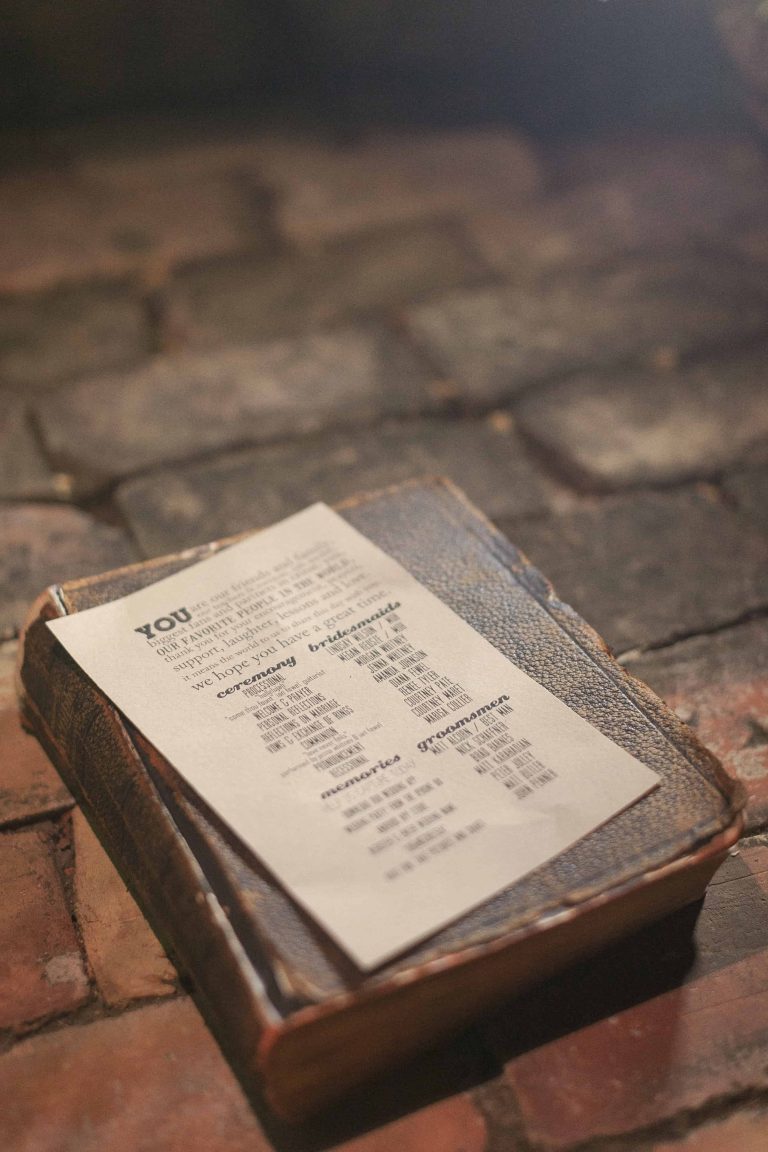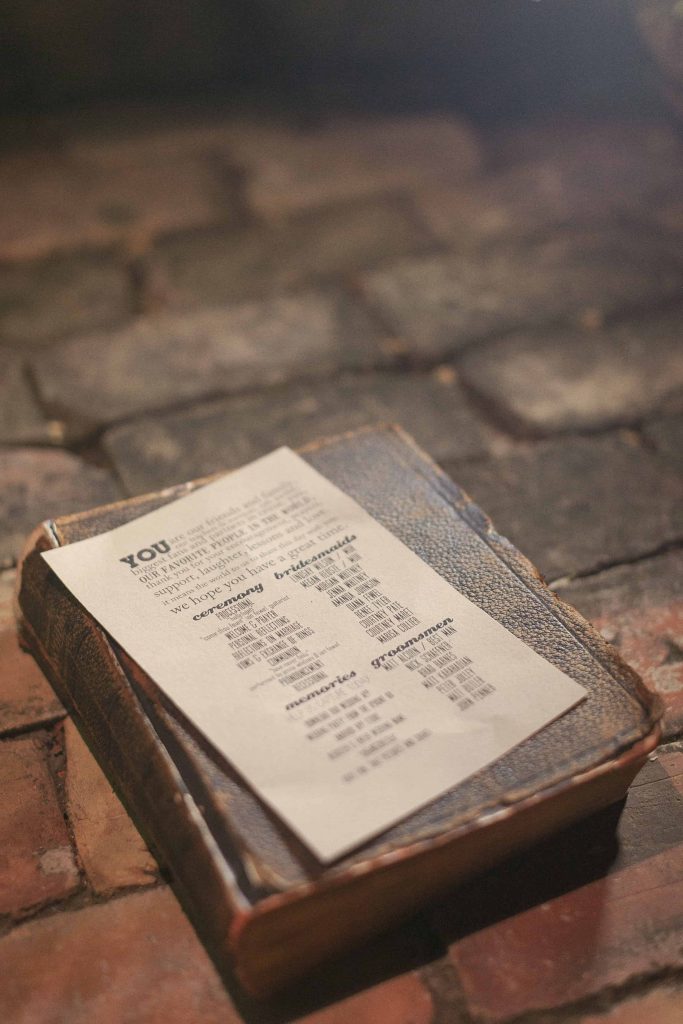 Design and print programs, escort cards, menu cards etc.
There are a lot of different papers that you may want to use for your wedding ceremony and reception.
Escort cards or place cards
Menu cards
Table numbers
Wedding signs
Favor tags
If you ordered your wedding invitations through something like Minted, chances are there are matching signs, programs, and more that go with your invitations for a complete and cohesive look!
In Minted they are called "Wedding Invitation Suites", meaning that everything is designed in the same style and ready to go!
Organize decorations and label boxes by area
Remember you won't be there to set up the decorations and tell people where everything goes. Organize your wedding decorations by area and label each box clearly (ie: decorations for head table, cake table decor, etc).
Write special cards to all of your bridesmaids
Much like getting your bridesmaids a thank-you gift (which was mentioned earlier in this guide on how to plan a wedding step by step), it is nice to give each bridesmaid a handwritten note on the wedding day.
The bridesmaid thank you card can be attached to the bridesmaid gifts, but it should be a quick thank you for standing by your side today and all that they have done to help with your wedding.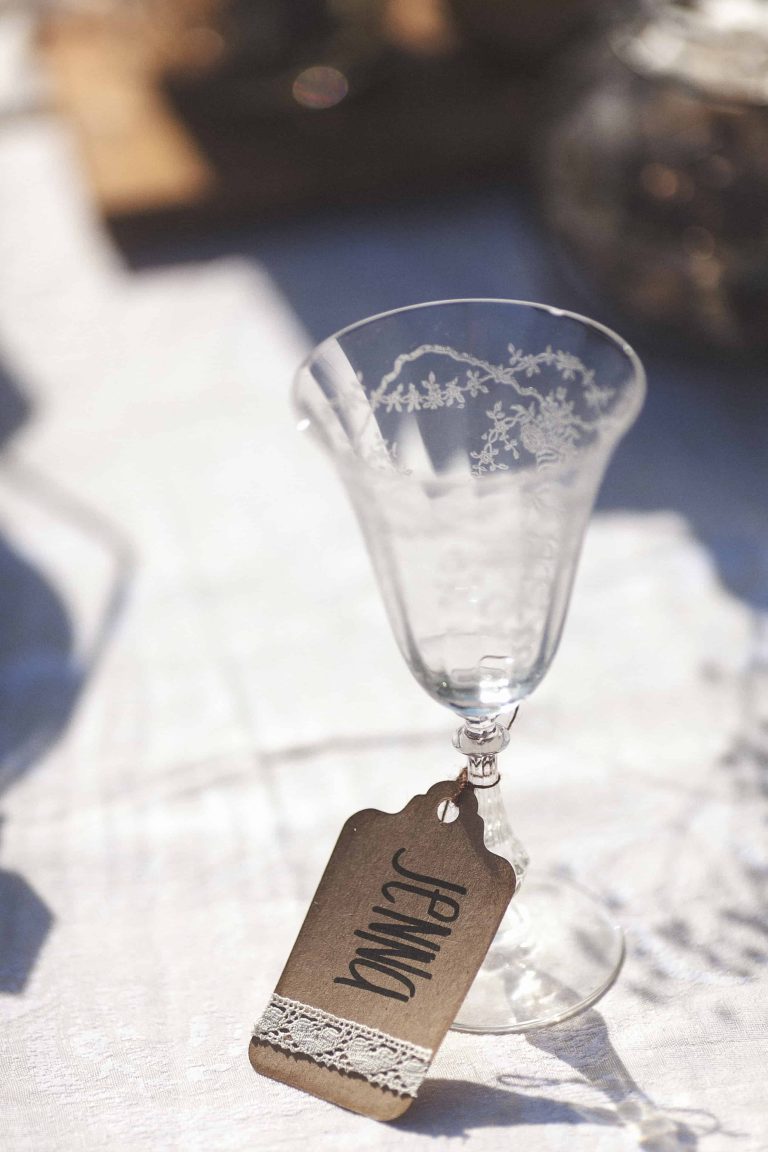 Finalize seating chart and floor plan
There may have been a few last-minute changes or people that RSVPd late, so make any final changes needed to your seating chart and floor plan now.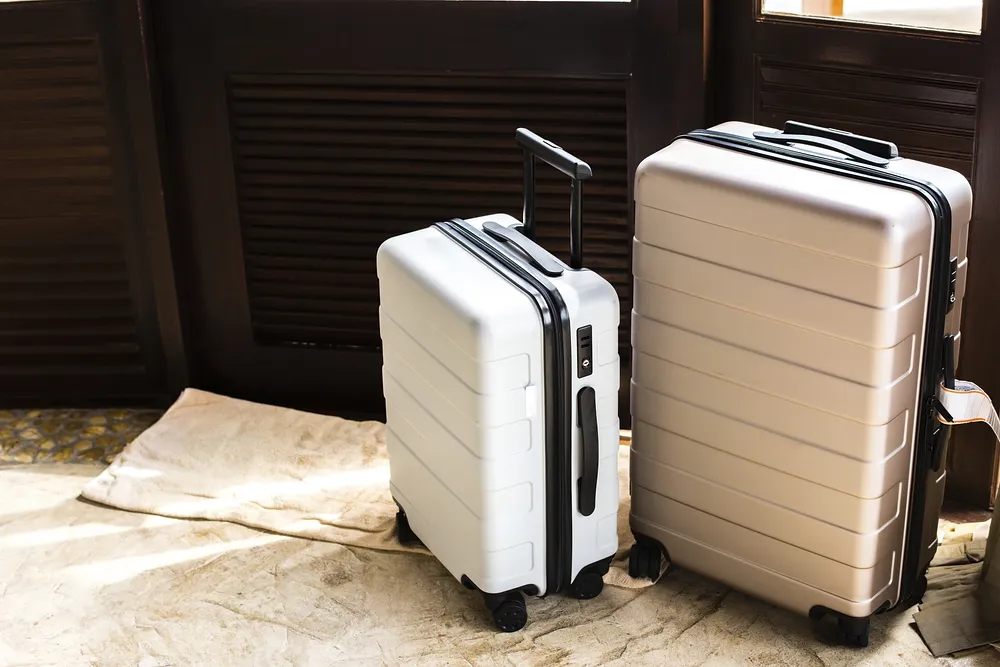 Pack for honeymoon
Since a honeymoon is a once-in-a-lifetime trip, you'll want to pack accordingly for all the fun ahead. Start by considering your honeymoon destination and the experiences you've planned.
Then, look to the average weather at the time of your trip, which is especially important when embarking to tropical destinations, as well as any required dress codes, especially dresses, slacks, and close-toed shoes at certain high-end resorts.
Here's a great honeymoon packing checklist!
Finalize wedding day timeline
Take a look at your wedding day timeline that you've been working on as you've worked your way through this massive guide on how to plan a wedding step by step. Now is your chance to make any last-minute adjustments.
Final dress fitting
Your final wedding dress fitting should occur about 2 weeks before your big day. This is just more of a quality check and last-minute look to make sure everything is perfect.
Give the venue, caterer, or any other vendors your final headcount and floor plan drawings
Communicate your final headcount, floor plan, and seating card with your venue and caterer (and any other vendors that need it).
Print out honeymoon travel documents
If there are any travel documents, reservation conformations, or anything else that is going to be needed for your honeymoon, print those out now and keep them somewhere safe so you don't have to worry about it later.
Break in your shoes
Grab your wedding shoes and break them in. The last thing you want on your wedding day is a bunch of blisters right!? Here is how to break in new shoes before the big day, as well as which techniques you may want to avoid.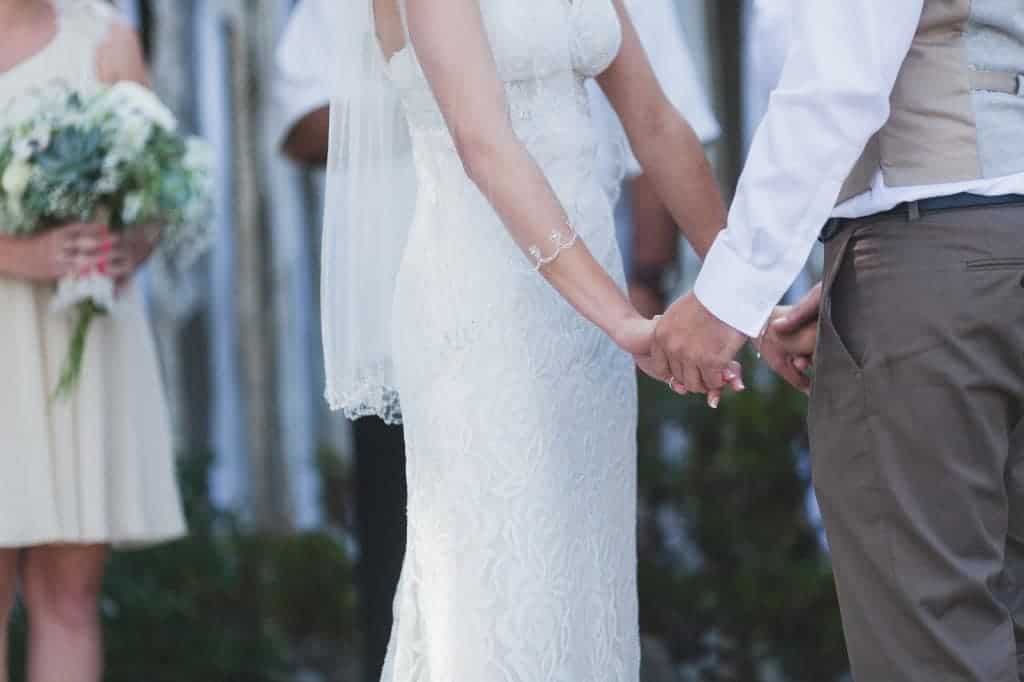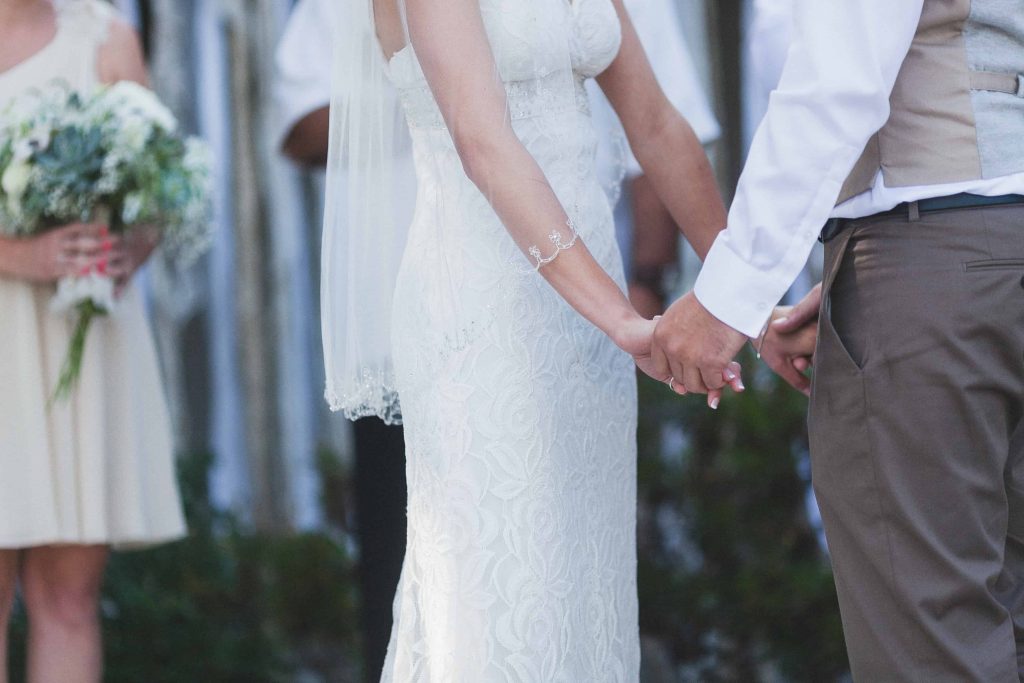 Finalize wedding vows, if needed
If you are writing your own wedding vows, finish them up and give them to your wedding officiant. Don't wait until the night before your wedding to write them!
Confirm all vendors' arrival times and send out the final day-of timelines
Check with each vendor to confirm their arrival time and give them any additional instructions. Also, give them a copy of the day-of timeline and contact information for anyone that they may need to get ahold of.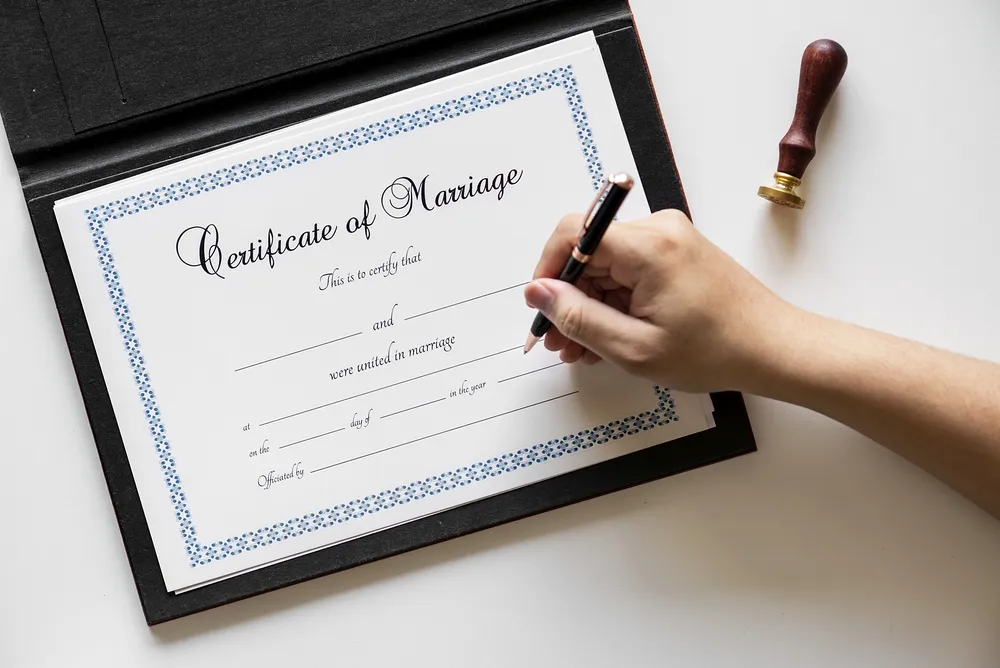 Fill out the marriage certificate and have it notarized (if needed)
Depending on your County, you may or may not need to have your marriage certificate notarized. Look into those and take care of them ahead of time if needed.
Prepare final payment and gratuity envelopes for vendors, and give them to your coordinator or trusted person to handle them for you
Hopefully, you were able to coordinate final payments already with most of your vendors, but if not you'll need to get them paid on the day of your wedding. Prepare the final payments in labeled envelopes so everything is ready to go.
Even if you have paid them, you may want to think about additional tips or gratuities which would be paid at the end of the wedding. Here's a guide for wedding vendor tipping that may come in handy for you!
Print timeline for the bridal party
Lastly, print out copies of your timeline for your bridal party so they know when and where everything is happening on the day of your wedding!
Get some sleep before the day
Got the night-before-your-wedding jitters? We don't blame you. Night-before (and day-before) nervousness is par for the course. Channel all that energy into completing these 26 things the night before your wedding, and you'll give yourself peace of mind and create a good foundation for the big day itself.
Wake up, grab a cup of coffee (preferably surrounded by your bridesmaids), and go marry the love of your life
Your wedding day may feel a little hectic, so start the day off right by relaxing with a cup of coffee, preferably surrounded by your bridesmaids.