" Should I hire a wedding planner " is a question that many brides ask. Deciding to hire a wedding planner is one of the first decisions you should contemplate in the wedding planning process.
" Should I hire a wedding planner " is a question that many brides ask. Deciding to hire a wedding planner is one of the first decisions you should contemplate in the wedding planning process. Some brides that are on a tight budget are skipping the planner to save a few bucks. Others can't imagine organizing their wedding with a trusty wedding planner by their side. Here's a few things that I learned about wedding planners and coordinators when I was planning our rustic DIY wedding.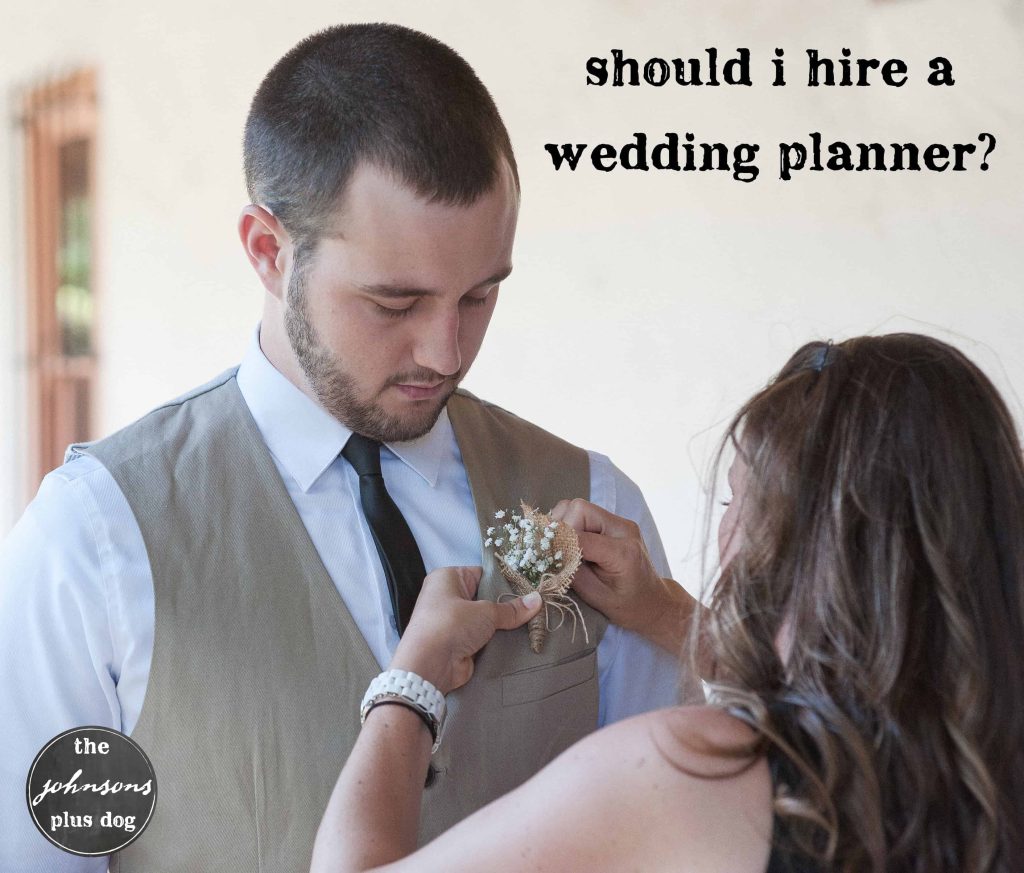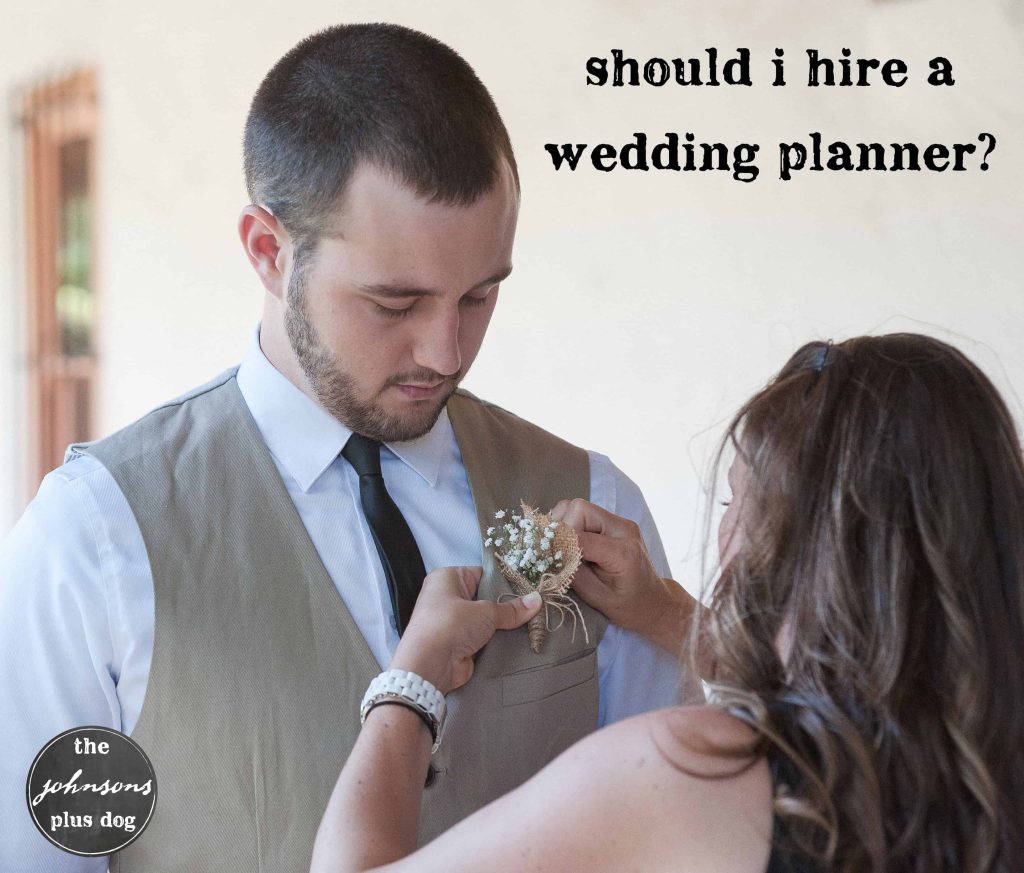 Here's what you should consider when asking yourself " Should I Hire A Wedding Planner ? "
First of all – what's the difference between a wedding planner and a wedding coordinator (aka day-of coordinator)?
Did you know there was even a difference between the two? Simply put, a wedding planner will be with you every step of the way and a wedding coordinator will be with you the day-of your wedding (and probably a meeting or two before). This post by Woman Getting Married, does a great job explaining the different roles of each. Another big difference is that with a wedding planner, you'll want to be sure to start working with them at the beginning of your engagement or as soon as you start planning the wedding (so they can be helping you from the beginning). However, a wedding coordinator, you won't need to start to working with until closer to the wedding. Their schedules may become booked up pretty quickly during wedding season, so I'd recommend hiring them sooner rather than later.
Hiring a planner may save you money in the long run
With the increasing amount of DIY weddings these days, brides seem to be trying to do it all and save money along the way. Adding a coordinator or a planner to your wedding budget may seem like an extra line item when adding up your costs. But, what many couples don't realize is that hiring a wedding planner may save you money. One of the many roles of planners is to keep a wide network of local wedding vendors and refer couples to their favorites. They will not only be able to point you in the right direction to find vendors, but in some instances, the vendors may even offer a "wedding planner" discount or throw in extras.
Wedding planners save you time
It's no mystery that planning your wedding is time-consuming and can feel overwhelming at times. A planner by your side can help narrow the search for vendors and venues. They will be familiar with most of the venues in your area and have relationships with a lot of vendors to point you in right direction and save you time – and we all know how much good a little extra time could be…think of all the wedding pinning you can do!
A wedding planner or day-of coordinator will bring a sense of peace to your wedding day
We decided to hire a day-of coordinator for our wedding (if you're looking for an awesome wedding planner in Southern California, our day wouldn't have been the same without my dear friends at Joyful Weddings and Events). I was able to have stress-free morning before the wedding because I knew my coordinator would be able to direct the set up and get decor just the way I envisioned, as well as guide the other vendors as they arrive. Typically, planners will have a knack for the little things that come about throughout your wedding day that you would never think of – like how to put on the groom's boutineer or what to do the guests that arrive after you already walked down the aisle. They will also know how to best handle the – dare I say it? – wedding disasters, like getting rained out or a vendor not showing up.
A wedding planner will provide you with helpful tools and think of items you may miss
Most wedding planners have standard checklists, spreadsheets, timelines, or other guides that they use frequently with their couples. Although, the ultimate wedding checklist I made covers a lot, there are so many little aspects of the day that you may completely forget or not know how to handle. For instance, did you remember to figure out who will load up and transport the wedding gifts at the end of the night? What about how much time to allot for the breakdown and clean up?
Wedding planners can save you (legally!)
One great asset that wedding planners bring to the table is the ability to help you read through all the wedding contracts you need to sign. Almost every vendor you employ for your wedding will have a contract that they want you to sign. Most of them will be pretty simple (ie: cancellation policies, timing, etc.). One service that your wedding planner may provide is reading your contracts before you sign them. They will make sure nothing is skipped and everything is accurate. No, wedding planners are not lawyers. They won't be giving you legal advice, but the extra set of eyes (experienced eyes) will be helpful.
What if I say "no" to the question "should I hire a wedding planner"?
If you decide to not hire a coordinator or a wedding planner, that's ok too! You will want to be sure to enlist some help from your friends and family. Don't try to do it all yourself.. I can guess that the loved ones in your life will be overjoyed to have a part in helping your dream day come true.
Are you still asking yourself " should I hire a wedding planner " ?
What other things did you consider when you were asking yourself " should I hire a wedding planner "? Did you decide to hire a planner or not? Were there any reasons you did or didn't?
Hope you will follow along as I walk through the rest of the wedding planning process. Happy wedding planning! 🙂