If you're wondering why we ever made the move from San Diego, CA to Bend, OR – here's the whole story of why we decided to move!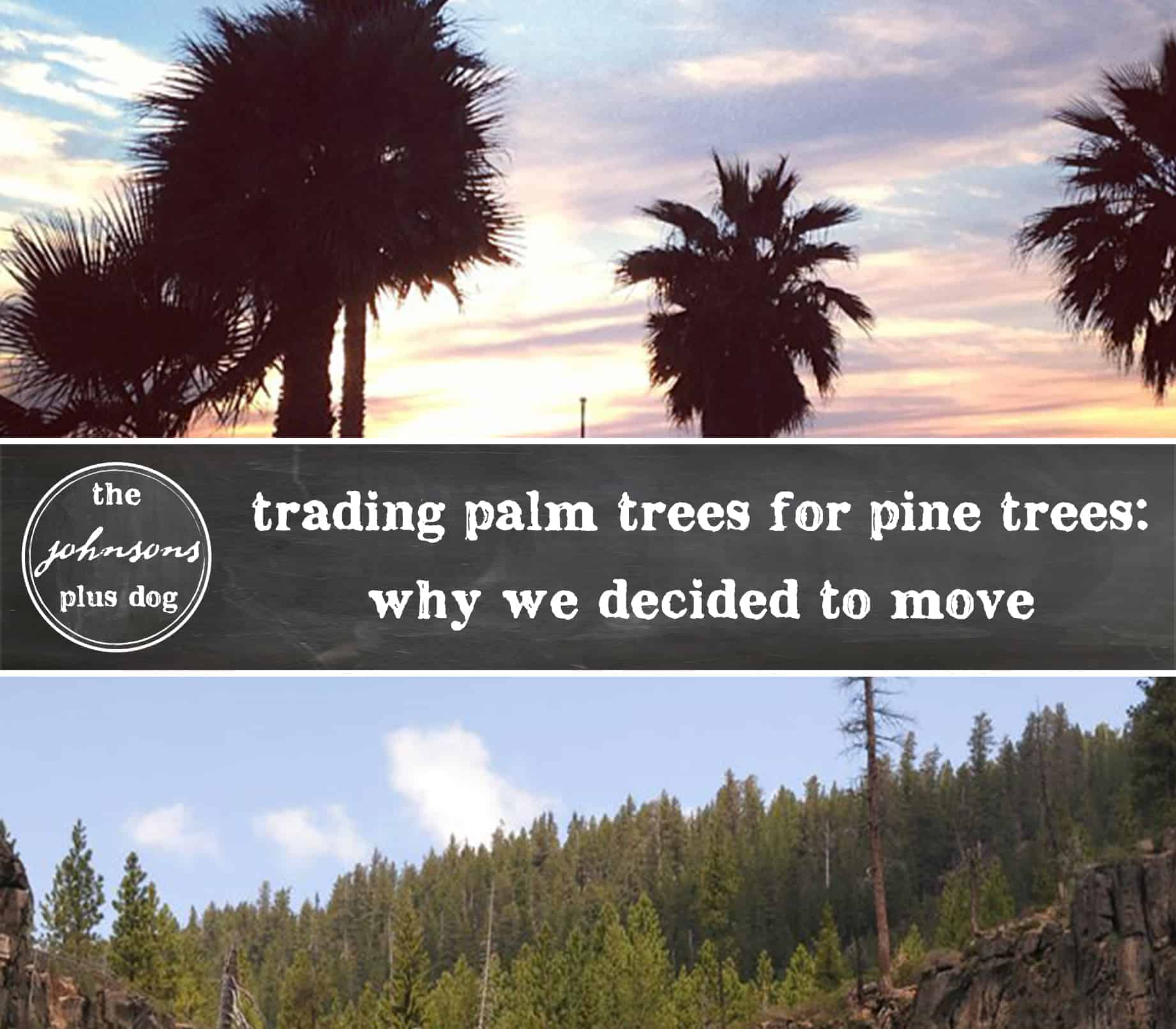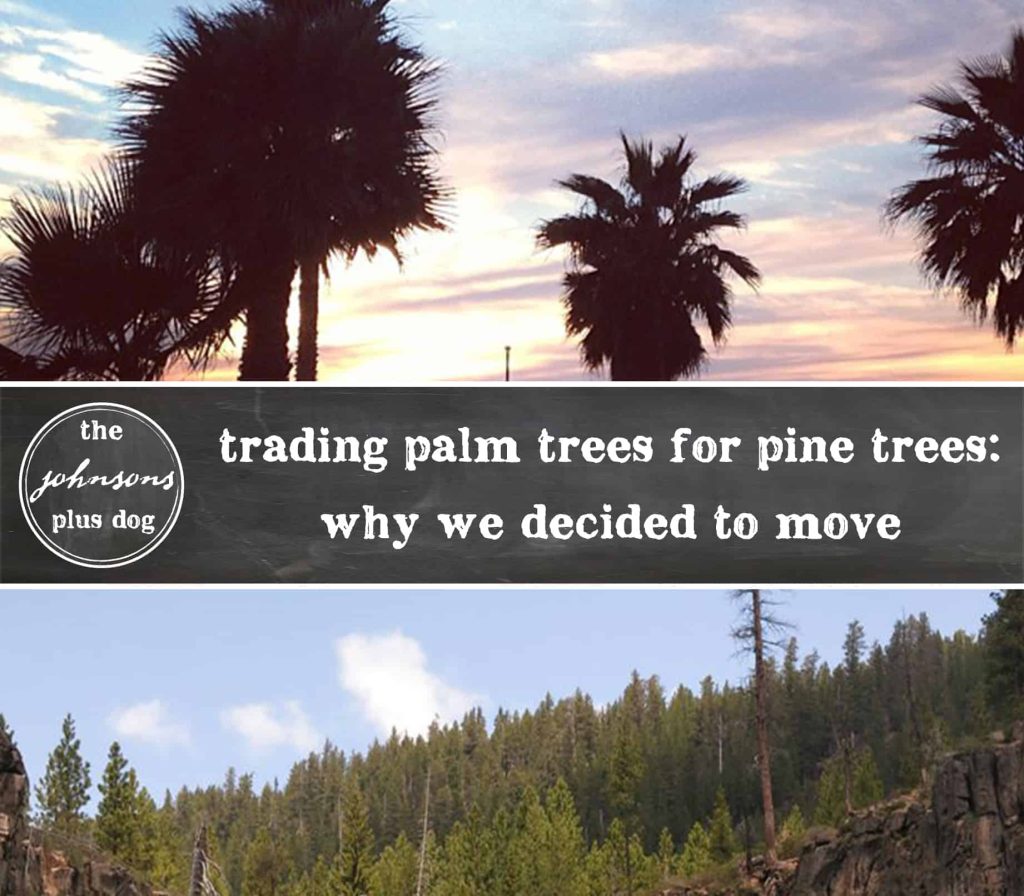 Why we decided to move
I still remember the moment when the thought was actually going through my head….could we actually leave San Diego? I was in the back seat of my car, while Brad (my older brother) and Logan sat in the front seats deep in a conversation I clearly wasn't interested in (I'm almost certain it had something to do with football). I was looking out the window on our way back to San Diego from one of my childhood friend's weddings in Yreka. The trip to Yreka (way Northern California) had been much like the others we'd experienced the last few years – quick. We'd been in the car longer than we were actually home. For this wedding in particular, we arrived merely minutes before the lovely bride walked down the aisle and left early the next morning for a 12-hour plus day of driving back.
As I sat there looking out the window, a familiar feeling was settling in. It happened every time we drove down back to San Diego. It felt like the weight was slowly getting put back on my shoulders. It was ushered in while we passed Los Angeles and the horrendous traffic and stayed even when we got into Oceanside and you could see the Pacific Ocean (even though it was dark by the time we got here).
What I love about San Diego
Now, don't get me wrong….I love San Diego. I am convinced it's one of the most amazing cities in the world. The weather is unbeatable & you can go to the beach almost any day of the year. It is the 2nd safest large city in America. It has an awesome, well-connected commercial real estate industry (which is my day job). Most of all, my best friends and brother are there. Not to mention, I had a job I LOVED. Even as I am writing these great things, it's hard to imagine that there was something missing…. but there was. And it had something to do with this sinking feeling I got every time I returned to San Diego.
San Diego was a city of pivotal moments for both Logan and me. We left home for the first time and learned to call San Diego "home" in college. San Diego was where I had learned my way around a big city, San Diego was where I had my first real job. San Diego was where Logan and I met, fell in love, and got married. I loved San Diego, I just didn't love living in San Diego.
Picturing the future
Every time I pictured our future… you know kids, home, the whole sha-bang…I just didn't picture San Diego. Maybe it had something to do with the fact that I grew up in a small town (Logan did too). I'm not saying that you shouldn't raise kids in cities… what I am saying is that we couldn't. We just couldn't picture it. Although we had been house hunting (and had even offered on one) in Poway, right outside of San Diego, We would have been pinching pennies for YEARS just to make ends meet. There is no chance to ever live off one income if life ever called for it.
The prayer
So back to that window. There were so many questions as I slowly began to wrap my head around the idea of moving. But I remember so vividly praying
"God, if this is something you want us to do, please make clear to us."
The answer
The next morning, we fought through the sinking feeling and went to work. When we got home that night, Logan said solemnly that we needed to talk. I plopped up on the kitchen counter and listened. He explained that his department at work was, more or less, getting dissolved and he was going to be laid off at the end of the month. I instantly told him about my prayer from the day before and we both sat there silently for a while.
And slowly I felt that weight lifting off my shoulders.
What happened after we decided to move
Over the next few weeks, we started to really wrap our head around moving. Things began to fall into place. I am completely and utterly blessed that my employer said I could work from home after we moved. I'm grateful that Logan and I felt the same way about San Diego and our future. We were so thankful that my dad had work for Logan up in Yreka for the time in between jobs, We visited Bend, Oregon for our first anniversary and in the first 24 hours knew that we could call Bend home. What can I say, it was just another feeling.
It certainly wasn't easy to leave the life we had built for the eight years we lived in San Diego, To be honest, it was terrifying.
But
"sometimes the greatest rewards come from doing the things that scare you the most."

– Coach Whitey Durham, One Tree Hill
Yes, I just ended this post with quote from One Tree Hill… no shame.