Do you know someone who loves to DIY and would appreciate tool gifts? You're in luck because today's gift guide features the best gifts for DIYers.
I'm really excited about today's guide full of the best gifts for DIYers. It is at the heart of what Logan and I do – renovating! Lord knows that since we've been renovating, we've gotten our fair share amount of tool gifts as we've been working on building out our inventory of tools.
The reason I think the best gifts for DIYers are tools is that your gift will actually get used! There's nothing worse than buying something for someone and not knowing really if they will like or use it, right!?
We've learned so much over the past few years as we've been DIYing our way through fixer-uppers. Last year we wrapped up our first fixer-upper and found our second.
Since we've become experts at this whole DIY thing, I thought I would create a guide full of tool gifts for DIYers. In this guide, we're sharing some of the products that we couldn't live this DIY life without.
Related – Want more gift ideas? Check out all of our gift ideas here!
This tool gifts post contains affiliate links, but nothing that I wouldn't wholeheartedly recommend anyway! Read my full disclosure here.
Are you ready to see these tool gifts for DIYers?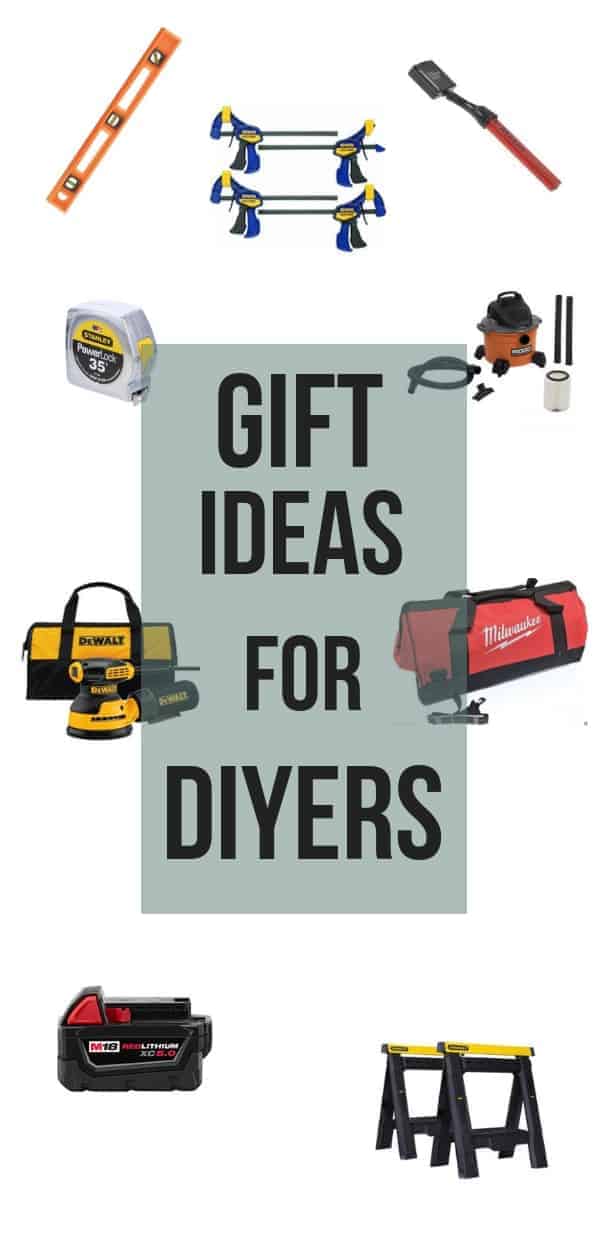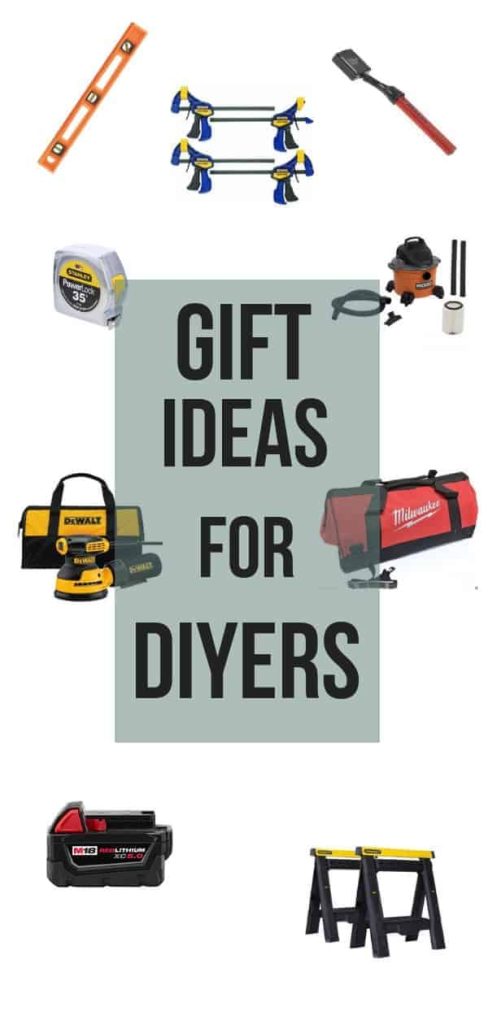 Photo Credit: homedepot.com
Every great DIYer needs a few tape measures. We are always misplacing these, so it's nice to have a handful lying around. We love this one. It's large (35') and very durable!
Photo Credit: amazon.com
Whether you are cutting carpet as your rip it out or slicing drywall off a wall you are tearing down (two things that we've actually used this utility knife for), you need a good utility knife in your pocket at all times! This one flips open and works great.
Photo Credit: amazon.com
This level has served us well! A little bird told me that they make cool laser levels now, but I love a good old-fashioned normal level.
Photo Credit: amazon.com
We love our large Milwaukee tool bag. We're totally a Milwaukee family, which you'll quickly learn as you make your way through the rest of this list of tool gifts.
This bag is great for rounding up your larger tools as you jump around the house working on different projects.
Photo Credit: amazon.com
Having a good clamp around can solve some major last-minute crises that come up during DIYs...heck, to be honest, we used one of these to keep our dishwasher shut while it was running in our old house for about a year before we had time to fix it!
You never know what's going to pop up during the joys of home ownership, craft projects, and other DIY mishaps.
You'll never know when you need to keep something in its place. These clamps can be a lifesaver.
Photo Credit: homedepot.com
These are another one of those things that you don't really know how much you'll use until you have them.
We originally purchased them to make painting our doors easier but since then have used them on tons of different projects.
They really help save your back so you don't have to work on projects on the floor. And every good DIYer definitely needs to save their back.
These sawhorses are great because they collapse for very easy storage.
Photo Credit: amazon.com
This little hidden gem is a major DIY hack. This pencil attaches to your shirt and it's always there when you need it.
How many times have you been right in the middle of holding that tape measure in place with one hand and looking around the room frantically looking for something, anything, to write with? For us, it was happening way too much.
Even if Logan remembered to put a pencil resting up in his ear or tucked into his hat, we'd set it down somewhere and it wouldn't be there when we needed it.
When you're using the retractable pencil it just goes right back up hanging off your shirt when you're done, ready for next time. This makes it a great stocking stuffer for the DIYer!
Photo Credit: amazon.com
It wasn't until I lived in a renovation zone that I realized how absolutely necessary shop vacs are.
At some points during renovating, we've literally lived with a thin coat of sawdust over almost everything for months and months.
That's where this Ridgid Wet Dry Vacuum came in handy. I was able to quickly wheel it around and pick up all the horrible mess that my DIYer made.
Photo Credit: amazon.com
Even the modest craft DIYer needs a good sander. This one is great because it comes with a bag for storage and has a collection bag to help cut down on sanding dust.
You can also connect the port to a vac (1 1/4'' hoses or use a connector) to reallllllly cut down on the dust.
Photo Credit: walmart.com
Shhhh... I've got a secret for you. I'm terrified of using the Dremel tool.
Maybe it's my years of wood shop in high school, but there's something about those sparks flying that gets me scared. I much prefer sawdust flying everywhere.
But (and it's a big BUT) Logan uses our Dremel ALL THE FREAKING TIME. I'm just a wuss.
A rotary tool is something that should definitely be in every DIYers tool box. This versatile tool can cut everything from metal to tile on the spot
Photo Credit: amazon.com
This is where you really need to know the DIYer you're buying for. If they are picky, like most ladies and gents with their power tools, they have probably decided on a brand and line of cordless power tools to invest in.
To get the most out of these tools, they need to all be in the same "tool family". That way you can quickly share battery packs with all the power tools you own.
For us, it's the M18 line from Milwaukee. (18 stands for 18 volts).
If you are wondering what to buy for someone who DIYs to go along with tool gifts, you need to find out what brand and system they have and grab them some extra battery packs for their stocking.
They will certainly be much appreciated! Nothing is worse than having a battery go dead right when you are in the middle of working on a DIY project.
Photo Credit: amazon.com
If we were to choose one saw to buy for the DIYer, a high-quality circular saw would be it! Sure, jigsaws are fun for cutting shapes.
And of course, table saws are handy and very versatile. Even the amazing miter saw has its place.
But the circular saw is lightweight and with a steady hand can tackle most projects and become the only saw that's absolutely necessary if you're in a pinch.
Learn more about the different types of saws for woodworking here.
Photo Credit: homedepot.cashstar.com
I don't remember the last Christmas when Logan didn't ask for Home Depot gift cards.
Any good DIYer has a few special items on their wish list or larger things they are waiting to save up and buy.
Whatever it may be, someone that DIYs knows exactly how they want to spend some extra moo-lah at the DIY mecca, Home Depot.
Photo Credit: amazon.com
Last, but not least, is perhaps the most important tool on this list of tool gifts - the cordless drill. We've probably used this every single day during our renovation for one thing or another. It's very compact and lightweight, which I love. But also powerful and gets the job done!
It's also a part of the Milwaukee M18 family.
You'll definitely want to find out what brand and system of power tools the person you are buying for has before making this purchase.
If you've got someone on your holiday shopping list who loves to DIY, tool gifts are a great go-to option! These tools are versatile and would be appreciated by anyone doing tons of different types of renovating!
Did you enjoy this list of tool gifts? Did anything surprise you? Did you discover a tool that you need for yourself and your DIY projects?
Which of these tool gifts is your favorite?
Let me know in the comments below!