Are you thinking about buying an old house to renovate? Here's 10 things you should know before you start a house renovation and lessons we've learned along the way while renovating for the last 5 years.
This year marks the 5th year since we purchased our first old house to renovate. Our life has been in an almost continuous state of renovating since then. It has literally felt a bit like a whirlwind of sawdust and paint with a couple of pregnancies thrown in there.
We could talk all day about all the things we've learned since buying an old house to renovate, but if we could go back 5 years ago to give our former selves a little "warning", this is what we would say.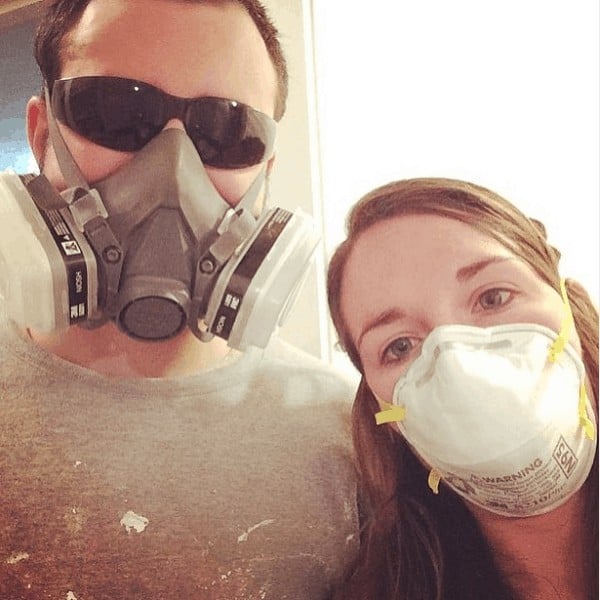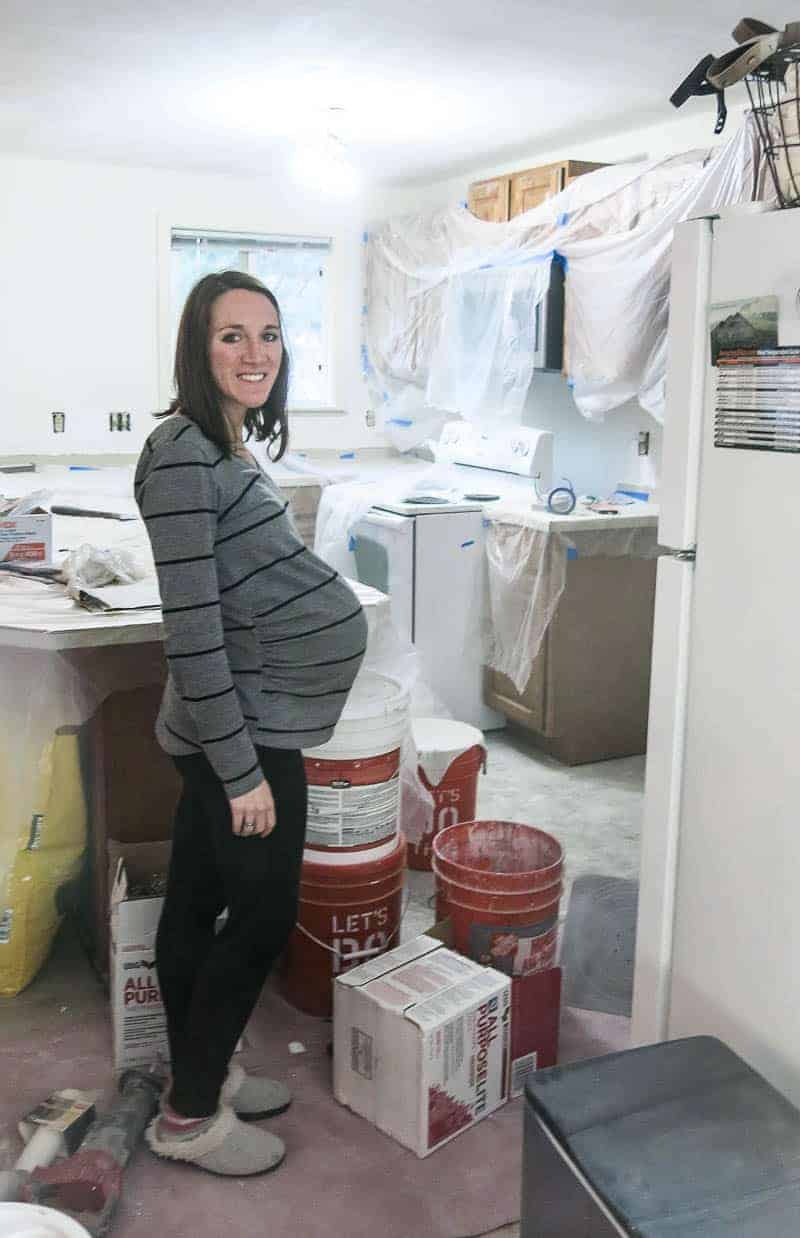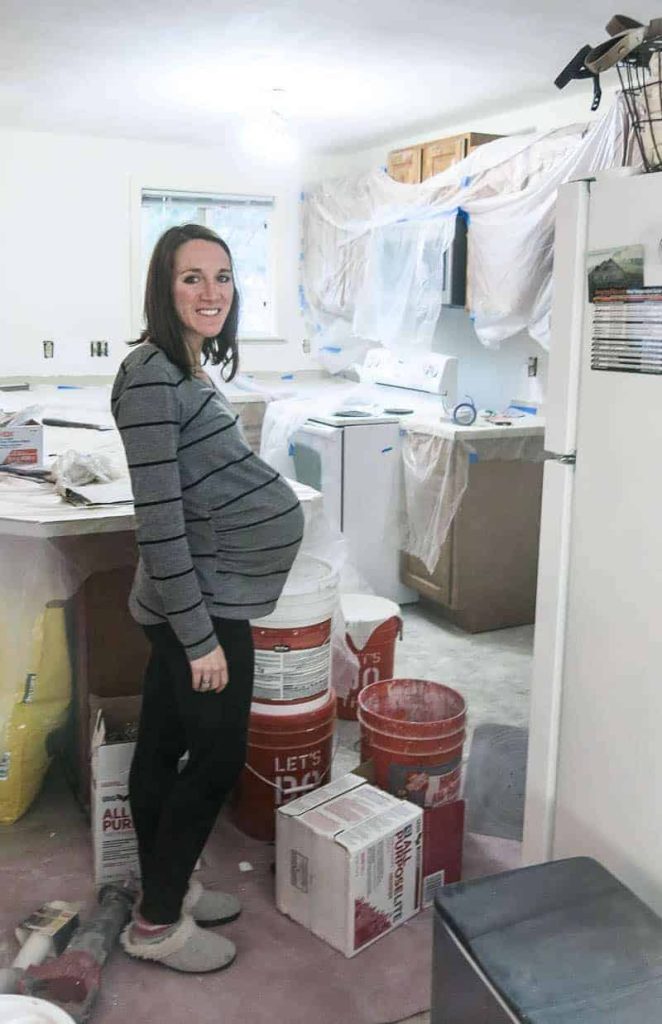 This post contains affiliate links, but nothing that I wouldn't wholeheartedly recommend anyway! Read my full disclosure here.
What to Know Before Buying an Old House: 10 Tips from Experienced Home Renovators
Maybe you are at the beginning and thinking about buying an old house (if so, be sure to read this about why you should or shouldn't be buying an old house!) or about to start a house renovation.
In that case, we've caught you just in time! Here are 10 things you need to know before buying an old house to renovate.
P.S. If you're just getting started on your renovation, be sure to check out this list of the must-have tools you'll need!
#1 Something won't go according to plan (more than once).
There are SO many things that have happened over the last 5 years that haven't gone as planned. Here's just one….
A couple of years ago we pulled off the laminate flooring while we were building out this nursery for our daughter on the way and found this gorgeous old hardwood flooring. I couldn't bring myself to cover it with carpet as planned so we decided to refinish the old hardwoods – always a good choice, right?
So we got eager. We started ripping off that laminate flooring as fast as we could while imagining the whole house with these amazing refinished hardwood floors.
But then we got out into the hallway and into the kitchen and the floor stopped.
Not the end of the world because we probably wouldn't want wood flooring in the kitchen anyway…..
But then….we got over to the other bedrooms in the hallway and BAM….the original hardwood floors DIDN'T CONTINUE into the other bedrooms. It was just gross old subfloors under the carpeting.
If you're wondering how this story ends, we were able to find new hardwood flooring that pretty well matched our old stuff and we installed it in our master bedroom. Check it out here!
Now, this certainly isn't that bad (and trust me we've encountered things much worse while we were renovating) but the moral of the story here is that we were super duper disappointed with this discovery.
Things didn't go according to plan. This brings us to our next lesson…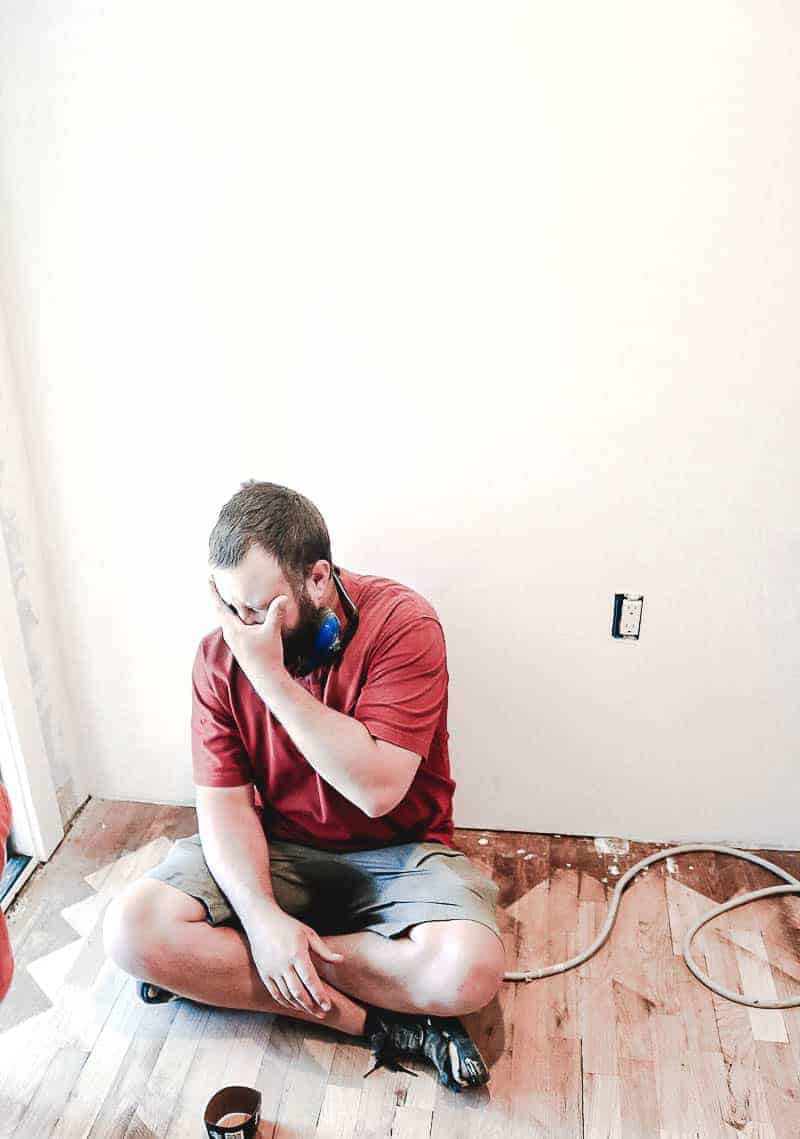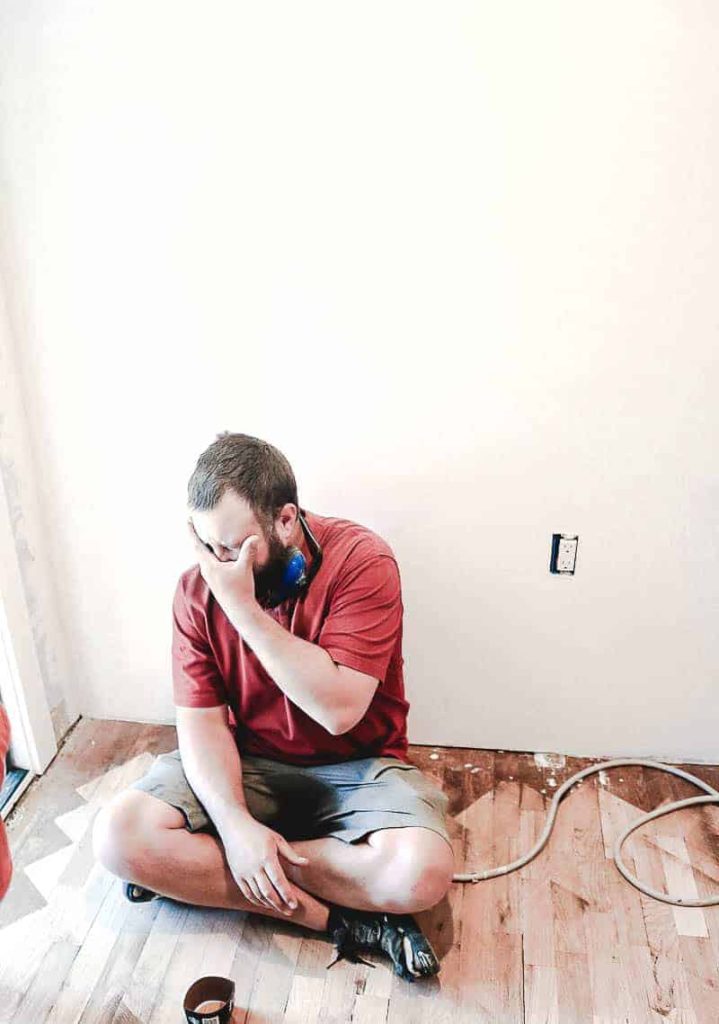 #2 Take a break when you get mad or start making too many mistakes.
There will probably be a LOT of late nights when you start making mistakes because you're just plain tired. We also start making mistakes when we get mad or upset when something doesn't go according to plan.
When this starts happening, it is best to throw in the towel for the night and just take a break.
#3 Don't dwell on the unexpected issues.
When you do run into the not-so-good surprises, it can be such a bummer. And it is easy to get stuck in the disappointment trap. Figure out what works best for you to just "shake it off".
For me, it usually looks like this:
quick period of being mad or sad about it,
a long conversation of how we are adjusting the plan going forward
review budget and timeline
lastly, a break
#4 TV makes it look easy.
We love HGTV and binge-watching shows like Rehab Addict and Fixer Upper. I really enjoy watching the big renovations come together over the course of a 45-minute program.
TV does a great job of wrapping everything up, showing the major highlights, and putting a pretty little bow on it. And I get it, it is their job to entertain us.
However, what you don't see on TV are the months of stalled projects, the nights sleeping on a mattress on the floor, and the hours upon hours of cleaning up the dust.
If you watch a lot of home improvement TV, you may have a warped sense of reality when it comes to tackling a house renovation. There are plenty of long, boring, messy, and exhausting parts of renovating that aren't shown on TV.
#5 It will be stressful on your marriage, but don't let that stop you.
One survey by Houzz found that 12% of couples consider divorce while going through a house renovation. The stress of buying an old house to renovate can definitely put a strain on a marriage.
Every relationship is different, but with Logan and I – we have to communicate, communicate and communicate when we're stressed and renovating.
Each of us have different roles, so it's important to keep each other informed and up to speed of each other's tasks.
One thing that definitely helps is staying organized! Learn how to stay organized during your renovation here – and grab the free project planning worksheet!
Speak up if you're getting overly stressed or frustrated (in a nice way…)…preferably before you start snapping at each other.
Remember that you're in this together…you aren't enemies.
Work regular date nights into your renovation schedule (out of the house and away from the renovation dust if possible).
Now I hesitated even saying anything about marriage in this post because, on one hand, I will tell you that, yes, renovating for the last 5 years of the 7 that we've been married has been stressful on our marriage. But it has also been SO SO good.
We've learned how to work together, communicate better, and see each other through some crazy times like when we slept on the mattress on the floor in the living room for 6 months.
I don't want you to read that crazy stat about divorce to deter you from buying an old house to renovate together as husband and wife. I'm not saying that it will be easy, but working together on a common goal can be so so rewarding.
#6 Be honest with yourselves about your skill set.
Figuring out what to DIY versus hire out in old house renovation is a big task (and one that has a huge swing on the budget either way).
But to keep it simple, the big takeaway is, to be honest with yourselves about your skillset. If you have never done any electrical and don't have anyone to teach you the basics, do not attempt to add wiring for a new light fixture for your first job.
Here are a few ideas for what you can DIY after buying an old house to renovate, even if you're a total beginner:
#7 You should add a 10-25% contingency to your budget.
Once you have your expected renovation budget after buying a house to renovate, always add 10-25% to the top to account for the unexpected hurdles you will definitely run into. You never know when you are going to hardwood flooring that doesn't continue into other bedrooms or electrical that needs to be rewired.
#8 Celebrate small victories.
There will be a lot of hurdles you will overcome during your house renovation. I promise that it will make the renovation process easier if you celebrate everything – even the little things.
You finished painting the room faster than expected? Do a little dance. Came in just $50 under budget for a project? Go out to dinner. Opened up the wall and discovered the water lines you needed to tap into are closer than you thought? Woohoo!! Go do something fun as a family with the extra time.
Reward yourself along the way and you'll have more motivation going forward.
#9 Start small.
When you're deciding what projects to prioritize first, we usually recommend to start small. There is something energizing about starting and finishing a project. It feels good to check something of your to do list. Start with something small and give yourself a win.
#10 You're done – now go enjoy yourself.
I fully think that a big celebration should be worked into your renovation budget. Whether it is a weekend away at the spa or a fun family vacation, set the money aside in the beginning and have something to look forward to. This will be your "light at the end of the tunnel" when the going gets tough after buying an old house – the going will probably get tough…trust us.
So, there you have it. This is what we would tell ourselves if we had a time machine and could go back five years ago right after we bought this first fixer upper.
Are you thinking about buying an old house to renovate??
Let us know in comments below!