This DIY pallet AC unit cover couldn't be any easier. If you're looking for a quick way to cover your unsightly air conditioning unit, pallets are the way to go. Here's a simple tutorial for this DIY AC unit cover.
Today, I'm sharing with you a fun little DIY AC Unit Cover project that literally took us 45 minutes to complete while the little guy was napping.
Also, we literally spent NO MONEY on this, which is always a win in my book. After the last few crazy weekends we've had, we needed something simple!
Table of Contents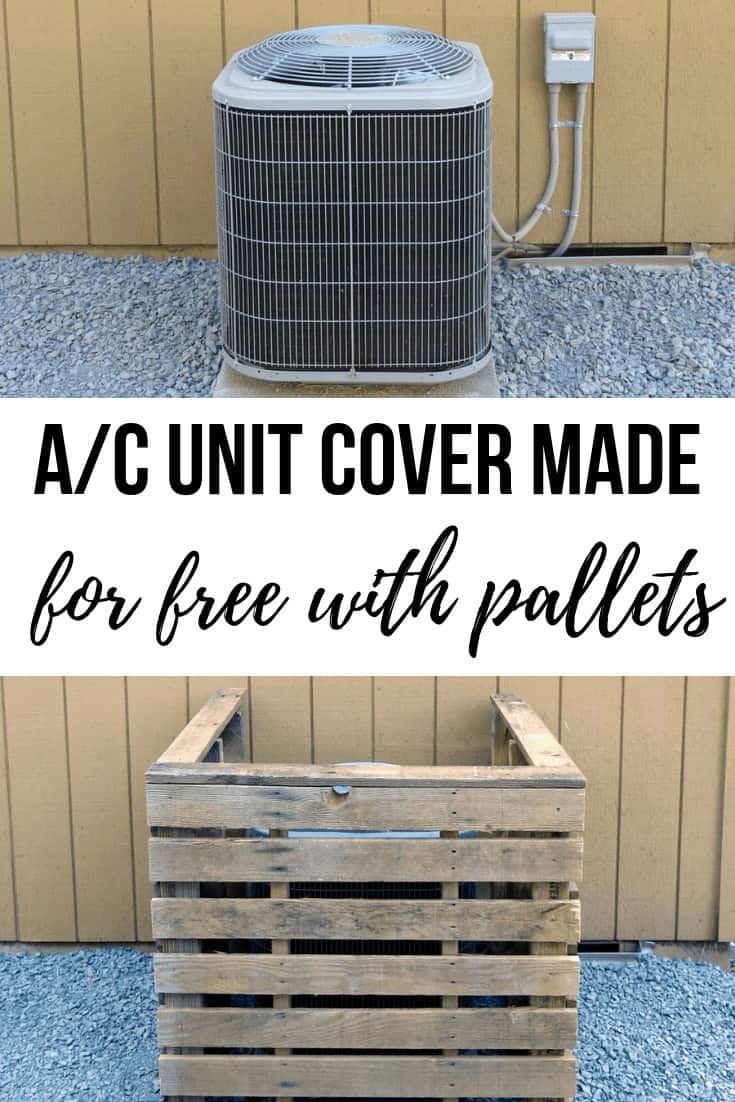 Guys, do you ever feel like you're running a marathon without a drink of water? That is what homeownership has felt like the last few weeks months.
We purchased our little fixer-upper a year and a half ago and have been slowly working through renovations since. (UPDATE: Check out all the before and afters of our entire renovation here!)
Don't get me wrong, we have made great progress and I can't wait to share with you some of the major strides we made on the interior pre-baby.
Our little home is a completely different place than it was when we moved in. However, the "joy" of homeownership and especially home renovation is that it NEVER ENDS.
We've got about 246 projects in the queue that we would love to tackle as soon as we have the time/energy/money.
Ready to see this DIY Pallet Wood AC Unit Cover?
The week I was due to have our baby we got A/C installed at our house.
Yes, it was a rushed added project before the little one came. Yes, it was expensive. Yes, it was worth every penny.
I can't imagine how dreadful this summer would have been with a newborn and no A/C.
Ever since the air conditioning was installed we've been talking about how we want to need to cover the A/C unit.
Gannon, our dog, loves to go potty on anything and everything in our backyard, so we've been a little worried that he was going to "mark" it, hence the need to add an AC unit cover.
Also, you can see the A/C unit from the street and we wanted to cover it up to add a little "curb appeal".
Our goal for the cover was to keep it simple and frugal. 45 minutes and free? Mission accomplished.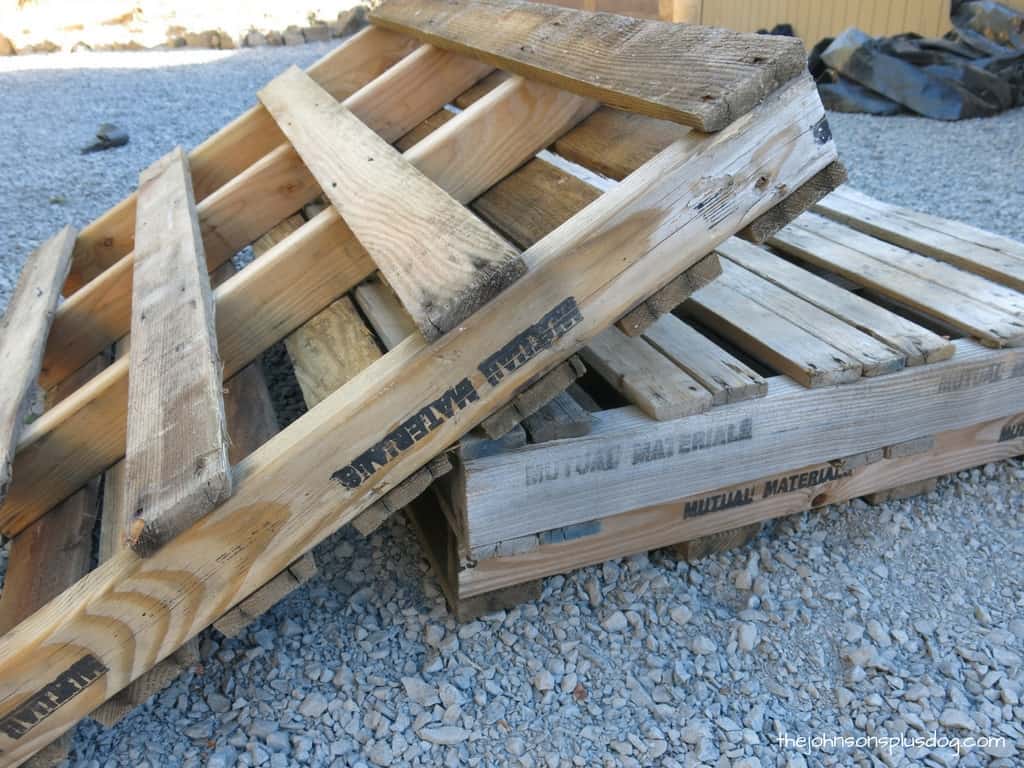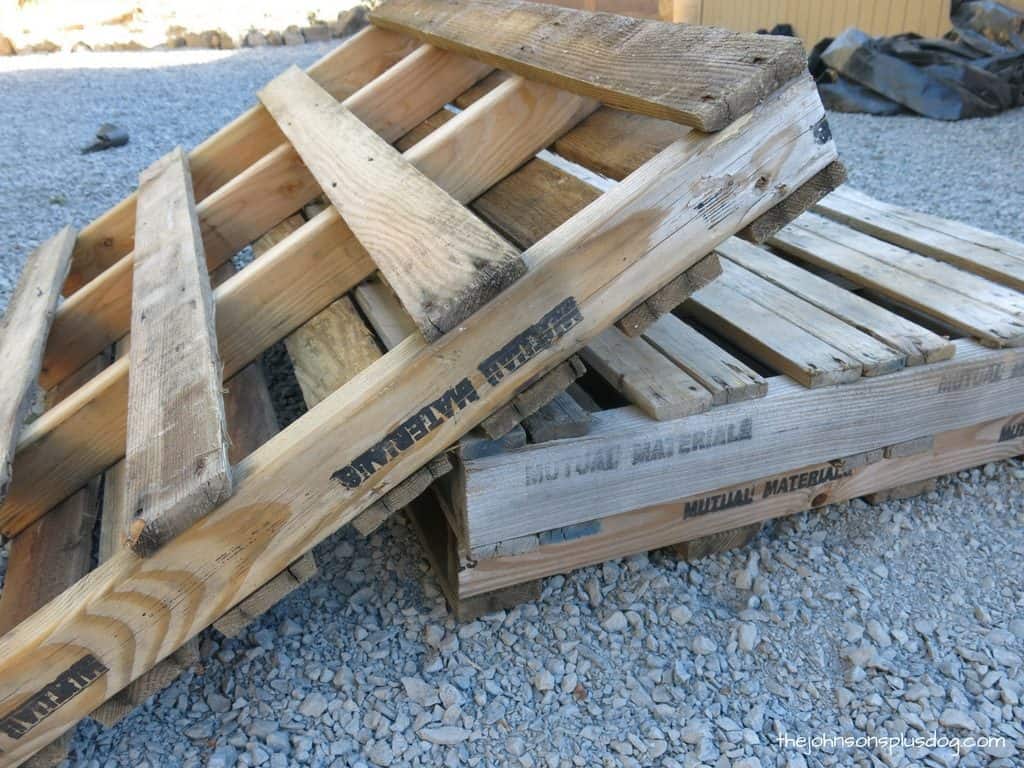 All you need for this Pallet AC unit Cover project is some basic tools), a handful of outdoor wood screws (which we already had on hand from building our fence), and three pallets.
If you're having trouble finding pallets, check out your local Craigslist, or Facebook groups, or try asking grocery stores if they have any you can take. Check out these other places to find cheap or free wood.
AC Unit Cover with Pallet Wood: Video
If you love videos, be sure to subscribe to my YouTube channel!
This AC unit cover post contains affiliate links, but nothing that I wouldn't wholeheartedly recommend anyway! Read my full disclosure here.
Supplies for AC Unit Cover: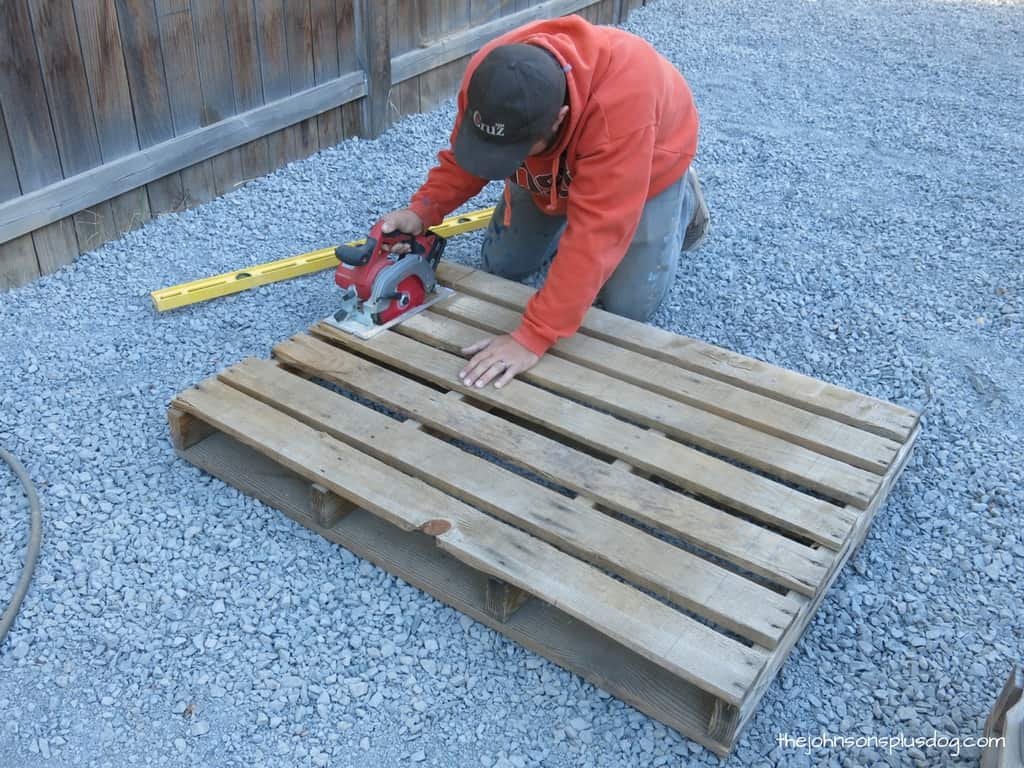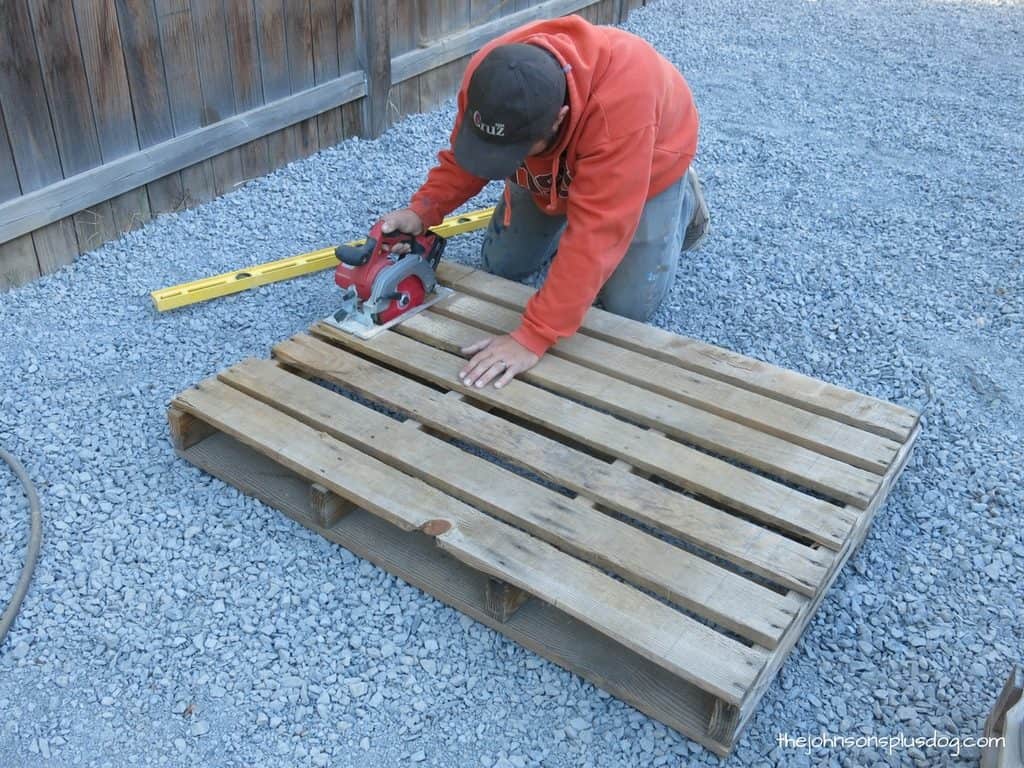 Step 1: Cut Front Pallet Down To Size
Our A/C unit is about 2 feet wide, so we cut our pallet down to 3 feet to allow for about six inches on each side of the AC unit.
For the front pallet, you want to be sure that you cut both ends of the pallet off and you're only left with the horizontal boards and the vertical supports.
You'll need to pry some of the backboards off of the vertical supports. To do this, we used our handy Pallet Buster, which is a lifesaver if you are doing a lot of work with pallets.
Pallets are surprisingly really hard to dismantle and this thing has helped us save a ton of time over the years.
We've taken apart TONS of pallets with our Pallet Buster for furniture projects around the house (like our DIY Reclaimed Wood Bed or this DIY Pallet Wood Side Table ).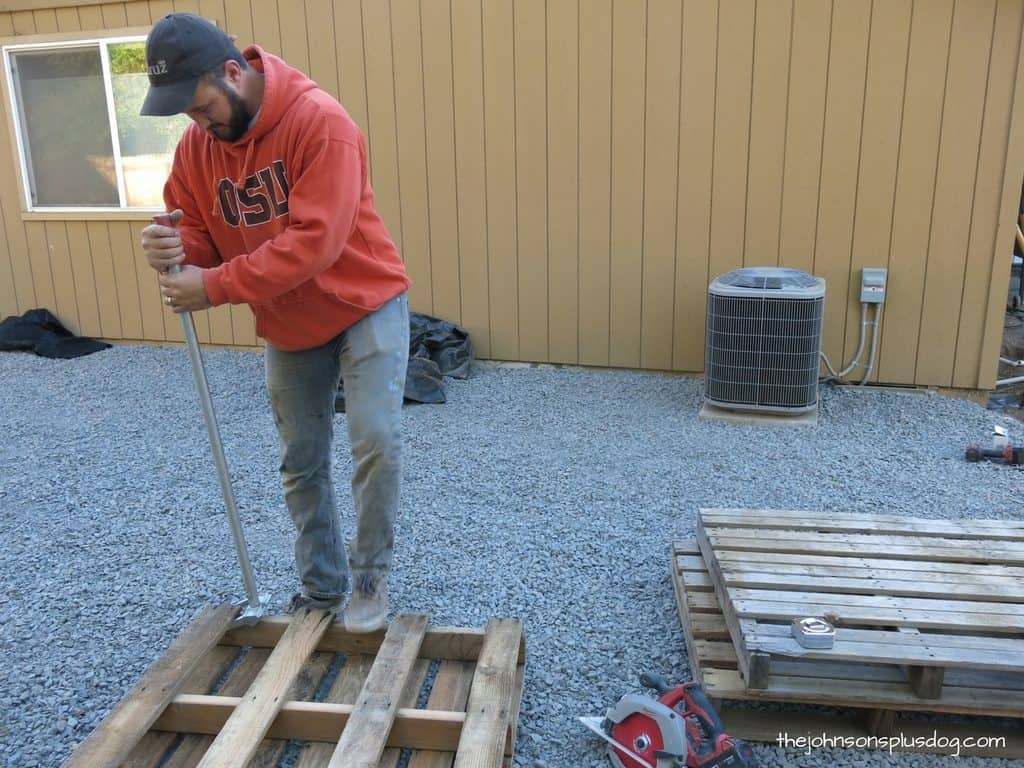 You may also need to remove some old rusty nails from the vertical supports. We use a wonder bar to do this and if they're stuck real good, a hammer can be used to push them back into the wood.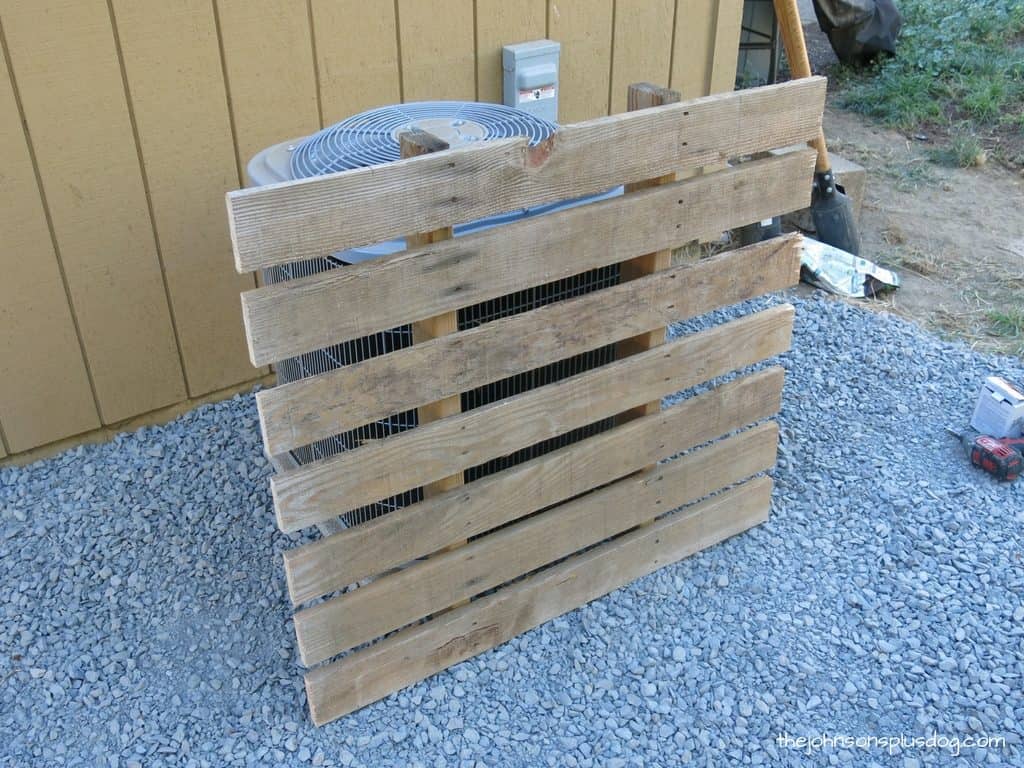 Here's what the front pallet piece of your AC unit cover should look like once it's all ready.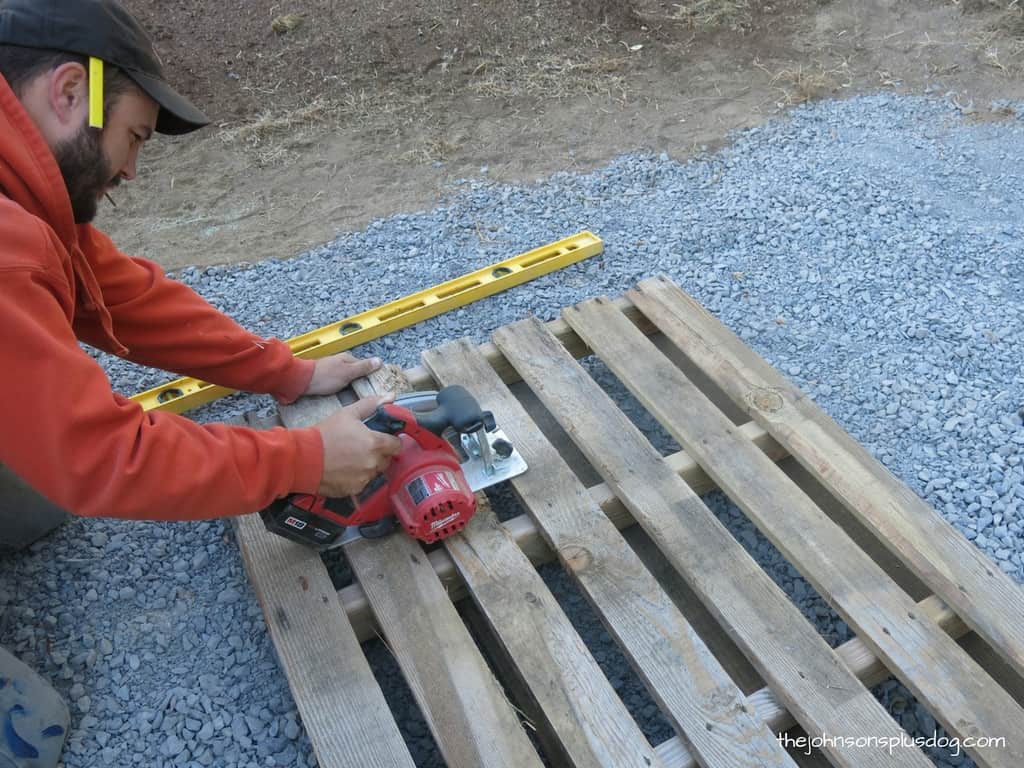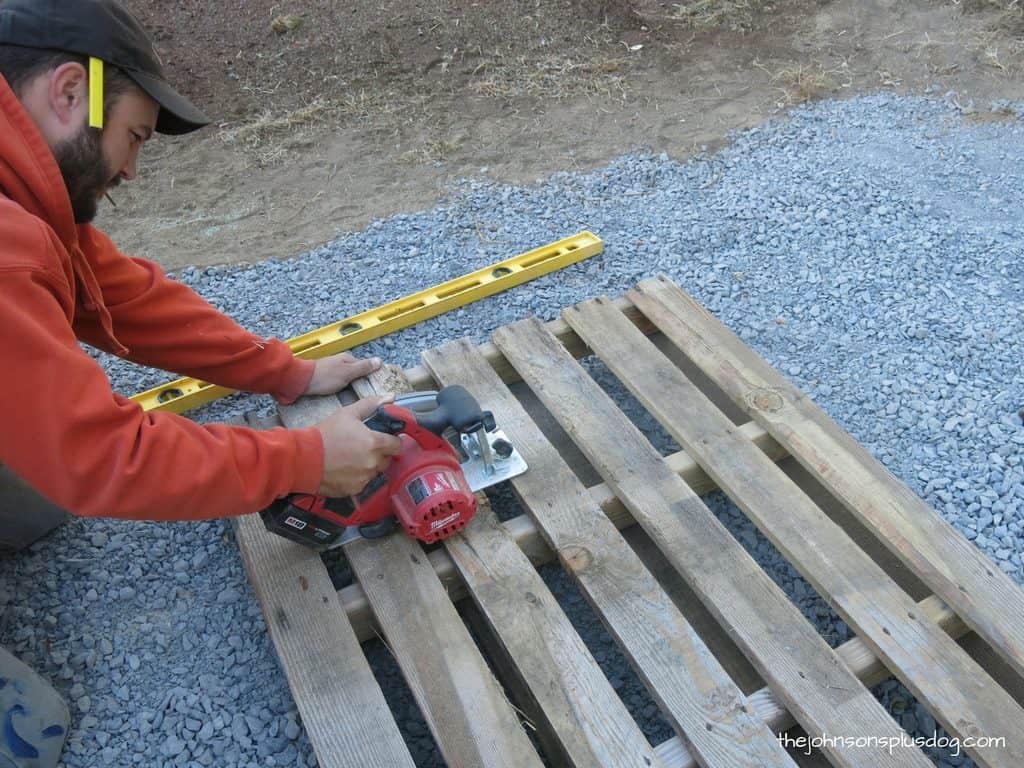 Step 2: Cut Side Pallets Down To Size and Attach With Wood Screws
Measure each side of the AC unit, leaving about 2-3 inches between the end of the pallet to the house for wiggle room.
When you cut the side pallets, you'll be cutting just one end off (rather than both ends like on the front pallet). This helps keep the pallet structure and support and gives you something to drill into.
We drilled in a wood screw on each board of the front pallet into the side pallets. Start with the top corner screw (shown in the photo below).
Get everything lined up and flush, drill in the screw and then move down to the bottom corner. After the top and bottom are screwed in and everything's lined up you can finish with screwing in the middle boards.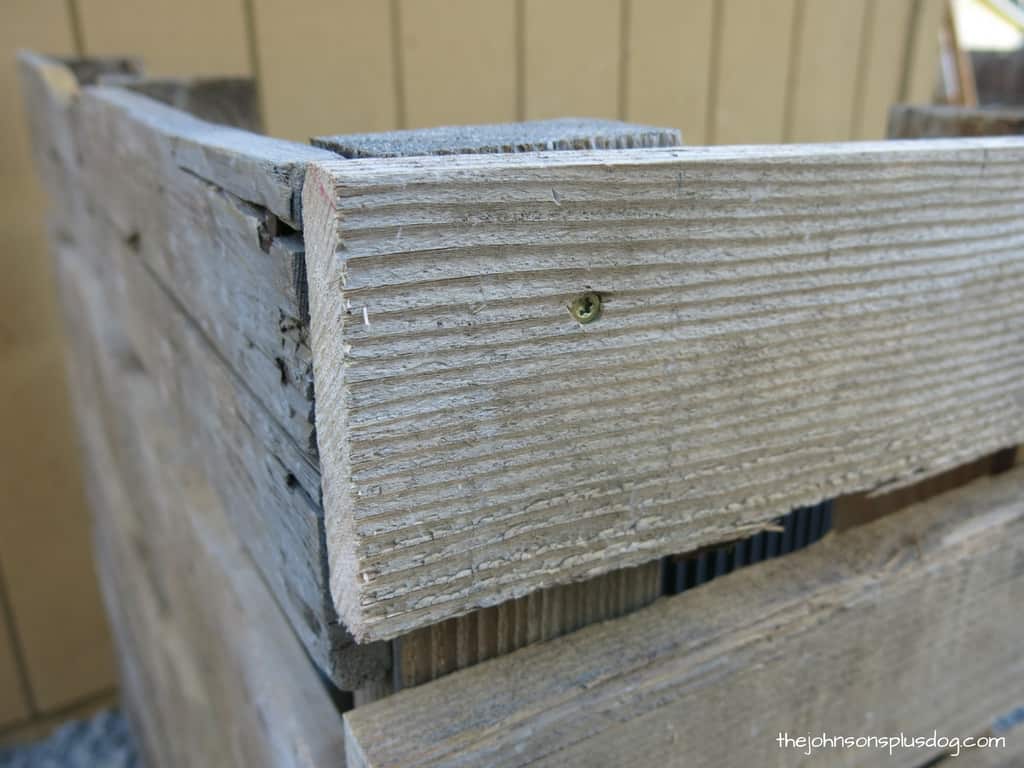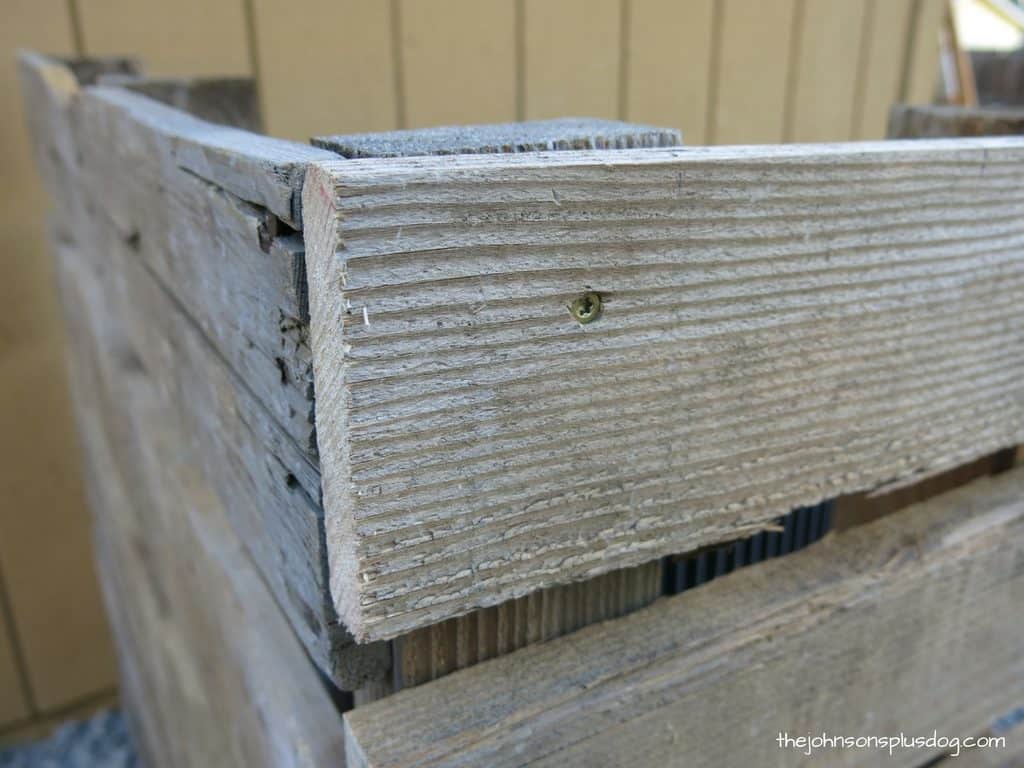 Step 3: Attach Top Trim Pieces (optional)
The top trim pieces are totally optional, but we thought they tied the whole AC unit cover together and added some additional support. It also makes a great shelf for a small potted plant or drinks.
We had the wood leftover from the removed part of the front pallet anyway, so why not? We just used three scrap pallet wood pieces cut down to size and drilled into the bottom pallets.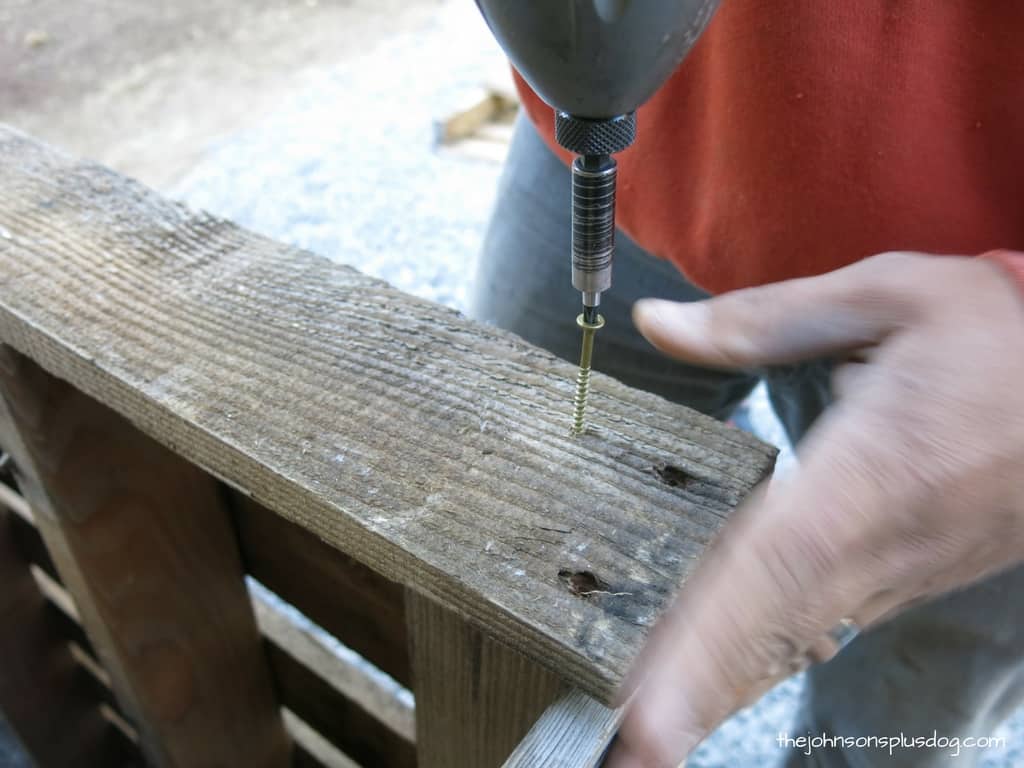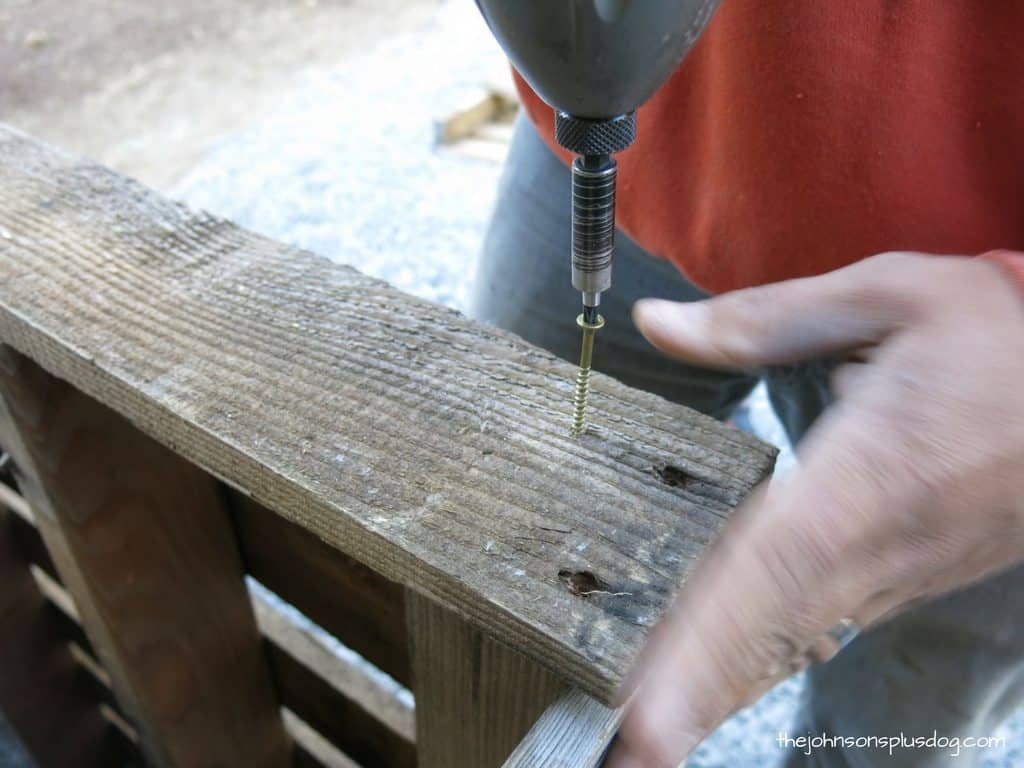 You may have some pallet boards that need to be cleaned up a bit in order to put the trim pieces on, like this one. If needed, simply use a hand saw or a Sawzall to cut these pieces off.
Learn more about the different types of saws for woodworking here.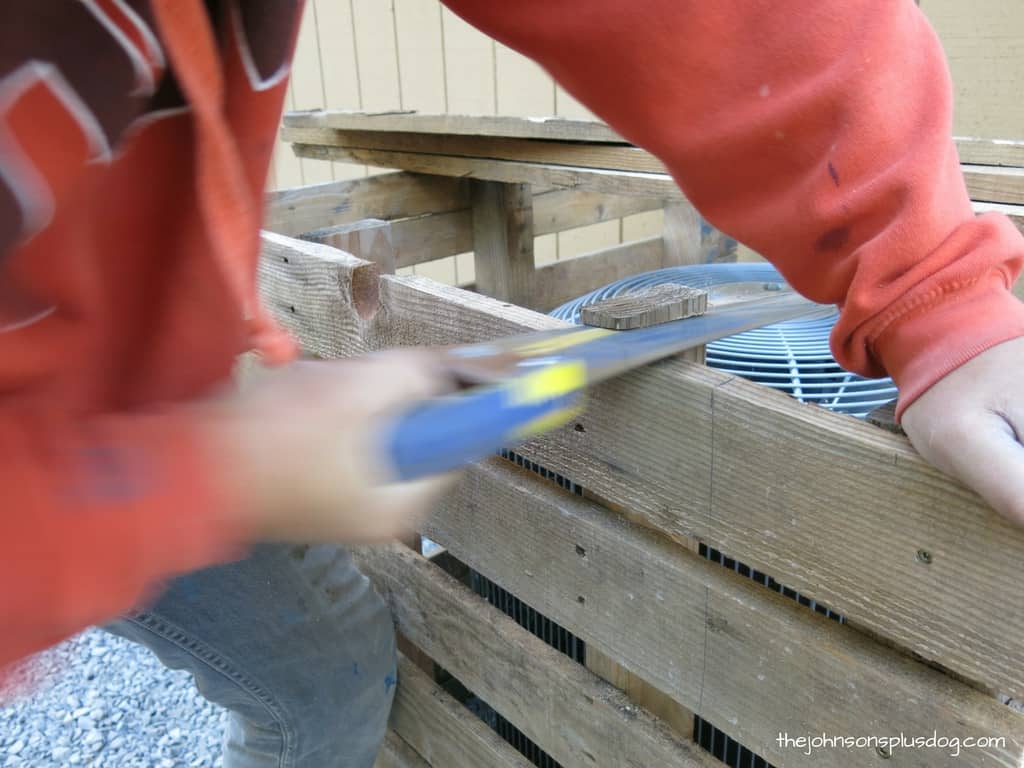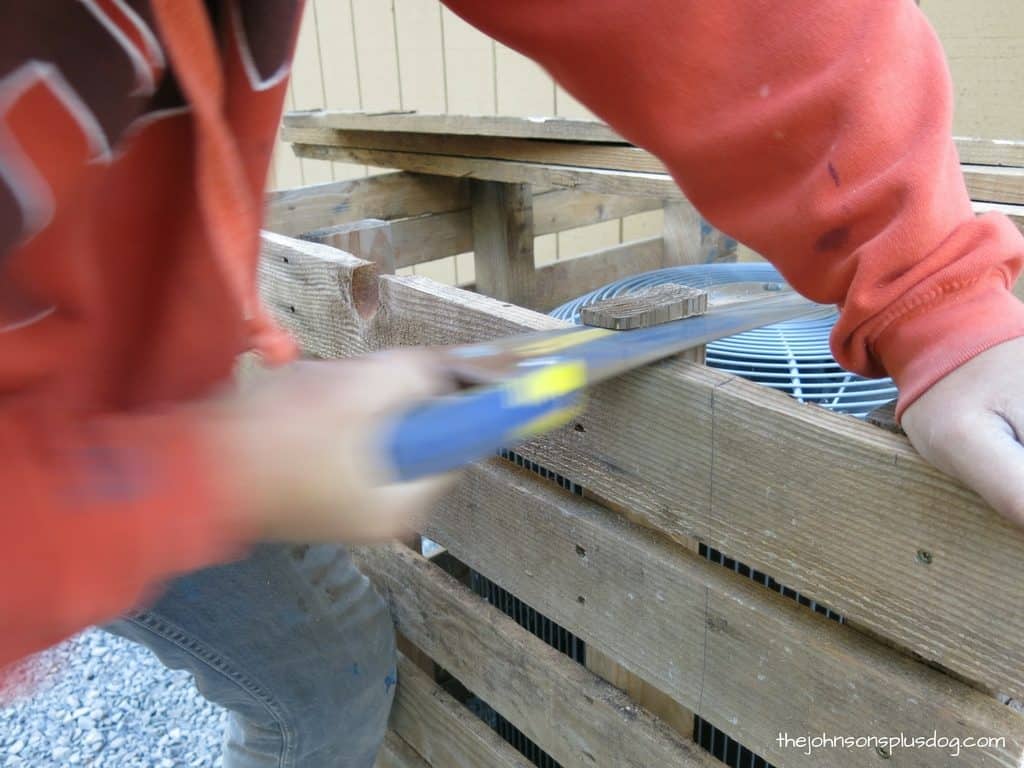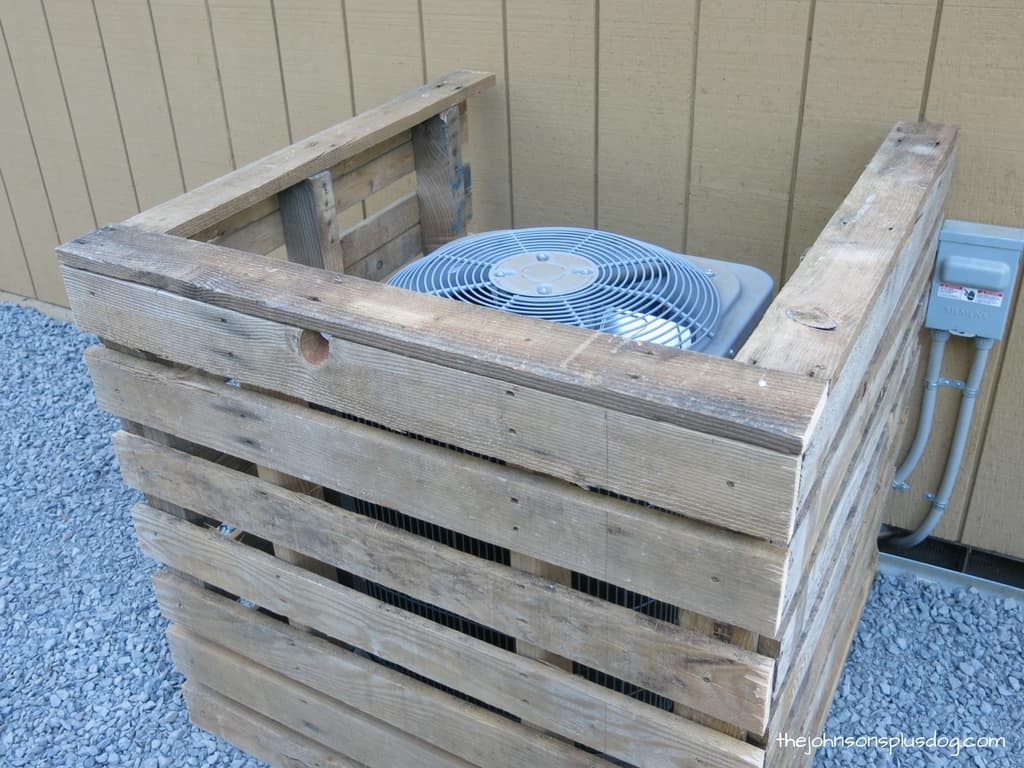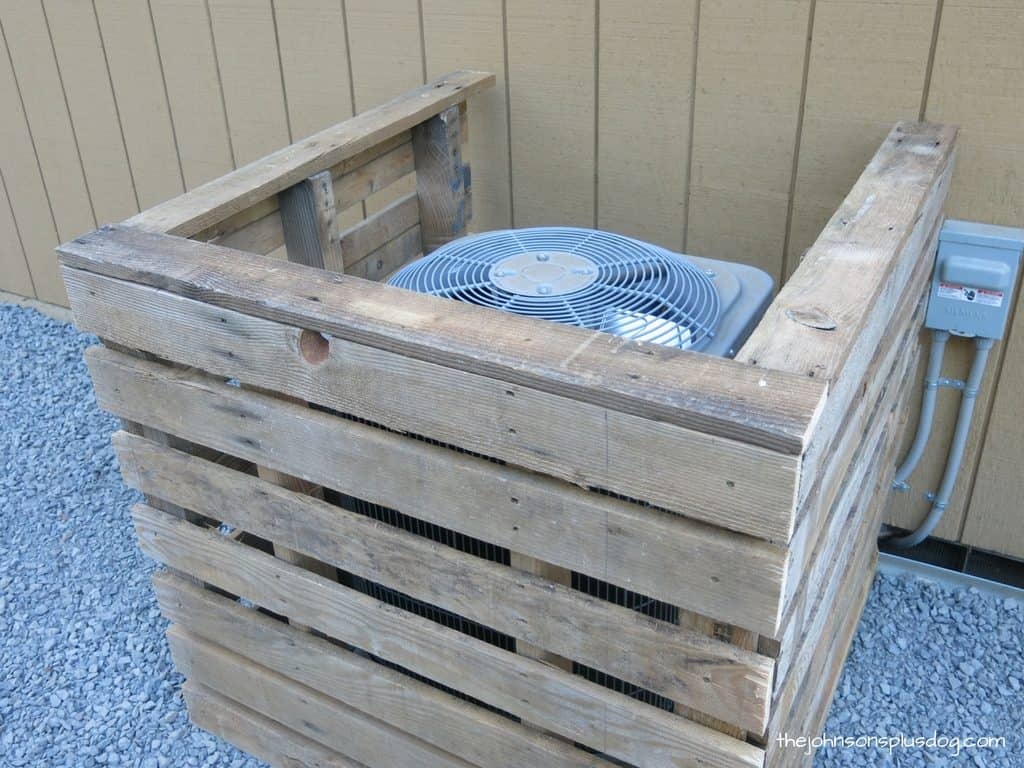 That's it! Seriously this Pallet AC unit cover is one of the easiest DIY projects ever. Set a timer and see if you beat us at 45 minutes. Ready, set, GO!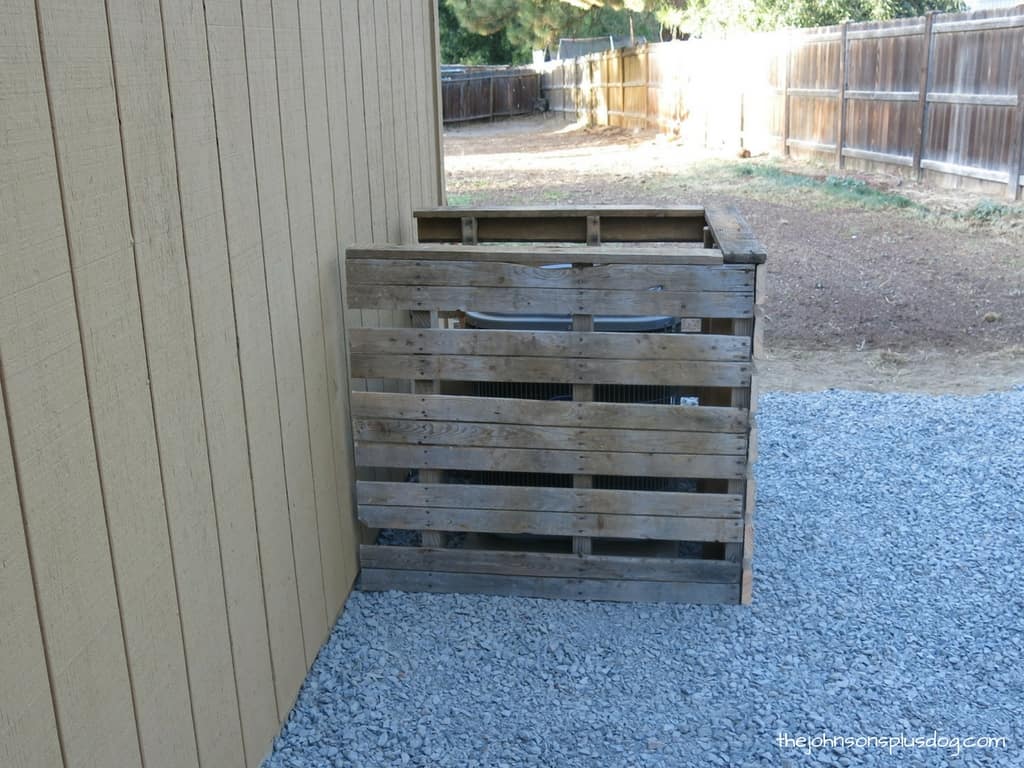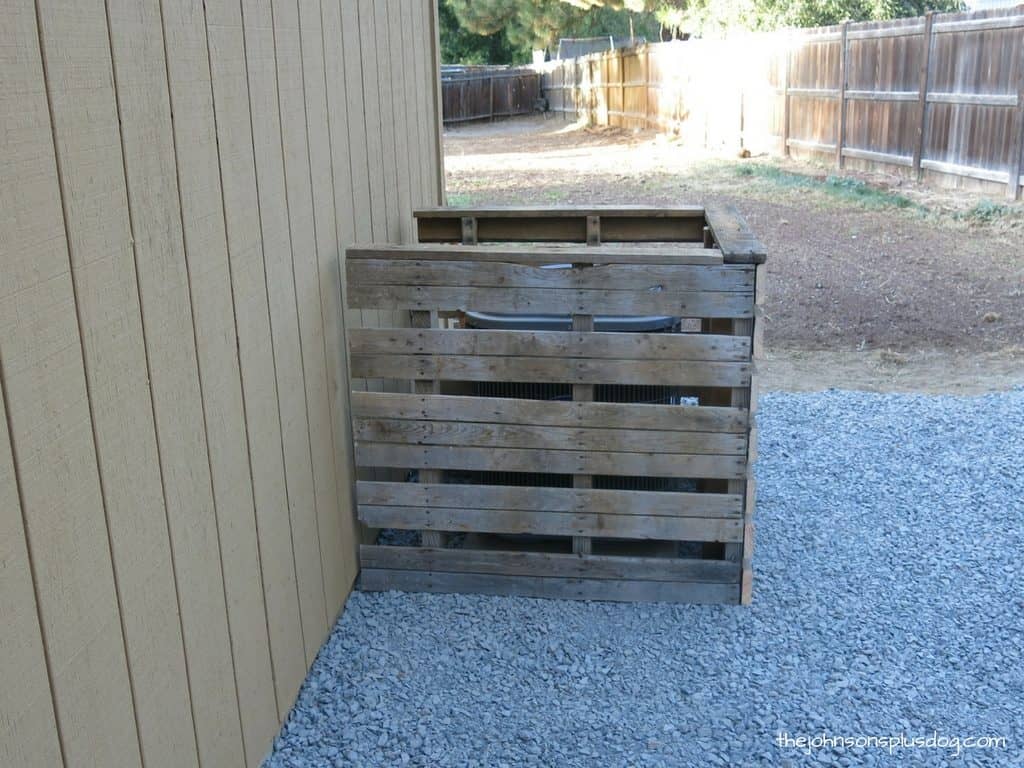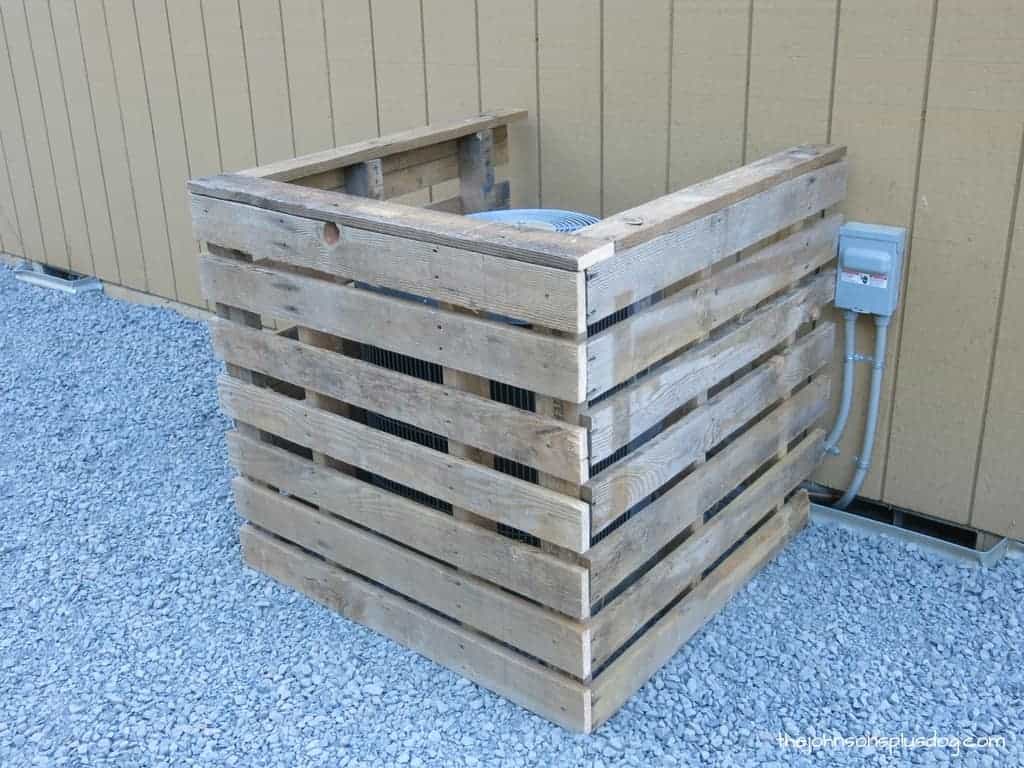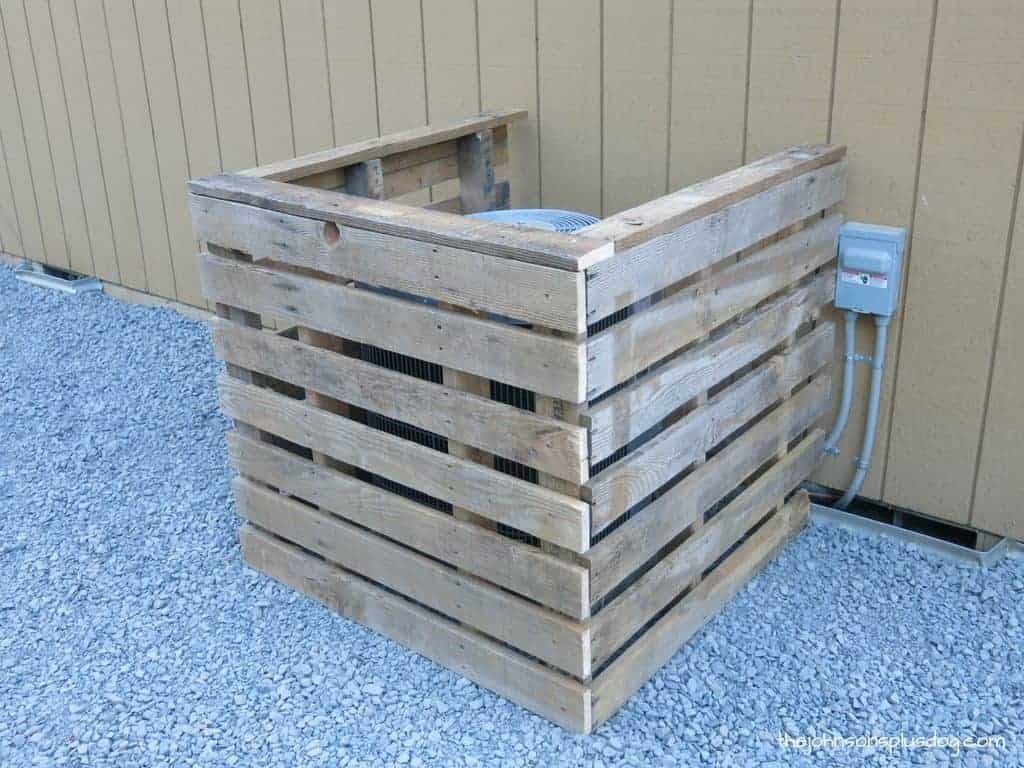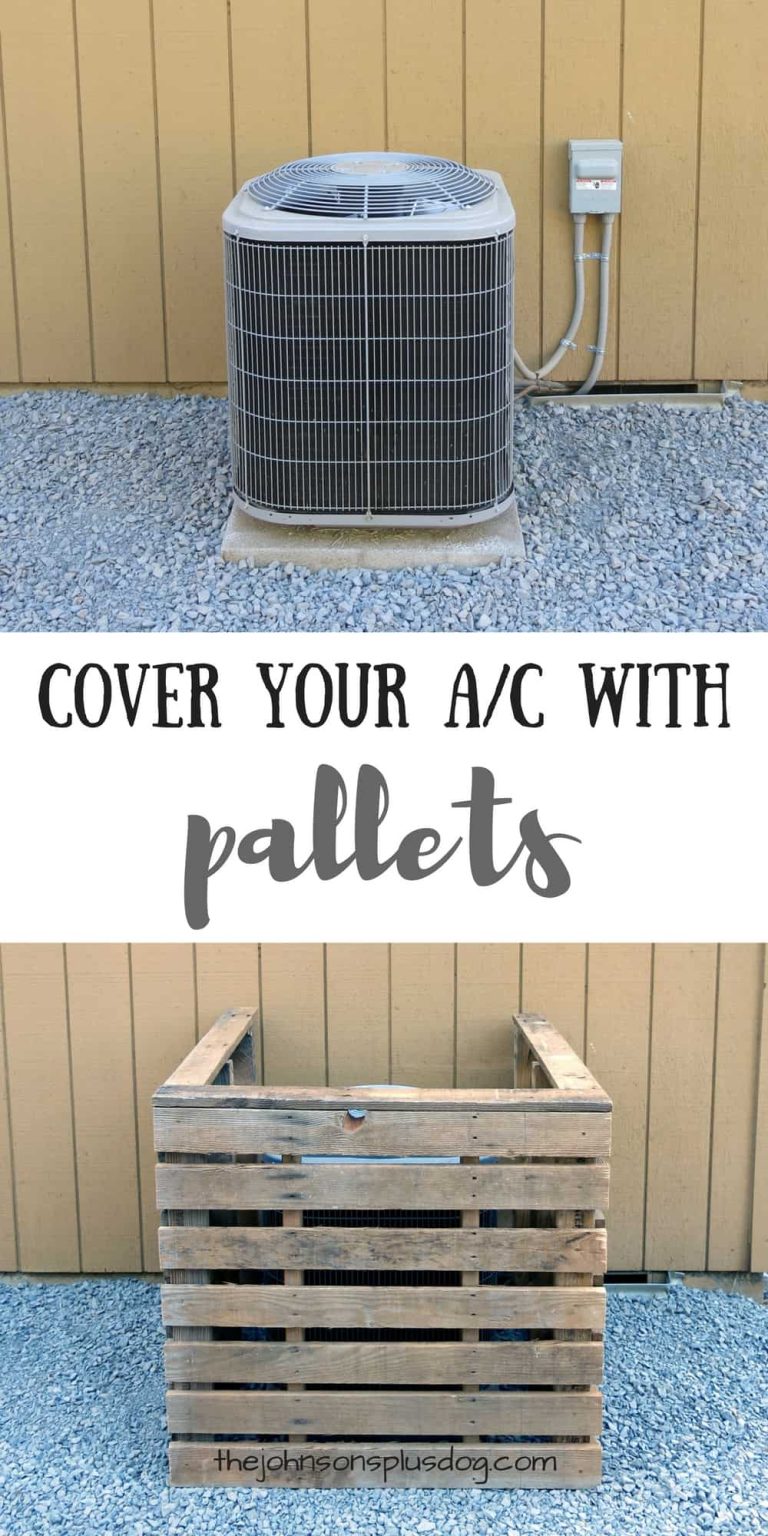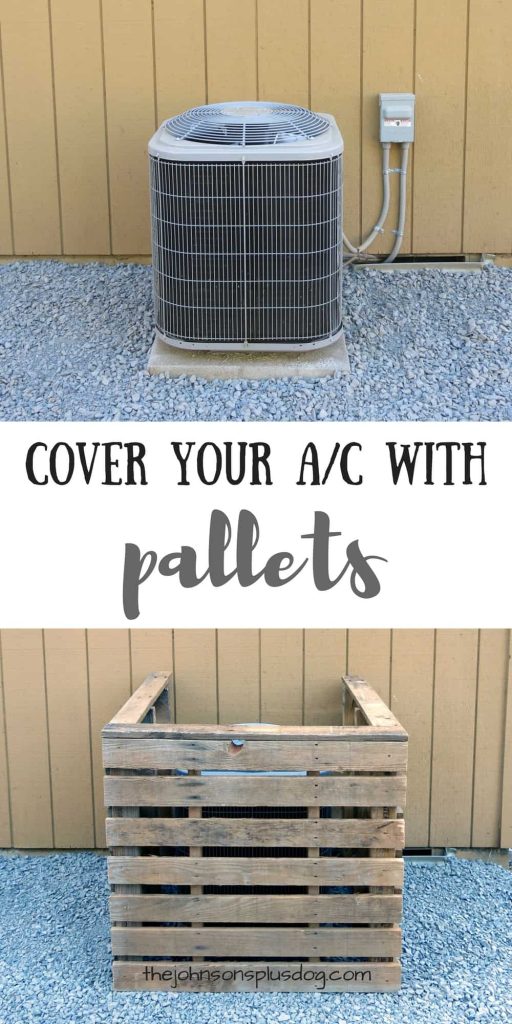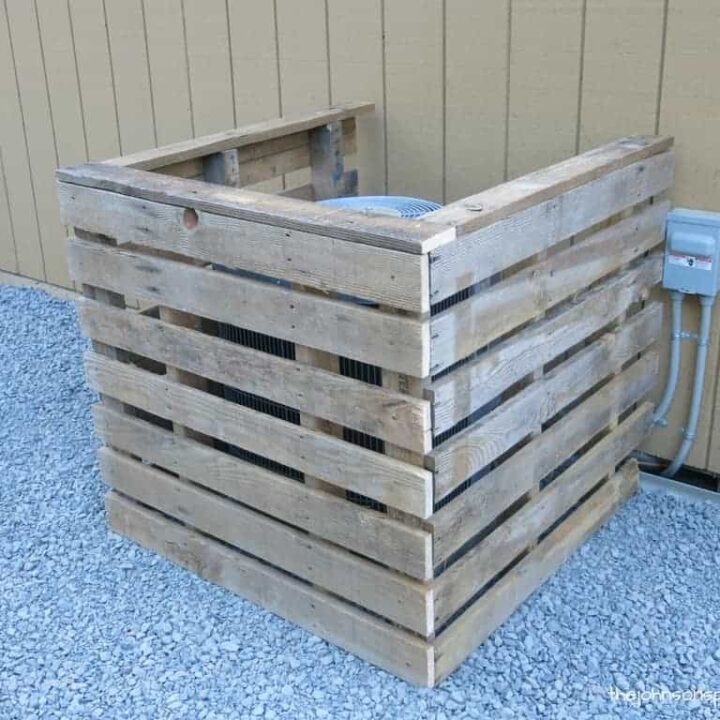 How To Make A DIY Pallet AC Unit Cover
Looking for a quick way to hide your AC unit? This DIY pallet wood AC unit cover is made from upcycled pallets, and comes together easily and quickly!
Tools
Handnd saw or Sawzall (if needed)
Instructions
Cut front pallet down to size.
Cut side pallets down to size and attach with wood screws.
Attach top trim pieces.