If you're stumped on how to ask your bridesmaids, you're going to love these 8 brilliant bridal party proposal ideas!
One of the first things you'll do after you get engaged is decide who will you in your bridal party (read my tips for choosing your bridal party here). Once you've narrowed it down and decided who will be your bridesmaids, you need to ask them. There are so many cute bridal party proposal ideas out there. Here are some of my recent favorite bridal party proposal ideas.
This post contains affiliate links, but nothing that I wouldn't wholeheartedly recommend anyway! Read my full disclosure here.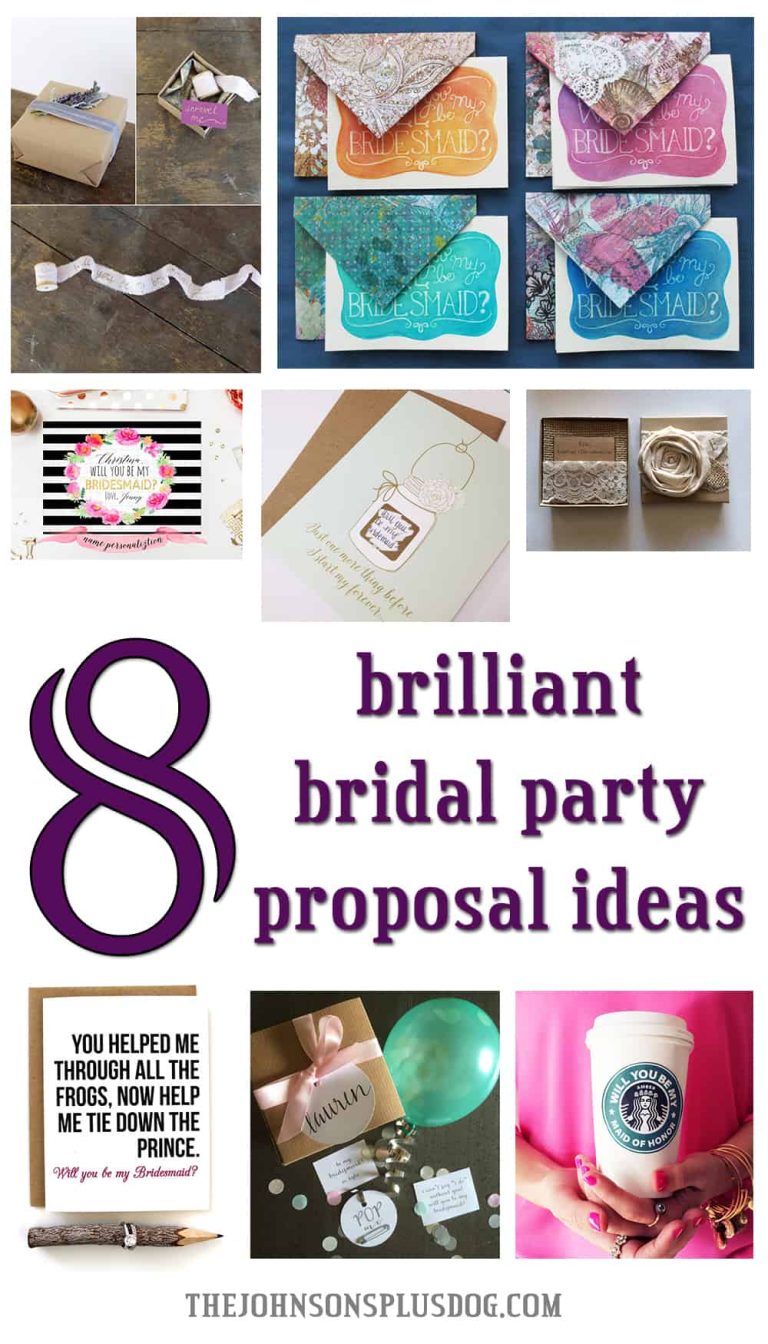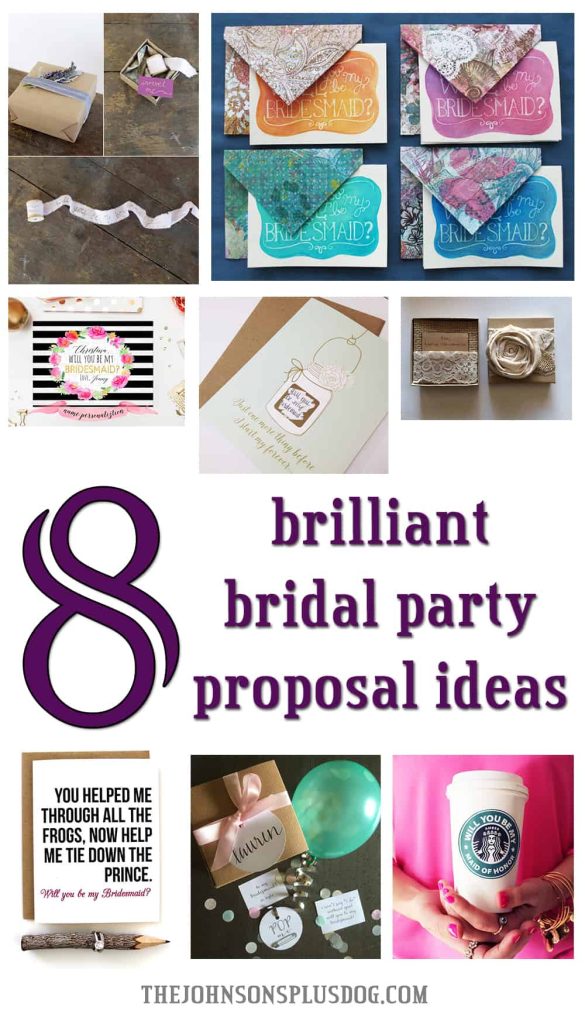 8 Brilliant Bridal Party Proposal Ideas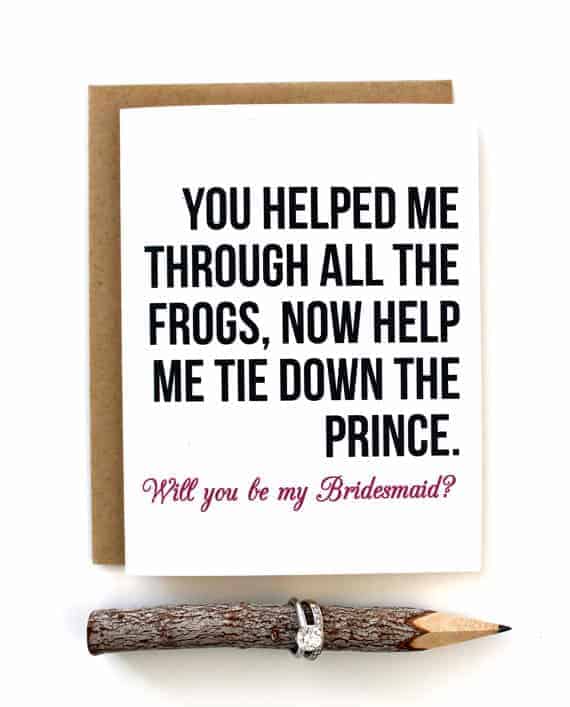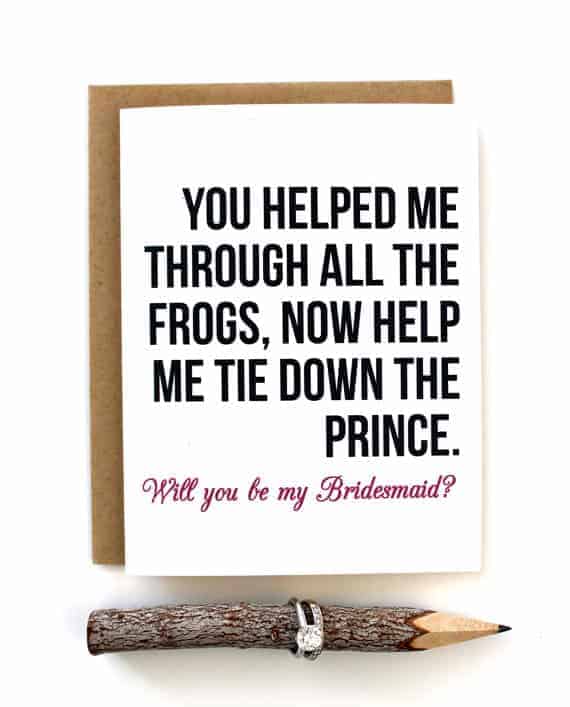 "You helped me through all the frogs, now help me tie down the price. Will you be my bridesmaid?" card. I just love this funny bridesmaid card on the Etsy store, PattersonPaper, and it's a perfect, lighthearted way to ask your 'maids.  As if this card could get any better, Jennifer at Patterson Paper has offered you guys the coupon code CONGRATS10 to get 10% off all orders.
---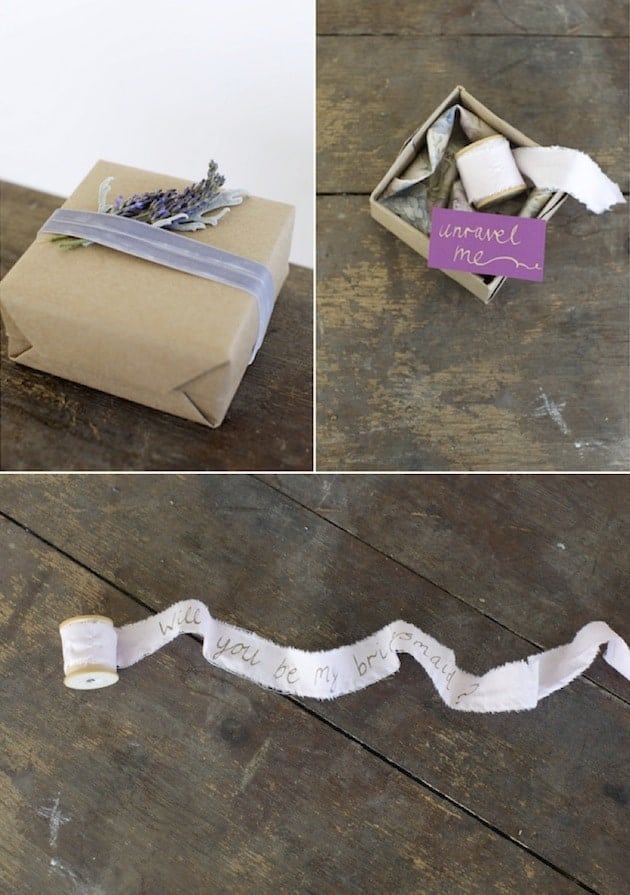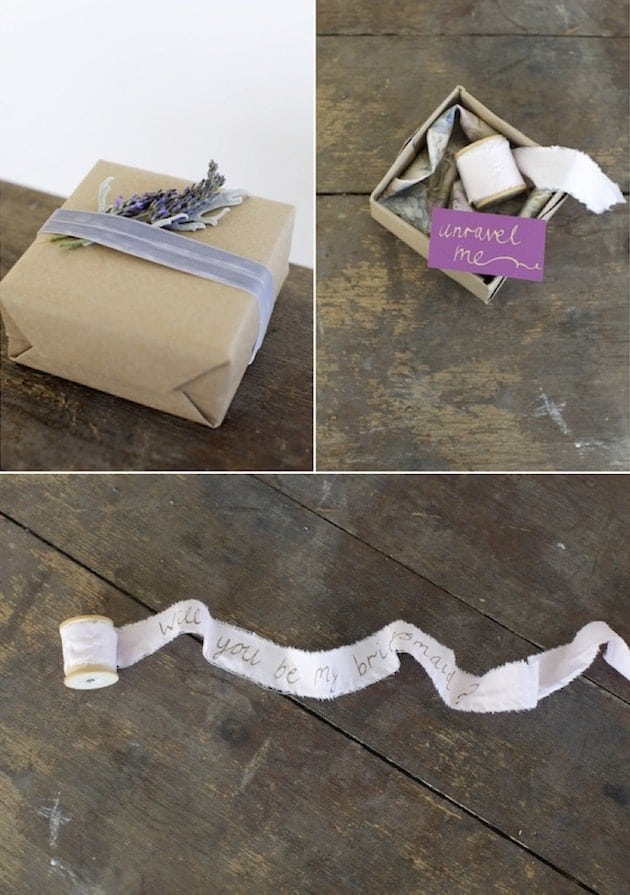 How cute is this DIY unraveling ribbon gift to ask "will you be my bridesmaid"? Check out the step by step tutorial over at Glamour and Grace. Photo by: Simply Jessie.
---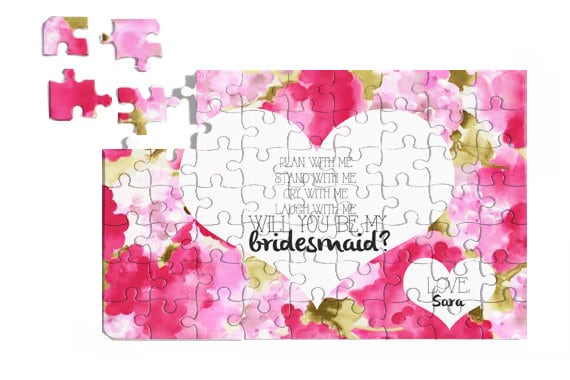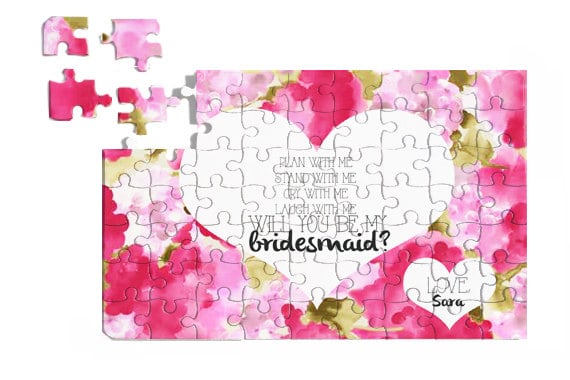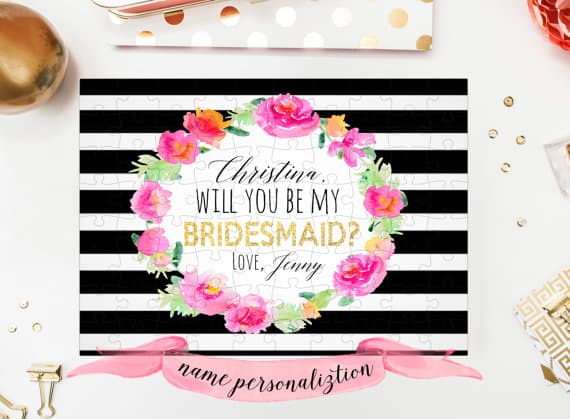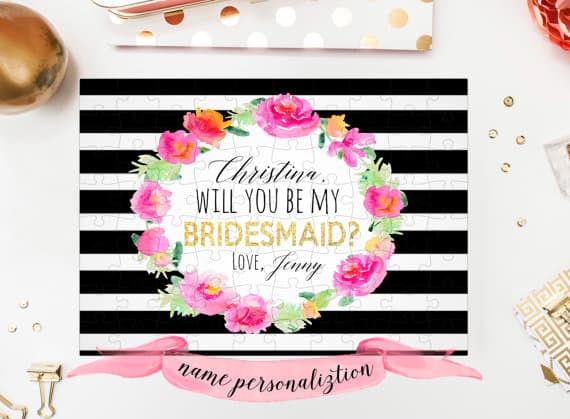 I love these creative personalized puzzle ideas, especially if a lot of your bridesmaids don't live close by. How fun would it be to receive this is the mail? You can order yours at MJ'sBridalSupport on Etsy.  They have some lovely bridal party proposal ideas in their darling little shop that you should totally check out too!
---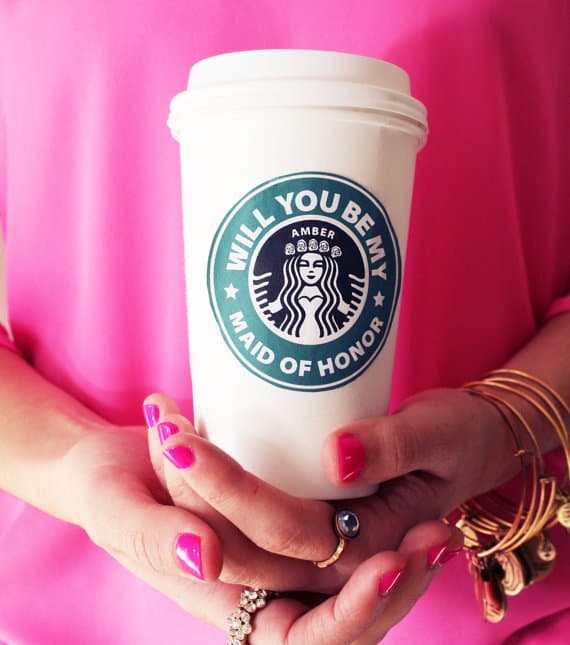 I'm sort of a coffee addict, so I just love this idea! You can purchase the personalized stickers over at ElenasLittleShoppe on Etsy.  (Update: These are no longer sold in her shop,  you can find similar ones here). Don't forget about the guys — Elena also has some awesome beer bottle stickers for "Will You Be My Groomsman" ideas.  
---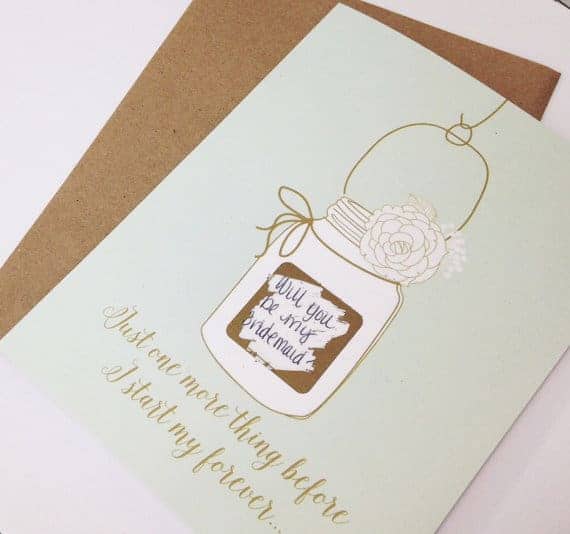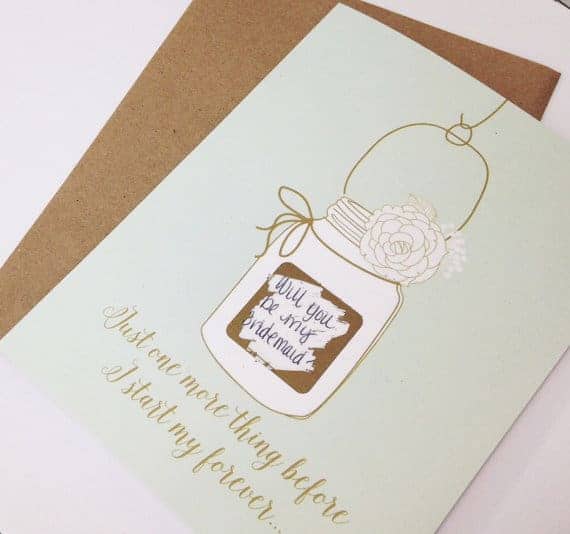 I've always loved the idea of scratch offs for save the dates, but how great are these "will you my bridesmaid?" scratchers?! You can buy them here on Etsy from LolliPop Ink. (Update: These exact ones are no longer sold. You can find similar ones here). 
---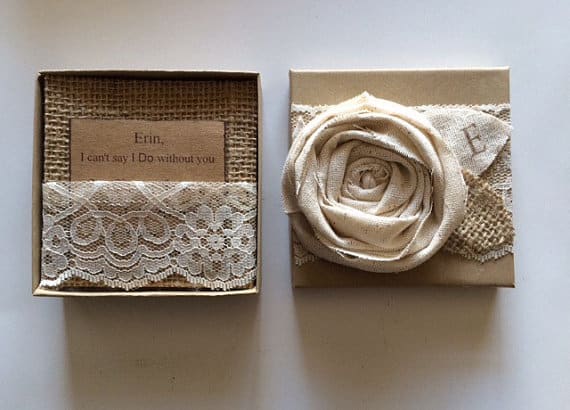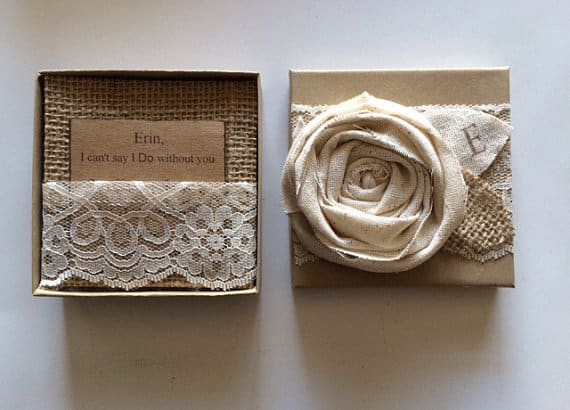 I just couldn't resist this one. It is totally my style and such a cute idea!  Purchase these over at TheLondonLoft on Etsy. She's got tons of other adorable boxes in her shop as well! 
---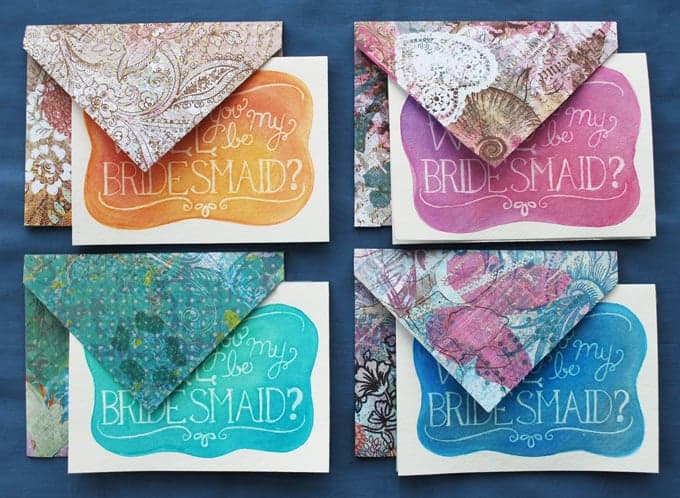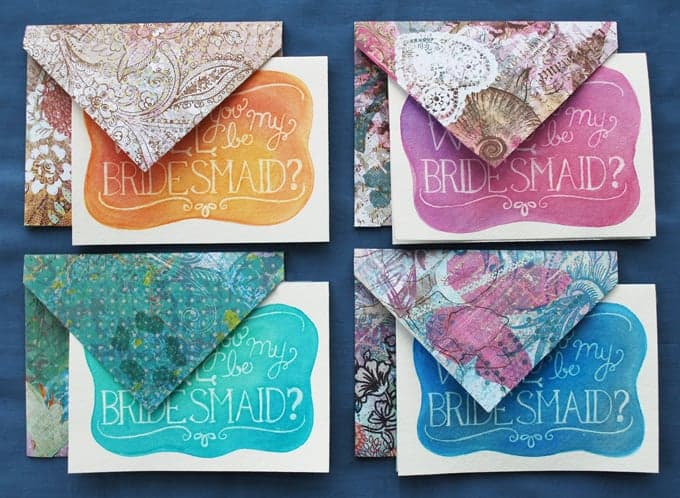 These DIY watercolor handmade cards are pretty perfect. I love the easy step by step tutorial that Glamour & Grace provides here. 
---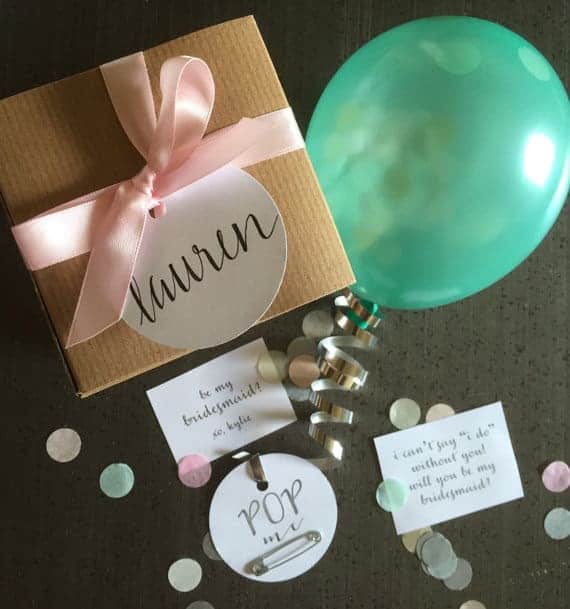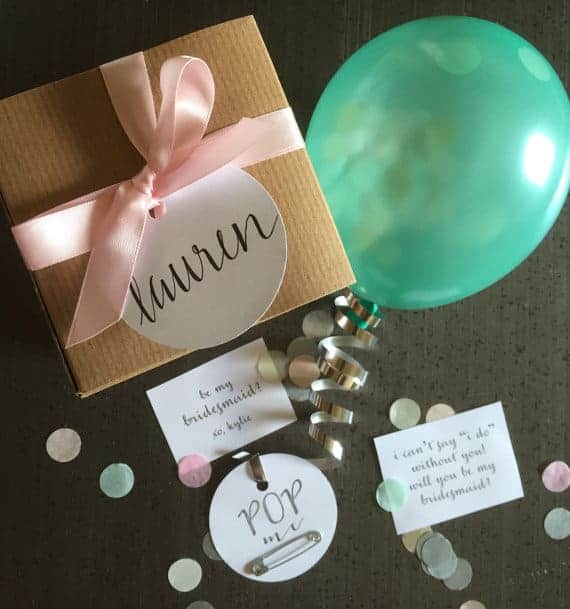 I'm in love with these personalized balloon message boxes from saturdayiminlove on Etsy. (Update: these exact ones are no longer sold, you can find similar ones here.) Aren't you?
---
So many cute bridal party proposal ideas! Which one is your favorite of the bridal party proposal ideas? How did you propose to your bridal party?