Today we're talking all about premarital counseling…specifically why you need premarital counseling and what to expect in premarital counseling.
Guys, I am seriously so excited for today's installment of Wednesday Wednesdays as we make our way through the Ultimate Wedding Checklist. I'm on cloud nine because I get to introduce you to one of my favorite people in the world. Lindsay Wilson is joining us to chat all about premarital counseling.
This post contains affiliate links, but nothing that I wouldn't wholeheartedly recommend anyway! Read my full disclosure here.
Premarital Counseling – Why You Need It & What To Expect
It's always one of the highlights in my "blogging career" when I get to collaborate with people I love (just like last year when I talked all about home buying with my awesome MIL).
Lindsay is one of those once-in-a-lifetime, will-you-be-my-matron-of-honor, kinda friends. See… here's proof.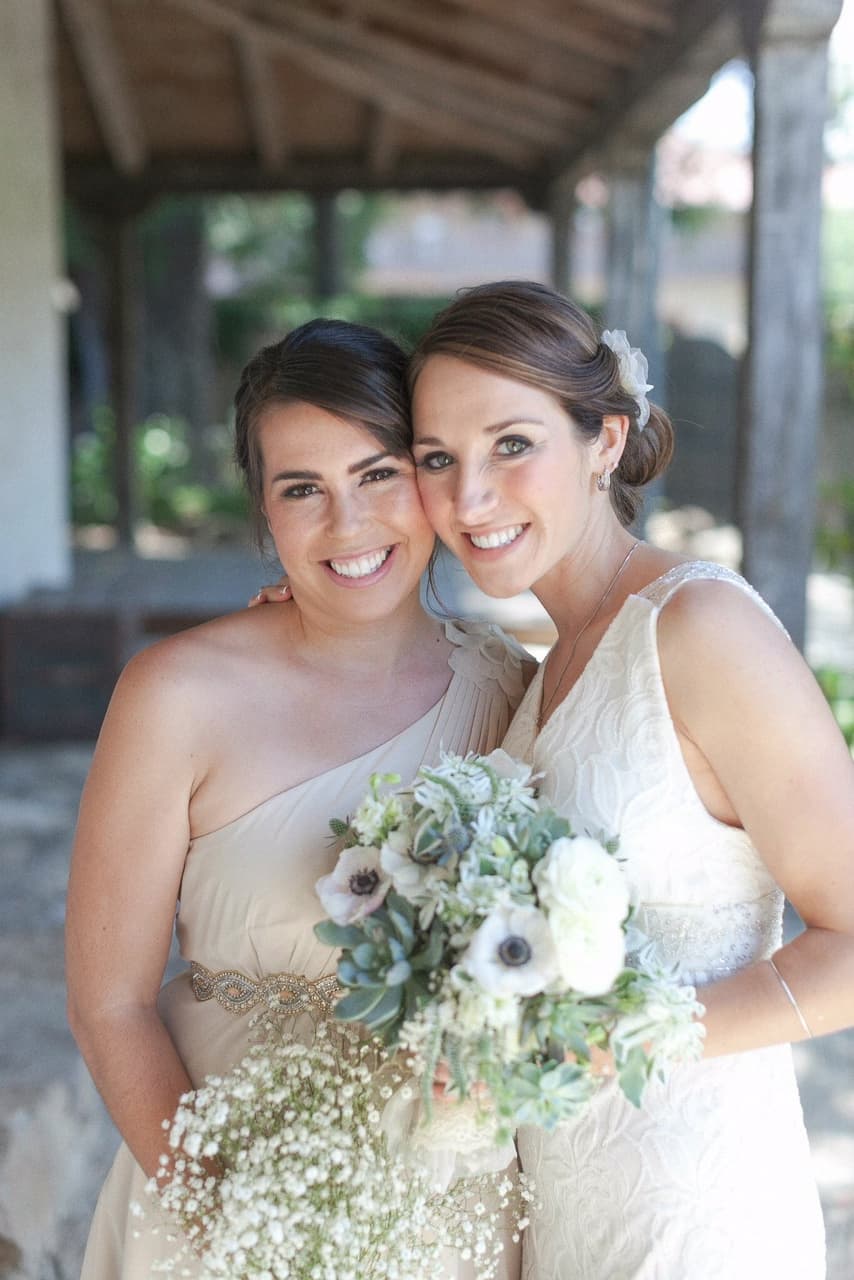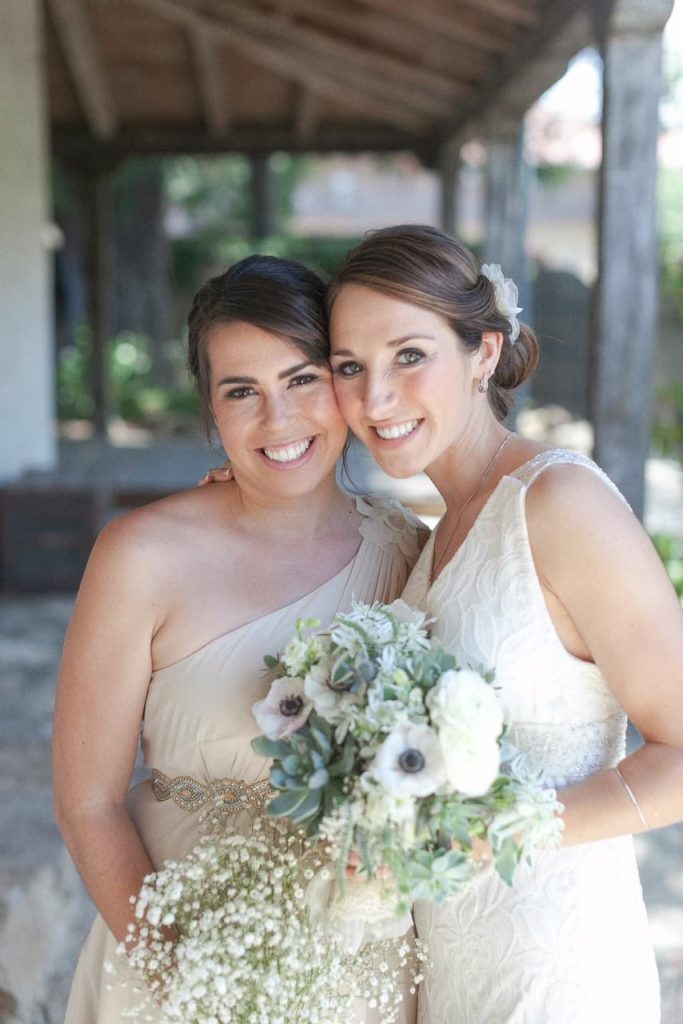 Lindsay is a licensed marriage and family therapist (LMFT) in San Diego, CA at Cultivate San Diego. Lindsay specializes in counseling services for couples, premarital couples, and individuals utilizing a model called Emotionally Focused Therapy (EFT).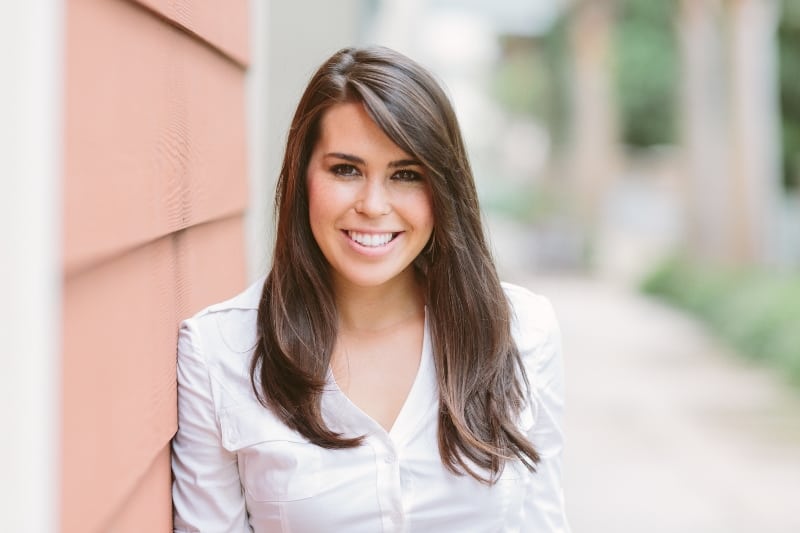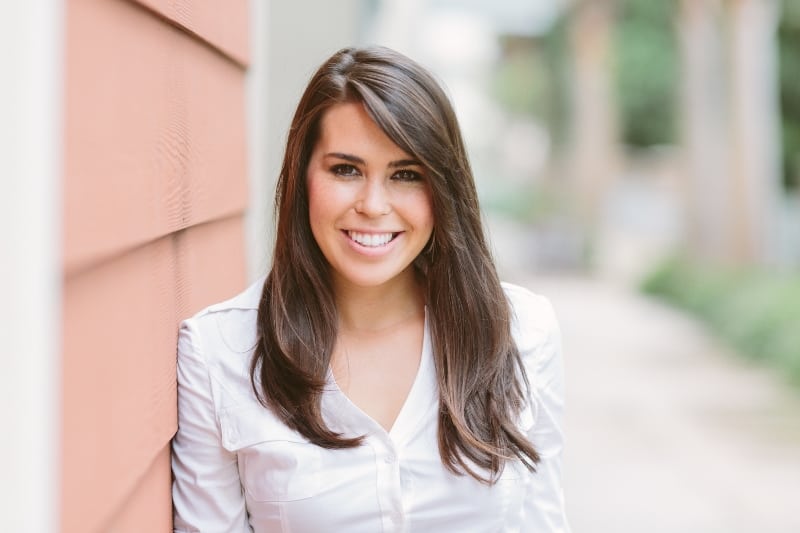 Website – LinkedIn – Pinterest
Not only is Lindsay my BFF, but she is totally a role model and inspiration to me. She is such a strong woman of God that is reflected in all she does. If you spend any time with her and her hubby, you can tell they have a thriving marriage that they both work hard to cultivate.
I asked Lindsay to come and chat with us today about premarital counseling.

What are the top reasons a couple should do premarital counseling?
1. Statistically, you will have higher marital satisfaction
Couples who underwent premarital counseling before their wedding had a 30% higher marital satisfaction rate to those who did not attend counseling before their wedding. (Health Research Fund Statistic)
2. Premarital Counseling is only a fraction of your wedding budget
The average cost of a wedding is close to $25,000 (in San Diego it's $34,000). Counseling for an average of 8 sessions is only 1-5% of that total wedding cost. Remember to include counseling as part of your wedding budget.
3. You can have a marriage more beautiful than your wedding day
Most things that you purchase for your wedding day are perishable, outside of photography and a cinematography. The benefits, tools, and connection that you gain from premarital counseling are all things you can take with you into your marriage far past the wedding day.
4. Learn to love as an action rather than a feeling
Most people fall in love and marry someone because they believe that person can make them happy. The problem is there will be many seasons in your marriage that you are not happy, and possibly no longer "in love" with your spouse.
Premarital counseling teaches you how to anticipate these seasons of marriage and how to choose to love your spouse even when you don't feel "in love".
5. Beat the divorce statistic
It is no secret that the divorce rate in America is close to 50%. This fact leaves most people believing that marriage is a coin toss. The truth is, marriage is anything but a coin toss. There are many things you can do to damage-proof your marriage and bring that percentage way down.
6. You are not the only ones impacted by a healthier marriage
A healthy marriage… leads to… a healthy family life… which leads to… healthy children … which leads to…your children's healthy marriages and families… which leads to…generations of families beyond yours that live into your legacy of having a healthy marriage and family…which leads to…a better and healthier world.
7. Unwind together
You get the opportunity to connect during the busy and often stressful wedding planning season. Taking time to recenter when you are busy can be a hard thing to prioritize. However, during this time, it is critical that you make time for each other.
It is good practice for how you will make time for each other during the busy seasons of your marriage.
Often my couples will make their weekly premarital therapy session a part of their date night/date day plan. It's the perfect way to unwind and focus on each other and your relationship.
8. Predict possible areas of needed growth
While it can sometimes be scary to talk about issues that are present in the relationship, counseling is an opportunity to predict the weaker areas of your future marriage and create a plan to prevent such issues from coming between you and your future spouse.
Through discussion and a survey test we will be able to predict those possible areas of growth for your marriage and spend extra time on those areas during your time in counseling.
9. Learn how to connect deeper and fight better
We need 3 things from our spouse in order to feel connected to them. We need to feel like they are attentive, responsive, and engaged. Conversely, our spouse needs to experience these same 3 things from us in order to feel connected.
When we don't feel attended to, responded to, or engaged with, we often are left feeling alone and unimportant to our significant other. In therapy, you will learn how to transform a moment of disconnection into an opportunity for connection.
In addition to learning how to connect deeper, you will also learn how to have productive disagreements that will actually benefit your relationship rather than hurt it.
Remember: a relationship without arguments is a relationship with a lot of secrets.
When should premarital counseling begin? (and when should it end?)
It's best that premarital counseling begin at least 4-6 months before the wedding.
I also like to do a follow up session a few weeks to month after the wedding to check in and process how the marriage is going thus far.
I typically recommend that couples attend a minimum of 7 sessions before their wedding day.
How can couples make the most out of their sessions?
When preparing my clients for what to expect in premarital counseling, I always tell my couples that I have no business giving them the stamp of approval to get married or not. I want them to bring their whole selves into the therapy room without fear that I will tell them something definitive about the success of their marriage. I tell my clients that: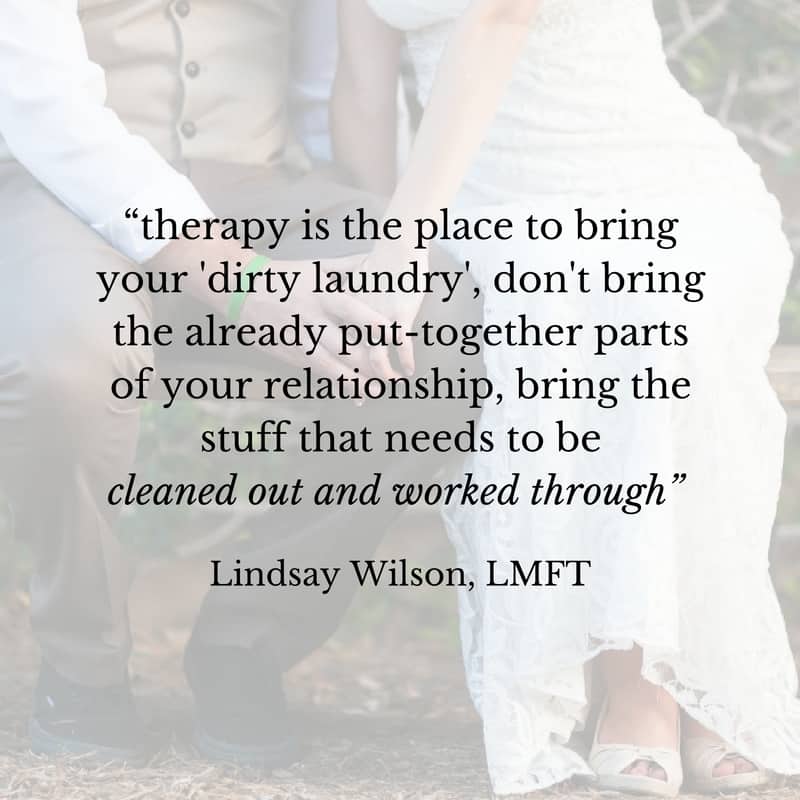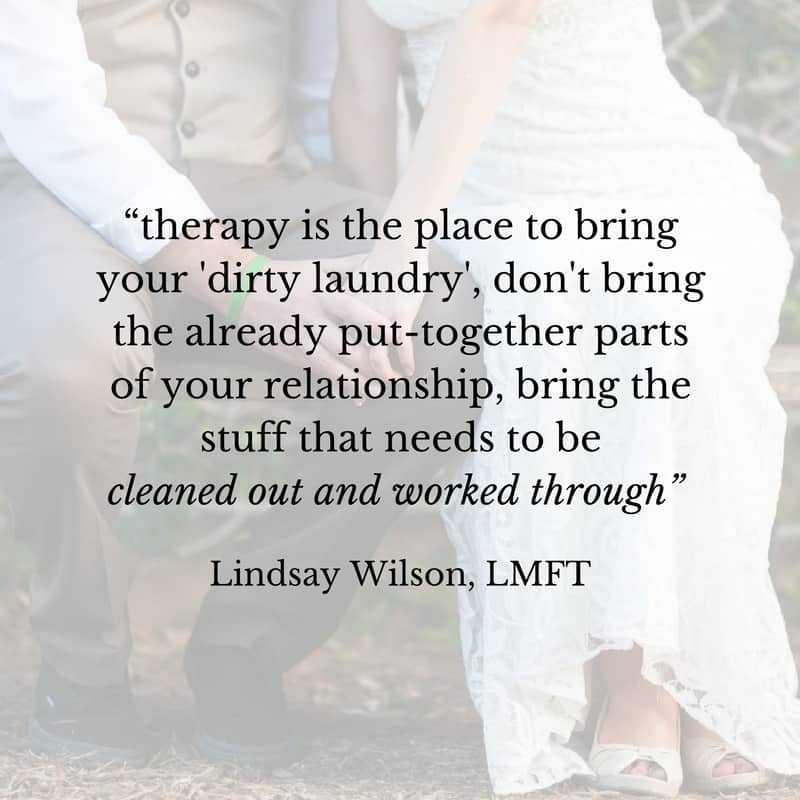 "therapy is the place to bring your 'dirty laundry', don't bring the already put-together parts of your relationship, bring the stuff that needs to be cleaned out and worked through".

What To Expect In Premarital Counseling
A lot of therapists do it differently, but I like to have 3 elements in my pre-marital counseling:
A relationship compatibility test that highlights a couples strengths and areas that need growth, such as SYMBIS or Prepare and Enrich
Communication tools
Emotion Focused Therapy is an approach of couples counseling that aids couples in creating a stronger bond by helping them to develop more depth in the attachment, as well as form strategy for moments when the connection in the relationship is wavering.
What are three books you recommend to engaged couples?
1. Hold Me Tight – Sue Johnson
2. The Meaning of Marriage – Timothy Keller
3. The Seven Principles of Making Marriage Work – John Gottman
Honorable mention to Gary Chapman's work with the "5 Love Languages" and "Things I Wish I'd Known Before We Got Married"
What are your favorite things about facilitating premarital counseling?
Gosh, I just love working with couples who value the importance of learning more about each other, dreaming together about their hopes and expectations in marriage, and preparing for the challenges and blind spots that we all face in our marriages. Walking with a couples through this unique time in their relationship is always such an honor and privilege.
Marriage can be HARD! Most couples believe that if their relationship is happy and strong enough, they can skate through the difficulties of marriage. The truth is we will all struggle at one time or another in our marriages.
One of the things I love about premarital therapy is helping a couple to work through some of the growth areas in their relationship thus far. By helping them to smooth over some of these bumps in their relationship, my goal is always for them to go into their marriage more confident about their ability to traverse through difficulties and hard seasons in their marriage.
I love helping couples to dream together about what their mission statement is for their marriage. What are their shared values? What will be priorities for them?
What's your favorite thing to do in the fall time with your hubby?
Well we live in San Diego… So let's honest, there isn't must fall weather happening down here. Regardless of the weather, we have some really yummy fall recipes to add into the meal rotation.
When we do get some rain or cold weather we love to pull out a puzzle and make some tea. This year particularly we are just so excited to introduce our baby girl to all the fall festivities!
---
Thank you so much for all those great word of wisdom, Lindsay! It's so easy to get lost in the wedding planning that sometimes you can forget what this whole wedding things is all about, a sweet celebration of love and beginning of a marriage.
Be sure to check Lindsay's website and social media channels for more good marriage vibes. Website – LinkedIn – Pinterest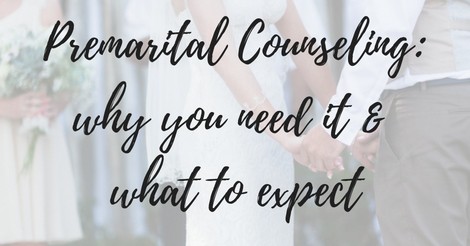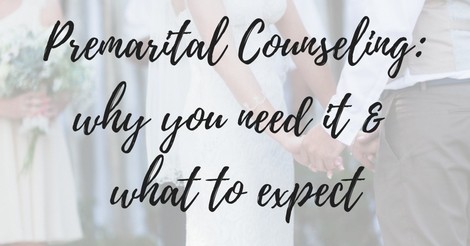 Were you surprised by anything in this interview? Do you feel prepared for what to expect in premarital counseling?
Let us know in the comments below!