Are you stumped looking for some gifts for newly married couple? I've got you covered! You're going to love these gifts for newlyweds!
Choosing gifts for a newly married couple can be tough, I get it! They just got married, so the probably got SO many gifts for everything they need in their house.
If you need some help choosing gifts for a newly married couple, my first bit of advice would be to take a look at their wedding registry! Chances are that there is still items that were never purchased on there. It is a safe bet because you know it is something that the newly married couple chose, so they are going to like it.
I know that after we got married, we kept our wedding registry open as sort of a "wish list" of the things we still wanted to save up to purchase for ourselves. This would have been a great spot for someone to looking if they were trying to figure out what to buy us.
If there's nothing good left on the registry, have no fear. I've put together 12 great gifts for newly married couples that are sure to be a big hit.
This gifts for newly married couple post contains affiliate links, but nothing that I wouldn't wholeheartedly recommend anyway! Read my full disclosure here.
Are you ready to see the ideas for gifts for newly married couple?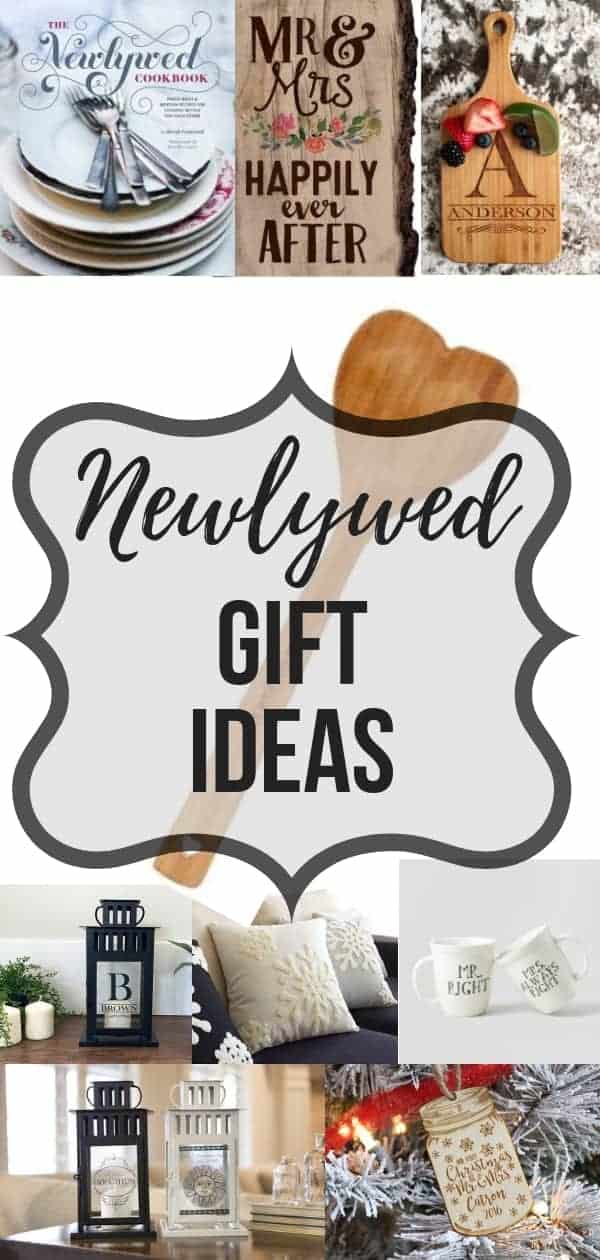 I just love this cute pillow! It's perfect the perfect gift for newlyweds that are settling into their first home.
Ok, ok… so the newly married couple probably got a few too many kitchen utensils for their wedding, but there's always room for ONE more when it is this cute. It's perfect for the lovebirds as they learn how to make dinner together and are definitely sneaking in some dancing in the kitchen.
Personalized gifts are perfect gifts for newly married couples. They are still settling into their new last name together. This cutting board comes has 8 designs to choose from and the website, Qualtry, offers tons of other sizes, shapes and colors of cutting boards. I love that this cutting board has a handle with a hole at the top because it could totally be hung on the wall as decor while not in use. Otherwise, it would also look great resting against the backsplash as some added decor in the kitchen.
These mugs make me giggle. What a fun and lighthearted gift to give to a newly married couple. As they begin to navigate through the adventure of marriage, they will learn that it is definitely is "Mrs. ALWAYS Right".
I've got a secret. Ornaments are totally my go-to Christmas gifts. I love giving either ones I made or handmade ones from places like craft fairs or Etsy. This one is perfect for the couple celebrating their first Christmas together as Mr. & Mrs. I love the fun mason jar shape!
Games
Some of my favorite nights as a newly married couple can be summed up on the floor with a cup of coffee in hand playing games with my new hubby (and sometimes some friends and family). We love Cards Against Humanity (adults only!) or the more family friendly version, Apples to Apples.
Lanterns are super in right now and I'm all aboard. I love this affordable lantern that can be customized with the newlywed's last name. And anything personalized fits right in with these gifts for newly married couple. You can choose from 8 different designs and they come in both white and black.
I'm sure the newlyweds are starting with next to nothing for Christmas decorations. I love this cute decoration that doubles as a cute Christmas card holder!
As the couple moves in and start getting settled, it may be some time before they get decor up on their walls. This piece is so cute with its rustic style and will fit in to a variety of home decor styles.
Pillows are great seasonal decor items because they actually get used! This set of four is so cute (and super budget friendly!)
I got this cookbook as a bridal shower gift years ago and I love it! It is full of some many tasty recipes that are perfect for newly married couples.
This cute weekly meal planning board would be so perfect hanging in the kitchen as decor. I love that it is so functional to keep newlywed organized with meal planning, chores or scheduling!
Shopping for newly married couples doesn't have to be so overwhelming! Did you find a gift for the newlyweds in your life? Maybe found something that caught your eye and you'll be gifting to yourself? 🙂
Which of these gifts for newly married couple is your favorite?
Let me know in the comments below!!