Are you stumped looking for some Christmas gifts for newly married couples? We've got you covered! You're going to love these Christmas gifts for newlyweds!
Choosing gifts for newly married couples can be tough, I get it! The happy couple just got married, so they probably got SO many gifts for everything they need in their house.
If you need some help choosing gifts for a newly married couple for their first holiday season, my first bit of advice would be to take a look at their wedding registry!
Chances are that there are still items that were never purchased as wedding presents from their registry after their big day. It is a safe bet because you know it is something that the newly married couple chose, so they are going to like it for their first Christmas. This is a great way to find the best Christmas gifts for your favorite couple in their first year of marriage.
I know that after we got married, we kept our wedding registry open as sort of a "wish list" of the things we still wanted to save up to purchase for ourselves. This would have been a great spot for someone to look if they were trying to figure out what to buy us, as newlyweds, for a special occasion, or as a holiday gift.
If there's nothing good left on the registry, have no fear. I've put together 12 great gifts for newly married couples that are sure to be a big hit. Get inspired to find the perfect Christmas gift for the new couple!
Related – Looking for more gift ideas? Check out all of our gift guides here!
This Christmas gifts for newlyweds post contains affiliate links, but nothing that I wouldn't wholeheartedly recommend anyway! Read my full disclosure here.
Are you ready to see the ideas for Christmas gifts for newlyweds?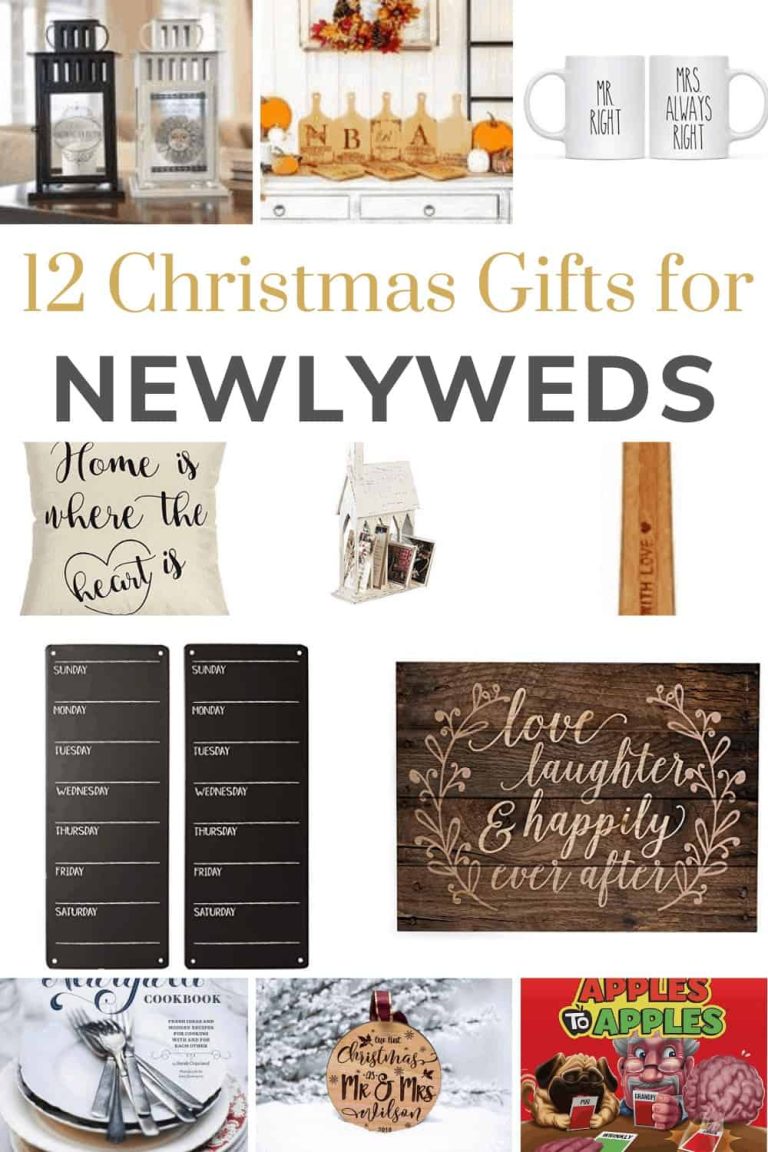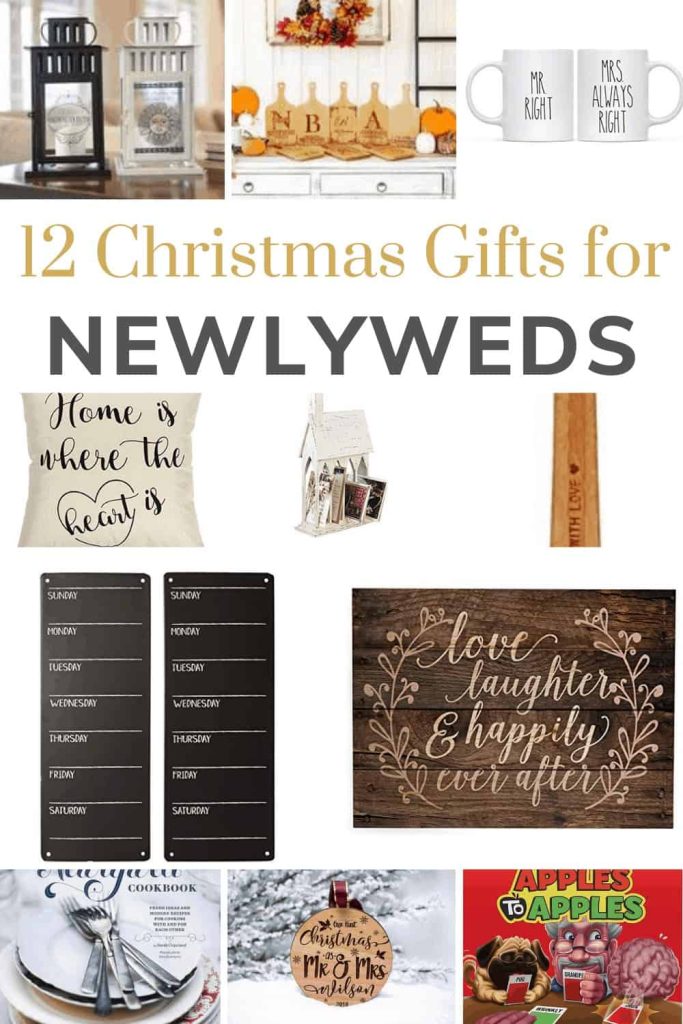 12 Christmas Gifts for Newlyweds
Photo Credit: Amazon
I just love this cute pillow that says "Home is where the heart is"! It's the perfect gift for newlyweds who are settling into their first home. This is a great addition to their new home! The neutral colors and style of the pillow allow it to fit in any room. 
Photo Credit: Amazon
Ok, ok... so the newly married couple probably got a few too many kitchen utensils for their wedding, but there's always room for ONE more when it is this cute.
This heart-shaped wooden spoon that says "Made with Love" on the handle is an excellent choice for the lovebirds as they learn how to make dinner together! They are definitely sneaking in some dancing in the kitchen as they settle into married life.
Photo Credit: www.qualtry.com
Personalized gifts are perfect gifts for newly married couples. They are still settling into their new last name together. With 8 designs to choose from on the website, this is a great option for a meaningful gift!
Qualtry, offers tons of other sizes, shapes, and colors of cutting boards and the customization gives it a personal touch (and shows that you put some thought into their gift). 
I love that this cutting board has a handle with a hole at the top because it could totally be hung on the wall as decor while not in use. You've gotta love things that double as decor, but are also functional. 
Otherwise, it would also look great resting against the backsplash as some added decor in the kitchen. Pretty cutting boards like this also make a great cheese board. 
Photo Credit: Amazon
These "Mr. Right and Mrs. Always Right" mugs make me giggle. What a fun and lighthearted gift to give to a newly married couple. 
As they begin to navigate through their new life and the adventure of marriage, they will learn that it is definitely is "Mrs. ALWAYS Right". 
These cute coffee cups will set the tone for a lighthearted, playful marriage right from the morning coffee. They are also a conversation starter when guests come to visit. Keep them displayed on a shelf to also use them as decor. 
If you want to make this gift a little "bigger", pair it with a classic espresso maker! 
Photo Credit: www.etsy.com
I've got a secret. Christmas ornaments are totally my go-to Christmas gifts. I love giving either the ones I make or handmade ones from places like craft fairs or Etsy.
This one is perfect for the couple celebrating their first Christmas together as Mr. & Mrs. This thoughtful gift also has a spot for the year to remember their wedding date. 
Just think about the sweet nostalgia they will have every Christmas as they unpack the Christmas decorations, reminding them of the start of their journey together as a married couple. They will definitely cherish it year after year. 
This little gift may also jumpstart a new tradition for the newlywed couple of collecting meaningful ornaments over the years. 
Photo Credit: Amazon
Some of my favorite nights as a newly married couple can be summed up on the floor with a cup of coffee in hand playing games with my new hubby (and sometimes some friends and family).
We love Cards Against Humanity (adults only!) or the more family-friendly version, Apples to Apples. Games made a great gift! There are SO many options. Seriously there are games for all tastes!
Games, whether it is card games, board games, or even some video games, provide hours of fun together and foster quality time as a couple. They are perfect for cozy nights in as a couple or when they are hosting friends and family at their house.
I also love that it includes a little friendly competition, which can spice up the relationship. 
While you are playing games with someone, you inevitably discover new things about each other's strategies and problem-solving skills and learn more about each other.
Photo Credit: www.qualtry.com
Lanterns are super in right now and I'm all aboard. I love this affordable lantern that can be customized with the newlywed's last name. And anything personalized fits right in with these Christmas gifts for newlyweds and becomes a keepsake. 
For these unique gifts, you can choose from 18 different designs for personalizing them and they come in both white and black. 
​Put a candle in the lantern and create a warm and cozy atmosphere, which is perfect for romantic evenings - inside or outdoors. During the day, when they aren't in use, they also double as home decor! 
Photo Credit: Amazon
One thing the newly married couple probably doesn't have yet is a Christmas card holder. With a distressed cream finish and rustic design, this church-shaped cardholder is the perfect table decor during the Holiday season or for your everyday use.
Open spaces in the middle are the perfect way to keep Christmas cards from friends and family. This cute card holder is such a fun gift idea! 
Even when it is not filled with Christmas cards, it looks great sitting on a shelf, mantle, or coffee table. When it isn't the holiday season, you could keep it out to hold and organize your mail, bills, magazines, books, or other papers.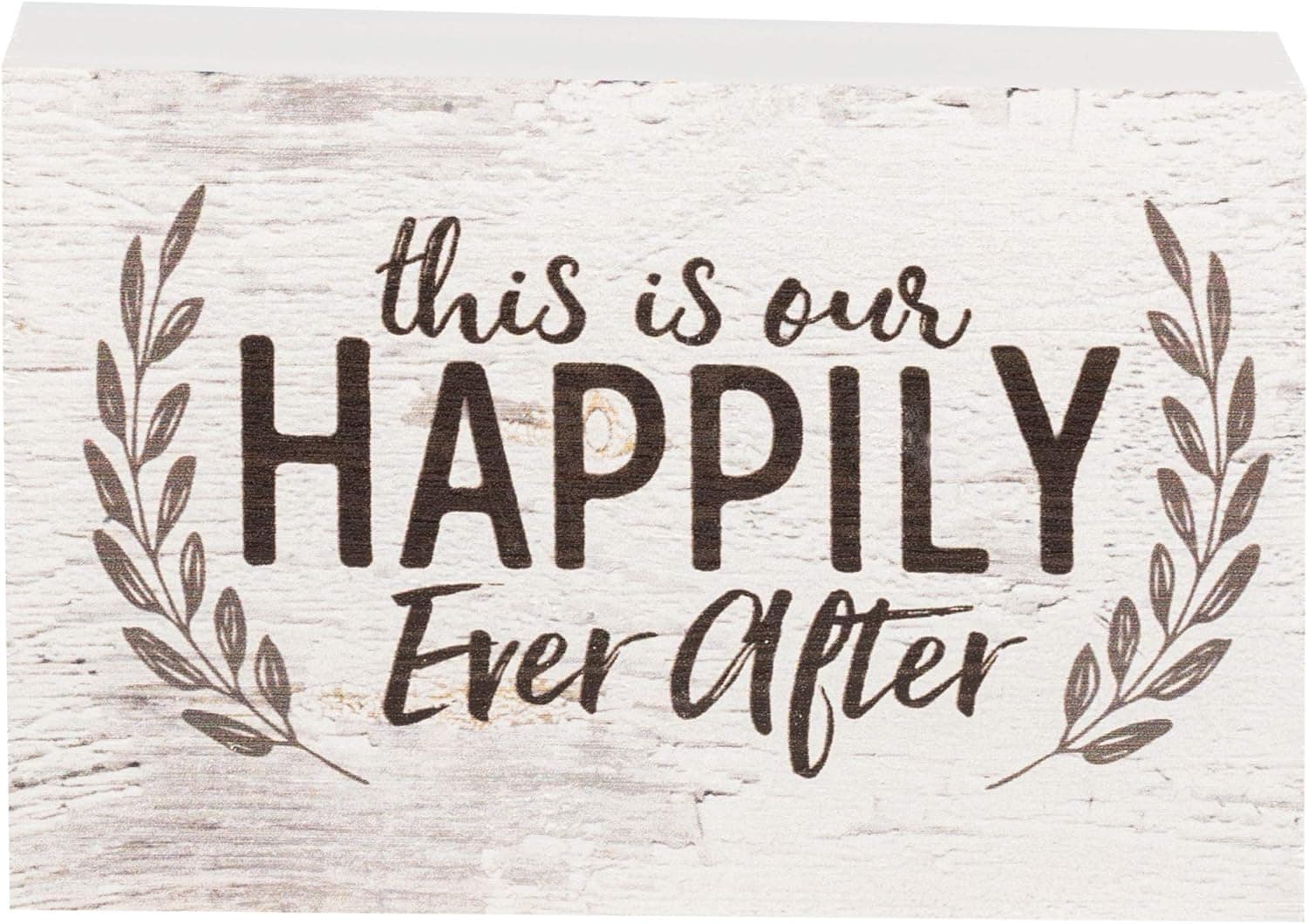 Photo Credit: Amazon
As the couple moves in and starts getting settled, it may be some time before they get decor up on their walls. I love this one that says "This is our happily ever after". This wall decor is so cute with its rustic style and will fit into a variety of home decor styles. It would look great hanging in a living room or home office.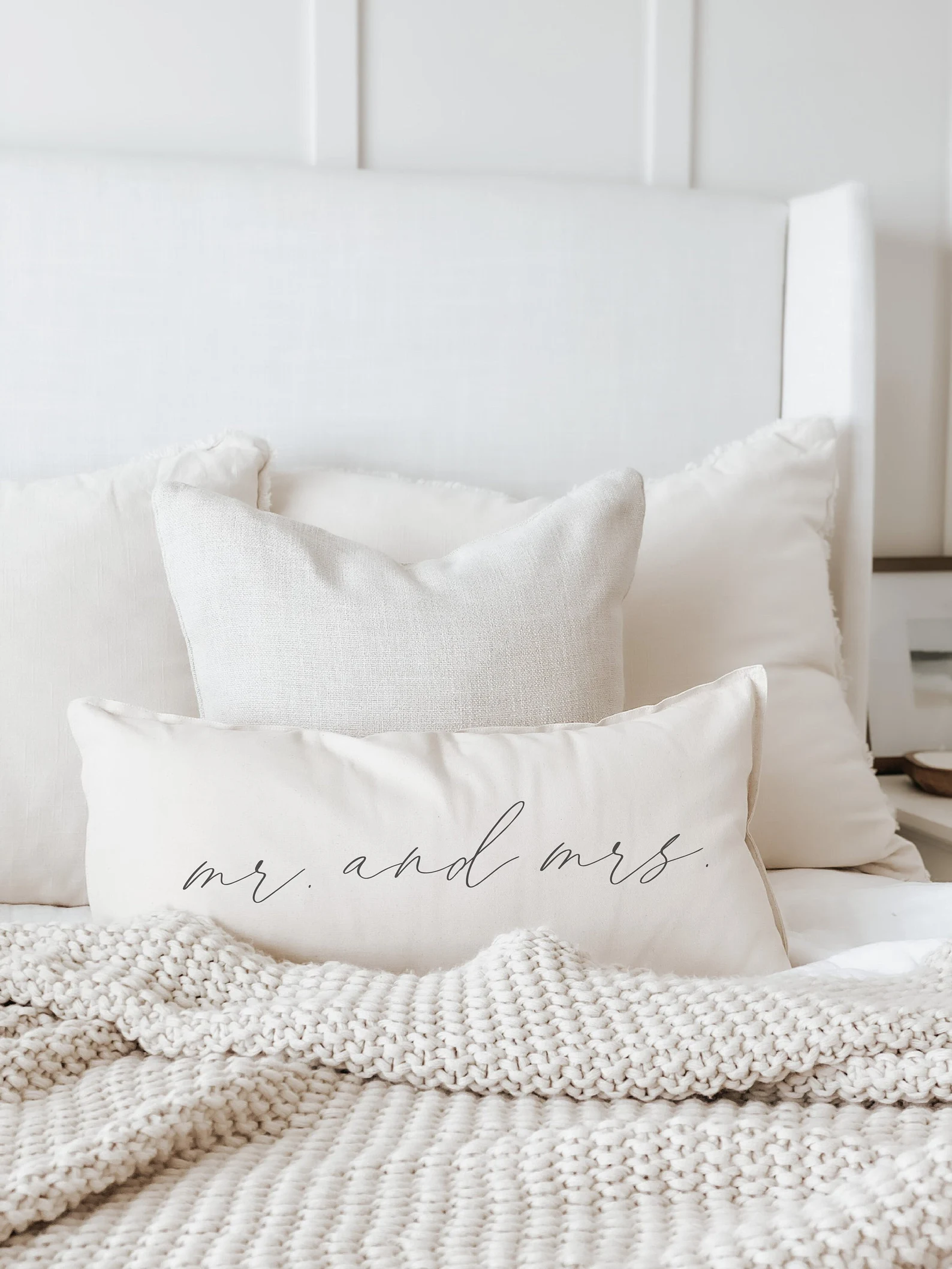 Photo Credit: Etsy
The neutral design of this chic farmhouse pillow makes it the perfect accessory to cozy up any space and the modern calligraphy adds an elegant touch!
The Mr. and Mrs. saying on the front makes it perfect for newlyweds! I'm sure the couple would find a special place for this gift in their home. 
It comes in a few different fabric options and the text color can also be customized. I love that the design is printed direction into the fabric, so there's no textured vinyl that will peel or crack - like other cheaper pillows. 
Photo Credit: Amazon
I got this cookbook as a bridal shower gift years ago and I love it! It is full of so many tasty recipes that are perfect for newly married couples. The 130 recipes are designed for cooking with each other and for each other, which is a fun twist on a cookbook. 
There's also a section with helpful tips on how to stock your kitchen pantry - which can be helpful for couples just starting out. Throughout the cookbook, there are sweet and encouraging anecdotes from the author for newlyweds.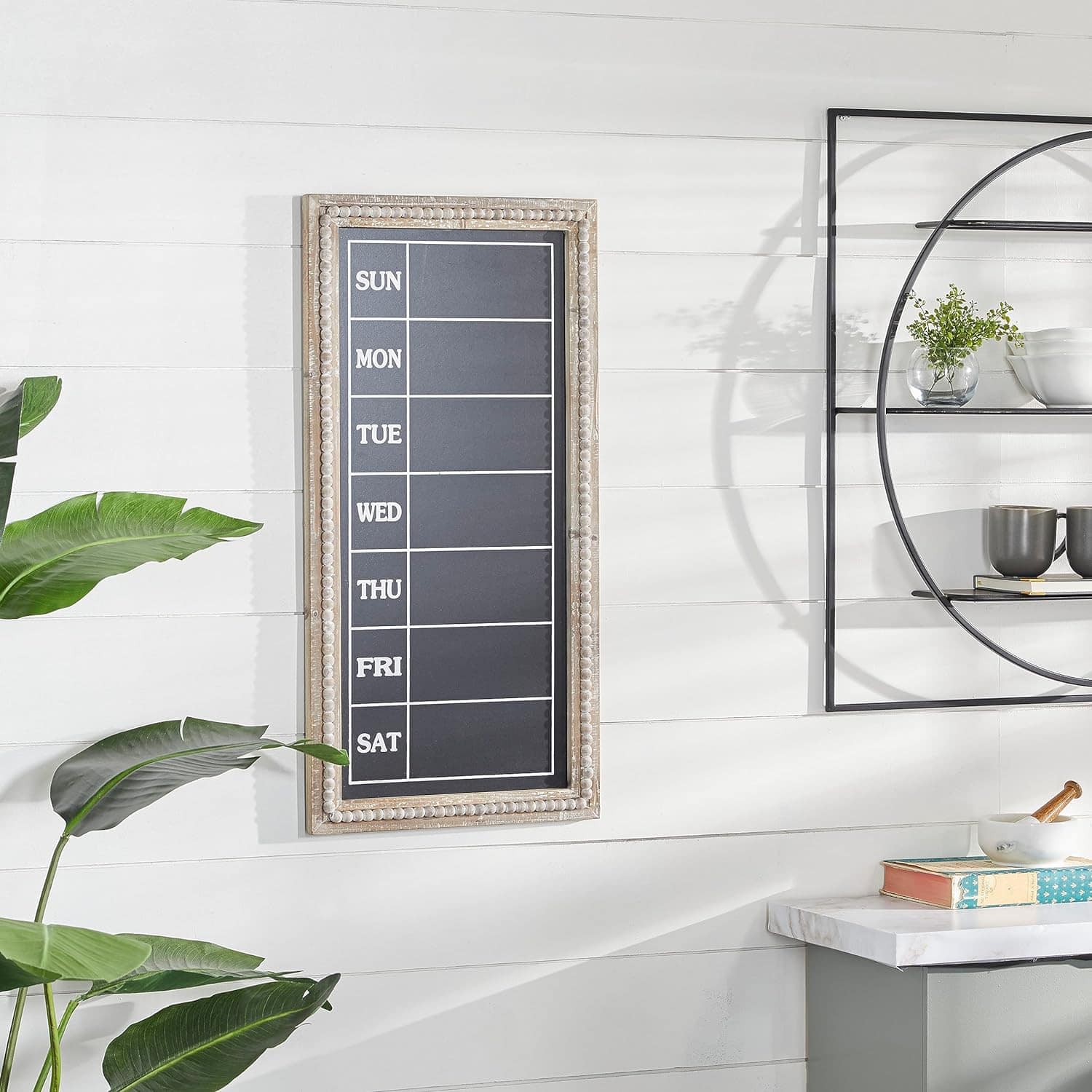 Photo Credit: Amazon
This cute weekly meal planning board would be so perfect hanging in the kitchen as decor. I love that it is so functional to keep newlywed organized with meal planning, chores, or scheduling!
This meal planning board will help the new couple plan their meals efficiently, which will save them money, reduce stress in their marriage, and allow them to try new recipes together. Meal planning can also be a fun and bonding activity to do together. They can chat through their week ahead as they plan it out. 
Shopping for newly married couples doesn't have to be so overwhelming! But it doesn't have to be so daunting! I think that it is all about striking the right balance between thoughtful and practical, sentimental and fun.
From personalized cutting boards to "Mr. Right" and "Mrs. Always Right" mugs that add a dash of humor to their mornings, there are countless options to consider. And let's not forget the "Our First Christmas" ornament, a keepsake that will remind them of their first holiday season as husband and wife for years to come.
We hope this list gave you some great ideas as you shop for newlyweds this holiday season! Did you find the perfect gift for the newlywed couple in your life? Maybe found something that caught your eye and you'll be gifting to yourself? 🙂
Which of these Christmas gifts for newly married couples is your favorite?
Let me know in the comments below!!