This week on Wedding Wednesday we're talking all about how to choose a wedding photographer. It's one of the next things on our Ultimate Wedding Checklist. Your wedding photography is such an important aspect of your wedding. But choosing a wedding photographer can be a bit overwhelming. Here are some helpful tips on how to choose a wedding photographer including where to look for a wedding photographer, questions to ask potential photographers and a bit about how we chose our photographer.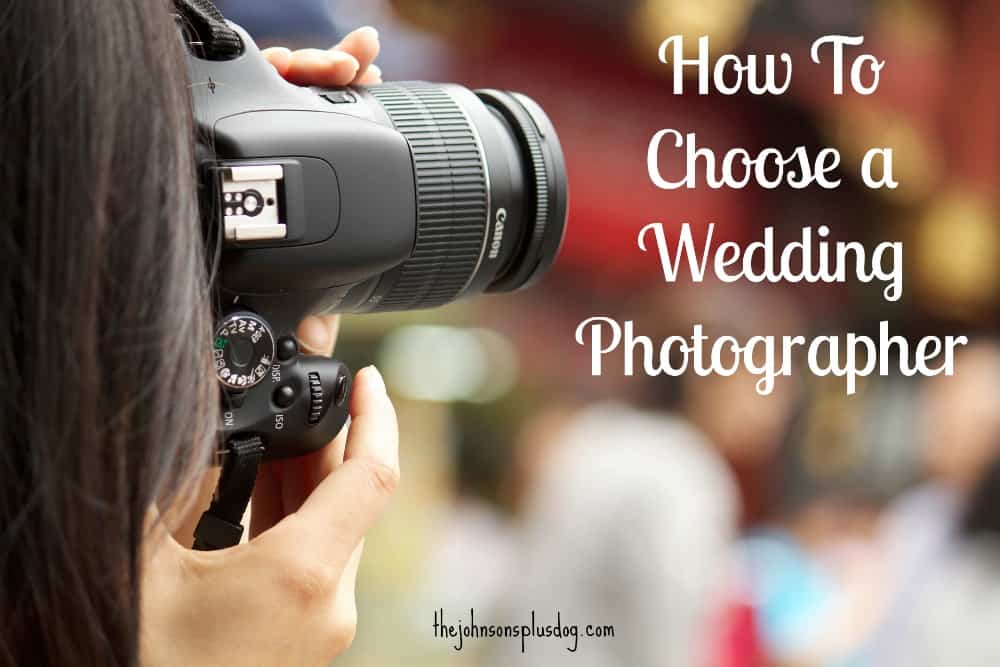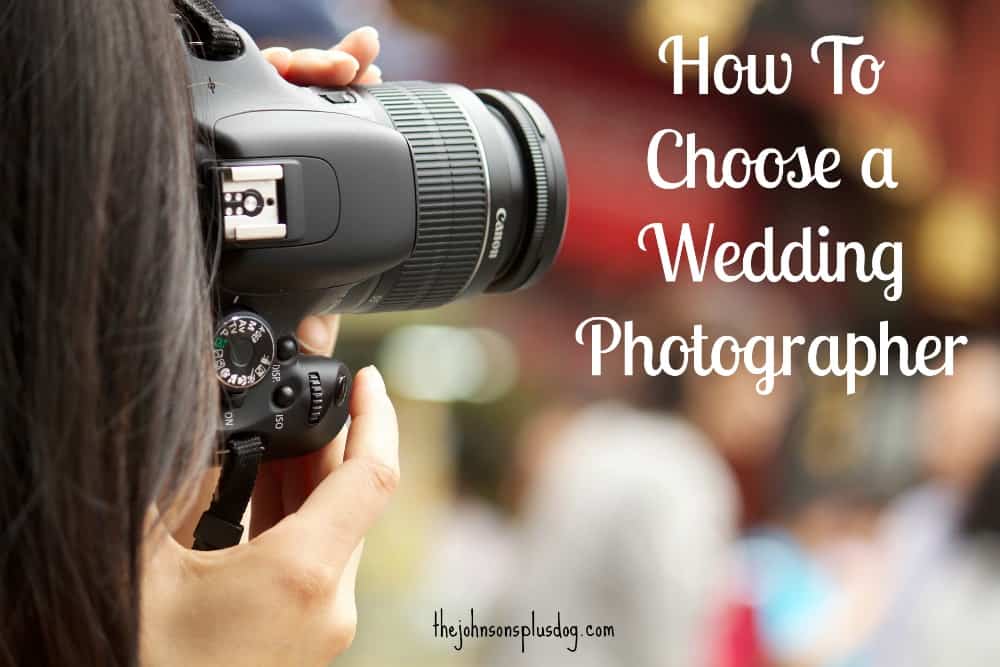 How To Choose a Wedding Photographer
Don't Skimp On Your Wedding Photographer
One of the most important pieces of advice we received during the wedding planning process was "don't skimp on the photographer". I've said it before and I'll say it again… your wedding is only ONE DAY. It is so fleeting and there is so much time, energy and money poured into the big day. The only things that stick around after the cake is all gone are your photos (and video if you have a videographer). You will probably see your wedding photos daily if you hang them at your house as decor. Your kids and grandkids will pour over your wedding photos and ask you why your dress is so silly. It's important to choose a wedding photographer whose style resonates with you and is timeless.
It may mean moving some items around in your wedding budget to make room, but don't just choose the cheapest photographer you can find. However, just because I'm saying don't skimp on the photographer, doesn't mean you need to spend way more than your comfortable with. Wedding photographers come in all ranges, so interview a handful in your price range, but don't let price be the deciding factor.
Places to Find Wedding Photographers

Questions To Ask Wedding Photographers
Are you available on my wedding date (or top few dates if you haven't set one yet)? If you need help choosing a wedding date, check out my advice about that here.
What are your the prices of your packages and what do those packages include?

How many hours of coverage are included and what is the cost for extra time?
What is the deposit and/or payment schedule? When is the final payment due?

Do you have a package that includes an engagement session and do you recommend getting engagement photos done?
Will I get a copy of the high resolution images and full rights to the images after the wedding? (This is so you can print them yourself!)

How will you deliver the high res images?
Can I post these images to social media?
Will the images you deliver be edited or re-touched? Do you also deliver or let us see the unedited versions?

What is your cancellation policy?
What happens if you're sick the day of our wedding?
Have you ever photographed an event or wedding at our venue before? Need help selecting a venue? I talked about that topic here.

If so, how was the experience shooting at the venue?

Have you ever worked with any of my other vendors (Videographer, DJ, Florist, Caterer, Coordinator, etc.)?
Can I see a copy of your typical contract?
How many weddings have you shot and how many do you typically do a year?
Will you have an assistant or 2nd shooter the day of the wedding?
How long does it take to turn around the photos after the wedding?
Do you bring your own lighting?
Can I give you a shot list for day?
How many pictures will you take and how many will I receive?

How We Chose Our Wedding Photographer
Those of you that know me personally, know that I'm pretty type A. I love lists, organization and order. When making big decisions, I love to read the contracts and paperwork and understand the finite details. So when we were meeting with photographers, I was expecting to love the photographers that went over all of the logistical things when we were meeting with them. I thought I would love getting a huge package of details about the photographer, their policies and packages etc.
When we met with the photographer that we ended up choosing, we sat down on some couches after work one night and just chatted. We talked about our relationships, our lives and a little about our upcoming wedding. We didn't talk about deposits or cancellation policies. We just hung out like old friends. We felt so comfortable with him. He seemed like a very calm person, which I thought was an important attribute to bring along the day of the wedding. The decision was obvious.
You're going to spend a LOT of time with your photographer and it was really important that we felt comfortable hanging out. Especially if you have any fears or hesitations about being in front of the camera all day long (if you are having hesitations about this, be sure to read my post addressing this here!). Now, we did get granular with the details before making our decision. After we met with him, he followed up with a copy of the details via email for us to look through and let him know if we had any questions.
Yes, he was an amazing photographer and I loved his style. But the reason our decision was so easy is that he felt like a friend and that made the engagement session and the wedding day fun. If you're looking for a great wedding photographer in the San Diego area, Bryan Miller comes with my highest recommendation.
How did you find your wedding photographer? How did you make that decision? I'd love to hear any more tips you have on how to choose a wedding photographer.
Follow along on my Wedding Planning Advice Pinterest Board for more wedding tips!
[mailerlite_form form_id=4]