The choice of where to register for your wedding is a bit overwhelming. If you're asking yourself "where should we register for our wedding" or "how many stores should I register at for our wedding", this is for you. Here are the top wedding registry stores and all of the different perks and policies that each store offers!
Wedding registry is overwhelming… From china patterns to silverware, there are SO many choices. So in this article, we're going to break it down and just focus on the choice of store for your wedding registry by describing all of the top wedding registry stores and all perks and policies that each store offers. If you're asking your hubby-to-be, " where should we register for our wedding," this post is just for you!
[Further reading: If you're going to be registering for your wedding soon, be sure to read all of my tips and tricks for registering for your wedding here].
I found the choice of top wedding registry stores a bit overwhelming. I was asking all of our friends and family " where should we register for our wedding ? ". Everyone seemed to have different answers for us.
Each of these top wedding registry stores offers so many different perks that it was hard to compare them all. Well, have no fear! I've done all the hard work for you.
Before we jump into the perks of each top wedding registry store, let's tackle a super common question…
How Many Stores Should I Register At For Wedding?
As I mentioned in this post with registry tips and tricks, I'd recommend registering for your wedding at two to three different top wedding registry stores.
I prefer one online registry (like Amazon) and one in-store registry (like Target or Pottery Barn). It's important for your guests to have a couple of different options.
Some gift-givers may prefer the ease of online shopping and others may enjoy going into the store and selecting their gift in person.
Ready to see all the top wedding registry stores & all their perks??
Here are all of the different perks and policies that each store is offering for their wedding registries. Hopefully, by having this all rounded up in one place, you'll be able to compare the top wedding registry stores side by side to make your decision on what store is best for you.
This top wedding registry stores post contains affiliate links, but nothing that I wouldn't wholeheartedly recommend anyway! Read my full disclosure here.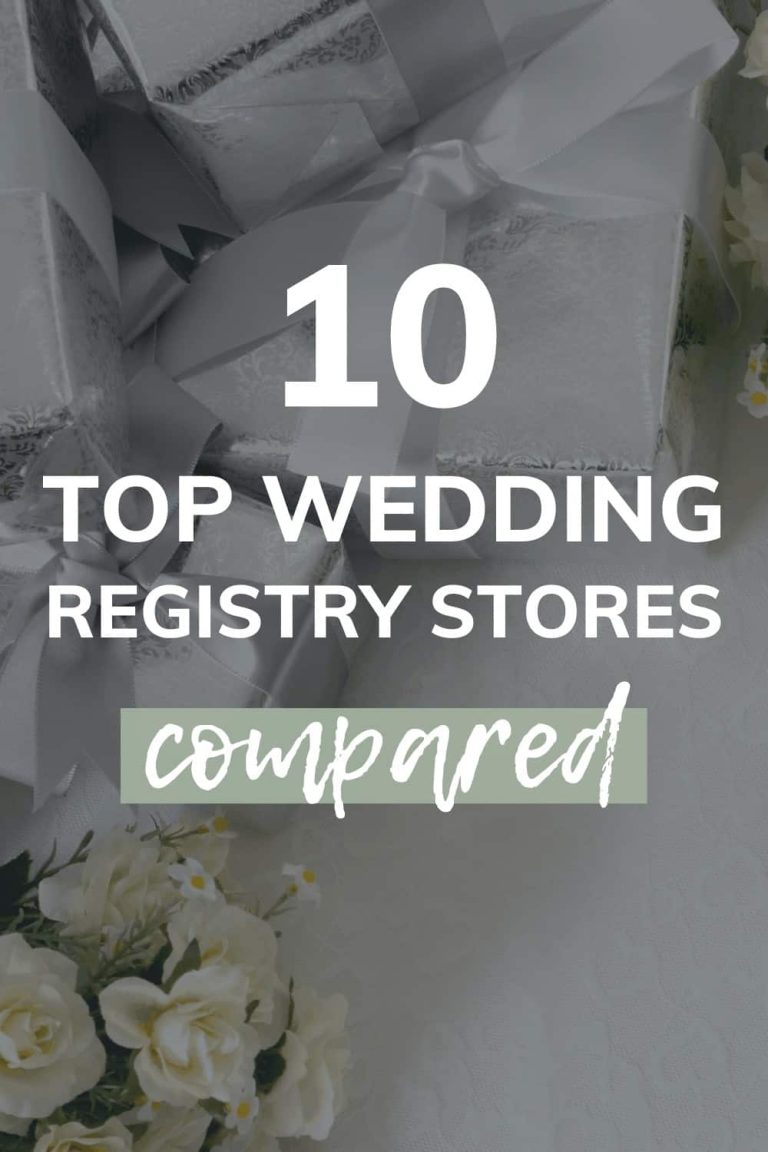 Note: The article was originally written in September 2016, but has been updated in February 2020 and again in April 2022. The stores, of course, may change their policies at any time in the future.
The Best Wedding Registry Stores + Perks
One-time 10% completion discount on select items shipped and sold by Amazon.com within 90 days of your wedding (up to $100 max discount). For Amazon Prime members, it's a 20% discount, up to a $300 total discount. For both completion discounts, you have to have received $500 or more in purchases from your Amazon registry.
Amazon seriously has the "World's Largest Selection" of products. Now that they've started selling handmade items, there's really nothing you can't find on Amazon.
The Universal Registry features make it super easy to add items from other websites, like Etsy and Anthropologie. The user is directed to that website to make the purchase and it will be marked as "purchased" on your Amazon registry. All you have to do is download the Amazon Assistant to add items outside of Amazon to your wedding registry.
Free shipping on items over $25. Prime members always get free 2-day shipping on eligible Prime products.
It's convenient to register from home or on your mobile device or tablet using the Amazon app.
Thank You list helps keep track of where the gifts are coming from including addresses for your to easily write your thank you notes. This is SO convenient!
Online Returns Center makes registry returns simple. You have up to 180 days after your wedding to return gifts. Returns are even easier on Amazon now! There are over 18,000 drop-off locations and you can schedule a pick-up. The gift-giver will never know that you've returned their gift. However, this is only for Amazon.com products. If the item was purchased through a third-party seller, you will have to contact the gift giver to help with the return if you don't have the gift receipt.
You can receive bonus gifts when you register for items from select vendors and when your guests make purchases.
NEW for 2020: Amazon has now added group gifting, which allows friends and family to contribute any amount of their choice towards items in their wedding registry. Learn more about Amazon's group gifting here.
Target Registry discount after the wedding – 15% completion discount (and anything else you'd like to add after the fact!)
On-the-go access to manage your registry through the free Target Registry app, which includes gift tracking to see who has given you what and who you've already thanked!
Returns and exchanges for up to a year after your wedding with or without a receipt!
You can add items from any other site to your Target registry, just like Amazon's Universal Registry option.
Group gifting makes it easy for your friends and family to come together to purchase a larger item off of your registry.
Can manage registry online or register for items in store.
New for 2020: You can personalize your wedding registry page with photos and a custom URL!
New for 2020: Free 2-day shipping when you spend $35 or use your RedCard
New for 2020: Target offers a price match guarantee
New for 2020: You can snag some of your favorites from the beautiful Target exclusive lines like Hearth and Hand with Magnolia, Project 62, Opalhouse, Threshold, and Made by Design
New for 2020: Target has partnered with Honeyfund to allow your friends & family to contribute to your honeymoon and newlywed experiences as a wedding gift!
15% completion discount on all purchases for 3 months after your wedding (not just items remaining on your registry). You can use the discount as many times as you'd like, unlike other stores where it is a one-time usage.
Exclusive selection of Crate & Barrel products.
Registry experts are available in stores and ready to assist.
Free shipping on purchases of $49 or more.
Thank You Manager helps keep track of your gift-givers.
Mobile app to manage your registry.
Easy and convenient returns.
Best price guarantee.
Buy online, pick up in stores
Gift cards can be redeemed at Crate & Barrel or CB2
New for 2020: Group gifting allows your friends and family to chip in to purchase a larger item that you'll love.
The ONE Registry Collective allows you to add products from across their family of brands (Williams Sonoma, Pottery Barn, Pottery Barn Kids & West Elm) to your registry
Bonus gifts from leading brands
10% completion discount that is good for 6 months post-wedding
Gifts cards (and returned merchandise credits) can be redeemed at any store in the ONE Registry Collective
Couples can make free, private (or virtual) appointments to get one-on-one guidance with a registry specialist.
The registry app allows you to manage your registry, create digital checklists, and scan products in-store to add to your registry.
Registry checklist with everything you need into one, easy streamlined checklist to make registering simple.
The Store Is Yours private shopping event is the opportunity to have the store to yourself for a VIP experience with our experts, including private tours, registry help and complimentary demos!
Your guests will receive the buy online, pick up in-store program, and free gift wrapping.
20% completion discount on the remaining items on your registry, plus another bonus coupon on your 1st anniversary
Free shipping over $39
Bonus gifts from several different leading brands
Dedicated registry consultants are available to assist with the registry. You can walk in or make an appointment.
Complimentary gift wrapping in stores and nominal fee online.
Hassle-free returns. (I can honestly say that their return policy is BOMB! We chose to register here for our wedding and we were able to bring back items without a receipt no problem).
New for 2020: Conveneient wedding registry app you can add items whenever. And you get $5 in My Funds rewards when you download it!
New for 2022: Your guests can join together for group gifts. All gifts $100 and up will offer group gifting as an option to your guests and your guests can contribute any amount. You'll then receive the contributions as My Funds credits in your account and you can login to your registry to see and spend your available My Funds credits.
10-20% completion discount on all remaining items on your list (or anything you'd like to add), plus 10% furniture, mattresses & other home items, for up to 6 months after your wedding (it's NOT a one-time discount, you can use it as many times you'd like in-store or online for the 6 months post-wedding)
Exclusive discounts include two different coupons for 25% off women's/men's/kid's fashion, shoes, and fine jewelry, 15% off watches, 25% off home purchases, 15% off furniture/mattresses/rugs, 10% off small appliances.
They have a Registry Star Rewards program where you get 10% back in Reward Dollars on every eligible purchase you make (using a Macy's card) and 5% rewards on every eligible gift you get. You receive the rewards money on a Macy's gift card that you can spend on anything you want.
Free shipping with $25 purchases and free store pickup
Free returns by mail.
Online Macy's registry thank you manager.
New for 2020: All perks and discounts are now added to your "Macy's Wallet"
10% completion discount on any items remaining on your registry for up to 6 months after your wedding.
One-on-one registry help to select items and merge your styles and create the perfect registry.
Registry events at local stores with tips, tricks, and more!
Gift cards/credits for returned items can be redeemed at Williams-Sonoma and West Elm stores as well.
Specialists can help with free design services.
The Monogram Shop allows you to register for personalized items like dinnerware, towels, bedding, decor more.
Pottery Barn Wedding Registry checklist to help you choose items.
New for 2020: The wedding Registry app allows you to scan in-store or shop online.
20% completion discount on anything remaining on your registry for up to 6 months after your wedding
Dedicated registry consultants that can work with you on your wedding registry every step of the way.
Couples are offered perks like 20% off dresses, suites, intimates, and more
Thank you Card manager and printable checklist
Bonus gifts available from 19 different brands
In-store events like relaxing spa days and lingerie fittings.
Deals on The Travel Siblings for honeymoons
20% completion discount available in-store only.
Bonus gifts from several brands.
You're able to manage your registry online or in-store.
Pick up in-store available.
Free shipping to your local store for order over $50
Update (new for 2022): The Container Store no longer has a registry program.
There you have it! Wow, once I started doing the research I realized just how many top wedding registry stores there are!
What perk is most important to you? Where did you choose to register for your wedding? Are you still asking yourself " Where Should We Register For Our Wedding ?"
In case you missed the other wedding registry posts…