To get a large, comfy sectional sofa in your home, you don't have to spend a fortune! These 10+ cheap sectionals under $1000 are all great options of stylish gray sectional sofas for your living room.
As we continue on our journey of making our house a home we love (which is my goal for all of you awesome readers to accomplish as well), something that my husband and I are working towards is replacing furniture and home decor in our home we don't love. Why?
There shouldn't be anything in your home that you don't love. This is something that I've heard over and over and it's never really sunk in. If your decor style has changed over the years and there's something that you don't love anymore, get rid of it.
If there are clothes in your closet that don't look good on you and you don't love wearing them, get rid of them.
Before you make a purchase for your home, think twice and ask yourself "do I love this?". We need to stop filling our homes with things we don't love.
This change in thinking led us to the conclusion that we needed a new couch. We had a dark brown leather reclining couch that worked fine, but neither of us really liked it anymore. It didn't fit well with our decor style.
We have always wanted a sectional, so that's what our heart was set on. I specifically wanted a gray sectional because gray is the main neutral color we have in our home. And since we didn't want to break the bank, we were looking for something definitely less than $1,000. So the search began!
Update: This article was written in 2018 and has been updated as of 2022. Since then some of the prices on these sectionals have gone up putting them slightly over the $1000 threshold.
While I was searching for cheap sectionals under $1000 in gray, I found a lot of great options so I decided to share these cheap sectionals with you guys! Gotta share the love, right?
This post contains affiliate links, but nothing that I wouldn't wholeheartedly recommend anyway! Read my full disclosure here.
Related posts: more living room furniture and decor ideas!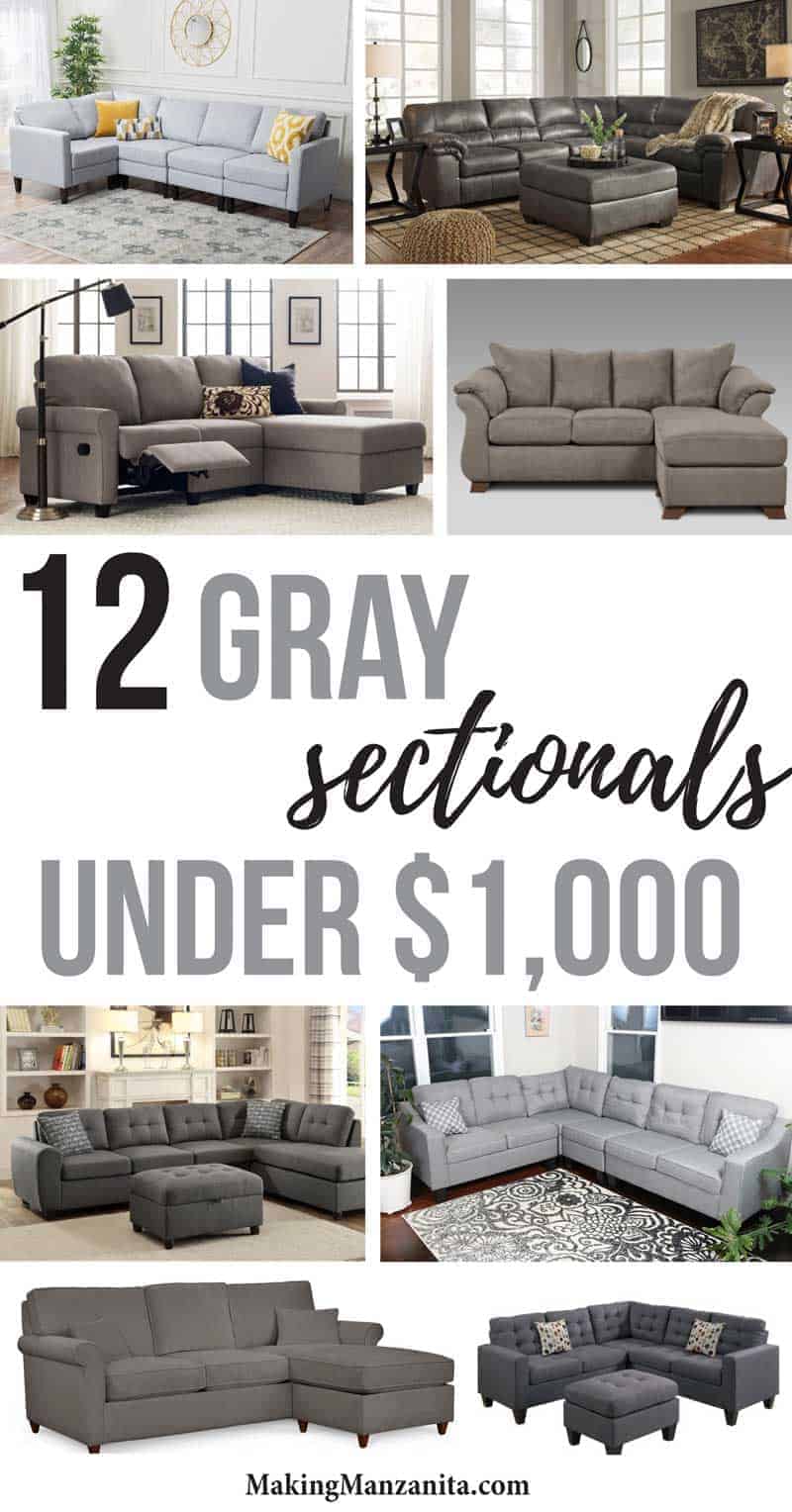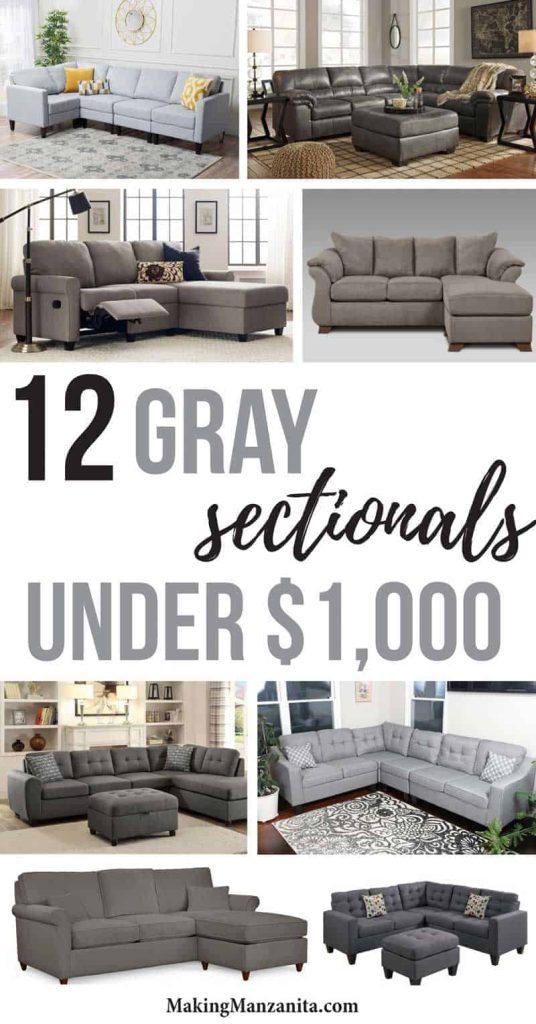 10+ Cheap Sectionals Under $1000
1 – Modern Contemporary Gray Sectional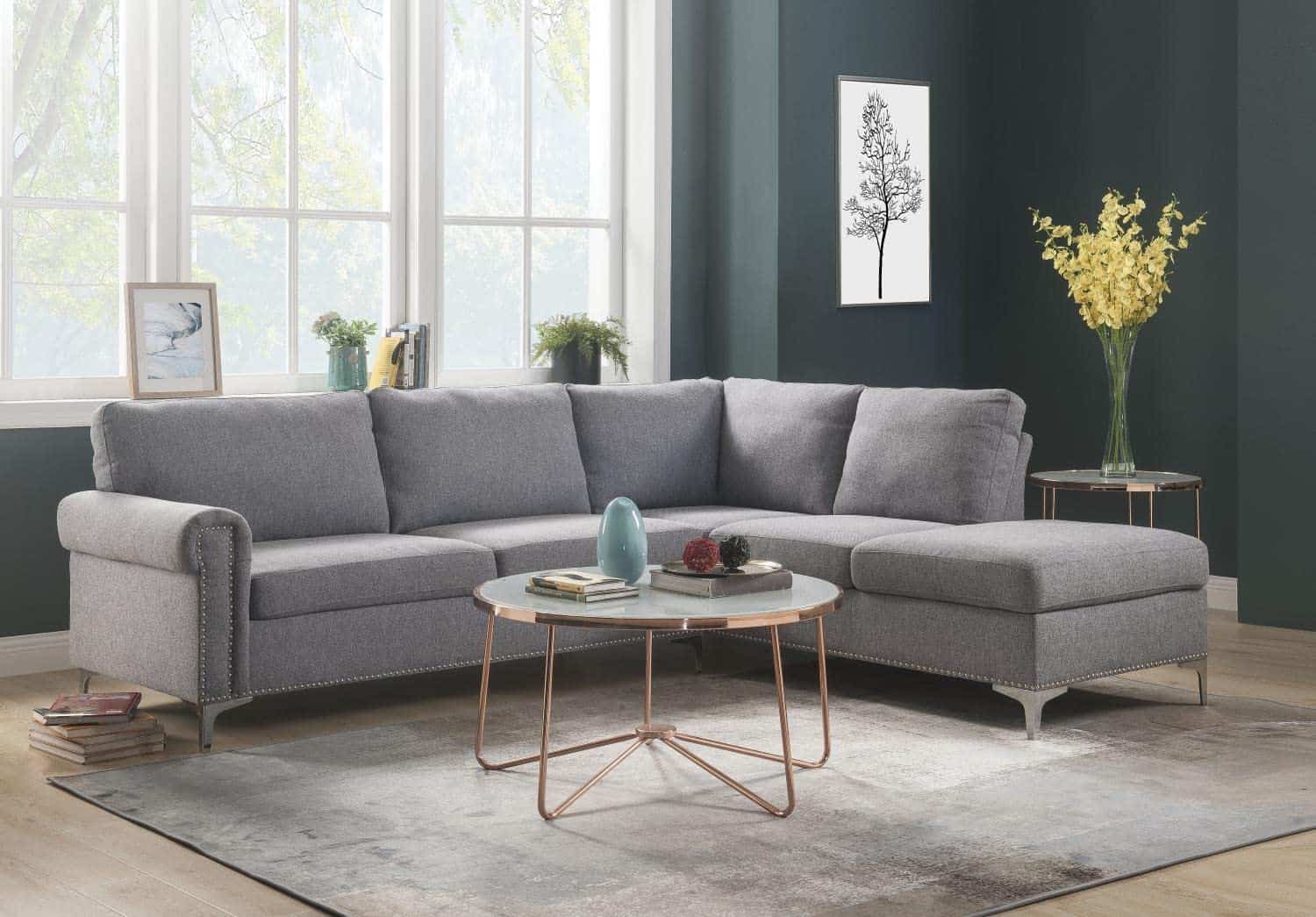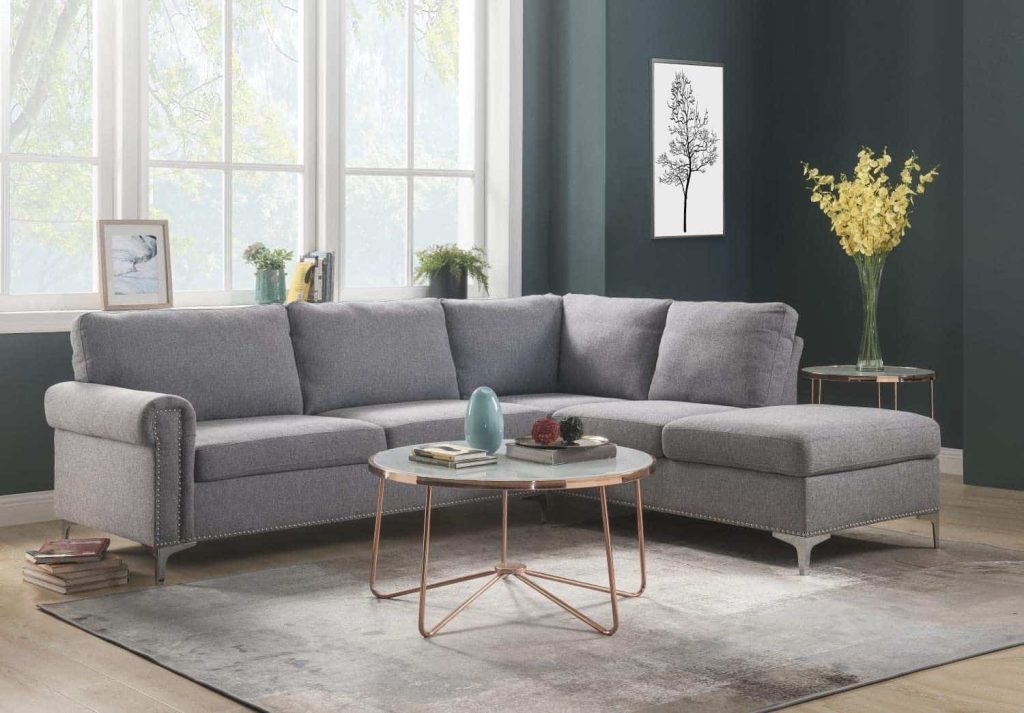 This modern contemporary sectional looks comfy!
2 – Light Gray Fabric 5-Seater Sectional
This light grey fabric sectional sofa has clean lines for a fresh, modern look.
3 – Dark Gray Sectional with Ottoman
This darker gray sectional has tufted seats and backs and comes with an ottoman to kick up your feet.
4 – Affordable Steel Gray Sofa with Chaise Lounge
Here's an affordable sofa sectional that features a contemporary profile and comes in awesome gray fabric color.
5 – Gray 3-Seater Sectional Sofa with Chaise and Recliner
One thing that is rather hard to find when searching for cheap sectionals is one that reclines. This gray reclining sectional is not only reclining, but it has storage in the chaise. That's a win-win!
6 – Soft Gray Fabric Sectional, 5-Seater with Chaise
This linen-like fabric soft gray sectional has a low-profile style with clean lines for a streamlined contemporary look.
7 – Light Gray Sectional with Chaise and Ottoman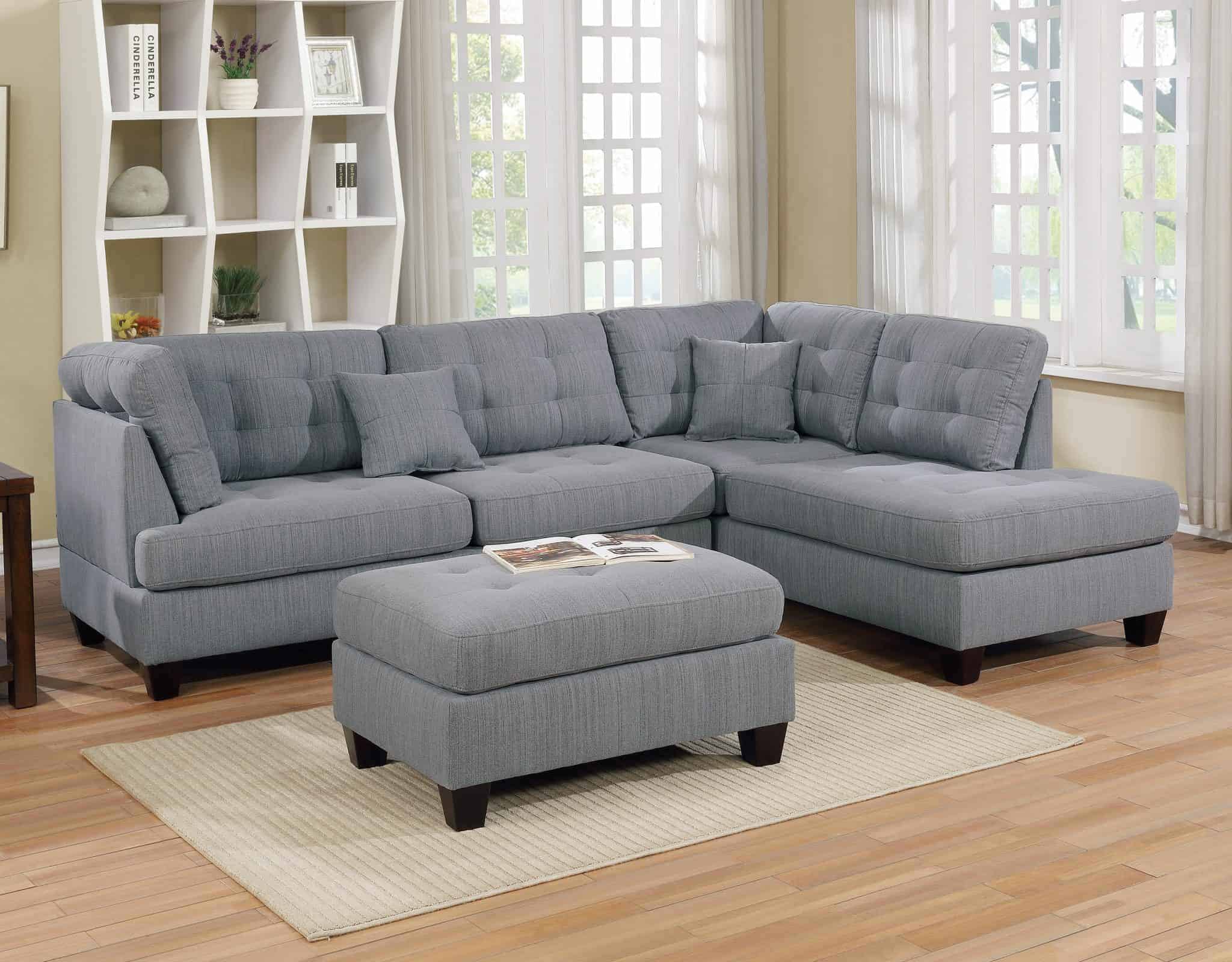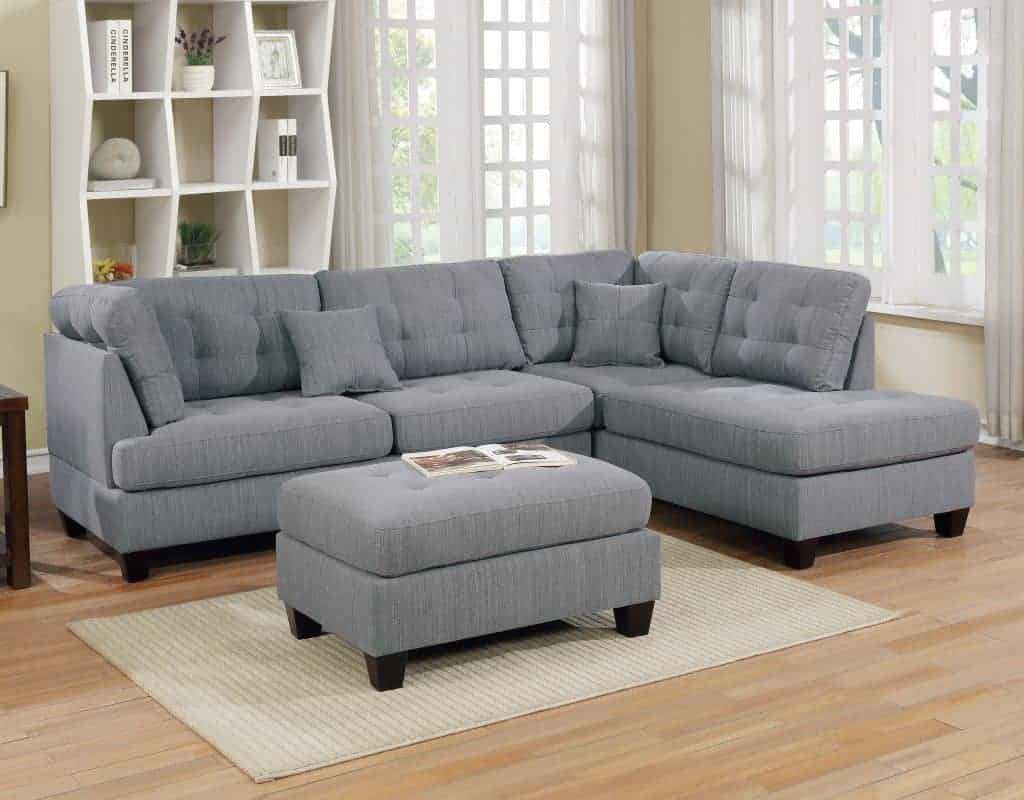 This gray sectional features smooth fabric, which has a linen look and it comes in three pieces, which means that fun ottoman is included!
8 – Mid-Century Modern Gray Sectional Sofa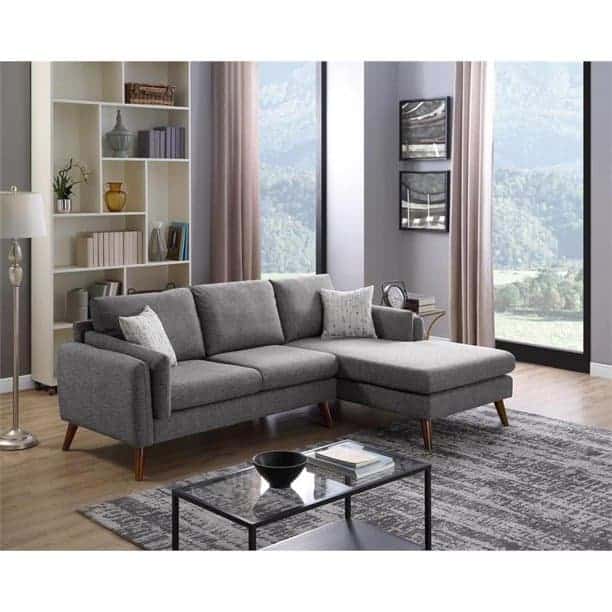 I love the mid-century modern look of this one which is raised off the ground a bit with the wooden legs. I also love the sleek lines on the sectional.
9 – Microfiber Gray Sectional Sofa with Chaise and Storage Ottoman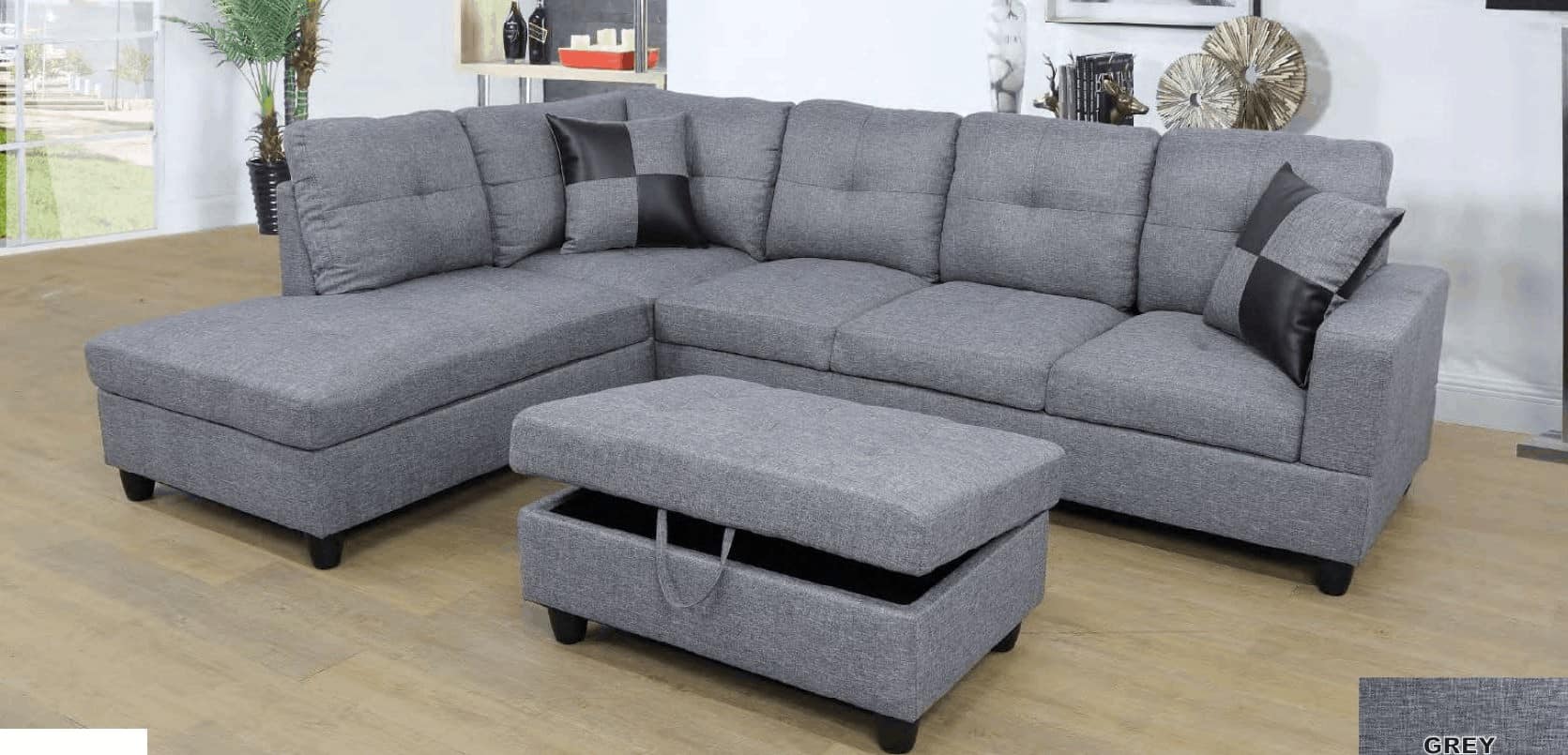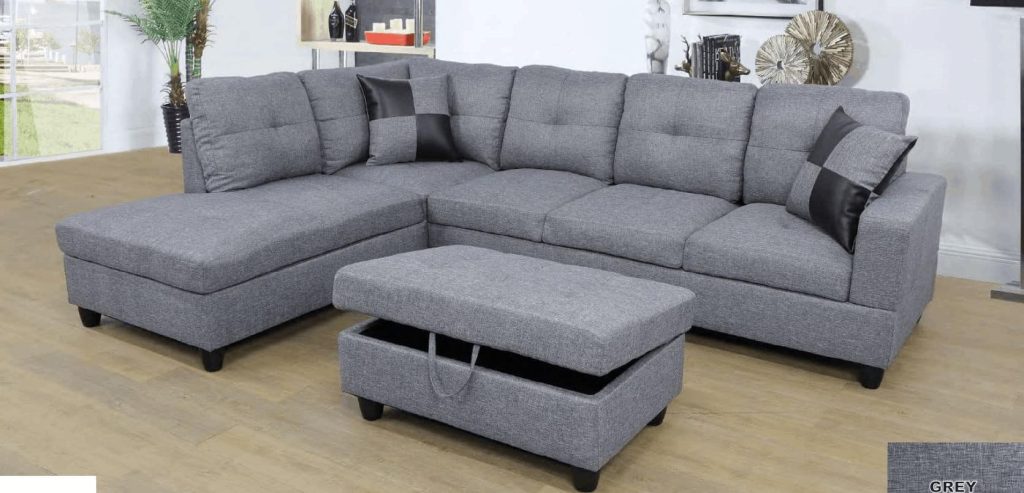 This microfiber gray sectional sofa is great because the ottoman has storage, which is SO SO handy! You could fill it with blankets, throw pillows, or even all the kid's toys!
10 – Slate Gray Large Sectional Sofa with Matching Ottoman
This one was the winner for us!! We love our new large comfy sectional. My favorite part is the cushioned arm rests, which are the perfect pillows when you're laying on the gray sectional. We've also added the recliner and ottoman that match.
Here's how it looks in our living room at our first house!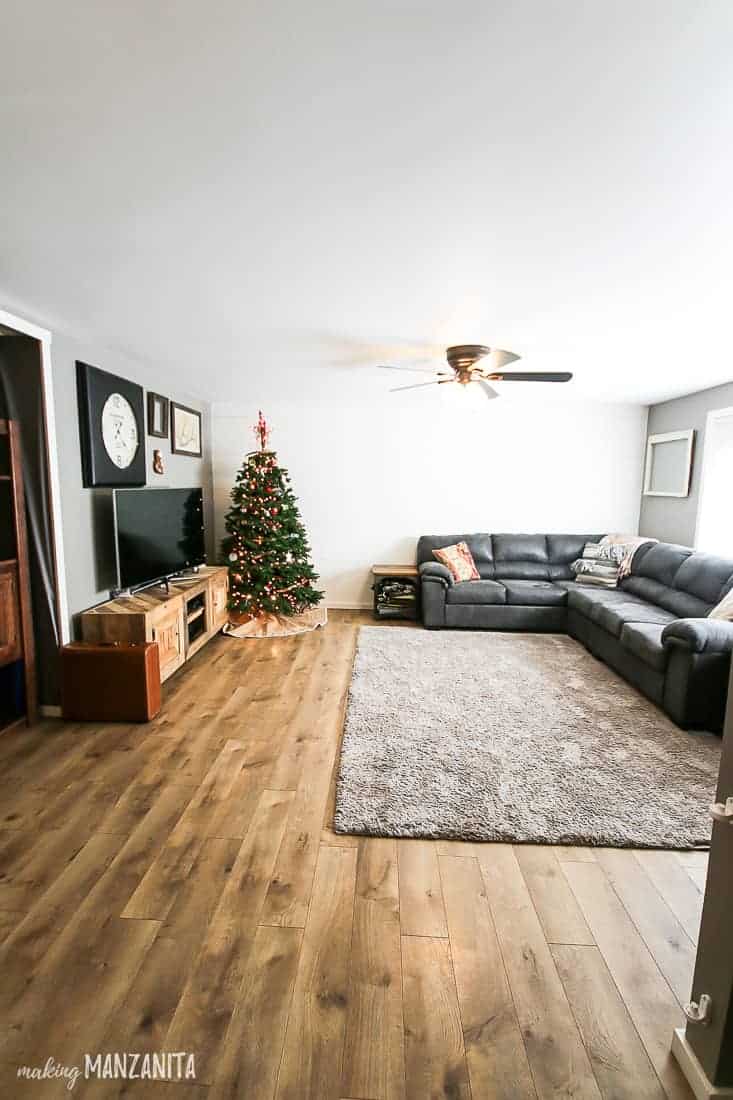 And here it is in our current fixer upper!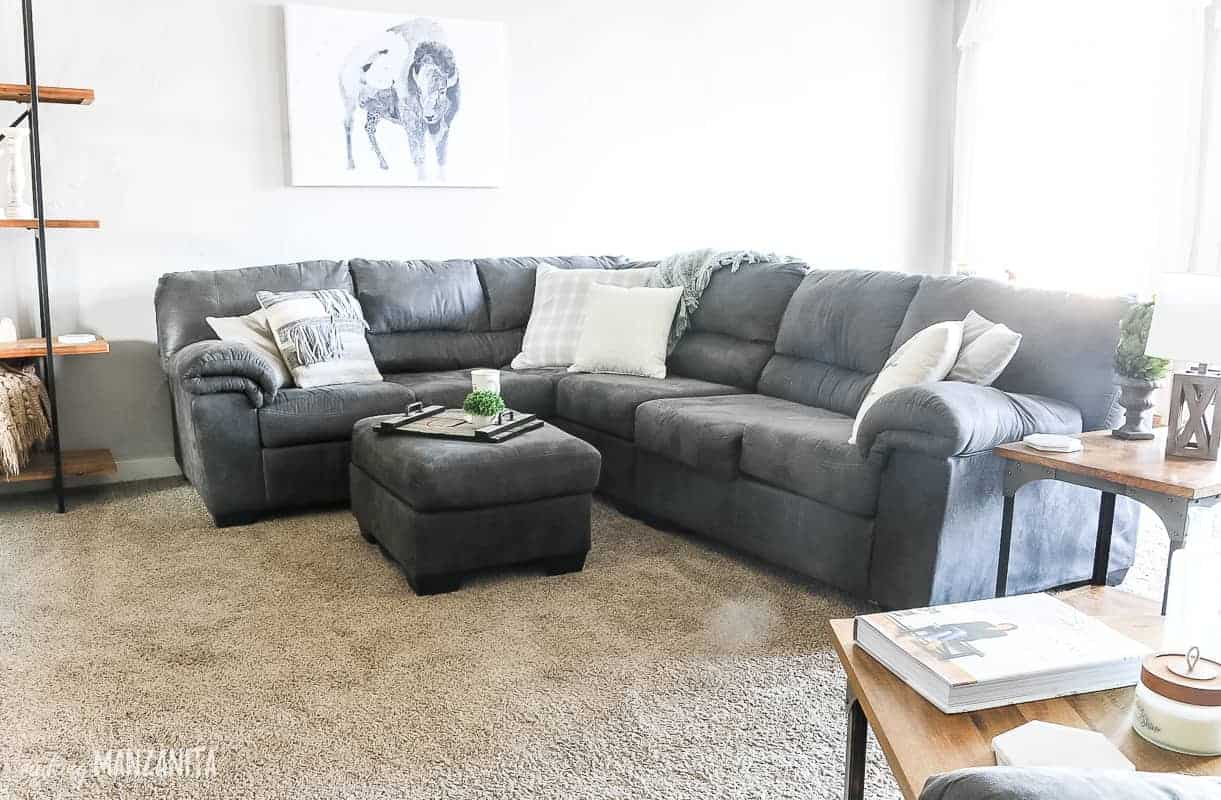 Related – I've also heard great things about Ikea Sofas, you can check out this Ikea Sofa Review for lots of informative pros and cons about them!
To get a large, comfy cheap sectional in your home, you don't have to spend a fortune! These cheap sectionals under $1000 are all great options to get a stylish gray sectional sofa for your living room.
With a sectional, there's plenty of seating for the whole family to snuggle up together for movie night. The large shape of a sectional sofa helps define a seating space in your room or fits up well in a corner.