Rugs in the kitchen get dirty, and if you can't easily wash them, what's the point of buying them? I've rounded up 20 of my favorite washable kitchen runner rugs that I know you will love.
Washable rugs became popular when Ruggable came onto the scene several years ago with their washable rugs in every size. When your rug gets dirty, you pull it off the pad, throw it in the washing machine, dry it, and put it back down.
What was this magic rug solution?! Everyone wanted one! Even me.
Since then, many other brands have come out with versions of washable rugs full of gorgeous designs to suit any design style and use in any space.
This kitchen runner rug post contains affiliate links, but nothing that I wouldn't wholeheartedly recommend anyway! Read my full disclosure here.
Why does a washable runner make sense in the kitchen?
Kitchen runners not only add style, warmth, and character to your kitchen, but they also protect your floors against damage (from both wear and tear and water), and give you a softer place to stand when working in the kitchen.
I had always dreamed of having a rug in the kitchen but hesitated because…well it's a kitchen. Kitchens are messy. From cooking spills to the constant crumbs, water drops from loading the dishwasher, and messy kids, it is inevitable that the rug in the kitchen will get dirty often.
And I don't know about you but I'm definitely not going to be diligent enough to my carpet shampooer out and clean a regular kitchen rug often enough.
And that is why having a washable kitchen runner makes SO much sense. Just grab it up and throw it in the wash on a regular basis.
Now some of the washable area rugs that are in the market are fairly large, which makes them hard to put in the standard-size washing machine that you probably have at home. However, a kitchen runner will definitely fit!
What runner sizes do rugs come in?
Kitchen runner rugs are typically 2′ 5″ wide and can be up to 12′ long. Choosing the length you need depends on where you will use it and how long of an area you want it to cover in your kitchen.
What's the best material for a washable rug runner?
Most washable rugs are made of synthetic fibers, making them stain-resistant and perfect for machine washing. Cotton is also an excellent washable material for a rug runner.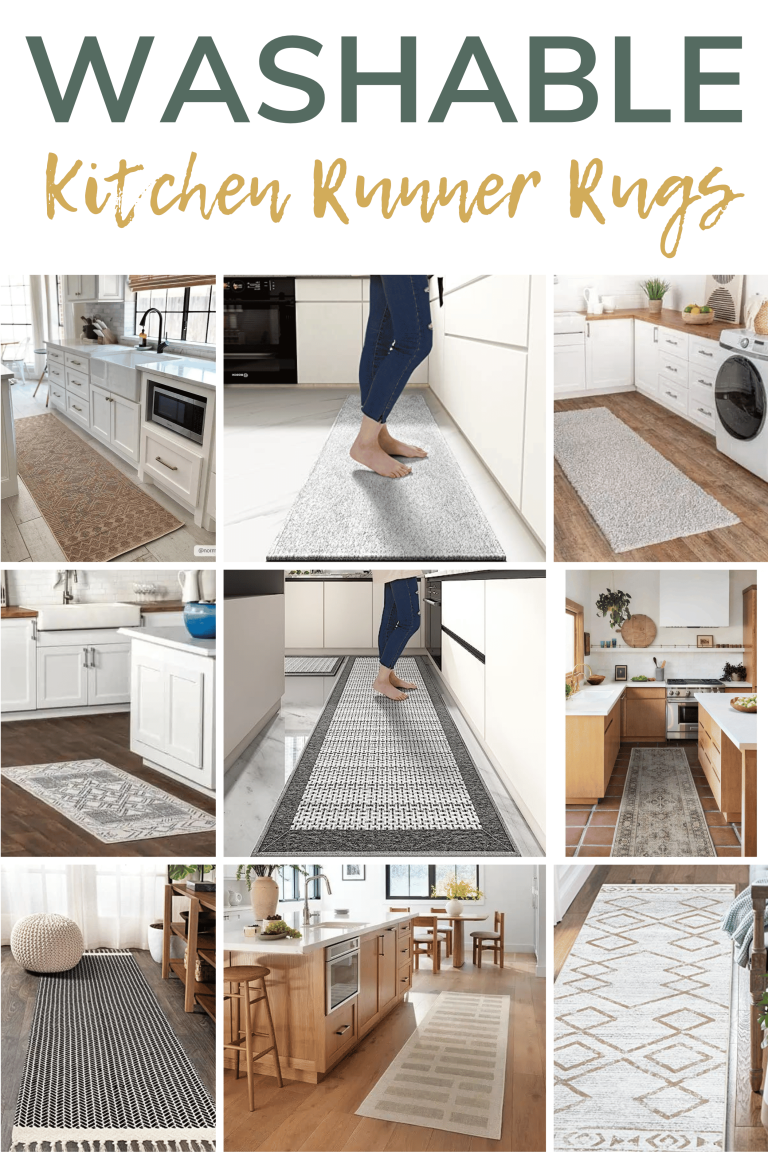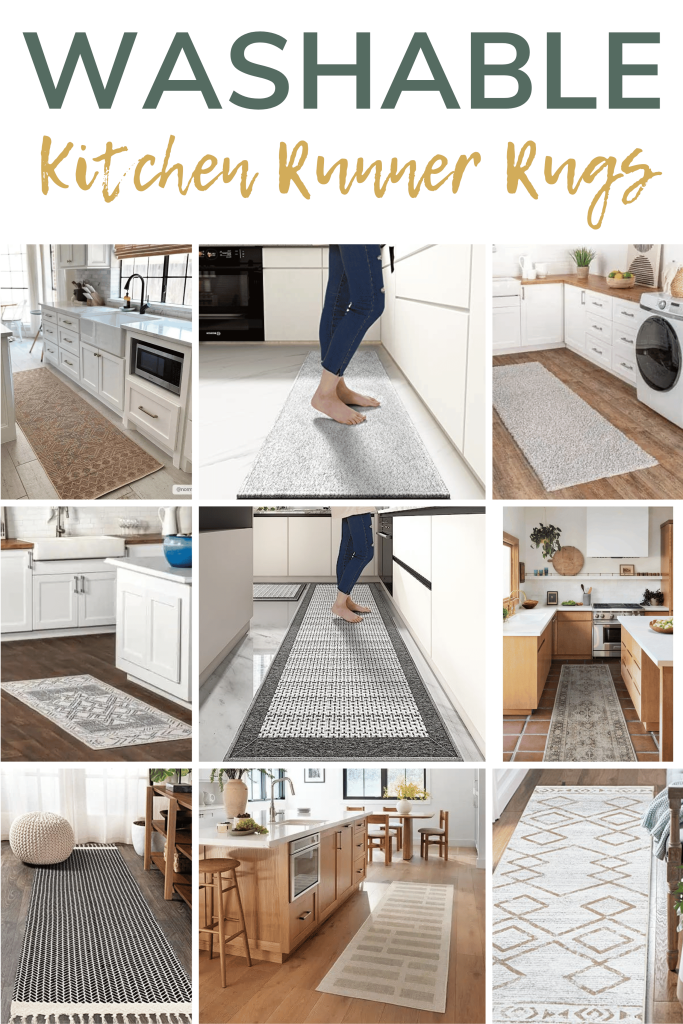 Let's take a look at these 20 kitchen rug runners you'll want to get for your kitchen.
Washable Kitchen Rug Runners
Shop these washable kitchen runners:
Which of these washable kitchen runners is your fave?
Let us know in the comments below!