In this post I show you how to create white chippy paint sign for farmhouse bathroom. Ours says Rub A Dub Dub! This sign fits right in with farmhouse decor.
I was almost done decorating our farmhouse master bathroom and there was just something missing. Right when you opened the door, the first thing you saw next to the towel hooks under the window was a big blank wall. I was racking my brain trying to figure out what to put next to those towels that would fit in the space and bring in more character and charm to our farmhouse bathroom. That's when I spotted this white chippy reclaimed wood sitting outside in a scrap pile. I was sure to tell my hubby not to get rid of it…otherwise I would have to go digging in the trailer before it goes to the dump. Not to say this hasn't happened a time or two in the past. I knew this old wood was going to make the perfect white chippy paint sign for farmhouse bathroom.
Here's a video replay of our live tutorial over on Hometalk's Facebook page. I showed you how to make this chippy paint sign along with our ombre painted sign:
Related Posts: Other Wood Signs
This post contains affiliate links, but nothing that I wouldn't wholeheartedly recommend anyway! Read my full disclosure here.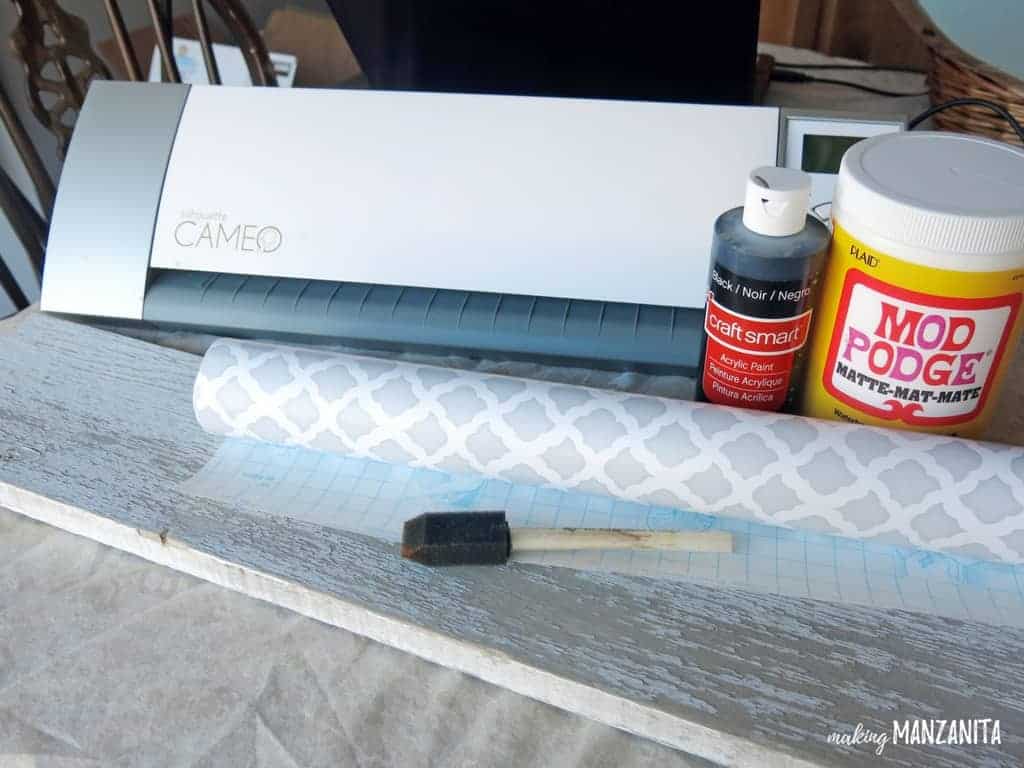 Supplies for White Chippy Paint Sign For Farmhouse Bathroom

Step 1. Wipe down sign to remove excess flakes of paint.
Since the wood I was using had lots of chippy paint, I gave it a good wipe down using an old rag. This helped clean up any dirt or flakes of paint. I didn't do any sanding to the wood, just wiped it down.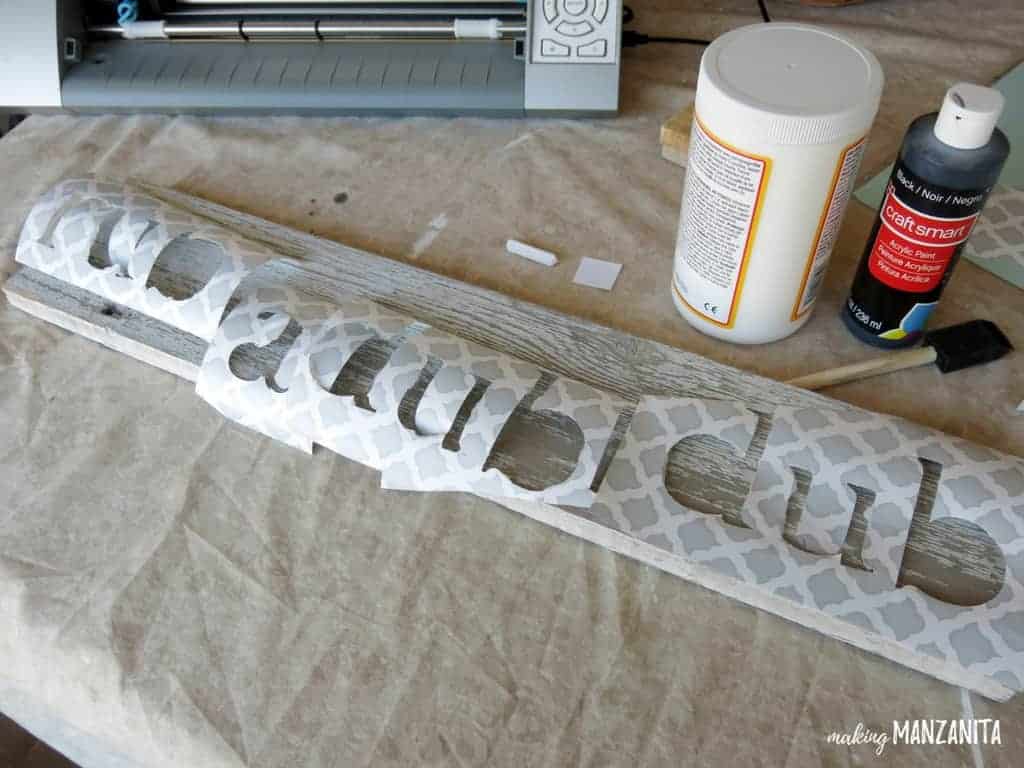 Step 2. Cut out stencil.
Using a Silhouette Cameo, I cut out a stencil from adhesive shelf liner for "rub a dub dub" letters to fit on my piece of white chippy paint sign for farmhouse bathroom.
Font: Baskerville Old Face
Font Size: 325
Cut Settings: Vinyl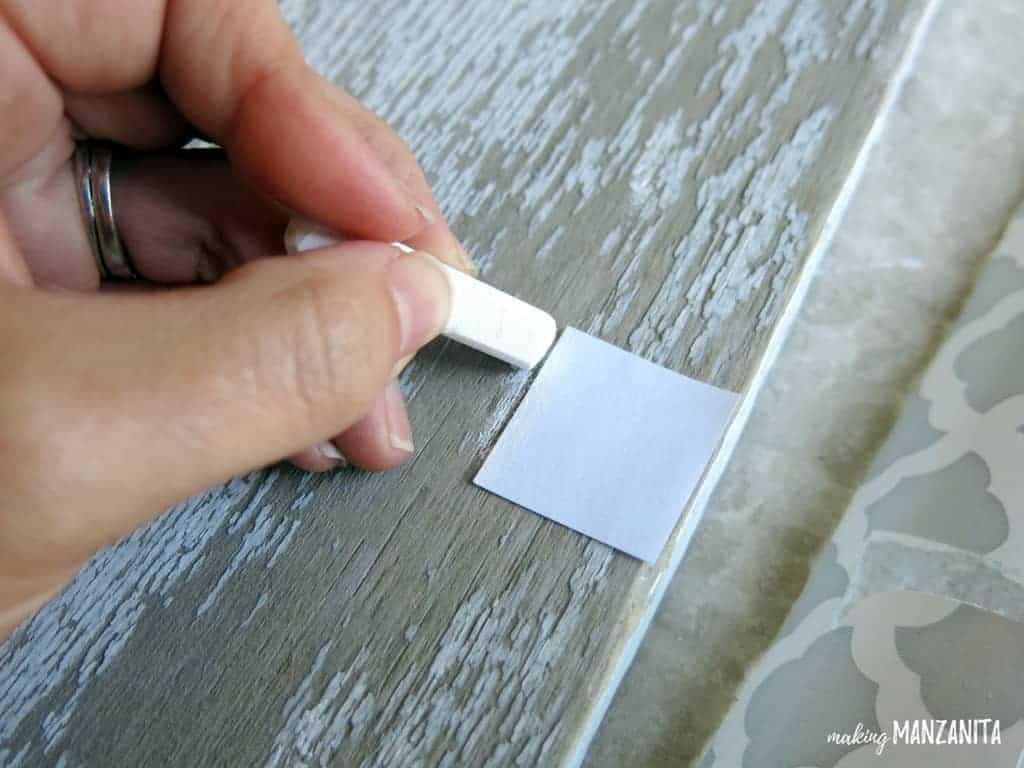 Step 3. Attach stencil.
Before I attached the stencil to the chippy paint board, I made a mark with chalk (used a piece of paper for my stable measurement) where I wanted the bottle of the letters to start. This gave me a guideline to keep my stencil straight.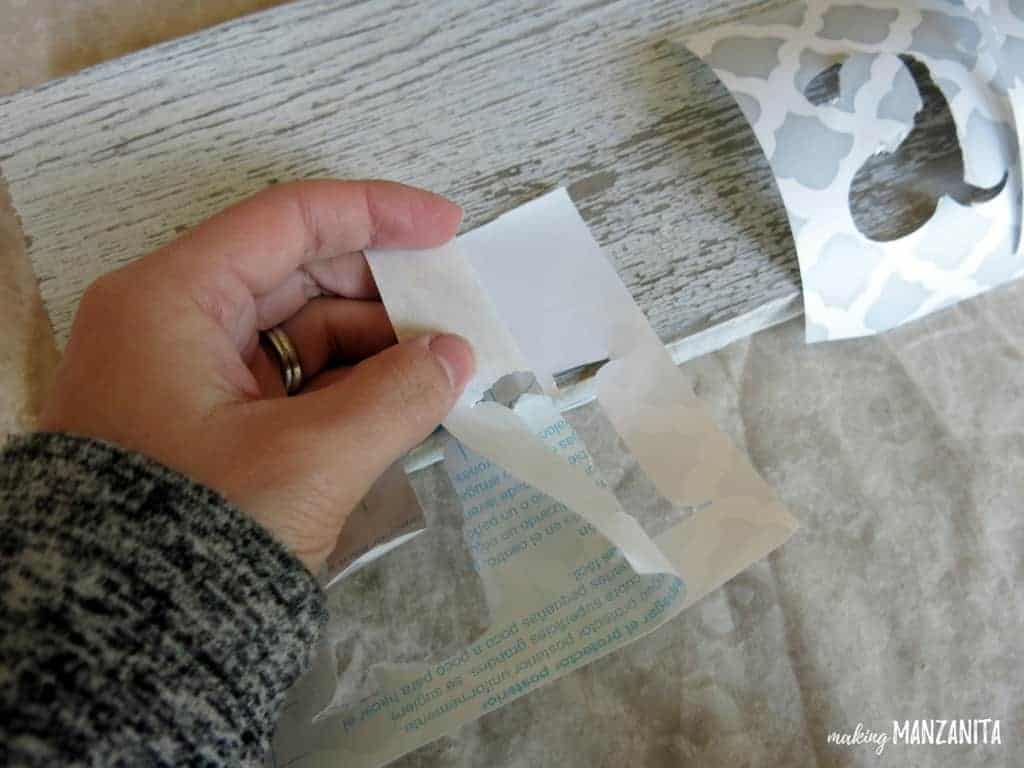 Then just peel that backing off of the stencil and lay it in place on the wood.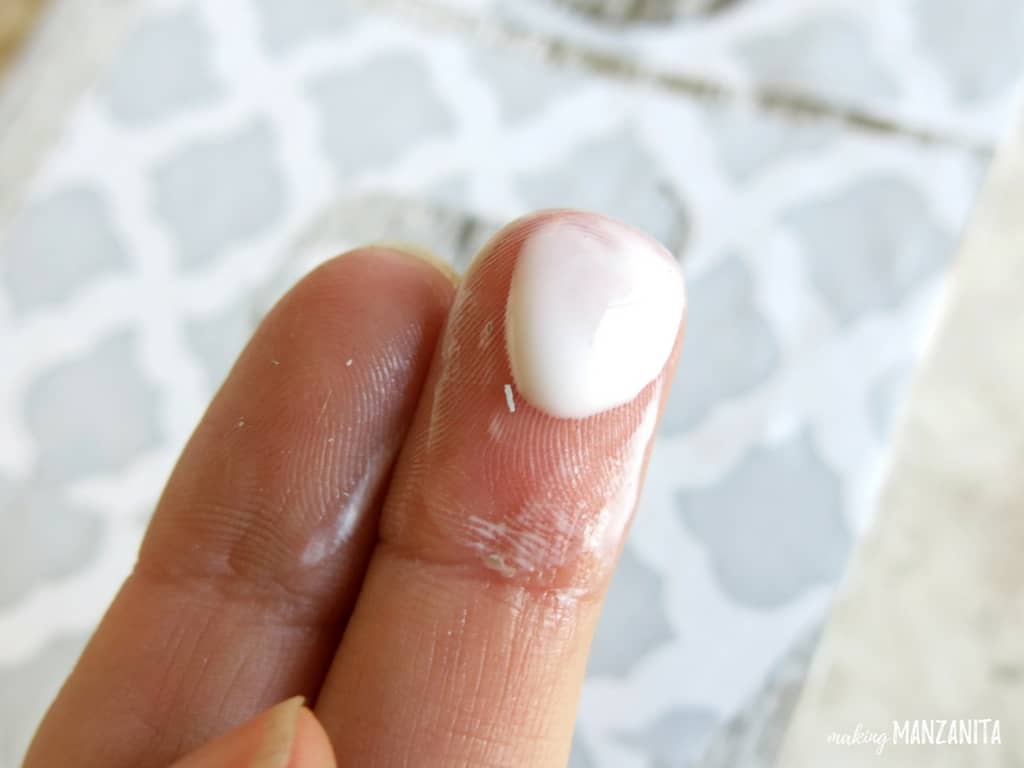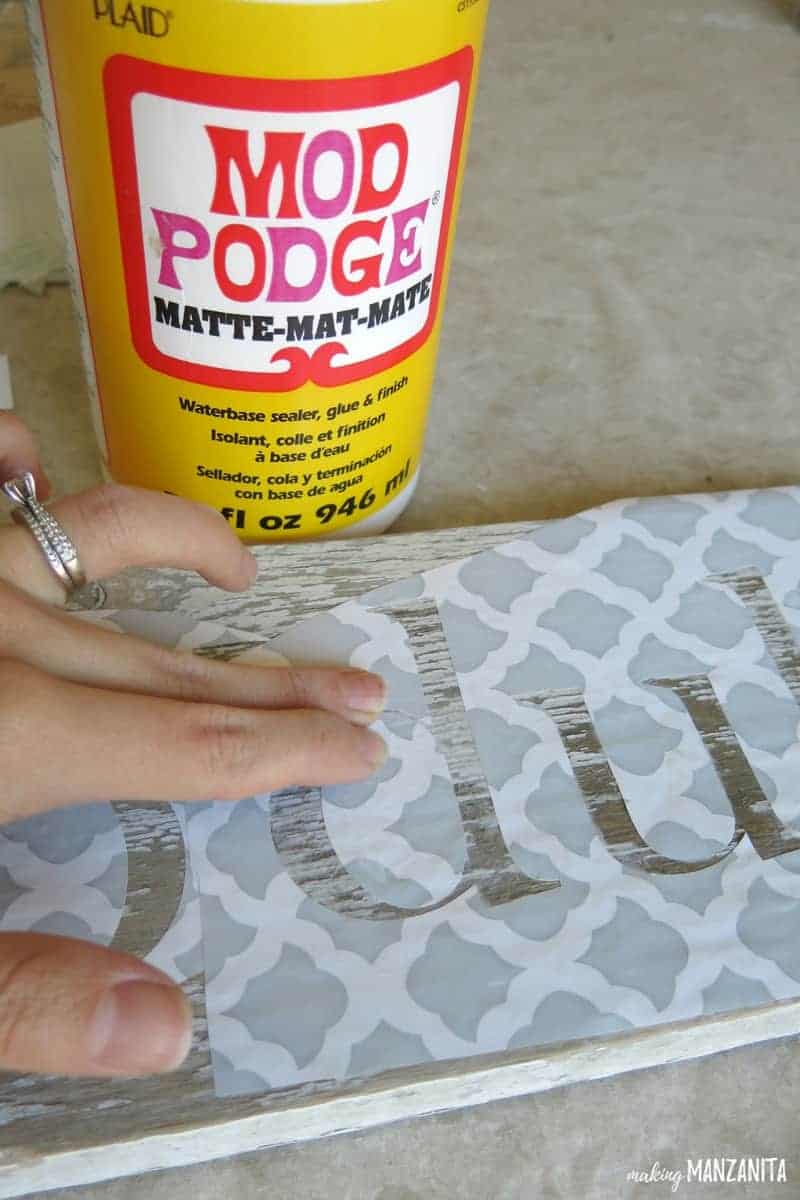 Step 4. Seal stencil.
To avoid the paint from bleeding under your stencil, you definitely want to seal it down first. This is especially true because we're working with uneven texture of the chippy painted sign. You can do this easily by applying a little bit of Mod Podge (Matte) where the inside stencil meets the wood with the tip of your finger. Once you've sealed the stencil with Mod Podge, wait about 10-15 minutes for it to dry. You can check out this post if you're interested in seeing more about this amazing sign making hack!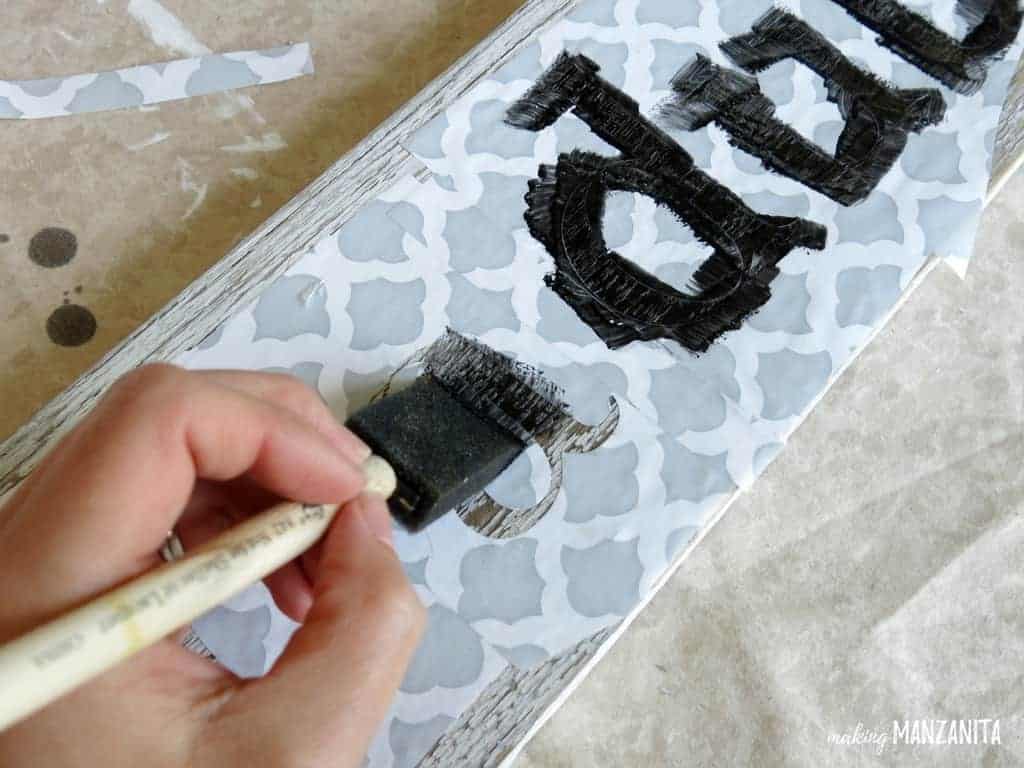 Step 4. Paint words.
Now you can start painting! I used black acrylic craft paint and applied it with a foam brush in 3 light coats. I love the contrast of the dark letters on the white chippy paint sign for farmhouse bathroom.
Even though we sealed the stencil down, I still do everything I can to prevent the stencil from bleeding. That means doing light coats rather than "glopping" the paint on and brushing away from the edge of the stencil not towards it.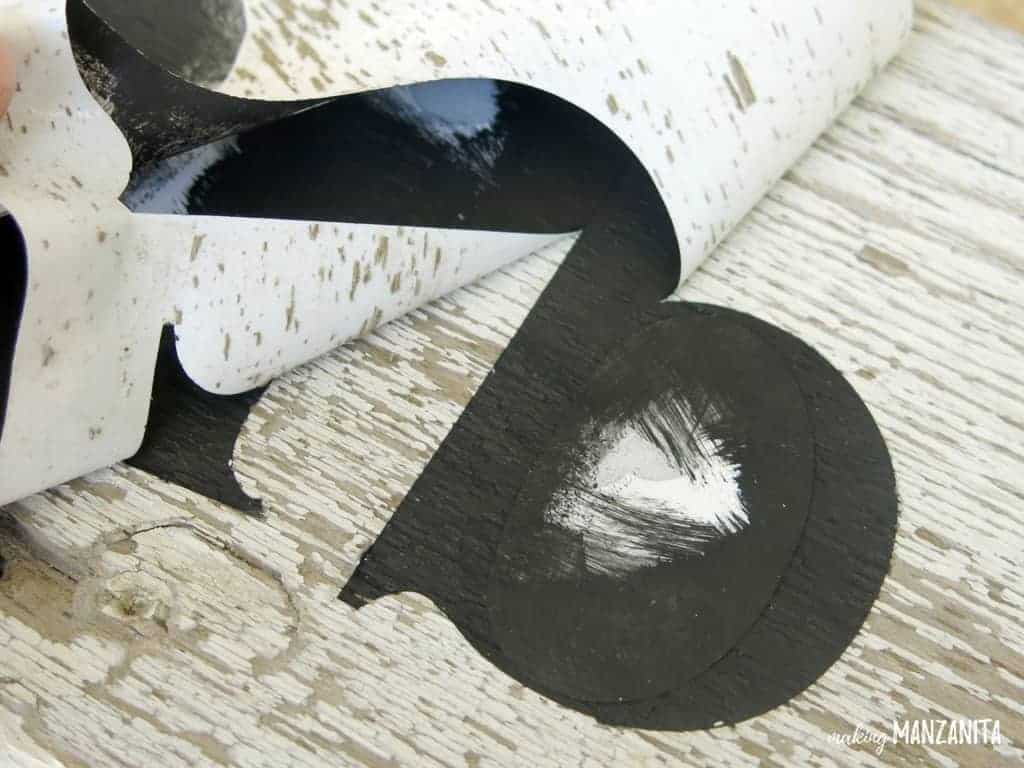 Step 5. Remove stencil.
After the paint is dry to touch, you can peel up your stencil. You will probably see some of that chippy paint come up with the stencil as well.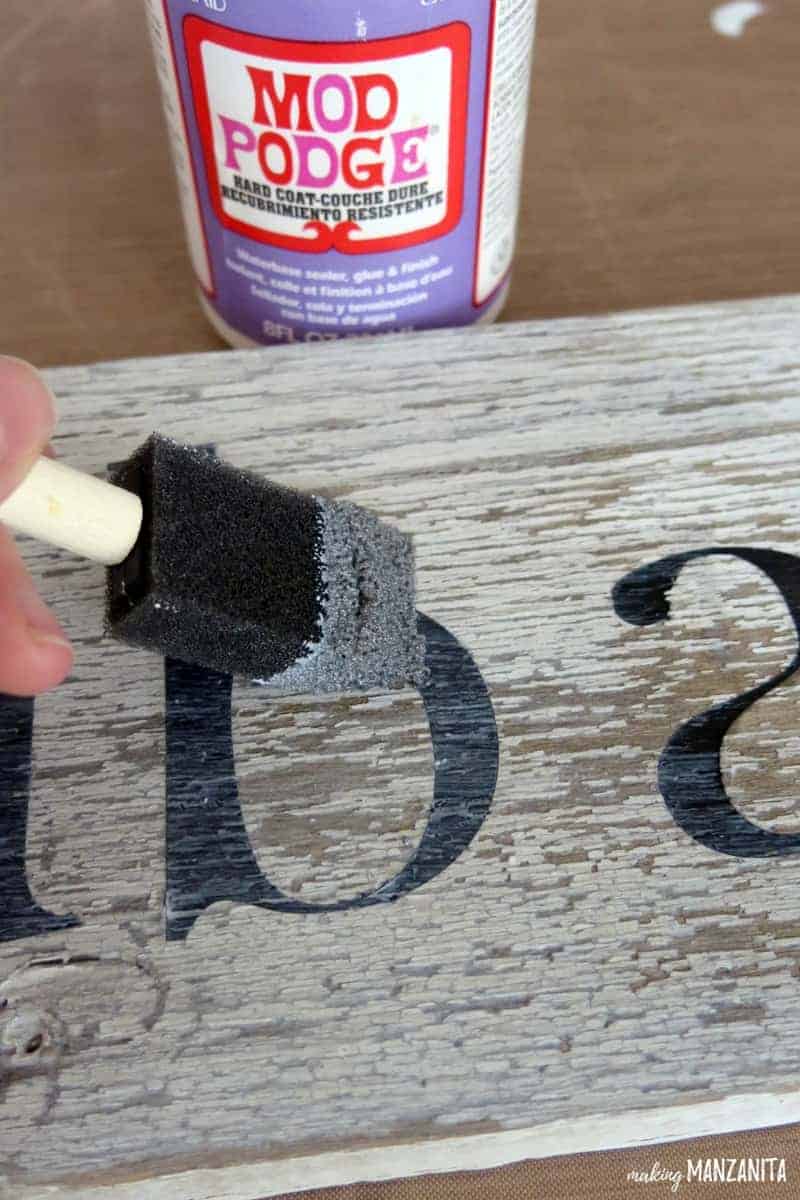 Step 6. Seal sign.
Since this chippy paint sign was going in our bathroom, I knew it would be exposed to moisture so it definitely needed to be sealed well. For this white chippy paint sign for farmhouse bathroom, I did a couple heavy coats of Mod Podge (Hard Coat) on all sides to seal it and protect it from moisture in the bathroom.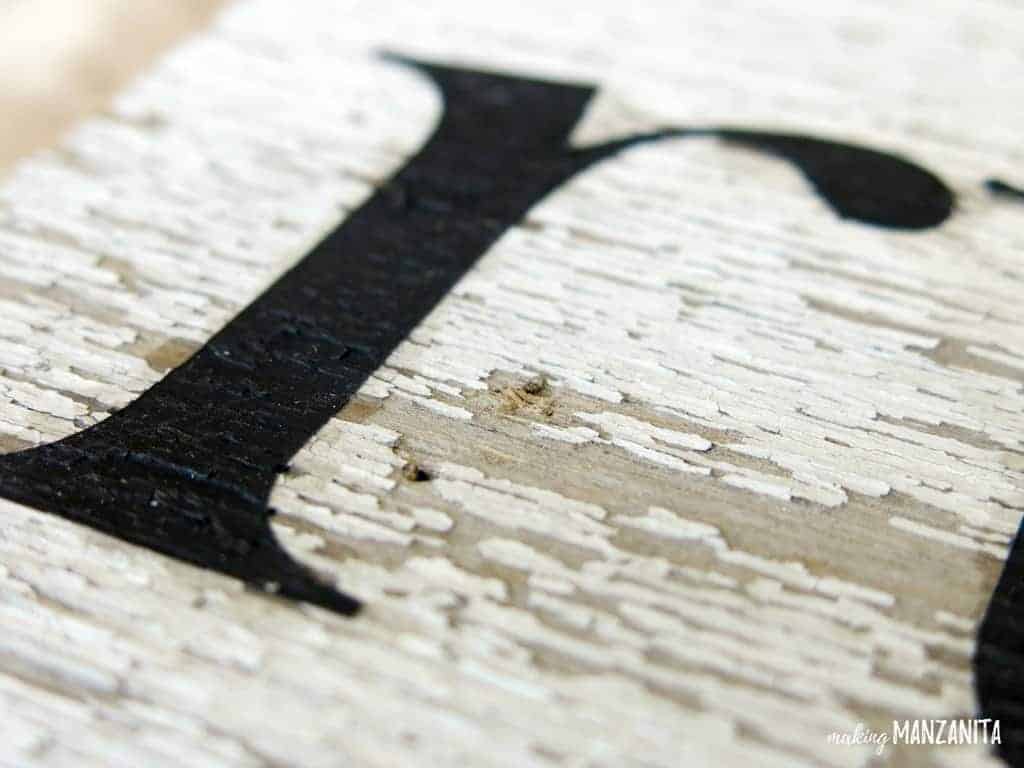 Look at those crisp paint lines!!!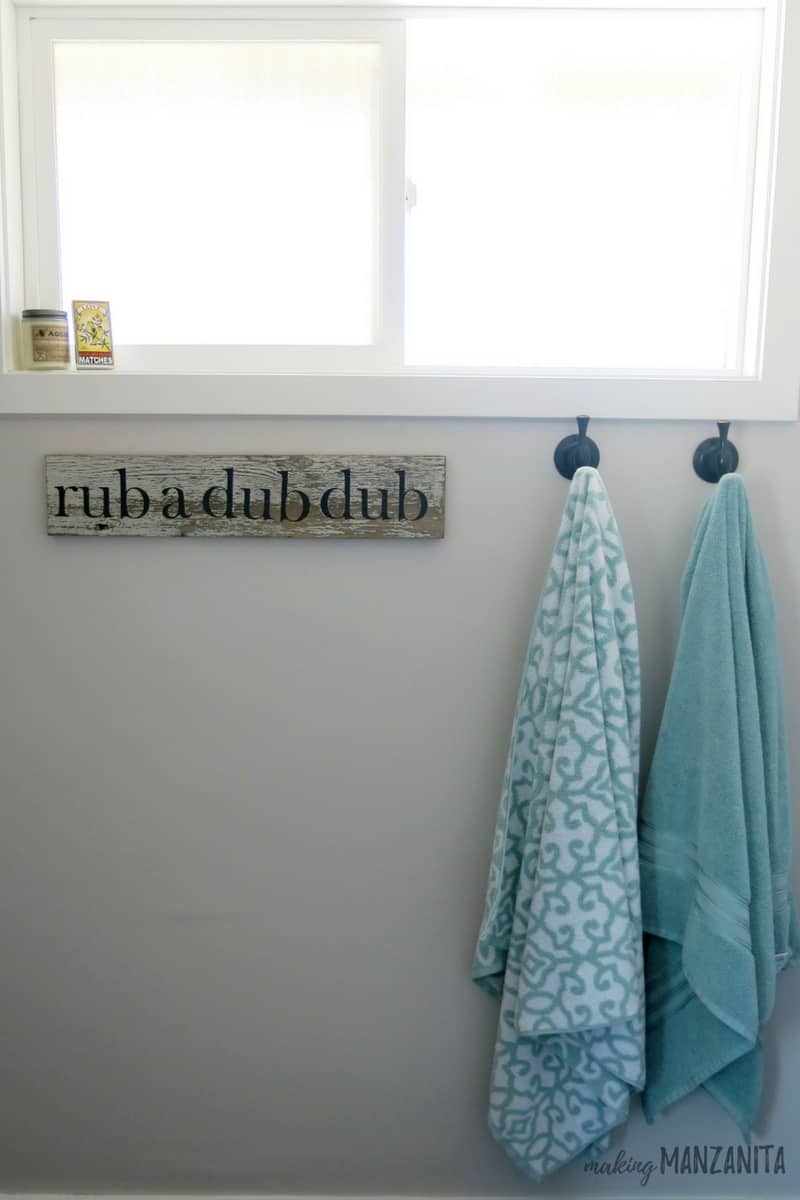 The white chippy paint wood sign for farmhouse bathroom was the perfect addition to that blank space next to the towels, don't you think? I love the character and charm it brings into our farmhouse bathroom.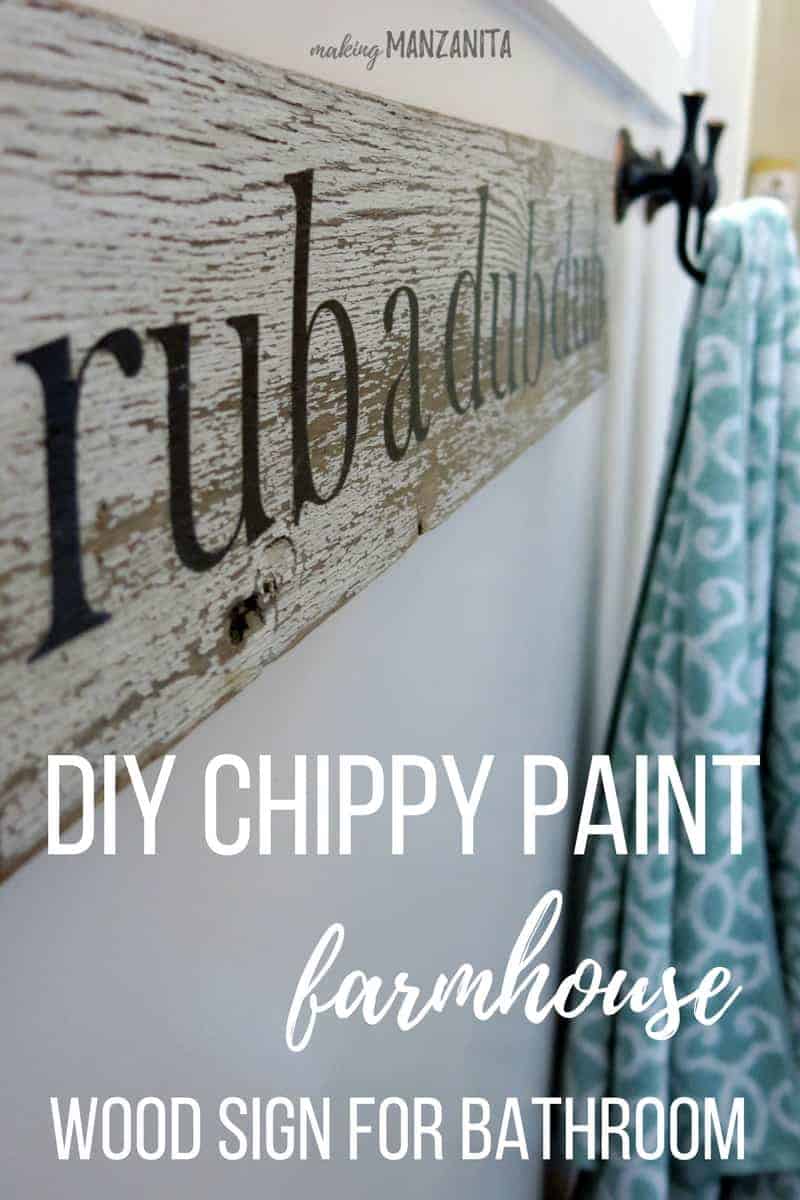 If you are able to get your hands on reclaimed chippy paint wood like this, cut it down to size and make a farmhouse style sign! Don't make me come over there and dig through your trash pile to pull out wood like this that is dying to be made new. 🙂
What words would you paint on a chippy wood sign?
---
The video of our shiplap wall and floating shelves in our farmhouse master bathroom literally went VIRAL. It was even shared by BHG, Jordin Sparks and Scott Dudick. It's been so cool to see something that we did get noticed by SO many people. If you are not one of the 20,000,000 people that saw this on Hometalk's Facebook page, here's a little time lapse version of our farmhouse bathroom transformation!
---
Looking for more of our farmhouse master bathroom renovation?
Rub A Dub Dub Chippy Paint Sign (you are here!)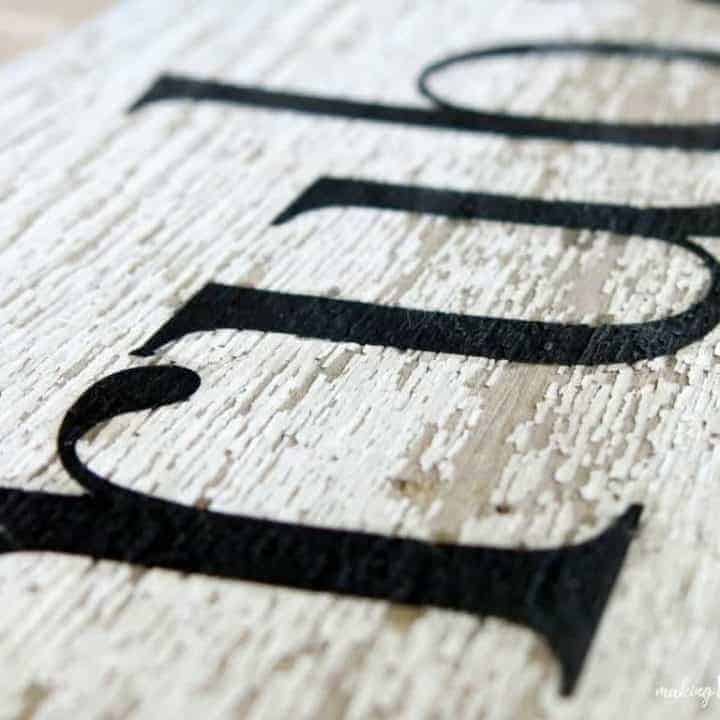 How to Make White Chippy Paint Sign for Farmhouse Bathroom
In this post I show you how to create white chippy paint sign for farmhouse bathroom. Ours says Rub A Dub Dub! This sign fits right in with farmhouse decor.
Materials
Reclaimed White Chippy Paint Wood
Instructions
Wipe down sign to remove excess flakes of paint.
Cut out stencil.
Attach stencil.
Seal stencil.
Paint words.
Remove stencil.
Seal sign.