This guide on how to fix a shower curtain that is too short will solve an annoying problem so you can decorate your bathroom.
Do you ever have one of those days when you're out and about thrifting and you come across that PERFECT find?!
It's just what you are looking for. The price is even better.
Well, I had one of those days a few months ago. I found a brand new macrame fringe shower curtain for our farmhouse master bathroom for $7.99. I was so excited!
That is until I realized that it was too short!
This guide on how to fix a shower curtain that is too short contains affiliate links, but nothing that I wouldn't wholeheartedly recommend anyway! Read my full disclosure here.
When I started decorating the bathroom, I was bursting at the seams with excitement to see how the boho-style shower curtain looked. I unpacked it, washed it, ironed it, hung it…..and then this happened.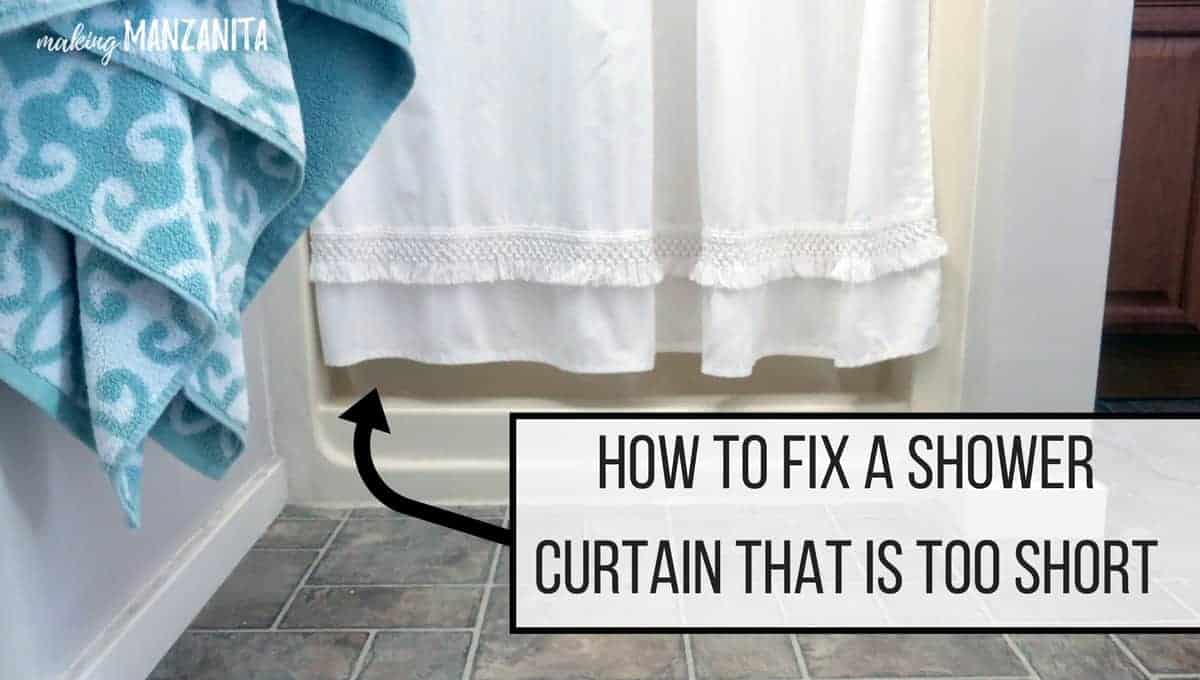 When I realized the shower curtain was too short
The excitement came to a shrieking halt.
Aren't all shower curtains the same height? Should I have measured this? What am I going to do?
Side note….no, shower curtains are NOT all the same height.
The standard shower curtain size is about 70-72 inches wide and 70-72 inches tall.
However, if you have the stall-type shower as I do, you need something in the 78" range. Read more about shower curtain measurements here.
Also, I had purchased an extra long shower liner, so I wasn't too worried about water going under the shower curtain. I was just trying to make it look better instead of having that big ugly gap at the bottom.
When I figured out the solution for the too-short shower curtain
Rather than starting all over, I was determined to make this adorable little shower curtain work. So I went back to the drawing board.
Until one day I was wandering down the walls of JoAnn's and saw an entire section of their store dedicated to long trim. This was over in the ribbon section.
I spotted some boho-looking white fringe trim that would fit right in with my boho shower curtain.
I knew I wanted to add about 5-6 inches of trim to the shower curtain. The trim was perfect. This was one of the longest fringe trim options they had.
Of course, if you were trying to fix a shower curtain that is too short, you could sew it on….but I wanted to keep this whole hack to fix a shower curtain that is too short totally NO SEW. Because that's my jam.
Enter this amazing no sew transfer tape. It was so simple to use!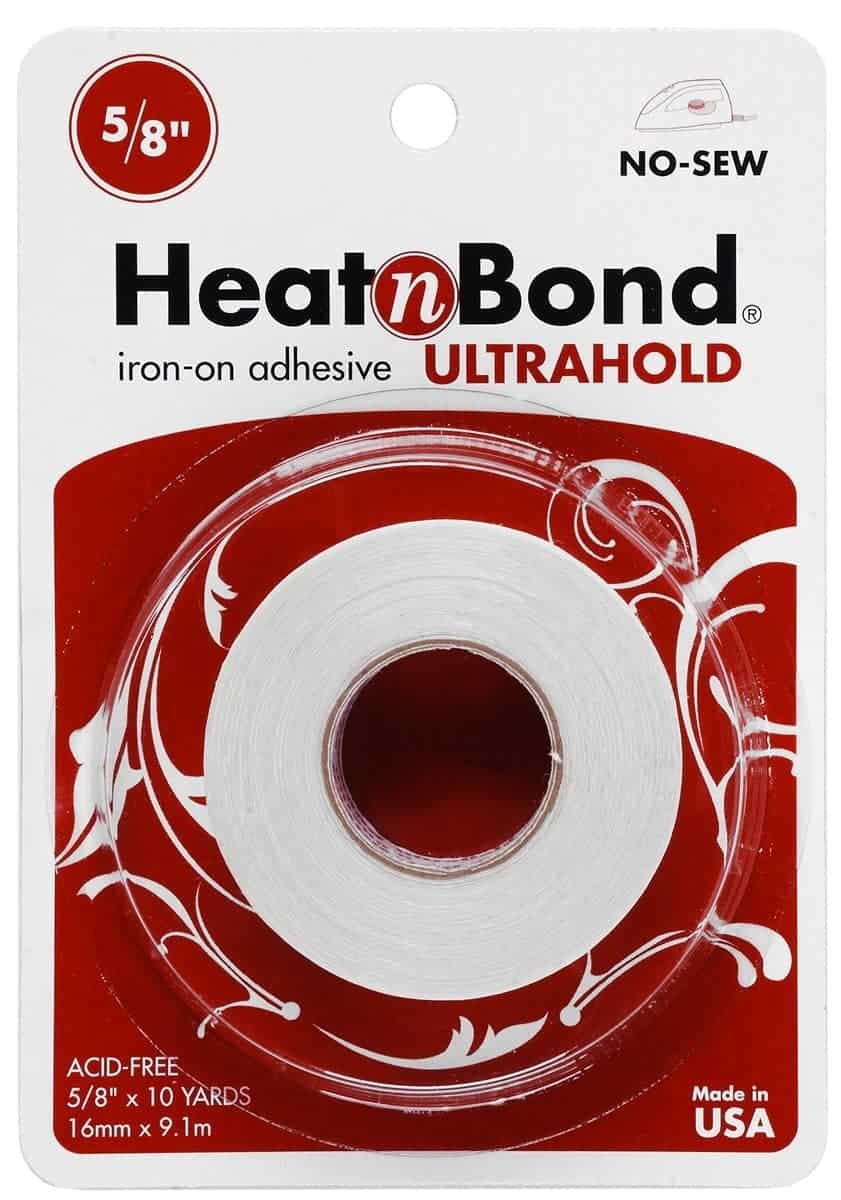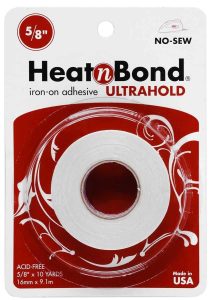 How to Lengthen a Shower Curtain that's Too Short (Using No-Sew Transfer Tape)
Supply List –
Fringe Trim
Needle & Thread
Here's the quick gist of how to use this transfer tape and trim to fix a shower curtain that is too short.
Step 1. Apply transfer tape to fabric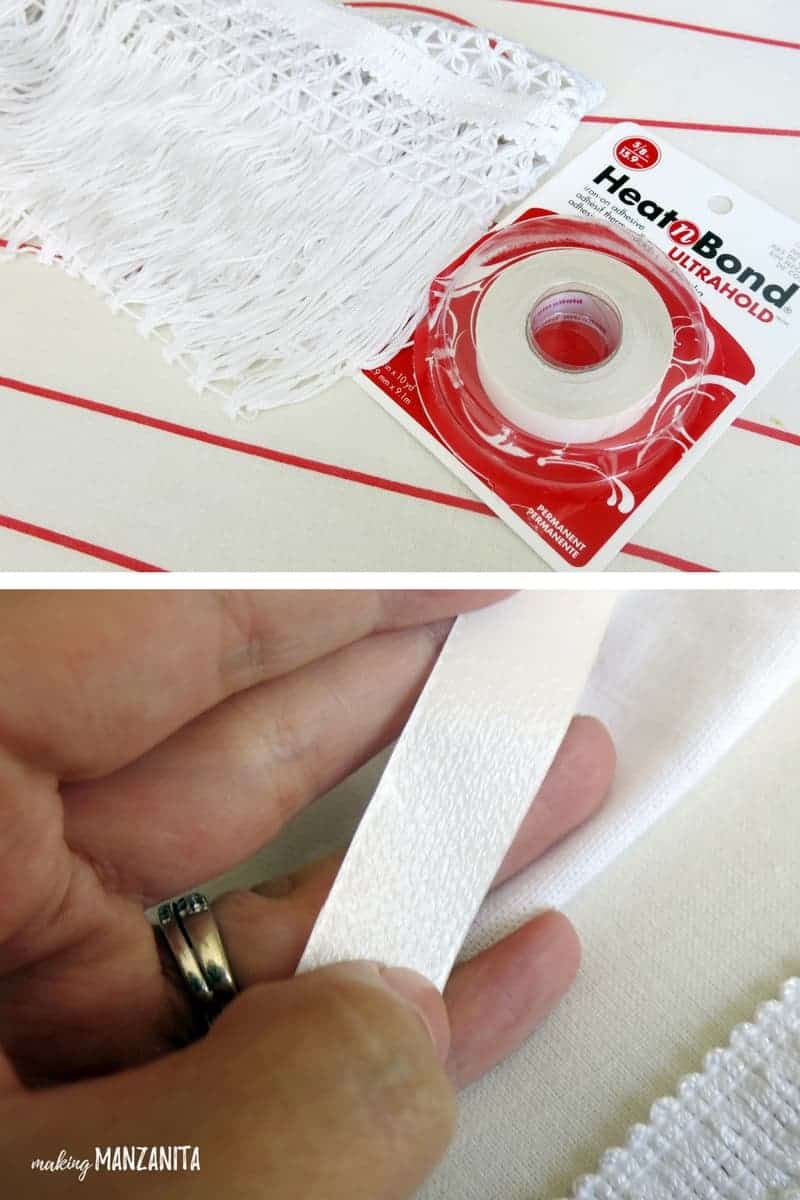 The transfer tape has one side that is shiny. This is the tape.
Place the shiny side face down on the fabric.
I wanted to add the trim to the back side of the shower curtain, so I placed the tape on the back.
Step 2. Activate the transfer tape with an iron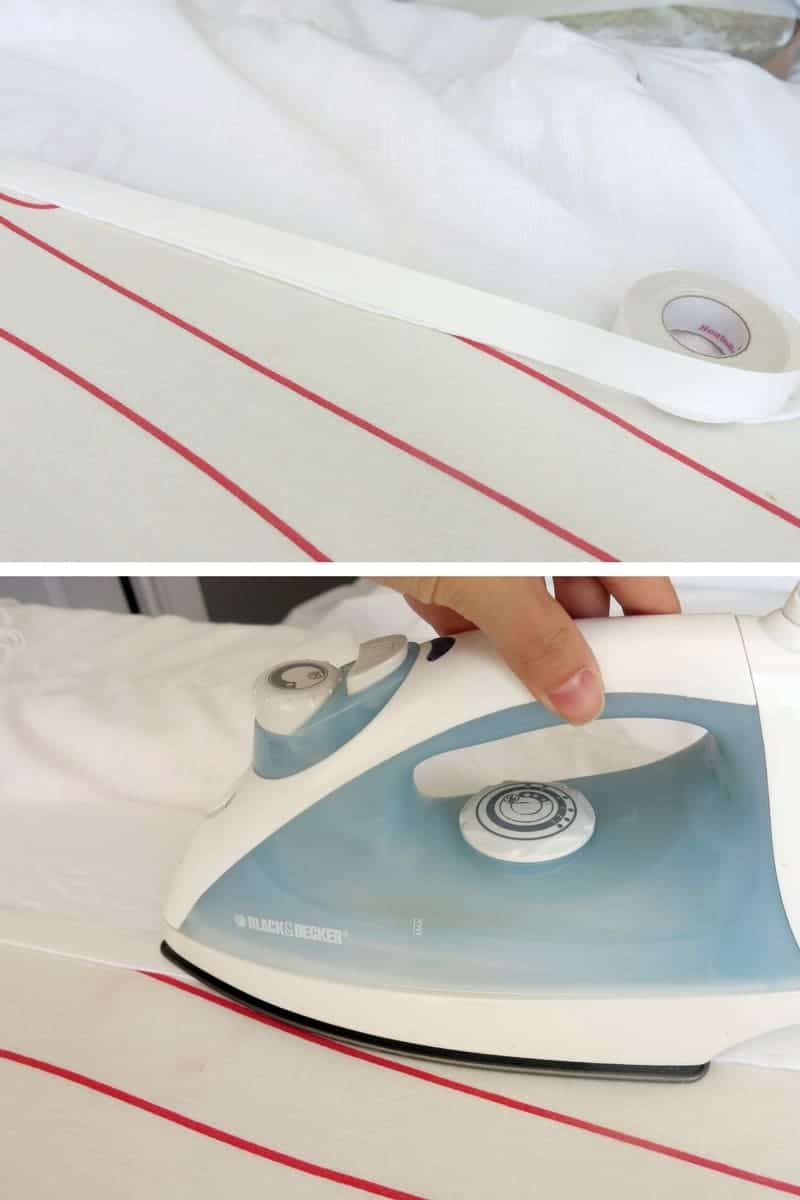 Next, iron it until the tape fuses with the fabric. The box said about 15 seconds, but I found that something in the 30-second range was working better for me.
This probably depends on the heat on your iron (I had mine set at medium) and your fabric.
Step 3. Peel off the transfer tape backing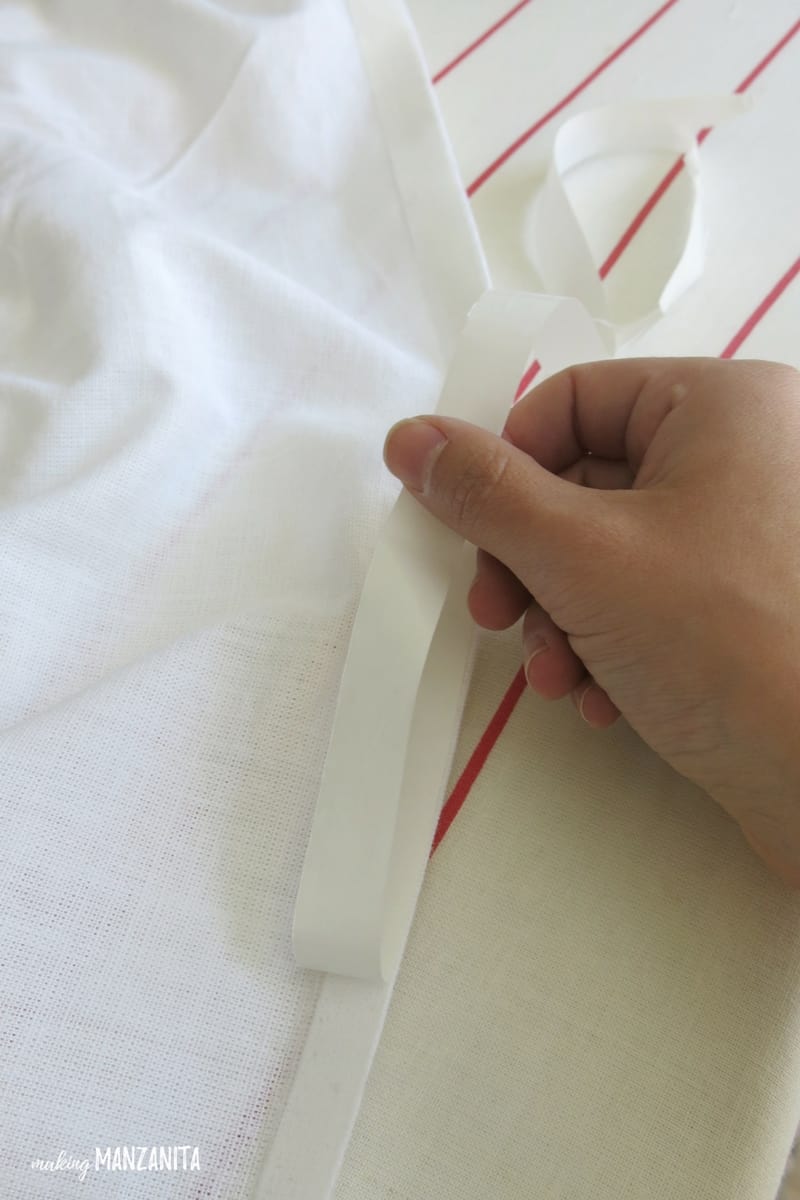 Once the no-sew transfer tape has fused with the fabric of the shower curtain, you can peel off the paper backing on the tape.
Step 4. Adjust the tape, make sure it's just right!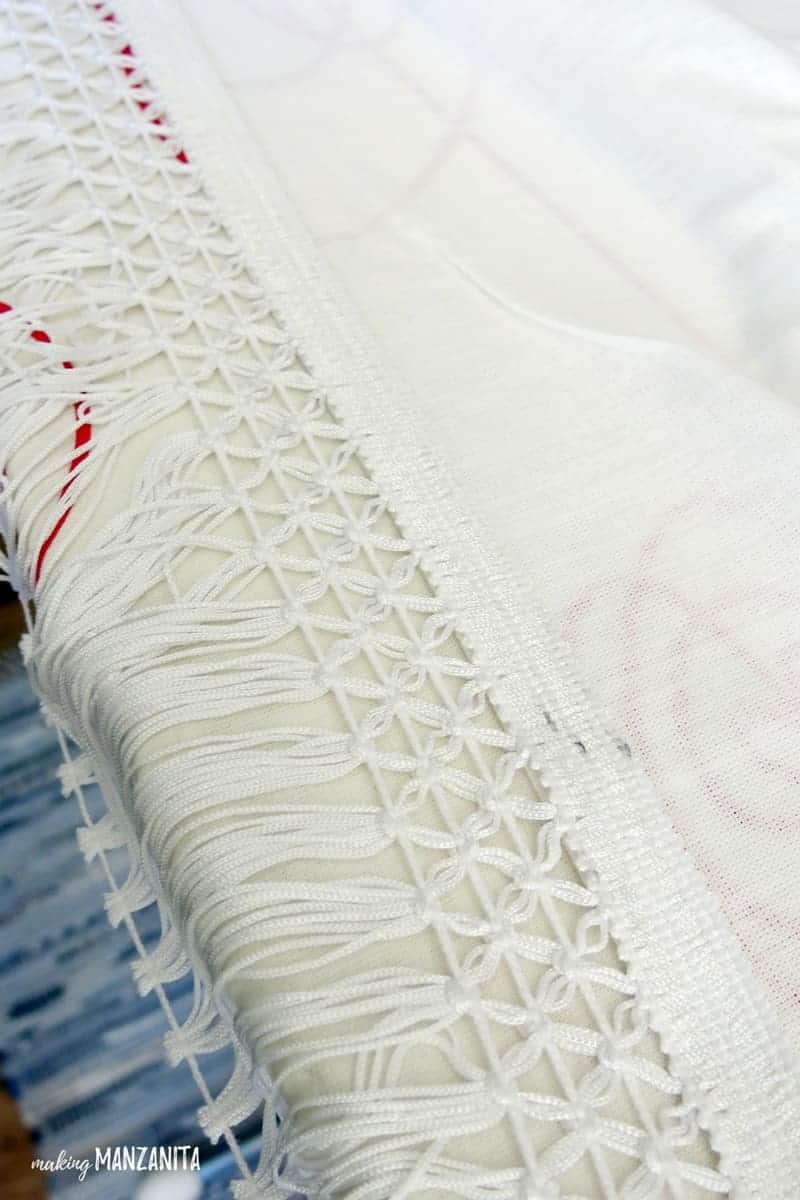 Lay your trim over the top of the tape and adjust to make sure it's straight all the way across.
Step 5. Iron the fabric for 30 seconds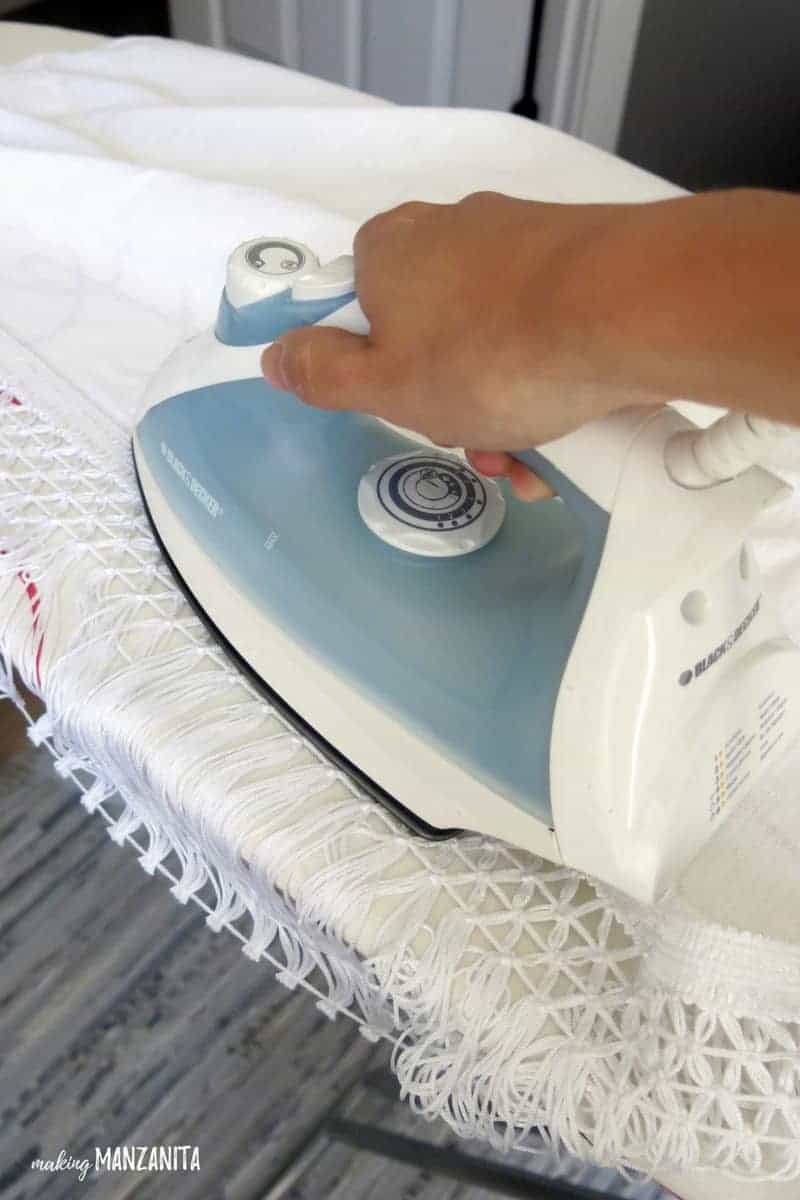 Next, just run your iron over the top of the trim. This fuses the tape and the trim now. 🙂
Again, I think I did about 30 seconds on this.
Step 6. Secure the adhesive tape with a needle and thread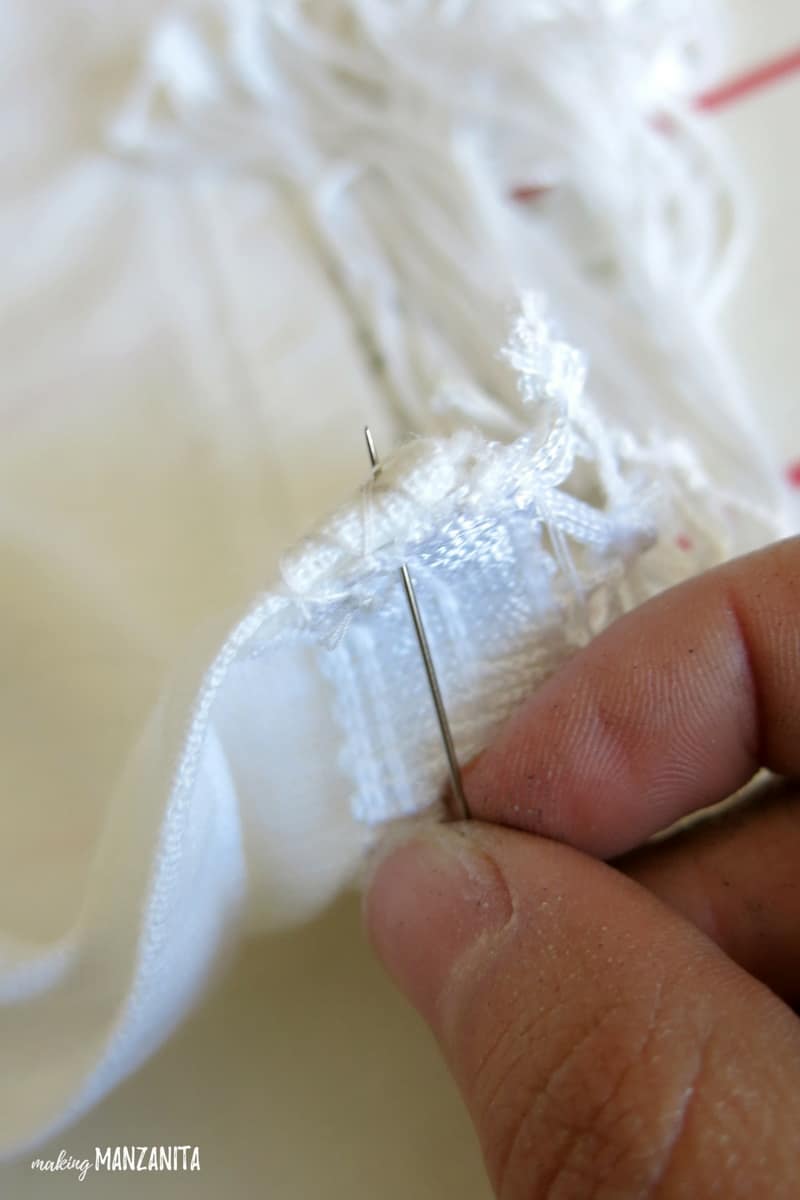 To finish it off, I quickly sewed up the edges to make sure it was nice and secure.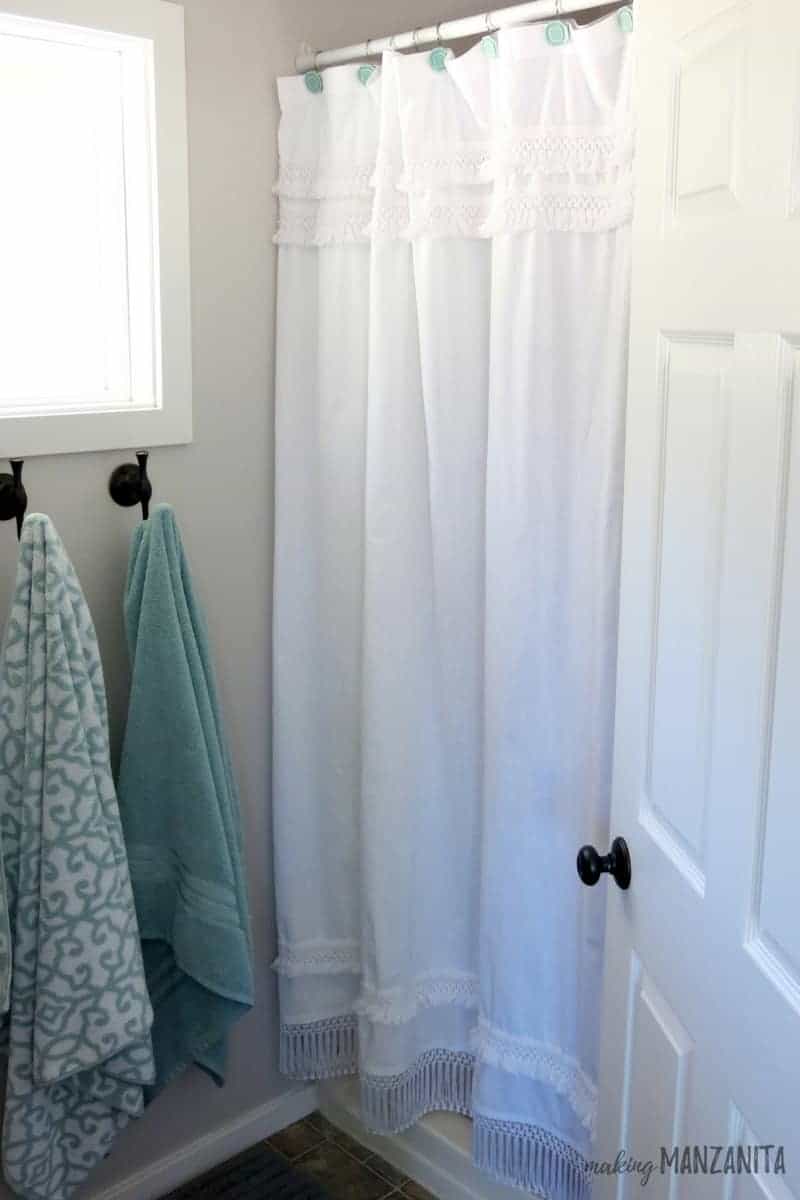 It was just the perfect length after I added the trim to the bottom of the shower curtain to make it longer.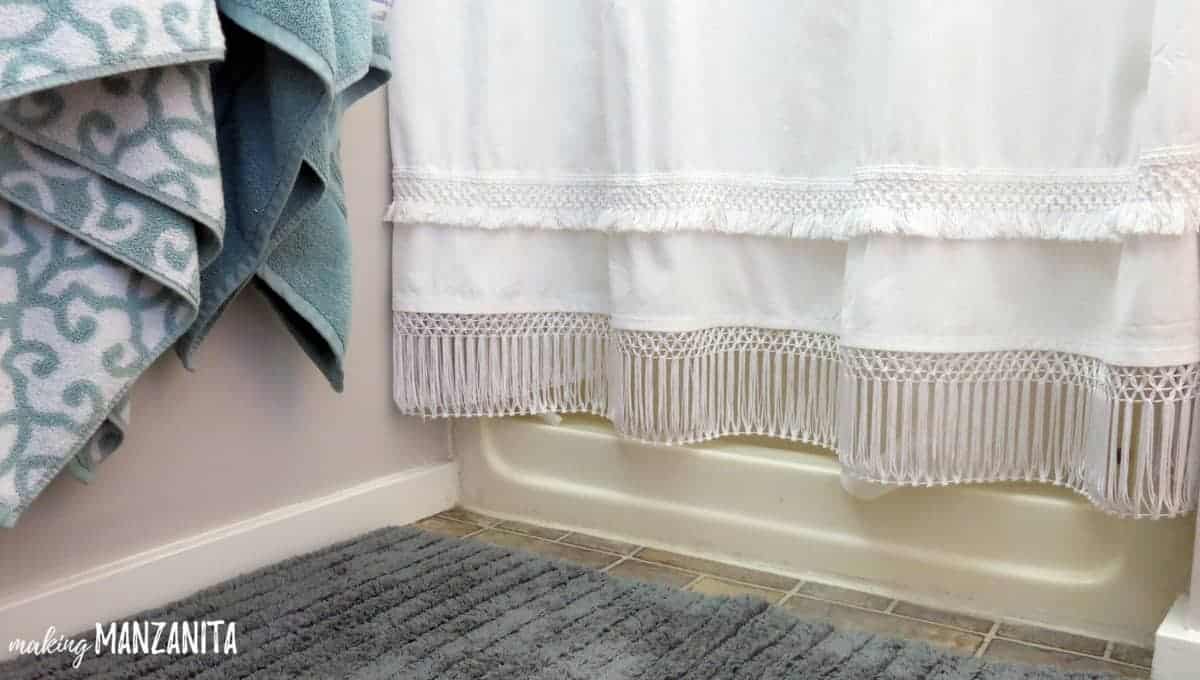 I am so glad that I didn't have to get rid of the boho shower curtain of perfection. Wouldn't that have been a bummer?!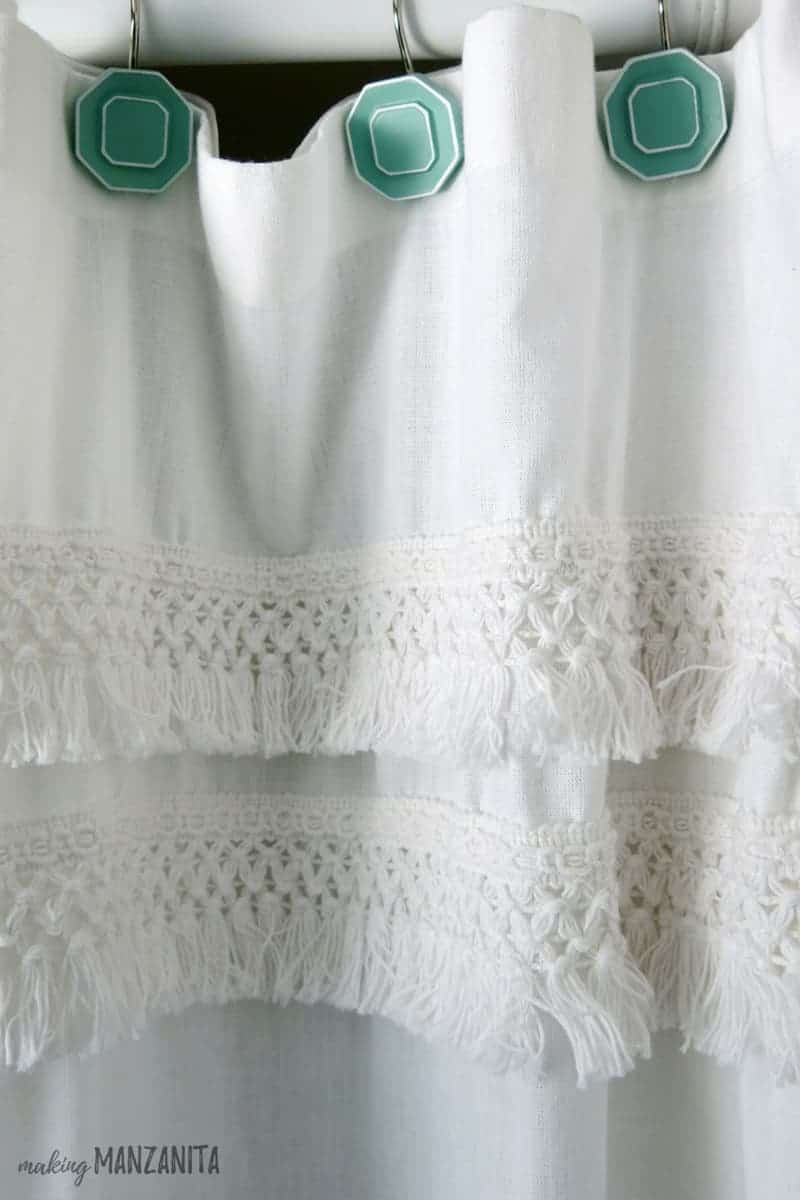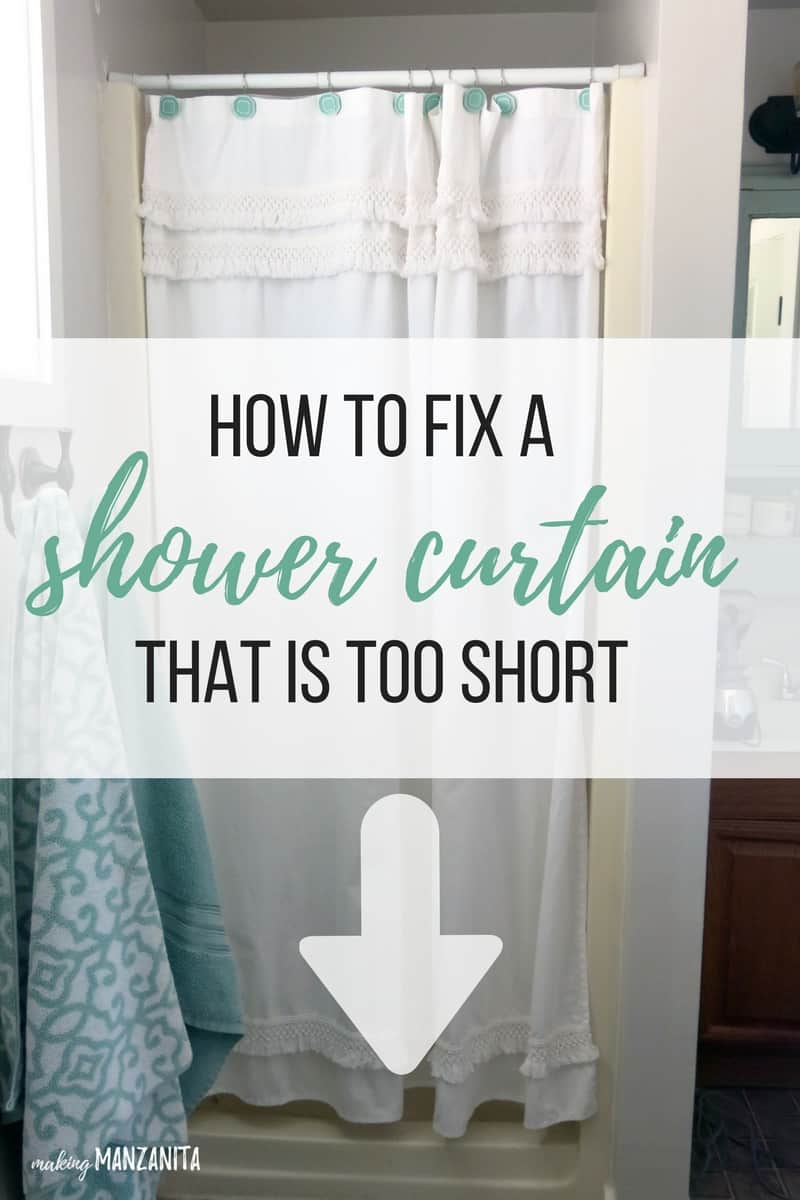 ---
The video of our shiplap wall and floating shelves in our farmhouse master bathroom literally went VIRAL. It was even shared by BHG, Jordin Sparks and Scott Dudick. It's been so cool to see something that we did get noticed by SO many people. If you are not one of the 20,000,000 people that saw this on Hometalk's Facebook page, here's a little time lapse version of our farmhouse bathroom transformation!
---
Looking for more of our farmhouse master bathroom renovation?
How To Fix A Shower Curtain That Is Too Short (you are here!)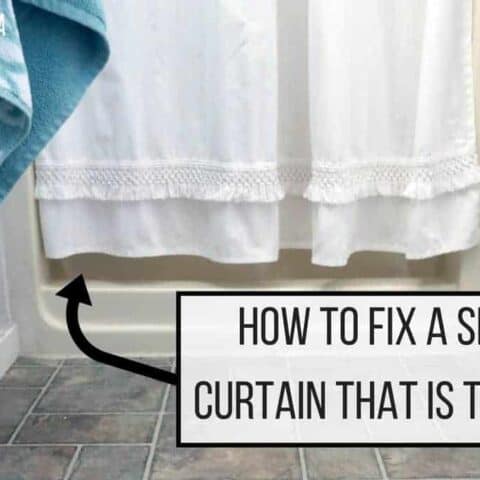 How to Fix a Shower Curtain That's Too Short
Wondering how to lengthen a shower curtain? Here's a quick fix for a shower curtain that's just a little too short!
Materials
Fringe Trim
Needle & Thread
Instructions
1. Apply transfer tape to fabric

2. Activate the transfer tape with an iron (about 30 seconds)

3. Peel off the transfer tape backing

4. Adjust the tape, make sure it's just right!

5. Iron the fabric for 30 more seconds to full fuse the tape

6. Secure the adhesive tape with a needle and thread