I repurposed 2 old chairs that were headed for the dump and one extra wood pallet into a colorful upcycled chair bench for your backyard !
This colorful upcycled chair bench for your backyard is brought to you in partnership with Sherwin Williams. The opinions in this post are completely my own based on my experience. Also, this post contains affiliate links, but nothing that I wouldn't wholeheartedly recommend anyway! Read my full disclosure here.
Have you ever found some trash waiting to be turned into treasure?! I scored these old chairs for FREE (yes…that's right….zero!) on a local Facebook group!!
I'm always keeping my eye on Craigslist and Facebook Marketplace groups for things like this.
I knew exactly what I was going to do with these old chairs. I wanted to give them new life with a fresh coat of colorful paint and turn them into a colorful outdoor bench.
Before: Our Repourposed Chairs for Our Backyard Bench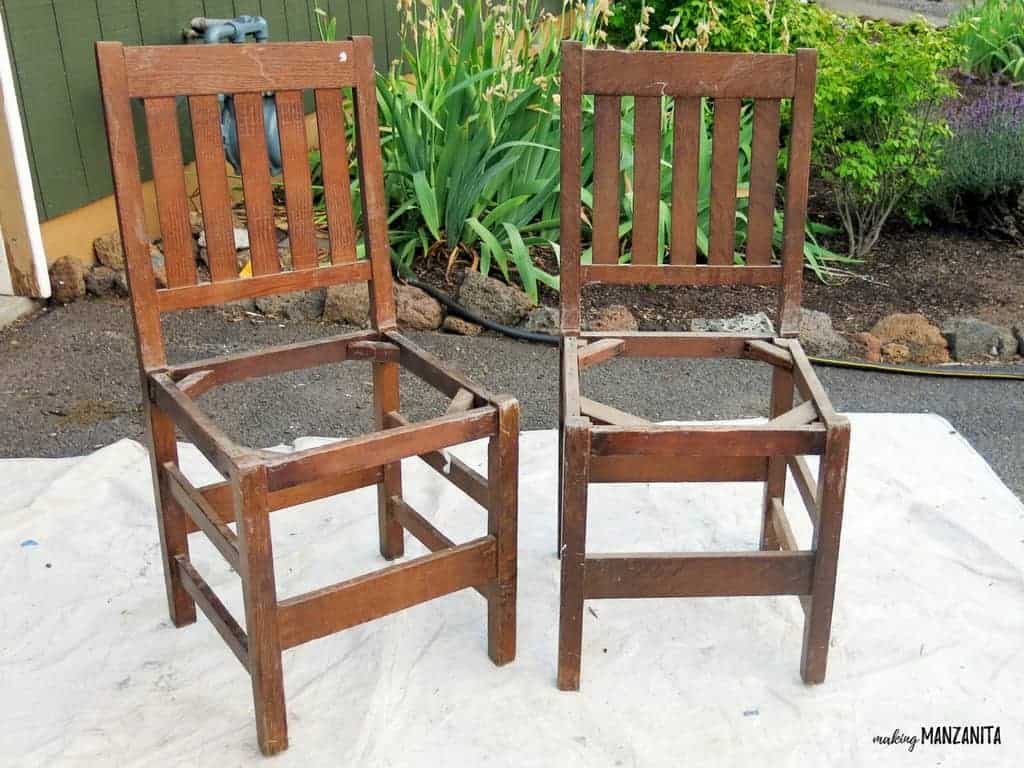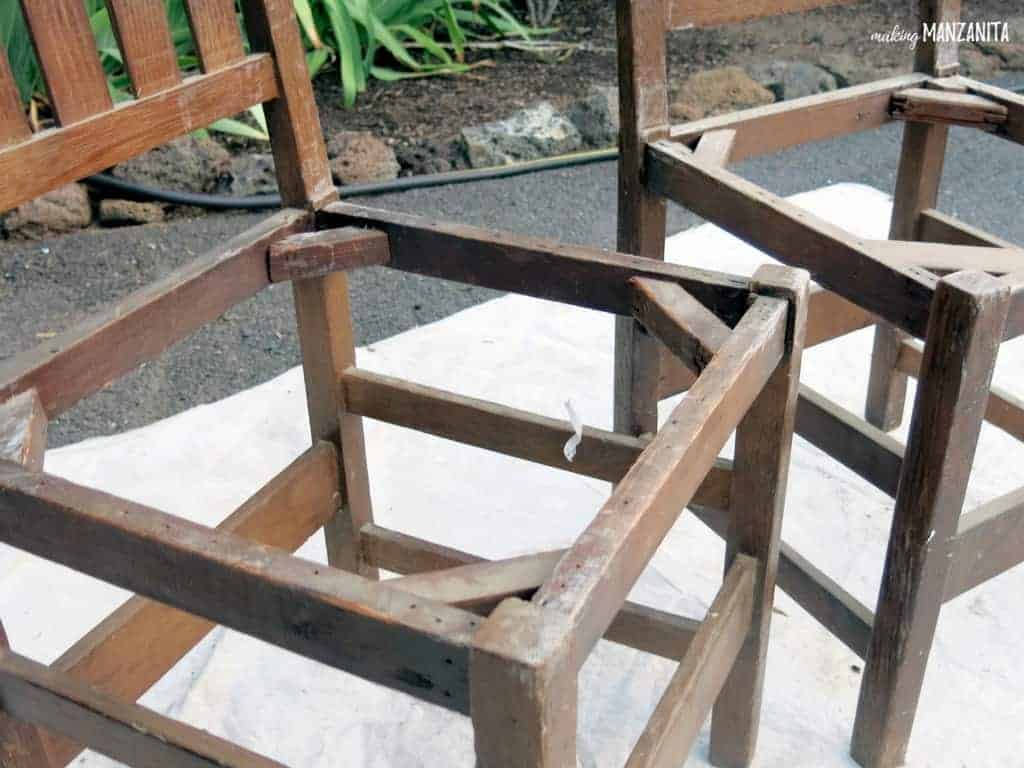 Although the chairs were a bit beat up, that was totally ok. I mean, after all…they were headed to the dump!
The person that was getting rid of these chairs was going to trash them.
All they needed was a good clean-up and some fresh paint. I'm so glad we were able to give these old chairs new life and turn them into a colorful upcycled chair bench for your backyard.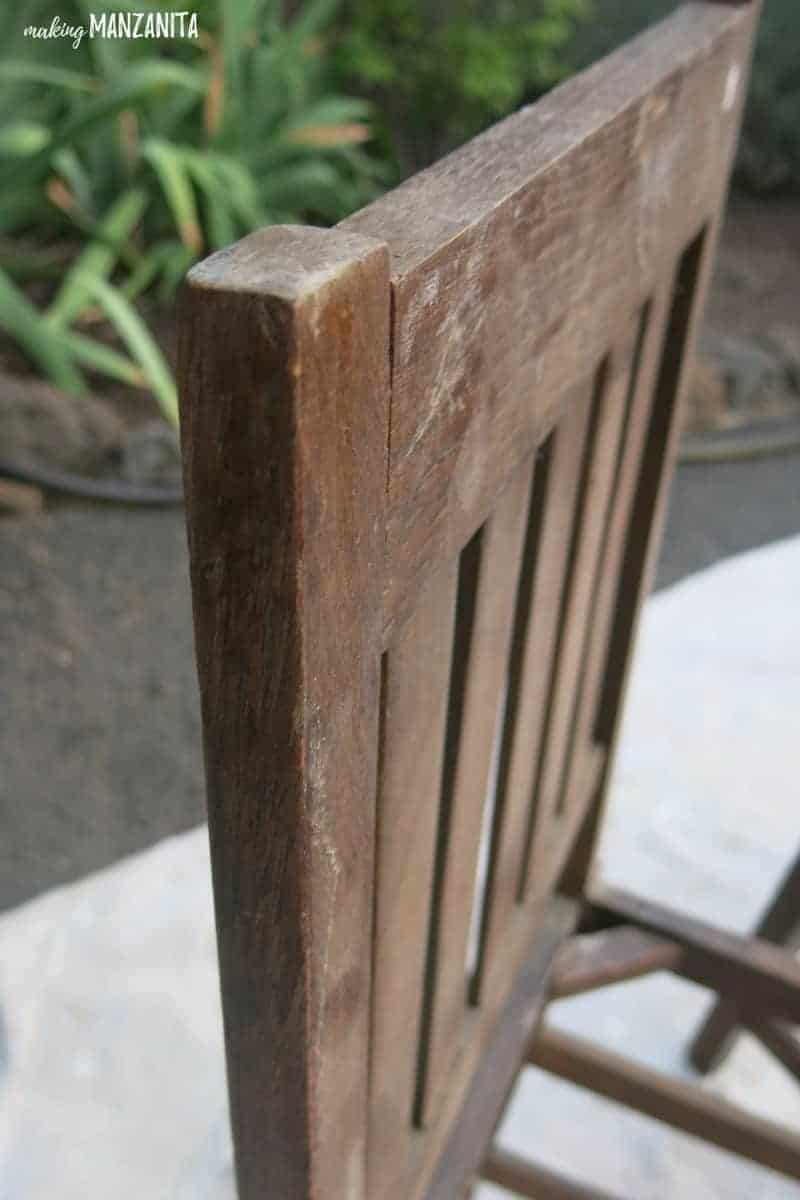 Want more DIY home projects? Make sure to check out these fun outdoor projects!
Are you ready to see how to turn two old chairs and a pallet into a colorful outdoor bench for your backyard?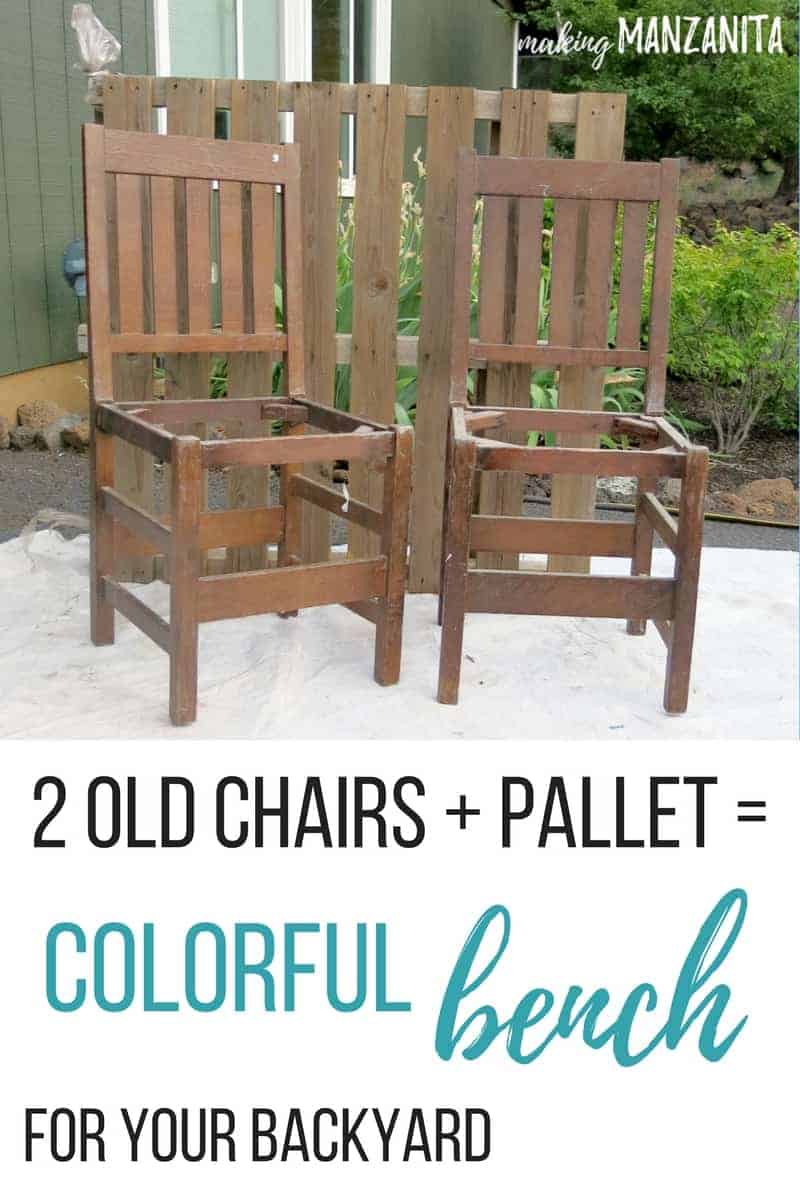 Supplies needed to create this colorful upcycled bench for your backyard:
Upcycled Backyard Bench Project Steps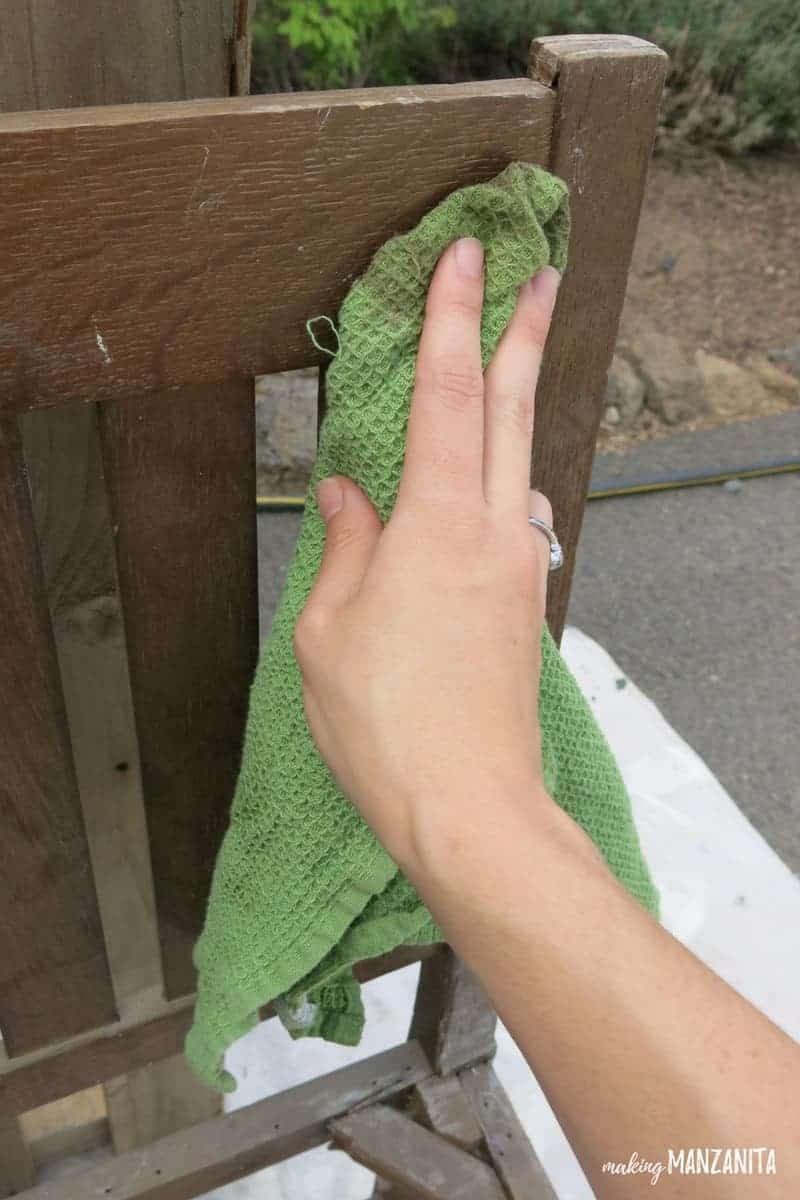 Step 1. Clean chairs.
To start off, you want to give the chairs and good cleaning. Especially if you are using old chairs that were on their way into the trash like mine were!
After we got them for free from someone on Facebook, they also ended up sitting in our garage for a few months until I had some time to tackle this DIY chair bench.
To clean your chairs, you can just use a slightly damp rag.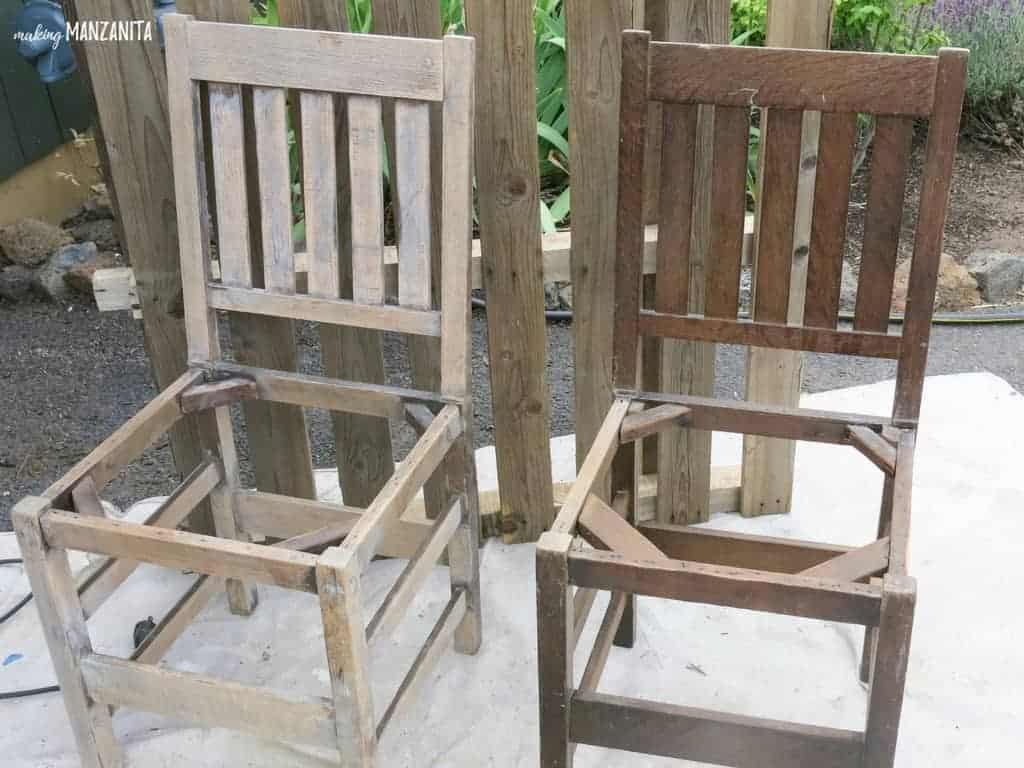 Step 2. Sand chairs.
Before you start painting, you definitely want to sand your chairs.
This will remove whatever residue and/or finish that is currently on the chairs and give the exterior paint something to adhere to.
I used a hand sander and 220 grit sandpaper to sand down the chairs.
Once you're done sanding, don't forget to wipe down the chairs to remove the sanding dust.
You can use a slightly damp rag or a tack cloth. I love the tack cloths because they are a bit sticky and grab all of the sanding dust right up.
Step 3. Paint chairs.
Now, our upcycled chair bench is going outside in our backyard so I decided to go with a high-quality exterior paint to prolong the life of the outdoor wood furniture.
Sherwin Williams was kind enough to send me to some Resilience Exterior Acrylic Latex Paint to try out for this project. The Resilience line offers exceptional moisture resistance, which is definitely something I need since we live in a climate with harsh winters and sunny summers.
I used a paintbrush to apply the paint, but you could also use a paint sprayer if you have one to make this DIY chair bench project go even faster.
As I mention in the video below, when you are painting furniture for outdoors, you want to really think about totally encapsulating the furniture, not just covering the wood in places you can see.
The exterior paint acts as a sealant for the wood furniture, so it's important to get in all the nooks and crannies.
Also, don't forget about painting the bottom side of the chairs and even the bottom of the legs where the chair touches the ground!
Note: if you think your outdoor bench may be sitting in puddles of water, you can also attach some risers to the bottom of the legs so its not sitting directly on the ground.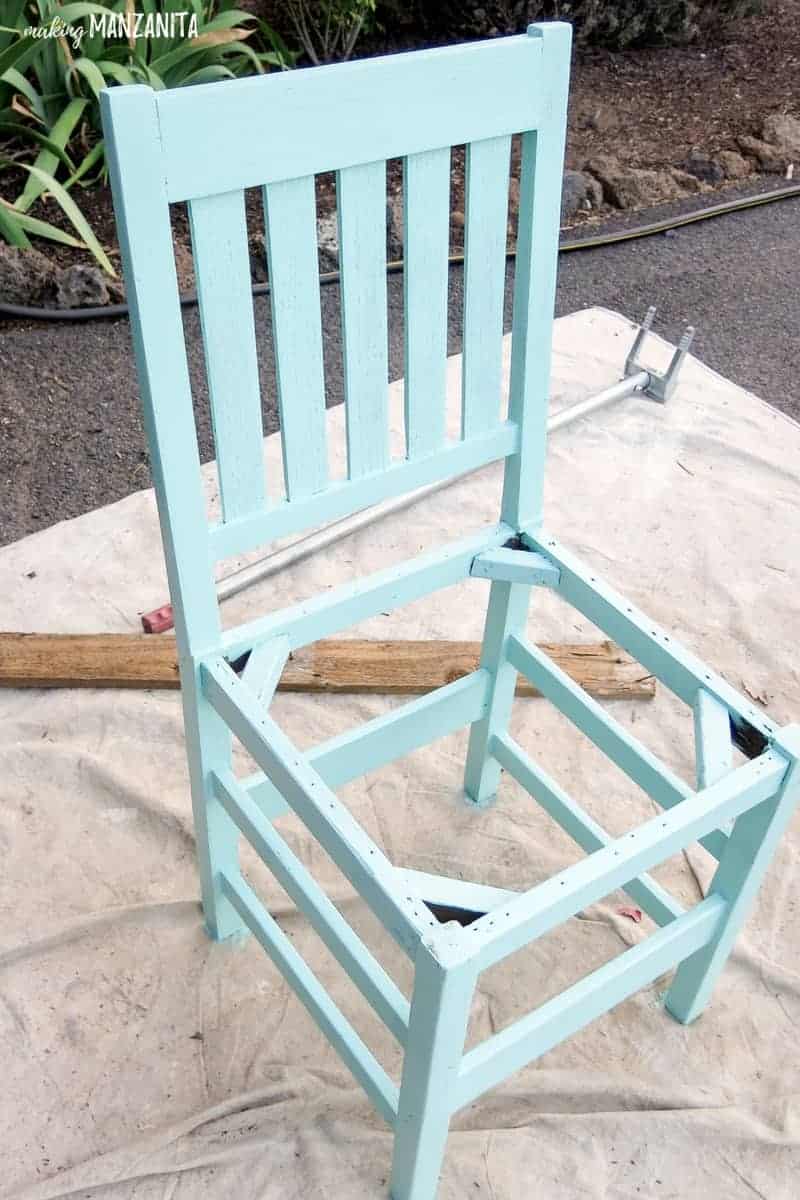 I ended up doing two coats of exterior paint. If I put it on a tad thicker, I probably could have gotten away with doing one….but I tended to paint in lighter coats even if it takes me a little more time. It ends up being a little neater.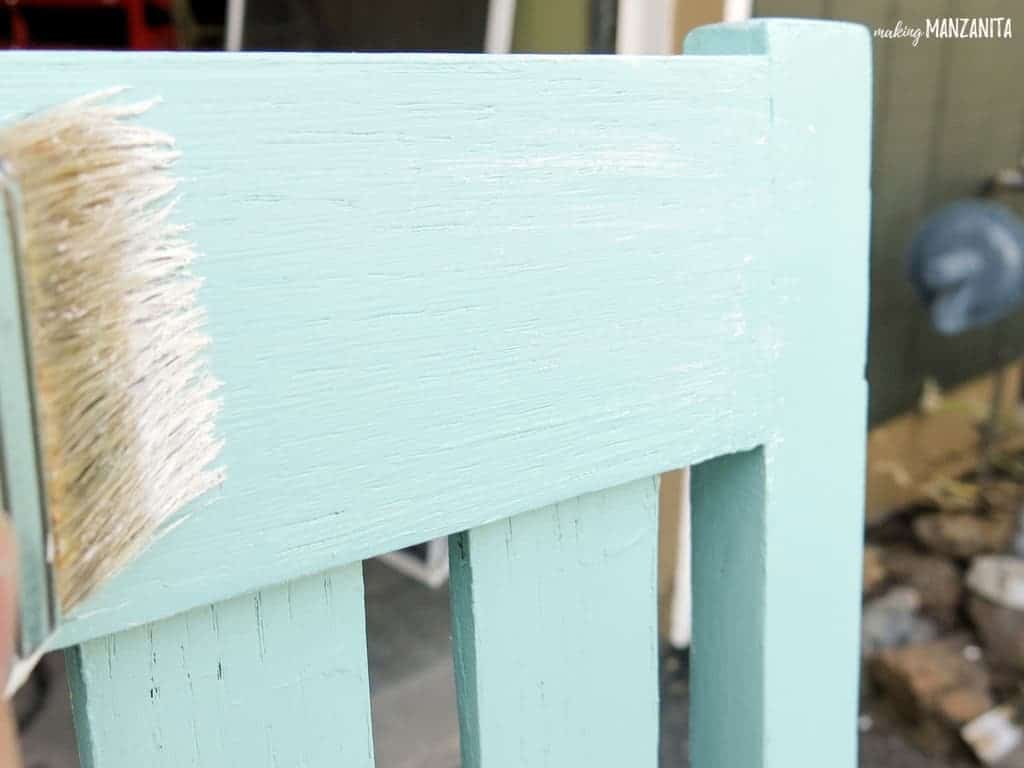 Step 4. Dry brush chairs.
After I put 2 coats of exterior paint on and waited for them to dry, I liked the color (which, by the way is Refresh by Sherwin Williams). But I just didn't LOVE the way the chair bench was turning out.
My style is typically a little more muted and farmhouse. I knew I couldn't distress the chairs like I normally do when I'm painting furniture. The coats of exterior paint needed to stay intact to provide moisture protection for this outdoor bench, so I definitely couldn't sand them. I ended up dry brushing the chairs with white acrylic craft paint.
How to do the dry brush paint technique
Dry brushing is a very simple technique that you can use to add a little character to painted furniture. Dry brushing is also great for adding attention to a piece of furniture's texture. It's really simple to do, too!
All you do is take an old ratty paintbrush and put a little bit of paint on it and then rub the paint mostly off of a piece of paper towel or rag.
You want the paint to be lightly coating the brush bristles and almost dry to the touch.
Then, gently run the paintbrush over the furniture just barely touching it. Always run the paintbrush with the grain of the wood.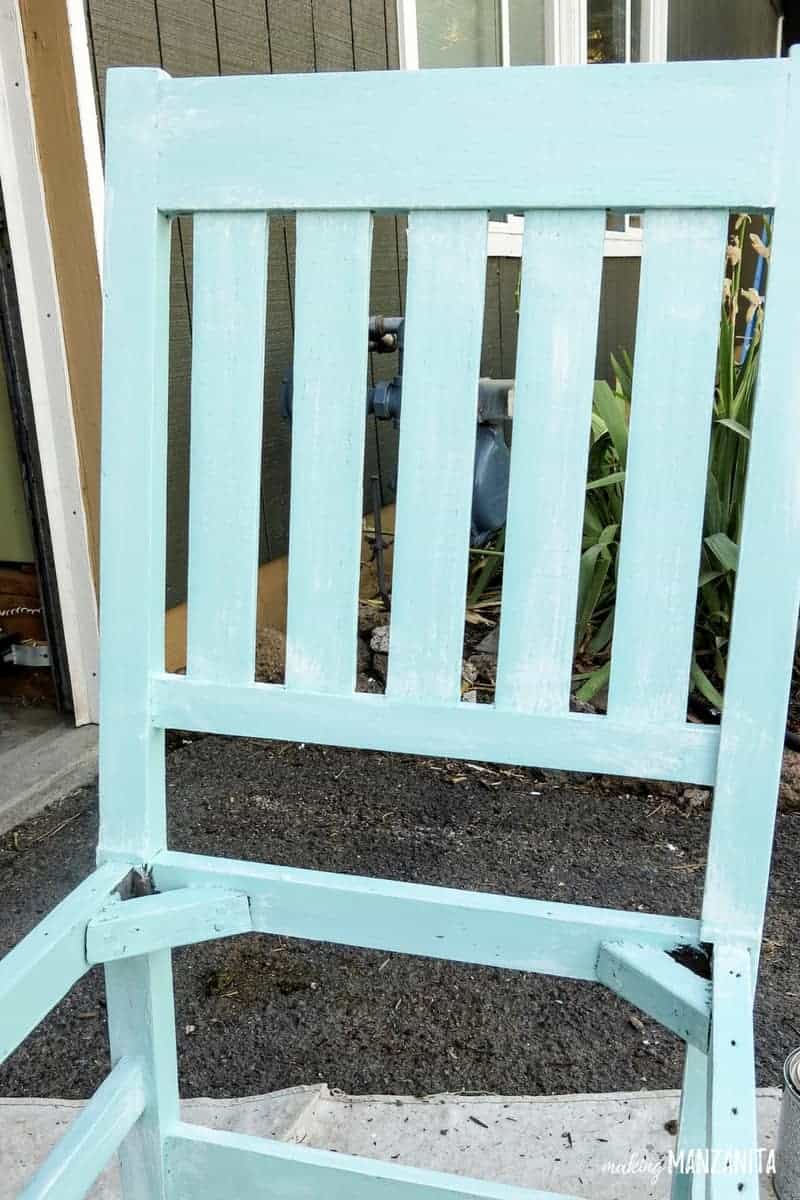 You can always go back and add more white character through dry brushing, so start small and be light on the brush.
If you end up getting too much white in certain areas, you can come back with the exterior paint color and apply using the same dry brush method to tone down the white.
Step 5. Attach pallet wood planks.
While the paint is drying, you can start working on the pallet wood planks. We always keep a few pallets laying around our house because we use them all the time for DIY pallet wood projects (in fact, we even built our bed out of pallet wood!)
We usually use a combination of our pallet buster and a crowbar to take the pallets apart.
Once you have your pallet wood planks, you can measure your chair bench and, if necessary, cut the pieces down to the right size to fit across the chair bench.
We ended up spacing out our chairs slightly so they fit the exact width of the pallet pieces so there was less cutting involved.
I used a finish nail gun to attach the pallet wood planks to the chair bench. I added 2 nails on every pallet wood plant that met with a piece of the chair seat.
Be sure you leave some small gaps between the pallet wood pieces to allow water to get through and not puddle up on the seat.
I also used some more white paint and the dry brush paint technique to add the same look to the pallet wood planks!
Step 6. Add back support plank.
I painted an extra piece of pallet wood with the same chair color and nailed it into the bottom of the chairs as an extra support beam.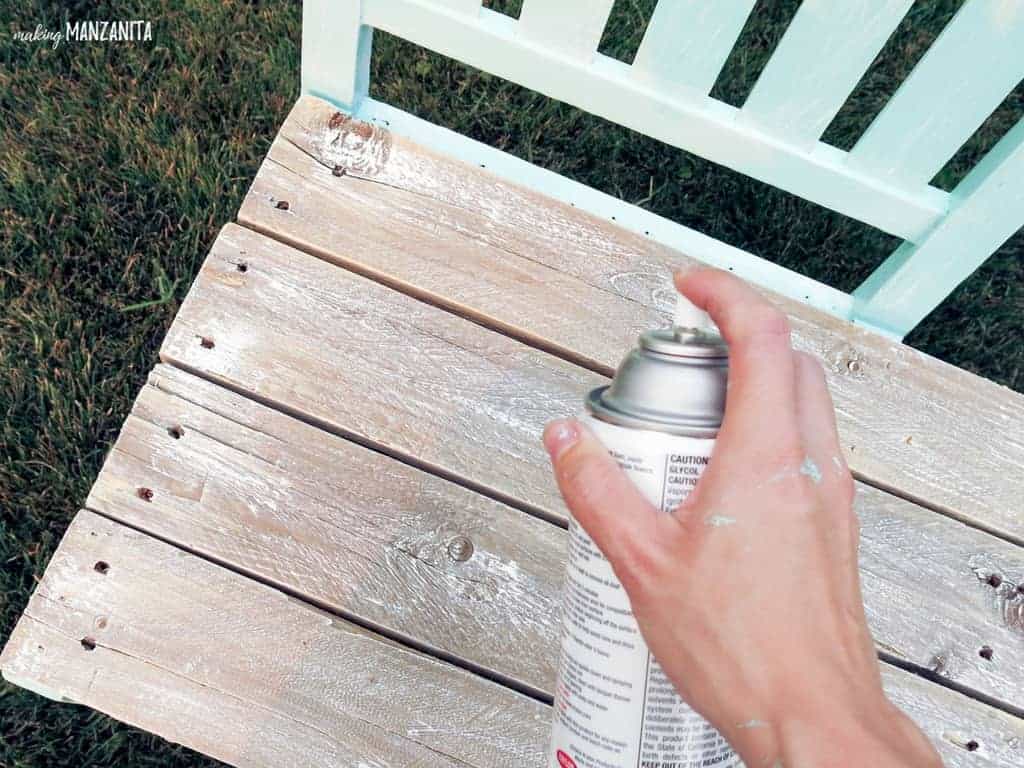 Step 7. Seal chair bench.
Once the seat is on and the paint is fully dried, you definitely want to seal this chair bench before taking it outside.
The exterior paint itself doesn't probably need to be sealed, but you should seal the pallet wood. I used a spray acrylic coating. Don't forget to do the edges and the bottom side too!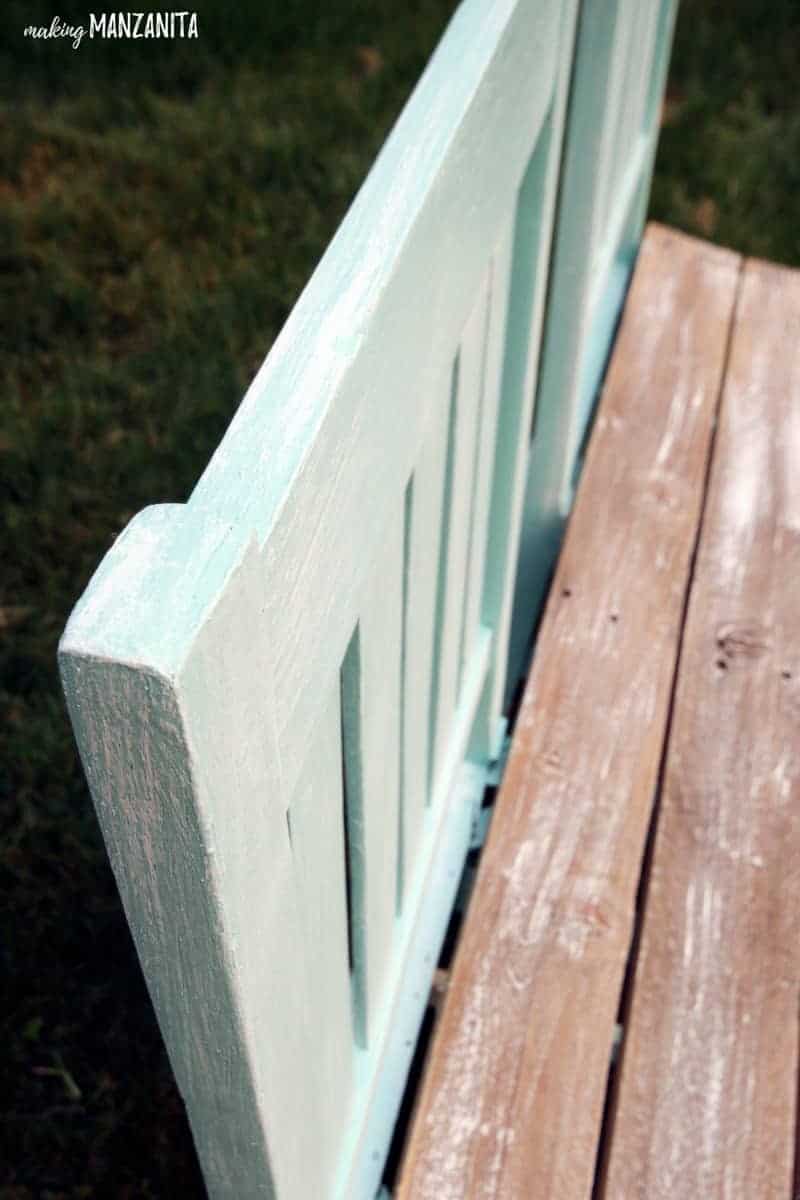 Step 8. Enjoy your upcycled chair bench for your backyard!
I can imagine this upcycled chair bench will soak in many fun backyard parties underneath the stars. We still have plenty of summer weather left to enjoy this bench before winter hits.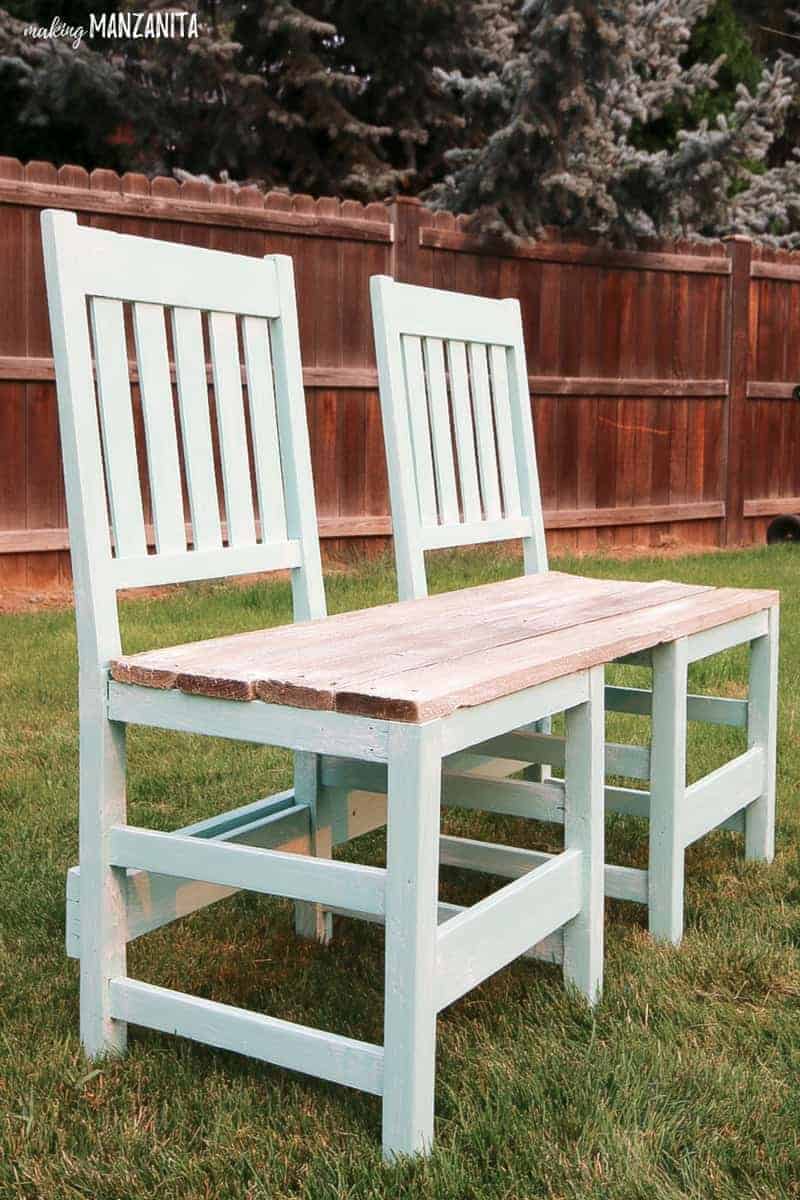 You can definitely make the upcycled chair bench for your backyard your own with your choice of exterior paint color. If you wanted to jazz this outdoor bench up, even more, you could paint on some additional decorations.
This upcycled chair bench for your backyard was so easy to create. It is a great beginner DIY project because there is little investment. I'll bet you can find plenty of options for old chairs at your local thrift stores or Facebook Marketplace, CraigsList. You may even be able to find some for free as I did!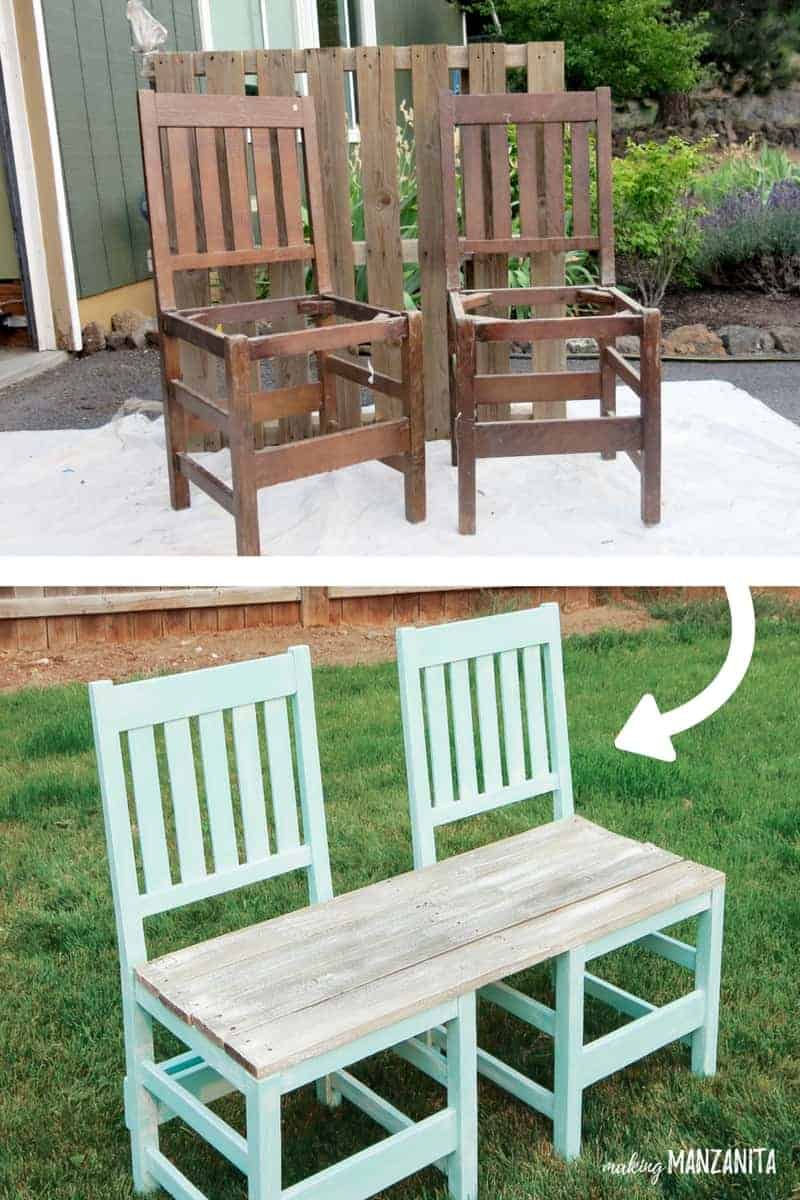 ---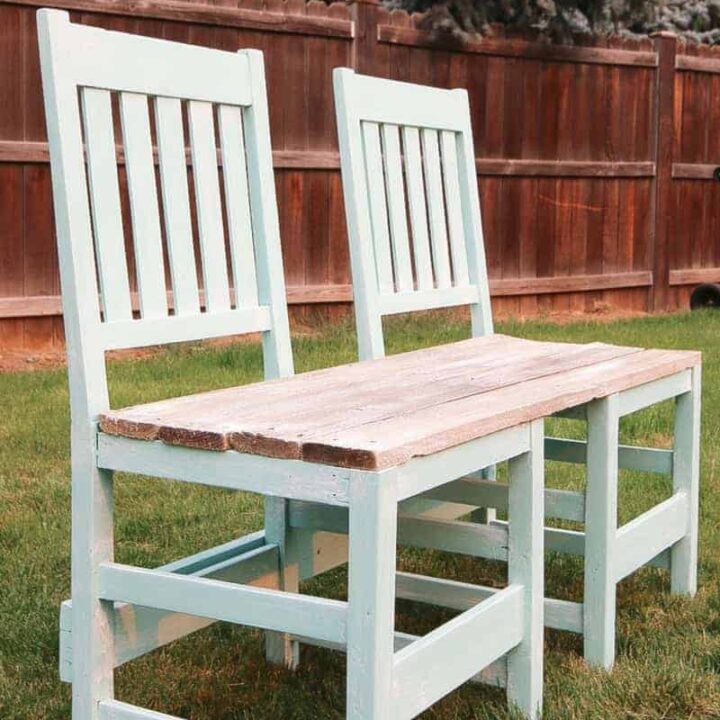 How to Make A Colorful Upcycled Bench
Here's how to make a colorful upcycled bench for hardly any cost! With just two old recycled wood chairs and an old wooden pallet, you can have this fun backyard bench in your own yard.
Materials
Tools
100 Grit Sandpaper
Older paint brush
Instructions
Clean chairs.
Sand chairs.
Paint chairs.
Dry brush chairs.
Attach pallet wood planks.
Add back support plank.
Seal chair bench.
Enjoy your upcycled chair bench for your backyard.