Free up your counter and cabinet space and get your spices organized! Why not take advantage of the space underneath your upper kitchen cabinets? Try one of these genius under cabinet spice rack ideas.
There's not a lot of things more stressful than clutter, especially in the kitchen. Spice jars falling out of the cabinet when you open it. Or even worse, riddled about on the countertop.
You are right in the middle of a new recipe and here you are digging through the cabinet looking for that spice you haven't used in forever. Meanwhile, the meat on the stovetop is starting to burn because you've been sidetracked looking for that spice at the back of the cabinet.
If that sounds at all familiar, you can definitely benefit from a little spice organization! And if you're tight on space, you may want to take advantage of the space underneath your upper kitchen cabinets.
From wall-mounted spice racks on your backsplash to hanging spices from the bottom side of the cabinets on cup hooks (and even pull down spice racks that tuck up under the cabinets!) – there are so many brilliant ideas!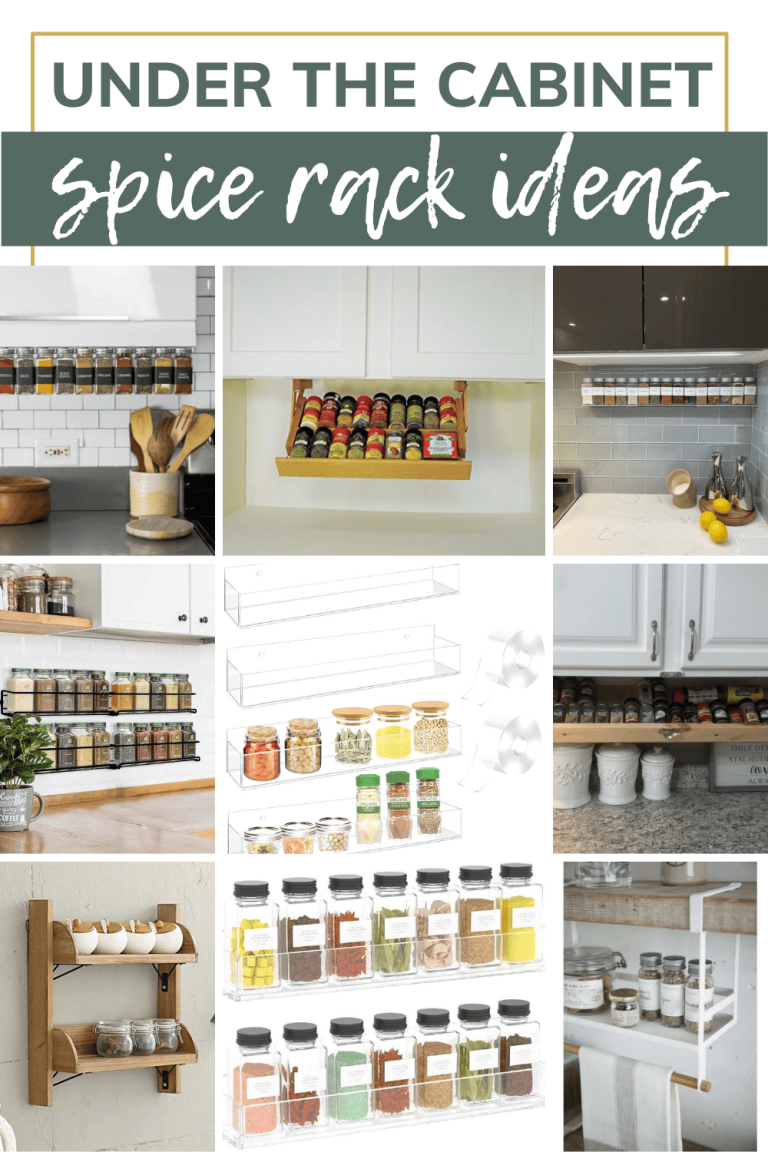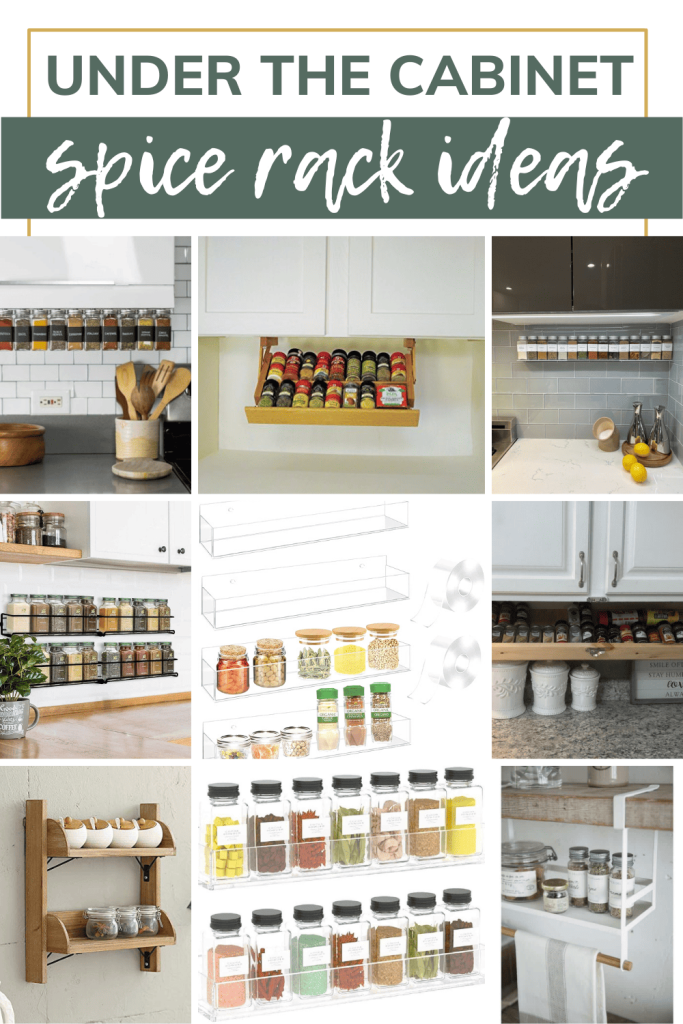 This under cabinet spice rack ideas roundup contains affiliate links, but nothing that I wouldn't recommend wholeheartedly. Read my full disclosure here.
Under Cabinet Spice Rack Ideas
Photo Credit: Amazon
Handcrafted from hardwood, this under cabinet spice rack keeps all of your spices lined up and easy to access by folding down from underneath the kitchen cabinet. The spice rack is easy to install and comes with step-by-step instructions and 4 screws are included with your purchase.
The rack measures 30 inches wide, 10.5 inches deep, and 3.5 inches high. It stores up to 16 large spice containers or 32 smaller-sized spice jars up to 5 inches tall. I love that it comes in 2 different stain options or you can order it unfinished and paint it to match your cabinets.
When not being used it folds up and latches in place. Get back your counter and cabinet space with this convenient spice rack!
Photo Credit: Amazon
The adhesive acrylic spice racks are perfect for mounting on your backsplash under your upper cabinets. I love the minimal modern look to them!
The 2- or 4-pack of shelves come with 2 rolls of adhesive glue and 8 screws, so you can opt to either use the self-adhesive or attach to the wall with screws.
The shelves hold up to 1.9 inch-wide bottles, which is perfect for most store-bought spices. At 11 4/5 inches long, each rack can hold 6 standard size spice jars.
Photo Credit: Wayfair
Much like the previous spice rack shown in this list, these clear acrylic shelves bring in some modern and minimalistic vibes. However, these ones screw in only and don't come equipped with adhesive tape (but a little Command clear strips would probably do the trick if needed!). Because of this, these shelves are perfect for a backsplash area that is not titled, which means it can easily be screwed into.
They can be mounted on the wall and you can install them according to the height of your spice bottles. Measuring 15 inches wide and 2.7 inches deep, the spice rack can accommodate 7 spice jars per rack.
Photo Credit: www.etsy.com
This just may be the COOLEST under cabinet spice rack I've seen! This makes sense because these have SO many great reviews and have been featured in Apartment Therapy.
Using the unused space under your cabinets on with the backsplash, this thin metal shelf holds magnetized spice jars securing. You can attach the shelf with super-strong double-stick adhesive or with a set of screws.
The adhesive is great for stainless steel, tiles, and other smooth surfaces and is also removable without damage. Score!
There are several purchase options to get exactly how many you need. The sets come with magnetized spice jars (4 oz), steel floating shelves and mounting accessories, and a full set of 63 predesigned labels and 21 write-in labels.
Photo Credit: Amazon
This super cute wooden spice rack is perfect for mounting in the dead space in between your countertop and upper kitchen cabinets (which is typically 18 inches). Measuring at 16.5 inches, this rack should be a great fit.
It can be hung using triangle brackets on the back or it could even be used freestanding on your countertop. This is perfect if you have a farmhouse style.
Photo Credit: Wayfair
Not only do these spice racks keep your seasoning jars organized and easily accessible in your kitchen, but the spice racks can be used for storing other items in your garage, bathroom, craft room, or just about anywhere where you need to get organized!
Each rack measures 2.5 inches in depth (2 inches usable space) and 2.5 inches in height and 11.5 inches in length. 
The racks can be mounted on your wall under the cabinets, inside your pantry, or back of the cabinet door or closet door. Hanging hardware is included with two screw sizes based on your needs and adhesive hooks.
Photo Credit: Wayfair
Take advantage of that space under your cabinets with this metal under the cabinet shelf. Make cooking easier with a spice rack that puts all of your favorite spices, jams, and spreads in easy reach.
It is modern and stylish in design and fits perfectly under any kitchen cabinet. Provided shelf liner helps ensure items don't slide around.
It also has a hanging rack for towels, so it serves two purposes!
Photo Credit: Walmart
This spice storage rack is drill-free and self-adhesive, which is easy and convenient for you to install. It can be installed under cabinet, this spice storage drawer is space saving for you to use in daily life.
The shelf slides on the bottom of your cabinet and then simply slides out and folds down, conveniently displaying the spices with easy grab-and-go access.
Made of plastic material, this spice storage rack is solid and wear-resistant. It is roughly 13 inches x 5.9 inches x 3.5 inches and holds 7 spice jars.
Photo Credit: www.etsy.com
I love these easily accessible and space-saving spice storage jars, perfect for the home cook looking to store their spices in a sleek and visually appealing way.
Sold in sets of 6, 12, and 24 each kit comes with sturdy 4-ounce glass jars and metal clips designed to lock in freshness and keep moisture out.
Finished with chalk-painted lids for you to personalize yourself, jars stand 3 inches high and two inches wide. 3 jars fit on each 7.5-inch wooden frame lined with metal hooks.
Installing each frame is as easy as applying the adhesive strip (included) and sticking it under your cabinet of choice, we also include screws for reinforcement if you're interested.
Photo Credit: www.etsy.com
This spice organizer is made to be mounted below a kitchen cabinet and is custom-made for each order.
Each organizer comes with the hardware needed for hanging as shown in the images. This includes hinges (need to be screwed/mounted to the cabinet) and lock (also needs to be mounted to the cabinet).
To order, you'll need to designate your length, finish (unfinished wood or painted white), hardware color, and the exact width and depth of your cupboard.
Photo Credit: www.etsy.com
This 12-piece magnetic hanging spice rack with shaker tops is genius! It comes with four separate 7-inch magnetic strips that can be mounted under your cabinet of choice.
The mounts are easily secured with double-sided adhesive and each magnetic strip holds 3 jars. Each jar holds 4 ounces of spices measuring 4 1/8 inches high and 1 3/4 inches wide.
Each top comes with a shaker lid that can easily be removed as needed. Jars are adorned with a black chalk decal ready for you to label with a chalk marker provided with your set.
Shop the under cabinet spice rack ideas
Which of these spice racks is your favorite?
Let us know in the comments below!