Dreaming of a more organized and clutter-free bathroom? It all starts with decluttering! But, don't worry decluttering your bathroom doesn't have to be overwhelming. Follow these simple steps!
Whether it is your new year's resolution to have a more organized home or your small bathroom is bursting at the seams, if you're here reading this, it can only mean one thing. It is time to declutter your bathroom!
The truth is that everyone, in some way shape, or form, struggles with clutter and mess in their bathrooms. Even if your bathroom is spacious, it can get out of control if you don't stay on top of it.
Regularly spending time decluttering your bathroom is the easiest way to tackle it, but if you've put it off for far too long… no worries. You can follow these simple steps to declutter bathrooms!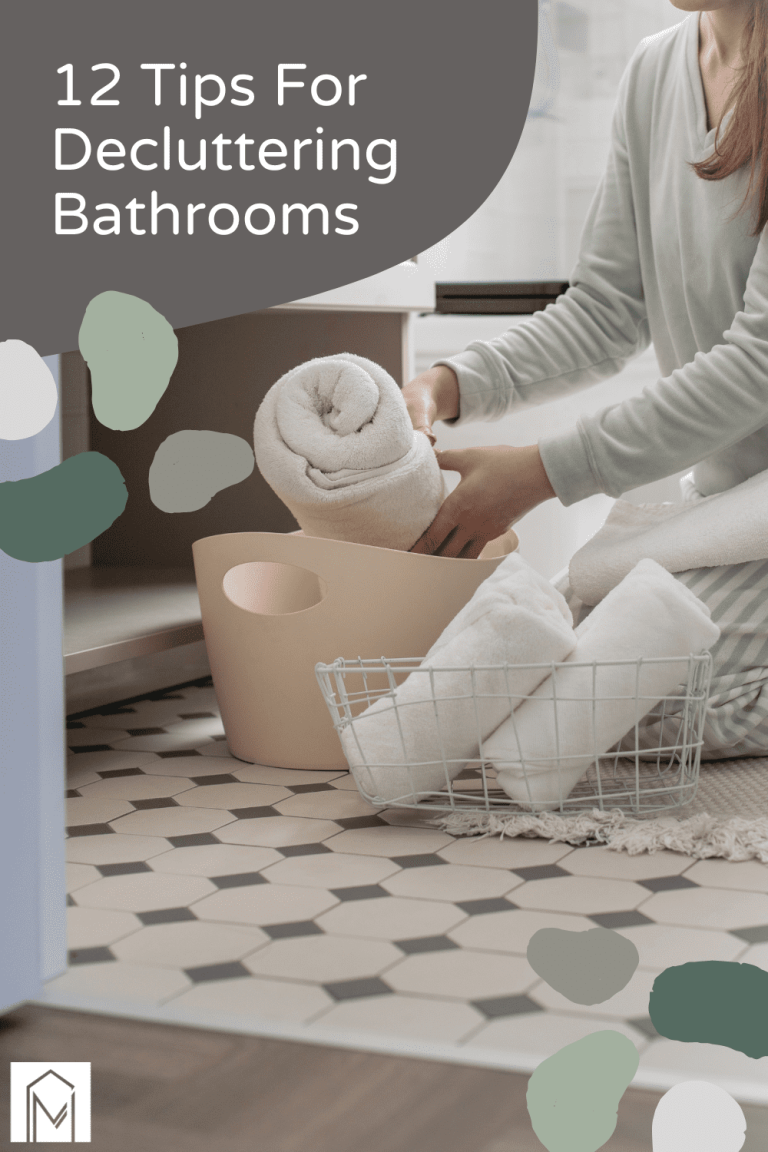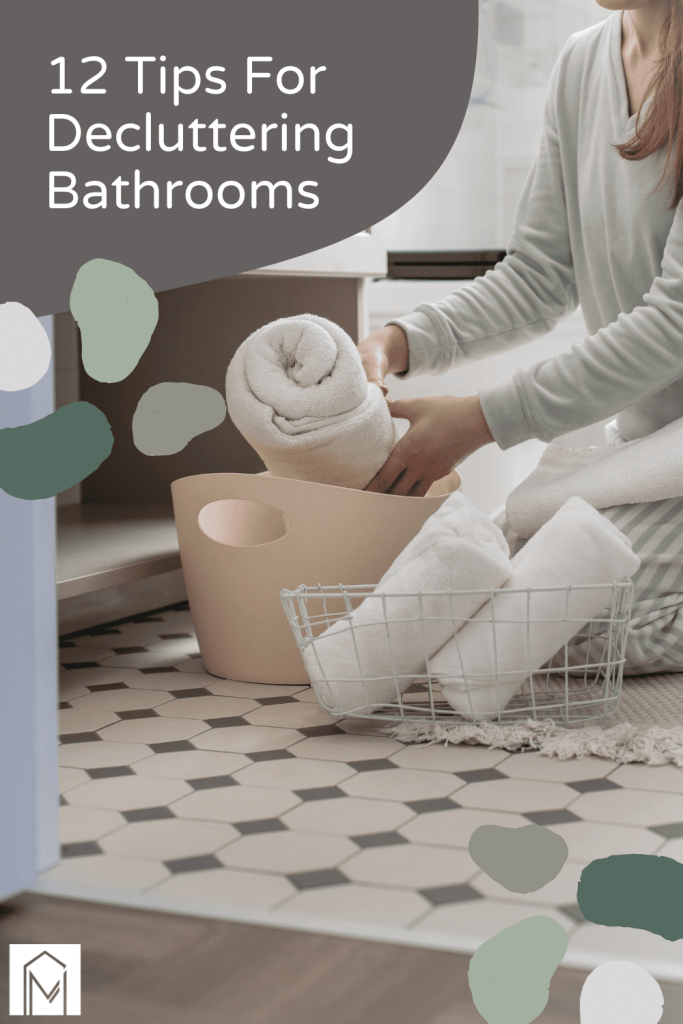 This guide for decluttering bathrooms contains affiliate links, but nothing that I wouldn't recommend wholeheartedly. Read my full disclosure here.
Tips for decluttering your bathroom
1) Make the time
The first step is to make sure you have enough time! Here's the deal if you're going to be decluttering your bathroom – it will get worse before it gets better. So before you start pulling everything out of the bathroom drawers, make sure you have at least an hour or two to finish the decluttering process.
2) Have a plan
As with anything you do in your home, it is always better if you have a plan. Take some time to think about what you really want to achieve by decluttering your bathroom. Start with these questions:
What are the pain points in your bathroom? Is it just your medicine cabinet that is driving you bonkers? Does your linen closet need attention?
Do you simply want to get rid of things so you have less stuff to store in your bathroom?
Do you want to come up with better bathroom organization systems by adding containers or dividers to your bathroom cabinets?
Do you just want to clean and disinfect?
3) Remove everything from the bathroom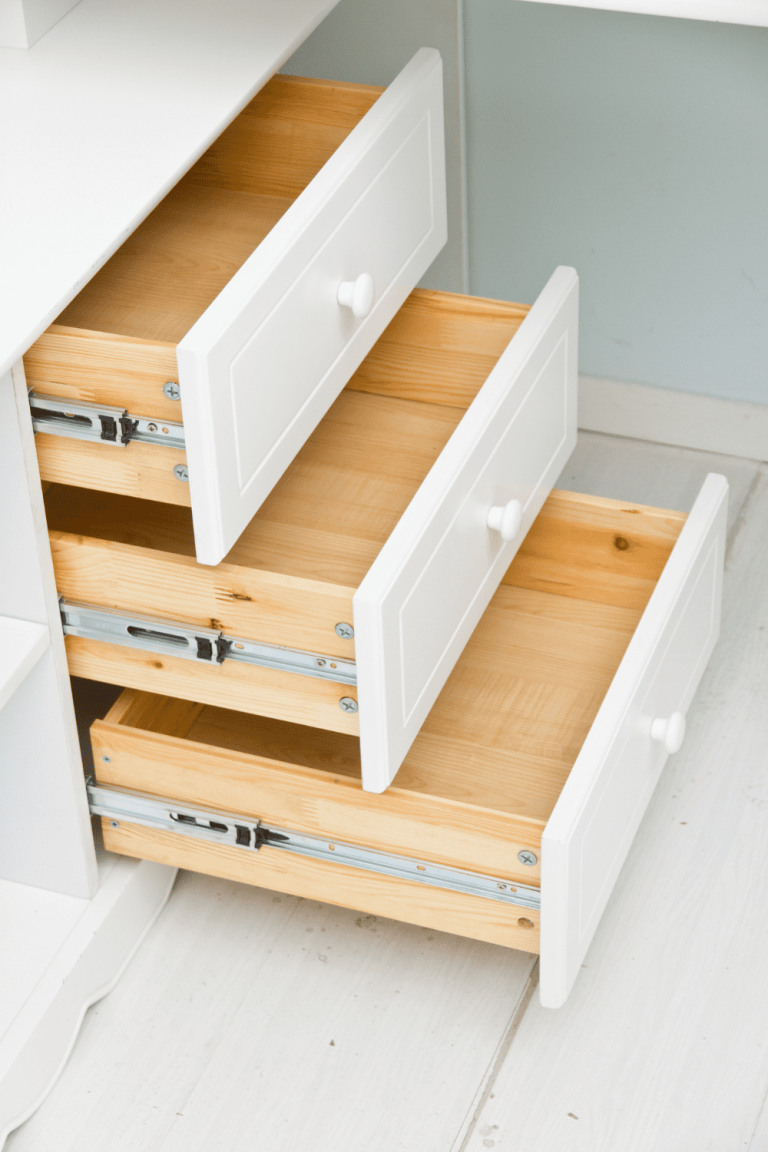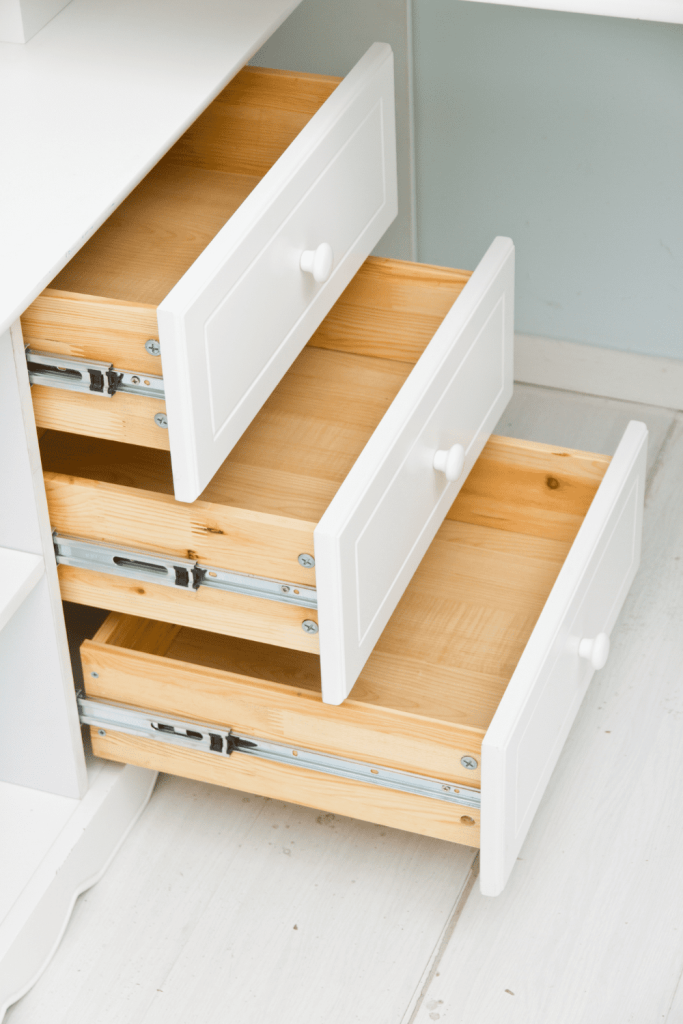 Yes, I mean everything… Completely empty out the drawers, bins, cabinets, under your sink, and wherever else you have things stored in your bathroom.
Pile up everything you have in your bathroom…all the hair products, extra toilet paper rolls, hair dryers and curling irons, nail polish, bath toys, bobby pins, first-aid supplies, nail clippers, you name it. Get it all out.
Having everything taken out of your bathroom drawers and cabinets may be a wake-up call for you. Looking at a huge pile of bathroom items can really make you think… "Do I have too much stuff?" Having way too many things is one of the easiest ways to have a cluttered bathroom.
4) Go through it all
Go through every single item and sort them into piles. One to keep, one to donate, and a trash bin.
As you go through each item, take some time to wipe everything down with a baby wipe, disinfecting wipe, or a slightly damp rag to clean it.
5) Check expiration dates for bathroom ideas
While you are going through each item, take the time to check the expiration dates and toss anything that is expired. Did you even know that things like makeup and lotion have expiration dates? Even toothpaste has an expiration date and doesn't work as well after it expires!
Makeup has expiration dates primarily because it can harbor bacteria and it because less effective over time – which leads to more breakouts or irritations. Yuck. Mascara is definitely one that can lead to things like eye infections if you're not careful.
Makeup and beauty products come with a shelf-life, which is typically shown on the packaging next to the barcode. If you don't see an expiration date, you may see an icon with a little bottle and 12M or 24M printed in it. 12M means the product has a 12-month shelf life.
One thing that you definitely don't want to let expire is your sunscreen (or lotion or makeup with sunscreen in it) because it doesn't work as well when it gets past its expiration date.
Medication is another thing that has expiration dates. Both over-the-counter drugs and prescription drugs will lose their potency or become unsafe to use after their expiration dates.
6) Clean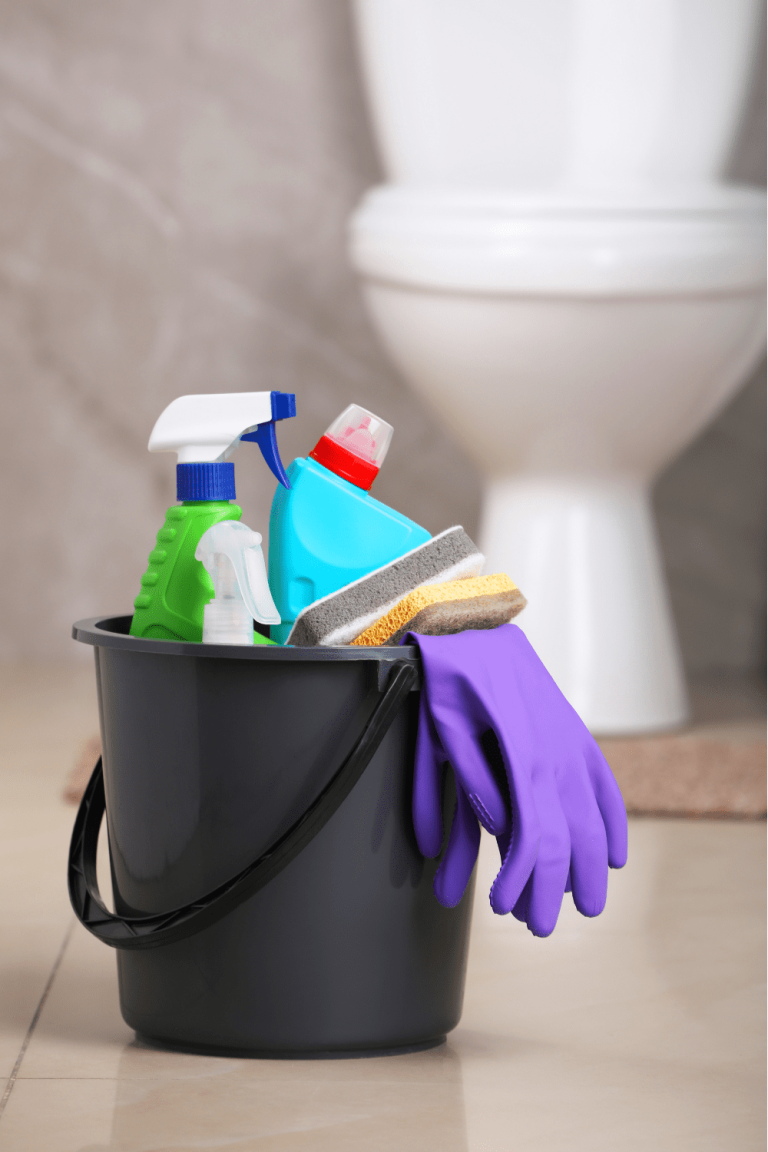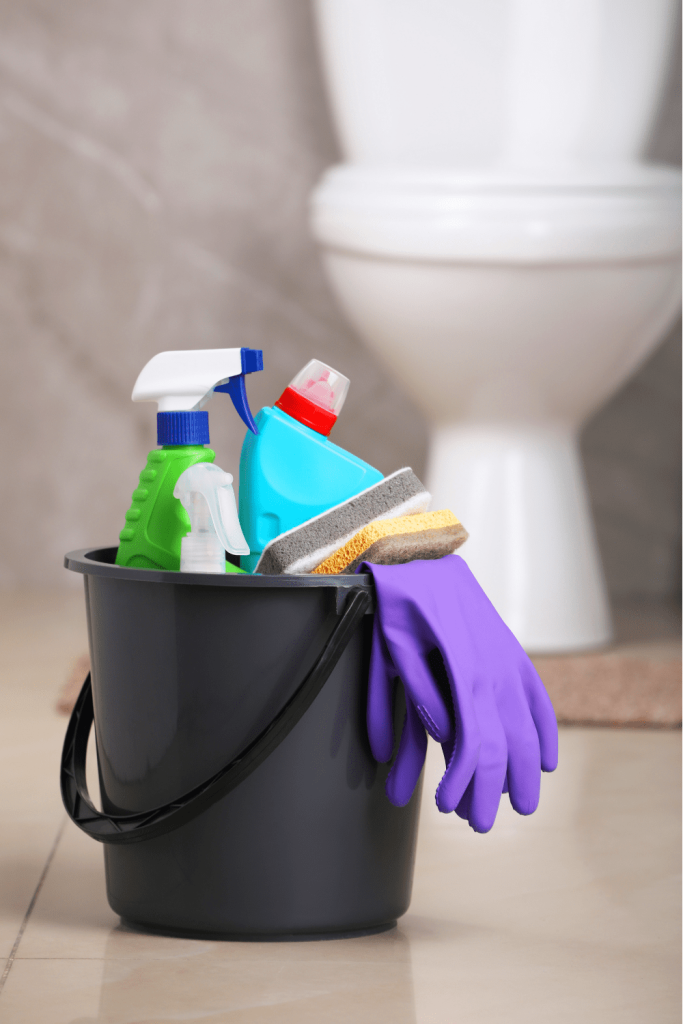 Before you put everything back, use a small handheld vacuum (we love this one!) to quickly pick up the dust then clean and disinfect the surfaces. This includes wiping down the inside of the drawers and underneath your sink.
While you are at it, use the disinfectant spray or wipes to clean frequently touched areas, like the knobs on your bathroom drawers, sink faucet, door knob, and more.
Make sure the entire bathroom is a nice and clean space before you move on.
7) Take inventory and categorize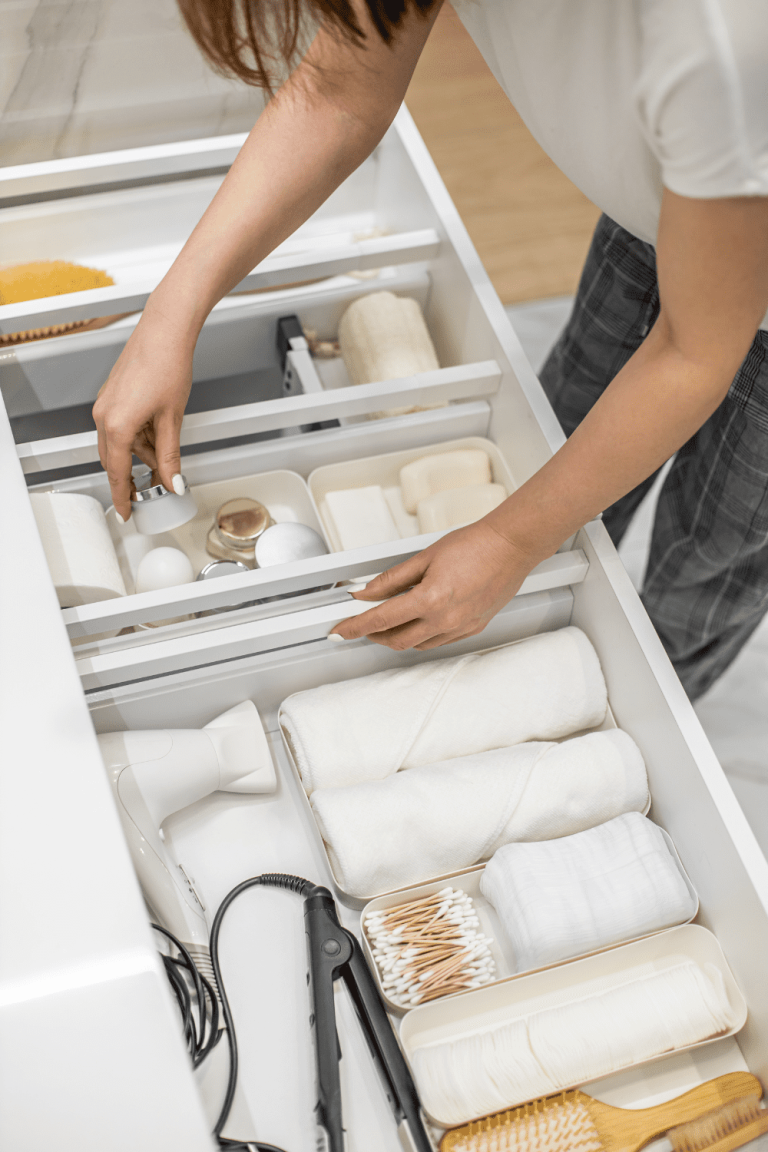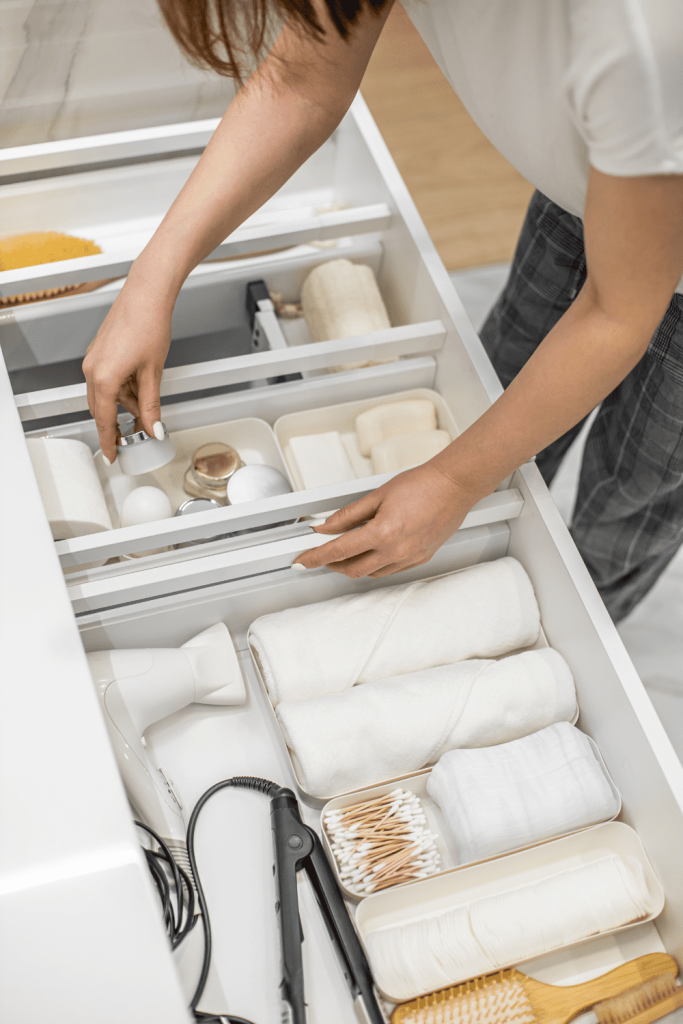 Take a look at your "keep" pile and see what you're working with. Figure out how to categorize the things you need to keep in your bathroom and come up with a plan for storage containers and drawers.
Categories for bathroom items
If you're struggling to figure out how you should put everything back in your bathroom, don't worry! That's pretty normal. It can totally be a daunting task!
Here are some good ideas for how to categorize your belongings for a more organized bathroom:
Skincare products: You could even separate out your morning skincare routine vs nighttime skincare routine products if they are different.
Hair products and hair tools: I love this little caddy for keeping everything hair related organized under my sink. There are pockets for organizing your loose items, like hair ties and bobby pins as well as bottles of hair products. The bigger things, like my curling iron and dryer, neatly fit right in the top in the bigger openings.
Hygiene items: Chances are that these will all be kept in your shower. You can keep things, like bottles of shampoo and shower gel, even more organized by using a shower shelf attaches to your shower with suction cups, like this.
Bathroom cleaning supplies: One of the easiest ways to make sure you're regularly keeping up with cleaning in your bathroom is to make sure the cleaning supplies are handy! I like to keep toilet bowl cleaner, bathroom spray cleaner, glass cleaner, extra cleaning rags, and a roll of paper towels in every bathroom under the sink so you always have easy access.
Makeup: I love this clear acrylic makeup organizer that works great for keeping all my makeup products corraled and organized. When it gets dirty, it's easily washed with warm water and soap.
Special occasion self-care spa products: I love to collect bath salts, face masks, eye masks (obsessed with these), shower steamers, and more for when I need some extra "me" time with a self-care spa night with a good book, some relaxing music and bath tub tray. I put these all together so I know what I have.
Men's shaving and hair-cutting supplies: Put the shaving cream, electric razor, drape, and hair-cutting shears all together.
Travel items: I love keeping my travel bag ready to go under my bathroom sink with the travel items I always take with me already packed. Any extra travel-sized bathroom items are grouped up into another lidded storage basket (from Dollar Tree) under my sink.
Extra backstock bottles: I love buying in bulk when there is a good deal, but all of the extra bottles can certainly add up. Group together all of your "extra" backstock together and put them in one bin. You don't have to keep this bin in your bathroom if you don't have any more bathroom storage space. After all, the bathroom is usually one of the smallest rooms in your house, right? You can keep your backstock in the garage, hallway closet, bedroom closet, or in your laundry room (basically anywhere else in your house where you have some extra space to spare).
Nail polish and supplies: My little one is obsessed with painting nails, so she always knows exactly what bin to grab from underneath my bathroom sink when she wants to have a nail polish party! We keep all of the nail polish, nail clippers, files, nail polish remover, and cotton balls or rounds together in one bin so it is easy to grab everything at once.
8) Use a mix of different types of storage solutions
Putting everything back together in your bathroom can feel a bit like a Tetris game, trying to make everything fit together. This is especially true if you have limited storage space.
Use different types of storage solutions to make the most of your areas, including storage baskets, shelves, storage drawers, lazy susans, and more.
Related reading – Check out this article if you're looking for more small bathroom organization ideas! We share tons of clever storage solutions there!
9) Make sure everything has a place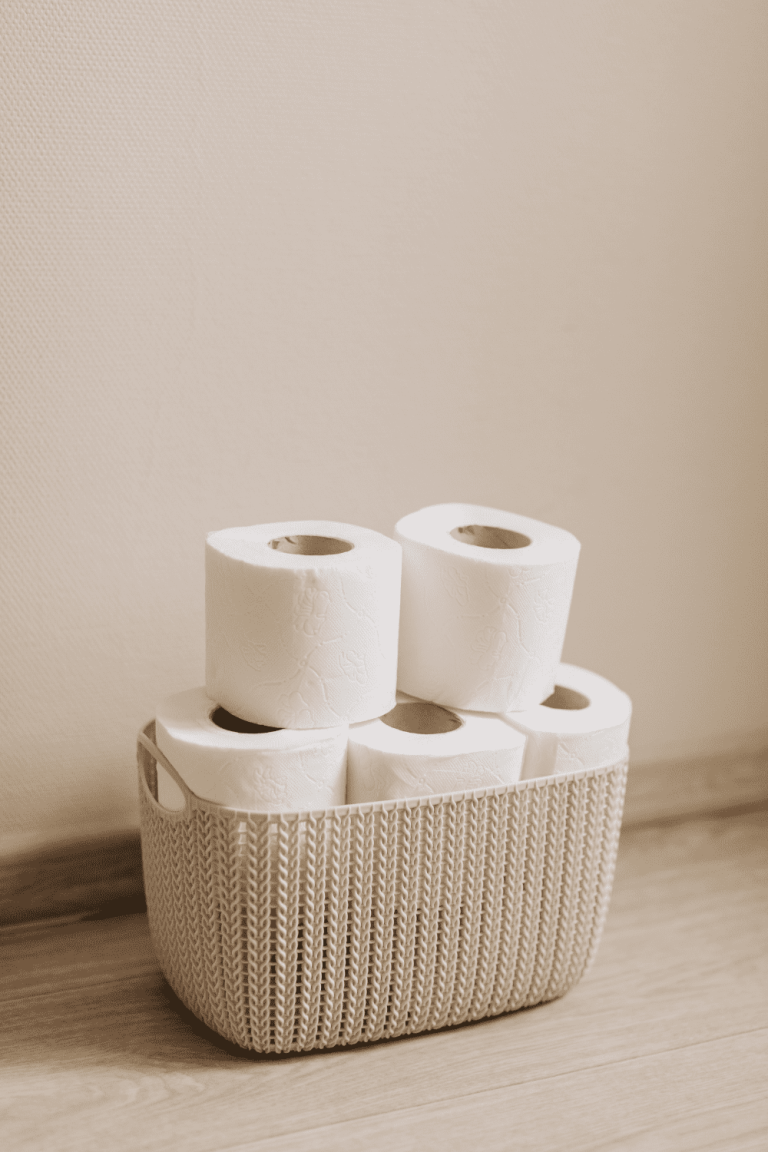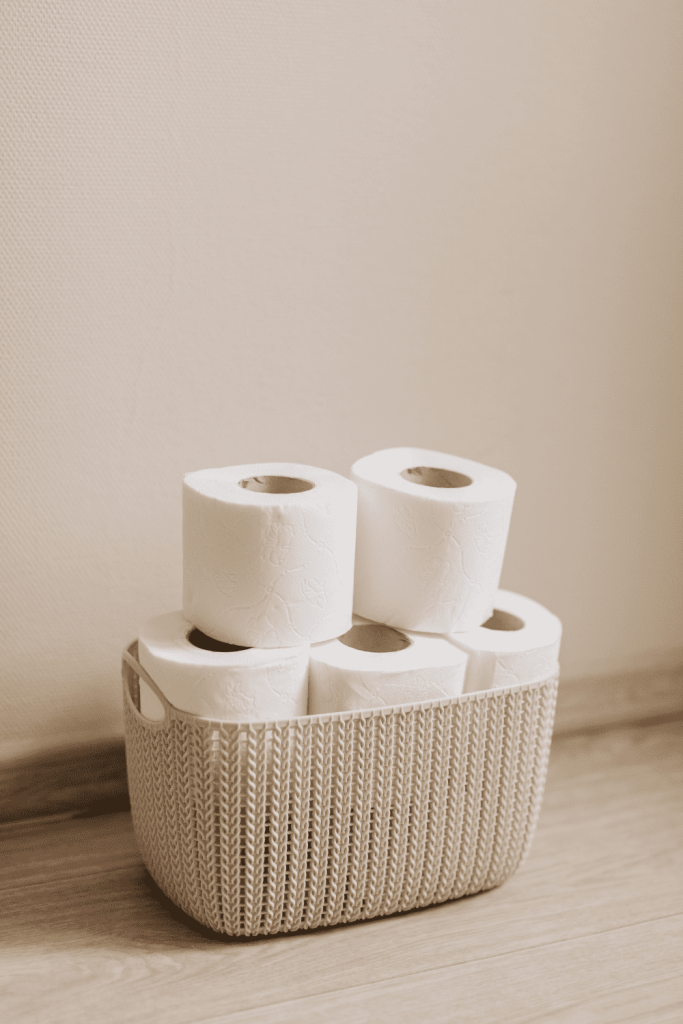 If you've heard it before, right? Everything in your home needs a home. It makes a huge difference in a clutter-free bathroom!
The other key here is to make sure that everyone in your family KNOWS where everything goes – especially if you have a large family sharing a smaller bathroom.
This can be accomplished with labels on the storage containers or drawers or simply by taking a little time to teach your family how to tidy up the bathroom.
10) No duplicates
If you're buying things in bulk as we do, that is great but you don't need to keep duplicates stored in your bathroom. Seriously, no one needs multiple shampoo bottles in their bathroom!
As mentioned earlier, you need to find a good place to store your bathroom backstock. If you have space under your sink, that is a great spot for backstock.
But don't be opposed to keeping a bin of backstock in another room of your house if you're out of bathroom space.
11) Limit decorative items in your bathroom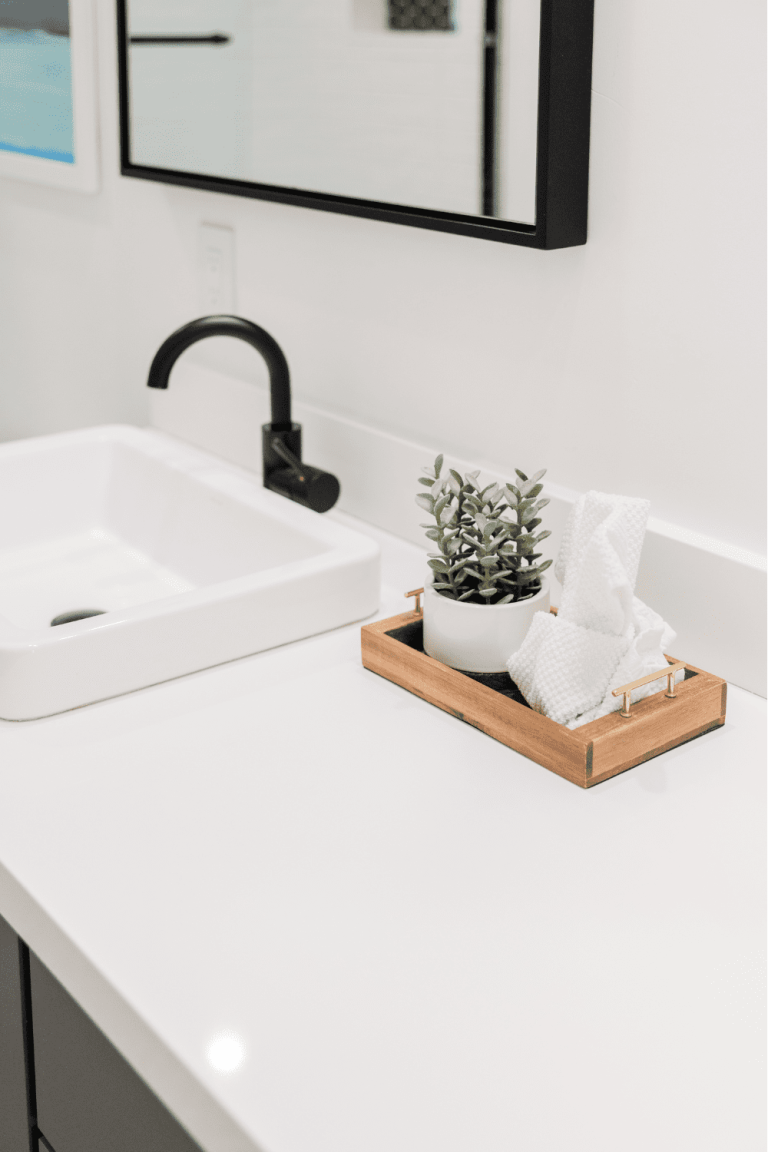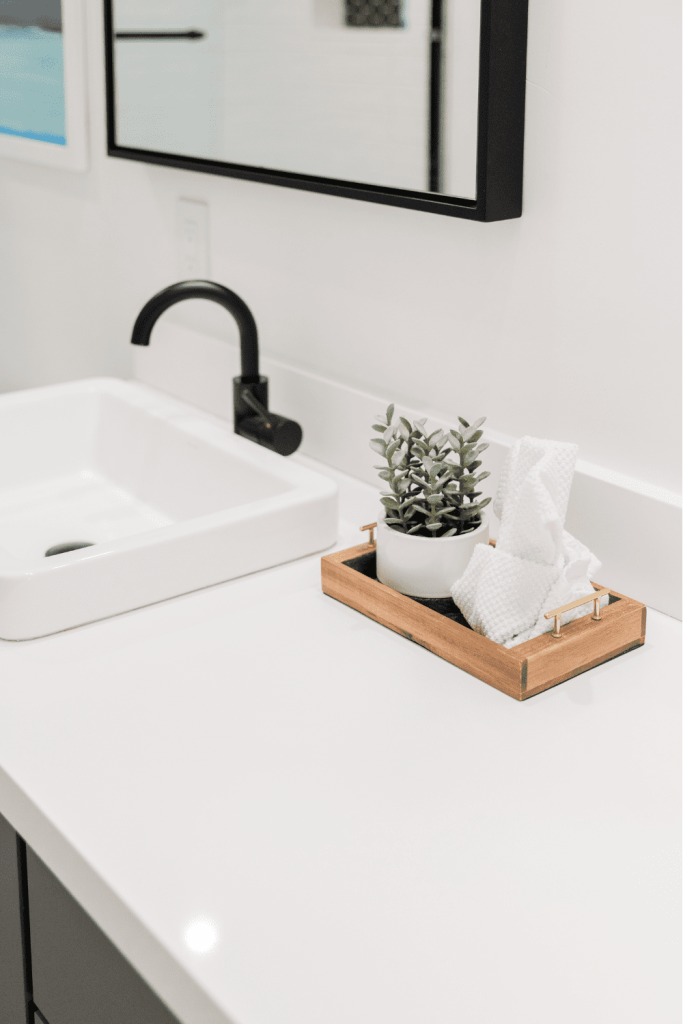 If you know me, you know I love some decor. But the bathroom is one place where I don't add a ton of extra decor because it can quickly make it feel cluttered.
I love using bathroom shelves installed above the toilet so you can add both functional storage and have a place to add some decor to add more character to your bathroom.
12) Maintain it
Don't let it stop by just decluttering one time. Make the time to regularly declutter your bathroom, throw away unnecessary and expired things, and wipe down your surfaces. This is the key to keeping your small bathroom organized and clutter-free!
How often should I declutter my bathroom?
Well, the quick answer is as often as it is needed. Start with one time a quarter and if you still feel like you could benefit from more decluttering, make it a habit to do it once a month. If you regularly keep it up, it won't take you a long time – I promise.
See, I told you it was simple. Don't get overwhelmed by the thought of decluttering your bathroom! Take it one step at a time!
Do you have any other tips about decluttering bathrooms to share?
Let us know in the comments below!!