Learn how to make a wooden bath tray to hold your book, phone and candle. This DIY bath tub tray with cabinet pulls as handles makes a great handmade Christmas gift idea for her!
There's not many more better things in life than a nice, long, relaxing bath. Bubbles filled to the brim, candles flickering, music playing in the background, magazine just waiting to flipped through. I feel more relaxed just thinking about it. Don't you?
Not only are baths relaxing, but they are good for your health! In fact, a daily bath has been proven to improve your mood and optimism, help muscle pain and even help you sleep better. Sign me up please!
Today's project is a super easy DIY bath tub tray. This is the perfect handmade Christmas gift for anyone on your holiday shopping list that loves baths. This bath tray goes perfect in this relaxation gift basket (with free printable tags!) for a fun and unique Christmas gift.
Related – Other DIY Christmas Gifts You Can Make:
UPDATE: See video at the end for a replay of my live tutorial.
This post contains affiliate links, but nothing that I wouldn't wholeheartedly recommend anyway! Read my full disclosure here.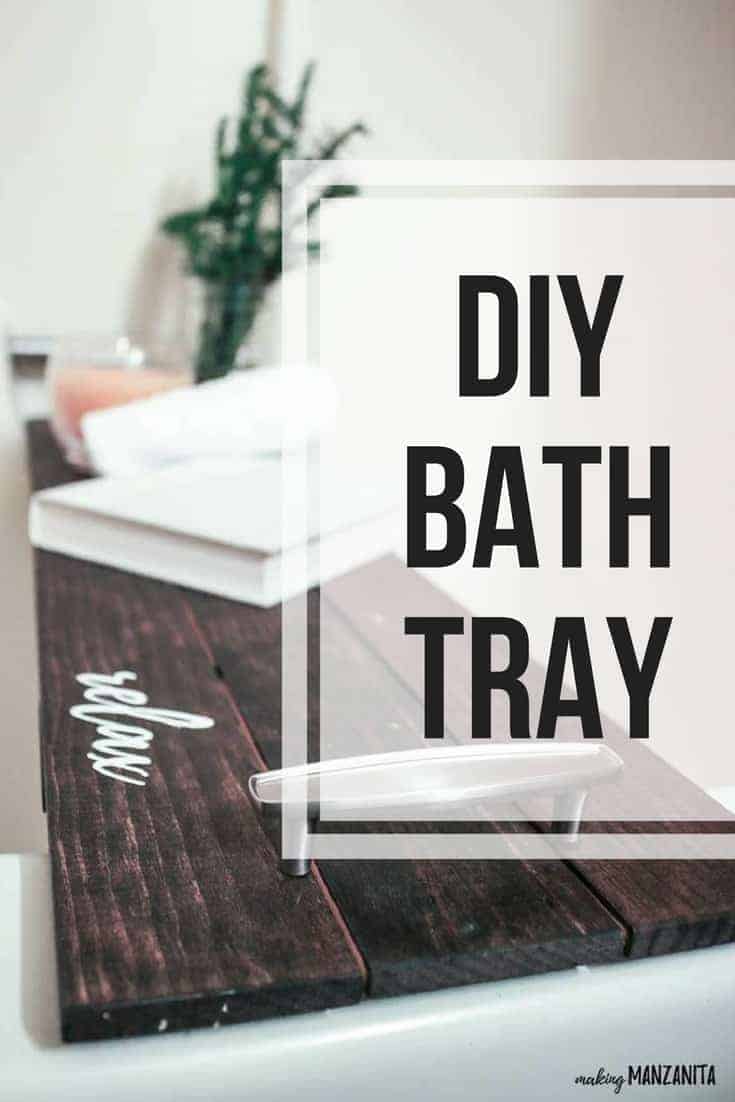 Supplies for DIY bath tub tray:
Standing block
White acrylic craft paint
Foam paint brush
2 cabinet pulls
Drill
2 small pieces of 1/4" plywood (but you may not need these, I've explained how I'm using them in Step 8 below)
Step 1: Measure your bath tub.
First you want to measure the width of your bath tub. If your tub curves, you probably want to measure the widest part.
This premade wooden sign works perfectly for a standard size tub like mine (approx. 39 inches). I love that it's already assembled and everything so you can save a little time on this DIY bath tub tray.
If your bath is a different size, no worries. You can grab some wood, cut it to the right size and attach some cross boards on the back to keep the boards together. The rest of the steps for this DIY bath tub tray will be the same.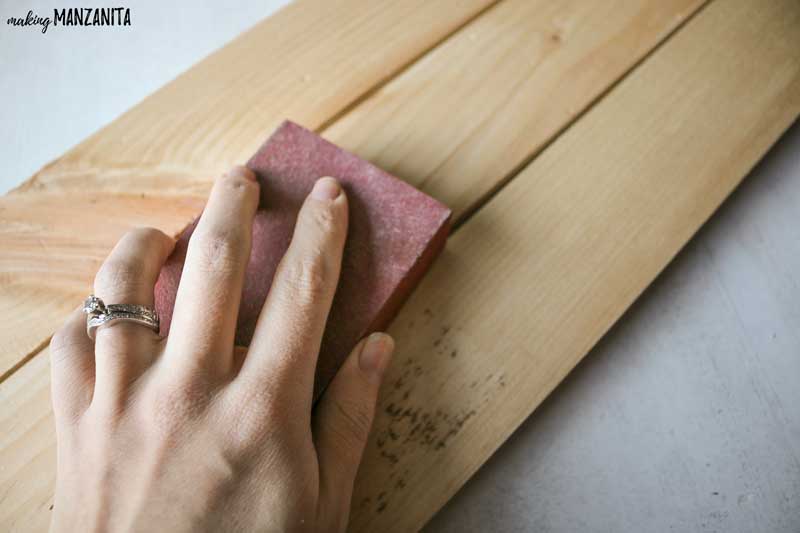 Step 2: Lightly stand wood sign.
The front side of the sign comes mostly smooth, but I did a light standing on it to smooth out any imperfections. I also sanded the edges so they were a little more rounded and not as sharp.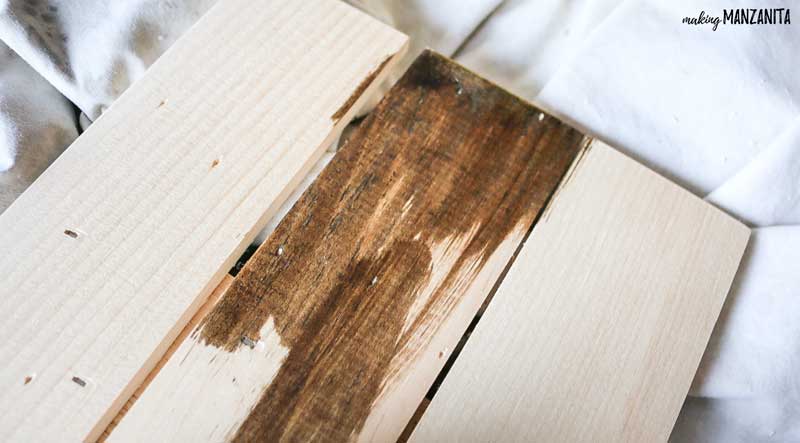 Step 3: Stain wood sign.
Next, stain your sign with a dark wood stain. I love this dark walnut stain, which I used.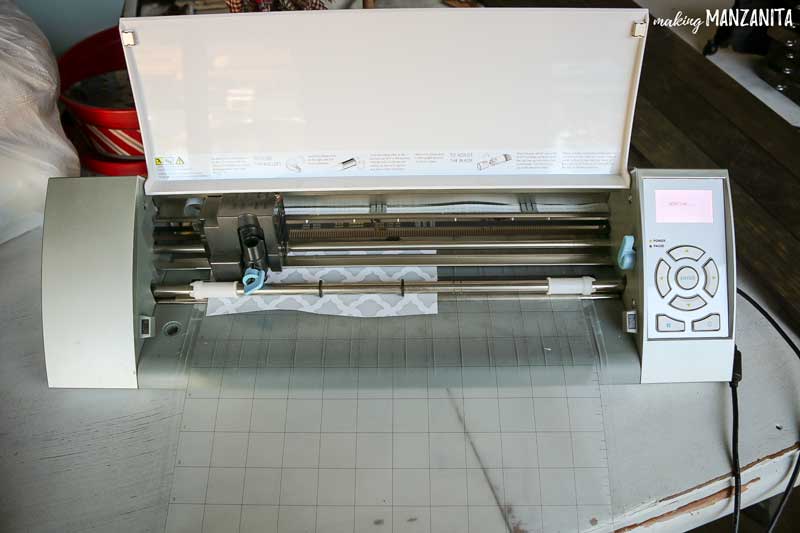 Step 4. Cut stencil.
Now it's time to make your stencil with the Silhouette Cameo. I chose to paint the word "relax", which I think is perfect for this wooden bath shelf.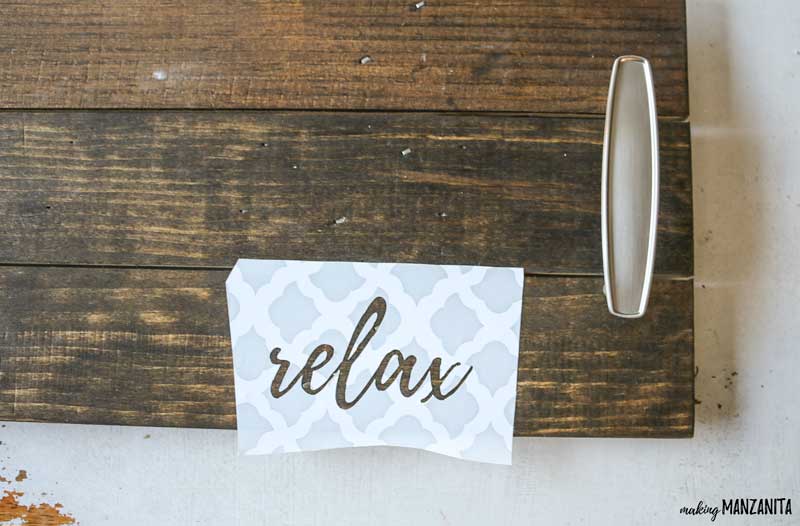 Step 5. Apply stencil.
I'm going to let you guys in on a little secret. I've found a way to seal my stencils before painting so they don't bleed! Be sure to hop on over to this post to get the full details on this little hack on how to prevent stencil bleeding. You'll do this magic little step before paining over the stencil.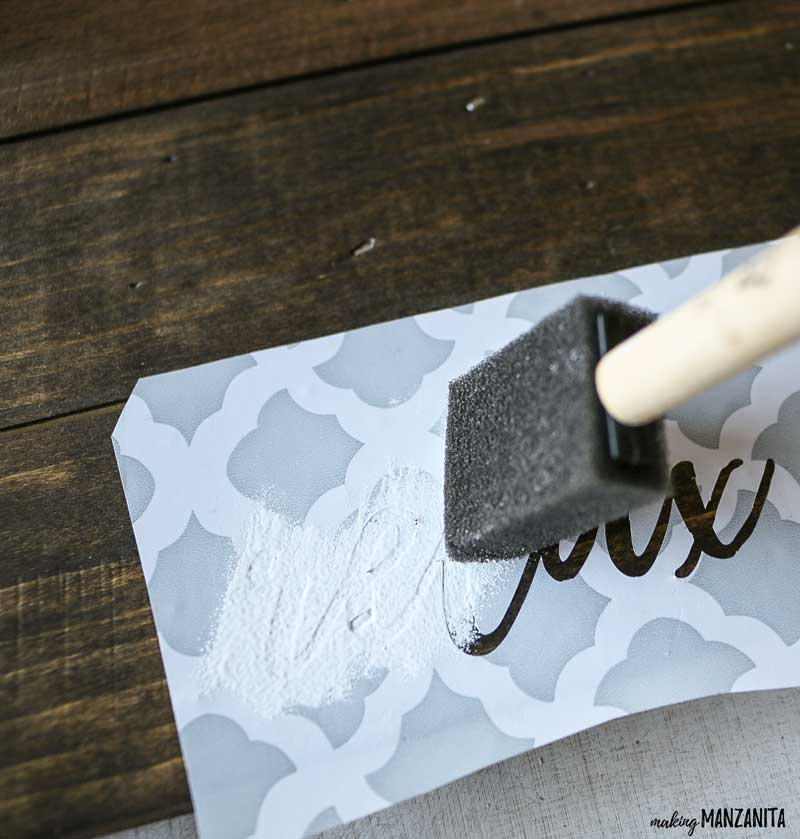 Step 6. Paint stencil.
After you've sealed the stencil, you can paint! I always use acrylic craft paint for stenciling because it works great and it's so inexpensive to buy.
Using a foam paint brush, gently "pounce" directly down onto the stencil with the brush (rather than using brush strokes). This is one additional way you can prevent stencil bleeding.
Let it dry to touch and then remove the stencil.
Step 7. Seal tray.
Since the DIY bath tub tray is going to be around moisture, you definitely want to seal it. I always seal my wood DIY projects anyway (even if they aren't going to be in the bathroom). One of my favorite ways to seal wood projects is this spray sealant. It's really simple to use. You just spray it on like spray paint and wait for it to dry.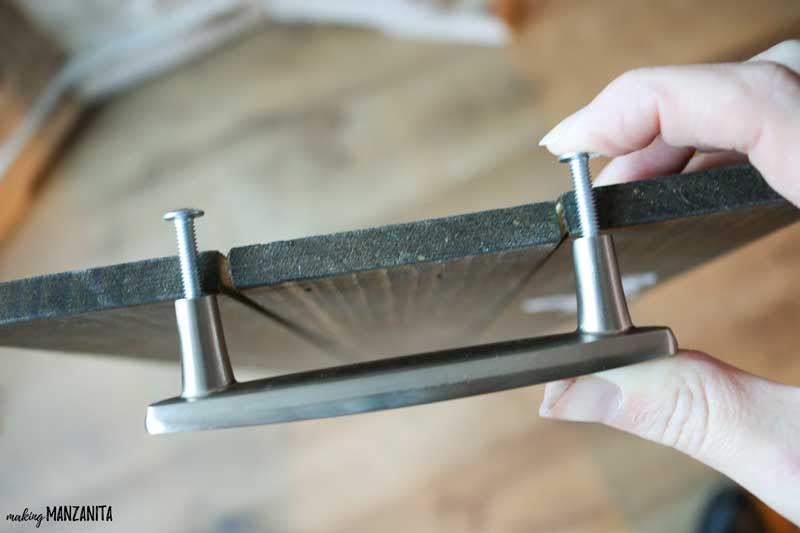 Step 8. Attach handles.
Here's the thing…when I was shopping for the handles to go on each side of the wooden bath tray, I didn't have the wooden tray with me. When I got home I realized that the handles line up almost directly above the slats in the wood. I was worried that the wood may split up open on the edge or something, so we decided to add a small piece of 1/4" plywood to the underside of the bath tray under the handles as shown in the photos above.
If you're making this bath tray and using this same wooden sign as your base, try to grab some handles that are a little wider so you don't run into this issue. If you do have this same issue, it was a pretty easy fix, so no worries.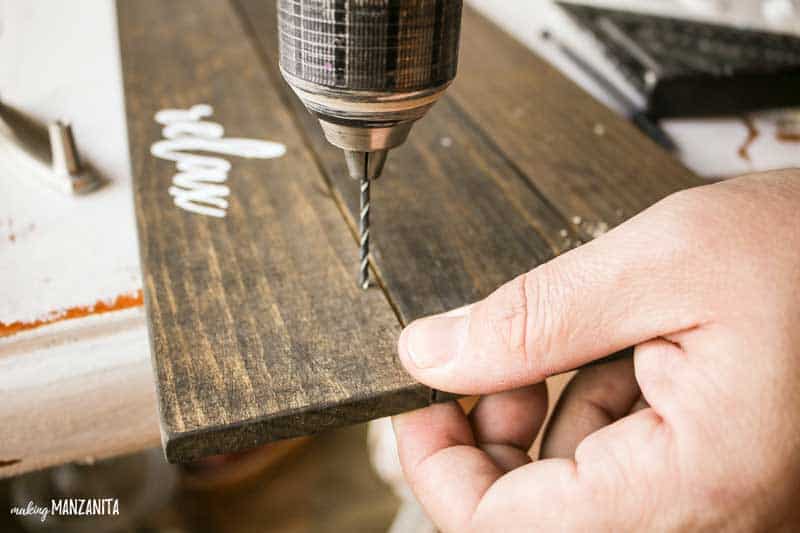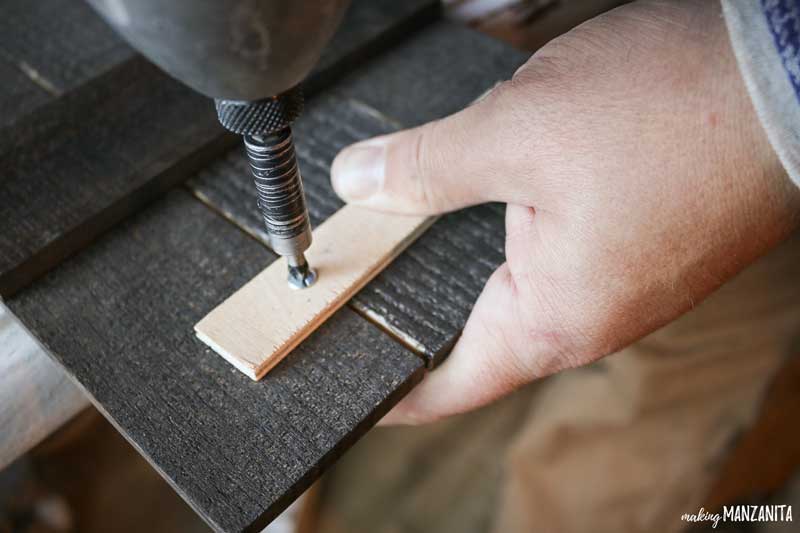 Measure where you want the handles, drill pilot holes and attach your handles to the tray.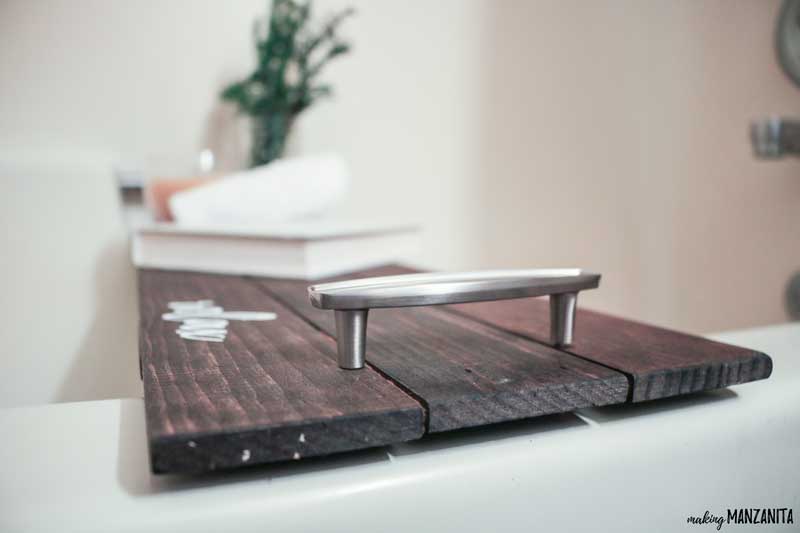 Step 9. Take a nice, relaxing bath.
And that's it! Now you can fill that bath tub up, light a couple candles and hop in for a nice bath! Now you have a snazzy tray to hold your book, cell phone, glass…you name it. Relaxation is just around the corner.
If you're looking to take the bath tray one step further, this bath table even has a holder for your wine glass stem!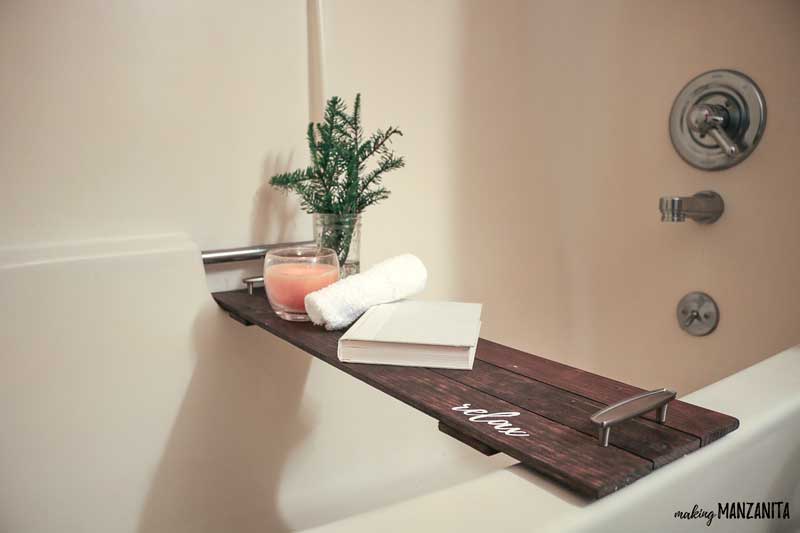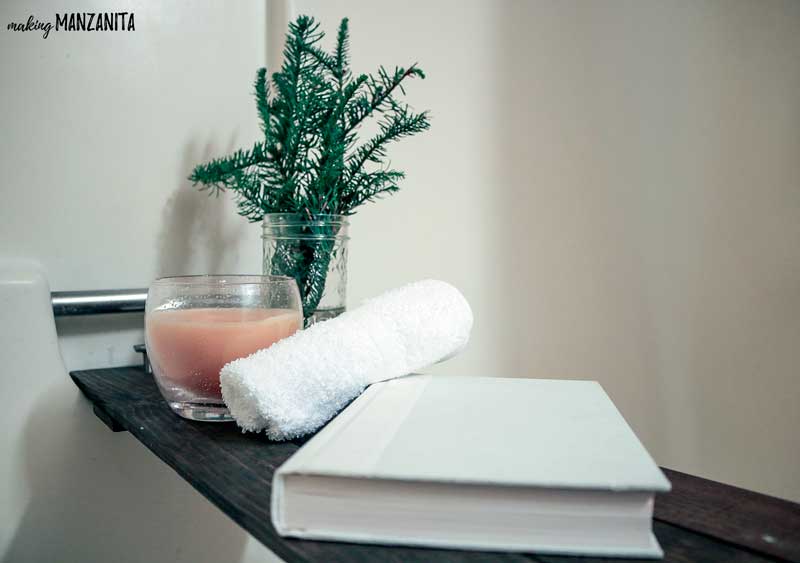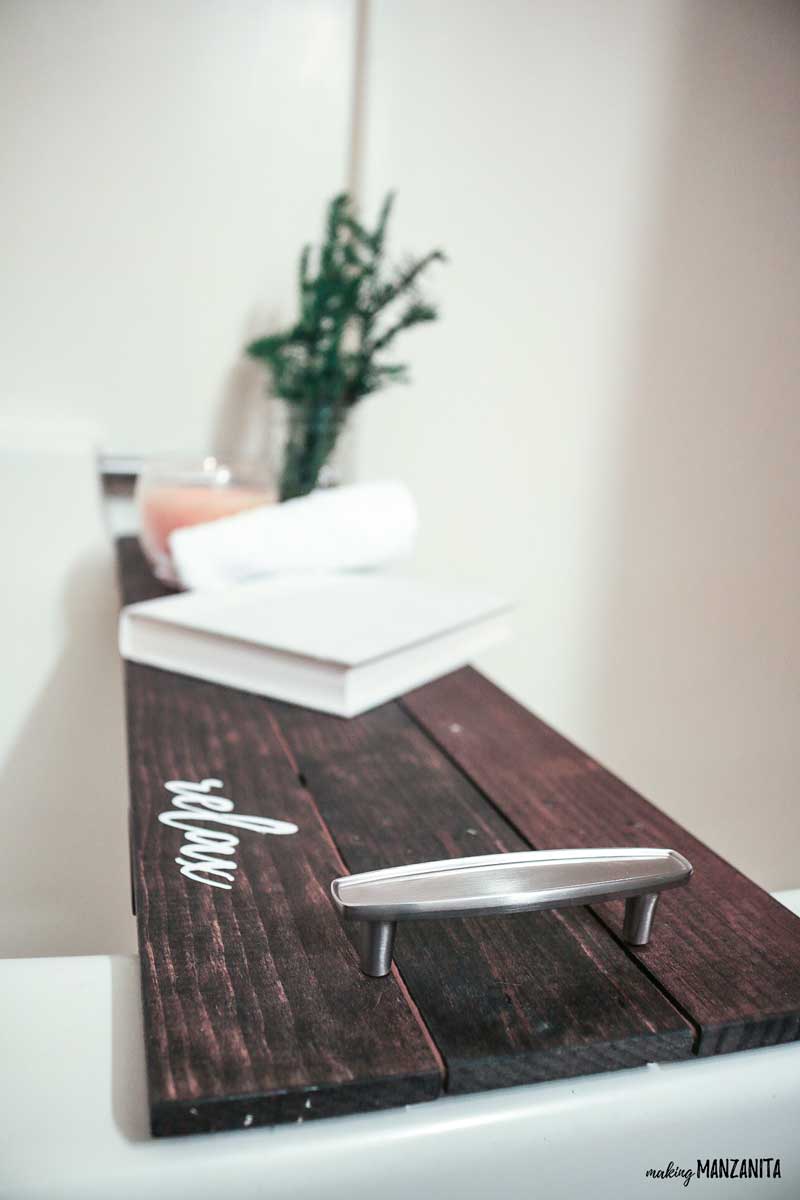 This DIY bath tub tray was so easy to create, don't you think? Anyone can do it! Not only it is functional and makes your bath time more convenient, but it's so cute.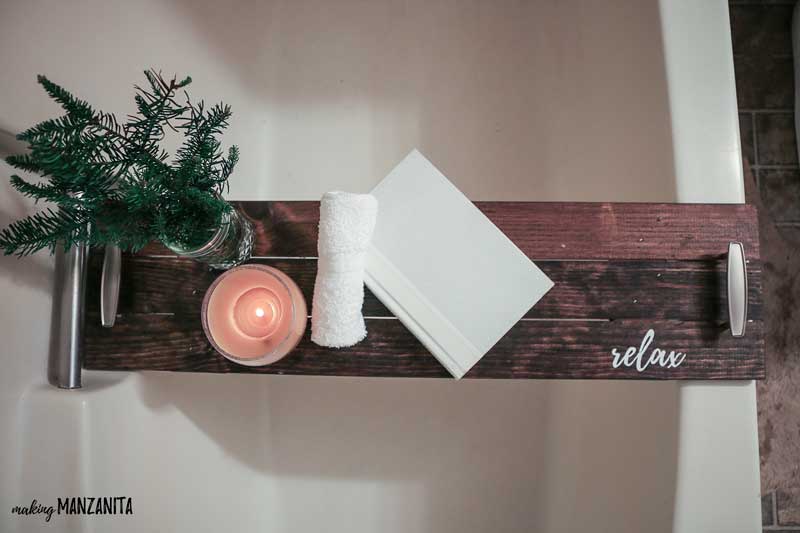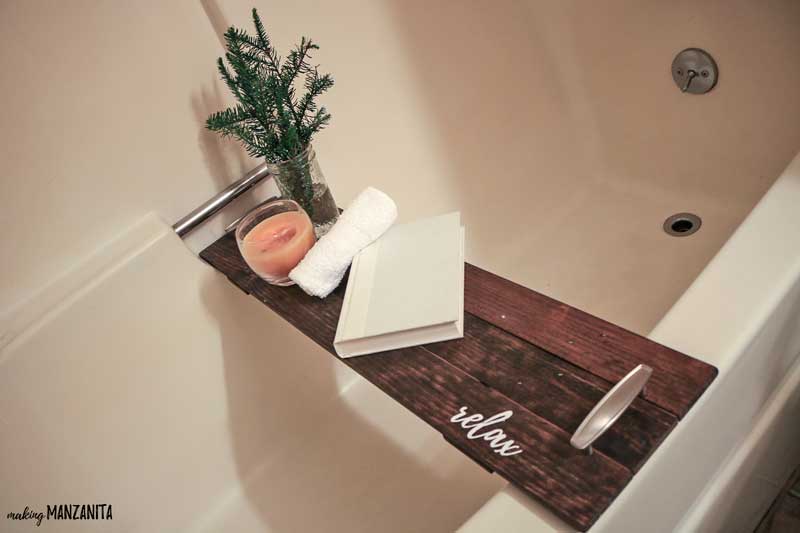 Who doesn't love baths? This DIY bath tub tray makes a great handmade Christmas gift. Check out how to create a super cute relaxation gift basket to pair with this tray for a memorable gift!
What word would you paint on your DIY bath tub tray?
Let me know in the comments below!!
---
See below for a replay of my live video tutorial for this DIY bath tub tray and relaxation gift basket. If you love DIY videos, be sure to check out my video page.