If you're looking for a quick and easy way to uplevel your kitchen, consider giving your spices a makeover with new jars and spice jar labels. Here are 24 gorgeous modern spice labels to inspire you to get organized!
We recently completely changed how we organize our spices, bringing them out of the cabinet and building a new wall-mounted DIY spice rack.
We put it on the wall over our DIY trash can we built last year, completely transforming that corner of our kitchen from a boring space to something with tons of character and charm.
A few years ago, we had already gone through the process of organizing our spices in a cabinet and even made our own custom labels for the tops of the spice jars.
And it worked…fine. For several years.
But things have gotten crazy in the spice cabinet and we were simply running out of space.
Table of Contents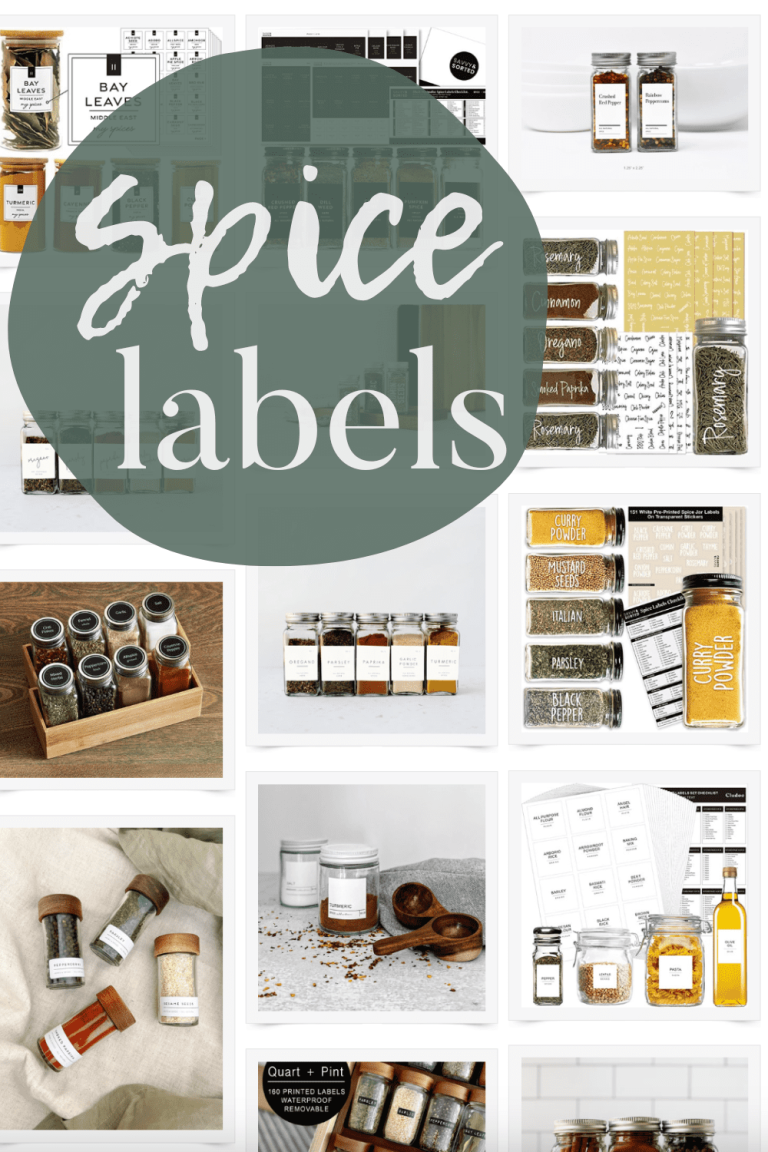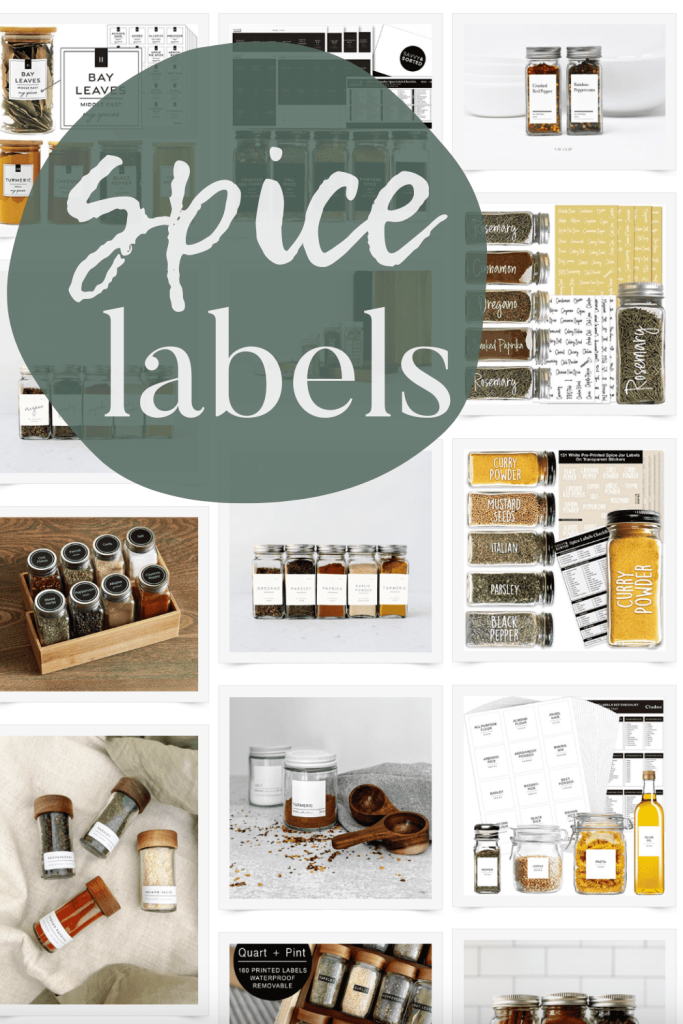 When we built the wall-mounted spice rack, I knew it was time to invest in new glass spice jars that were bigger so they could hold more.
I also wanted to find some new modern and minimalist spice labels, so I went on a major search online, saving everything I found along the way (so I can share it all with you, of course).
Spoiler alert, there are tons of spice stickers out there! I tried to include a good mix of different types of labels, so there is everything from clear labels to black labels and, of course, white labels with black text.
Related Reading – Check out these under cabinet spice rack ideas and other brilliant spice organization options here!
This spice labels roundup contains affiliate links, but nothing that I wouldn't recommend wholeheartedly. Read my full disclosure here.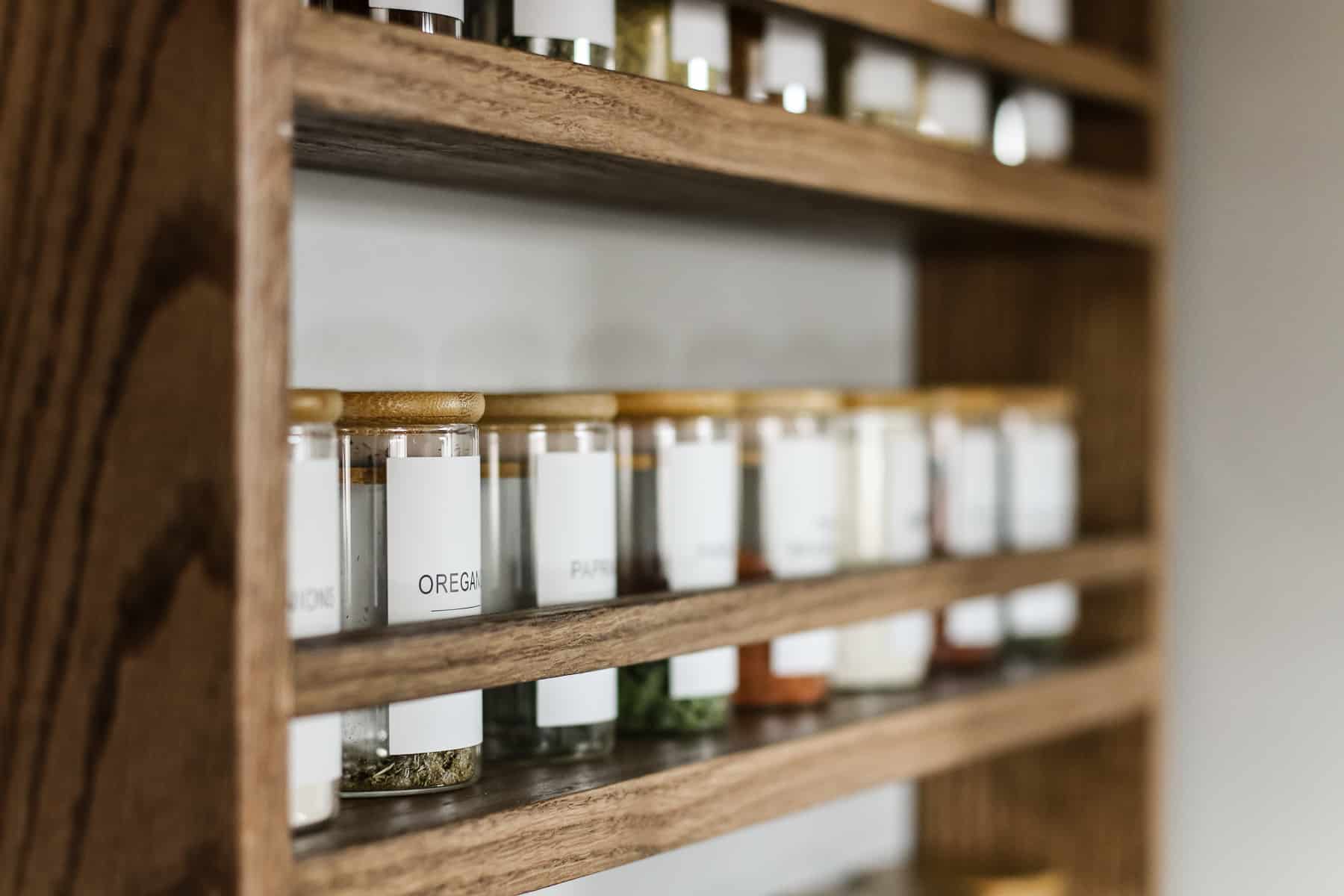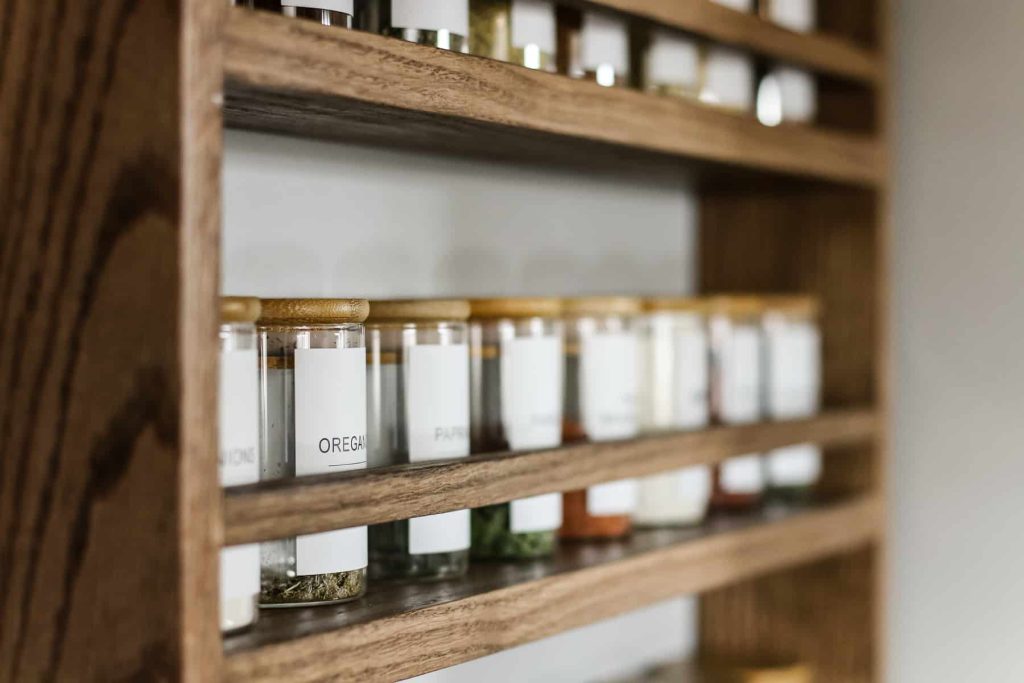 Where to buy modern spice labels?
The best sources I found for purchasing spice labels were, by and large, Amazon and Etsy. I mean, when aren't the two best places to buy basically anything? So all of the great labels I rounded up below are from either Amazon or Etsy.
What to look for when searching for spice labels?
First, be sure you're buying labels that are both oil-resistant and water-resistant so they will last longer.
You also need to look at the list of spices included to make sure everything you use frequently in your kitchen is included….which brings us to the next question…
How many spice labels will I need?
Good question. Start by taking a look at the spices you already have in your kitchen. List them out on a piece of paper and count them up.
Now when you go to find your new spice labels, take a look at the list of provided spices and make sure everything you use is included in the set before you purchase.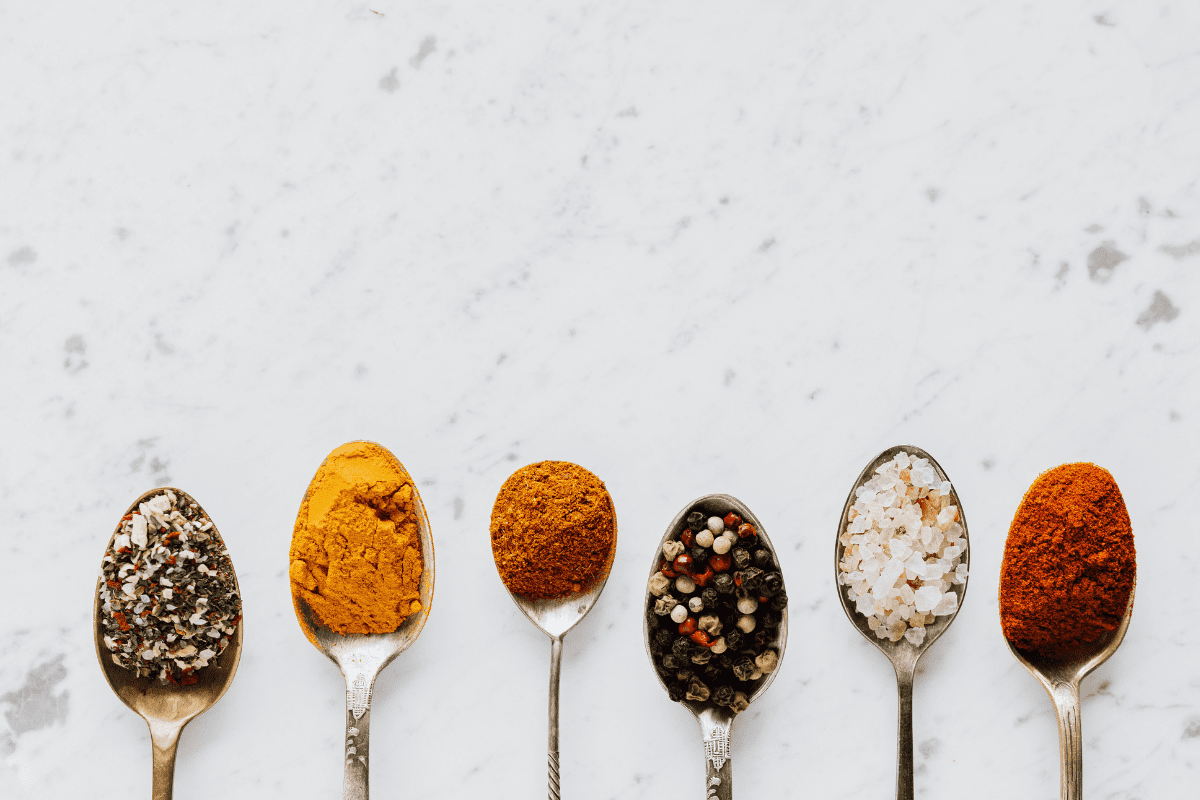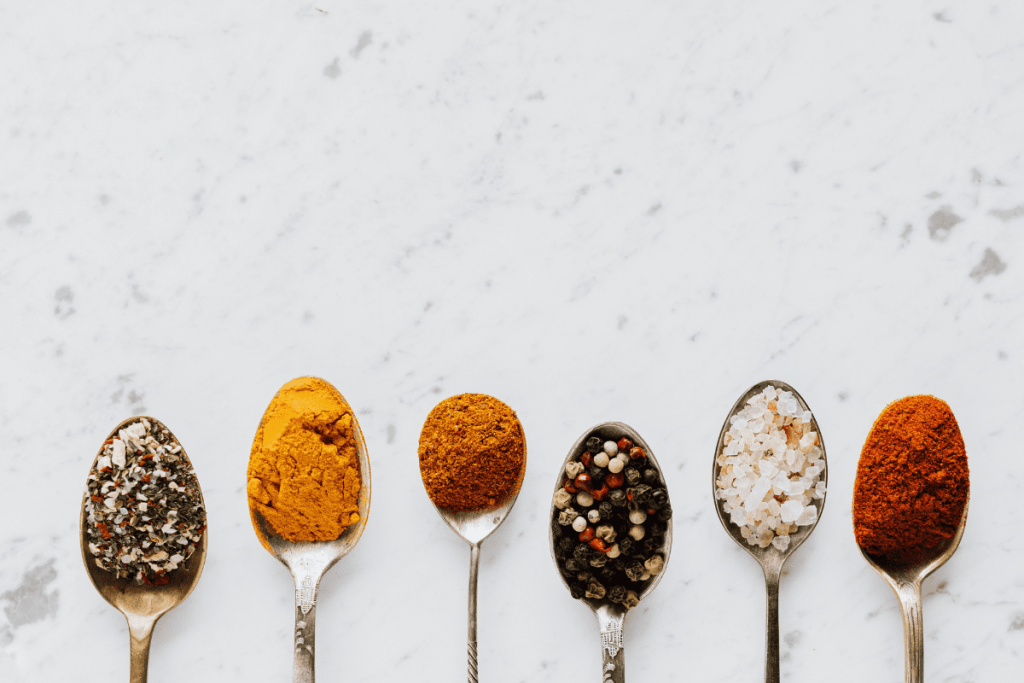 What are the most common spices that I'll probably need?
Well, there is no reason to keep a spice in your kitchen that you don't use. So even though these are the most commonly used spices, you definitely need to customize this list to what you will actually use.
Salt
Black pepper
Celery salt
Chili powder
Garlic salt
Garlic powder
Mustard seed
Taco seasoning
Lemon pepper
Onion salt
Onion powder
Black peppercorns
Sea salt
Kosher salt
Bay leaves
Red pepper flakes
Chili powder
Cayenne pepper
Seasoning salt
Whole cloves
Rosemary
Sage
Basil
Oregano
Italian Seasoning
Thyme
Cinnamon
Corriander
Paprika
Nutmeg
Ginger
Cumin
A few less common spices that you may want to consider:
White pepper
Celery seed
Star anise
Garam masala
Curry powder
Poultry seasoning
Herbes de Provence
Ras el hanout
Everything bagel seasoning
Cardamom
7 Spice
Dill
Mint
Pumpkin pie spice
Smoked paprika
Dried onion
Tumeric
Zaatar
Cinnamon sticks
Caraway
Celery
Fennel
Fenugreek
Saffron
Sumac
Vanilla bean
Ranch seasoning
What if I use a spice that isn't included in the set of spice labels?
Chances are that you may have a custom spice or two, or something totally unique, that you use in your kitchen. Maybe it's even a spice rub you've created yourself!
In those cases, you'll want to look for a set (or Etsy seller) that allows for custom spice labels. In some cases, you'll need to write in your custom spices with a permanent marker on the blank labels provided. That's what I had to do for a few of ours.
Other sets may allow you to edit the labels and print them yourself. There are also a few Etsy sellers that you can work with to create custom spice jar labels for you by messaging them (add that to the list of many things I love about Etsy).
What if I need to label more than just spices?
Well, now, my friend, you're speaking my language. A well-labeled and organized kitchen is serious #goals, am I right? We recently added a shelving unit on the other side of our kitchen along with several pantry and baking items into new glass bins with modern labels. More on that later!
Because I was also planning the new spice rack at the same time, I made sure that the set of labels that we purchased included EVERYTHING I need – both spices and other kitchen labels. Everything has a nice uniform look.
24+ Gorgeous Modern Spice Jar Labels with Minimalist Design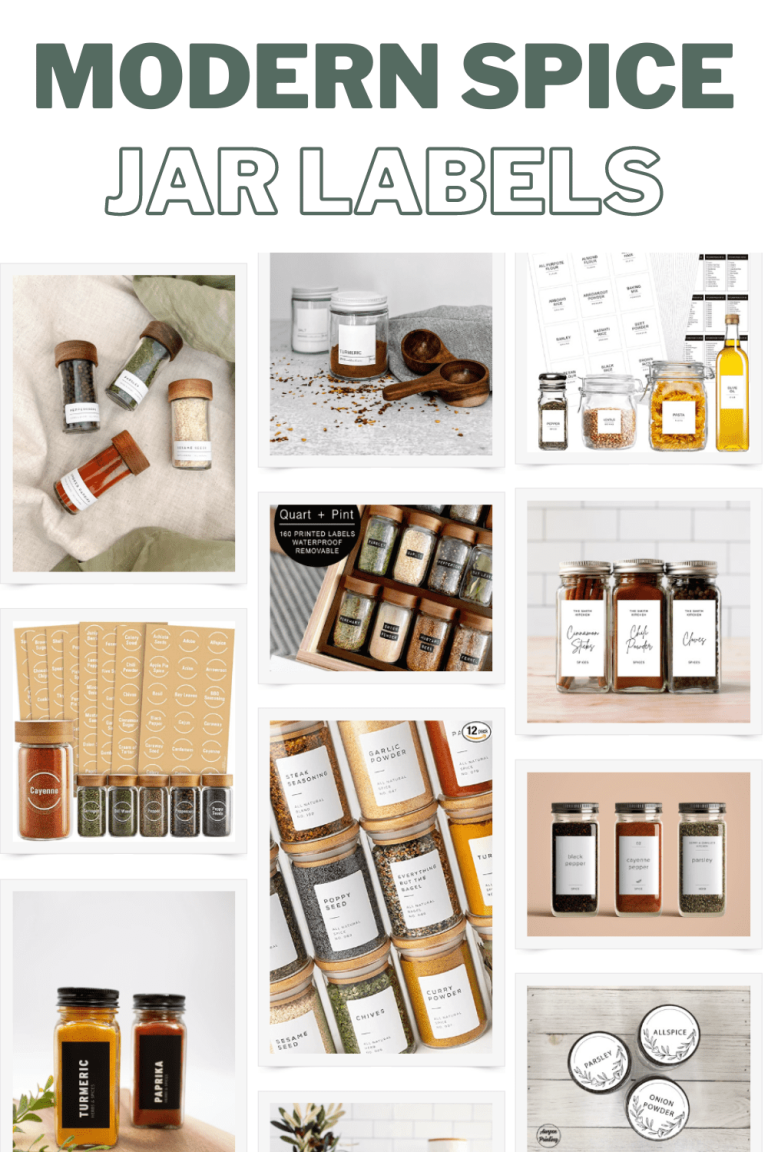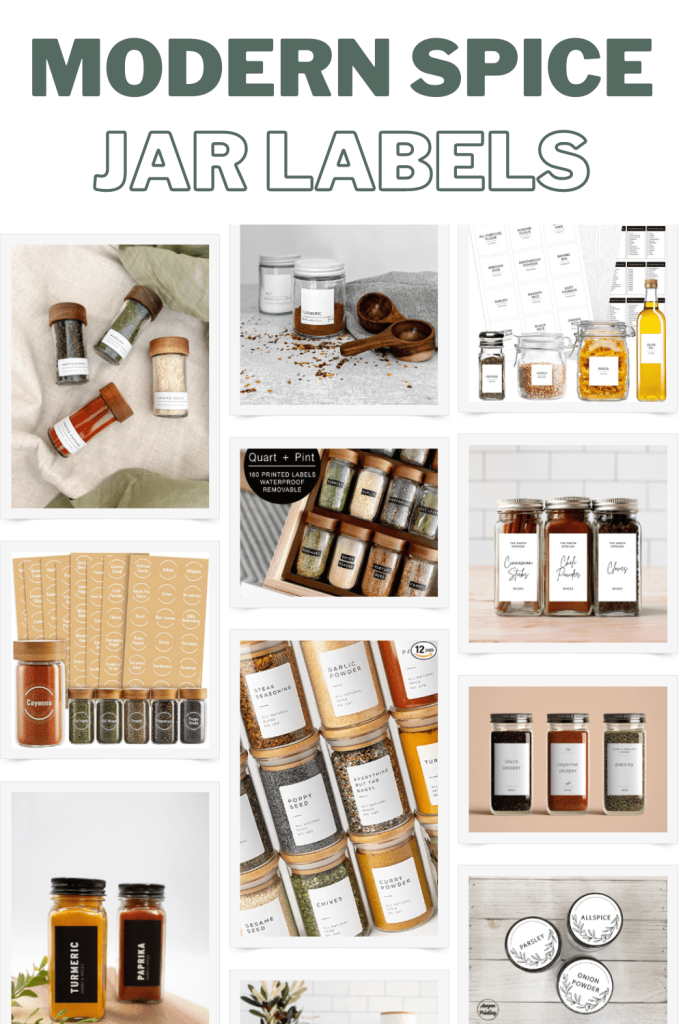 Are you ready to see everything I found?? There's a lot here, so click the pictures below to go straight to the product listings to check them out further. You'll be able to see more about what spices are included and see if there are any different size or color options.
16+ Spice Jars To Organize Your Spices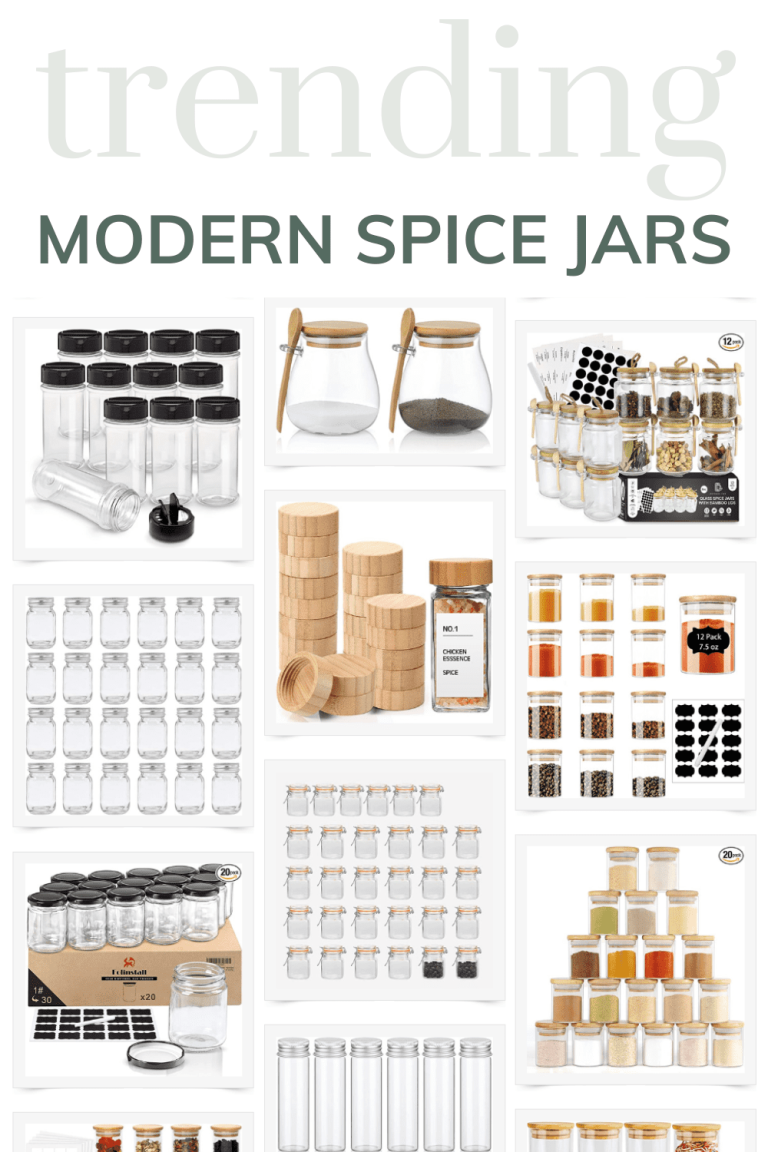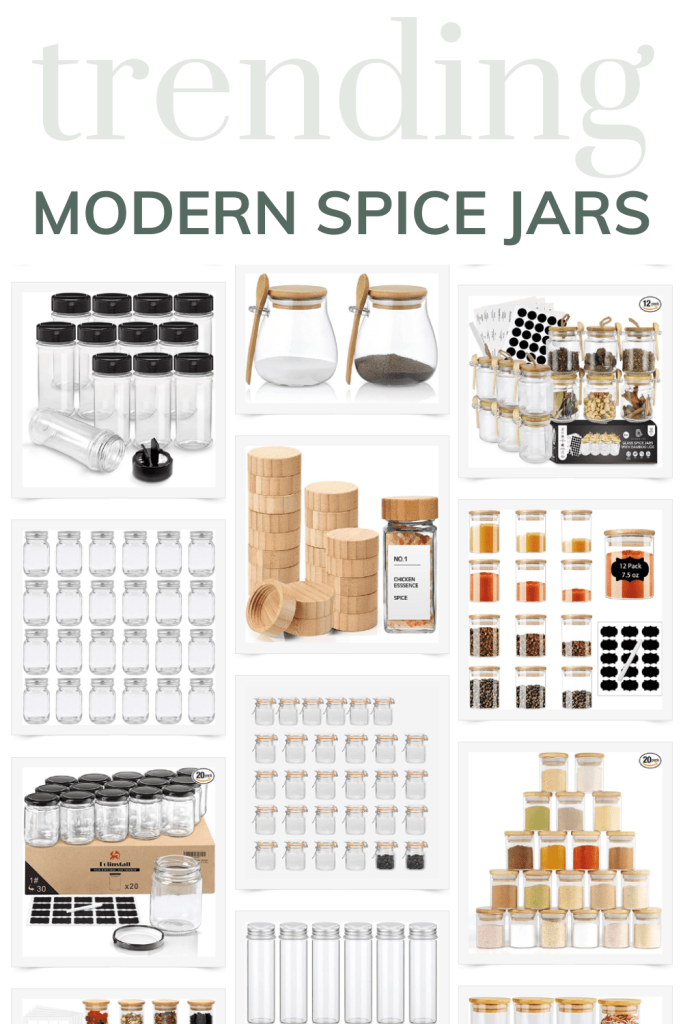 If you're buying spice labels, chances are that you're shopping for new spice jars at the same time. So I rounded up some of my favorite designs to get you going. Some of these jars even include labels with them!
Whatever type of spice jar you choose, be sure that it has an airtight design so your spices stay good longer.
Now I'm dying to know…which is your favorite spice jar label?
Let us know in the comments below!