Pinterest can be a very effective tool for interior design, but Pinterest can also be overwhelming. If you are wondering what your home decor style is, here's how to use Pinterest to discover your home decor style.
Do you really know your home decor style? Are you overwhelmed by the need to decorate your home, but don't know what style to choose? Maybe you've given up and just started copying the styles you see popular on Pinterest and HGTV and now your house doesn't feel like "you". I've been there…stuck and unsure what my home decor style is. Pinterest is an incredible tool for home decor (among so many other things….I mean seriously, how did people plan weddings before Pinterest?!). This guide will help you end the frustration and show you how to use Pinterest to discover your home decor style.
Let me warn you, Pinterest can be a big "time suck", therefore the key here is learning HOW to use Pinterest to discover your home decor style. Yes, I swear Pinterest can be used as productive tool – here's how!
Related Posts About Home Decor: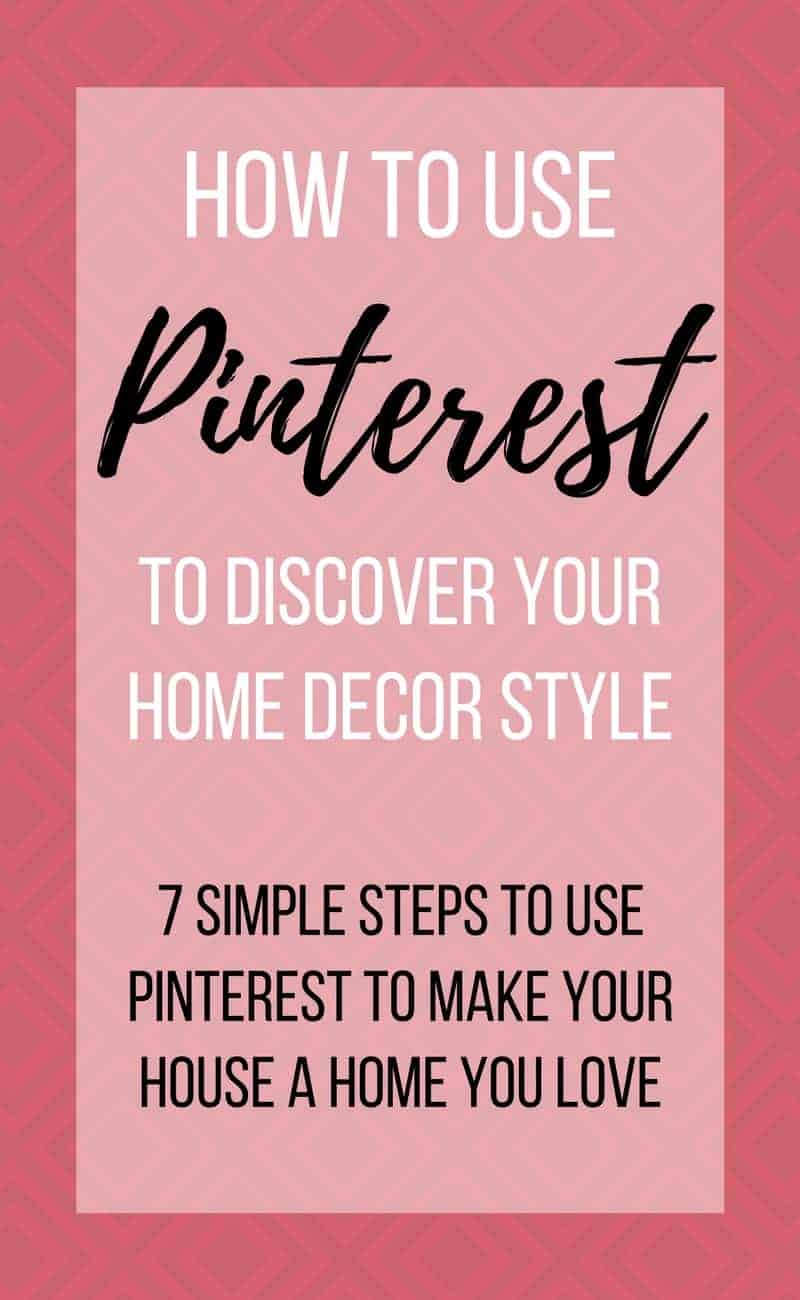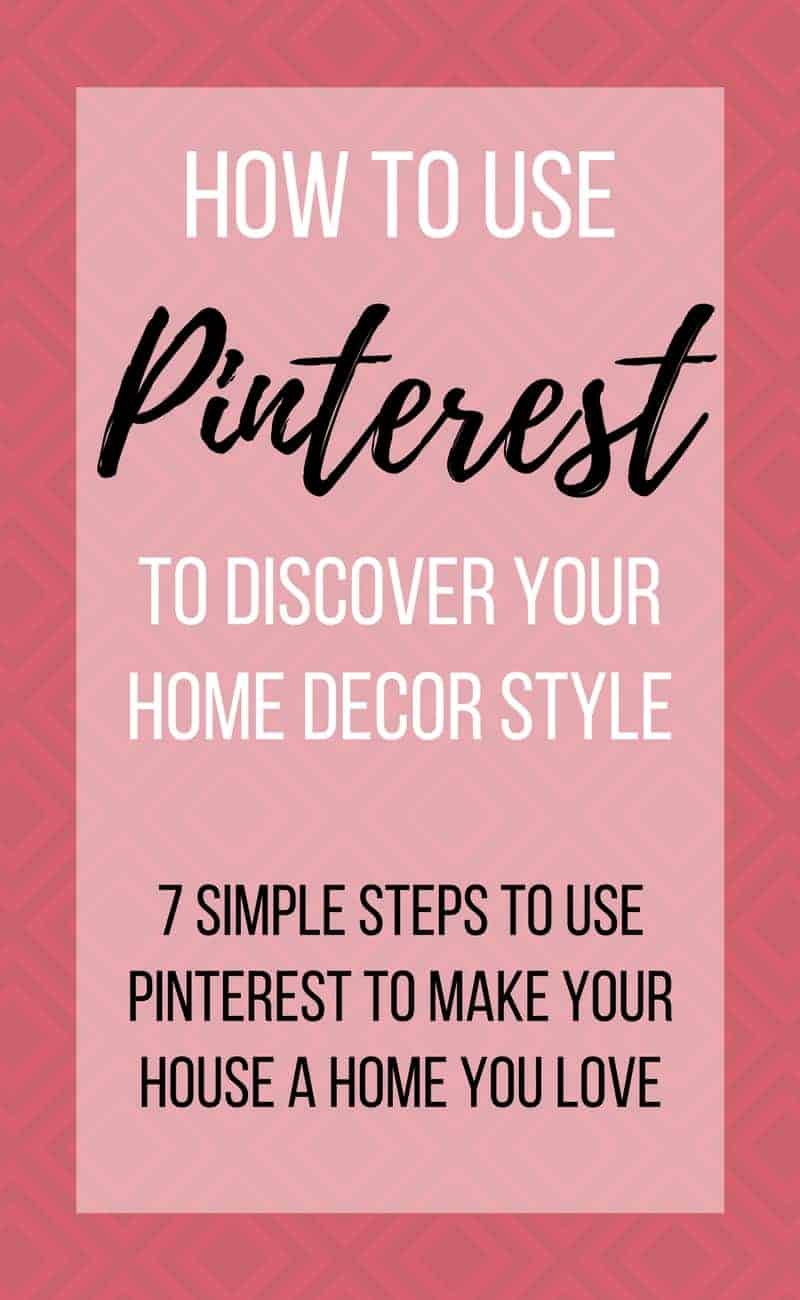 This guide on how to use Pinterest to discover your home decor style contains affiliate links, but nothing that I wouldn't wholeheartedly recommend anyway! Read my full disclosure here.
Seven Simple Steps on How to Use Pinterest to Discover your Home Decor Style
1. Start a Pinterest board for home decor and/or a specific room in your home.
If you are stuck decorating your entire home, take it one room at a time. There's nothing more overwhelming that an entire house that needs decorating. Start a board for that specific room that you're starting on.
If you are looking on how to use Pinterest to discover your overall home decor style, you can create a board that is more broad like "Home Decor" or "My Style".
2. Just starting pinning.
You want to pinning things to the board that you like. It may be a style that you like, a specific product that you love, a DIY tutorial you want to try out in your home, a color combo you're drawn to, a mood board that really killed it or maybe the pin just makes your heart flutter and you can't even pinpoint what you love about it. Just pin it.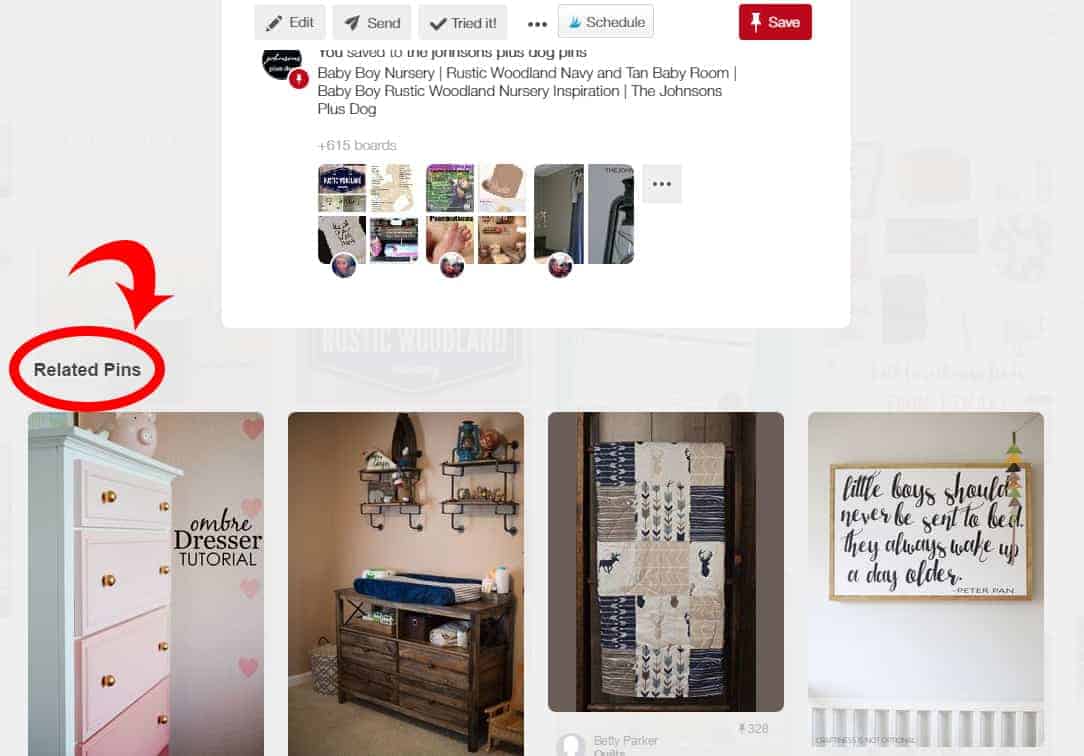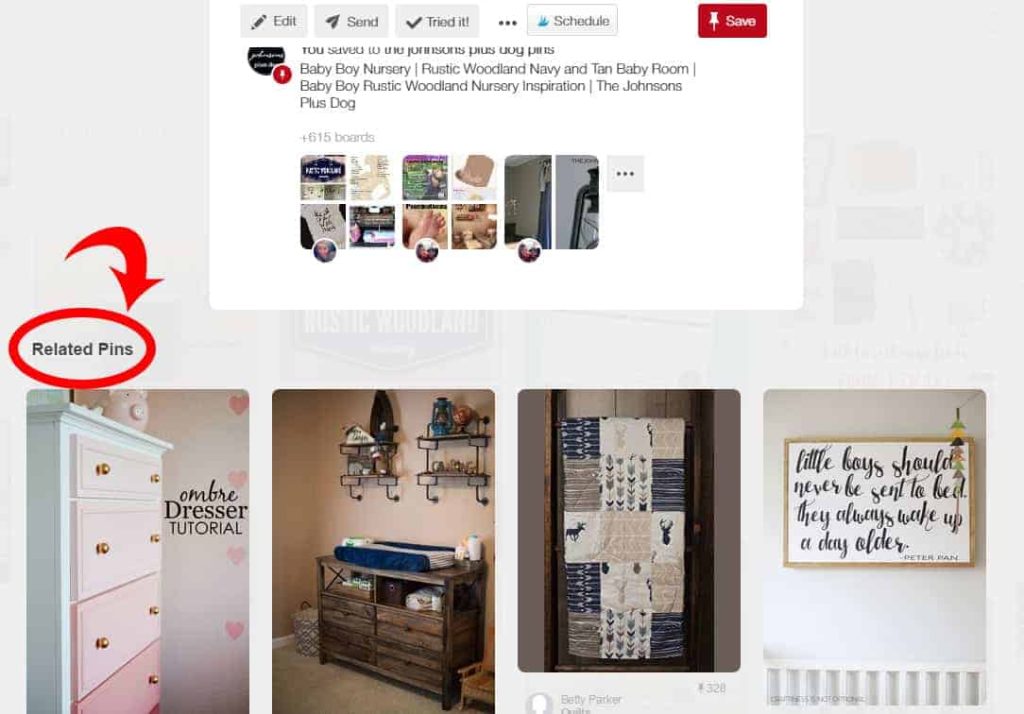 3. Review related pins to find similar ideas.
Pinterest has a super useful tool called "Related Pins". Once you open a pin, you can scroll down and see related pins. Here you will be able to find other creative ideas to choose from and help you determine your home decor style.
For most of Pinterest's history, the Related Pins section based on board co-occurrence, which means the pins related because a lot of people have pinned them to the same board. As of January 2017, Pinterest has started using "deep learning" to assemble their Related Pins section. The deep learning involves "training artificial neural networks on lots of data, such as pictures, and then getting them to make inferences about new data" (read full article to learn more about deep learning on Pinterest). Basically, Related Pins are getting more specific and hopefully more helpful for you!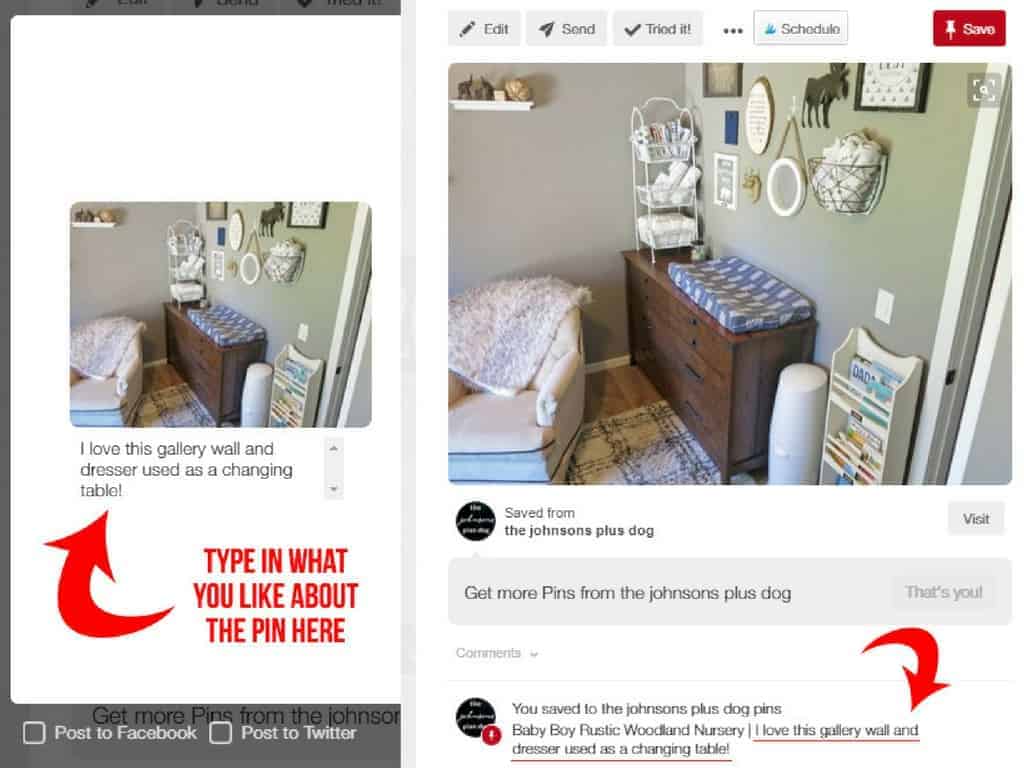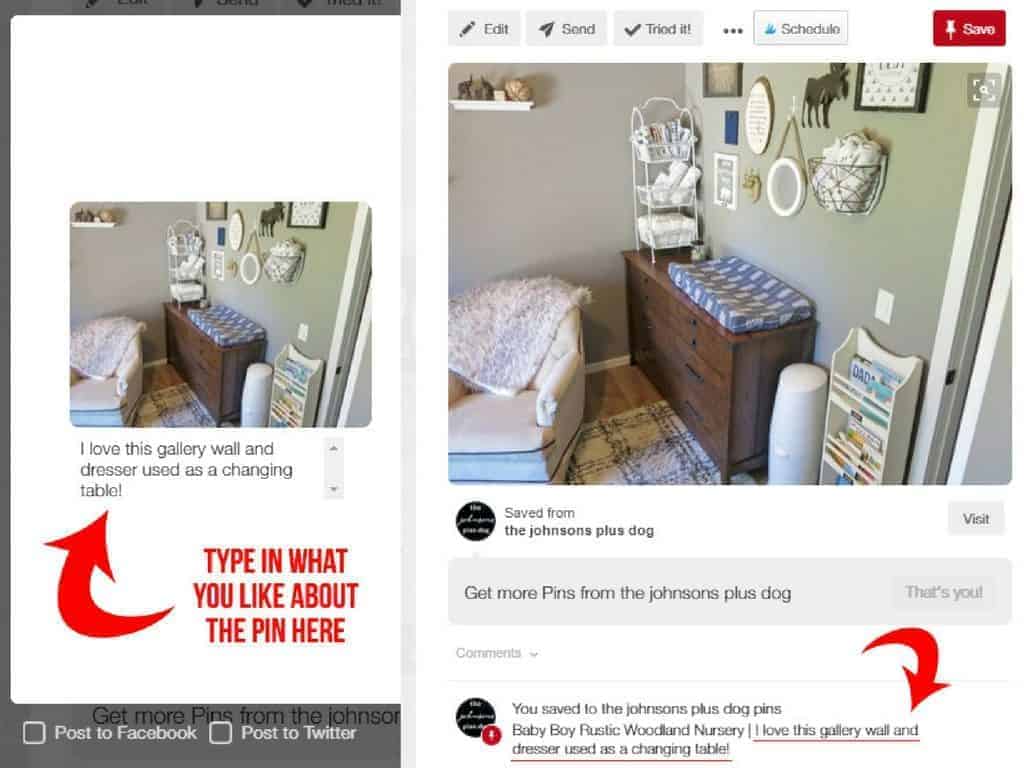 4. Use the pin description section to record what you like about the pin.
Sometimes you go pin-crazy and you forget why in the heck you pinned something. Save yourself the trouble later and take advantage of the pin description section to type in what you specifically like about the pin.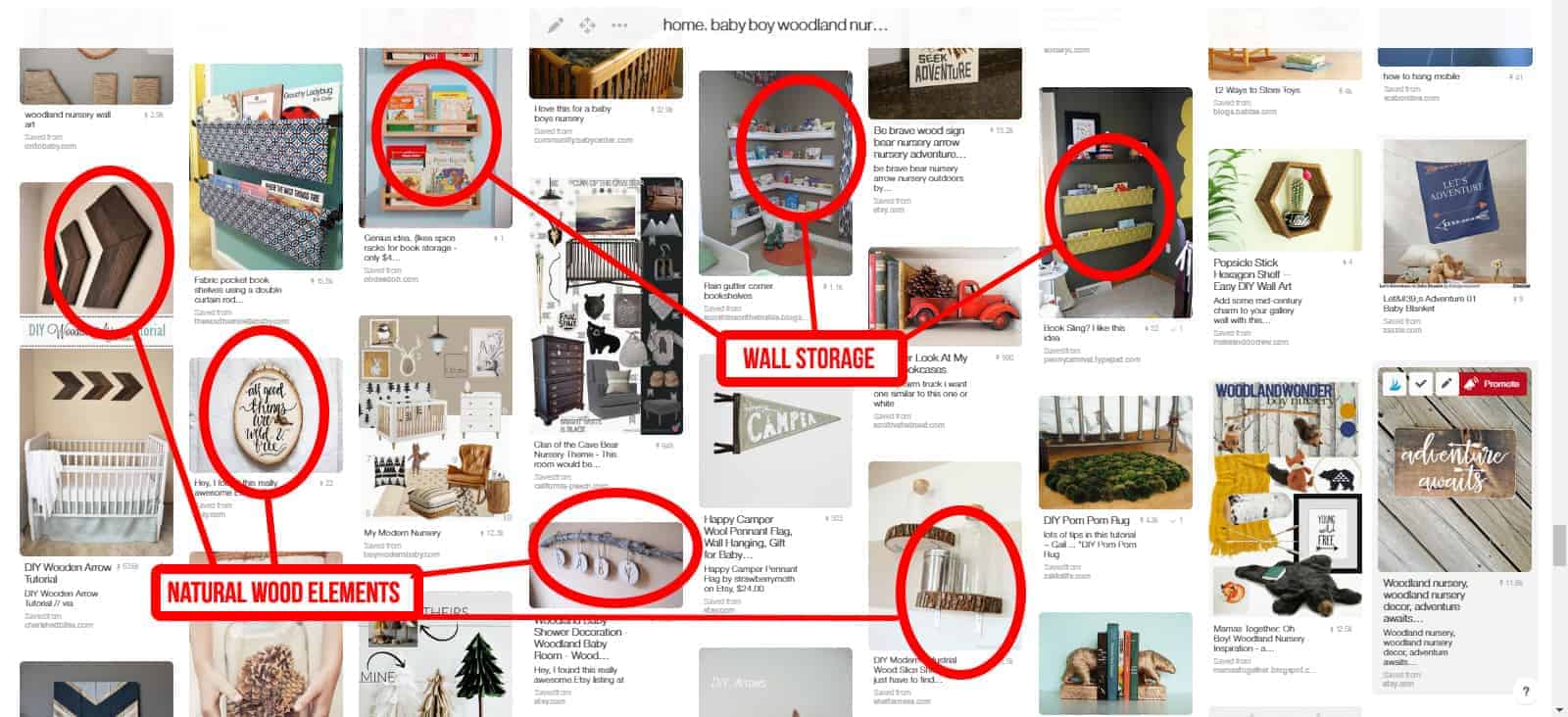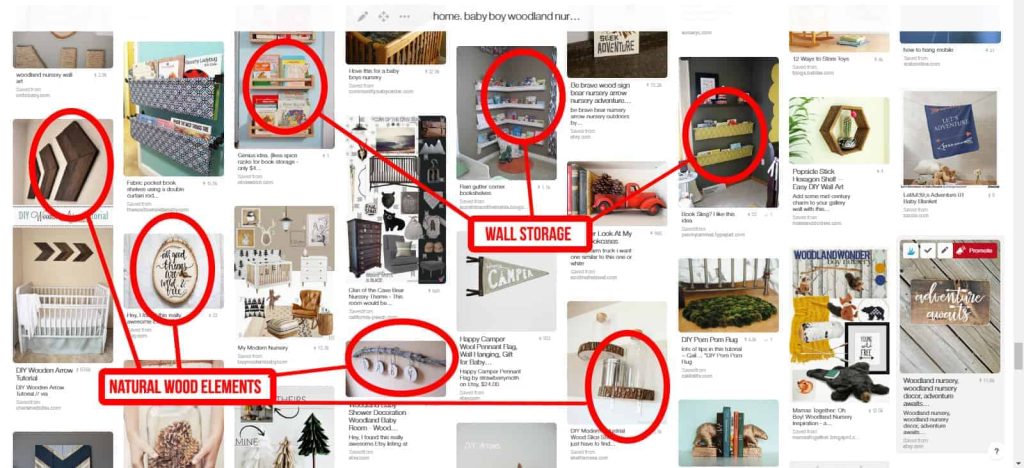 5. Take a step back and look at your board to find general themes and overarching ideas.
After you've done some pinning, review your board and look for items that appear multiple times. Search for colors that you are drawn to or patterns that you love. The more you pin, the more you will figure out how to use Pinterest to discover your home decor style.
For example, in the above picture you can see that I found a few general themes on my board for our baby boy rustic woodland nursery. I discovered that I loved natural wood elements and I was drawn towards wall storage. Who isn't desperate looking for storage solutions when putting together a nursery, haha!. I also discovered that I loved the camping themes, woodland creatures and I loved how navy blue worked with these elements too! If you're curious how all of this nursery inspiration came together, you can check out the nursery room reveal here.
6. Stop pinning and start doing.
The moment Pinterest starts becoming a road block is when you are stuck pinning and can't seem to get off your butt start making it happen. I dare you to commit to an entire day Pinterest free as you start decorating your room! If you want to save a couple of inspiration pictures on your phone or save a link to a DIY project, that's fine – but the key here is to cut out any distractions, namely the rabbit hole of Pinterest.
7. Quit trying to make your home Pinterest worthy &
just make it a home that you love
At the end of the day, the best lesson I hope to teach you is this. Although Pinterest is a great source of home decor inspiration and can help you tremendously on your journey to discover your home decor style – YOUR home decor style ultimately needs to reflect YOU. Your house needs to be a place you love coming home to. Your home decor shouldn't be a compilation of the most current trends, just for trend's sake.
Do you love something that "they" say is not on trend and out of style? I say, GO FOR IT! Let's all just stop the comparison game. Please take what you see on Pinterest, IG and blogs with a grain of salt. Joanna Gaines says it best in one of my favorite parts of their book, The Magnolia Story:
"It seems as if the standards are so much higher than they were just a few years ago, mainly because of what we see whenever we look at the internet. It used to require some effort to feel like an inferior mom and wife. A woman used to have to go to a newsstand and spend six dollars on a magazine to see the current societal standard of 'what my family and home are supposed to look like.' now it just shows up on social media everywhere you look, and it always seems to be picture perfect. That's all anyone seems to post – perfect pictures of perfect families enjoying perfect moments."
Summing it all up…
With these 7 simple steps on how to use Pinterest to discover your home decor style, I promise that you'll walk away feeling less frustrated about decorating your home. You will have a very clear picture on what your home decor style really is. Using Pinterest as an effective tool to find your style is all about setting up those boundaries too – so don't forget what it's all about… putting down the Pinterest, getting off your butt and making it happen and most of all, creating a style that is YOU more than the current trends.
It all starts with creating that first board… Ok, go!