Are you taking on a bathroom renovation and looking for shower niche ideas? These 20 shower niches will inspire you to create your own custom niche in your bathroom.
Whether you have a bathtub or a walk-in shower, a custom niche is a great way to add storage for all your bath products.
When we did our bathroom renovations, we added shower niches to both bathroom designs and I'm so glad we did!
The niches keep you from having your shower products on the shower floor or in the little tiny corners of the bathtub or, heaven forbid, in a clunky shower caddy hanging over the shower head.
Shower niches aren't just for walk-in showers. They are great to have built-in to your tub surround, so don't think you can't have one if you have a bathtub/shower combo.
You may wonder, what is the best height for a shower niche? There is no right or wrong height to add a recessed shower niche and you can find out the benefits of the most common heights in this post.
Installing a custom shower niche isn't hard to do. You can buy prefabricated shower niches that are designed so that water won't puddle in them. The other great thing about using a prefab shower niche is that you can tile directly on the surface.
We recommend using them in your bathroom renovation and we even walk you through how to install one and how to tile it in this post.
Shower niche design ideas:
Double shower niche – two niches stacked on top of each other. They can be equal in size or different depending on what you want to use them for.
Horizontal shower niche – a custom niche that is wider than it is tall
Vertical shower niche – taller than it is wide
Shower niche shelf – not recessed, but a shelf built into the wall of your shower
These are just a few, there are so many ways to configure the niche in your shower area.
Shower niche trim ideas:
Something that you should think through before installing a shower niche is how you will trim or how you will handle the edges of the niche. There are several different options:
Use bullnose tile trim, which is a piece of tile with a rounded edge on one side. You can use bullnose tile trim pieces on the inside edge of the niche or on the flat face of the shower with the rounded edge facing the shower niche, creating a frame around the niche.
Use pencil trim or jolly trim, which are long narrow pieces that look like a quarter-round
Finish tile edges with caulk, which is cheap and easy, but won't look as neat and finished.
Check out more details in this article all about tile edge trim.
Let's check out these 20 shower niche ideas for inspiration with size, shape, and tile design. I know they will inspire you to add a custom niche to your bathroom design.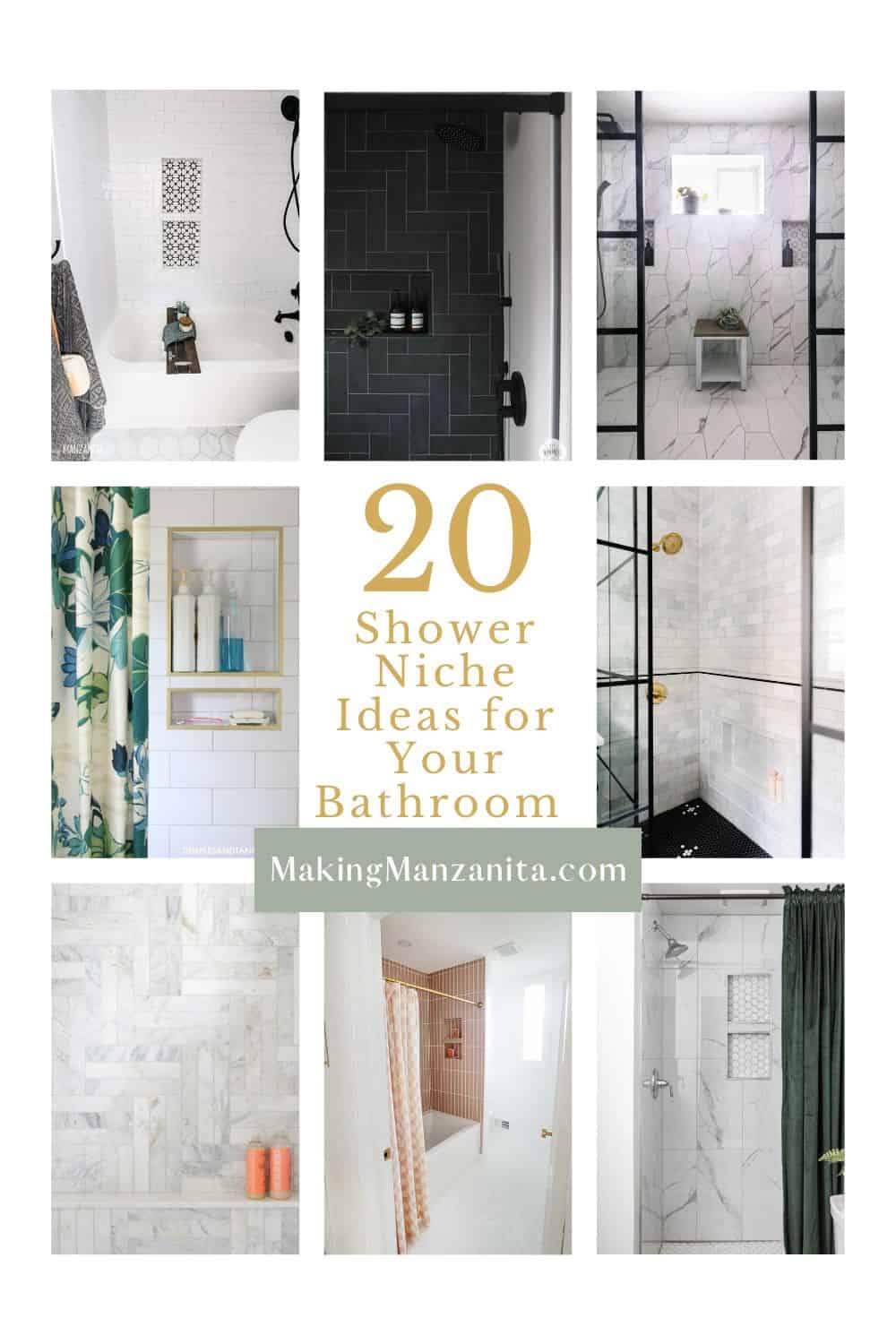 20 DIY Shower Niche Ideas
Which of these shower niches is your favorite?
Let us know in the comments below!