Looking for small foyer ideas? This reveal will get your wheels turning to plan your own entryway design! Come see how our entryway decor looks in this modern farmhouse entryway reveal!
Well guys, the day is finally here. All month long we've been working away on this fun modern farmhouse entryway and today we get to show you the finished product.
I also have tons of behind the scenes videos of this entryway coming to life saved over on my Instagram profile. Watch the videos here.
This post contains affiliate links, but nothing that I wouldn't wholeheartedly recommend anyway! Read my full disclosure here.
Let's see the boring before pictures first!
But before we jump into the pretty pictures, let's take a walk down memory lane and remember what this space looked like just 4 weeks ago!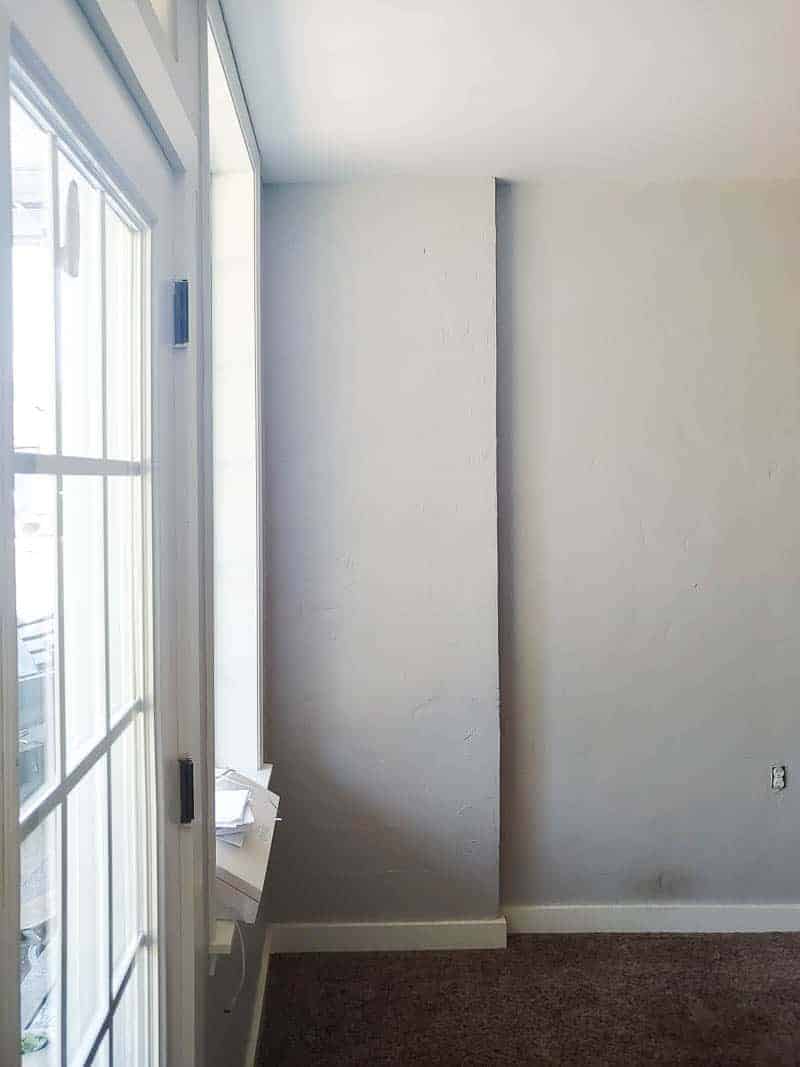 It was quite literally nothing. Just a boring corner of our living room. To be honest, it was one of those corners that usually just accumulated "stuff" too. You know what I mean…the boxes, the donation piles, the jackets thrown about. It wasn't pretty and it wasn't functional.
But I knew that even with a small budget (we DIYed almost everything here) and a small space, we could do something better. I mean, anything had to be better than what we were living with.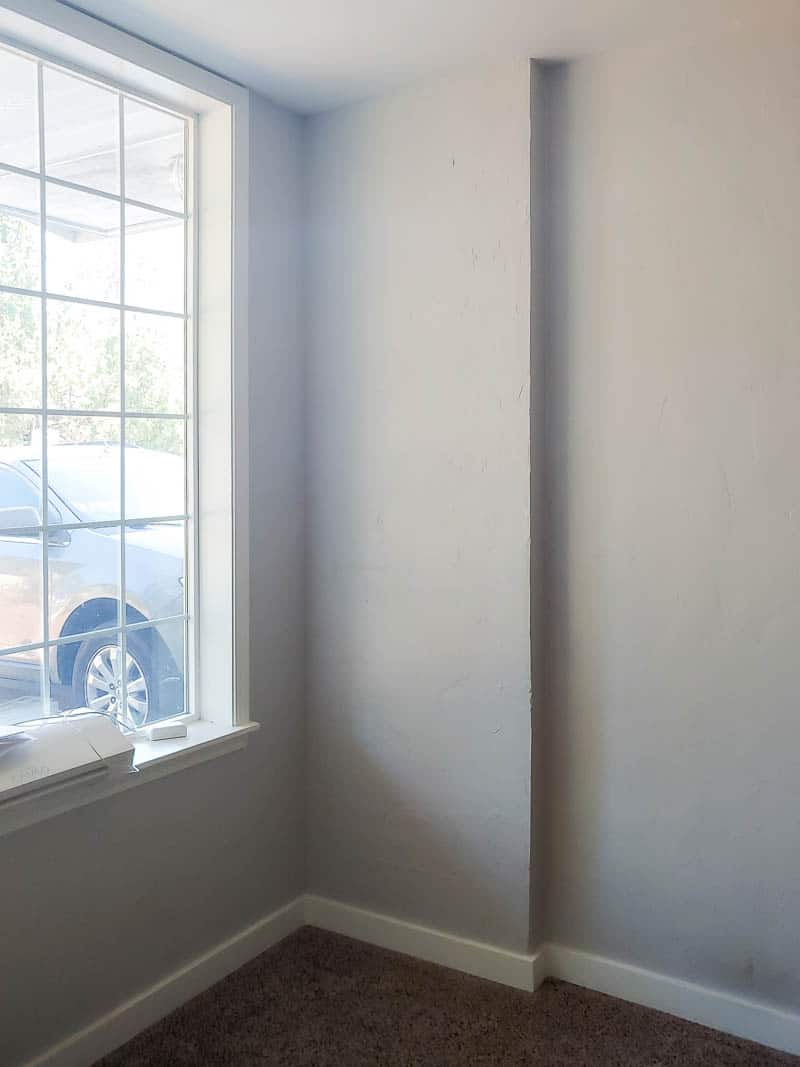 If you're wondering why there is a random jut out in the wall of drywall, it is where the exterior of the house turns to the garage. Not a great design, I know. But this living room was originally a garage (we think), so I guess it makes sense. If you're interested in seeing more about our renovation plans and what the house looked like when we moved in, check out this post.
Even though that jut out is kind of weird, I knew I couldn't get rid of it. So I tried to incorporate it into this entryway design so that it looks and feels natural and intentional.
After we cleared the space, I started quite literally pouring over tons of small foyer ideas. I even rounded up a bunch of the fun small entry way ideas I found here.
Here's what it looks like now: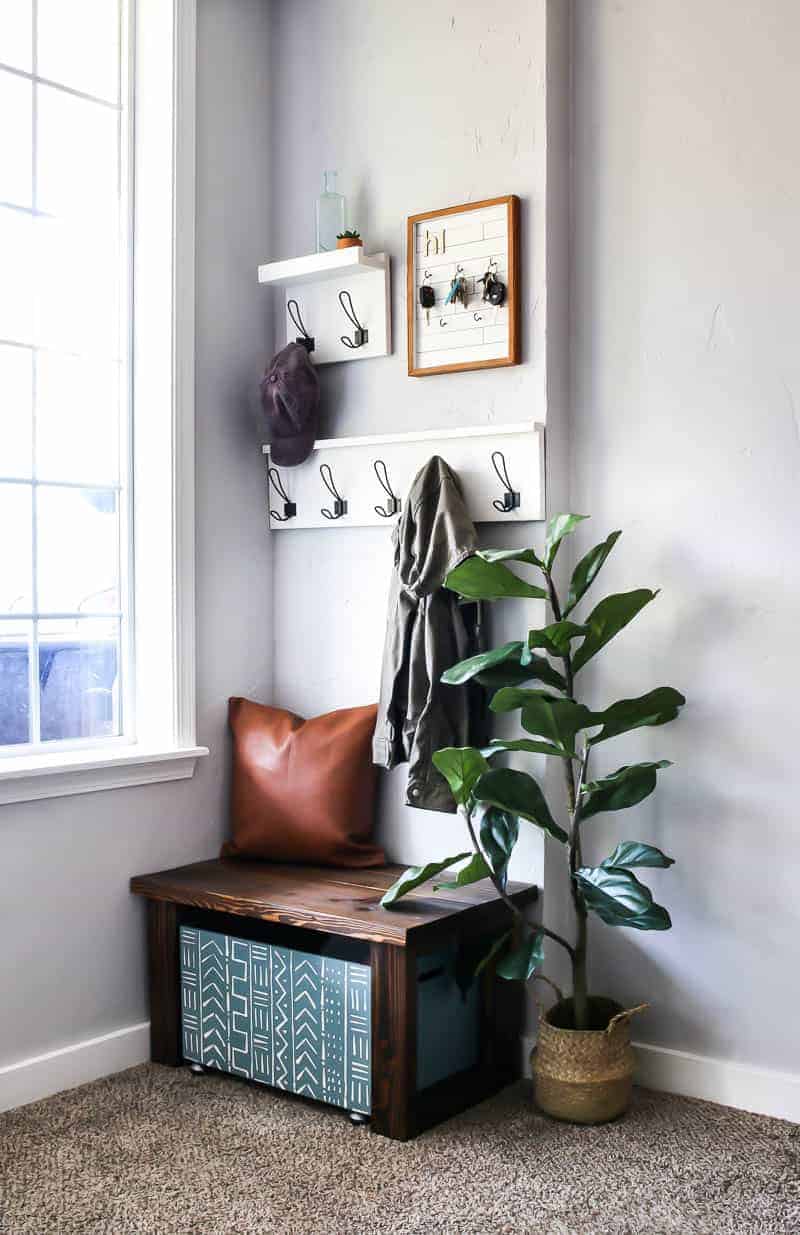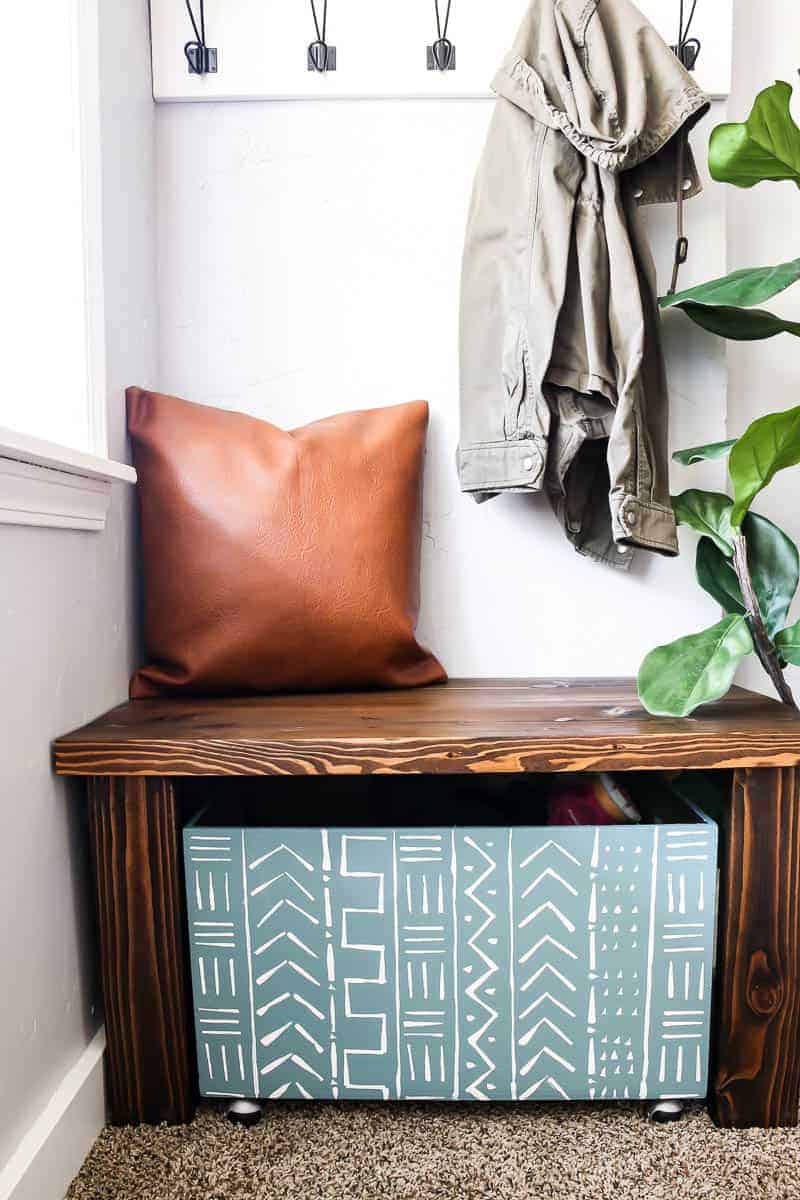 Here's what I knew we needed in this entryway design:
Make the random jut out of drywall look natural
Place to hang keys (they were always getting lost) – preferably where the kids can't reach because #toddlers
Hooks for jackets & hats
Shoe storage
Bench to take shoes on and off
Cute entryway decor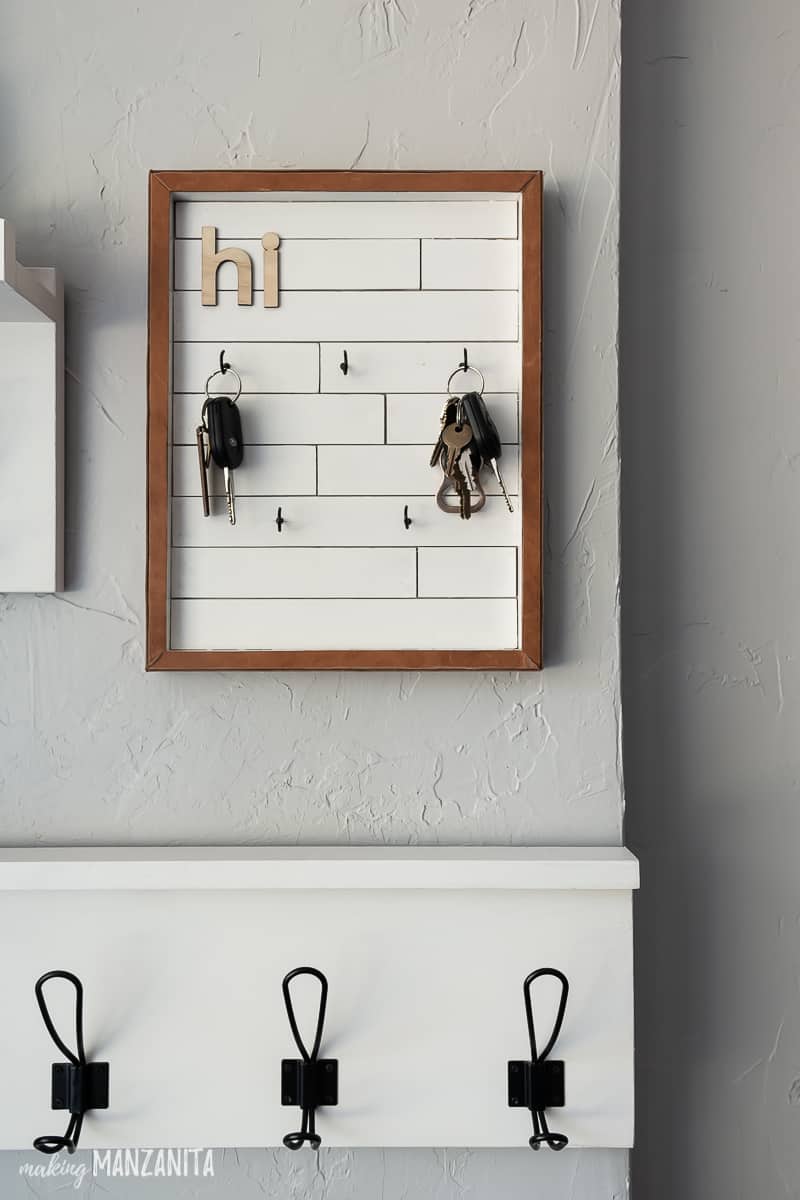 Key holder
One of the first DIYs we tackled in this entryway makeover was a solution to our key issue.
I'm pretty obsessed with how the DIY key holder turned out. The touch of leather on the frame was the perfect last minute addition that adds some warmth to the entryway design.
Wood bench & shoe storage
The next thing we did was build this wood bench! It was SO easy and fun to build and I think it is just perfect for the space. We specifically built it so that a rolling box would fit underneath for shoe storage.
But that box was not my style when I bought it, so I gave it a fun makeover with just paint. I love the visual interest that the mud cloth pattern adds to the entryway decor.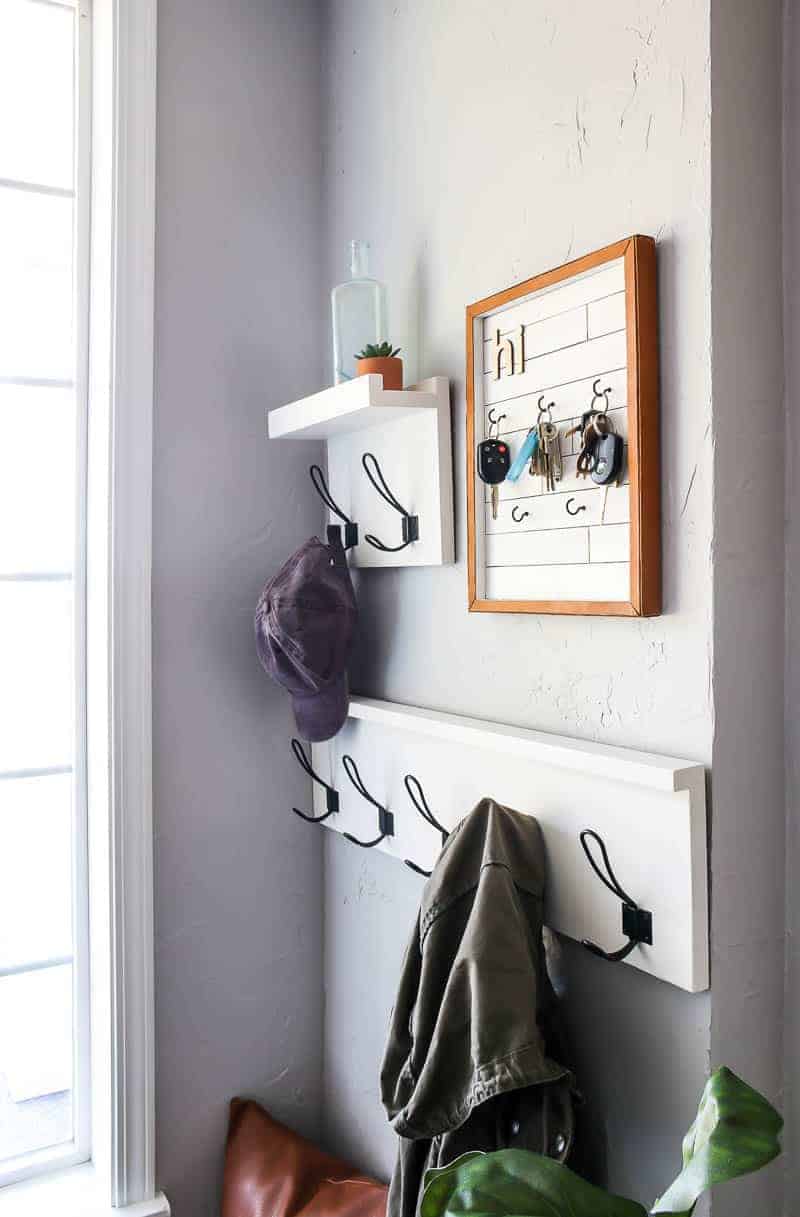 Coat hooks
We also built the white shelves with coat hooks. We followed my good friend, Amanda's, tutorial that you can find here.
The only thing we changed from her tutorial was the size (we used 10 inch wood on the back panel of the small shelf one). We also didn't include the bottom trim piece, which if you read her tutorial, she mentioned that she probably would not use this piece if she were to build it again – so we took her advice.
They are super easy to build and adorable, right?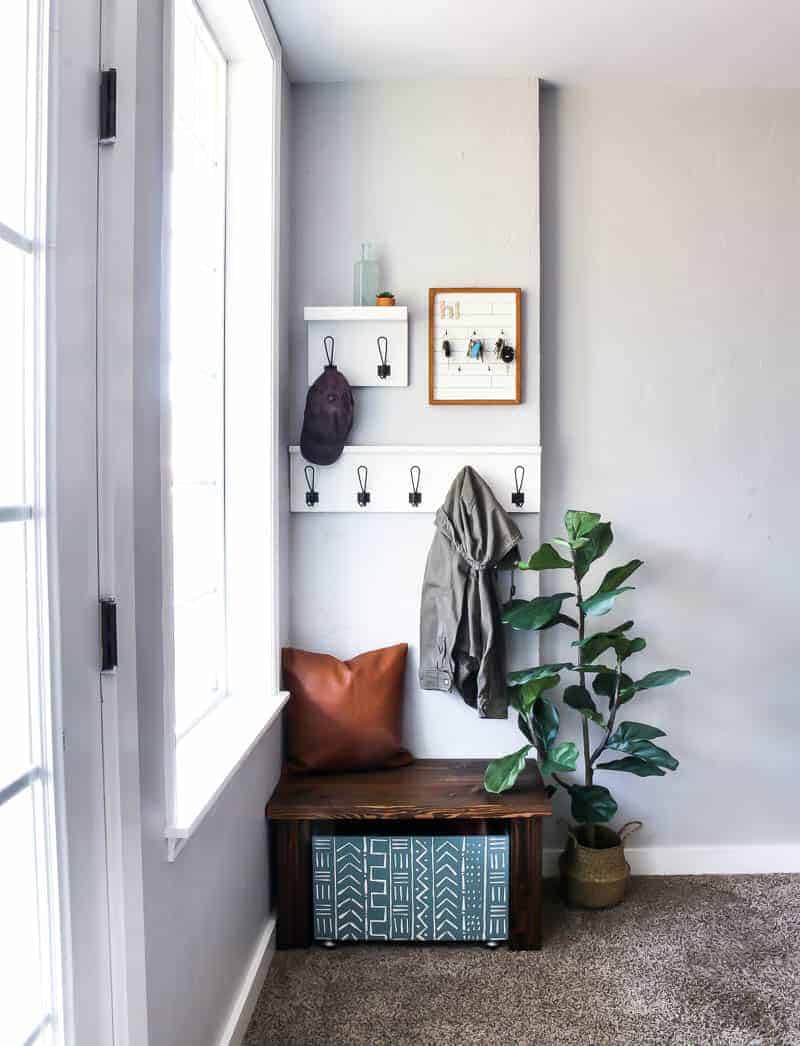 This cute faux fiddle leaf fig may just be one of my favorite additions to my house recently! I can't believe the price! It's so inexpensive, but looks SO real.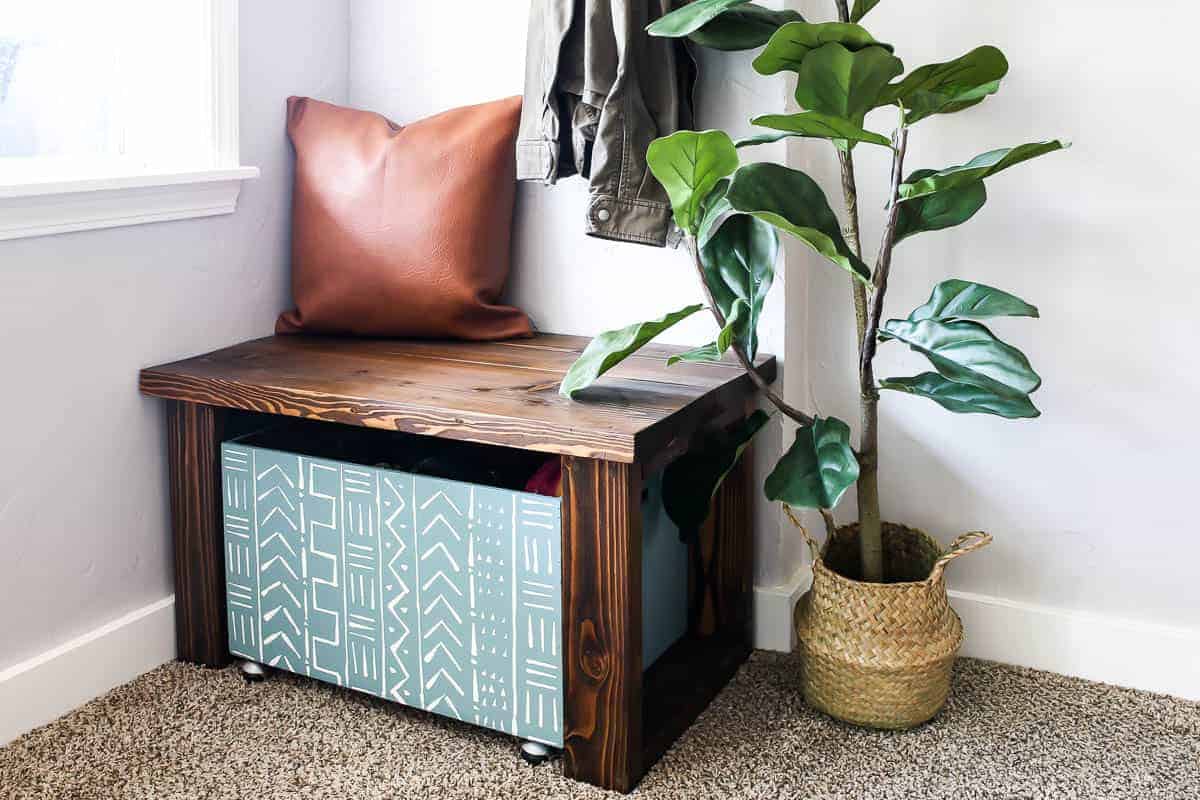 Source list for modern farmhouse entryway decor & DIYs:
Guys….this is PROOF that you don't need much space to have a fancy entryway! I took a simple (boring) corner of our living room and transformed in into a cute and functional entryway with a boho farmhouse style in just 3 weeks.
And you can totally do it too! Everything you see here is budget friendly decor or a DIY project that even a beginner can tackle.
Do you have an entryway in your home?
Let me know in the comments below!