Choosing a stain for your wood can be pretty difficult at times with so many oil-based stains, dark stains, rich colors, and light colors it's hard to know which is right. Sometimes the best way is to let the wood do the talking with a light wood stain. In this article, we'll show you how 4 different types of light wood stain colors look on 4 different types of wood to help make the decision easier.
Now as some of you may know Minwax Dark Walnut (and really just dark wood stains in general) tends to be our favorite stain. Even though it's a great stain, maybe the perfect stain, sometimes you need to let the wood talk with a light wood stain.
Table of Contents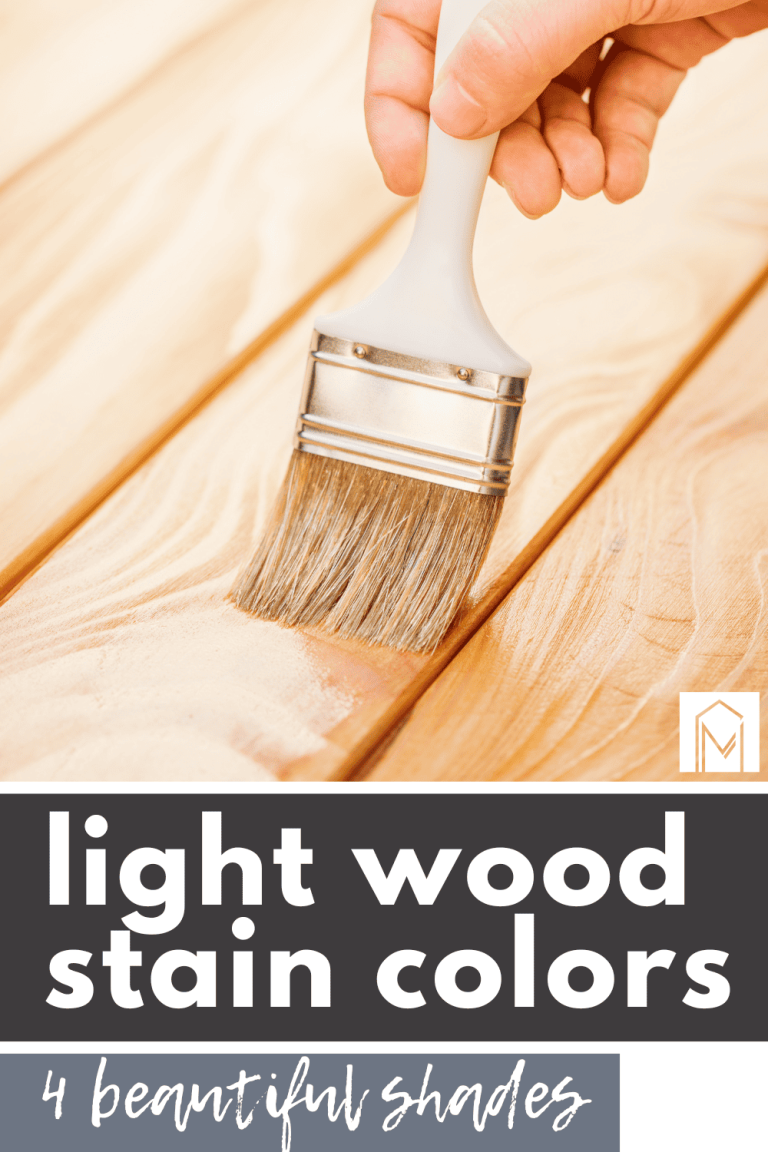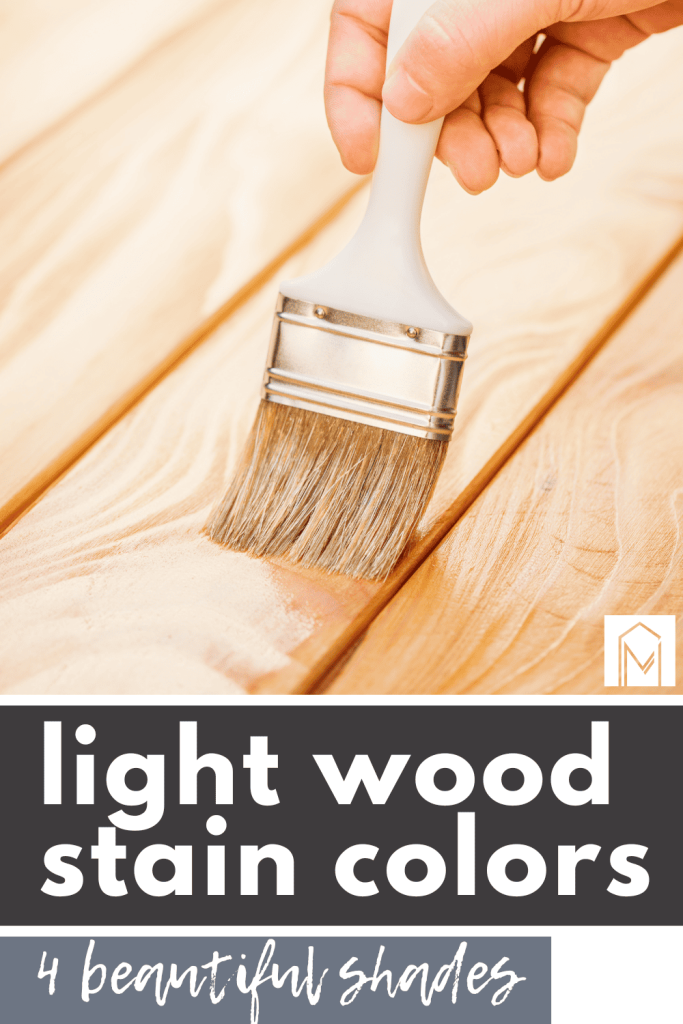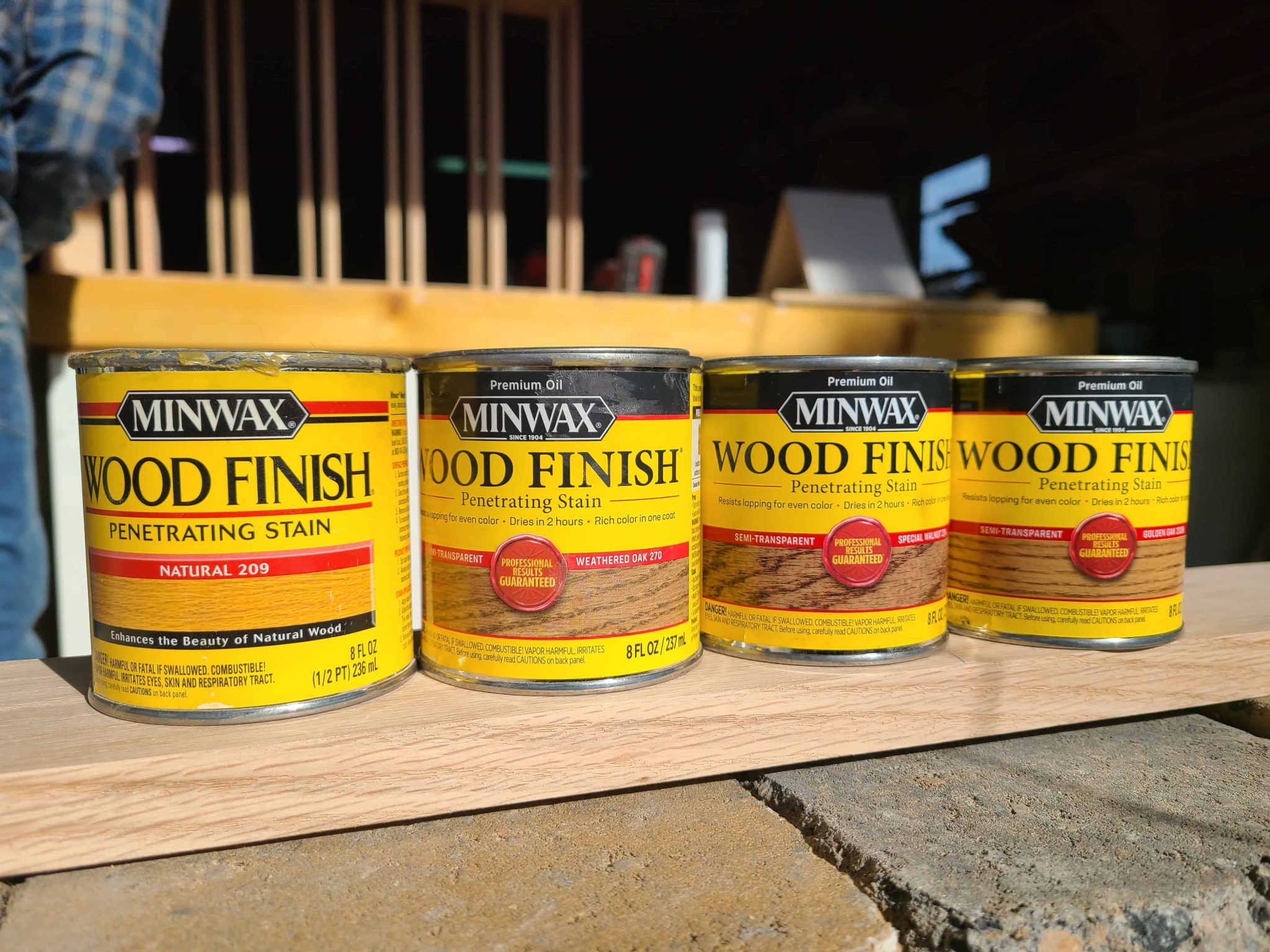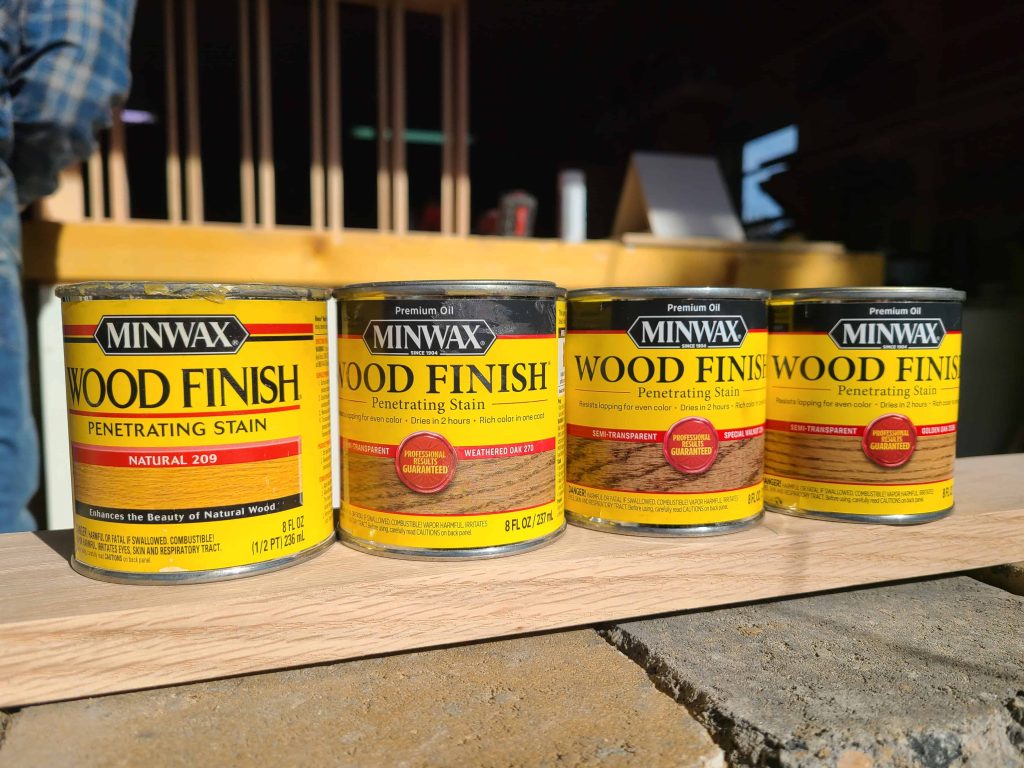 This light wood stain color guide contains affiliate links, but nothing that I wouldn't recommend wholeheartedly. Read my full disclosure here.
Light wood stains tend to let the wood "speak for itself" more and give the natural beauty a chance to shine through. When using a dark tone stain, like Dark Walnut, you are actually trying to replicate actual dark wood walnut, instead of the natural colors of the wood underneath.
Light Wood Stain Colors – 4 Beautiful Options
Today we're going to show you a recent comparison we did with these 4 different light wood stains below. They are all great choices that bring something different to the table.
For each of the light wood stain colors that we are testing, we are using Minwax brand oil-based penetrating stains with a semi-transparent finish. These stains are typically rich enough to be applied in one coat and are dry within 2 hours.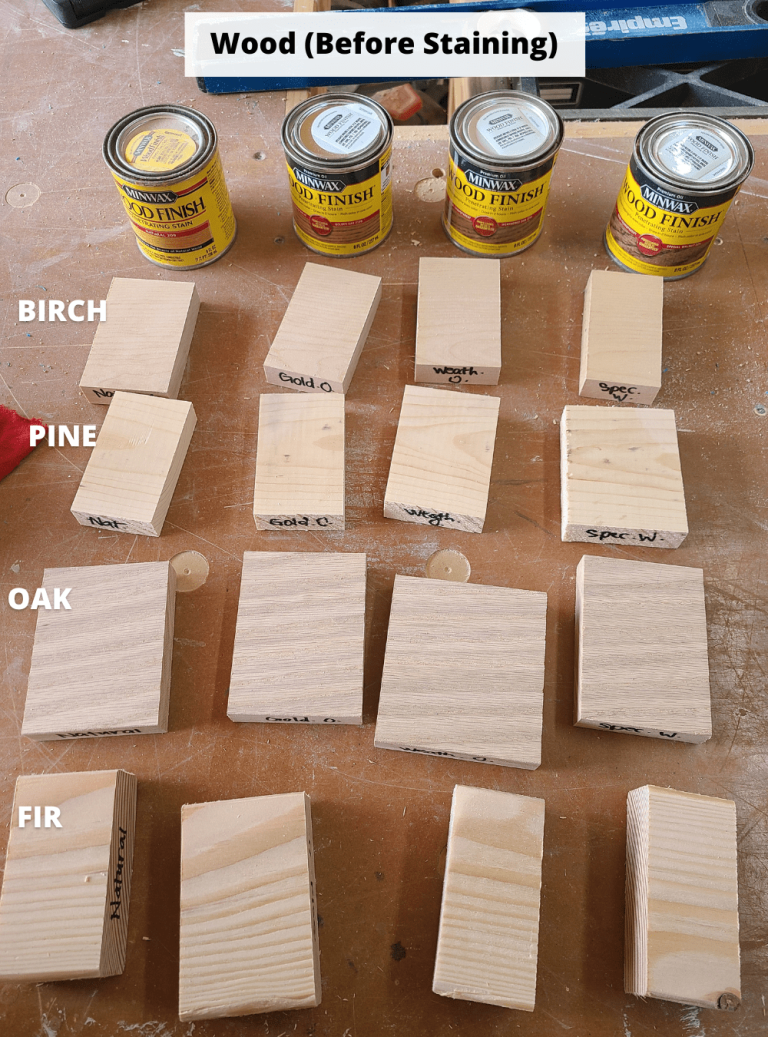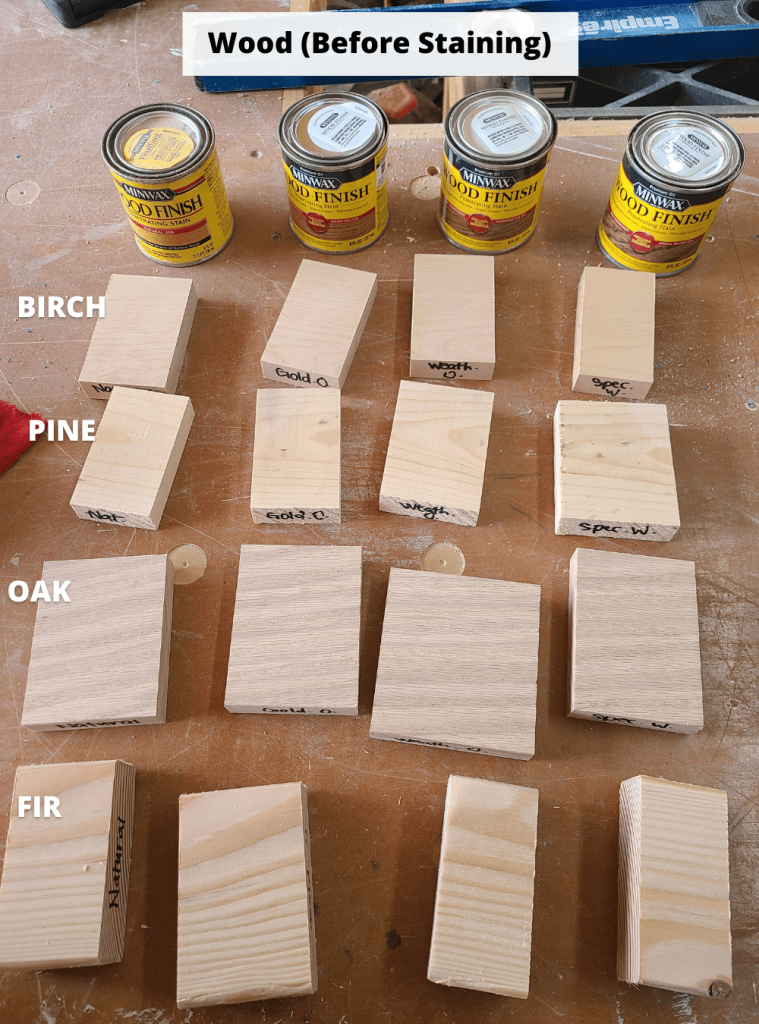 We texted the four light wood stains on four different types of popular wood used for woodworking projects – Yellow Birch, Pine, Red Oak and Fir (2×4). The photo above shows the wood without stain so you can see what it looks like before.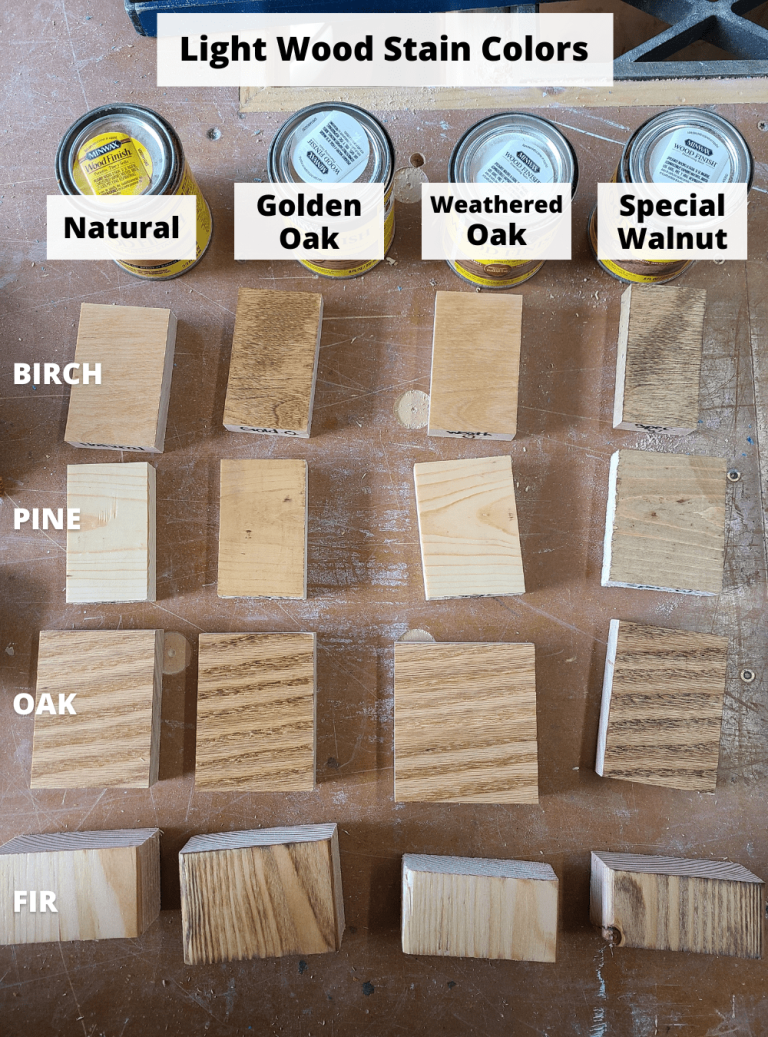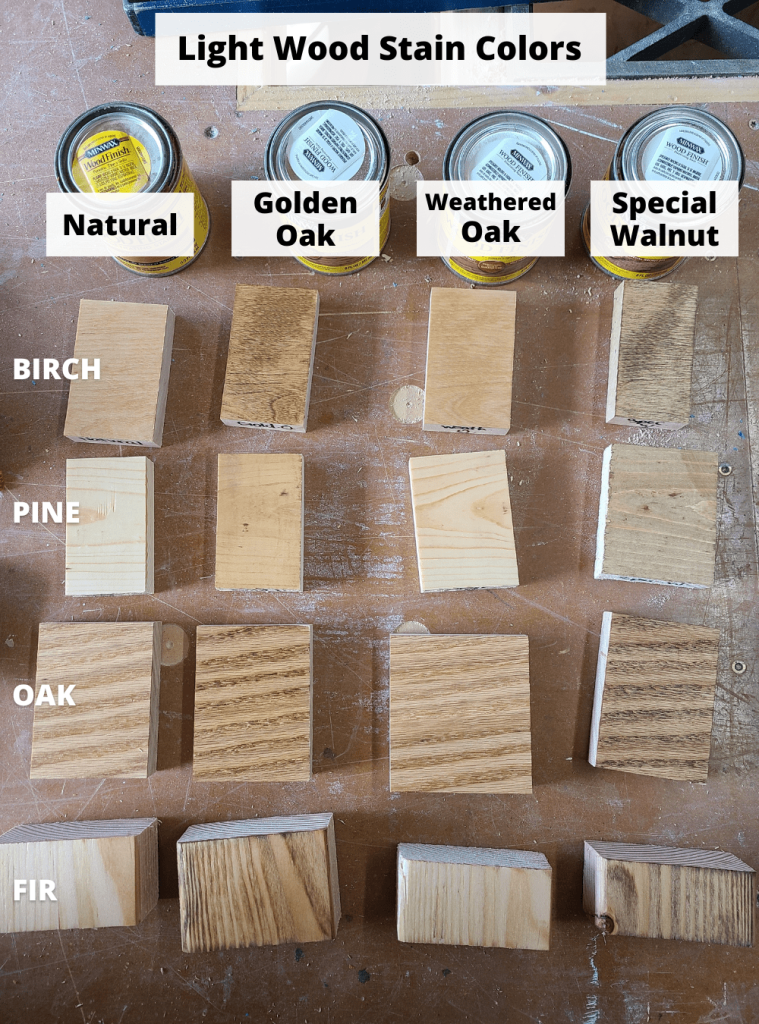 Now here's what each piece of wood looks like after applying the 4 different shades of light wood stain.
Let's take a closer look at each individual stain color.
Natural Stain Color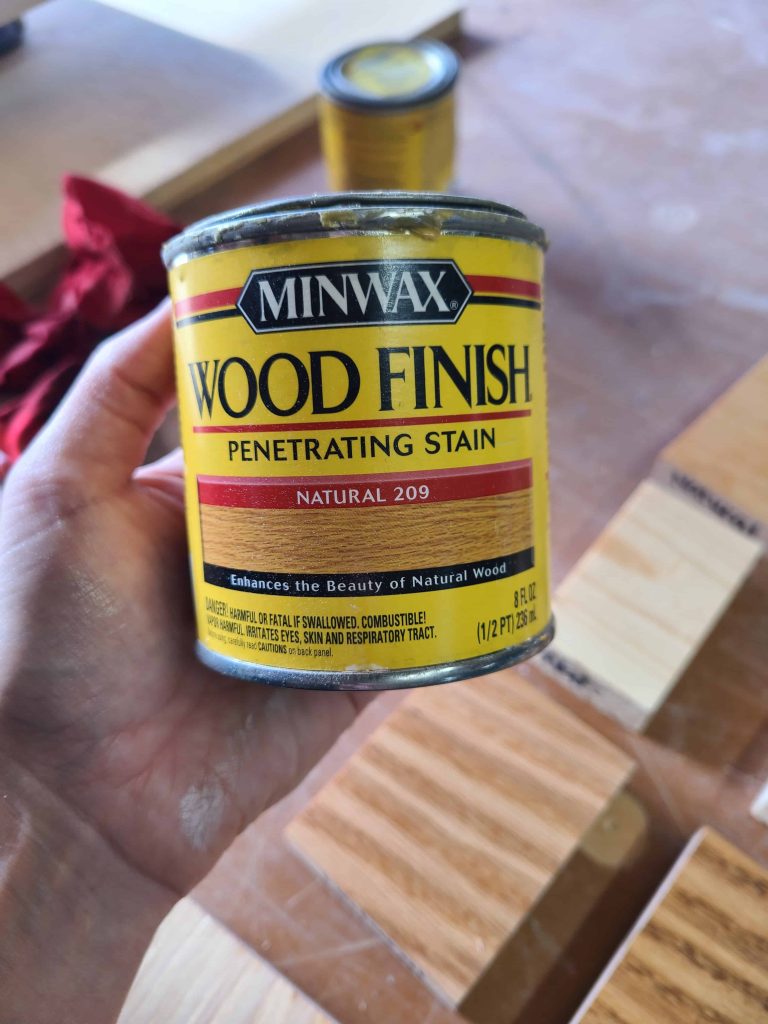 As the name says, this is probably one of the most neutral of all semi-transparent stains. This light wood stain will let the natural beauty of the wood shine through.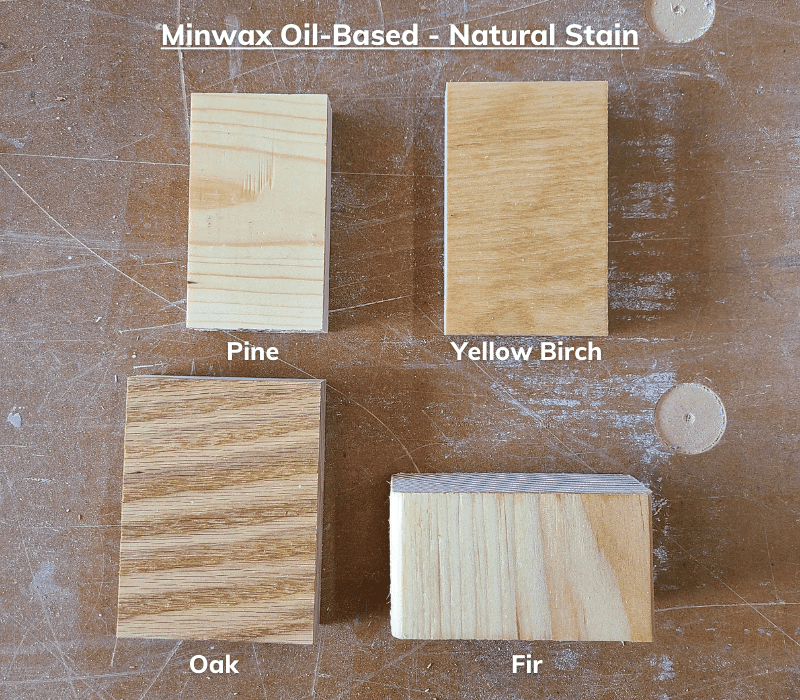 When I did this example I could hardly tell the difference between the unstained pieces. Use this to give the natural wood grain a little highlight while sticking to the natural color of the wood.
Depending on the type of wood you are using, using natural wood stain may turn wood red or yellow. It kind of just looks like you're getting the wood wet.
Golden Oak Stain Color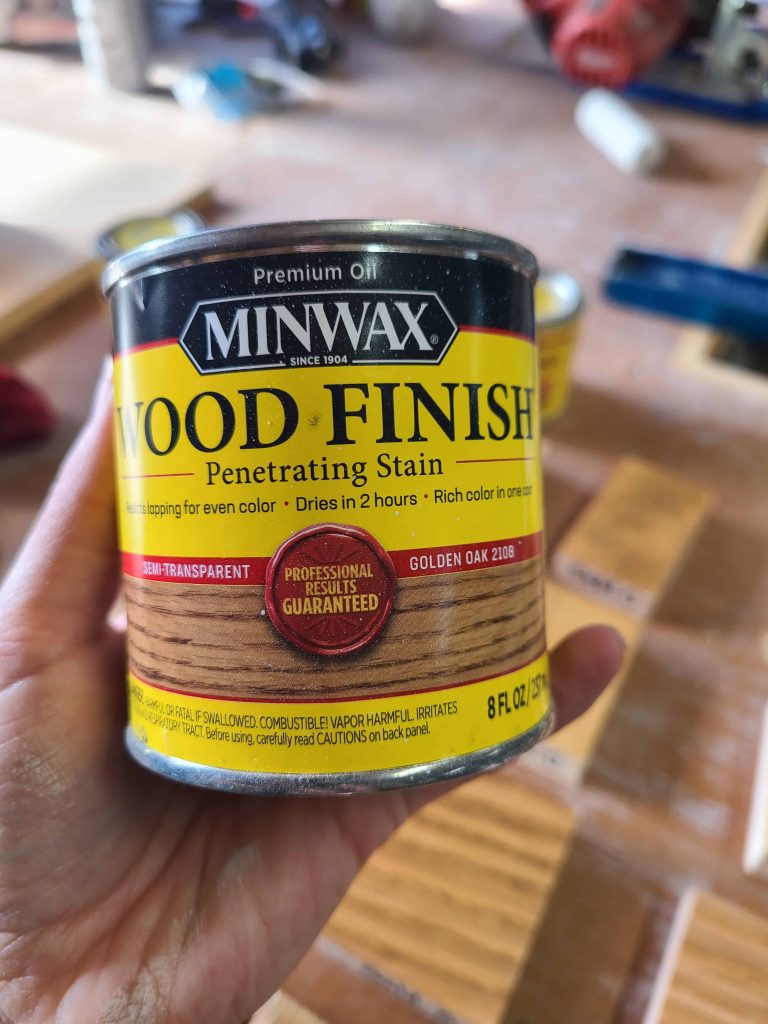 If you want a bold stain that not only highlights grains but boosts the wood color to a nice gold, Golden Oak stain is perfect. This really is a great color that gives beautiful contrasts. This is perfect for wood furniture as those wood tones will really pop with this stain.
Weathered Oak Stain Color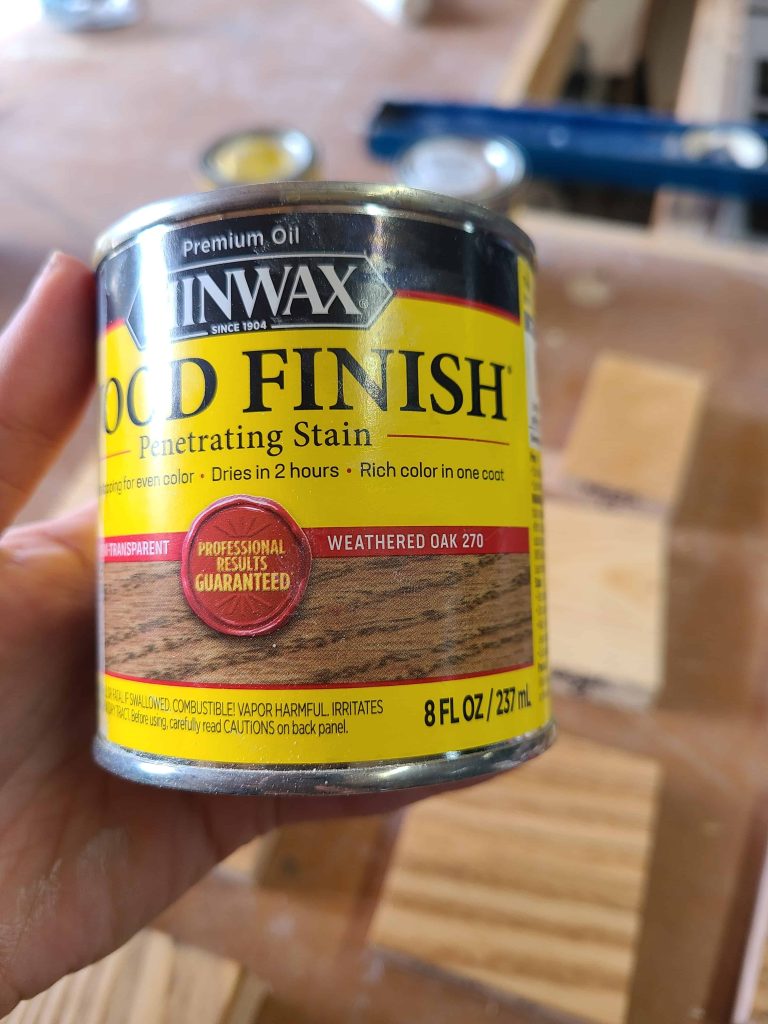 Now we are getting into the gray tones or grey stains. We have all seen outdoor furniture that has that perfect grey-weathered look. This stain goes a long way to achieve that without having to wait years for the sun to do it for you.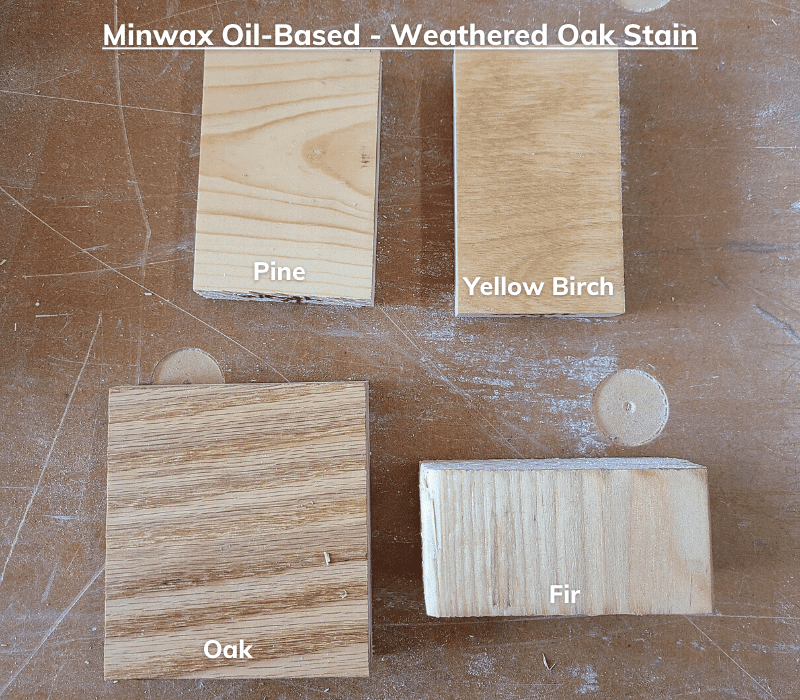 Want to learn more about this light stain color? Read this complete overview of Minwax Weathered Oak.
Natural vs Weathered Oak
Natural and Weathered Oak are very similar stain colors, in our opinion. In the test below, you can see that with the Weathered Oak, there is a subtle hint of grey and brown in the wood grains, but otherwise, it is the same as the Natural.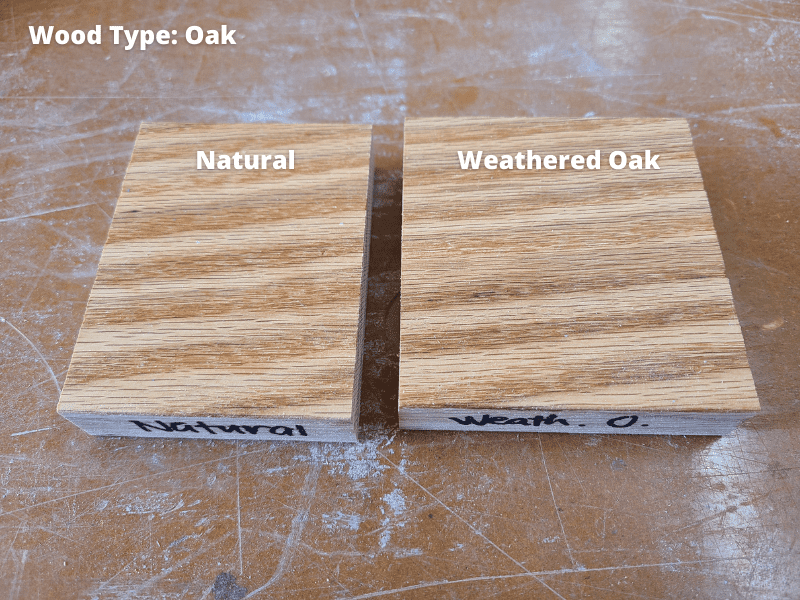 Special Walnut Stain Color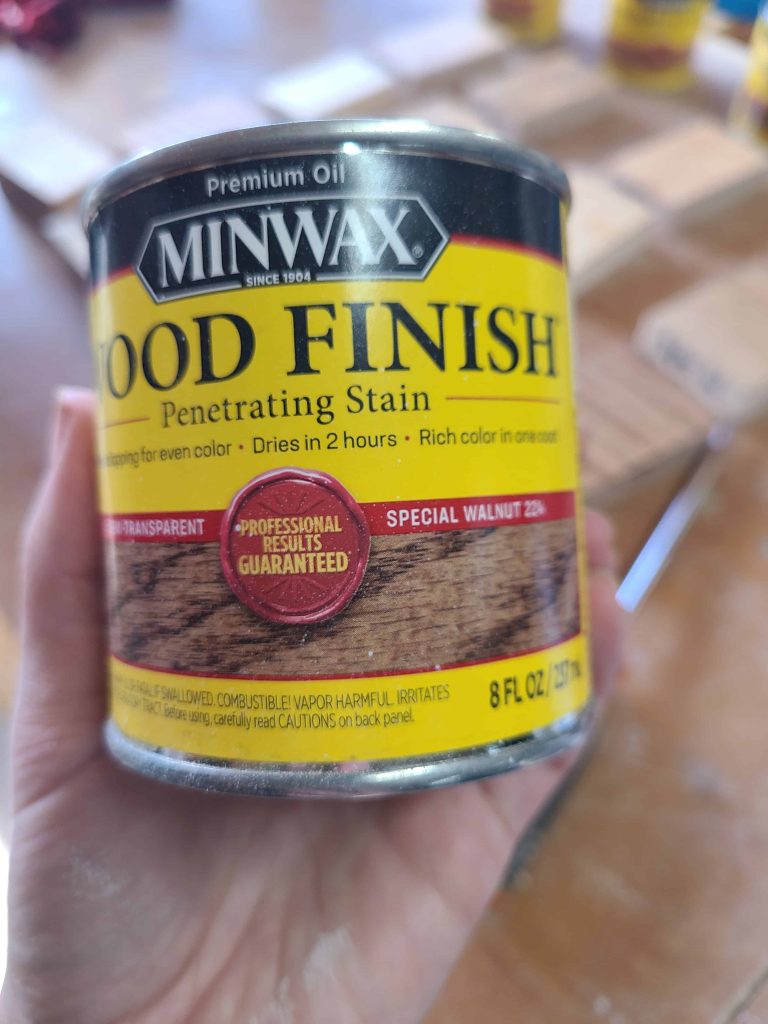 Special Walnut is probably the darkest stain color that can be considered a "light wood stain".
This is a truly unique stain that combines some of that golden oak with the weathered grey look. As you can see in the test below the grains and wood still pop but with a hint of those gray stains from the weathered oak.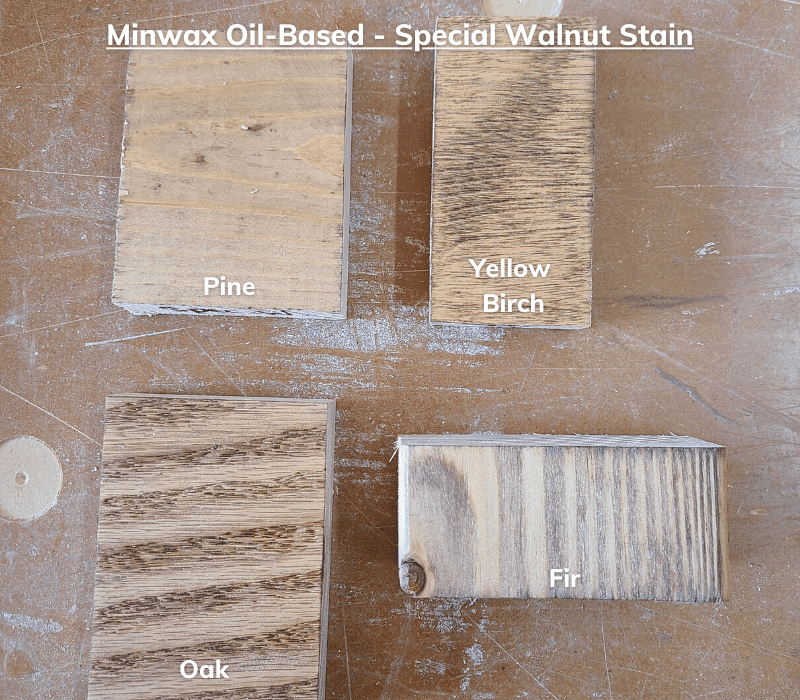 We recently used Special Walnut on our DIY spice rack and I LOVE IT! It looks great next to our DIY trash can, which is stained with Dark Walnut, so I can safely say that Special Walnut and Dark Walnut pair well together. I can almost guarantee we'll be using this wood stain again in the future. I love the look of it!
Golden Oak vs Special Walnut
When you put them side by side, Golden Oak and Special Walnut are pretty similar. The key difference here is the golden tones that came out with Golden Oak and the more brown tones that come out with Special Walnut.
But, both of the stains appear dark brown when absorbed into the wood grains.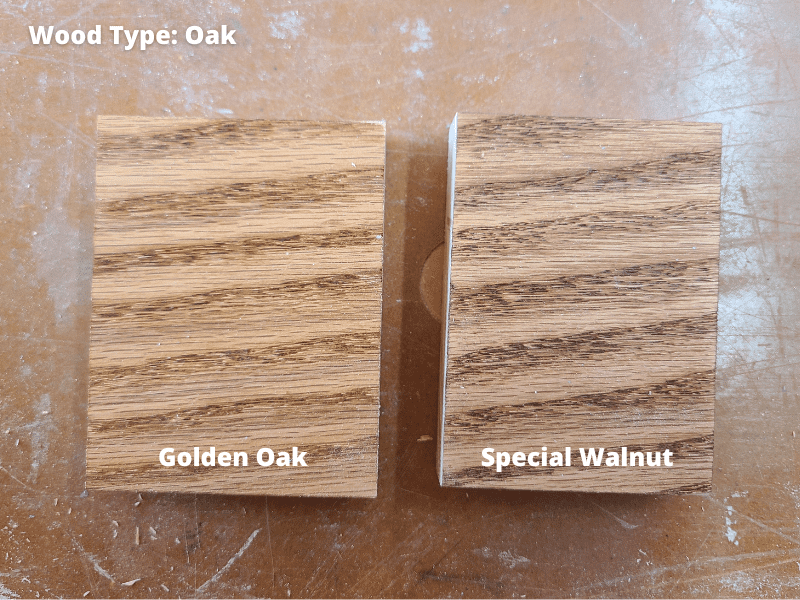 Light Wood Stain Color FAQs
What is the lightest stain for wood?
The lightest wood stain is probably natural but if you are looking for a bright white or grey then they have versions that look lighter than natural.
Are there other ways to get a light finish to your woodworking projects besides using stain?
Yes, there are a few different ways to finish wood that are still light.

Linseed oil is another "natural" finish that really just brings out the wood's natural look. We used linseed oil on this DIY dress up storage and DIY deck box.

There are also teak oils that come in a variety of colors that you can read more about here.

You can also seal the wood directly without staining it first.
Can you stain the wood a lighter color after using a dark stain?
No, you will need to sand down the wood to remove the dark stain and then use the lighter color. These stains are penetrating and the grains will soak in the dark leaving no room for the lighter color to mix and lighten.

But you can try lightening it with a gray wash or white wash, which will work over a dark stain. Learn how to gray wash wood here.
Can you use a light wood stain over previously stained wood?
Typically previously stained wood has a sealer over it, which means that there is a protective layer that the stain won't penetrate through. If the wood has not been sealed yet and you are applying more stain to a project then, yes you can. Be sure to check the dry time and reapplication times listed on your manufacturer's label beforehand.
Does wood lighten as it dries?
The wood will soak in the amount of stain that it can for however long you leave the stain on the wood, typically about 5-10 minutes before wiping it away. The piece may look like it lightens, but the excess stain is being wiped away.

Another reason it may look like it lightens as it dries, is that the stain penetrates deeper leaving the top layer with less stain as it gets absorbed.

A good rule of thumb is to keep reapplying until you achieve the color you want. This gives the wood the opportunity to absorb more stain. However, never let the stain dry on the surface without wiping away the excess because it will get gummy and sticky.
Does the type of wood matter for the color of the stain?
If you want to replicate a different type of wood with your stain, then yes. If you want to replicate an expensive wood, like walnut, then you want a grain pattern like oak to match. If you want to just have a certain color and don't care about replicating another type of wood then don't worry about it.
What are light-colored wood types that are good to use with light wood stains?
Any type of light wood is great with light stains. Some whitewoods don't really take stain as much as other types (like pine and poplar are notoriously tricky to stain), but overall pick the grain pattern you like and use a light wood stain to get the look you want. The quality of the wood usually matters more than the color when staining.
How many coats of stain should you use?
Usually doing one coat of stain leaving an excess stain on the piece for about 5 mins then wiping the excess off is a great way to fill all the pores of the wood.

If you still want to go darker from there, do another coat until you get the look that you want. Coats typically don't matter as much as giving the wood time to absorb the stain.
What happens if you leave a wood stain on too long?
Leaving a stain on a wood project too long will create a blotchy finish. Even after it dries completely, it will be tacky and sticky to the touch.

For a deeper tone, leave the stain on the wood for 5-10 minutes before wiping away the excess. Follow up with additional coats to get the look you're going for.
Are you supposed to stir wood stain?
You should always stir your stain! As the container of stain sits undisturbed, the color pigments can settle at the bottom of the can. Stirring the stain redistributes the pigments so the color goes on evenly without splotching.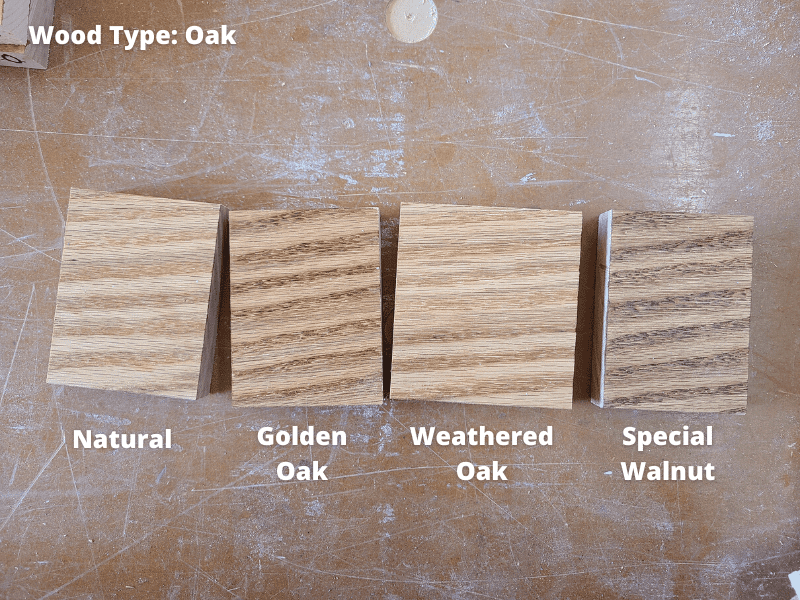 Hopefully, you got a good idea now about using light wood stain on a project. Staining wood is a great DIY because there really isn't a "right way" there is just a look you want to achieve. If you don't like it sand down and try again. Staining is very forgiving and you can make any wood project your own with it!
Which is your favorite light wood stain color?
Let us know in the comments below!