Add a patio to your backyard using pavers. These DIY paver patio ideas will inspire you to makeover your outdoor space!
Outdoor patios come in all shapes and sizes and can be made using all types of different materials. Brick, concrete slabs, natural stone pavers, or pea gravel can all be used as patio material.
Using pavers to make your patio is a budget-friendly way of creating an outdoor living space you will love.
DIYing an entire patio area can be labor intensive, but the cost savings is worth it.
You can use a paver patio for a seating area, an outdoor dining space, or a fire pit area. Add it as an extension next to a deck for added outdoor entertaining space or create a whole new space using pavers.
Let's take a look at these 14 amazing DIY paver patios. You're sure to be inspired to create your own!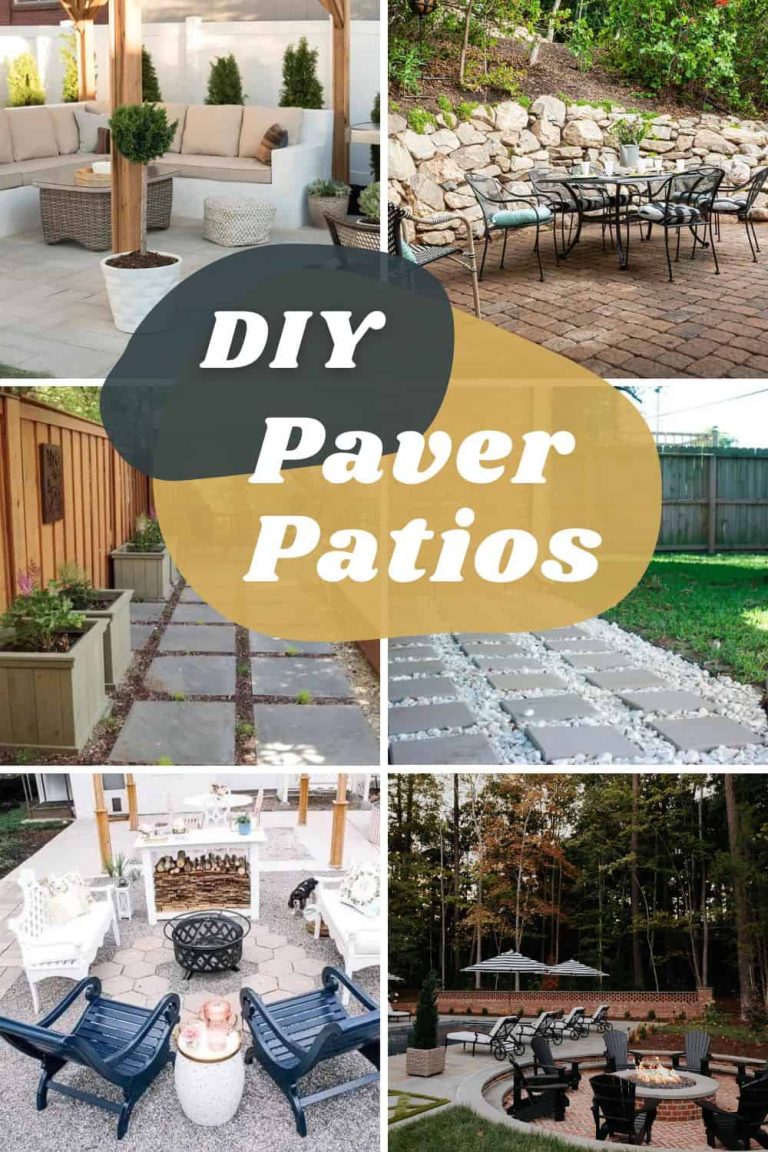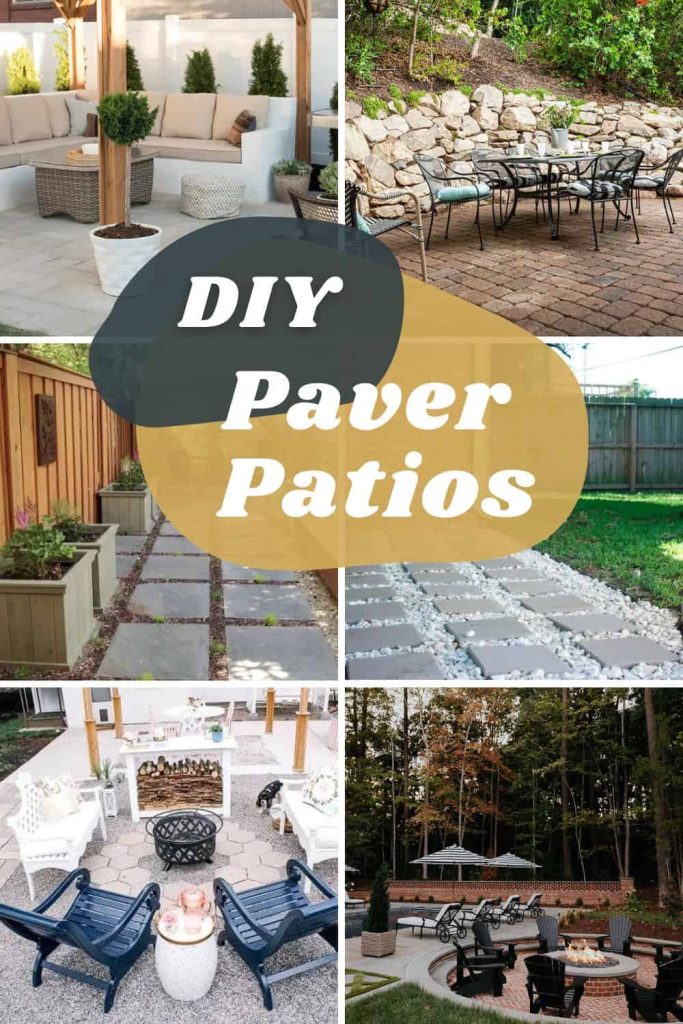 DIY Paver Patios with Fire Pits
This brick paver patio idea is one of the best ideas we had for our backyard. It extends the outdoor living space, gives us a fire pit area, and has plenty of room for outdoor furniture.
Because the wood deck is on the side of our house (off of our master bedroom), it felt a little disconnected from the rest of the backyard. The paver patio tied everything together.
It's a raised patio and took a bit of work, but a gravel base and paver sand made this patio style a reality. 
Photo Credit: www.chrislovesjulia.com
Traditional red brick pavers make this seating and fire pit area one of the focal points of this backyard. Bluestone pavers for coping top the steps to the sunken firepit area where the bricks are laid in a herringbone pattern.
If it gets too hot close to the fire you can use the steps as a tall seating wall.
Since it is a step-down sunken firepit, they had to think through the drainage for rain. The landscapers installed drainage to keep the water from pooling, which is an important part of this firepit.
Photo Credit: athomewithashley.com
Add a fun concrete paver accent to your patio fire pit area using hexagon-shaped pavers. Lay them in an organic pattern around the fire pit for a cool accent design and fill in the rest of the area with pea gravel stones for a fun seating area to gather around with family and friends.
Concrete Paver Patio Inspiration
Photo Credit: artsyprettyplants.com
Concrete pavers are ideal for adding a patio to your outdoor space. You can get them in large sizes to place patio furniture so that it doesn't slip off into the pea gravel space between the pavers.
You'll need a good level and solid base of gravel to lay your stone on and once it's done your backyard patio will be ready for outdoor living.
Photo Credit: www.loveandrenovations.com
Concrete pavers and pea gravel are popular materials used to create a backyard living space. This outdoor dining area is a great home improvement project that totally transforms this space in the backyard and becomes a focal point to be used for outdoor entertaining with family and friends.
Photo Credit: roomfortuesday.com
Lay patio pavers in a basket weave pattern to create an exciting design. These pavers are placed right next to each other for a seamless look.
You'll have to do some prep work to create this DIY paver patio so that weeds don't spring up in between your pavers and ruin all of your hard work. 
Photo Credit: amber-oliver.com
Extending a patio area isn't always for looks, sometimes it has a practical and necessary purpose. This cheap patio paver idea area was created at the edge of the traditional concrete slab patio to help with drainage and eliminate a muddy mess where grass wouldn't grow.
It's an affordable way to combat a problem on a small budget.
Photo Credit: www.interiorfrugalista.com
Concrete pavers are a budget-friendly way to create a patio area in your backyard. Using pea gravel or stone as a base allows you to space the pavers farther apart to keep the cost down. It's a great way to make use of unused real estate in your backyard to turn it into outdoor living space.
I love the good idea used here of planting something in between the paver block grid that will fill in as it grows. They used a combination of Scottish and Irish moss. As the moss matures and spreads, it will grow to fill in the spaces. Alternatively, you can also cut pieces of sod to fit perfectly in between each gap in between pavers.
Photo Credit: www.younghouselove.com
Try laying your pavers in an I pattern. It gives a unique look to your paver patio. Be sure to use a layer of paver sand base and lightly tap each paver stone into place using a rubber mallet to ensure they are level with each other.
A quick sweep of paver sand once they are installed fills in the spaces in between each paver for the completed look.
Photo Credit: www.chrislovesjulia.com
Have you ever wondered how people keep the grass trimmed in between their pavers? Use artificial turf and you never have to wonder again. Breaking up the pavers using turf gives the hardscape of a patio a softer look while elevating the style to a high-end look. 
Brick Paver Patio Ideas
Photo Credit: lovelyindeed.com
I know it may look like individual bricks on this patio area, but it's actually 16x16 brick slabs detailed to look like individual bricks. Genius!
It definitely cut down on the time it took to make this small patio area in the corner of this yard. Paver sand can be used in between the brick pavers to help keep them in place. 
Photo Credit: www.2thesunnyside.com
Upgrade your old patio using brick pavers. The brick pavers add texture and character to this outdoor space you just can't get with a traditional concrete slab.
A retaining wall of large stones is added to the bank in the back for the perfect backdrop in this nature-inspired seating area that's ready for entertaining.
Photo Credit: lehmanlane.net
Sometimes you find treasure in your backyard. Like this original brick patio underneath the deck. Repurposing old brick to make a new patio is a cost-effective way to create an outdoor living space.
The original brick pavers needed to be cleaned up, but look how great the space looks now!
Photo Credit: www.remodelaholic.com
Landscape edging can be used to define the boundaries of your patio and give you a solid edge to be able to control grass from creeping onto it. When incorporating a curve into your design, take of small slices of brick to edge your way around the curve for a seamless design.
Which is your favorite type of pavers: concrete pavers or brick? Which would you choose?
Tell us in the comments below!