Are you thinking about adding a fire pit to your backyard? Check out these 22 great DIY fire pit ideas that will add a cozy entertaining space to your backyard for family and friends.
No outdoor living space is complete without a fire pit. Fire pits are a great place to gather with family and friends. You'll feel especially proud of your DIY fire pit when you make it yourself.
What type of stone can you use to build a DIY fire pit?
Concrete Blocks: Concrete blocks are a popular choice for building fire pits due to their durability and affordability. They are available in various sizes and shapes, making them versatile for creating different designs and styles.
Natural Stone: Natural stone, such as limestone, granite, or sandstone, can add a timeless and natural look to your fire pit. These stones are known for their durability and can withstand high temperatures, making them ideal for a fire pit that will be exposed to heat.
Fieldstone: Fieldstone is irregularly shaped stones that are often found in nature and can be used to create a rustic and charming fire pit. They can be stacked in a dry-laid pattern without mortar for a natural and organic look.
Pavers: Pavers are commonly used for building patios, but they can also be used to create a fire pit. They come in various colors, shapes, and textures, allowing you to create a custom fire pit design that matches your outdoor space. This is what we used for our DIY fire pit in our backyard makeover.
River Rocks: River rocks are smooth, round stones that can be used to create a unique and eye-catching fire pit. They can be arranged in a circular pattern or used as a decorative element around the fire pit for a natural and relaxed vibe.
Flagstone: Flagstone is a type of sedimentary rock that is flat and thin, making it ideal for creating a fire pit. It can be arranged in a circular or square pattern to create a sleek and modern look.
Brick: Brick is a classic and timeless option for building a fire pit. It can be used to create a traditional or contemporary design, and the reddish color of brick can add warmth and charm to your outdoor space.
Lava Rock: Lava rock is a porous and lightweight stone that is perfect for creating a fire pit. It can be used as a filler or a decorative element, and its unique texture and color can add a distinct look to your fire pit.
Where is the best place to build a DIY fire pit?
The best place to build your fire pit is at least 10-25 feet away from structures and trees. Keep your fire pit away from overhanging branches.
Can you build your fire pit on grass?
Technically you could, but it isn't recommended. You should dig the grass out of the area where you are going to place your DIY fire pit, then fill the bottom with sand to discourage the grass from regrowing.
What fuel can you use in your outdoor fire pit?
The most common fuel for a fire pit is wood, but you can also have a fire pit that uses propane or natural gas.
Ready to build your own DIY fire pit? Check out these 22 DIY fire pit ideas to inspire you to add one to your outdoor living space.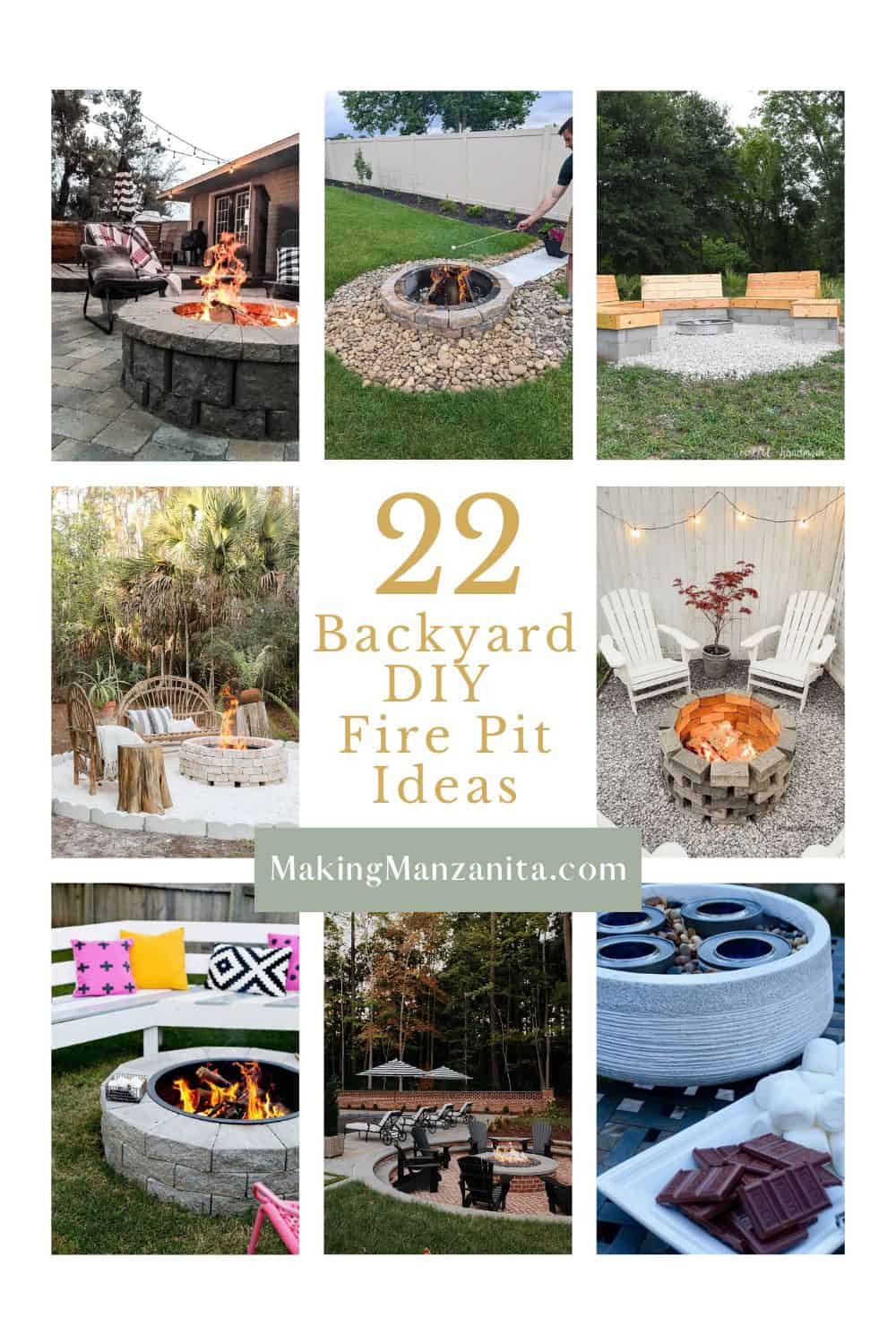 Which of these DIY fire pit ideas is your favorite?