Today I'm sharing our backyard dreams and lots of outdoor project ideas and inspiration. Come dream with us!
I have SUCH an exciting announcement to make on our home renovation project – we're FINALLY sleeping in the master bedroom! When we got into bed the first night, both of us kept saying how tall the bed felt. After sleeping on the mattress on the floor for so long, a bed is a real upgrade! We had made last weekend our deadline to finish the basics in the master bedroom and the back bedroom because Logan's mom was in town and we didn't want to all be sleeping in the living room together. More photos to on those spaces coming soon, but just thought you should know how extremely ecstatic I am to be in the bedroom. I'm convinced I'm going to dream better in the bedroom, which brings me to today's post….. our backyard dreams.
This post contains affiliate links, but nothing that I wouldn't wholeheartedly recommend anyway! Read my entire disclosure here.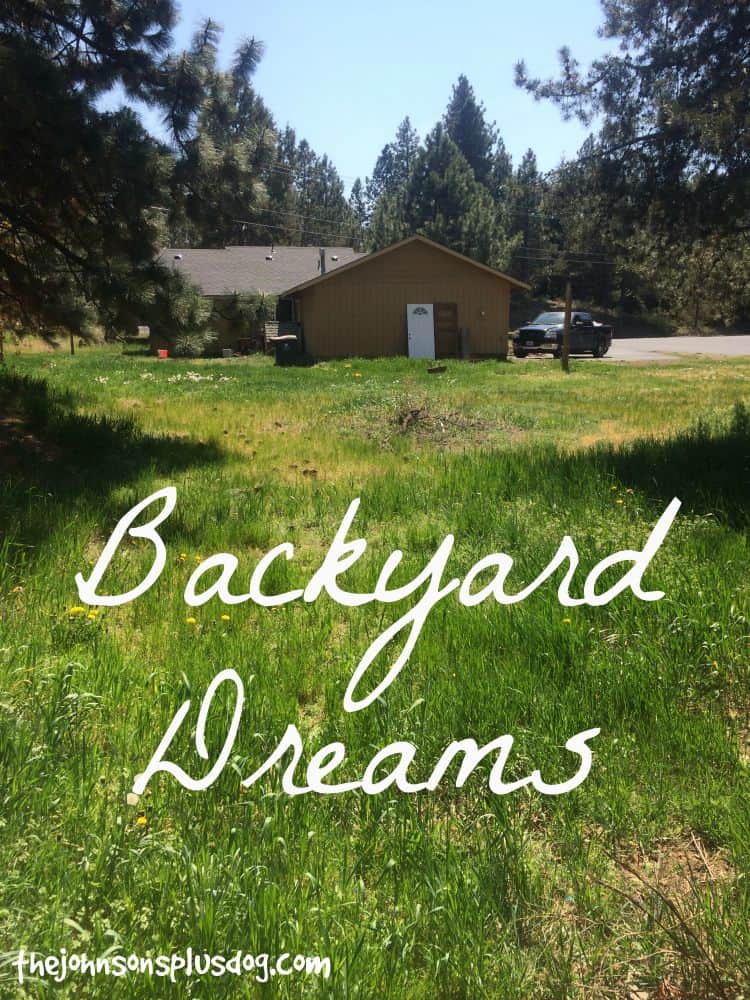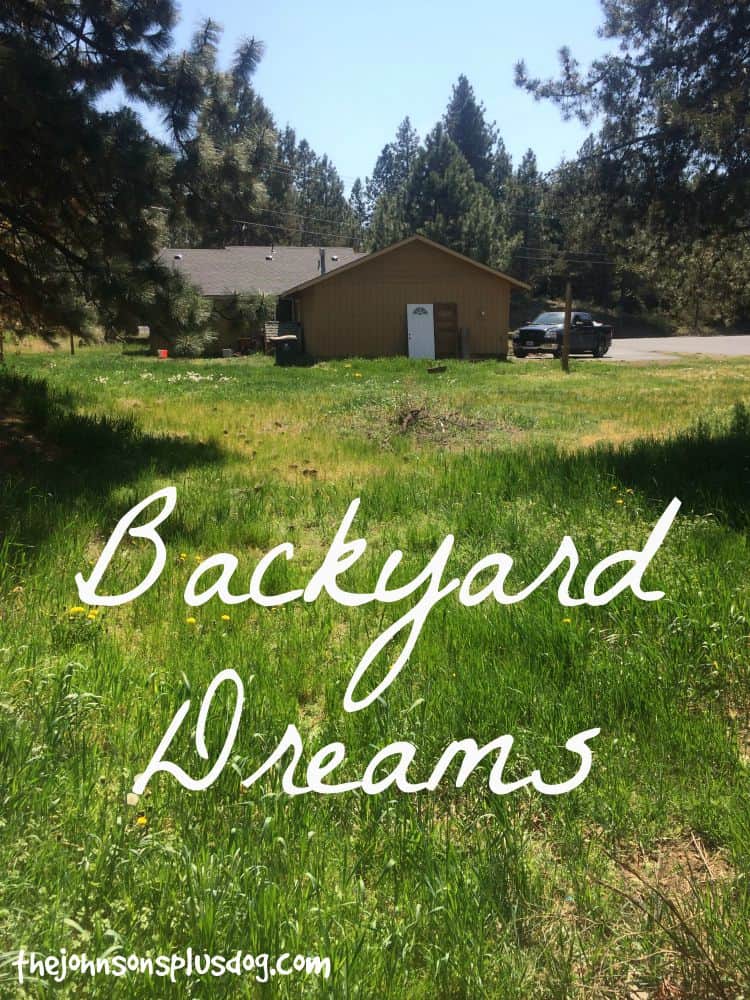 The house we purchased in April is on a 1/4 acre and almost 100% un-landscaped. We're talking fields of weeds, folks. Not just a little dandelion here and there. We've got those weeds that will grow 10 feet tall if you let them. We fell in love with the potential of the huge backyard and quickly realized how time consuming and completely exhausting landscaping is.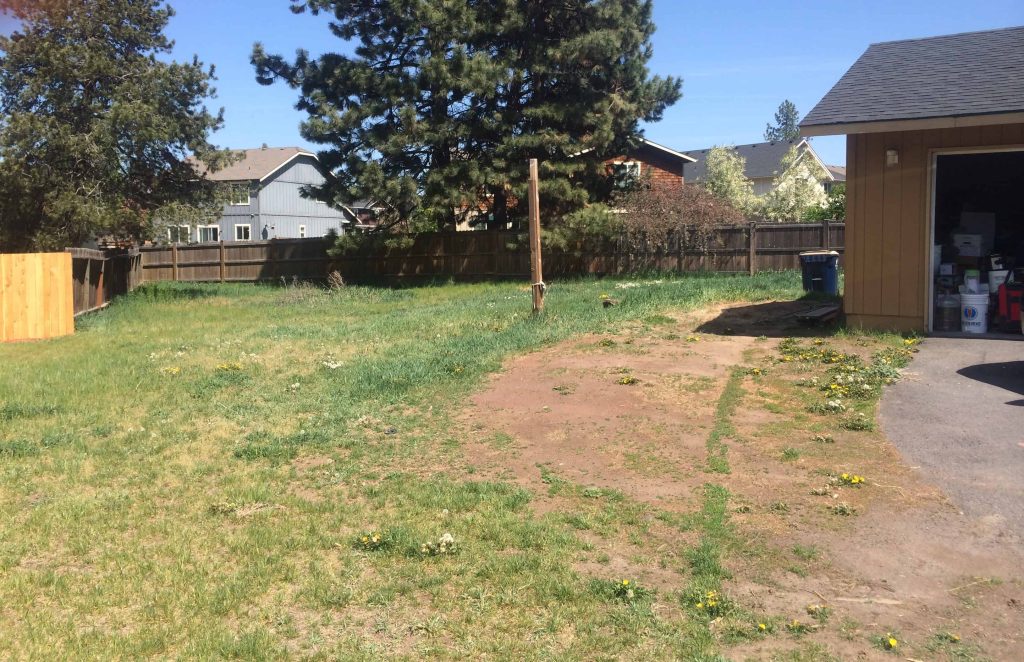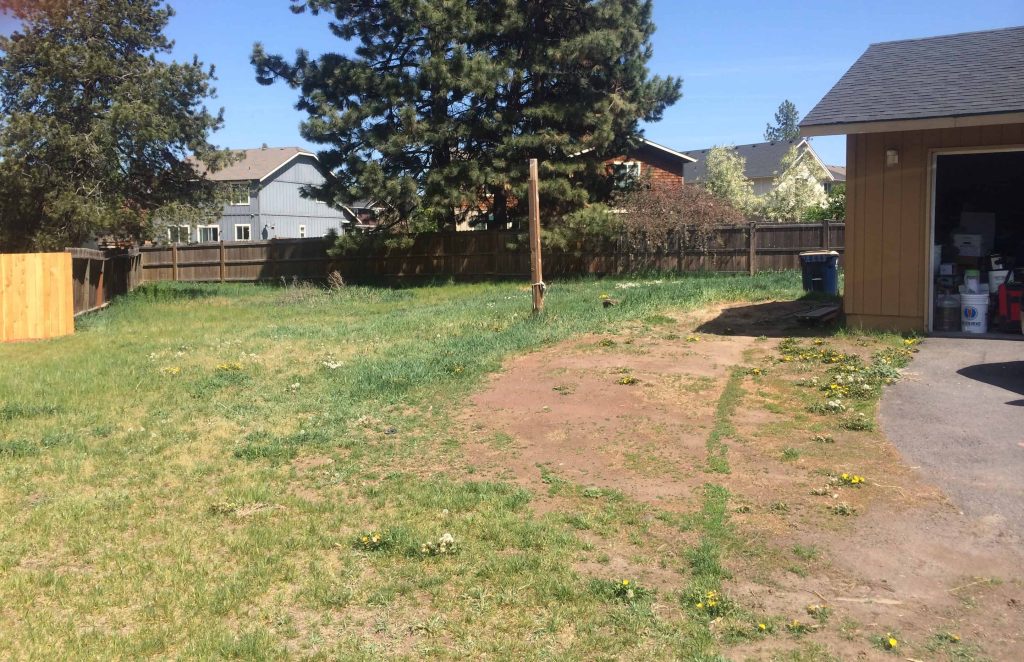 For the first months of living here, we've been working like dogs on the interior and shuffling around the west coast during a busy-bee summer season. When we moved in, we came to the conclusion that we were probably not going to touch the landscaping until next year (besides an easy refresh on the front planter – read about that fun Mulch Miracle here and how I planted succulents in the front yard here). Our to-do list on the interior is massive. I mean we JUST moved into the master bedroom after 5 months.
Now back to that field of weeds. We had a problem. We were spending about 5 hours every other weekend or so weed whacking the backyard and cleaning up. Maintaining the madness was taking too much valuable time away from working on finishing a few key items (ahem, a master bedroom pretty please?) on the inside. So, we decided to slowing start taking the plunge and begin working a few items in the yard while the weather was still decent. We knew in the long run it would help us be able to decide more time to the interior.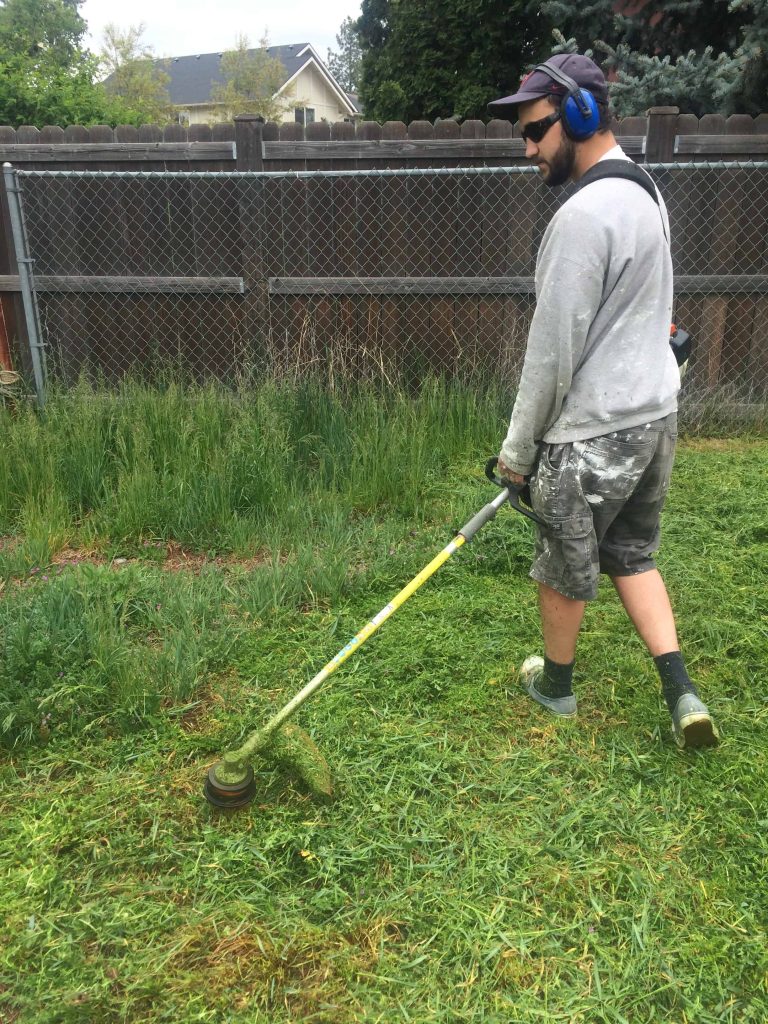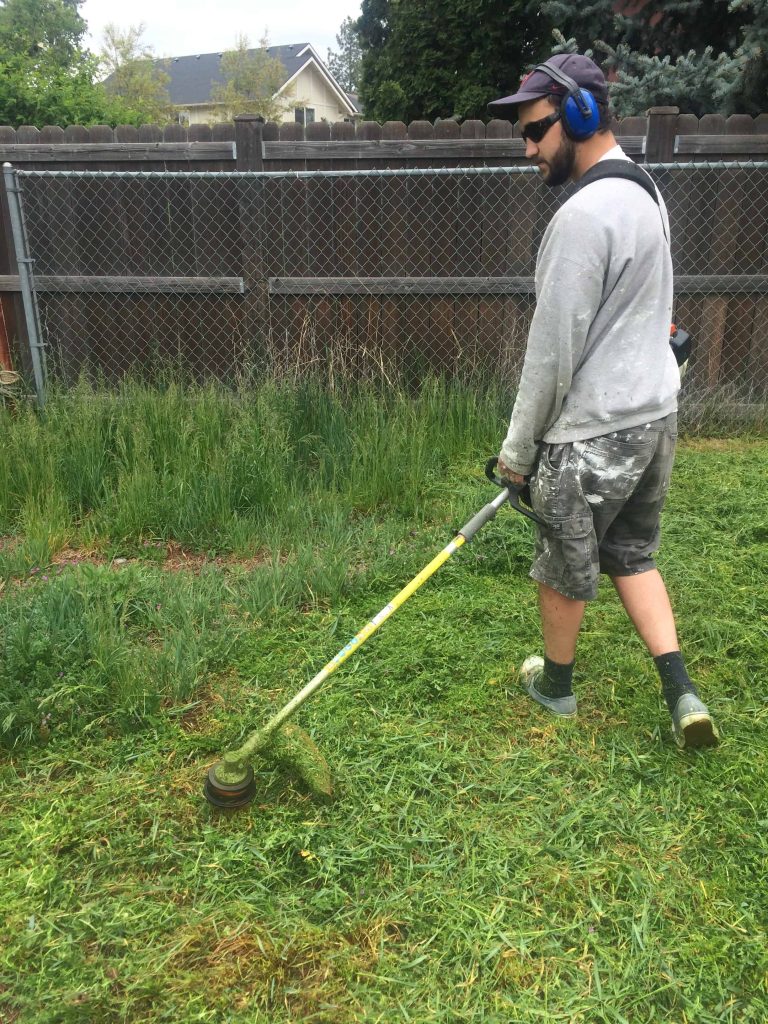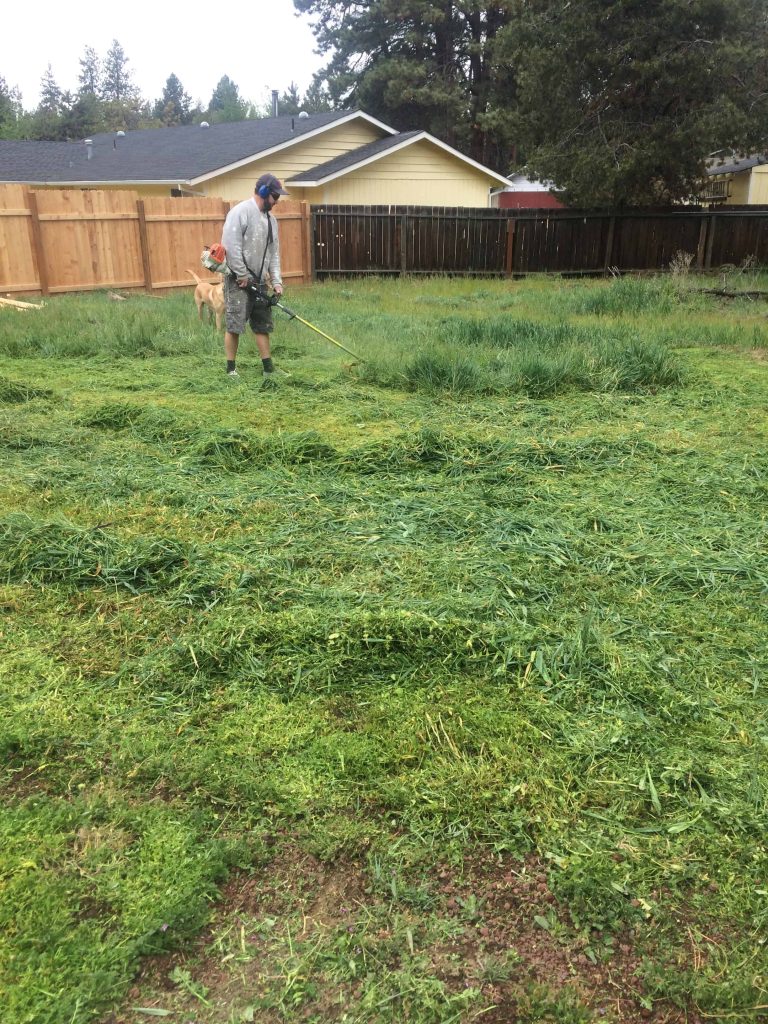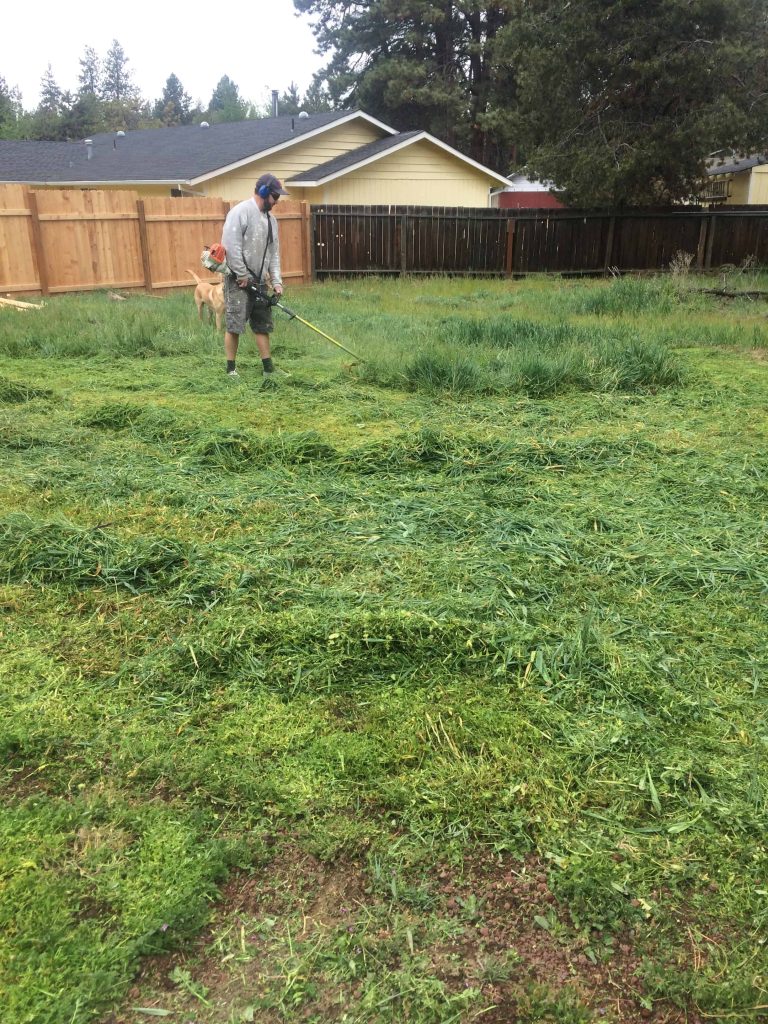 First, we planned out (almost) the entire lot. We know where we are putting a deck. We know where the fire pit is going (I can already smell s'mores). We started to plan where the trees will be planted. We have an idea where we will be adding raised garden beds. We started working on a paver patio. We planted that large plot of grass you see on the plan (Logan just mowed it for the first time this weekend). We even drew out a plan for whole lot (see below). Backyard dreams people, they keep me going.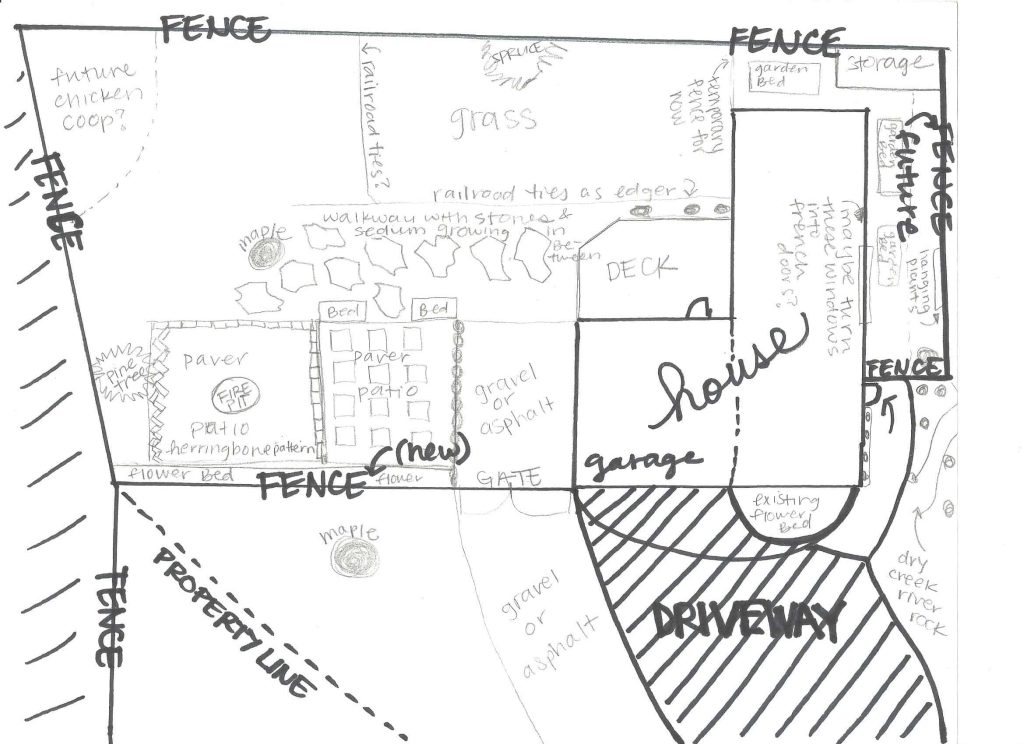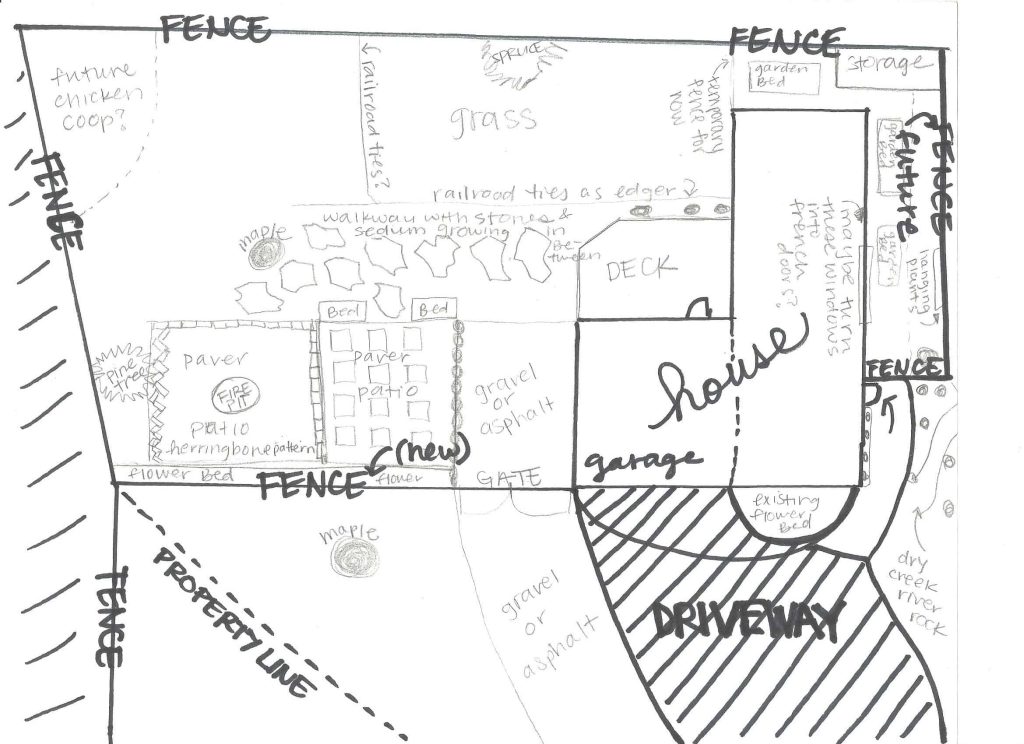 Here is some of the inspiration behind our big backyard dreams.
Outdoor Storage
The garage never seems to be big enough, right? We're lucky if we can park one car in the garage and right now our garage is literally holding almost all of our belongings since we're in the middle of renovating so there's no chance a car or anything extra is fitting in there. In our future backyard, I would love to have an outdoor storage to store, well, outdoor things! You know the lawn mower (<affiliate link of the push mower we have, maybe I'll write about why we Logan likes the push mower style someday!), rakes, shovels, etc.
Raised Garden Beds
We are definitely going to have some raised garden beds on the side of the house. I had some garden beds at our rental in San Diego and loved growing lots of fruit and veggies. I'm sure it will be much different growing in Bend, but can't wait to give it a go. Not sure which style I like better, what do you think? Water Trough or Wood?
Hanging Plants
We have a BIG window in
our living room
that currently looks out on the street (boring), but once we get the rest of our fence built, it will look at the inside of the fence. Along with some other shrubs and fun stuff I have planned, I'm thinking I definitely want to hang some pretty plants on the fence to look at. I love
this one
especially.
Deck
I think we'll be going with a composite deck or synthetic lumber material. We've done a bunch of research and talked to a few different people and we think this is the best option for low-maintenance care. BHG does a great job of explaining the different types of materials for decking here.
Flagstone Walkway with Ground Cover
Coming off from the deck alongside the grass we're going to have a fun flagstone walkway to the rest of the yard. I love the idea of putting ground cover in between the stones.
Paver Patio
We've already got started on the first paver patio in our yard, so I'll be sharing the full tutorial on that fun project soon!
Herringbone Paver Patio
Below the paver patio we've already started, we're going to do another paver patio in a herringbone pattern with a fire pit in the middle.
Fire Pit
We're planning building a square fire pit on top of our Herringbone Paver Patio. I envision it looking similar to this one.
The Handmade Home gives an awesome tutorial on how to DIY a patio like this. I also love the way they've styled theirs, don't you? I'll for sure be referring back to their tutorial when we create ours.
Chicken Coop
True story, Logan has wanted to have chickens since he was a little kid, just ask his mother. Finally, we're in a place where his dream can come true. Not too sure when we'll pull the trigger on this one, but if Logan has anything to do with it, it will happen! I was wondering the other day about how cold we get in the winter and how that would work for the chickens. I found this very informative article about winter with chickens and figuring out if you need to heat your chicken coop or not.
I still can't believe that Life Simply built this chicken coop for under $50, that's my kind of project. Check out their detailed budget tutorial here.
Well folks, those are our dreams. We're nowhere near close, but at least we have a plan to keep us on track!
Hope you have a great day, don't forget to dream big!