Are you looking for the best gifts for new moms? You're in luck. This guide is packed full of new mother gifts.
Today we're focusing on those rookie moms with this list of best gifts for new moms.
New moms really deserve it all.
They are most likely struggling to regain normalcy in their lives and the holiday season can do a number on their stress levels. Give the new mama in your life some extra love this season, she needs it.
Related – Want more gift ideas? Check out all of our gift ideas here!
This best gifts for news moms post contains affiliate links, but nothing that I wouldn't wholeheartedly recommend anyway! Read my full disclosure here.
Are you ready to see the best gifts for new moms?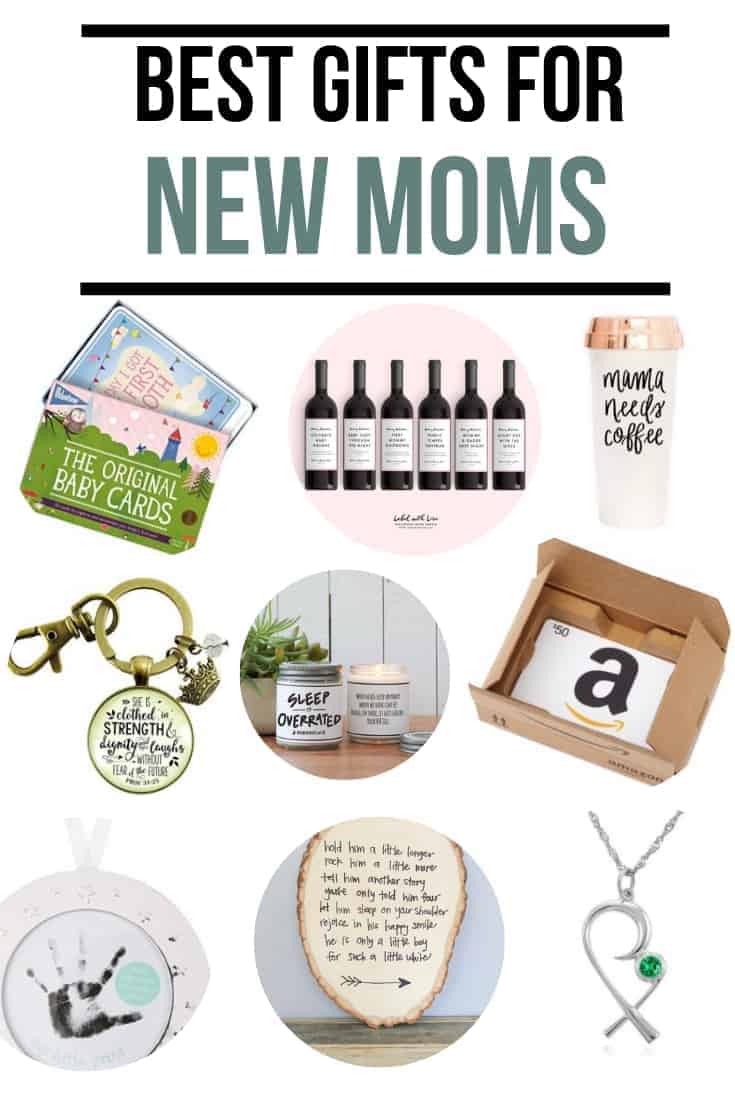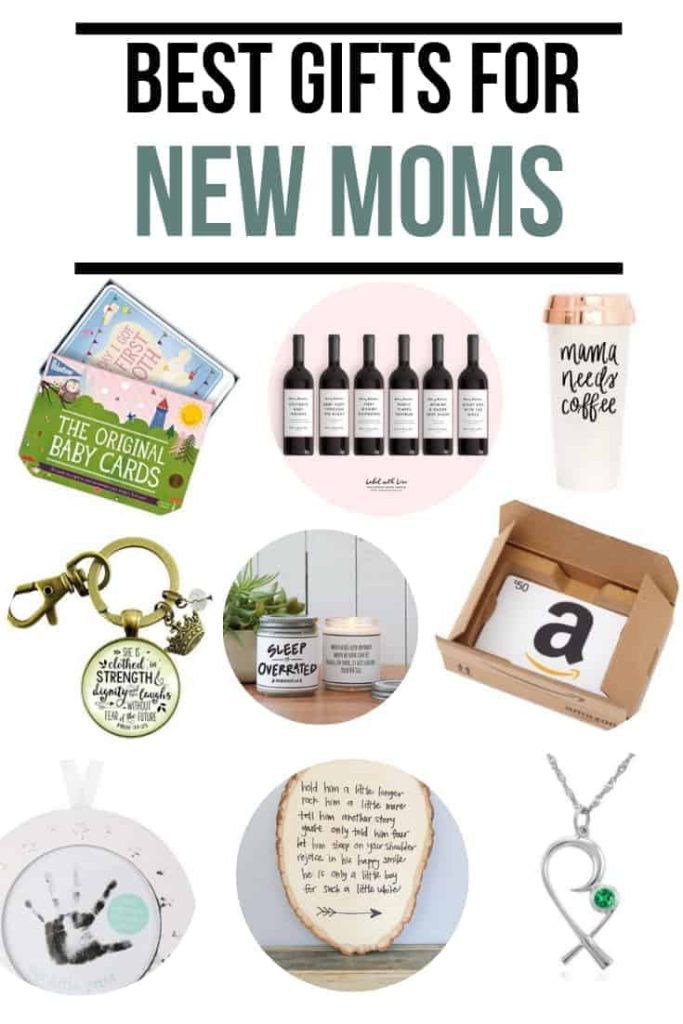 Photo Credit: www.etsy.com
The sentimental poem on this adorable rustic woodland nursery sign will probably make a new mom cry, but she will love it! It is a great reminder for new moms that are in the thick of it! It will be the perfect finishing touch to her little one's nursery.
The hold him a little longer sign can be customized for a girl with "hold her a little longer" or even for twins "hold them a little longer".
This sign is actually for sale in MY Etsy shop, so it's probably my favorite of these Christmas gifts for new moms.
Photo Credit: amazon.com
Every new mama needs a quick way to cover up that greasy hair because chances are she didn't have time to take a shower this morning.
I love this distressed-looking hat, which fits right in on this list of gifts for first time moms. This hat completes the momiform with a trendy twist.
My amazing hubby surprised me with this gorgeous necklace for our anniversary, which was a couple of weeks after we had our first little one.
I was a hormonal mess and just started sobbing when I opened the box, which reads "remember your first embrace".
The design is supposed to resemble a mom holding her baby. The stone is customizable for your baby's birthstone.
Photo Credit: www.etsy.com
When I saw these printable wine labels for a new mom on Etsy, I just about died. They are so cute.
There are 6 different options: goodbye baby weight, the baby slept through the night, first mommy meltdown, public temper tantrum, mommy & daddy date night, and night out with the girls. All of these are milestones to celebrate as a new mama!
The labels are customized with the mom's name and you can choose the colors. Such a cute gift idea for a new mom!
Photo Credit: www.care.com
One of the best things you can offer a new mom is a little break! If Mom is comfortable leaving the baby (no harm, no foul if she's not quite ready yet - just offer to do the dishes or clean her house instead), you can offer to babysit so she can get out of the house for a bit.
Even just a trip to the coffee shop alone or a walk outside in the fresh air can do wonders for the soul.
Maybe Mom is looking for a sitter or nanny that can come more regularly or she is preparing to go back to work and you're not near enough or available to babysit. It can be hard work to find a nanny.
Care.com came to the rescue when we were looking and gave us plenty of options for qualified and trustworthy sitters.
To really take full advantage of Care.com, you need a premium membership so you can email back and forth with prospects and use their background check features.
One of the best gifts for new moms in this predicament is one month of premium membership at care.com.
Photo Credit: www.etsy.com
Any candle is a great gift for a new mom.
They are perfect for drowning out the dirty-diaper, didn't-have-time-to-shower scent that may be lingering around! 🙂
I love this "Sleep is Overrated" candle from HelloYouCandles on Etsy. You can choose the scent, label the color, and write a personalized message. So fun.
Photo Credit: Amazon
I can tell you what, most new moms haven't done any shopping for themselves in who knows how long.
I know some people hate giving gift cards as a gift, but for a new mama that chance to spend some money on something she wants is a gift in and of itself.
Any gift to anywhere is nice, but I love Amazon because you can Amazon because you can seriously get anything you want! Also, how cute is that little mini-boxed gift card in the picture?! Haha.
Photo Credit: amazon.com
There's nothing that I want to do more than just capture how teeny tiny little baby is right now is growing up right before my eyes.
Capturing his handprint and footprint in a Christmas ornament is a must. This one comes with a non-toxic stamp pad and everything.
Photo Credit: www.amazon.com
I've been seeing these rad hair tie bracelets all over the internet.
I don't think I've taken the hair tie off my wrist since giving birth, so how perfect is this bracelet to help jazz up that hair tie that you know she has on her wrist?
This bracelet fits right in on this list of best gifts for new moms.
Photo Credit: amazon.com
One thing that I feel like I'm always misplacing these days as I'm juggling a baby, diaper bag, car seat, wallet, etc is my keys!
Having a clunky, shiny keychain could help solve that problem. If not, at least it's pretty to look at? I love this one with Proverbs 31 verse on it.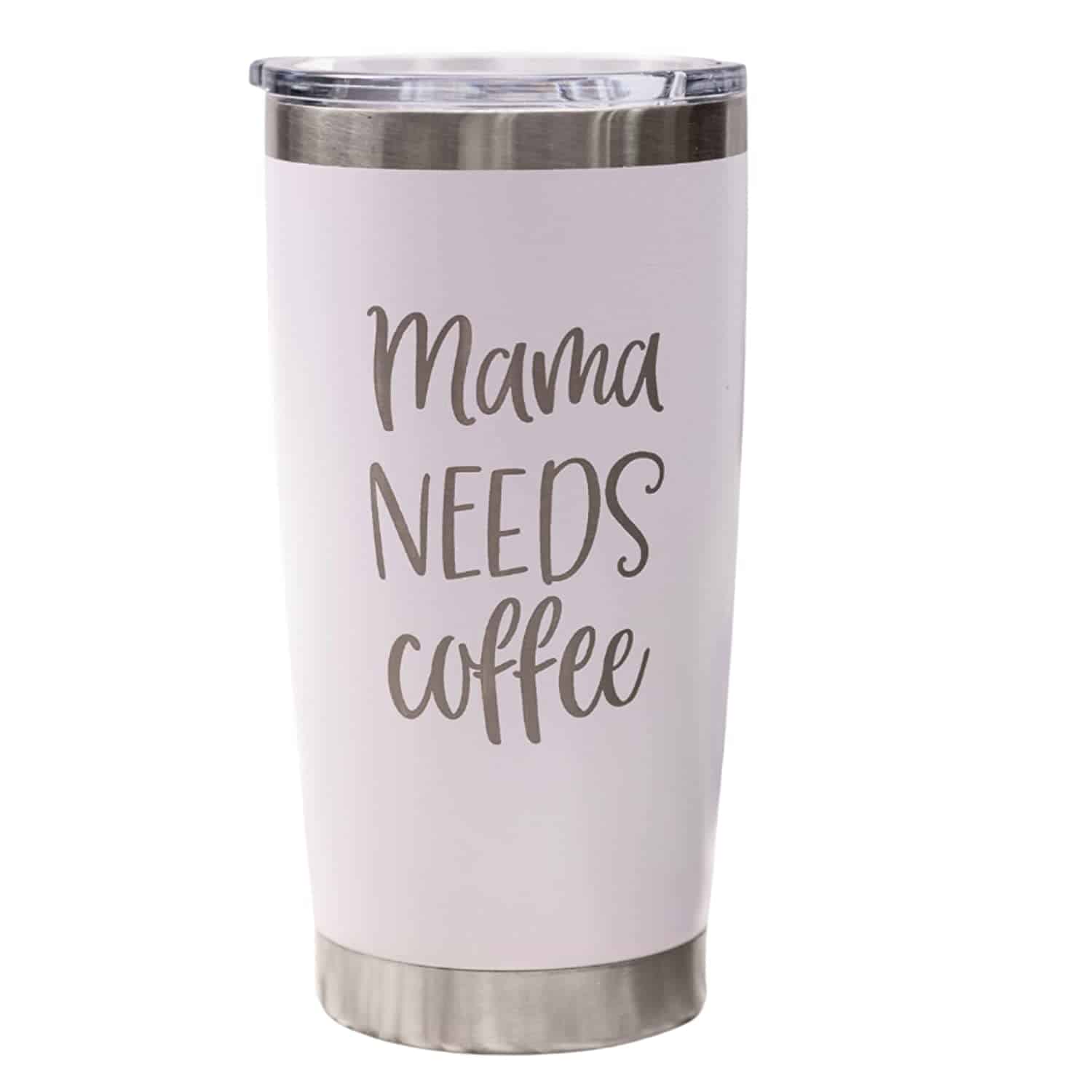 Photo Credit: amazon.com
Coffee makes the world go 'round for any new mom so naturally a coffee cup is a perfect gift for new mom. This one with "mama needs coffee" on it is just too cute.
Photo Credit: amazon.com
Every new mama loves snapping TONS of pictures of her little one. These milestone cards are super fun to record some of the bigger daily wins, like "today I ate solid food for the first time".
Photo Credit: Amazon
We don't have a small diaper bag, but man... some days it is literally overflowing with everything I need on certain outings.
When we are headed out for a play date at the park and we need some extra toys, a blanket and maybe some books there is NO WAY that is all going to fit in my diaper bag.
It is super handy to have an empty bag around to throw everything in. I love this large tote bag because it matches our diaper bag and it's gender-neutral so if Logan needs to use it, he can!
This guide of new mother gifts was so fun to put together because I am a new-ish mom (and I became a new mom again last year!). I can totally relate and know just what I would want. 😉 ….hint, hint. Husband if you're reading this, I'll take one of everything, please.
What is your favorite of these best gifts for new moms?
Let me know in the comments below!