Do you love the modern coastal look? If you're looking for navy bedroom inspiration, you'll love this post. I'm sharing a done for you room design mood board with coastal bedroom decor and furniture (all from Target) and a gorgeous bedroom color scheme.
Nope, I'm not redoing our master bedroom. In fact, I'm still in love with our green and white boho bedroom.
Nope, I'm not incorporating more navy color schemes into our home.
But alas…today I'm sharing navy bedroom inspiration with you simply to inspire you and give you some different ideas for room designs on an affordable budget.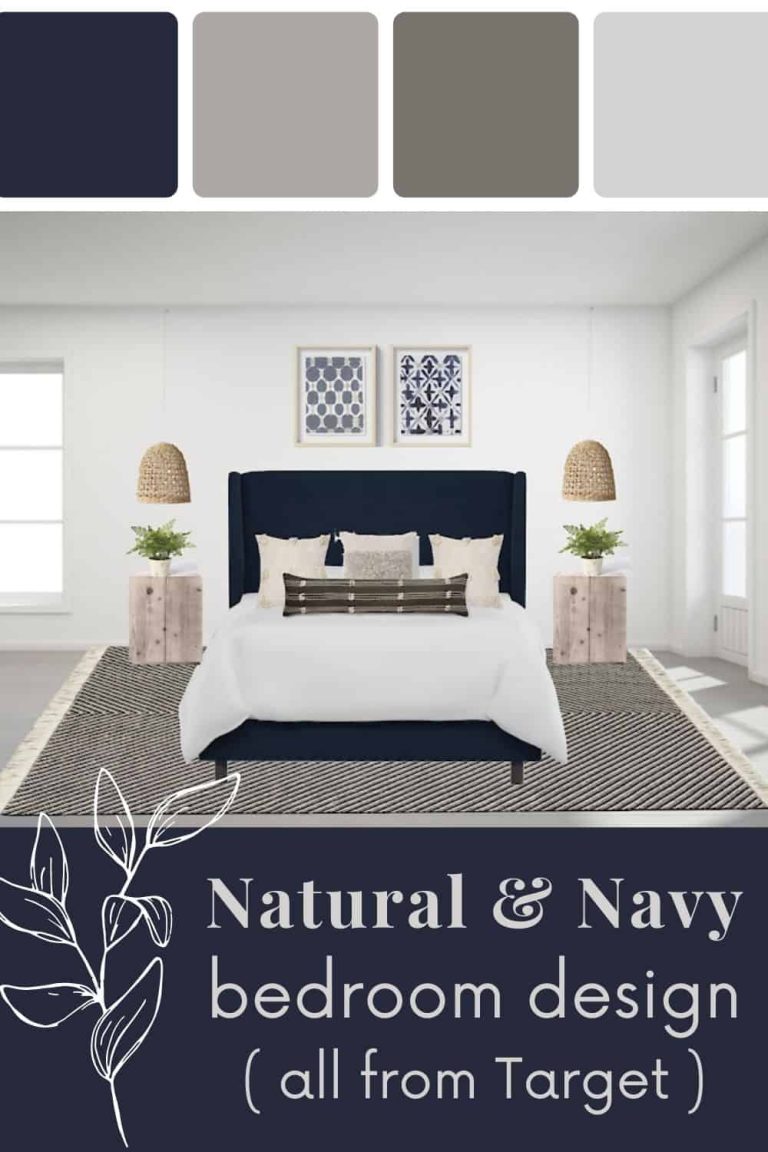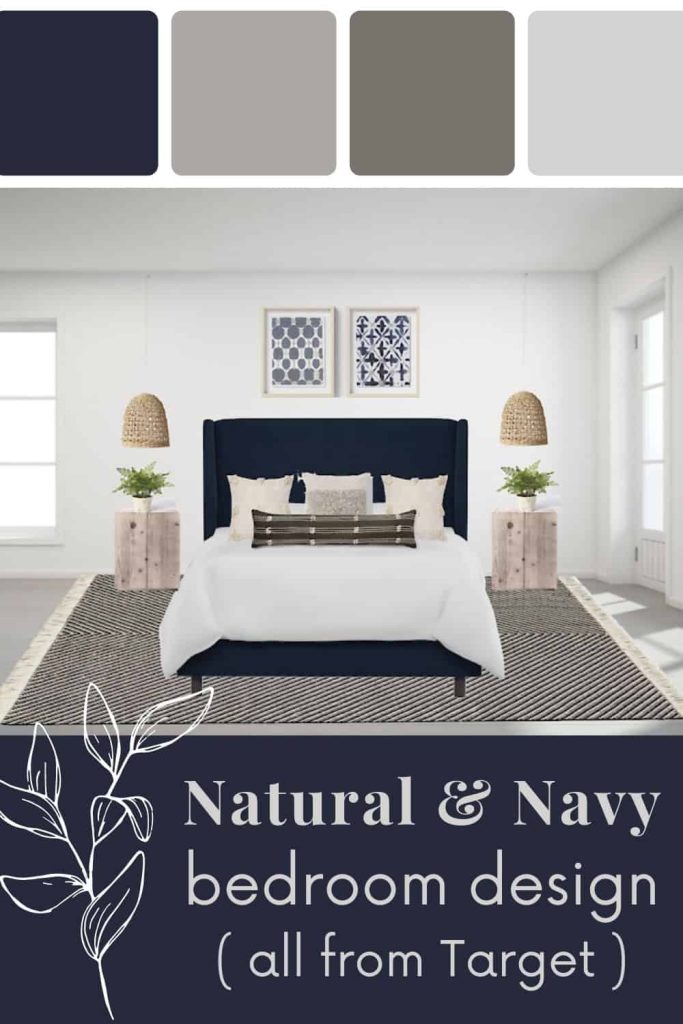 You see – sometimes while I'm lounging around the weekends watching TV and gazing at the snow falling outside…. I like to randomly design rooms. It's a fun little pastime of mine.
I'm thinking about opening it up sometime soon so that you could order room designs for yourself and I could help you design spaces one on one – virtually of course. Is this something you'd be interested in?
Related – Do you want to learn how to make your own interior design mood board? You'll love this article!
This post contains affiliate links, but nothing that I wouldn't recommend wholeheartedly. Read my full disclosure here.
Navy Bedroom Mood Board Rendering
Anyway, this room is something I whipped up for fun and decided to share with you! I love how this fresh and modern master bedroom design turned out! It incorporates furniture and decor that is ALL found at Target – one of my favorite places to grab home decor and furniture!
Here's a closer look at the whole bedroom design – which incorporates a cozy little reading corner by the window.
I love the incorporation of the navy color scheme is through the furniture and decor (instead of necessarily painting the walls a deep blue color, which a lot of people would be terrified to do!). This means that you can get this look even if you're in a rental and can't paint the walls or if you want to keep with light and bright white walls.
Bringing in the natural elements like the basket pendant lights hanging from each side of the bed, the faux fern plants, and the driftwood-looking nightstands really softens everything and makes the whole design look calm and collected.
Get the look
Go shopping! Just click any picture below to see the product.

Want more navy bedroom inspo?
Do you love this look and want more ideas? Here's 7 rooms that totally rock the navy look. Some are dark and moody, while others are light and bright with that modern coastal feel. Proof that navy is such a versatile and fun color to incorporate into your designs.
Which of these bedrooms with navy is your favorite? Did you get any ideas from this navy bedroom inspiration?
Let us know in the comments below!