Looking for a new creative hobby to learn? Check out these 20+ popular craft hobbies! Whether you are bored and stuck at home or you are looking for a new business venture to make some extra money as a side hustle, you'll be inspired with this list of crafting hobbies!
There's just something about working with your hands and doing something creative. In fact, I've even gone so far to claim that I think crafting makes you a better mom.
And the reason is that when you take the time to craft, it is a form of self-care and therapy. By setting aside time in your schedule, you are prioritizing yourself and your hobbies.
Now that I've convinced you just how important is to prioritize hobbies in your busy life, let's talk about all of the different crafting hobbies that you could try if you don't have one already (or you're looking to learn something new!)
If you are a creative person, you may be looking for new crafting hobbies to try. Even if you don't consider yourself "creative", I promise that most of these craft hobbies don't require much skill or creativity to get started.
Today I'm sharing a list of 20 crafting hobbies to spur your imagination! But this is just the beginning. There are so many other creative hobbies not listed here.
Below I've given a description of each craft hobby, along with some helpful tips like what type of supplies you'll need to get started and provided links to tutorials to check out for more details.
Whether you are bored and stuck at home or you are looking for a new business venture to make some extra money as a side hustle (read: crafts to make and sell), you'll be inspired with this list of crafting hobbies!
Let's jump in!
This post contains affiliate links, but nothing that I wouldn't wholeheartedly recommend anyway! Read my full disclosure here.
20+ craft hobbies to try
---
Wreath Making
Wreath making is a great way to add a welcoming seasonal touch to your front door or mantle. It's also an easy way to add wall decor to your home. Wreaths are the perfect way to express your own individual design style.
While you can certainly buy a finished wreath from a multitude of different retail places, making your own is much more budget-friendly! Using different types of materials makes them unique and beautiful.
From garden hoses to seashells, rags to pom poms, there is no end to the possibilities when you make your own wreath.
---
Polymer Clay
Polymer clay is a great way to get started using clay for crafts. It's extremely versatile and easy for beginners to use, but it can also be a challenging medium if you want to try projects that are more complex.
Polymer clay fires at a low temperature, so you don't need to run out and buy a kiln to use it. You can fire it in your kitchen oven which makes this a very user-friendly craft medium.
As long as you store it correctly, it can last forever, so make sure to follow the manufacturer's instructions for storage so you don't end up with a bunch of wasted clay.
Polymer clay can be used to make so many different things. From jewelry to pottery, home decor to pottery, there are so many things to make using polymer clay. Here are just a few polymer clay ideas. Click the links to learn how to make the projects for yourself.
---
Sign Making
Wooden signs are so versatile and they are the perfect work of art that doesn't look out of place anywhere in your home! Buying wood signs can run hundreds of dollars, but making your own is so much cheaper!
I know you have probably read somewhere on the internet that signs and word art are a thing of the past. Well, I'm here to tell you that I don't agree. If you like making signs and word art is your jam, then I say, do you!
There are lots of different ways to make your own signs. Reclaimed wood, repurposing old picture frames, stencils, hand painting, using your Cricut or Silhouette, if you're into sign making there are countless ways to do it.
---
Upcycling
Upcycling or repurposing, by whatever term you call it, is an environmentally-conscience way to make home decor for your home. It is a great way of reusing old materials to create something fun and useful.
You can make almost anything into something new and save it from the landfill. From old chairs to socks, an old pair of jeans to bottle caps, cardboard boxes, the possibilities are truly endless when you let your imagination do the work.
---
---
Soap Making
Soap making is a fun craft. You can make custom soap in any shape, size, color, or fragrance you want. They are great to make for yourself, as gifts, or even to sell on Etsy.
Making soap is easy and you can make it yourself at home with just a few ingredients. You can buy a soap base that makes it much easier and eliminates the need for handling lye, which is essential to soap making.
Essential oils make it easy to add fragrance to your soap and you can use other natural ingredients like orange or lemon peel, dried lavender sprigs, spices, or other natural ingredients to make your soap look and smell amazing.
There are a ton of soap-making tutorials online, but I rounded up a few of my favorites for you.
---
Candle Making
Candle making, much like soap making, is a fun craft that you customize in any size, shape, color, or fragrance that you want. They are great to make for yourself, to give as gifts, or to turn into a profitable side hustle.
Candles can be made using paraffin, soy, beeswax, or stearin. Add in some essential oil and other natural ingredients and you are on your way to becoming a candle maker.
If you want to give this craft hobby a try, the best place to start is with a simple candle-making kit like this along with some fragrance oils. These ones smell SO good.
---
Felting
Felting is the process of applying heat and moisture causing the matting of materials. The most common material used in felting is wool. Felting art uses a sharp needle to manipulate felted material to form a shape.
Felting is an easy craft to learn and doesn't require an expensive list of tools to do it. If you're just starting out or thinking about picking up felting as a hobby, it's best to start with a needle felting kit. Then as you learn what you are doing, you can invest in other tools you need to do this fun craft.
I have seen so many neat projects made from felting. They truly are works of art. Here are some great beginner projects to check out if you are considering trying your hand at felting.
---
Sewing
Sewing is a fun way to make your own home decor. A lot of the soft furnishings you see for sale can be expensive, why not sew your own?
Sewing is a wonderful craft that allows you to be creative and it's a relaxing hobby.
Learning how to use a sewing machine can seem overwhelming, but once you get the basics, you can make anything you want. Not to mention you'll be able to hem your own pants or fix a ripped seam in your favorite shirt.
Of course, you'll need a sewing machine if you want to give this hobby a go, but you can do quite a bit on a small and budget-friendly sewing machine like this.
---
---
Embroidery/Cross Stitch
Embroidery and cross stitch are similar crafts. Embroidery is embellishing fabric with thread and cross stitch is a type of embroidery used in creating a design using a stitch that forms an X or "cross".
Both can be used to create amazing works of art and detailed designs. Each can be created using different types of thread and typically your pattern will designate which type of thread to use.
If you're a beginner just getting started, you will find cross stitch to be the easier of the two crafts.
There are all sorts of beginner-friendly embroidery kits that you can buy at a low cost with pictures already printed on the cloth that you can stitch over.
---
Punch Needle
Punch needle is another form of embroidery closely related to rug hooking. It is basically just threading your needle then punching it through your fabric to form a loop. It goes much faster than traditional embroidery and you can use different textures and sizes of threads to create detailed designs.
This craft is beginner-friendly and once you learn the technique, you'll be making gorgeous works of art. Grab everything you need to get started in a punch needle tool kit like this.
Doodle Dog Designs is a great site for beginner tutorials and all things punch needle. Here are just a couple to get you started.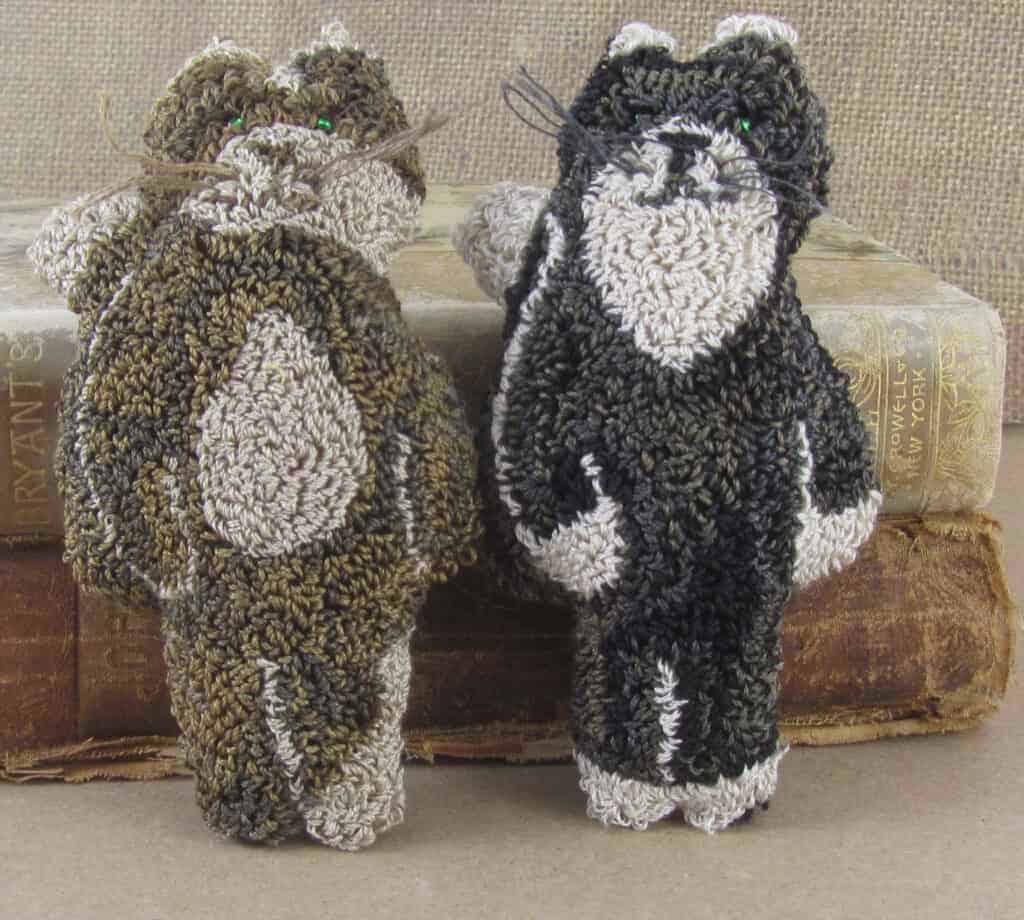 ---
Weaving
Weaving is a form of fiber art that can be used to make amazing works of art. You cross one group of threads (weft) with another group of threads (warp) to create your design.
Modern woven wall art can be so detailed and beautiful. You can create landscape scenes, shapes, rugs, and baskets. Different materials can be used to create different textures within your project. Make them big, make them small, it's all up to your creativity and imagination.
Weaving is fairly easy to learn! Spruce and Linen's YouTube channel is great for learning how to create woven wall hangings! I used it exclusively when I was learning!
To get started with weaving, you'll want a loom (I have this one), high-quality yarn, and some wool needles.
---
Macrame
Macrame is another form of fiber art and it has really gained in popularity over the last couple of years. It's modern and fresh and boho and adds such a fun decor accent to your home.
Macrame is the art of tying knots using a working cord to a filler cord to make macrame decor like plant hangers, wall hangings, coasters, and so much more. It is easy to learn and with just a few beginner knots you can make amazing macrame works of art.
You can follow a pattern or you can just let your creativity flow and see what you come up with. There is no set of rules when it comes to macrame and it's an easy beginner-friendly craft to learn.
The cool thing about this crafting hobby is that you don't need a lot of materials and tools to get started. You simply need a cord for knotting. There are so many materials you use to create macrame, from yarn to jute, t-shirt yarn to cotton macrame cord, you are sure to find a material you love to make your own macrame.
---
Card Making / Scrapbooking /paper crafting
There are so many things you can make with paper! It's a fun craft that will give you hours of enjoyment.
You can make cards, make folded origami creations, banners, paper flowers, and the list goes on and on. Make your paper creations using card stock, construction paper, old maps, or tissue paper. There are so many things to make all you need is your favorite paper and your imagination.
---
---
Crochet/Knitting
Crochet and knitting are very similar crafts. They both allow you to stitch yarn together to create a multitude of different things. Knitting used two needles to create loops that hook together, while crocheting uses just one needle to create loops that form your project.
When just starting out, you may want to give crocheting a go as it only uses one needle and it is less likely to unravel if you make a mistake. Once you master one needle you can move on to knitting and try your hand at two needles.
In more recent years crafters have moved on to arm knitting and finger knitting which is even easier as you don't have to deal with a needle at all and are able to use much larger diameter yarns to create amazing projects.
---
Pottery
Pottery is the art of throwing clay on a potter's wheel. The pottery piece is then fired in a kiln to harden the clay.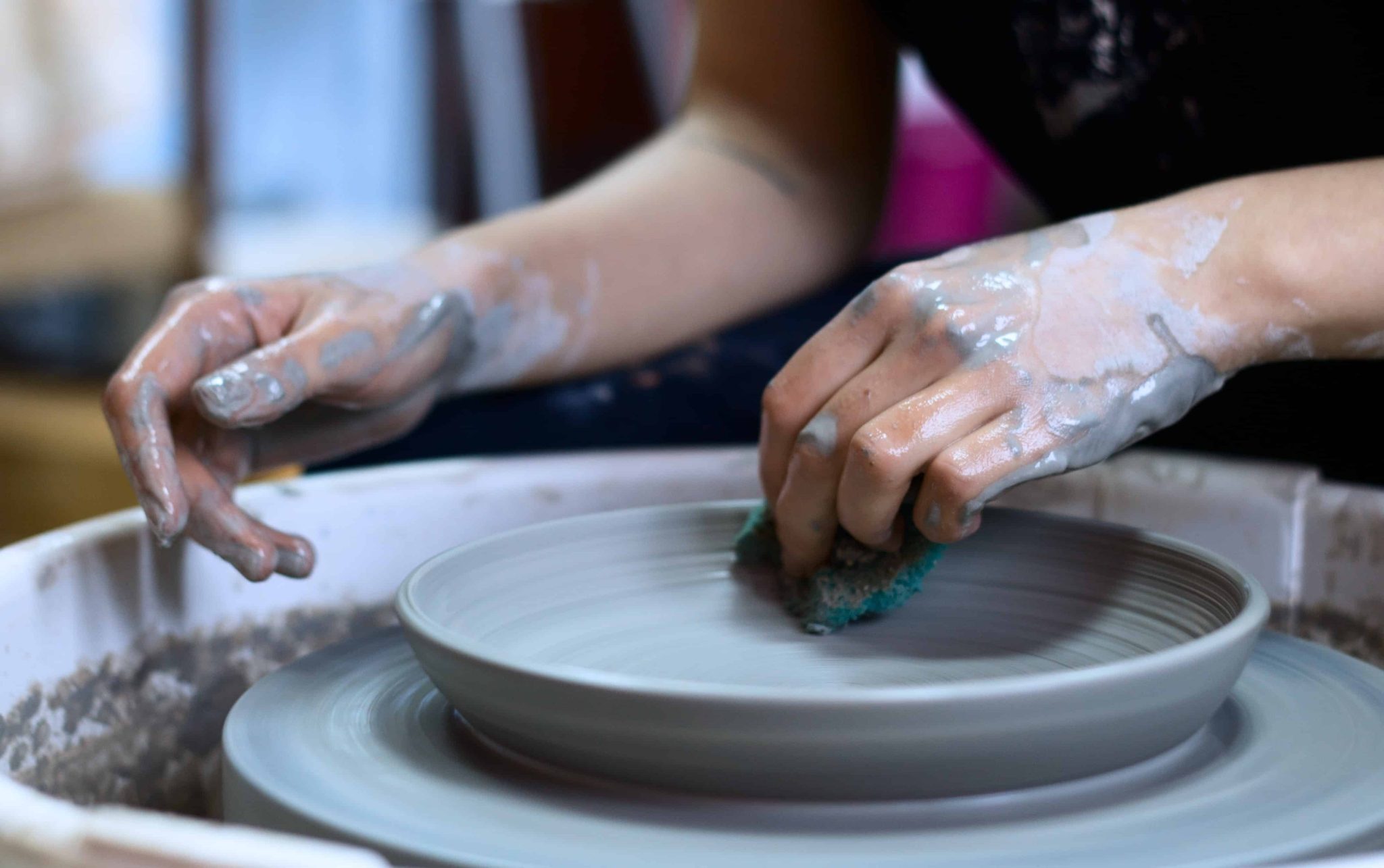 You can make dishes, vases, pots, and a lot more. Pottery pieces are wonderful works of art that require a skill using a potter's wheel, but once you master it you will be on your way to making great pieces of pottery.
This is one of the less attainable of the craft hobbies because it requires a potter's wheel and kiln. The best way to try this craft hobby out is to find a pottery class locally to go try before making the big investment in the tools you need. You may be able to find one at a pottery studio or a community college in your area.
To get started, check out these tutorials:
---
Dollhouse Making
Having a dollhouse is every little girl's dream. Maybe some adults too. Dollhouses can be as simple or as detailed as you want. They are easy to make from wood and you can create complete furniture and decor custom to your dollhouse.
---
Are you inspired yet? Hopefully, this list of crafting hobbies inspired you and gave you some ideas of new crafts to try next time you feel bored!
Which of these craft hobbies do you want to try?
Let us know in the comments below!