Solid wood is a front runner for most woodworking projects, but there are times when a wood composite, like MDF wood, is the better choice. Learn more about MDF material, the pros and cons, and how it's different from other types of wood.
Typically, solid wood tends to be the superior choice in woodworking, while MDF board is often viewed as a cheap alternative. However, there are times when a wood composite like MDF is a better option than solid wood, plywood, or particleboard.
Even though these types of wood can be used interchangeably across different applications, like cabinetry, baseboards, doors, and more, the unique strengths and weaknesses should be considered before beginning your next project.
This MDF wood overview contains affiliate links, but nothing that I wouldn't recommend wholeheartedly. Read my full disclosure here.
What is MDF Wood?
MDF wood stands for medium-density fiberboard and is among the most affordable and user-friendly, high-performing wood products.
Essentially, MDF is a combination of different wood byproducts that are broken down into fibers, mixed with a resin-adhesive, and then formed into sheets under high pressure.
MDF is super user-friendly! Unlike solid wood, there are no knots, grains, or warping. Plus, it's easy to saw without leaving frayed edges, burns, or tear-outs.
Because MDF can be cut and drilled in so many ways without damage, it's a great option for cabinetry. Unique designs like shaker-style cabinet doors, flat-paneled doors, inset doors, and more are all possible because of MDF boards.
MDF Wood Projects
Best used for indoor projects, MDF is a great option for your next light carpentry project. We've used this material for several different projects around our home. In fact, all our baseboards are MDF wood.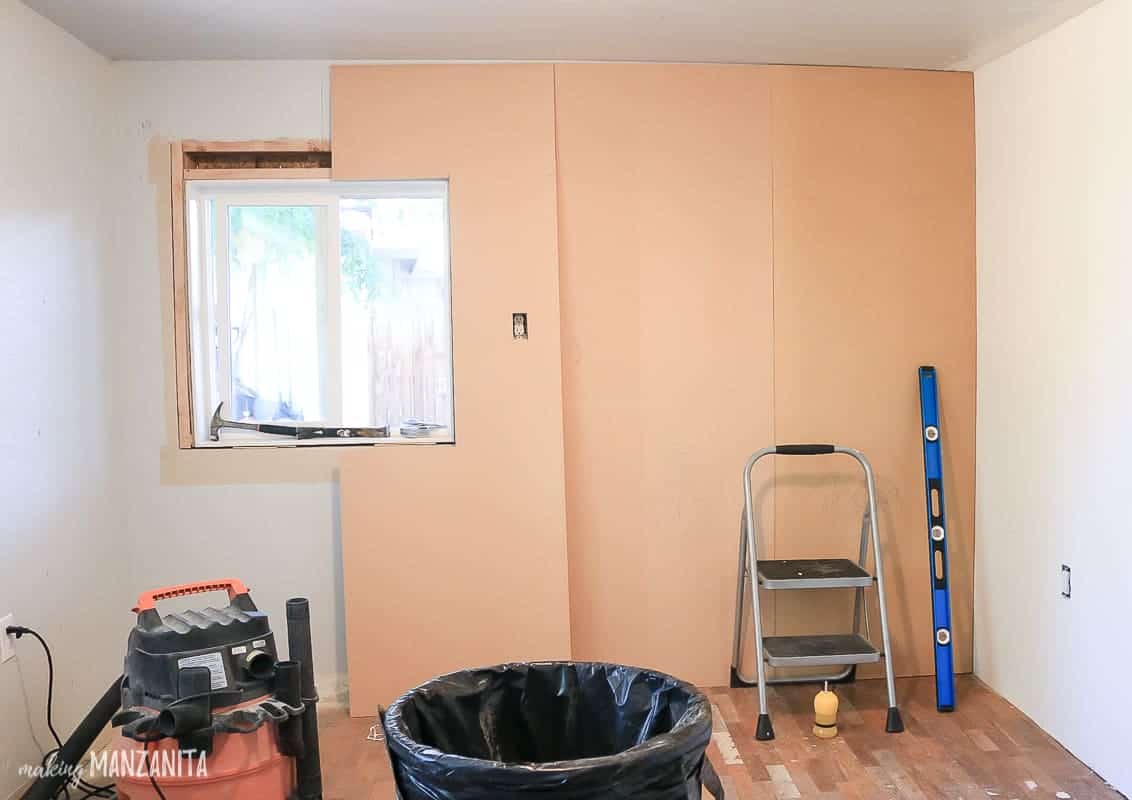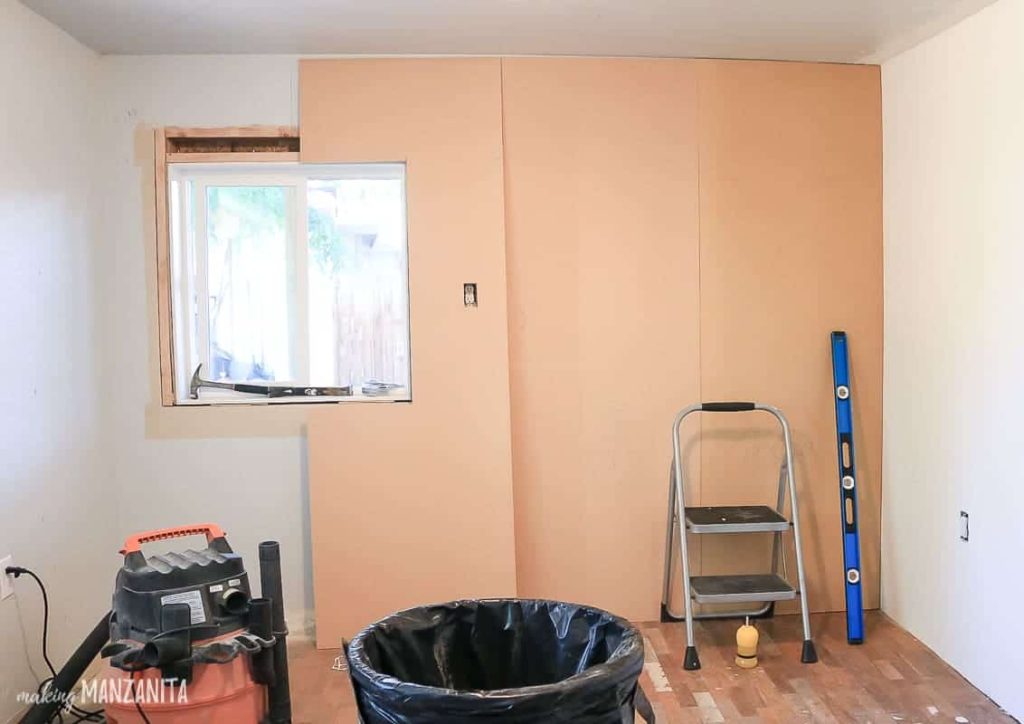 Other projects include an indoor barn door, hallway cabinets, board and batten accent wall in the nursery, and the trim on our mudroom locker doors. We loved how each of these projects turned out and how easy the material was to work with.
MDF wood is definitely not a one-size-fits-all solution to beginner woodworking projects, but it's a good place to start when building low-traffic, décor-focused items around your home.
Things to remember when working with MDF:
Best used for indoor projects
Avoid weight-bearing loads
An inexpensive alternative for accent walls and trends
Not waterproof or flame-resistant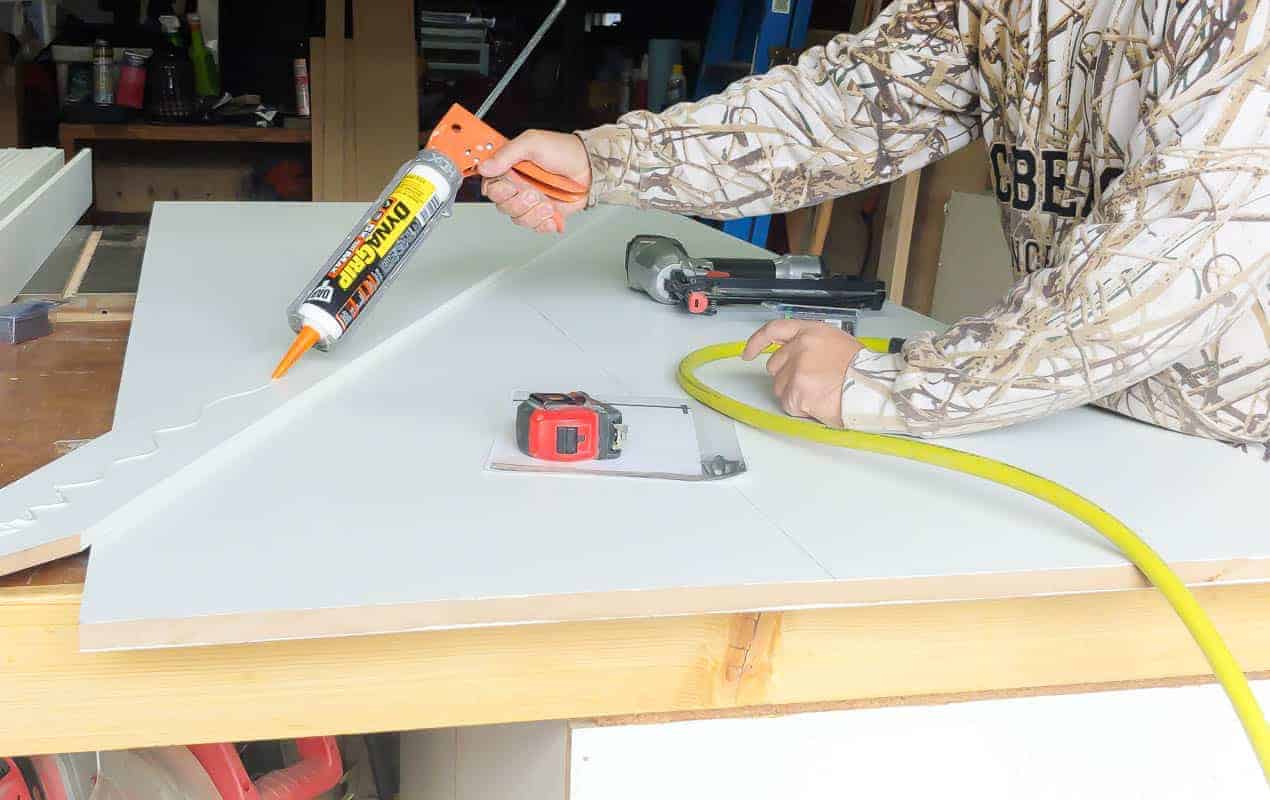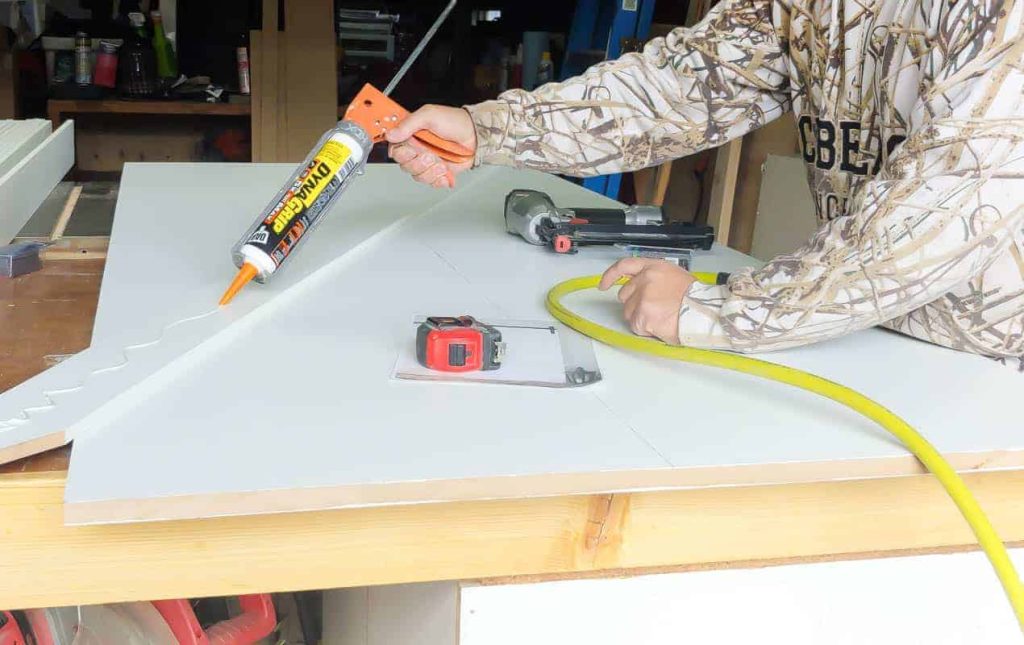 Since the composite is basically a dehydrated byproduct of wood debris that's smashed together under high pressure, you will typically find these boards in tan or dark brown shades and they have no wood grain. Therefore, this material isn't ideal for staining, so I'd recommend having a paint color in mind when working with MDF.
Primarily, MDF boards are sold in 1/4 inch thick, ½ inch thick, or ¾ inch thick sheets, much like sheets of plywood. In some cases, these boards are stamped to indicate they are fire-resistant or moisture resistant.
These boards are relatively inexpensive, depending on where you live. The largest and thickest sheets available (3/4″ thick and 4′ x 8′) should cost you no more than $50.
MDF vs Wood
Solid wood continues to be a popular choice for woodworking projects for obvious reasons.
Solid wood is strong and long-lasting. It also has a lot of predefined characters with unique grain patterns, knotting, and warping. It is also more expensive than MDF.
If you are aiming for a natural, wood look, MDF is not the right choice. Because MDF lacks the natural characteristics of solid wood, the result is a smoother surface, which is great for cabinetry projects.
When exposed to humidity and moisture, wood will expand and contract, which can cause cracking, chipping, and ruin the look of the furniture.
While not inherently waterproof, MDF will not warp or change size or shape as badly when exposed to humidity. MDF is, however, available in waterproof varieties.
MDF vs plywood
Plywood and MDF wood are similar in that they are both made by binding wood products together into solid pieces.
Like MDF, plywood also comes in different thicknesses and grades. Because of the wood grain veneer, plywood can also be stained for a beautiful result. However, it lacks characteristics like knots and natural imperfections that you might find in solid wood.
Since MDF material is held together with adhesive and therefore has less strength, projects that are load-bearing or exposed to extreme heat should stick with solid wood, plywood, or other applicable materials.
Plywood is also more expensive than MDF and more difficult to work with. With plywood, the edges will splinter easily when using a saw, instead of a smooth edge with MDF wood.
If you are trying to create a more detailed design, like scalloping or rounding corners, MDF is a better option over plywood.
MDF vs particleboard
Particleboard and MDF have a lot of similarities as they are both made from wood composite.
You are probably most familiar with particleboard as it is widely used for low-end home décor. If you've ever put together a piece of furniture that's on the cheaper side, you may have noticed that the material easily chipped if too much weight or force was applied.
Additionally, it's an inexpensive material that can be used to achieve a high-end look in certain instances. For example, builders add a thin layer of veneer or laminate sheets over the top of particleboard for an inexpensive counter-top upgrade.
Even though it's not true wood, particleboard can also be stained to achieve the look you are going for. Plus, it doesn't have the natural defects as solid wood, like knots or warping, that would require sanding or planing.
Particleboard may be a tad easier to work with as it holds nails and screws better than MDF.
However, because it is made up of wood shavings and chips, instead of similarly sized wood grains like MDF, particleboards are not as smooth on the surface and will require a bit of work to create a smooth result.
Additionally, MDF boards are much stronger than particleboards and with much higher resistance to moisture and humidity. Like solid wood, particleboard will also expand when it is exposed to moisture and humidity.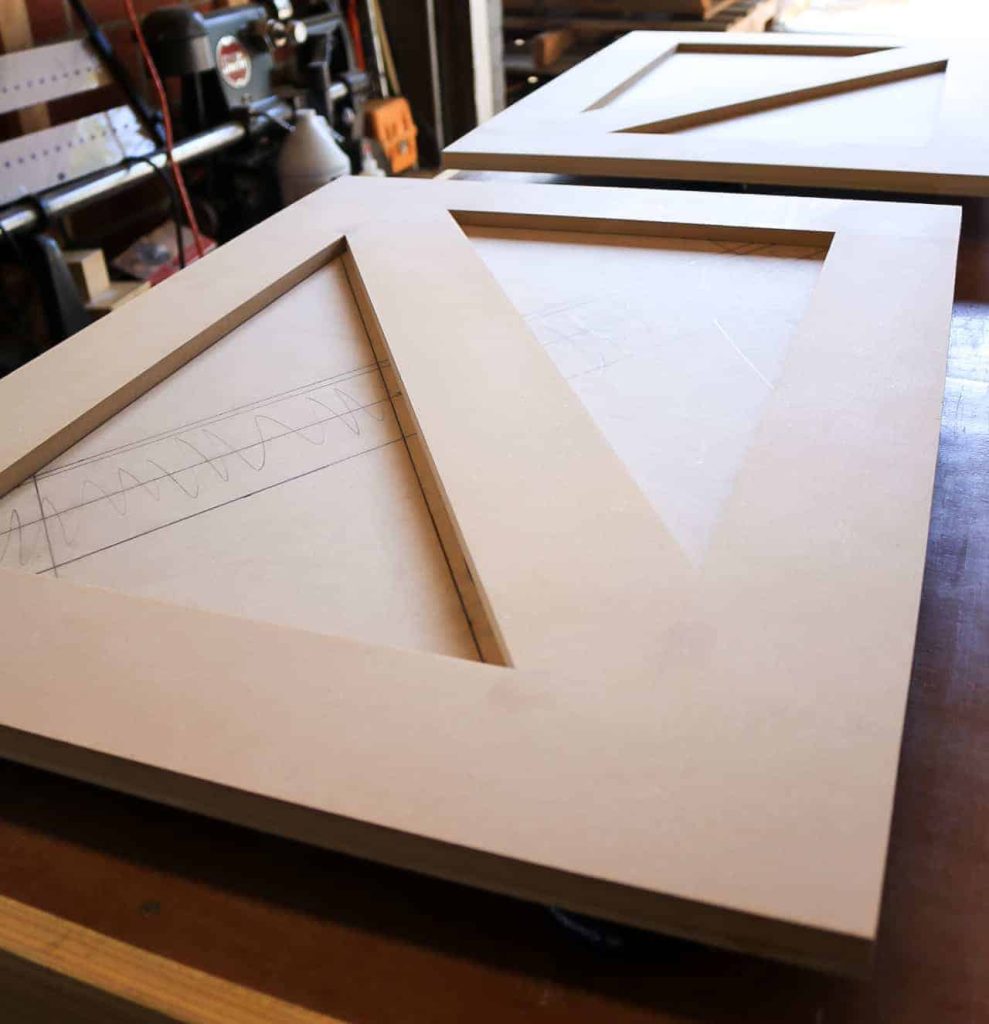 MDF Pros and Cons
Pros:
The great thing about working with MDF is it's almost identical to working with real wood, but with awesome benefits!
It's a practical choice for smaller projects, like bookshelves, cabinetry, and any décor-focused projects that aren't load-bearing or exposed to a lot of heat. Plus, it's budget-friendly and there are no new skills, knowledge, or special tools needed.
Also, MDF doesn't fray or splinter when sawing or cutting. It remains smooth on the surface and is easily shaped into designs like scalloping, rounding, or grooves.
Unlike solid wood, MDF will not expand and contract with temperature changes, and there's no need to worry about coordinating grain patterns, planing pesky knots, or warped boards.
Just like wood, MDF wood can take on paint and thin veneer well; however, it's not ideal for staining.
Cons:
On the contrary, there are some cases where wood outshines this versatile material.
MDF wood is not nearly as strong as real, solid wood and won't last as long either. Because MDF material is so dense, it's much heavier than solid wood; therefore, the corners and smooth surface can be easily damaged or chipped.
It also produces much more dust when cutting, so be sure to seal off the work area well before beginning your project. Additionally, because MDF contains formaldehyde, it's a good idea to wear a respirator as it continues to give off gas until it is fully sealed.
One major downside to working with MDF material: you can't stain it. Because there are no wood grains, the stain doesn't take well and doesn't look as pretty as solid wood.
Since its "natural" look isn't as elegant as other wood types, it's best to have a painting plan in place when working with MDF.
If left untreated, MDF can swell or fracture when it's exposed to the smallest amounts of water, which limits the applications for which MDF can be used.
Solid wood is a superior choice for most woodworking projects. But, there are times when a wood composite, like MDF wood, can make the project a little easier by saving you a few bucks and hassle.
There are several things to consider when deciding to use solid wood or MDF wood for your projects. Hopefully, this MDF wood overview helps you make the best decision for you!