These custom tea towels were so fun to make and customize for different people! They are so easy – even the kids could do it! They make great DIY Christmas gifts for anyone on your list.
I've been trying to be more diligent lately about using the craft supplies that I hoard have on hand. Something that I have around, but rarely use are stamps.
I don't do much paper crafting anymore, so they rarely get used. However, there are so many other uses for stamps besides paper crafting!
When I was brainstorming what to make for DIY Christmas gifts this year, I really wanted to focus on function. I thought to myself, "what are the things around the house that are used all the time?"
I started to pay attention to things that were getting used over and over in my house. The two things that I came up with that I felt I could easily make myself for Christmas gifts were kitchen towels and coasters (check out my tutorial for DIY coasters here!).
These custom tea towels were so fun to make and customize for the different people I made them for! I raided my craft supplies to find the best stamps for the job.
Other than that, the only thing I needed to buy was a pack of flour sack towels and fabric paint. Super simple, right?
This custom tea towels tutorial contains affiliate links, but nothing that I wouldn't wholeheartedly recommend anyway! Read my full disclosure here.
How to Make Custom Tea Towels: Step-by-Step Tutorial & Video
Supplies needed to make custom stamped tea towels:
Fabric paint – I got mine at Walmart, but I can't find a link anywhere online for it.
Stamps – I just used some that I had in my craft supplies that I've had forever
Trash bag (as a liner behind towel)
I summed up all the steps for how to make these custom tea towels in a video tutorial for ya. Be sure to turn your sound up because I talk through some helpful tips in the video.
Learn how to make custom tea towels using the video tutorial below!
Do you love watching videos? Be sure to subscribe to our YouTube channel so you don't ever miss a new video.
Step 1. Wash towels
Before painting your tea towels, wash the towels first with hot water and dry them.
Step 2. Protect your table before painting
When you are setting up your workspace to make the tea towels, be sure to put something underneath the towel in case the fabric paint bleeds through. Keep in mind that the flour sack clothes are very thin, so bleeding through is likely. I just used a kitchen trash bag under the towel and it worked great.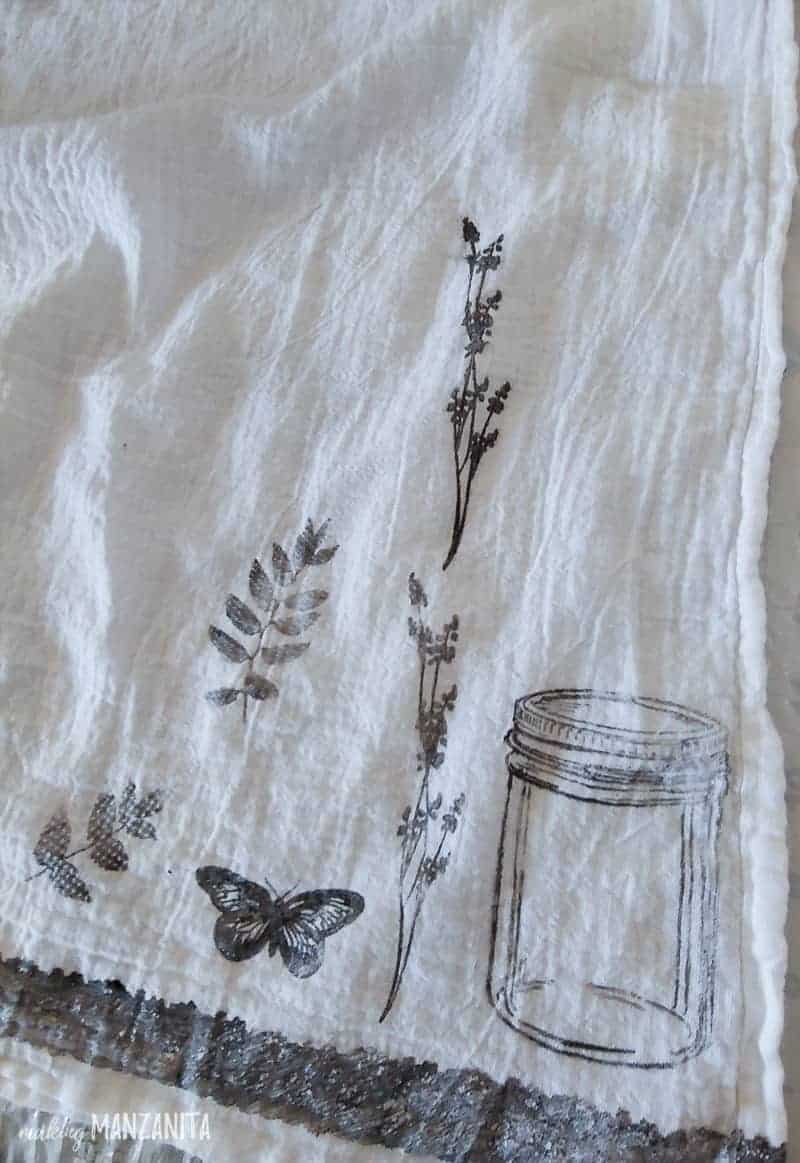 Step 3. Test ideas first
Be sure to try your stamps out on one of your tea towels first as a "scrap" towel. This helps you see how the designs will look first. Some stamps worked better than others, as you can see!
I found that more simple designs on the stamp turned out best. For example, the really intricate pattern of the lace stripe that I tried did not turn out great. However, the small patterns of the butterflies worked well.
Step 4. Use rubber stamps
I used a foam brush to apply the fabric paint onto the stamp. You want to do light coats of paint onto the stamp.
Stamps can be wiped off with a baby wipe when you're done.
I love the one with flowers on the edges of the tea towel with added butterflies above the flowers. Check out the video above to see how that one turned out!
Step 5. Use foam brush for a modern pattern
If you are craving a more modern look to your towels, you can mix it up. Instead of using rubber stamps, just grab a small foam brush and use the brush to create a pattern.
On one towel, I made an arrow pattern in lines across the towel. All you do is simply dip the foam brush into the fabric paint and press it into place gently on the towel. It is kind of like you are stamping the brush instead of actually brushing.
On another towel, I made a swiss cross pattern with a foam brush for another option.
When using the foam brush, you are applying more paint than you did with the stamps, so be sure to use a liner behind the towel. Some of the paint definitely bled through when I was using the paintbrush.
Step 6. Wait before washing
Read the instructions on your fabric paint for washing instructions. Mine said to wait 72 hours before washing.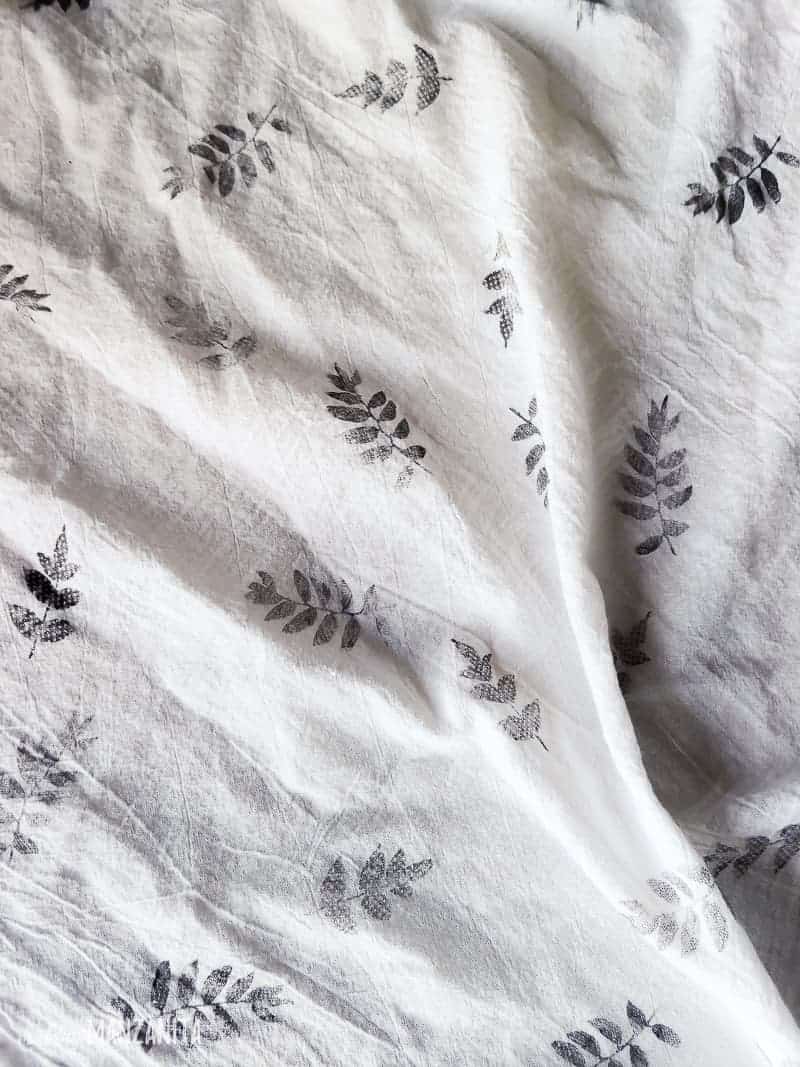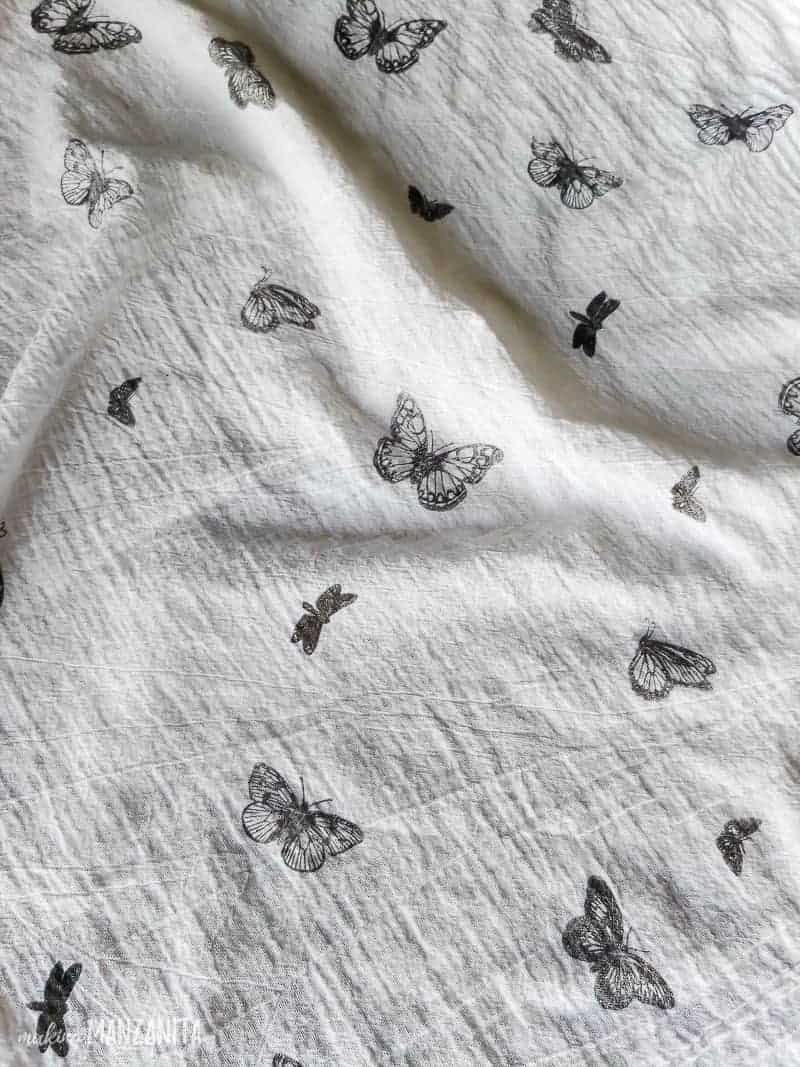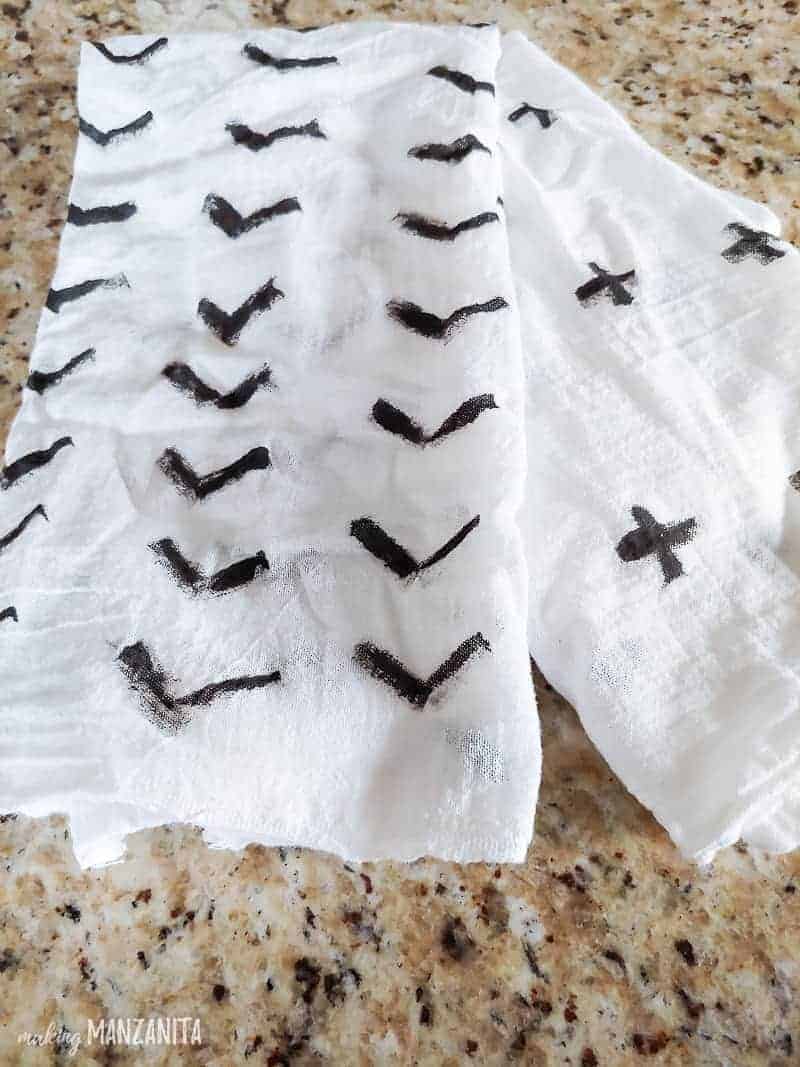 These tea towels were so much fun to make! They would even be a great DIY gift for the kiddos to help on. I know my toddler loves to stamp!
What design would you stamp on your custom tea towels?
Let me know in the comments below!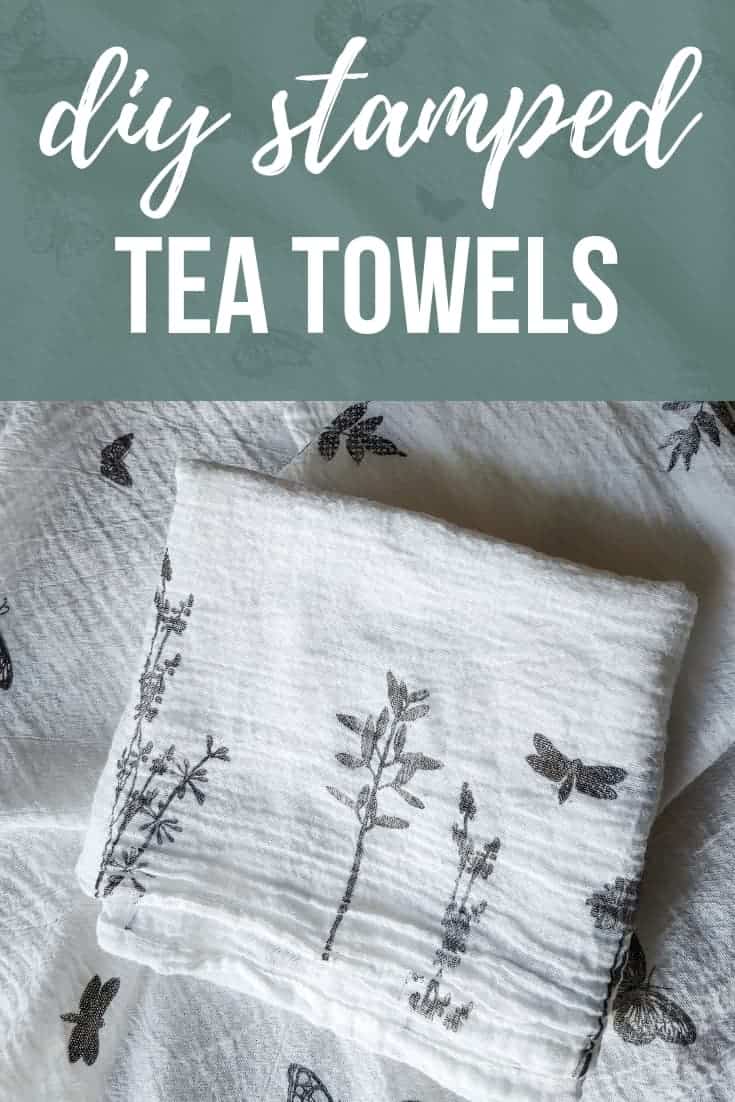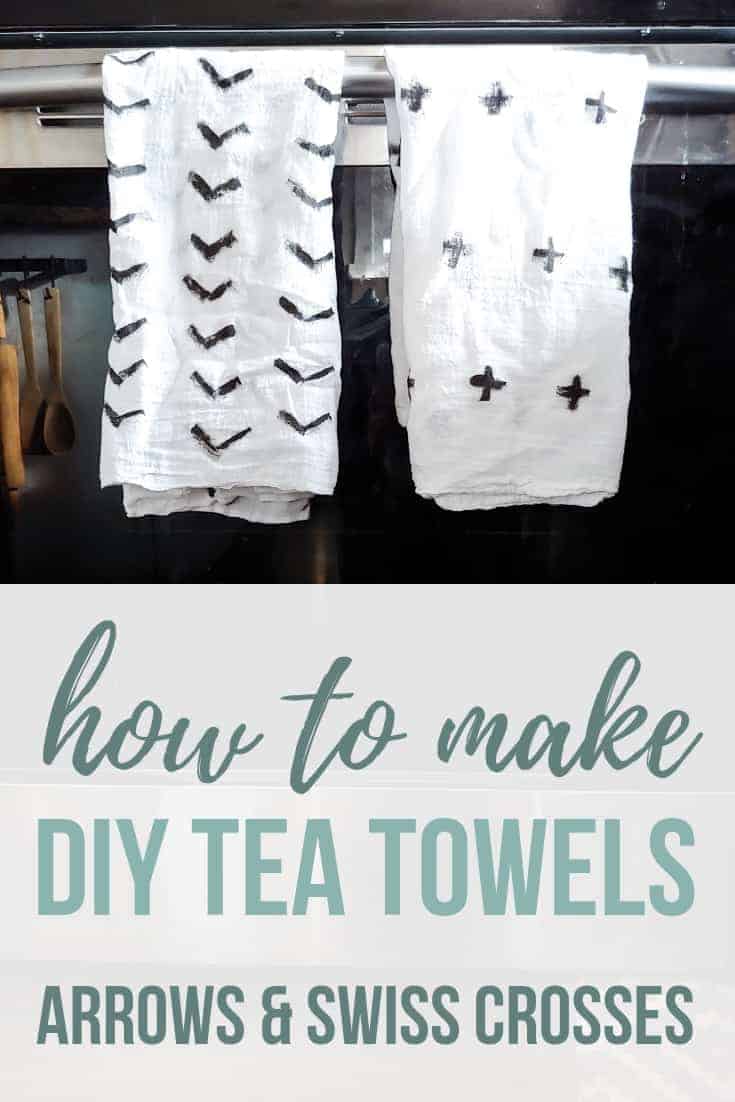 Before you go… check out these related crafts!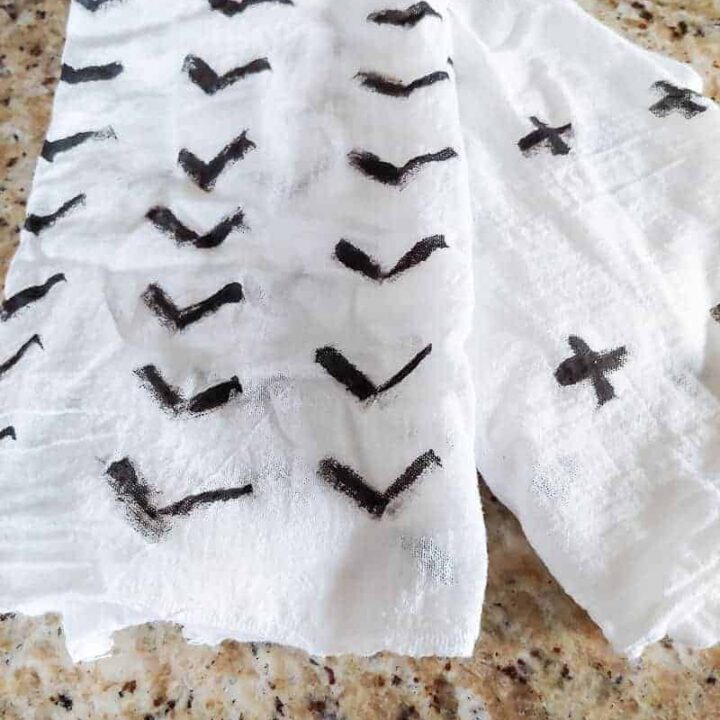 How To Make Custom Tea Towels
Learn how to make easy custom tea towels -- they're perfect for DIY gifts for just about anyone! Create custom designs with simple stamps and fabric paint and this easy-to-follow tutorial.
Materials
Tools
Stamps
Foam Paint Brush
Trash Bag (as liner behind towel while painting)
Instructions
Wash the towels first in hot water and dry.
Put trash bag behind flour sack towel while painting.
For the stamped look, brush fabric paint onto stamps and then lightly stamp the design on the towels.
For the modern look without stamps, use the foam paintbrush to create a herringbone/arrow or swiss cross pattern.
Notes
Stamps can be wiped off with a baby wipe when you're done.
Read the instructions on your fabric paint for washing instructions, mine said to wait 72 hours before washing.