If you love the farmhouse style but also want some boho vibes, this boho farmhouse must-haves from Pier 1 mood board has you covered. It's the perfect compilation of the boho farmhouse decor style.
This post boho farmhouse must-haves from Pier 1 contains affiliate links, but nothing that I wouldn't wholeheartedly recommend anyway! Read my full disclosure here.
Boho Farmhouse….? Ok, so yes. I realize that this isn't technique "a thing". But it is the closest thing to describing my style that I can think of. So here's the catch, guys…boho farmhouse. I'm just going to make it a thing.
Remember a couple weeks ago when we were talking about how to discover your home decor style using Pinterest? My most important lesson for figuring out your style was stop copying and make it a home at you love! That's where this love for boho farmhouse started for me.
I adore the chippy paint, shiplap, subway tile, upcycled flea market finds, farmhouse tables and signs, and the vintage feel of the farmhouse style. Combined with the interesting Moroccan patterns, chunky texture of blankets, weathered wood, cozy floor pillows, intricate carved wood, colors and the homey, lived-in feel of the boho style, and I'm literally in heaven. Ok…so maybe I'd have to add in a little marble as well. You know how I love my carrara marble. These boho farmhouse must-haves from Pier 1 are everything I love about this style.
If you haven't heard the wonderful and amazing news….
Here it is. Pier 1 is now carrying the Magnolia Homes by Joanna Gaines line of rugs and pillows!!! When Joanna first came out with her Magnolia rugs and pillows last year, I loved them all. I love that she's been incorporating a bit of the boho style into her quintessential farmhouse look. Maybe she got the memos that apparently I wanted to make boho farmhouse a thing, hehe. I incorporated some of my faves from the Magnolia Homes line below, along with other great boho farmhouse must-haves from Pier 1.
UPDATE: A few of these items shown in the photo are no longer sold, so I updated the links below with similar items. Enjoy!
Boho Farmhouse Must-Haves From Pier 1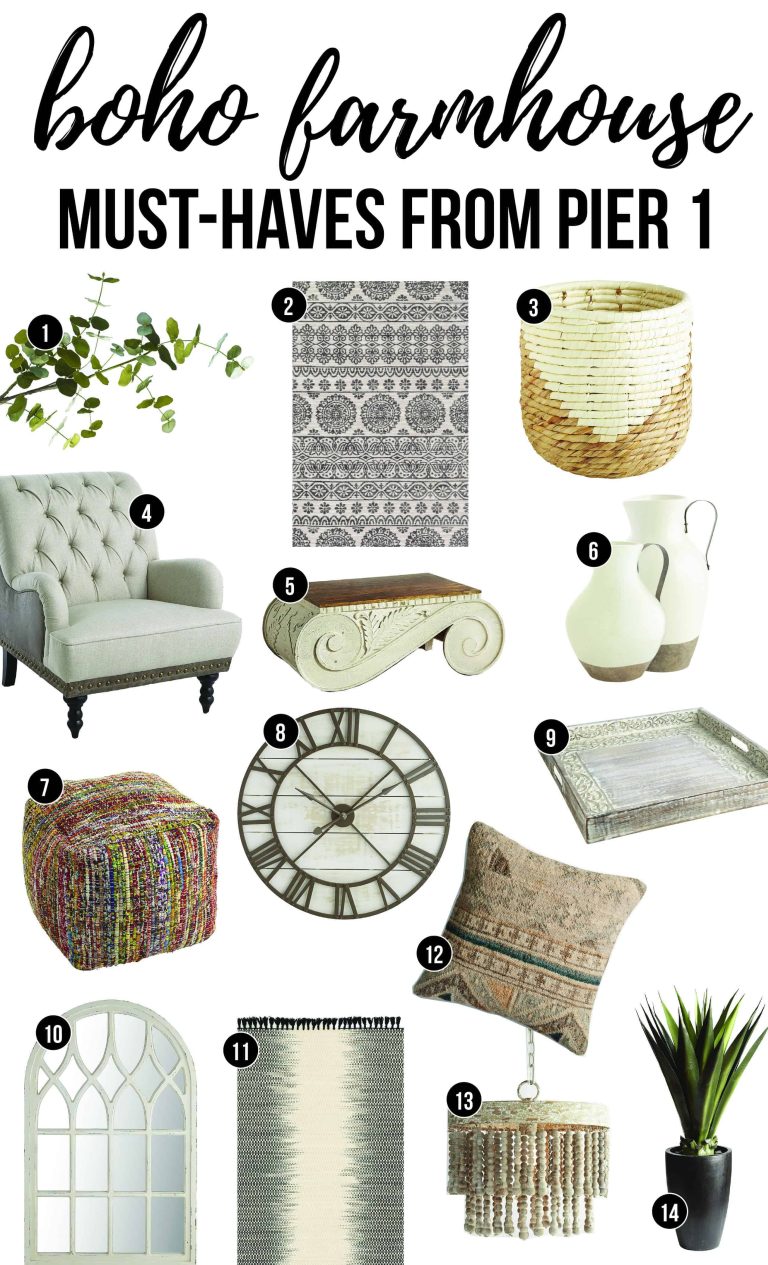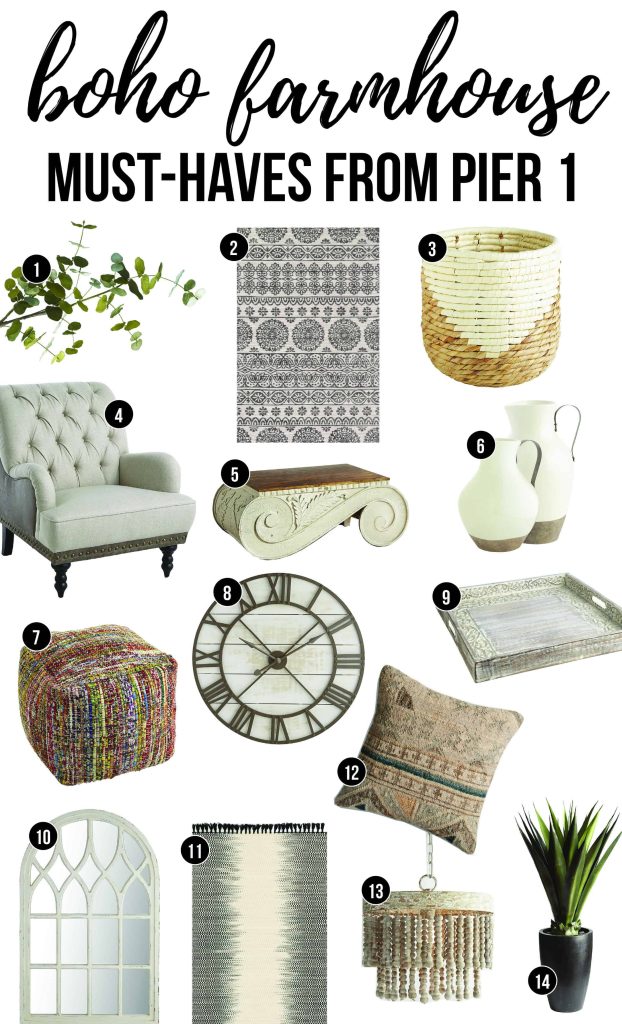 Well, guys…what do you think? Can we please go ahead and make boho farmhouse a "thing"? We've got floor poofs, Moroccan patterns and boho pillows for the boho look. Pair that will the vintage looking window mirror and white pitchers…throw in some green and we've got the perfect boho farmhouse combo. These boho farmhouse must-haves from Pier 1 pull in all of the elements of the blending of boho and farmhouse styles. Which product is your favorite?