Looking for a way to avoid green and red this Christmas? This unique Mint & Gold modern Christmas tablescape is a perfect way to decorate for Christmas in a nontraditional way. I love the modern look of our Christmas table decorations.
This post is brought to you by Minted and contains affiliate links, but nothing that I wouldn't wholeheartedly recommend anyway! Read my full disclosure here.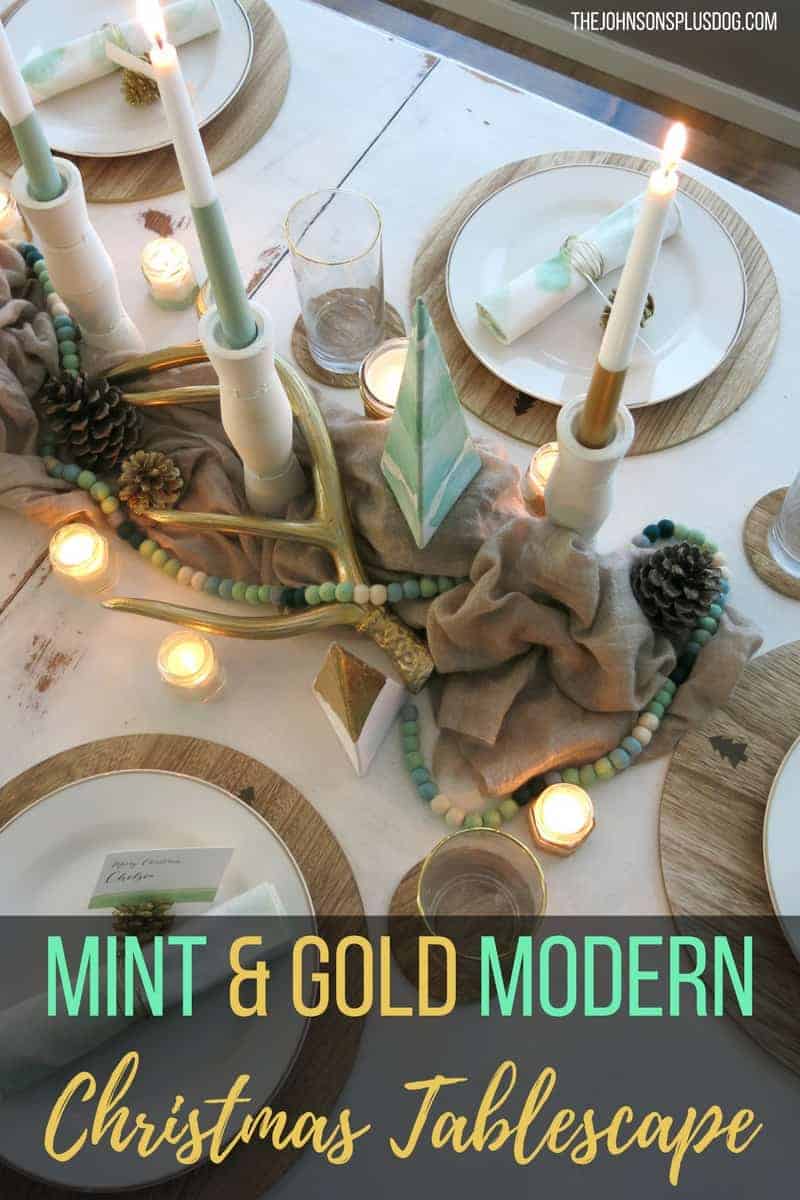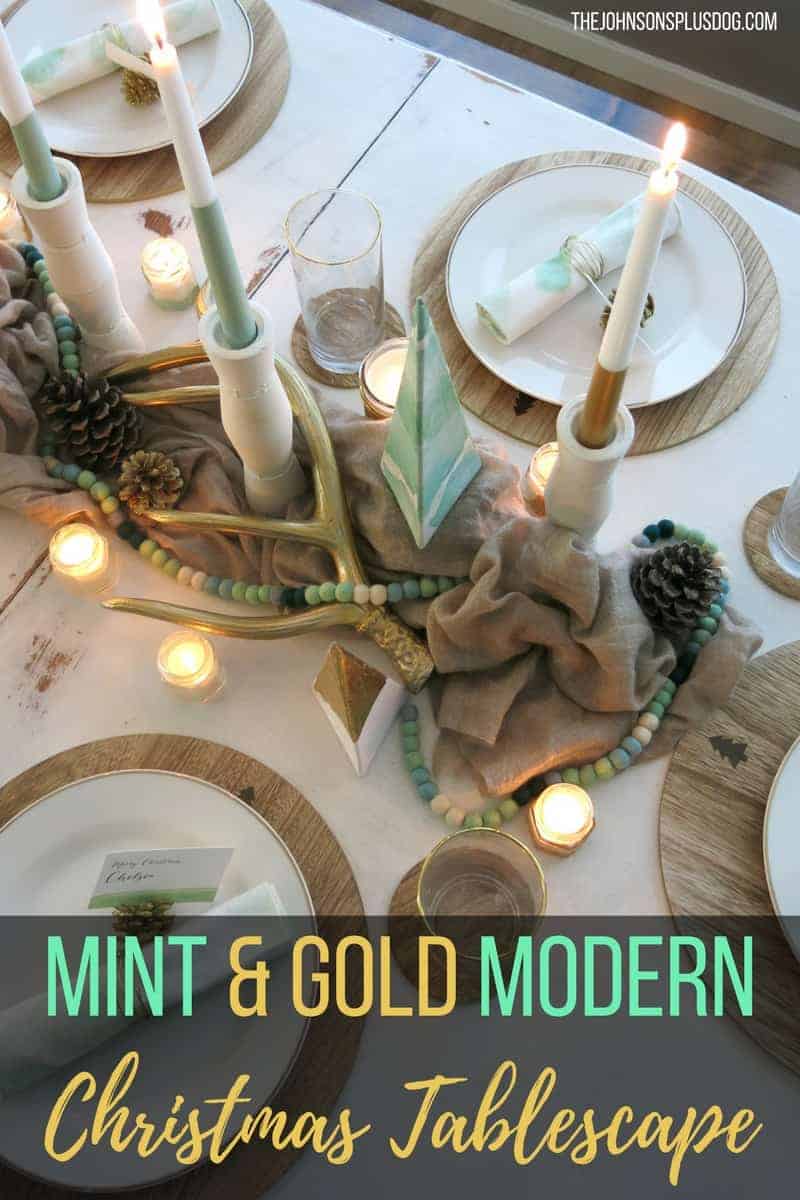 Mint & Gold Modern Christmas Tablescape
Hey guys! I'm so incredibly excited for today. I teamed up with Minted to bring you this fun Mint & Gold Modern Christmas Tablescape. This unique spin on Christmas is perfect for a fancy dinner at home.
Minted has some super fun Christmas decor items like watercolor and gold foil-dipped 3D paper tree centerpieces. When I saw them online, I instantly knew I had to have them for my tablescape. The rest of this modern Christmas table evolved around them as inspiration.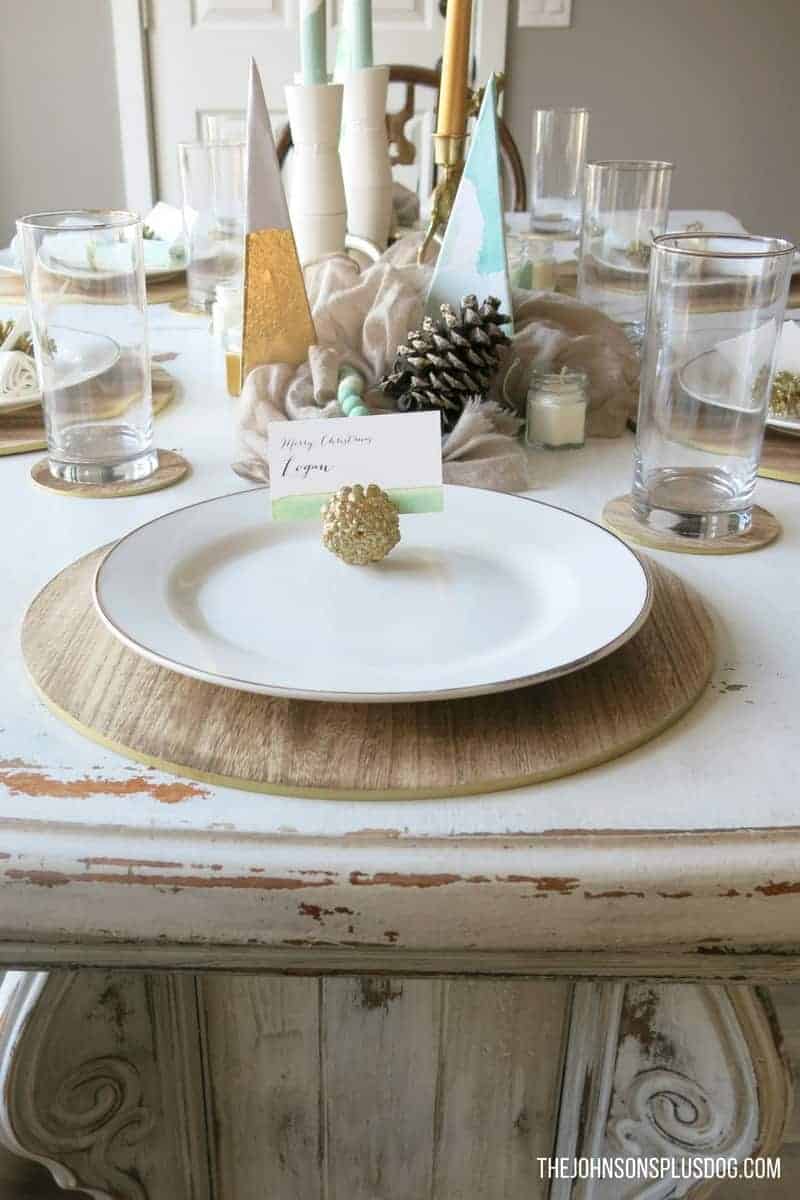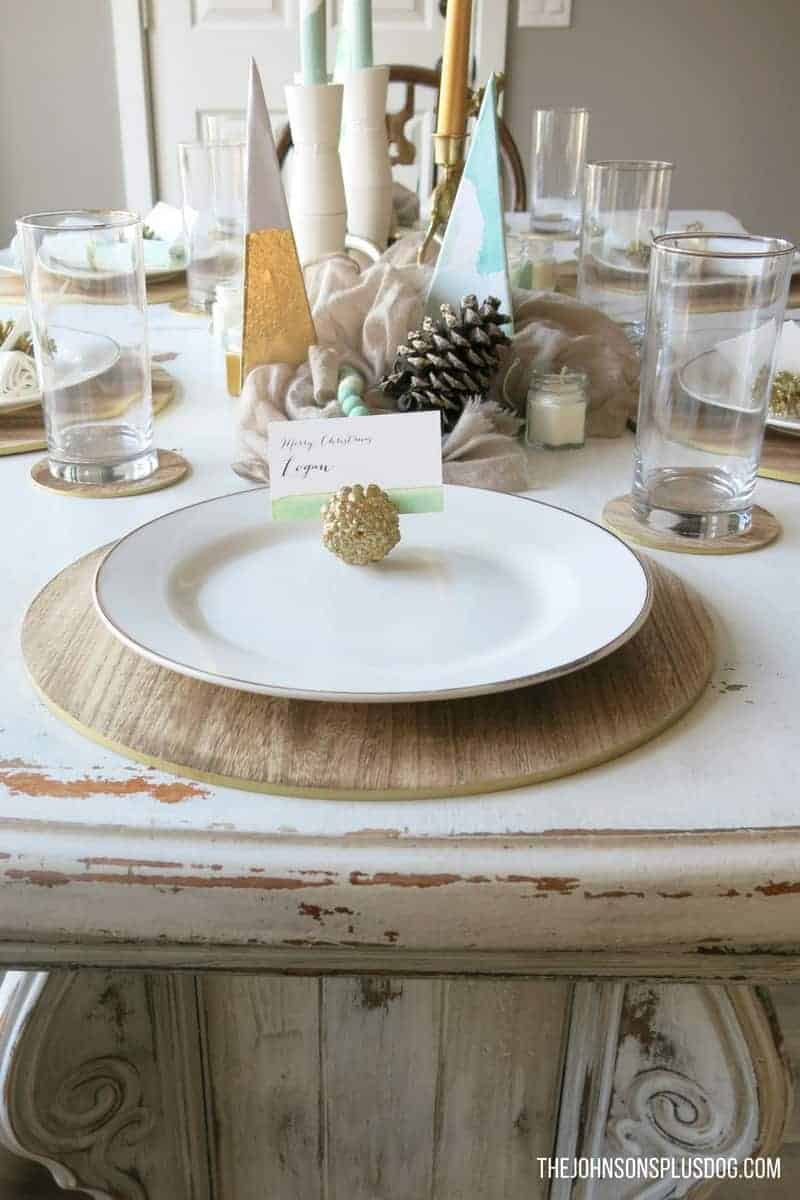 I have a secret for you. I love modern decor. The angles, geometric shapes, and clean and crisp lines. I also love mint and gold color scheme. Like it's my favorite color combination ever.
One time I made my husband paint an old laminate wood desk mint green. It was a total fail. Turns out that painting old laminate wood is not as easy as it looks and sealing it was even harder. It looked horrible, haha. But I lived with it for a year or so.
My home, however, is rustic and farmhouse, which I love too (and still definitely a work in progress – check out our pre renovation pictures here). Hence, my farmhouse table (a thrift store find – score!) and my DIY Farmhouse Benches.
Tablescapes are a great way to bring in a style that you love but don't want to commit to permanently. Does this mean I have commitment issues?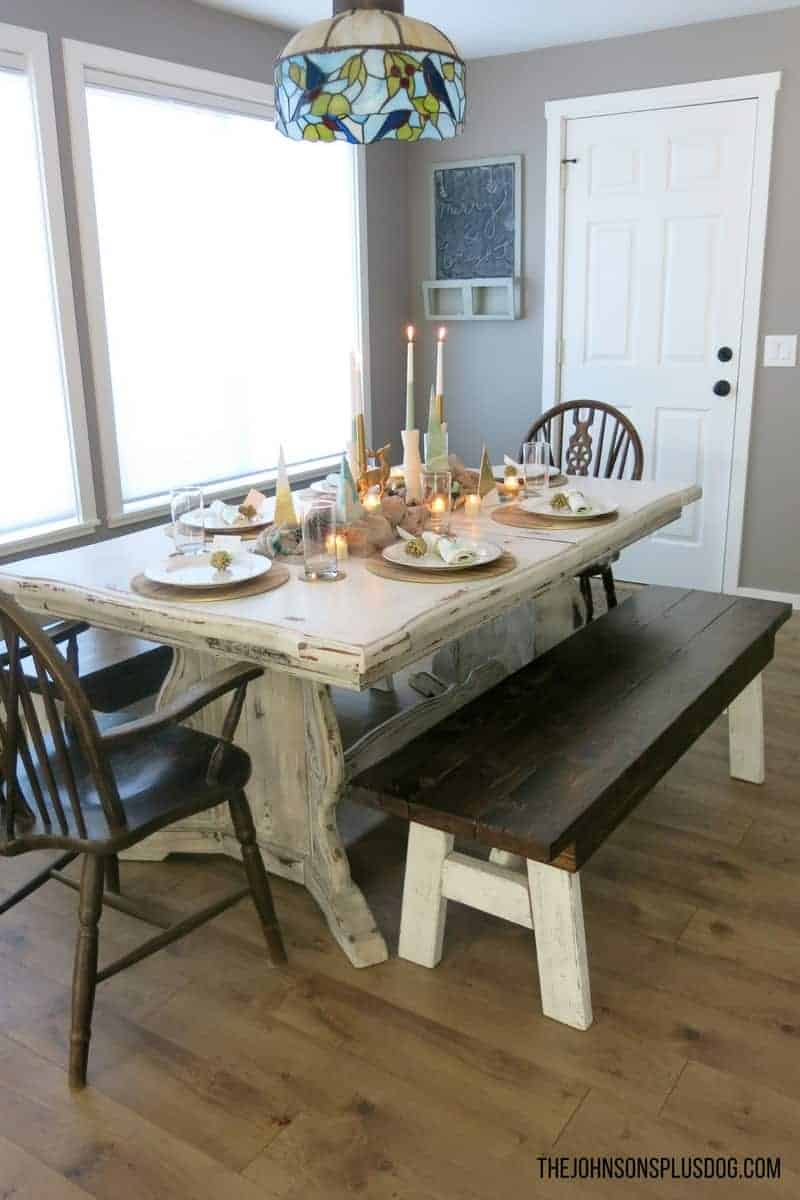 I like to keep things thrifty over here. That "table runner"… it's a scarf!! When putting together your holiday tables, be sure to take a walk around your home (and your closet apparently) to see what items you can pull in.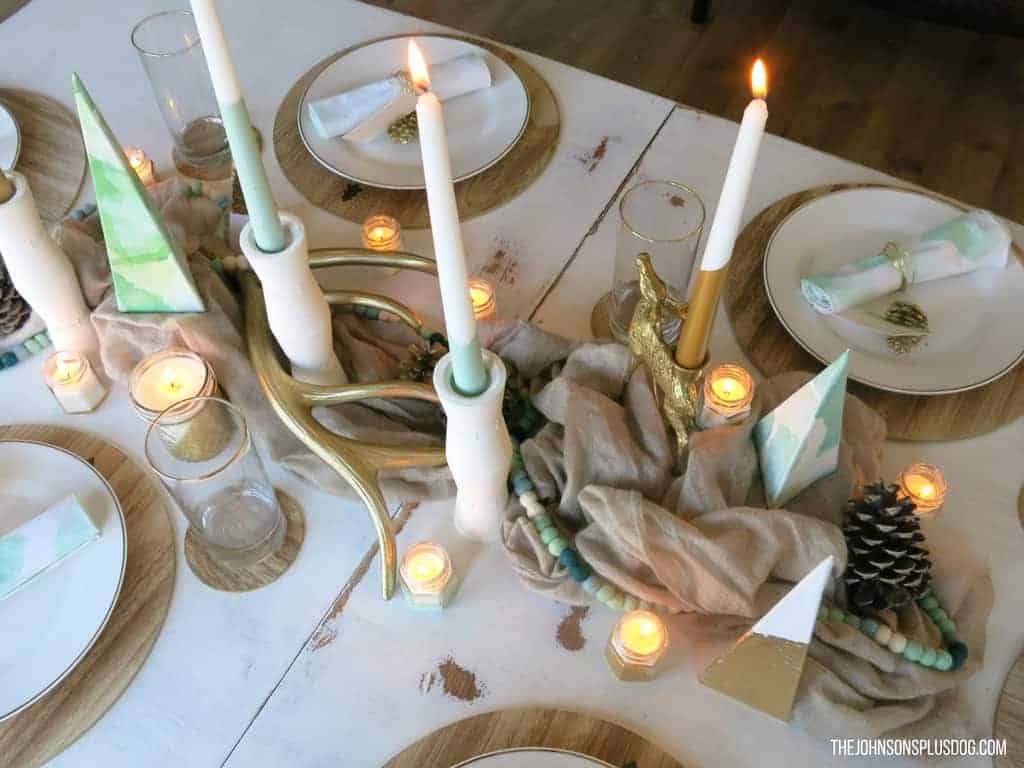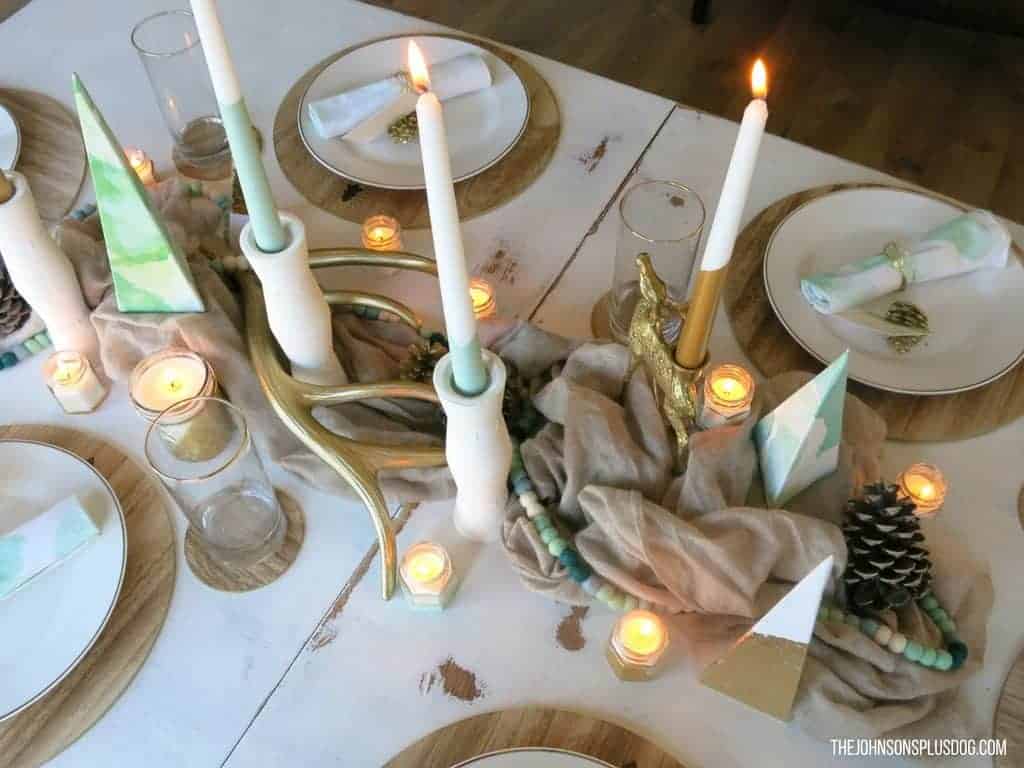 I had a hard time choosing from all of the amazing choices for place cards at Minted. I settled on the Sandstone place cards in the Celedon color. These are actually technically for a wedding, but I thought they fit in perfectly for my mint & gold modern Christmas tablescape.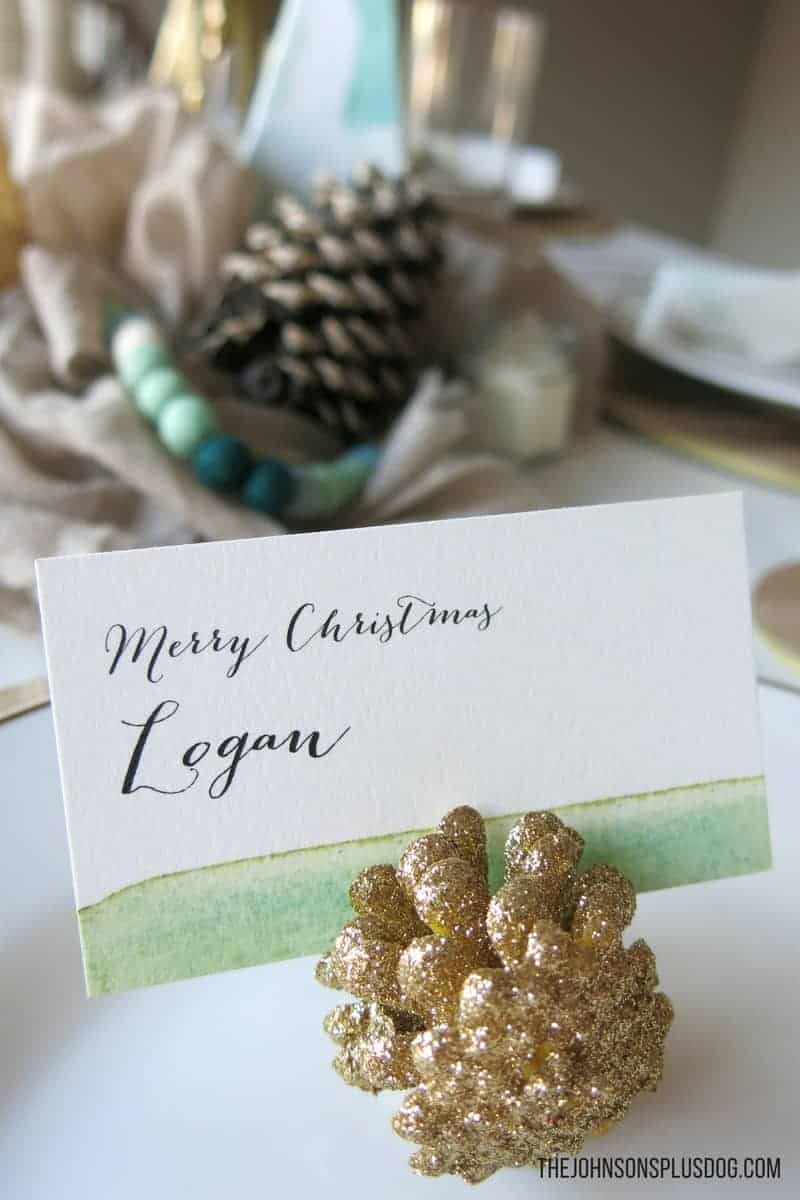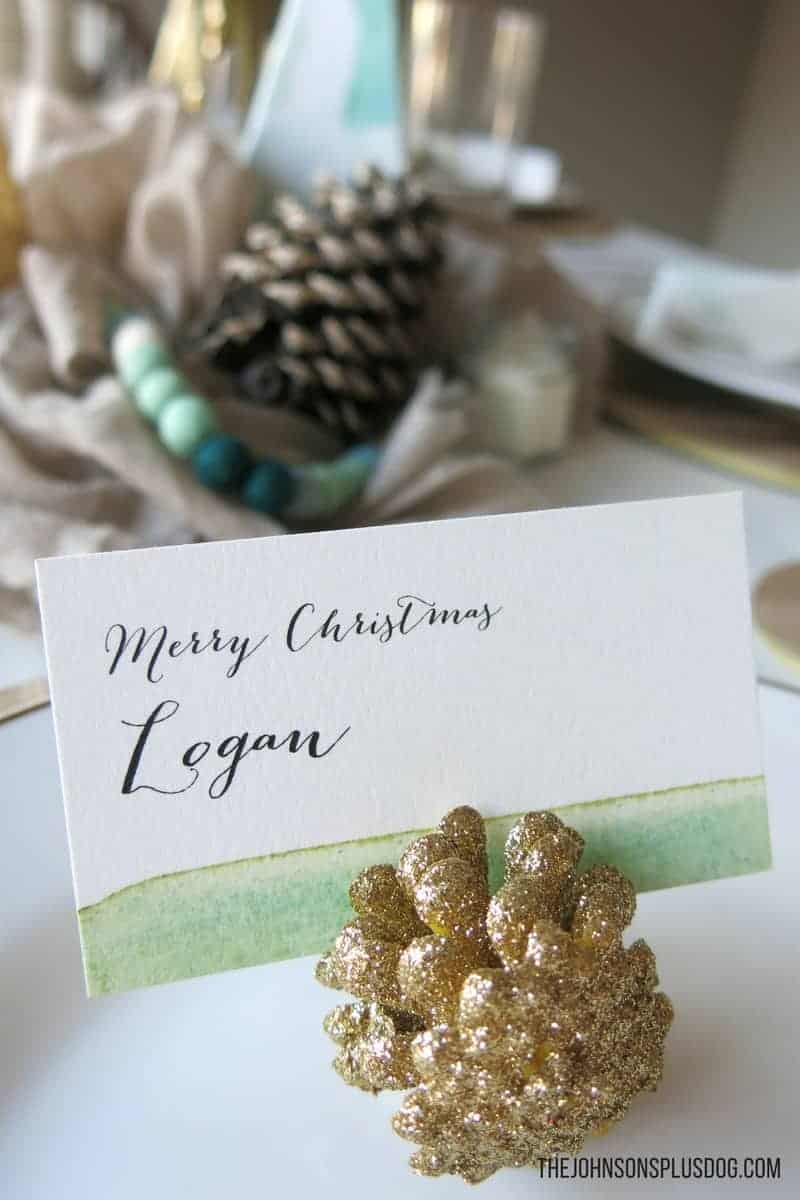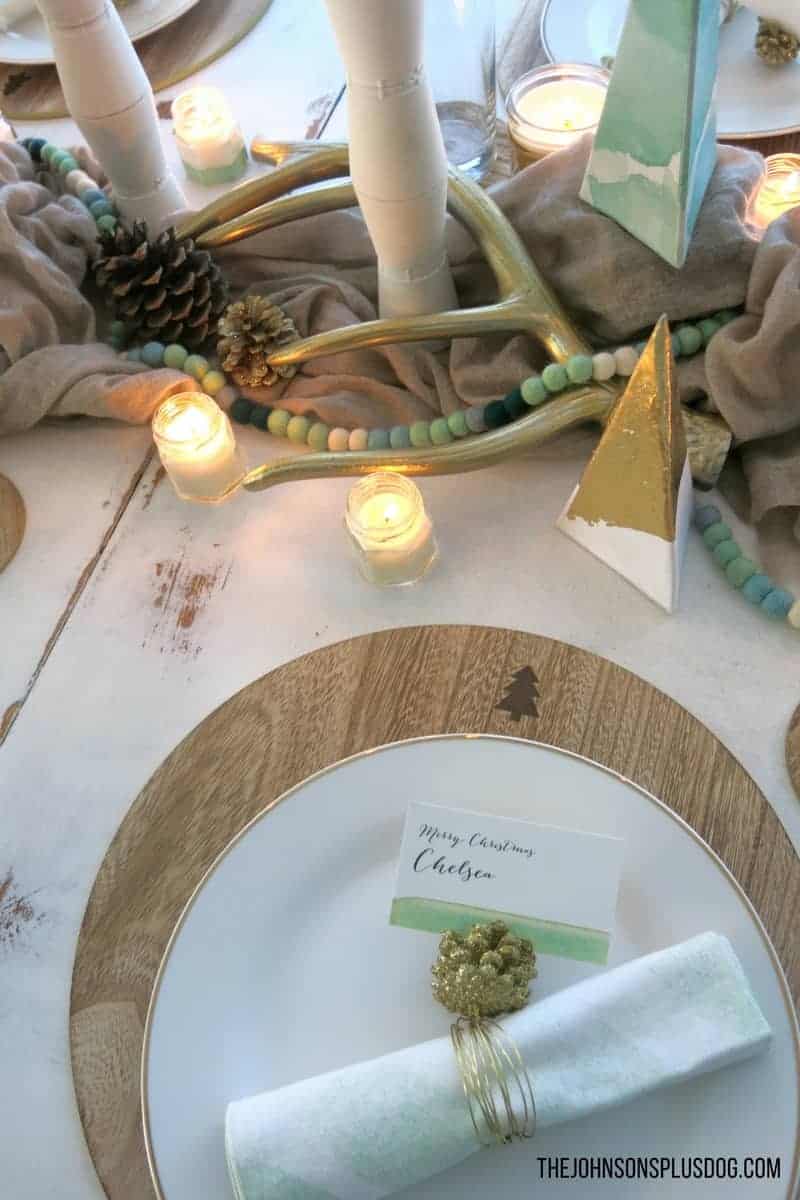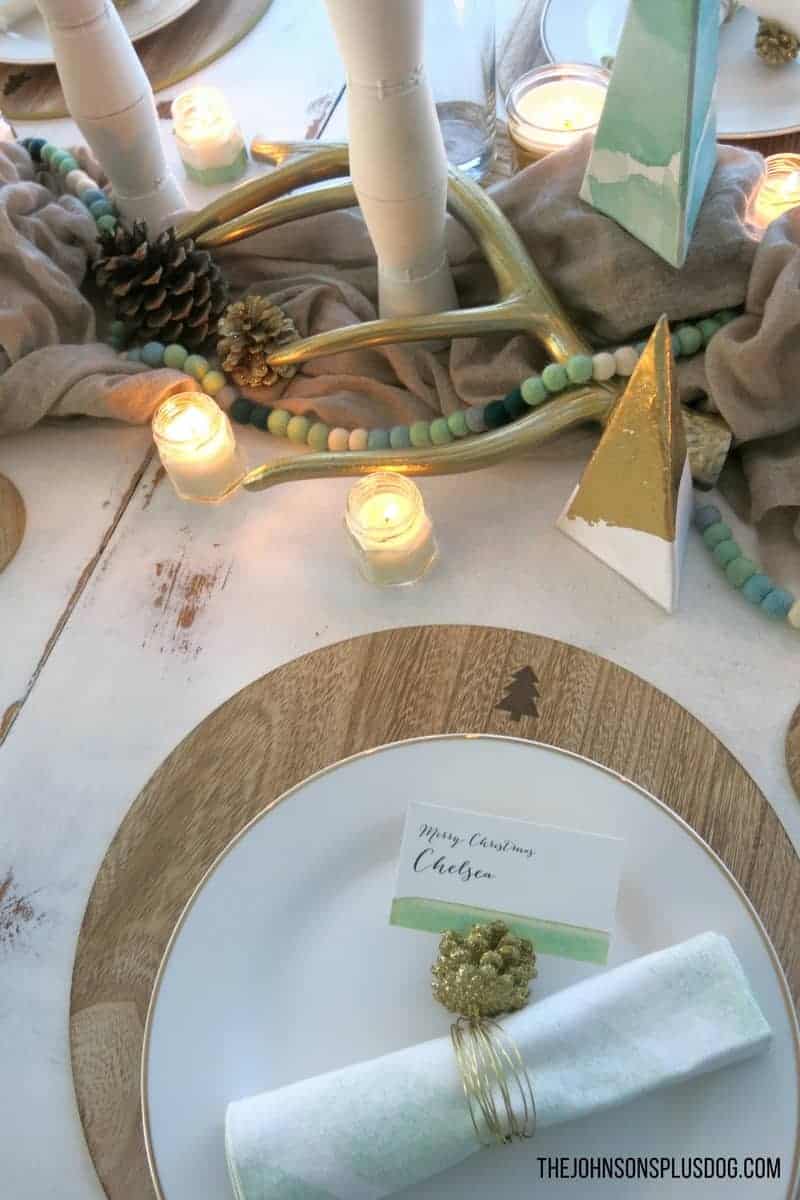 Those wooden chargers (& matching coasters) totally caught my eye in the Target Dollar Spot and thought they would be a great way to blend my typical rustic vibe with the modern look that I was aiming for.
I think I will definitely have to go grab some more before the season is over because I came across this brilliant idea recently which is totally on my (never-ending) craft to-do list now.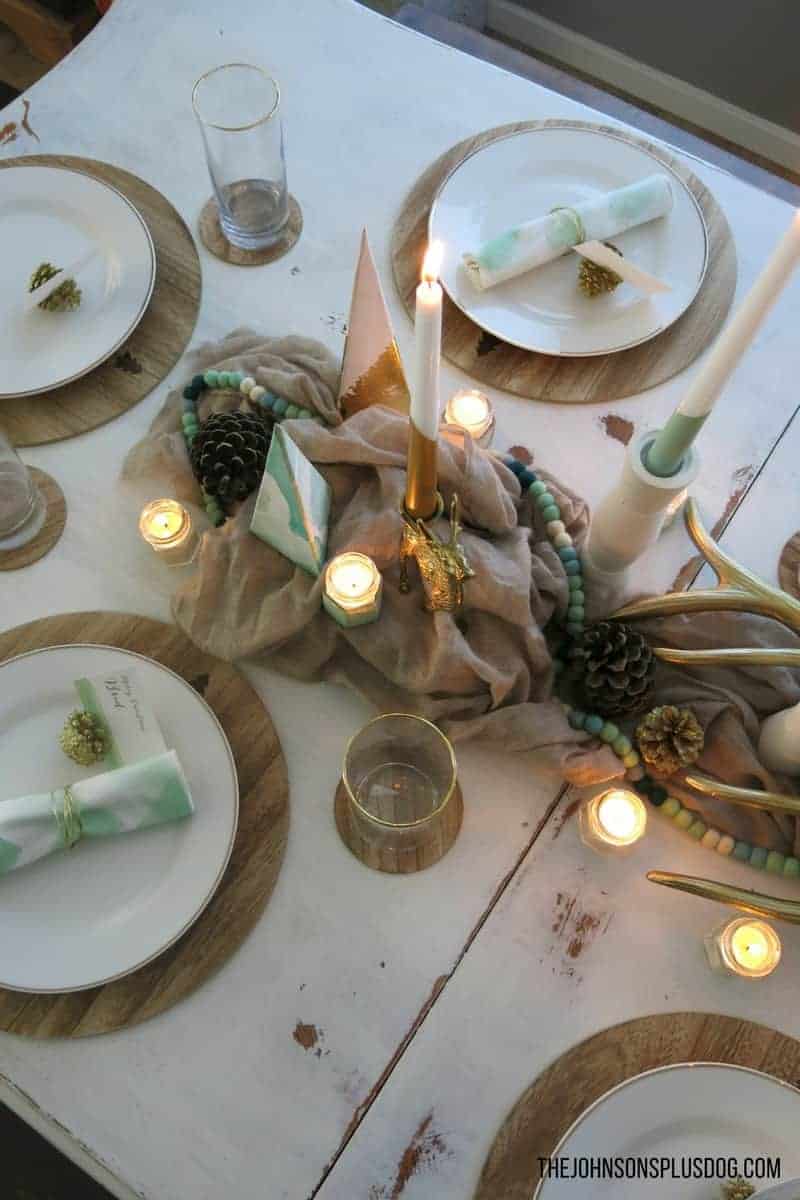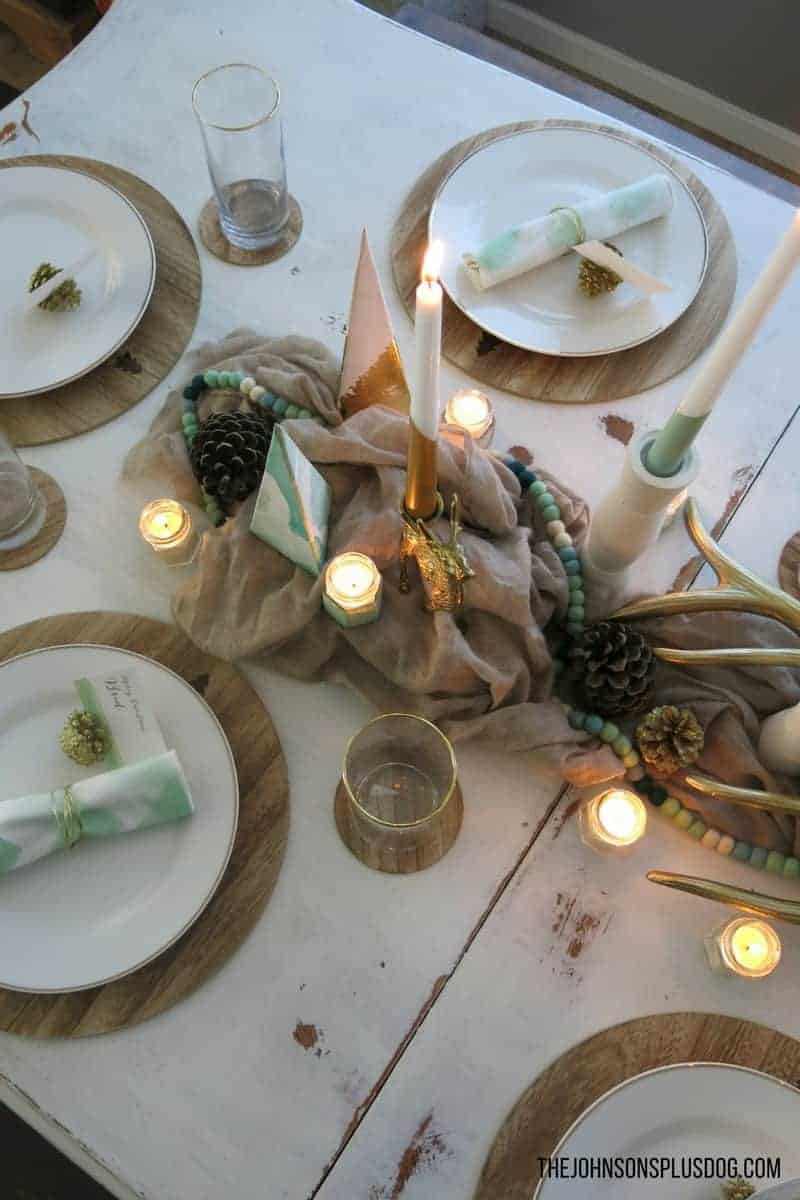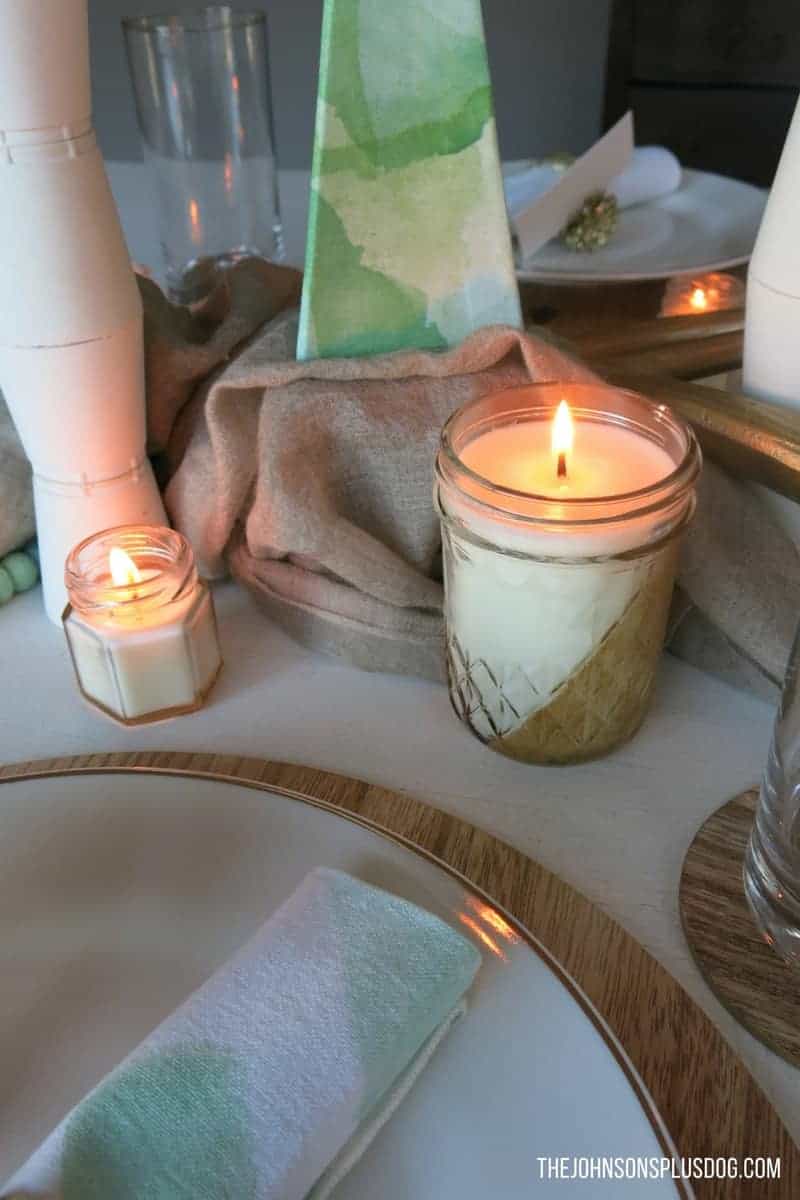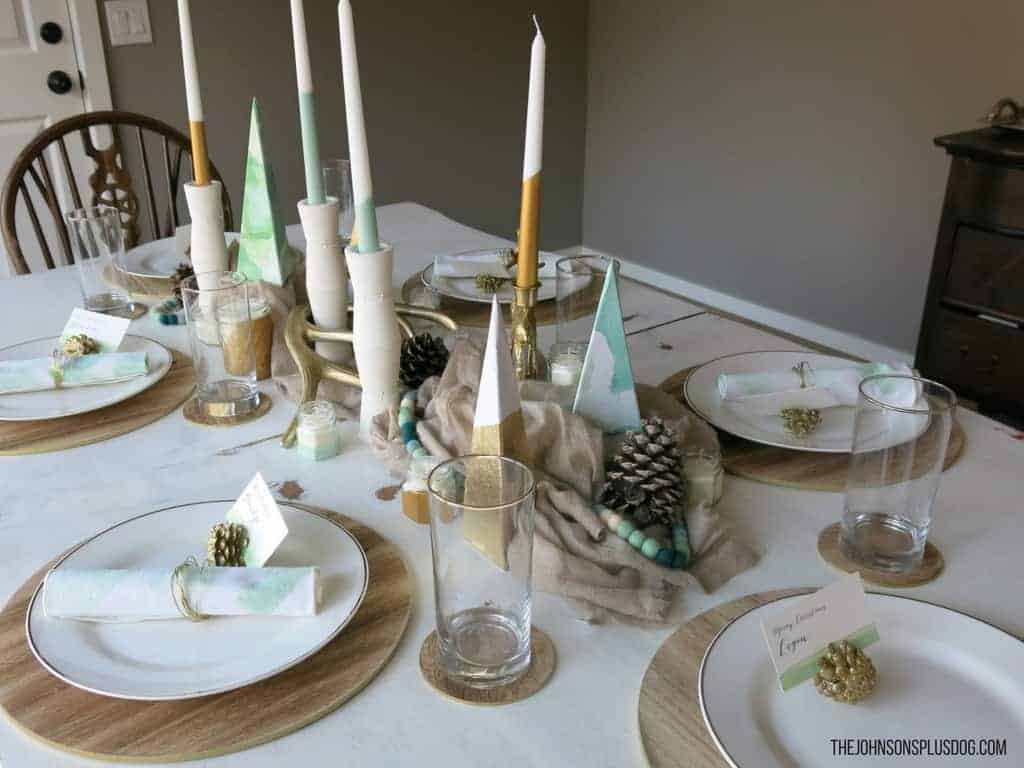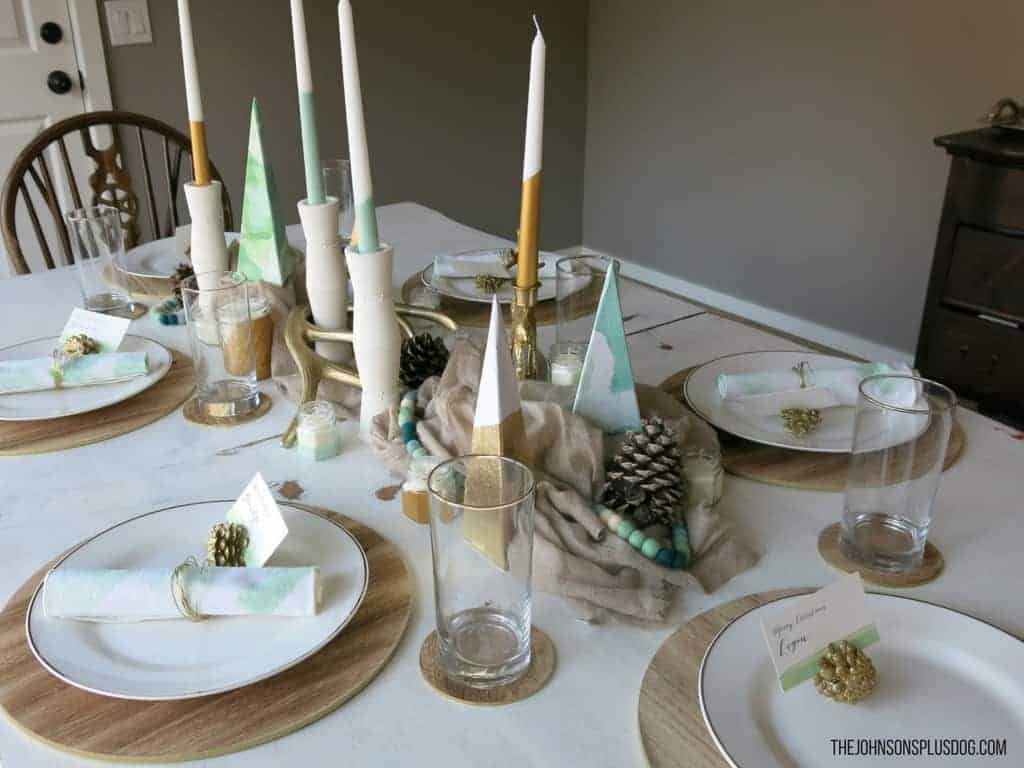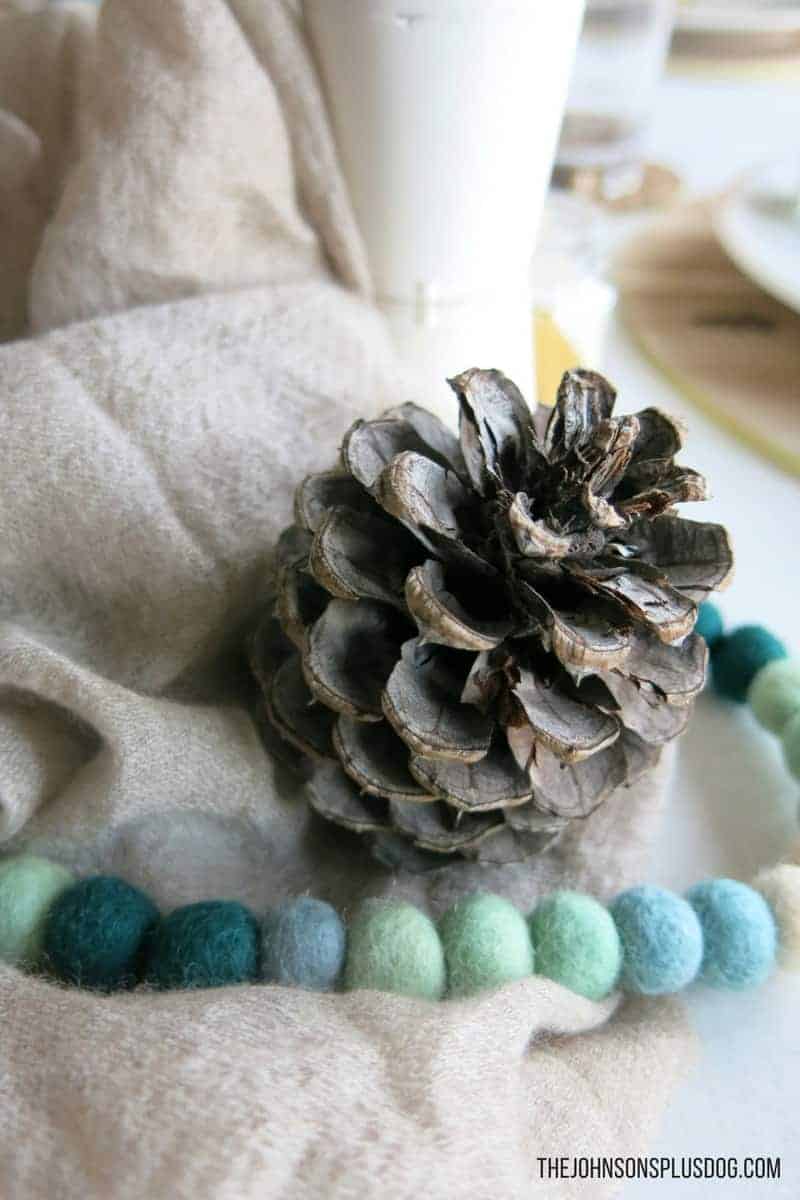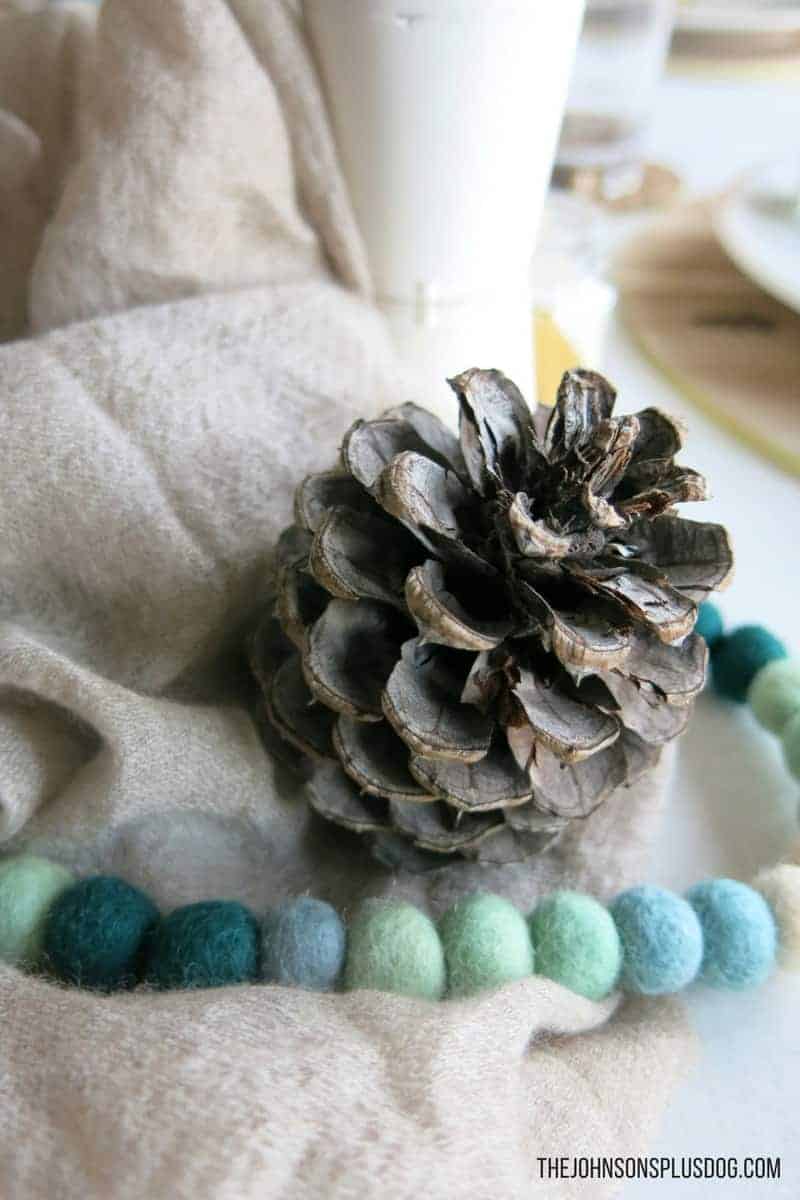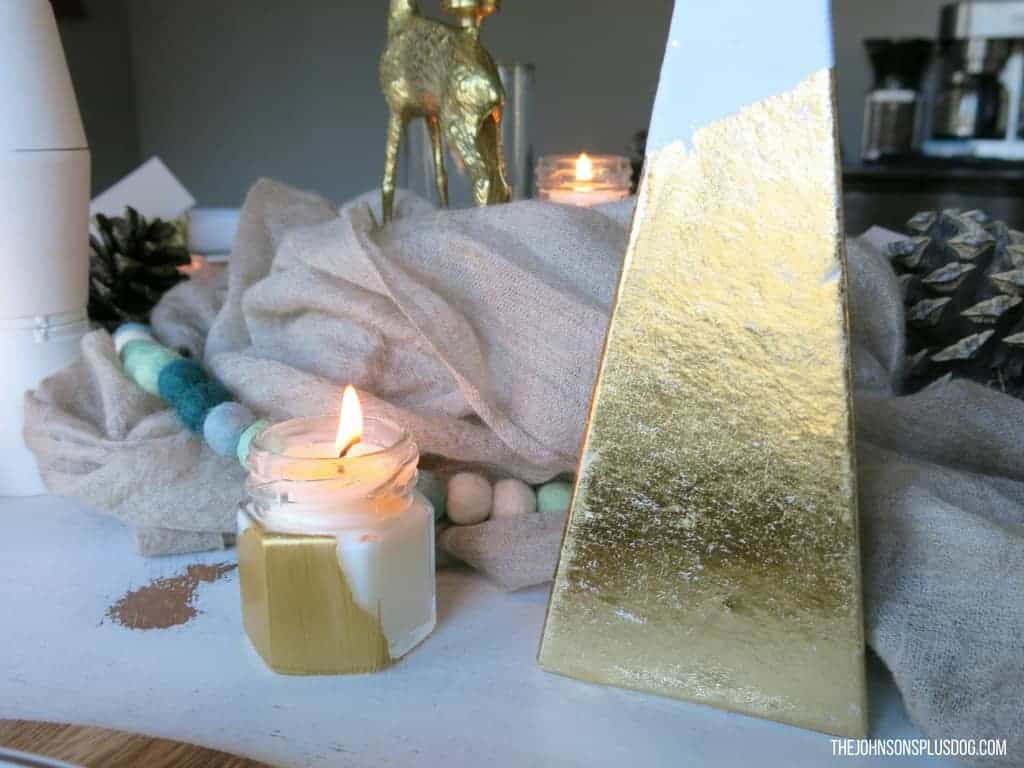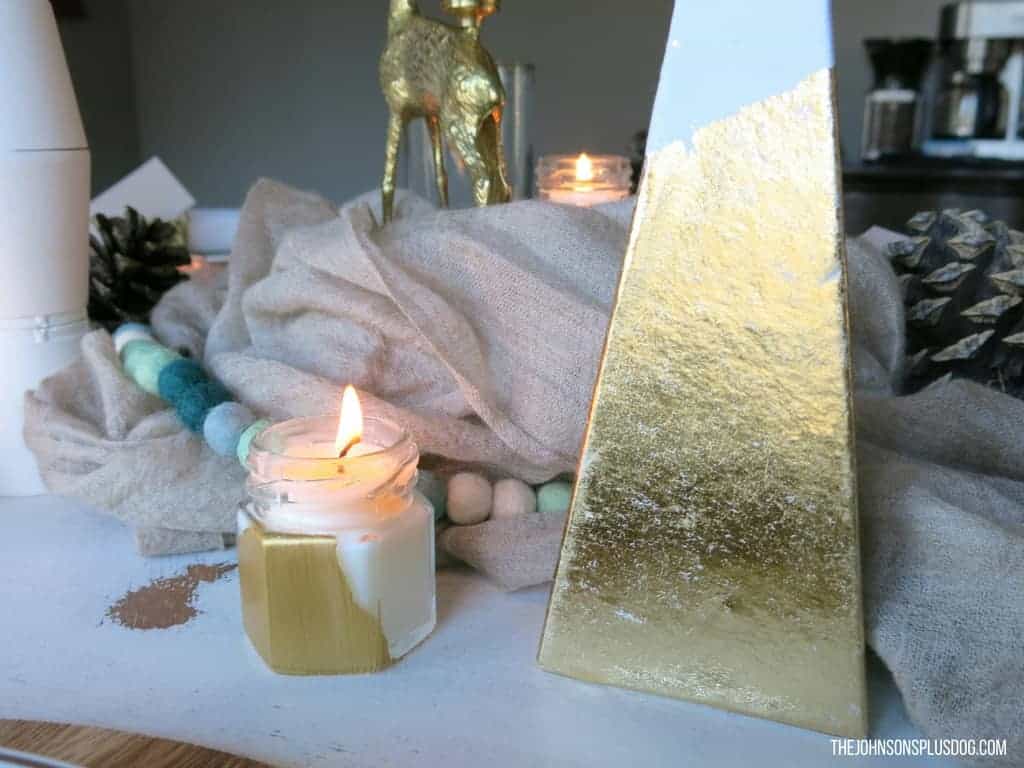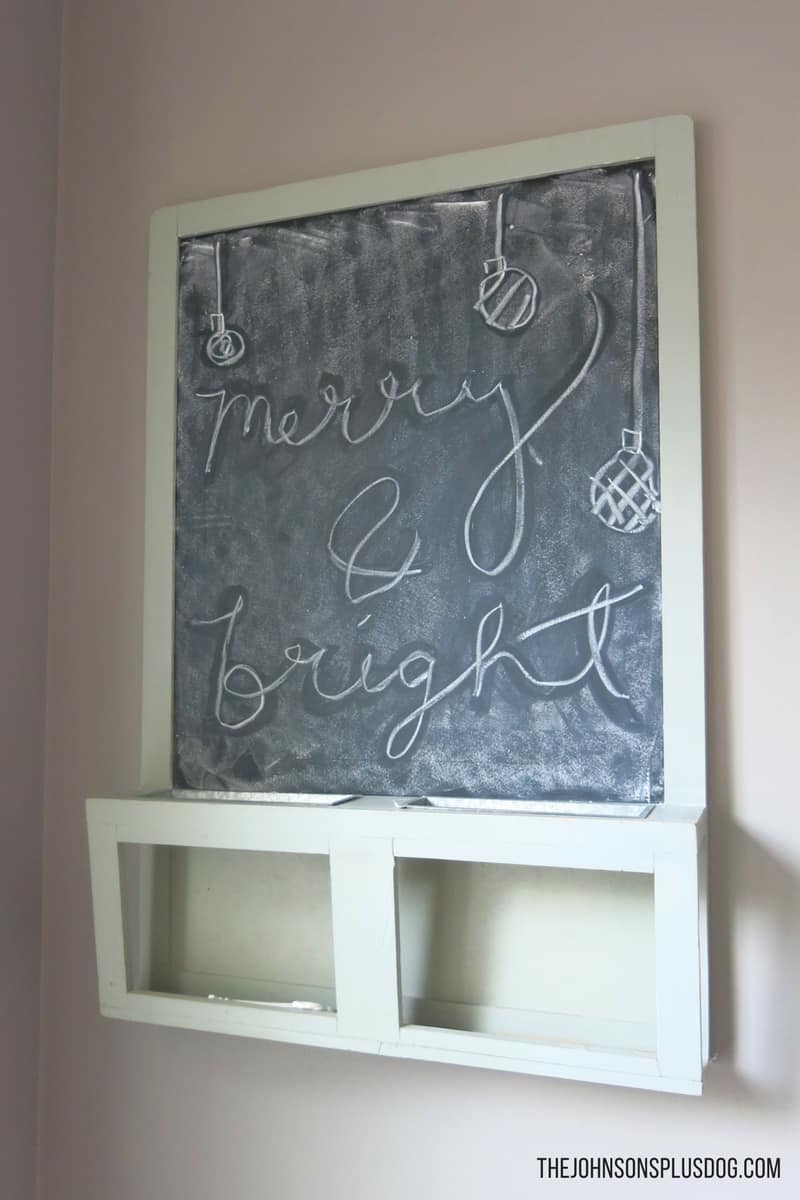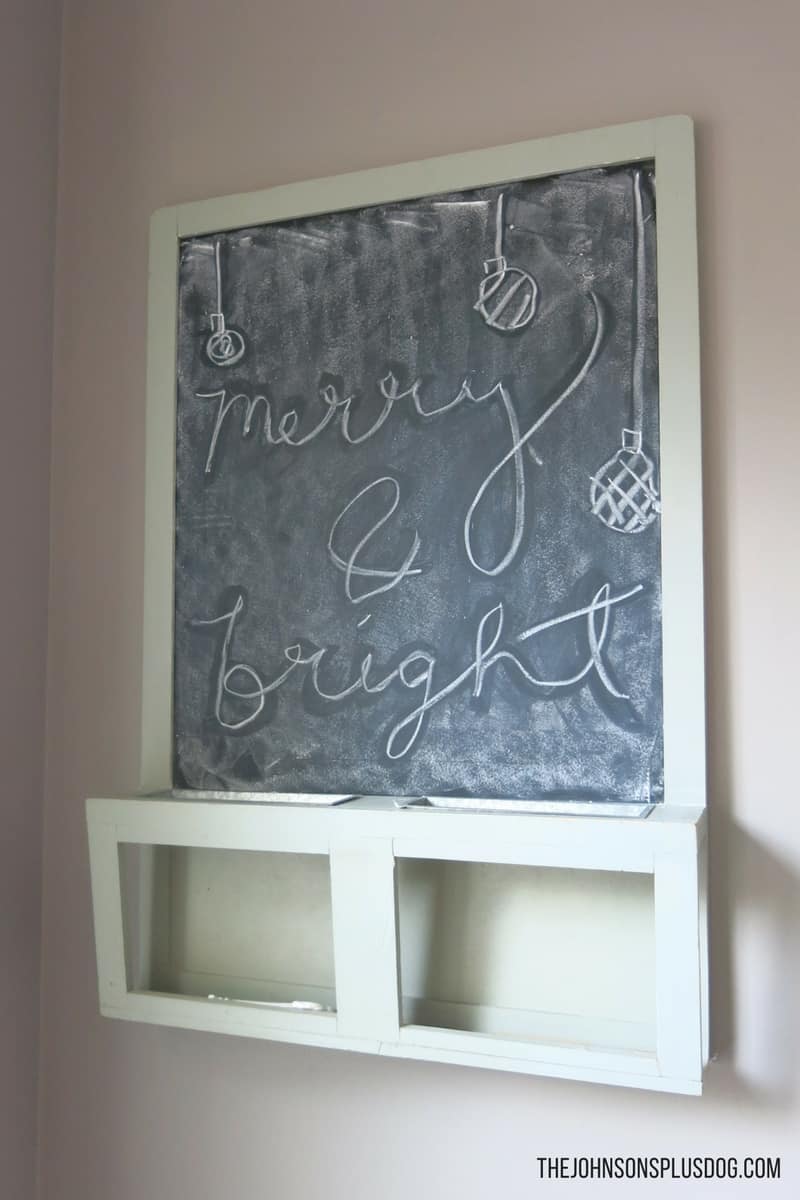 I love the linen napkins. They tied everything together for this modern Christmas tablescape.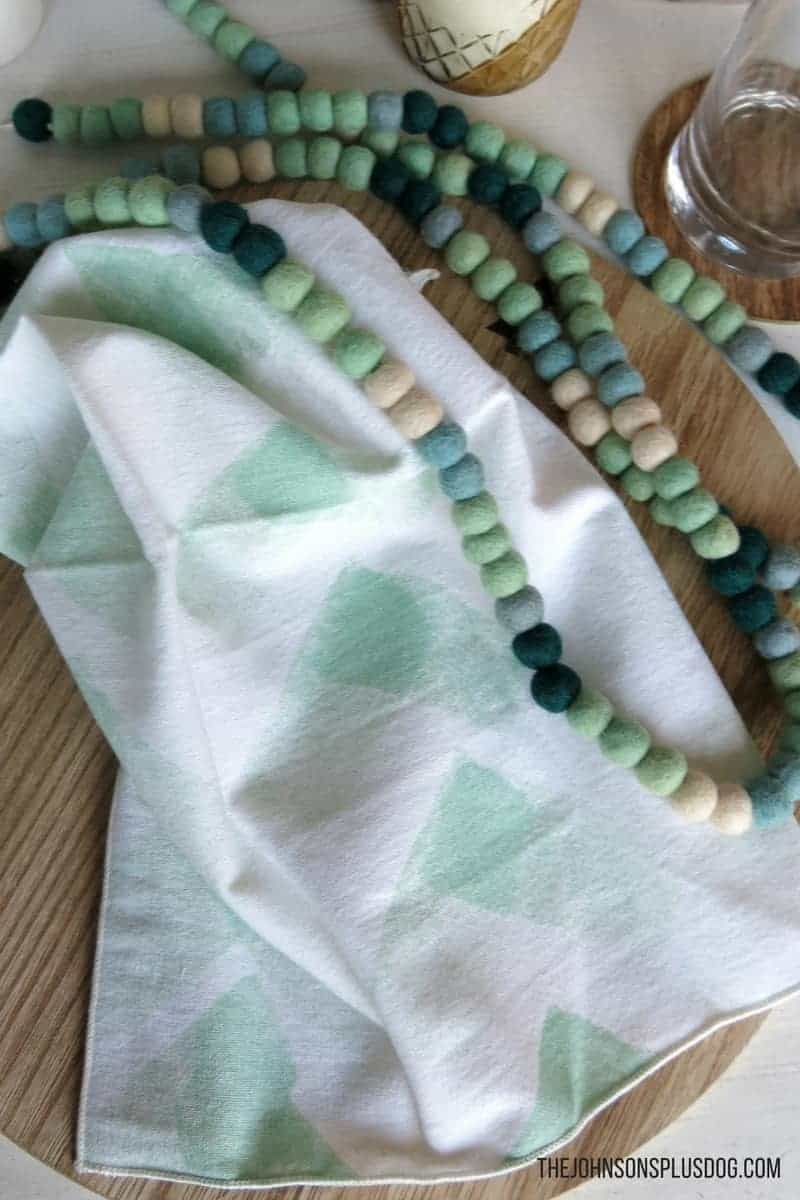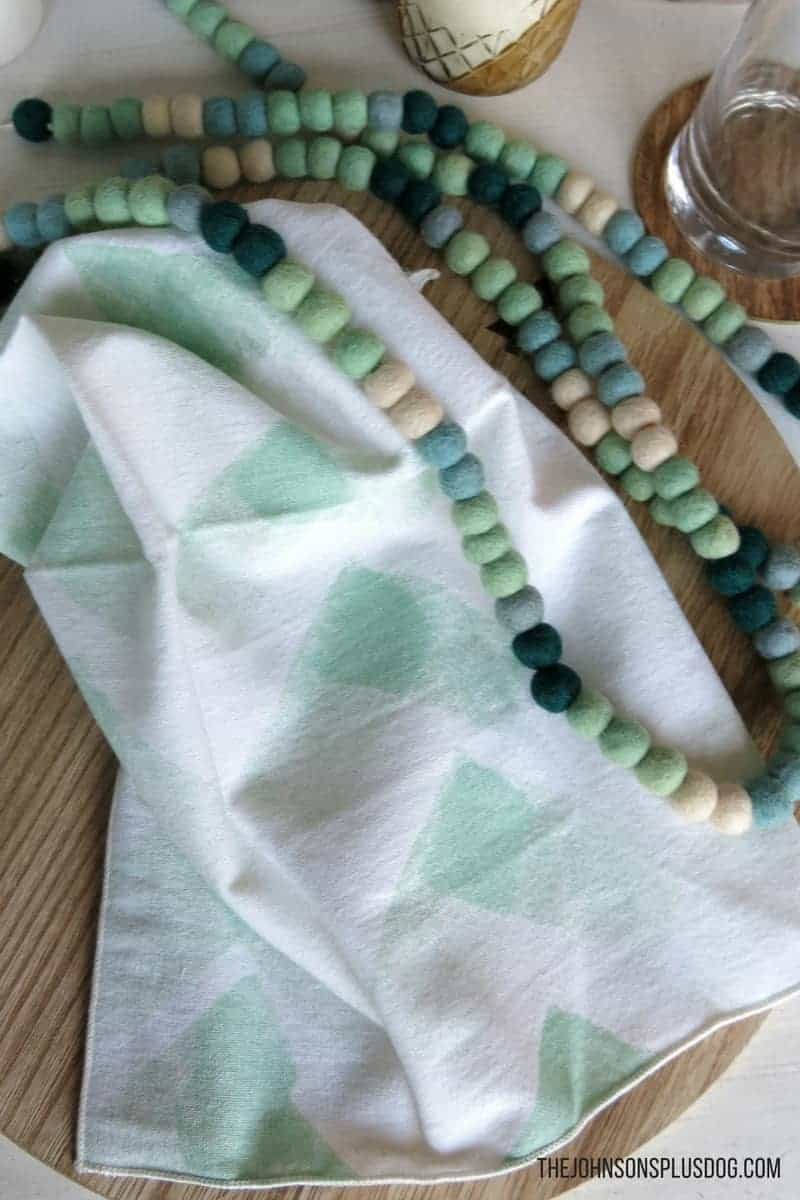 And those amazing, gorgeous, and classy gold napkin rings? Totes DIY'd that. They were the simplest thing ever. Check out the full tutorial.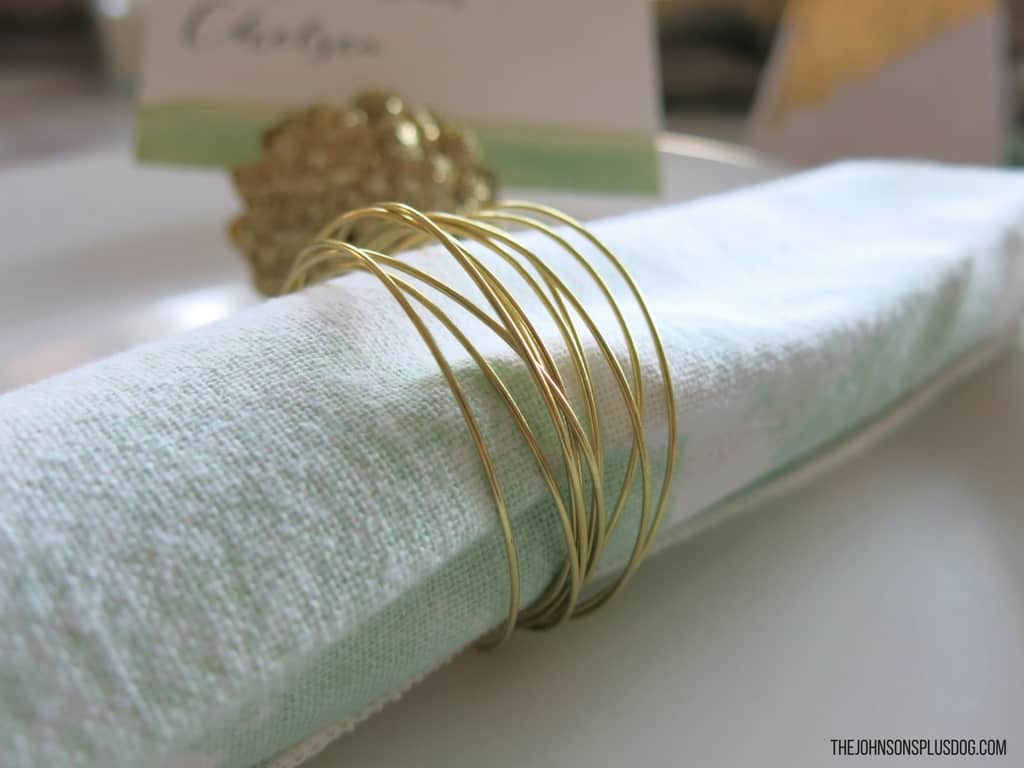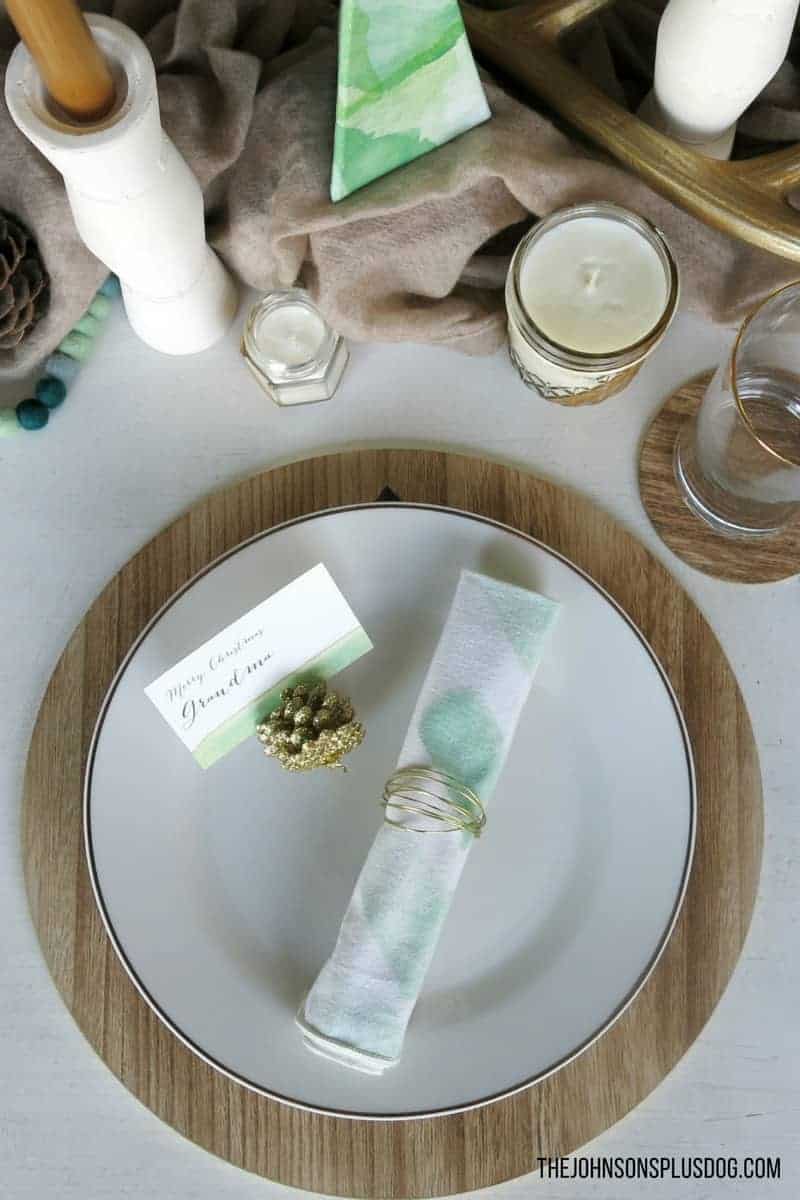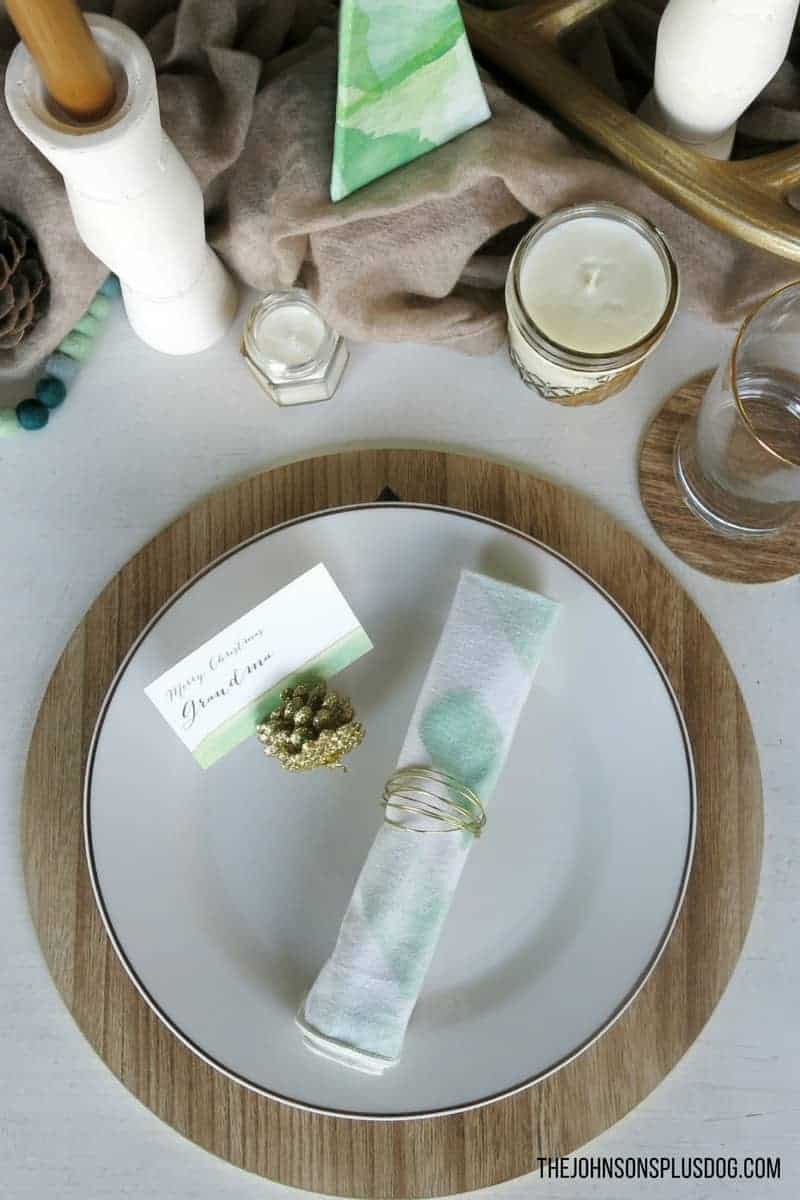 Those mid-century-looking candlestick holders were another DIY. I was inspired by one of the best in the blogger sphere – A Beautiful Mess. Does everyone else love them as much as I do? Check out the full tutorial here.
I couldn't find plastic cups without the ridges at the bottom, so I just lined them up when we put them together and kind of made it part of the design. Also, the tops were a little too big for my candles (maybe I used the wrong kind of PVC, I was like a lost puppy in that aisle at Home Depot, haha), so if I had to do this again I would get a different size so the candles would be more snug.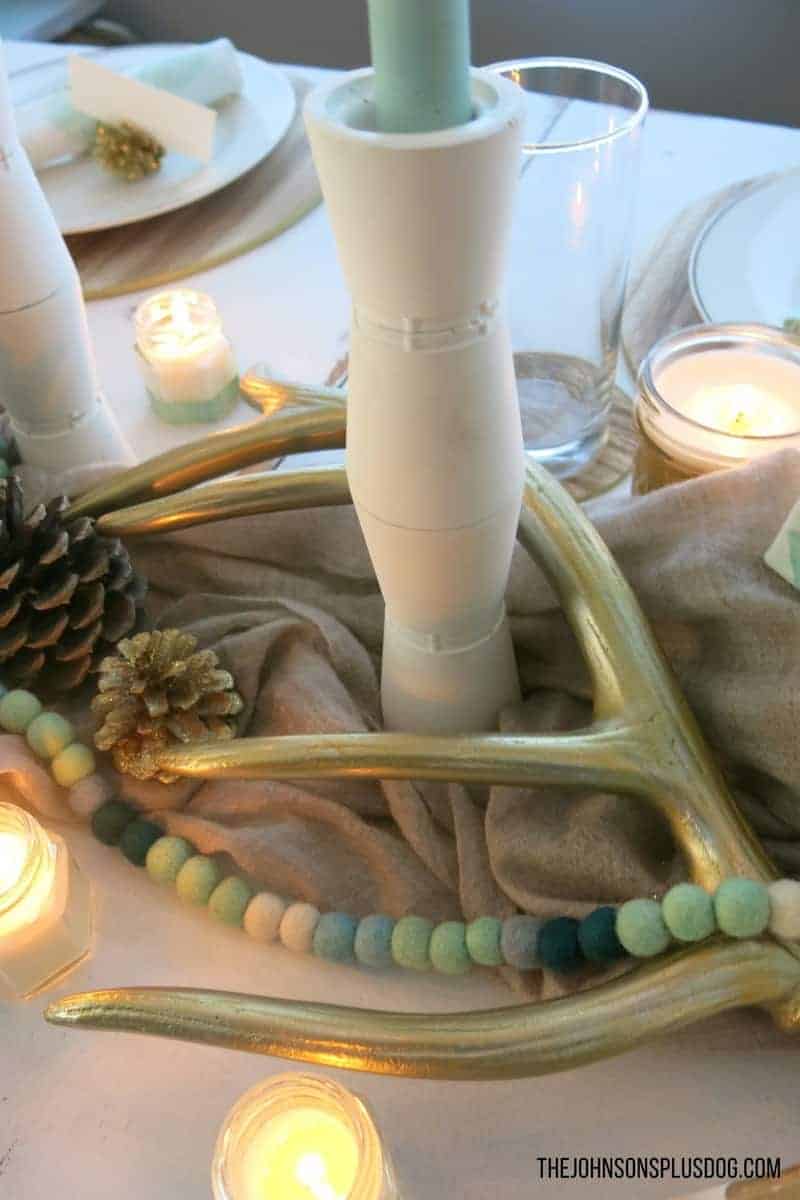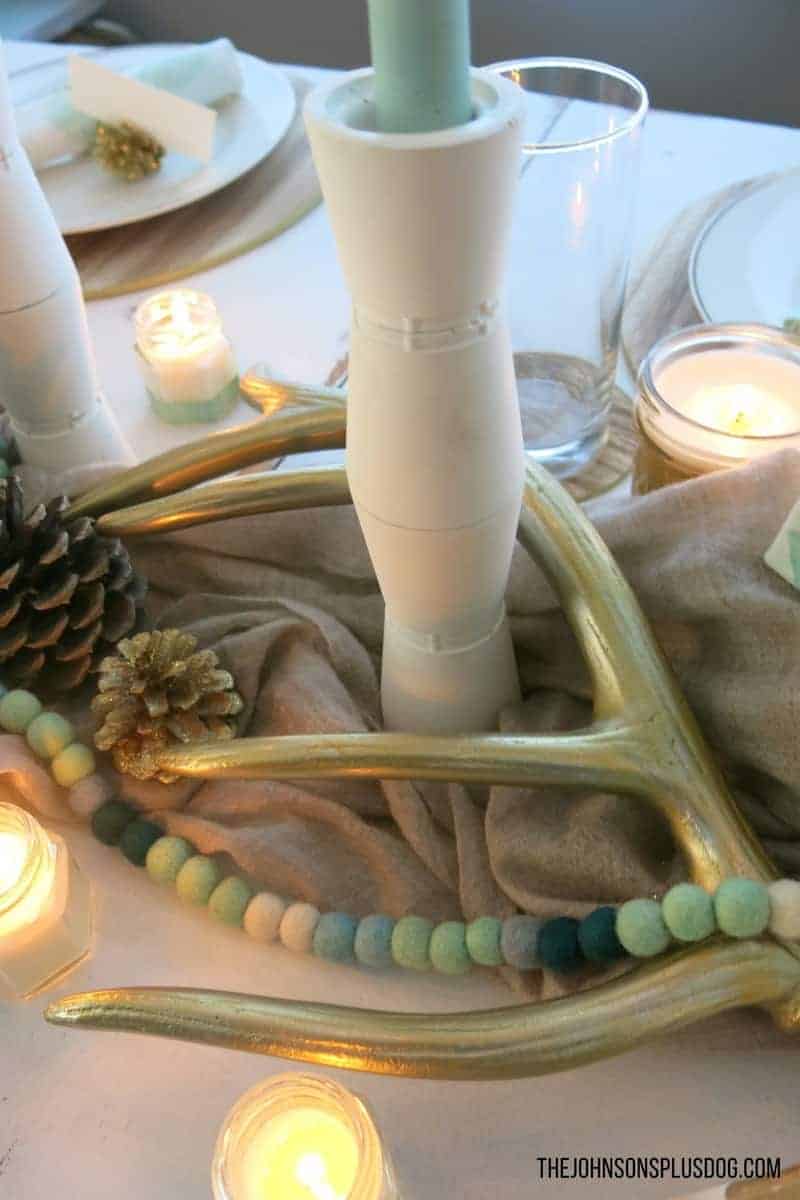 I found that antler at Target. But guess what? It's original silver!!!! It was really clashing with my mint & gold tablescape, so I thought why not just paint it?
First I tested the bottom with a little gold metallic acrylic paint and removed it with some nail polish remover… tada. It worked perfectly. What a great idea to change up the color temporarily. I've definitely been patting myself on the back for that one.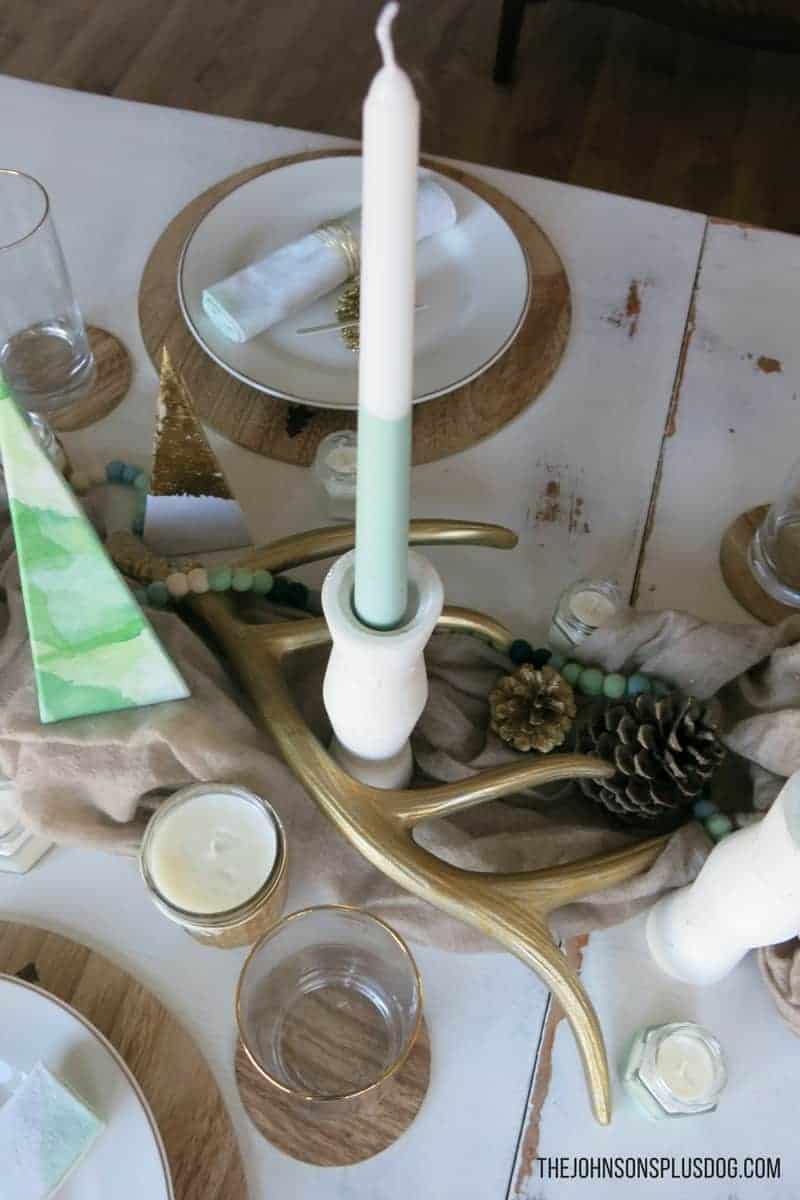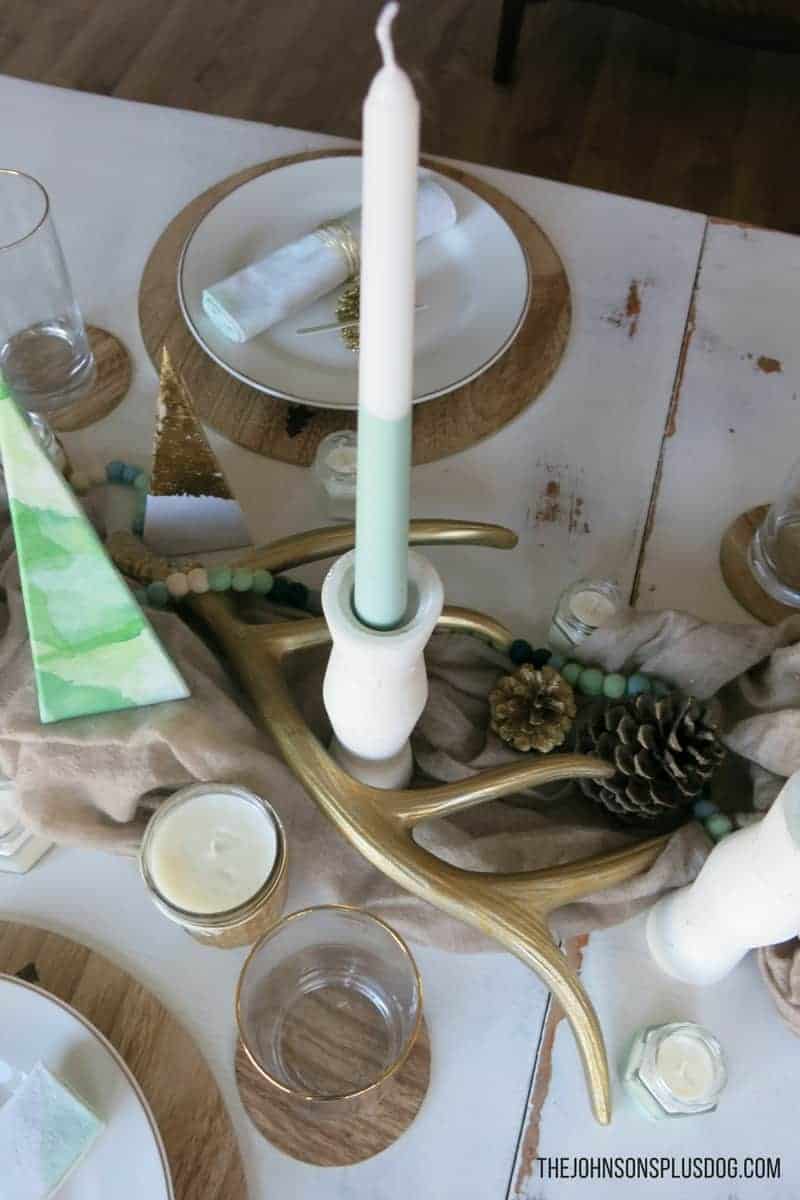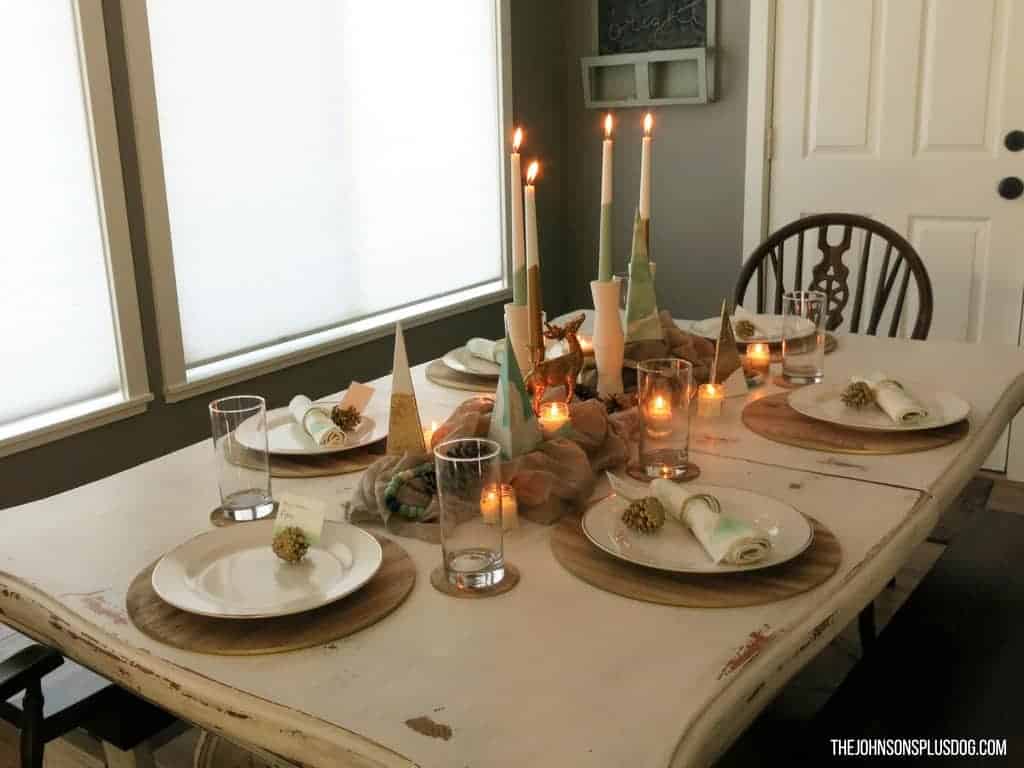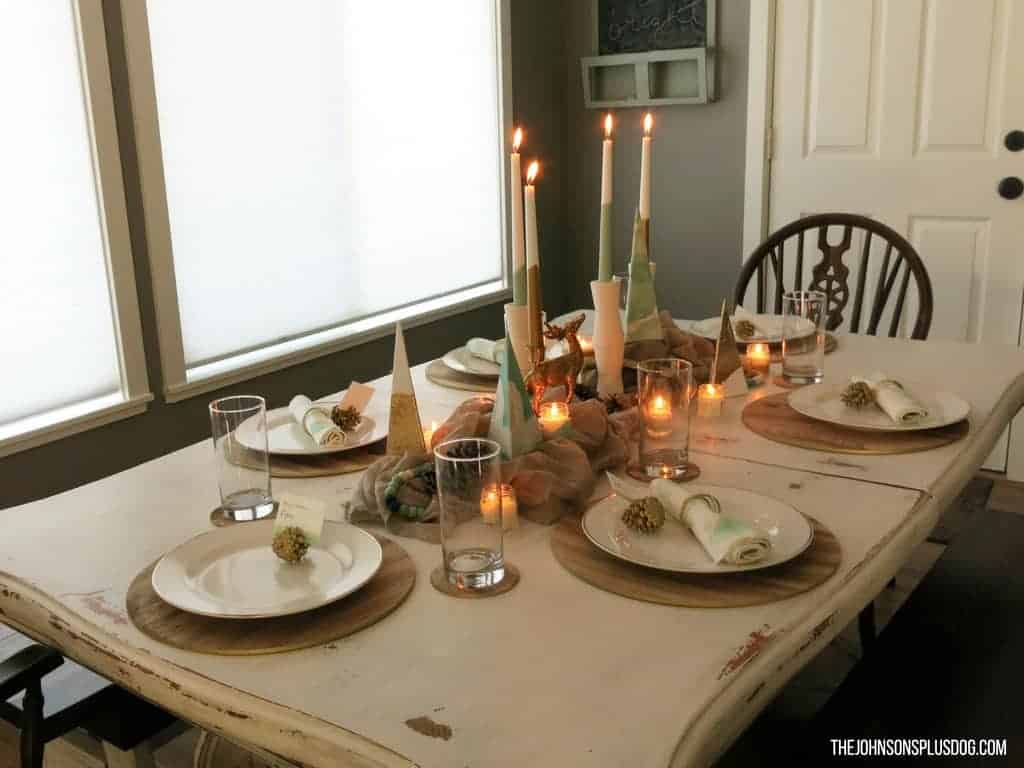 I had so much fun inviting you into my home today and showing you a glimpse at our post-renovation home. I know I totally haven't blogged yet about anything!! It's coming, I promise.
Did you get inspired for your Christmas table? I'd love to hear and see what you're working on! Have a super awesome weekend.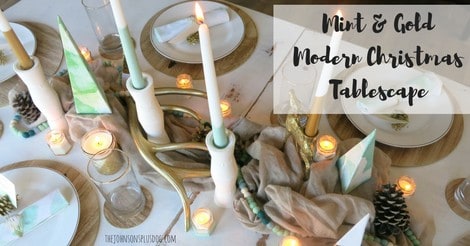 Sources for Modern Christmas Tablescape –
Watercolor 3D Paper Tree Centerpieces – Minted (no longer sold)
Gold Foil Dipped 3D Paper Tree Centerpieces – Minted (no longer sold)
Felt Garland – Seaglass – Minted (no longer sold)
Place Cards – Sandstone in Celadon – Minted (no longer sold)
Minty Chevron Napkins – Minted (no longer sold, check out other napkins here)
Small Hexagon Candles – DIY – I used these fun hexagon glasses and candlemaking supplies from Michael's
Mid Century Candlestick Holders – DIY – Tutorial via A Beautiful Mess
Gold Napkin Rings – DIY – Tutorial via eHow (Contributor: Shades of Blue Interiors)
Wood Chargers – Target (Dollar Spot – Holiday 2016)
Wood Coaster – Target (Dollar Spot – Holiday 2016)
Antler Centerpiece – Target – Originally silver, I painted it with gold metallic acrylic paint that will come off later with nail polish remover.
White Plates with Gold Rim – Dollar Tree (no longer sold)
Glasses with Gold Rim – Dollar Tree
Gold Glitter Pinecones – Dollar Tree
Gold Deer Candle holder – Yard Sale
"Table Runner" – it's actually a scarf – Restoration Hardware
Farmhouse Table – Thrift Store…jealous?
Farmhouse Benches – DIY