Leather is expensive, so the cost always prohibited me trying out DIYs with leather. That was until I found out how to get free leather for DIY crafts. Now, it's more like….bring on the leather craft ideas! Here's 15 leather craft ideas to inspire you.
This post contains affiliate links, but nothing that I wouldn't wholeheartedly recommend anyway! Read my full disclosure here.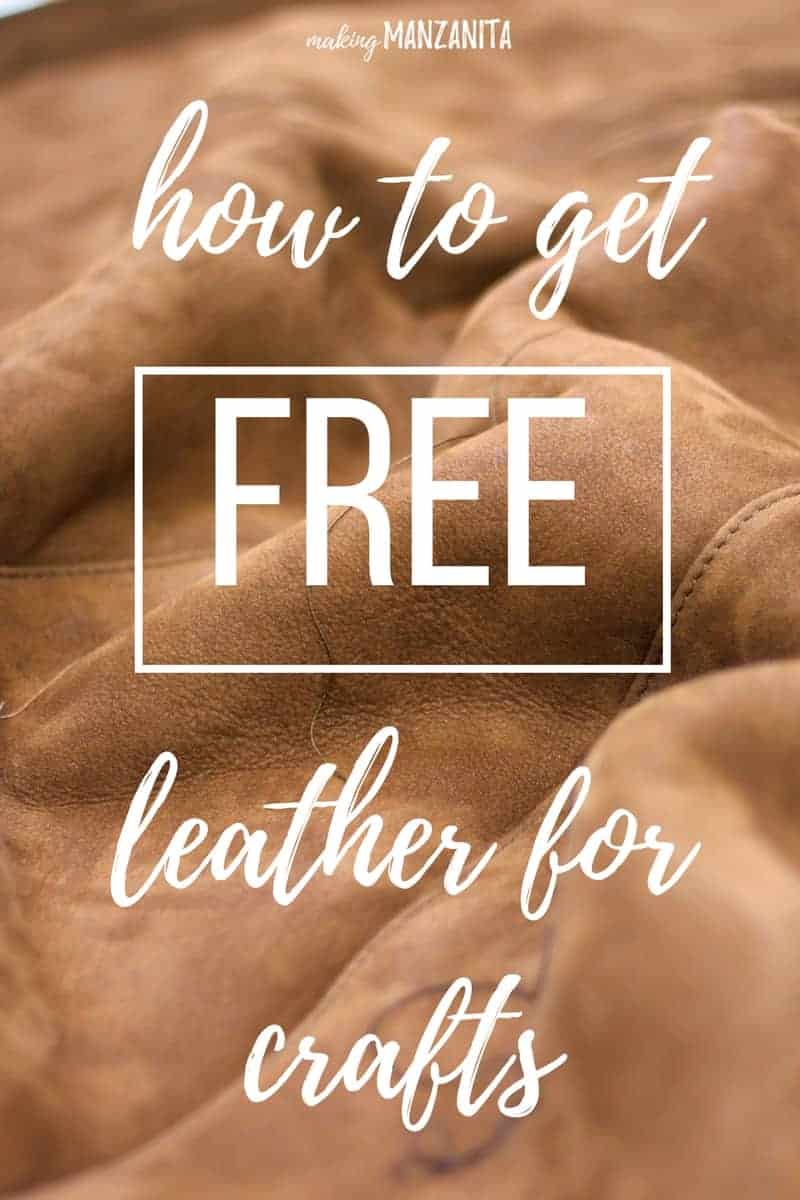 Can we take a minute and talk real quick about leather? Oh my heart. I don't think there is a material that I love more than leather. I'm not talking about sticky black leather pants. I'm talking about that worn in texture, rustic, super soft leather that makes you want to fall in love. I've always got my eyes peeled for fun leather craft ideas because of my leather love, but something that has always stopped me from jumping in and doing these fun leather craft ideas is that LEATHER IS EXPENSIVE. This is just about the cheapest option I've found.
Since most of my DIYs are make with thrift store upcycles and supplies on sale at the craft store…I just couldn't wrap my head around spending a ton of money on leather. But then….Mandi from Vintage Revivals (which BTW is one of my favorite blogs to follow) shared an amazing idea a few years ago…she literally skinned a leather couch from Craigslist. Mind. Blown….right?
And then I saw Colleen from Lemon Thistle skin her a leather couch too. Since then I've been uber jealous of all of this awesome free leather that these ladies were scoring…so my eyes were PEELED. I stayed dialed into all of the Craiglist Free listings and Facebook Buy/Sell groups. And then one day earlier this year, I saw it! I saw a worn out, old leather couch that had my name all over it. This was my gateway into all of these leather craft ideas!
Since you guys are my friends, I had to share these tips for how to get free leather for DIY crafts.
Here's a few tips for how to get free leather for DIY crafts:
Check out Craigslist free daily! Not only may you find an old leather couch to skin, but you could score some other free furniture (like these chairs that I turned into a fun outdoor bench).
Skin the couch as soon as you get home and don't let it sit outside. We learned the hard way. It was sitting in the bed of my hubby's truck and it started raining just hours after we got home. Leather and rain don't mix well…so Logan had to "speed skin" the couch…not recommended. It's also not great for the couch to sit and bake in the sun.
Unless you're desperate, stick to the free stuff. I'm definitely not advocating for you to take leather furniture that still has a ton of life left and destroy it. That's just silly. But keep an eye out for the free stuff that's headed to the dump anyway. You can cut around holes and stains.
Use a box cutter & scissors to skin the couch. My hubby mostly used a box cutter to remove the leather from the couch frame. I found it a little easier to use scissors to cut the leather off of the smaller items. I used these scissors. Also, these scissors made just for leather have great reviews.
After we skinned the leather couch for free leather for DIY crafts, I definitely caught the bug! We had this recliner that our dog had totally destroyed. The hole on the seat just kept getting bigger and bigger. My hubby had a brilliant idea for a way to upcycle the reclining mechanism (any ideas what he did with it??) and I had my eye on this darker shade of leather. So we skinned the recliner too! P.S. The couch was way easier to skin than the recliner.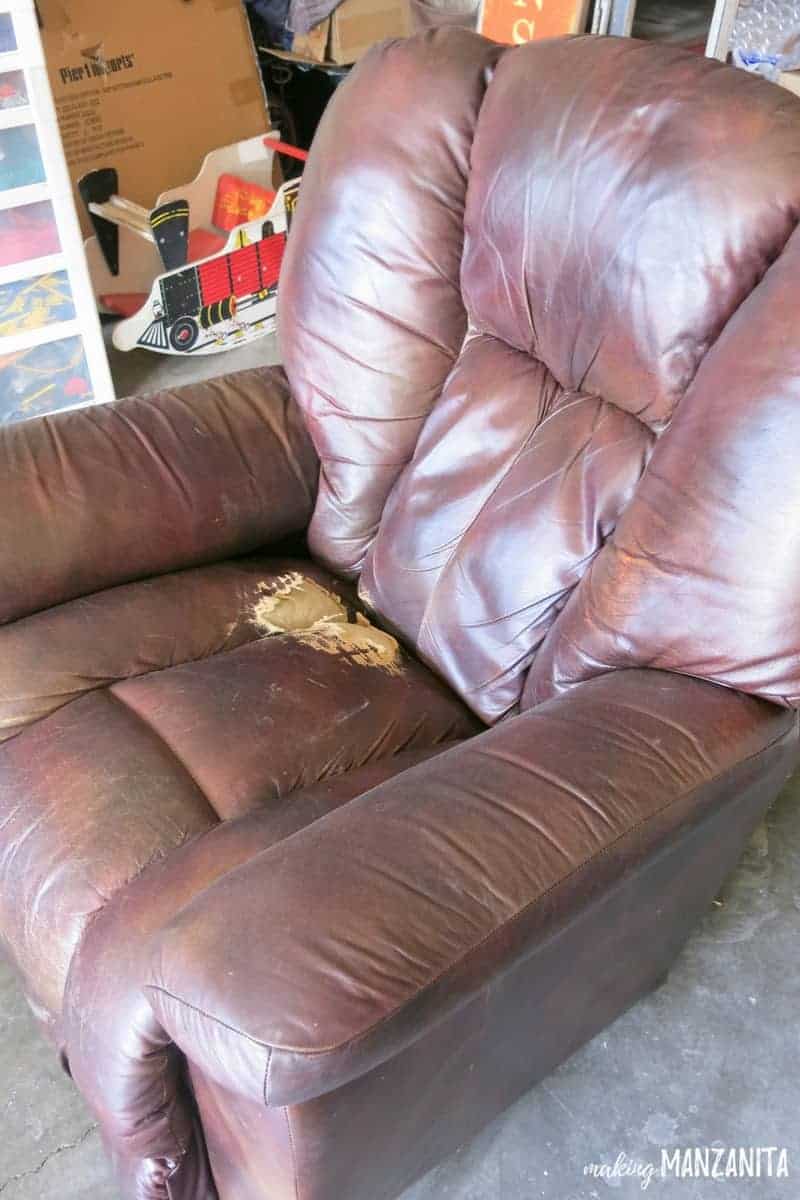 I think we're done skinning random pieces of furniture for now, but I've got LOADS of leather sitting in my garage all folded up and ready to be made into one of these leather craft ideas. So I decided to round up tons of leather craft ideas.
Are you ready to see 15 awesome leather craft ideas??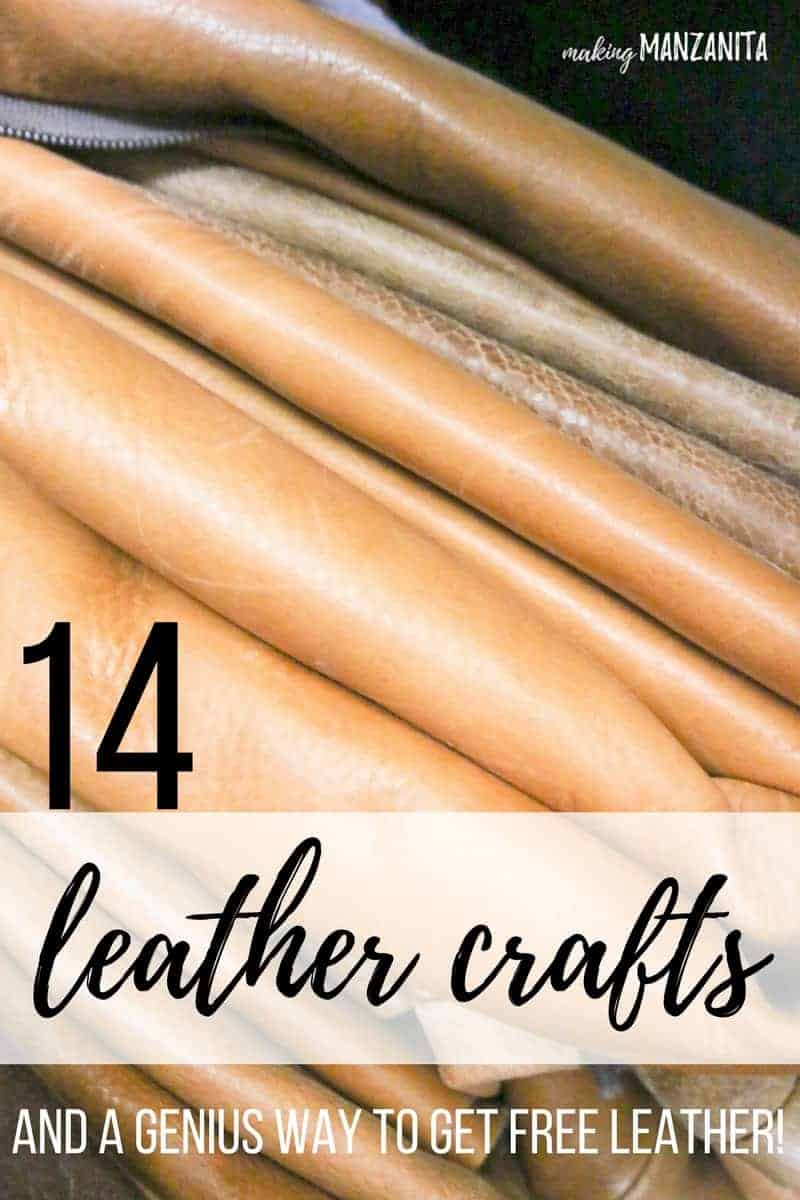 Hanging Leather Strap Planter DIY – A Beautiful Mess
Leather Safari Sling Bench – Vintage Revivals
DIY Air Plant Holders – DIY Passion
DIY Leather Cast Iron Grip – Alice and Lois
DIY Leather Handles – Love Create Celebrate
Farmhouse Stool Makeover – Canary Street Crafts
Thanksgiving Leather Wine Tags – Storypiece
Leather Drawer Pulls with Labels – Craftivity Designs
No Sew Leather Key Fob – Fynes Designs
Leather Book Holders – Dwell Beautiful
Painted Leather Earrings – Real Girl's Realm
Old Leather Coat to Business Card Holder – Feathering My Nest
*using a coat is a great idea for the smaller craft projects, especially if you can't find a couch*
DIY Canvas Tote with Leather Straps – Farmhouse on Boone
Recycled Leather Bracelet – Craft Bits
Grateful Leather Pennant – Lemon Thistle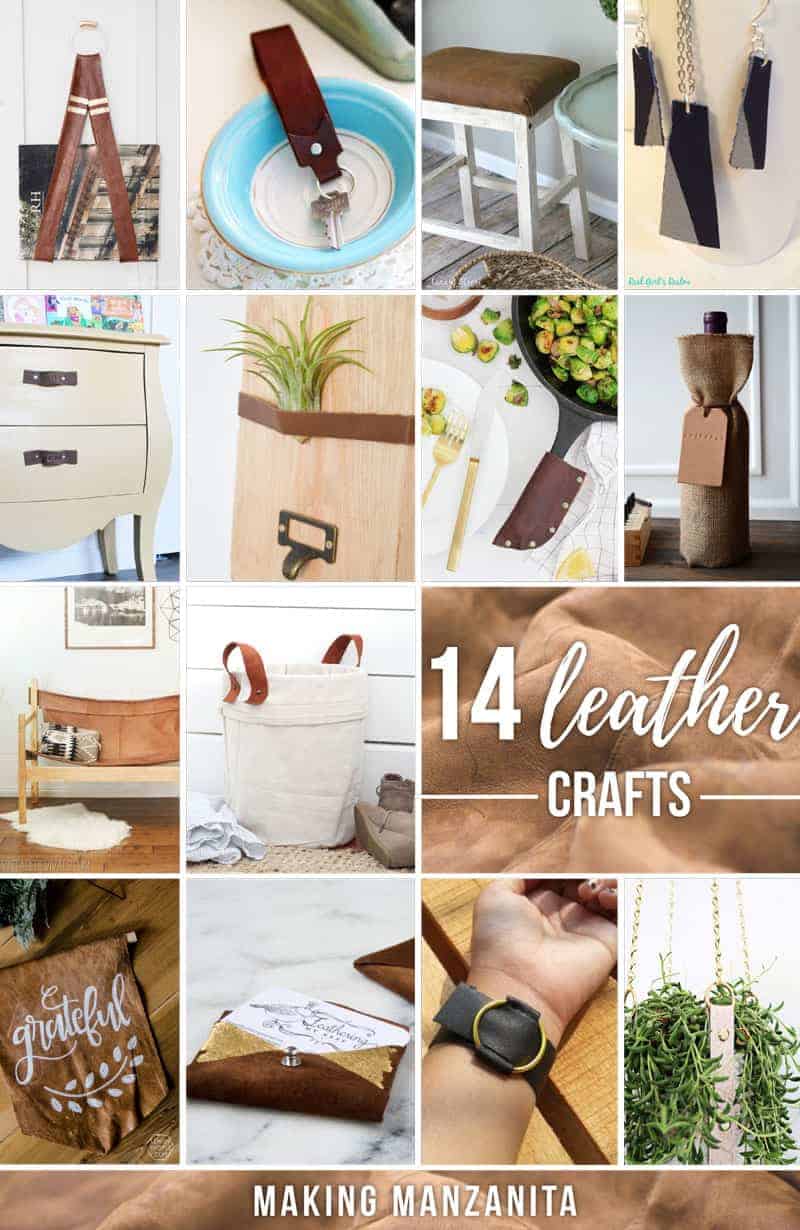 Did this hack on how to get free leather for DIY crafts surprise you? Did any of these leather craft ideas catch your eye enough to make you go wanna skin a leather couch? All you need to do is keep your eyes peeled for old leather furniture that is headed for the dump. Just thinking about all of the fun projects you can do with the free leather you get. Can't wait to share with you all of the leather projects I've been working on.
Which of these leather craft ideas is your favorite? Do you have any other tips on how to get free leather for crafts?
Let me know in the comments below!!
---