Thinking of painting your interior doors black or dark gray? This article has everything you need to know! Embrace the power of dark colors on interior doors to elevate your home effortlessly.
Last year Logan and I had the chance to renovate a rental property that his parents own. It was a huge job and I've shared little bits and pieces here on the blog, like details on the paint color we chose for the main living spaces, a tutorial for installing new ceiling lights and replacing door handles. We even timed ourselves when we were painting one of the rooms to see how long it takes to paint a bedroom.
But one thing about the rental property that I loved was that I got to try something that I've always wanted to do in our homes, but Logan would never let me…black interior doors. Ok, well actually they were more like dark grey interior doors.
We've always had traditional white doors in our homes. While they are great and super classic (and look great with dark door knobs), there is something so fun and unexpected about painting interior doors dark – like black or another dark color.
If you're wanting to explore painting interior doors black – you're in for a treat today! I'm sharing everything I learned about dark interior doors and sharing some inspirational pictures at the end with some dark door paint color ideas!
This article about painting interior doors black or dark gray contains affiliate links, but nothing that I wouldn't recommend wholeheartedly. Read my full disclosure here.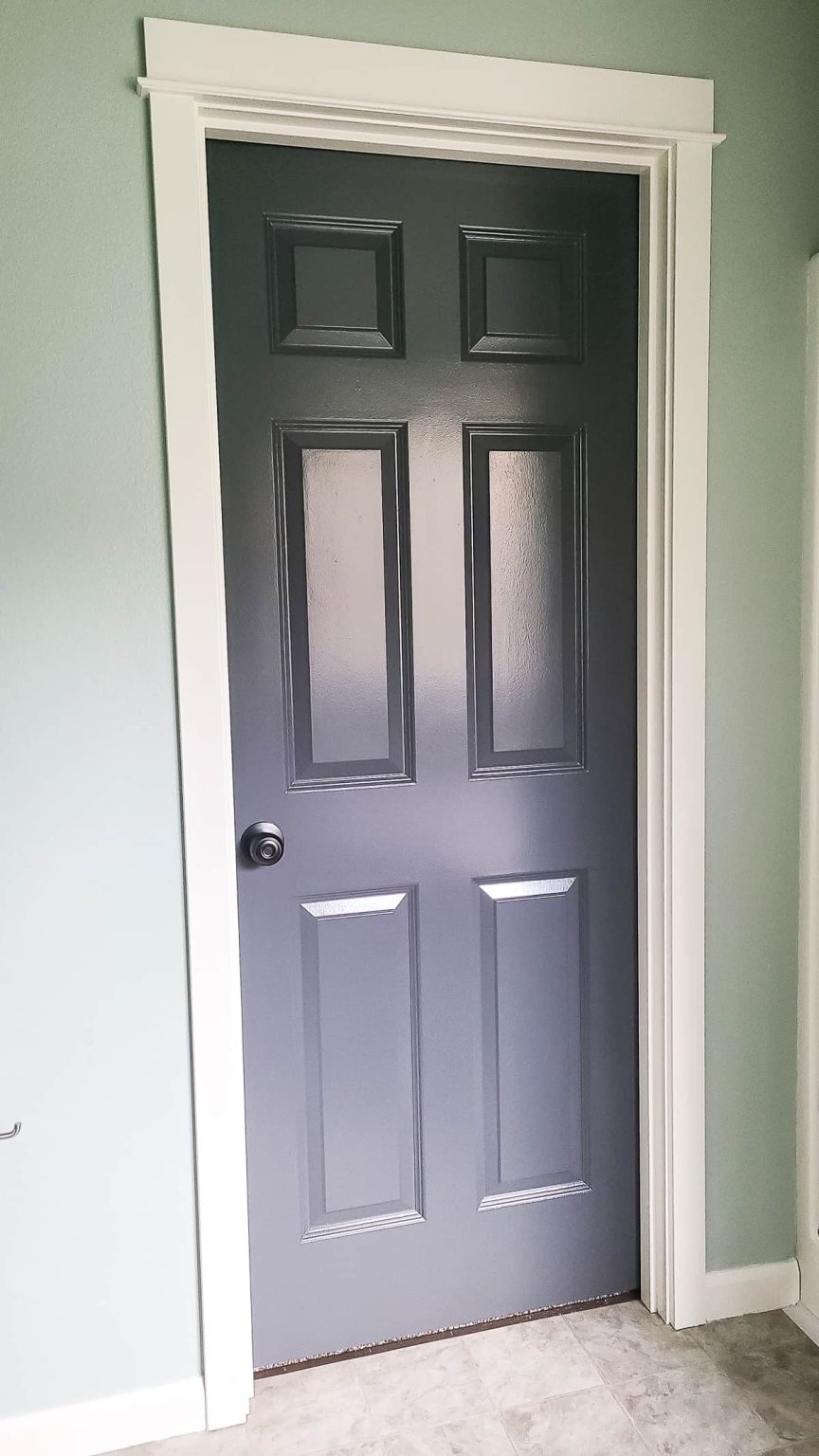 Why would you paint your interior doors black or dark gray?
Painting interior doors black or dark gray allows them to stand out. It is a great way to create visual contrast in a space. Anytime you do something that is a bit unexpected in interior design is usually a good thing.
I was shocked at what a huge difference the dark gray color made on the boring builder-grade doors in the rental property we renovated.
Just look at this crazy before and after!!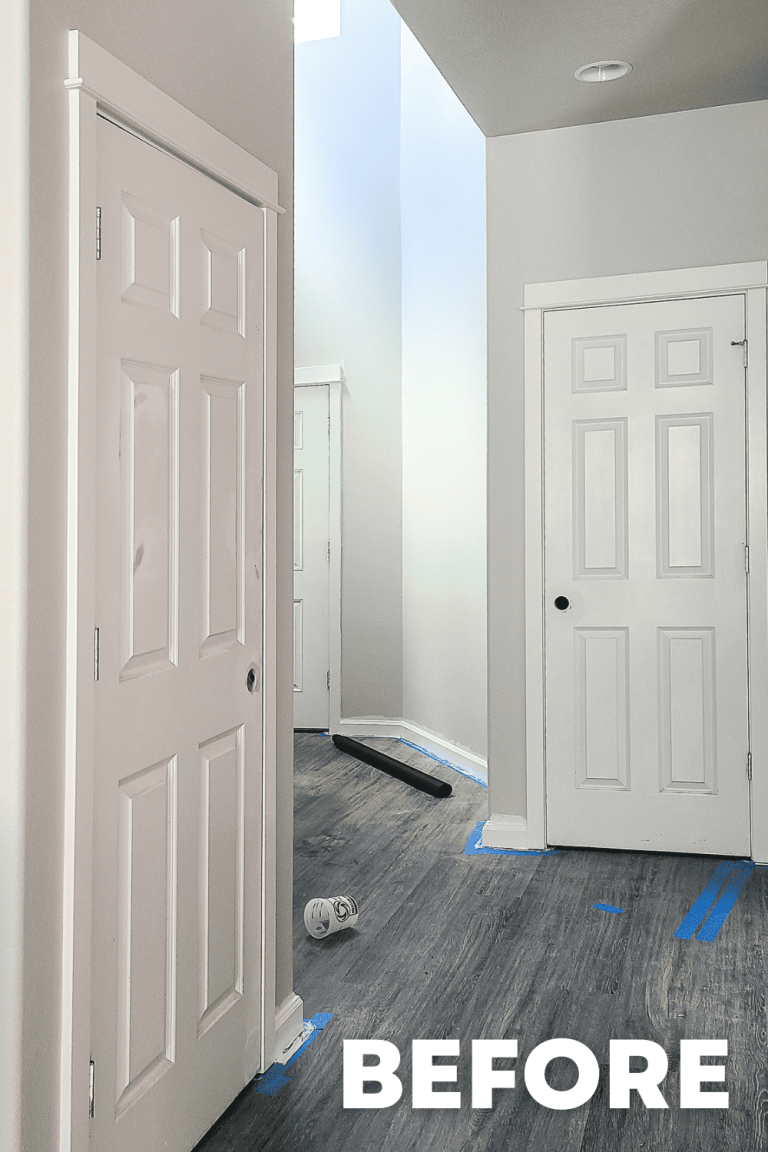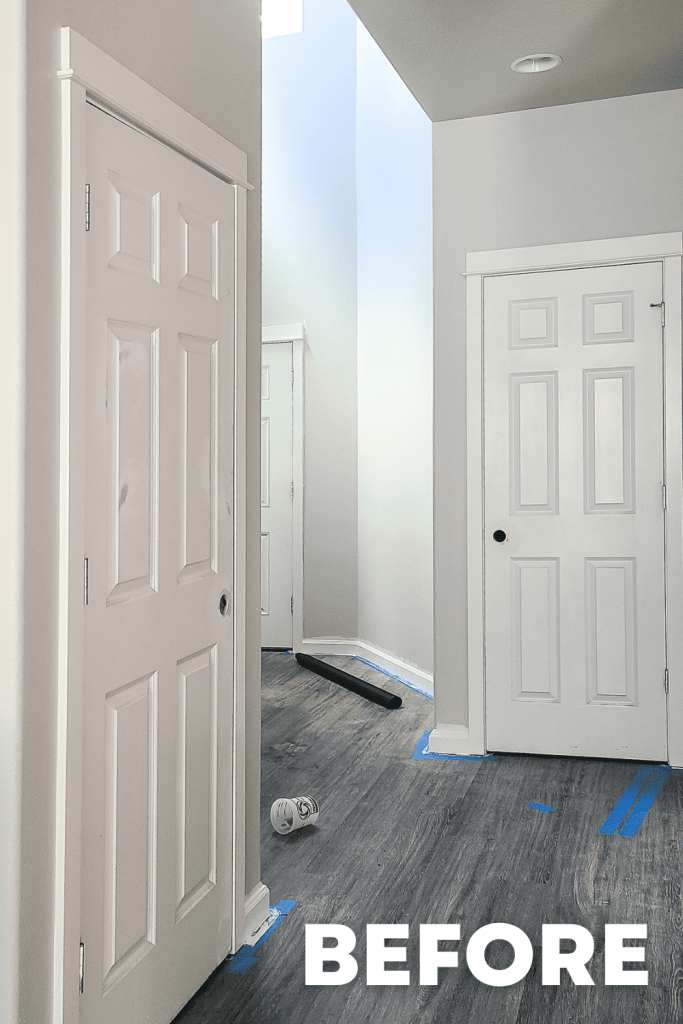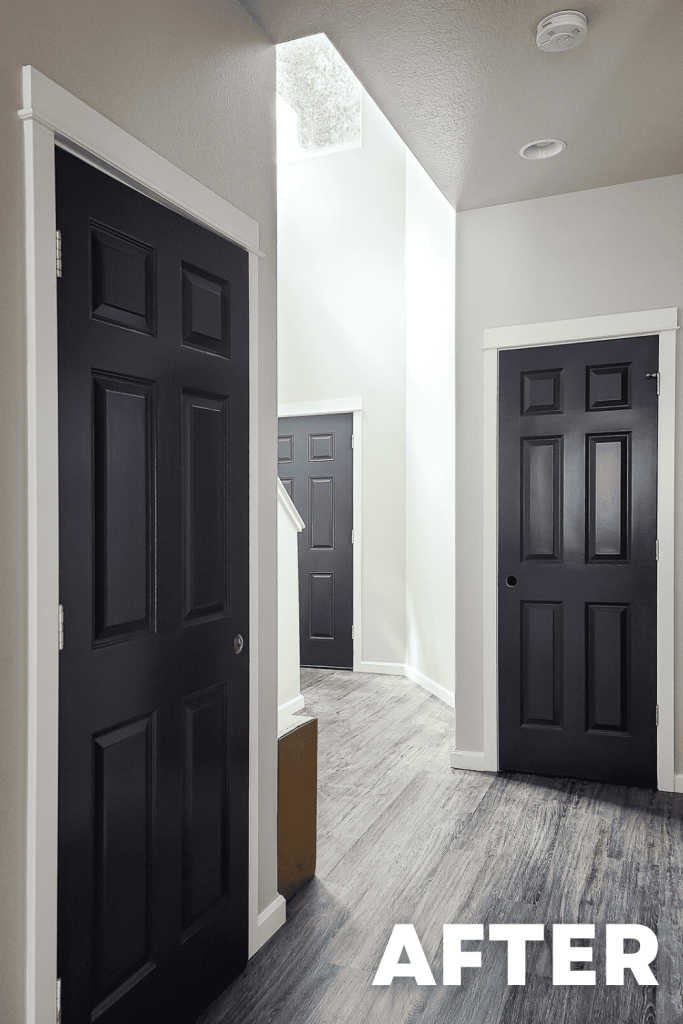 It's one of those things that I'd say "Don't knock it, til you try it!" You may be surprised how much you love your new black doors! No matter what wall color you have, black or dark-colored doors usually always look good.
Check out some of my favorite black paint colors here!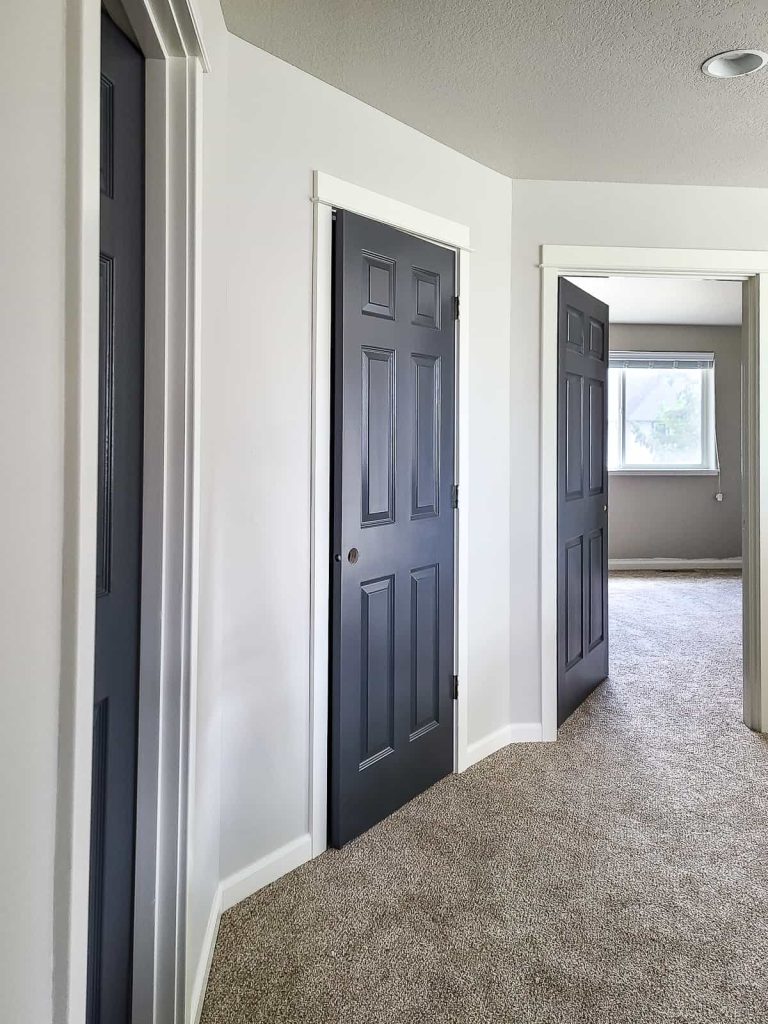 Do you need to paint all of your interior doors in your entire house the same color?
This is totally a personal choice, but we have always painted all of the interior doors (and for that matter, all of the trim and baseboards) in our home the same color. This gives things a cohesive look.
However, I would definitely recommend that if your doors can all be seen together in an open space (like a hallway), they should be painted the same color. The good news is that painting your interior doors a different color isn't hard at all! We'll walk you through the entire process in a bit.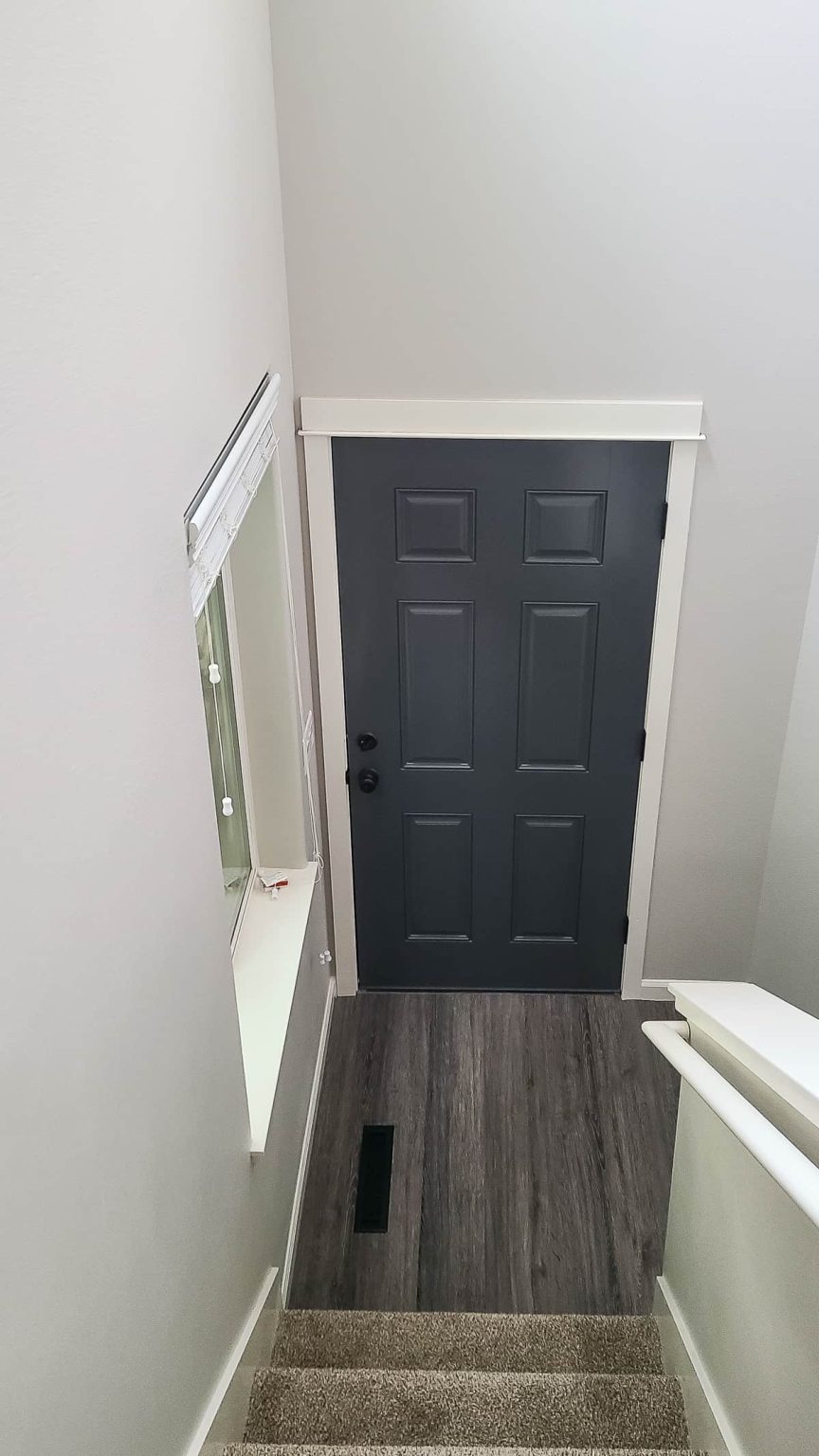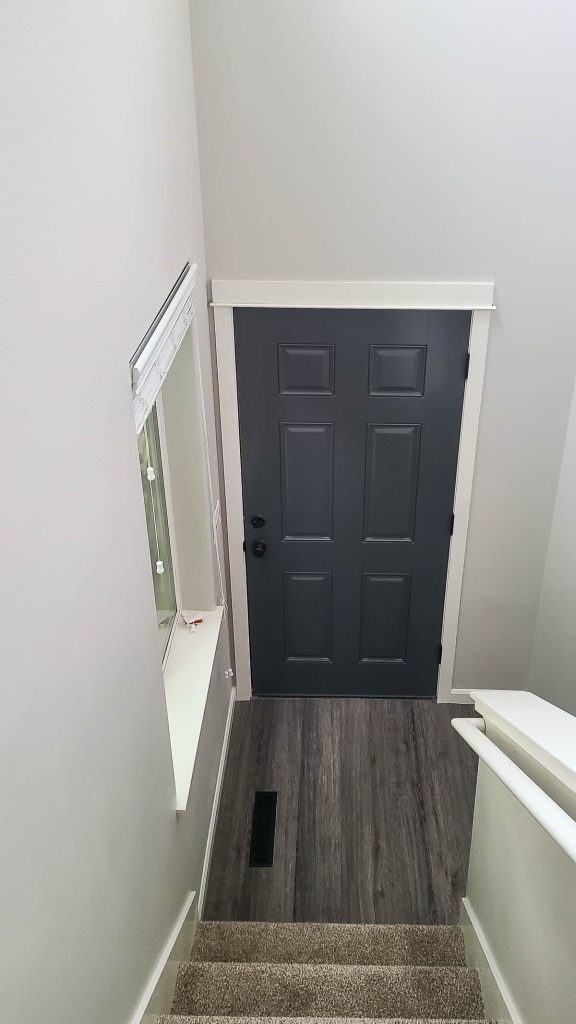 Do your interior doors need to match your front door color?
The color of the outside of your front door doesn't necessarily need to match your interior doors. And for that matter, the color on the outside of your front door doesn't even need to match the inside of the front door. For instance, in our own house, we have black on the outside of our front doors and white on the inside of the front doors.
This is one thing that I think you can mix up a bit! I love creative and colorful front door colors, so go for something different if you want.
Check out these front door paint color ideas for more inspiration!
What type of paint should you use for interior doors?
High-quality latex paints should be used for interior doors. We typically use Behr Paint's Marquee line for all interior paint jobs in our homes. I can't recommend it enough.
For an alternative option, you could also go with an enamel paint that may have a slightly stronger and more durable finish. Enamel paint is oil-based and latex paint is water-based, so that is something to keep in mind if you're trying to decide between the two.
If the door was previously painted with latex (water-based), you don't want to go over it with enamel (oil-based) because they don't play well together. Enamel paint will be longer to dry and all tools need to be cleaned with mineral spirits instead of soapy water.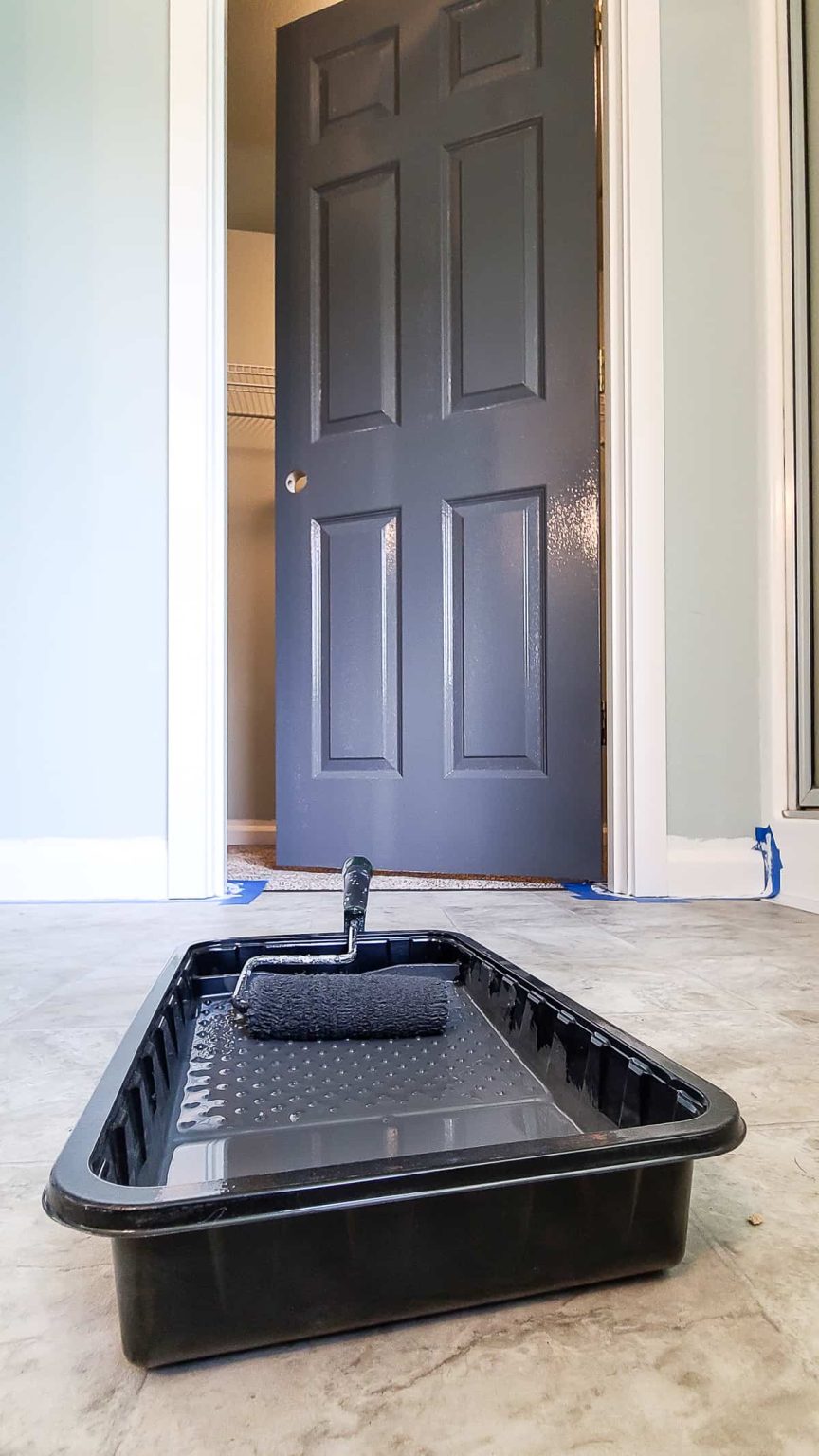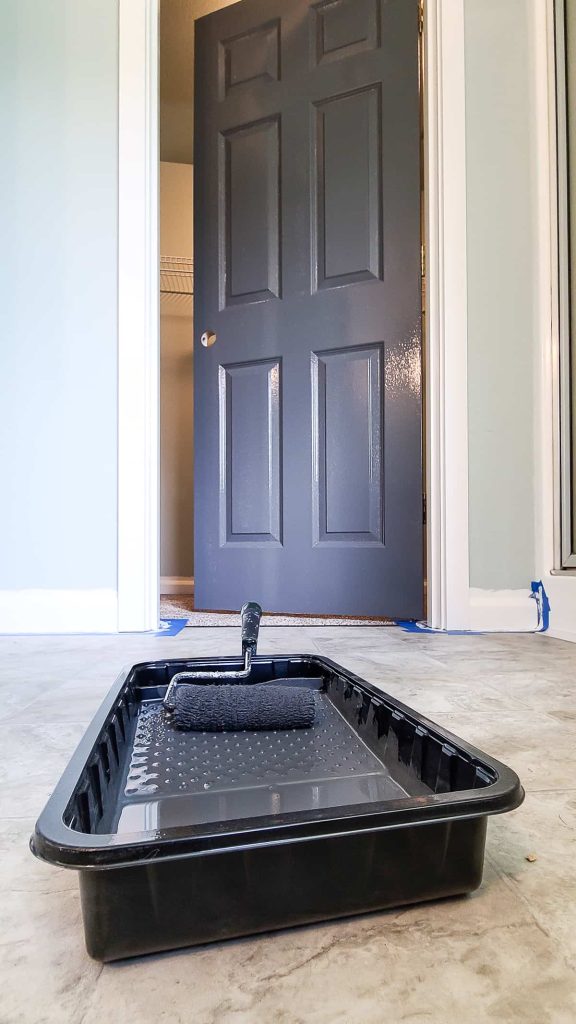 What sheen of paint should you use for painting interior doors dark?
For interior trim and doors, a semi-gloss is the best paint sheen option. It's a little shinier than eggshell, which makes them much easier to clean. In general, a semi-gloss paint finish is a great option for trim, cabinets, doors, baseboards, and crown molding.
Satin finish can also be used on internal doors, but it is a little less shiny than semi-gloss making it just a little harder to clean.
For a more dramatic look, you could also go with high-gloss paint for your doors. However, this can be tricky to get the finish right because it has a tendency to show brush marks.
I would not recommend using paint with a matte finish on doors because they are really hard to clean and doors are known to get pretty dirty.
To learn more about paint sheens for interiors and exteriors, check out our guide here!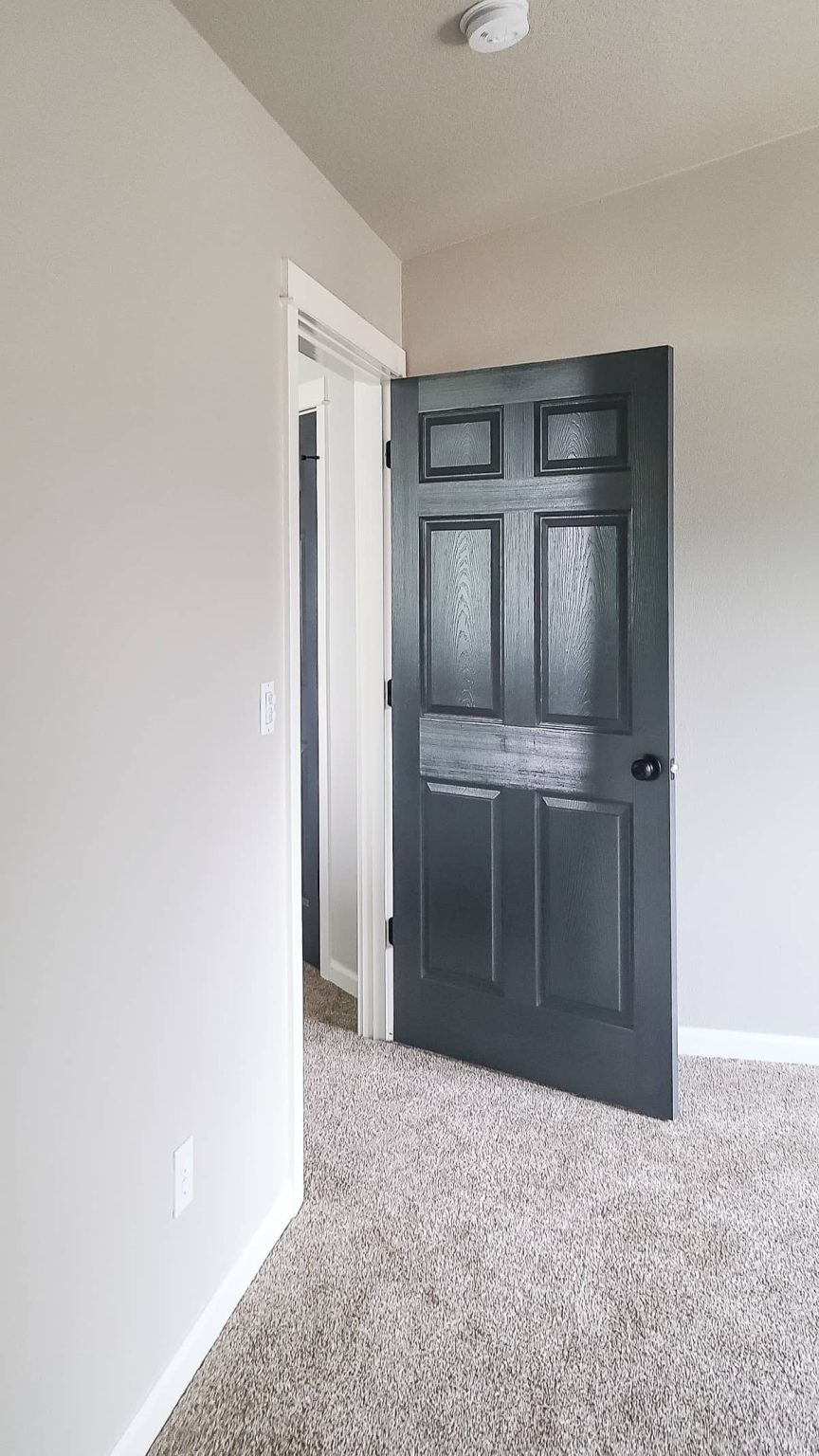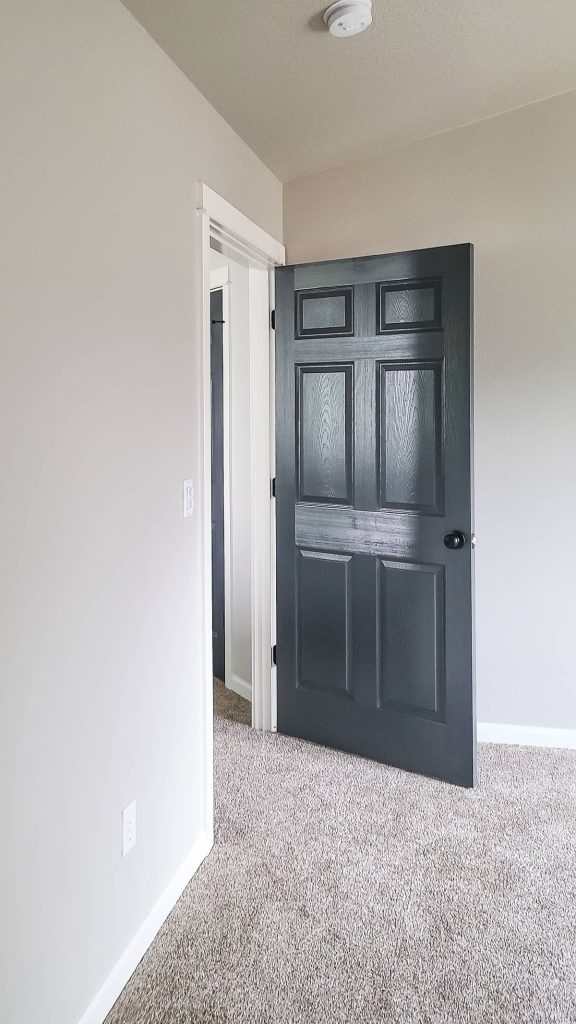 How many coats of paint will you need to paint your interior door black?
If you are painting a dark color (like black or dark gray) over a light color (like white doors), you can expect to need to paint more than one coat of paint – regardless of what quality or type of paint you use. Using a higher quality paint will, in general, allow you to do fewer coats. However, with the dark over light, you'll always need a second coat of paint (at a minimum).
When determining whether or not you need to use another coat of the black color, wait for the doors to dry first.
What supplies do you need for painting doors?
Rags
Drop Cloth
Paint
Painter's Tape
TSP (may be needed)
4″ Paint Roller
Small Paint Tray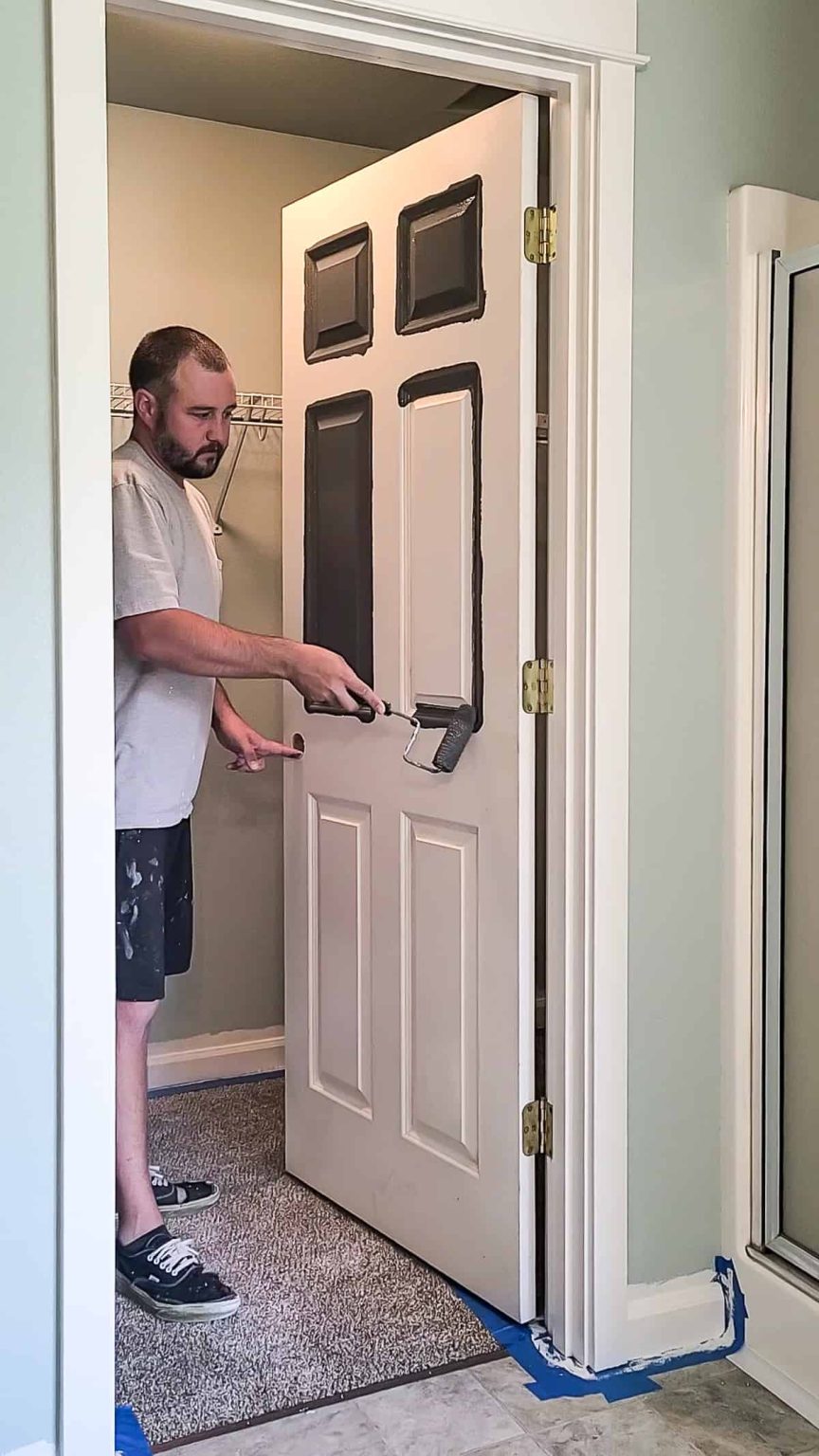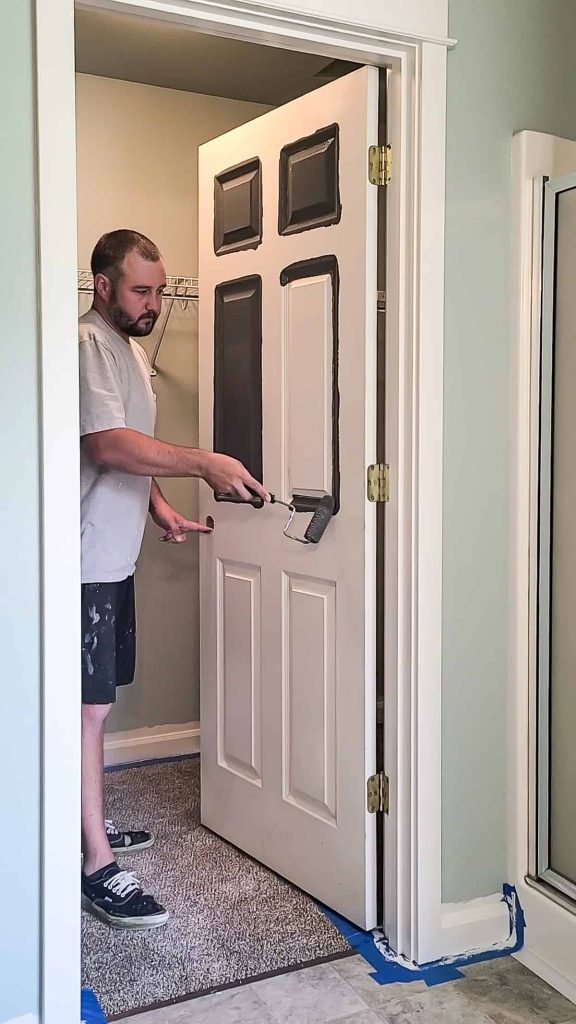 What's the process for painting a door?
Prep your door: Remove the door handle with a screwdriver and set it aside. Cover hinges with painter's tape. If you're painting wooden doors that have never been painted before, sand all of the finish off until you get to bare wood, and then use a high-quality primer. If painting a door that has already been painted and you are using a high-quality paint that is a paint + primer, you typically won't need to do a coat of primer before painting. However, be sure you're using the same types (water-based over water-based or oil over oil). If you're switching up types, you're going to run into issues with paint bubbling or cracking because don't work well together.
Clean your door: This could be as simple as wiping the door well with a slightly damp rag. You definitely want to make sure any dust, dirt, and grime are off of the doors. If your doors need more thorough washing before painting, TSP is a great cleaner to use before painting.
Prep your supplies: Get all your supplies ready because once you start painting the door, you don't want to stop. Stopping (even for a couple of minutes) allows the paint a chance to dry up a tad and get sticky, which will lead to noticeable roller and brush strokes. It is best if you could work quickly to get the paint on the door while everything is wet.
Paint the door: Put down a drop cloth under the door first to protect your flooring. Start with the ridges of the panels first, working your way from the top of the door to the bottom. Once the ridges are done, you can paint the inside of the panels and then the horizontal pieces, and lastly, the vertical pieces.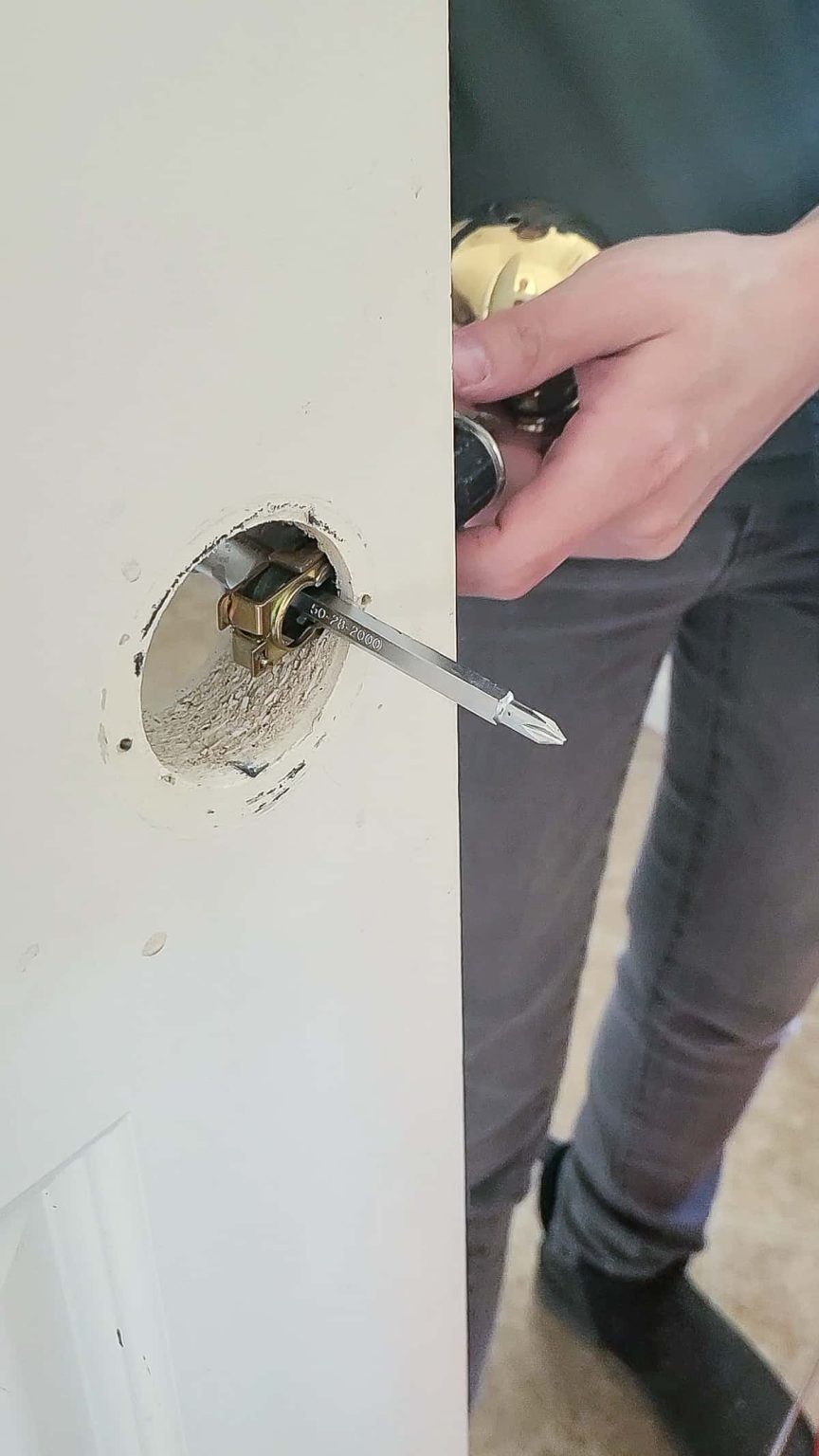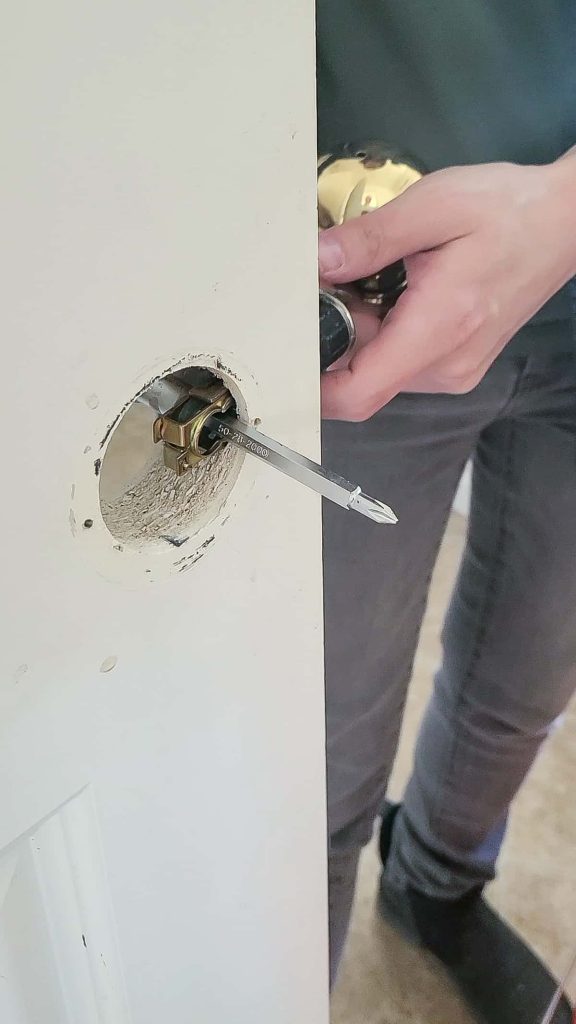 Do you need to remove door hardware (hinges and door handles) when painting interior doors?
Here's the deal. No, you don't necessarily have to remove the door hardware when painting your interior doors. However, removing a door handle only takes a couple of minutes. So I would say that it is a good idea to quickly pop the door handles off using a screwdriver.
Be sure to put all of the parts and screws into a bucket or Ziplock bag, so you don't lose anything. Unless, of course, you're replacing the door handles with something new. If that is the case, you can follow along with this tutorial to learn how to replace interior door handles.
We don't typically remove the door from the hinges when painting it because that takes much longer. To paint the door in place on the hinges, you can simply cover them with painter's tape so they don't get painted accidentally.
What are the best colors of black paint (and other dark colors for doors) with white trim?
If you're looking for inspiration for paint colors for your dark doors or black doors with white trim, you're in for a treat. I rounded up some of my favorites below!
Graphic Charcoal by Behr Paint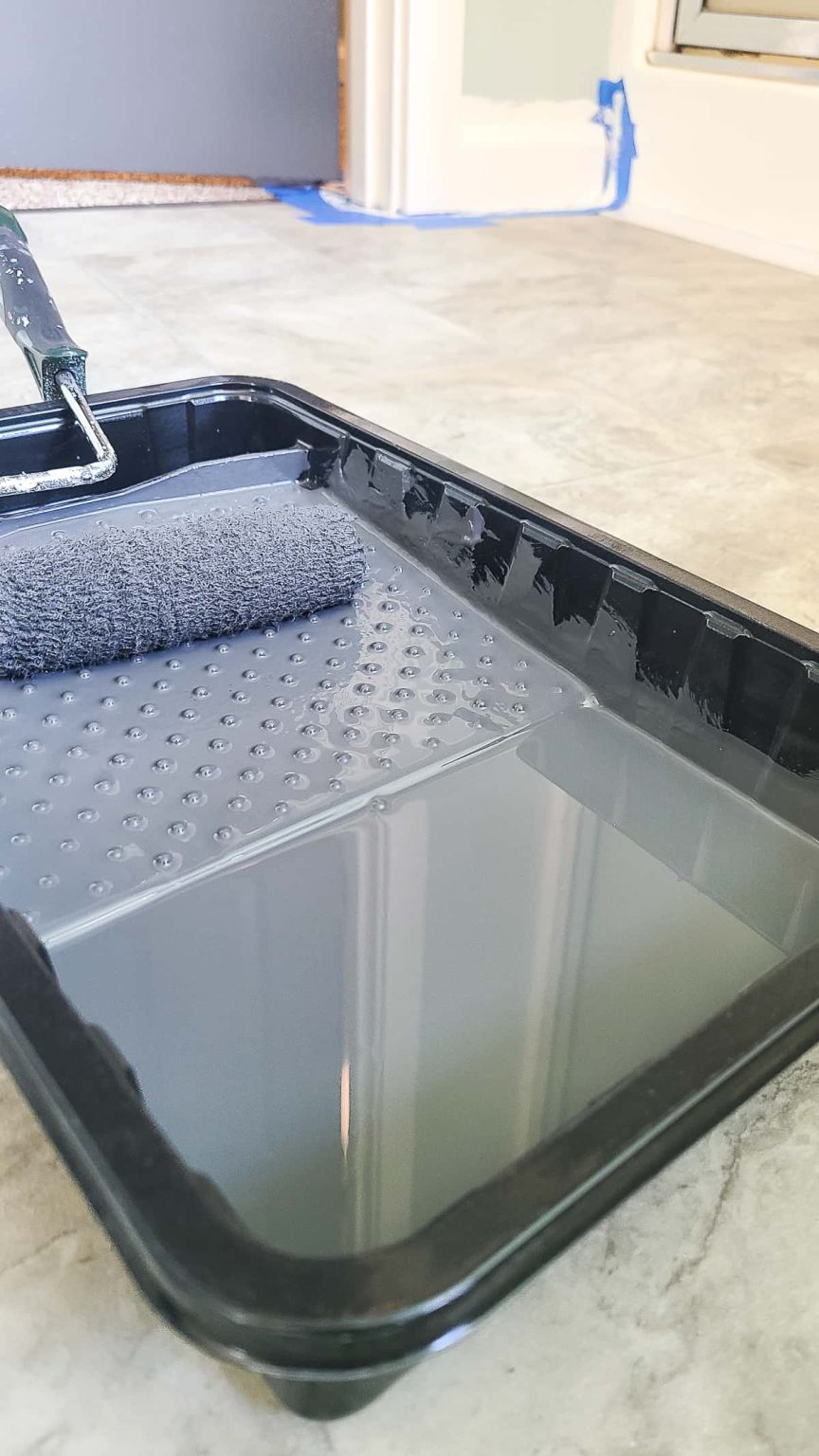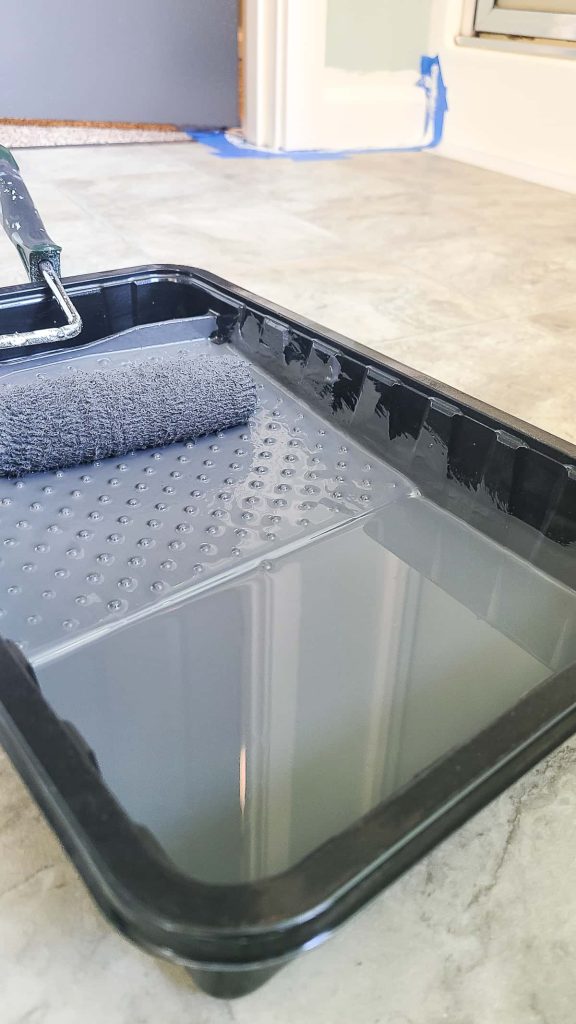 We used Behr Paint's Graphic Charcoal paint color for the interior doors in this rental property, which is a great option if you're not quite sold on going for something black.
Graphic Charcoal is a cool-toned dark gray paint color that I just LOVE. I've used it in several different places in our current home, including the walls of our living room, the mountain mural in our son's room, and the grid gallery wall in our hallway.
I love this color so much that I wrote a whole blog post all about Graphic Charcoal paint color, so you can see more here!
Cracked Pepper by Behr Paint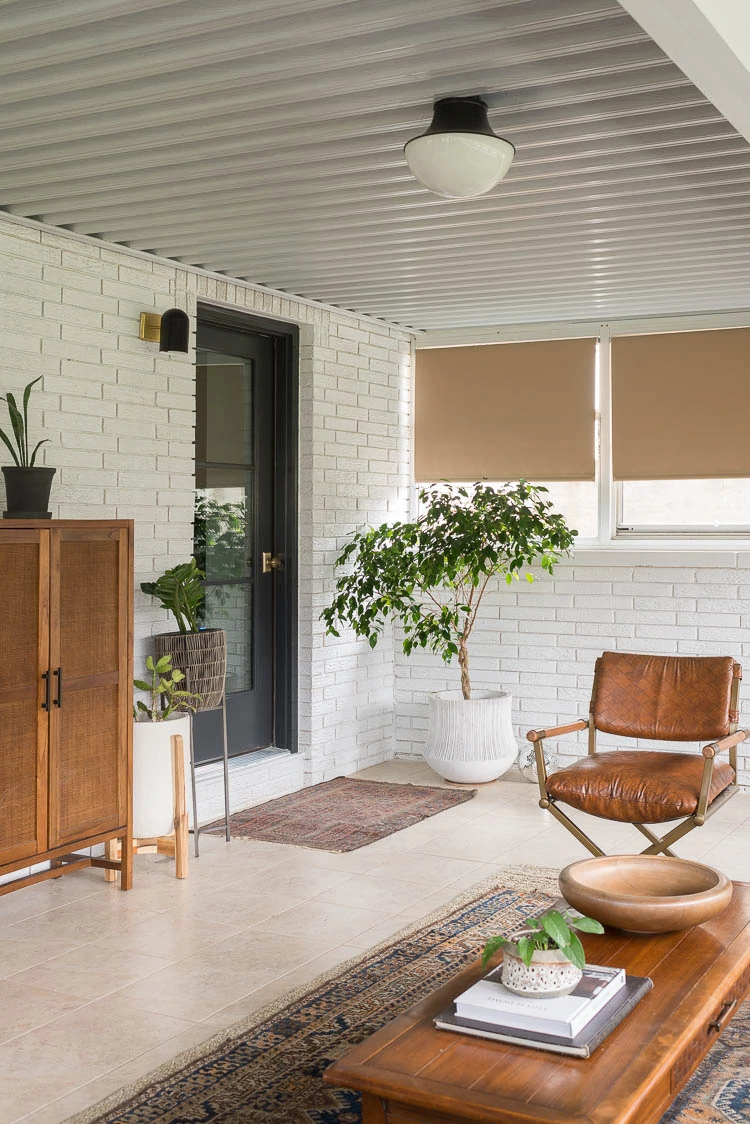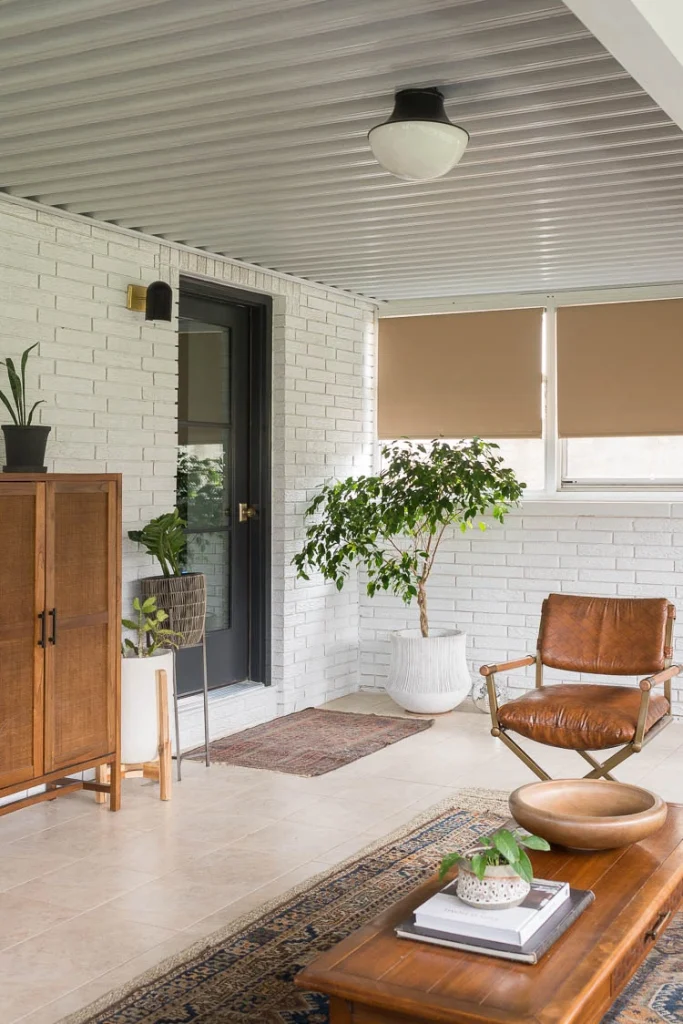 Ashley from This House Might Be Bigger Than The Three of Us has used Behr's Cracked Pepper in several places of their beautiful home, including the interior doors in their foyer and sunroom. Check out more pictures of the paint color in their home here!
She also used Cracked Pepper on their kitchen cabinets, garage cabinets, and their front door. Repeating a paint color several times in your home is a great way to creative consistency with a whole home color palette.
Cracked Pepper is a dark grayish-blue paint color. Ashley mentions that the color will change depending on the light in the room. When there is more sunlight, it will pull more blue. But otherwise, it looks closer to a warm black color.
It is darker than Graphic Charcoal, so it's a good option if you're looking for something slightly closer to black.
Wrought Iron by Benjamin Moore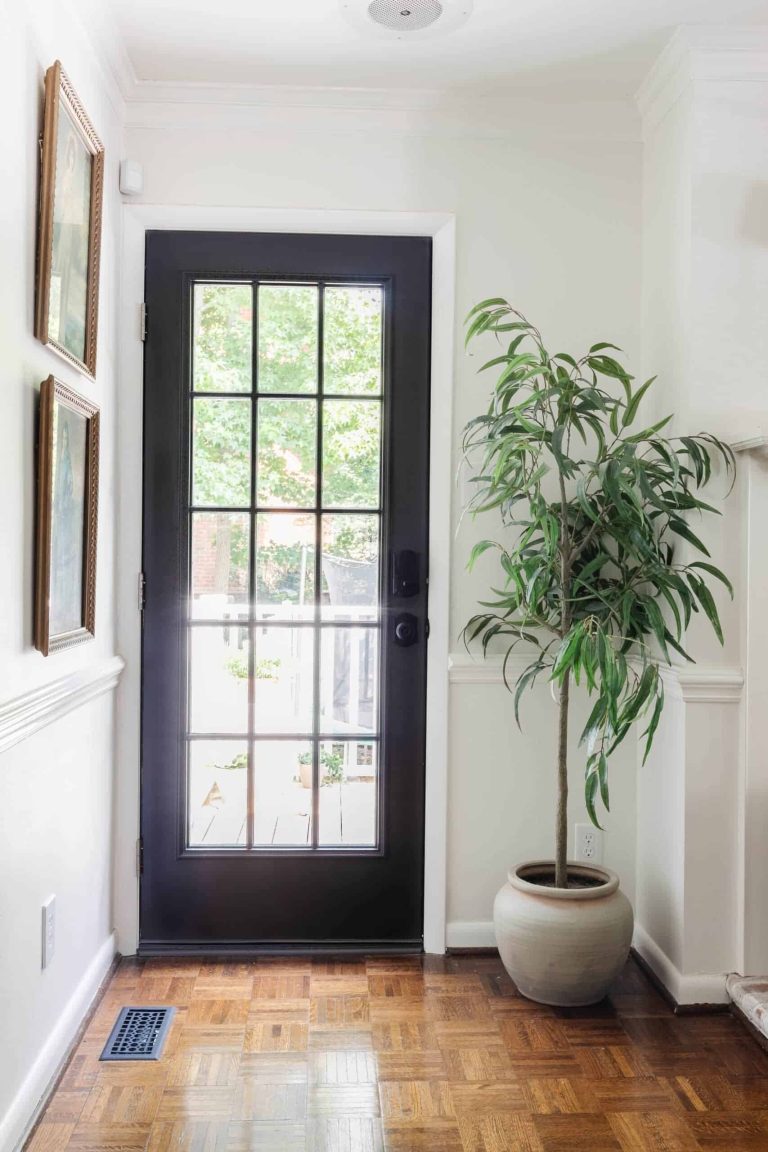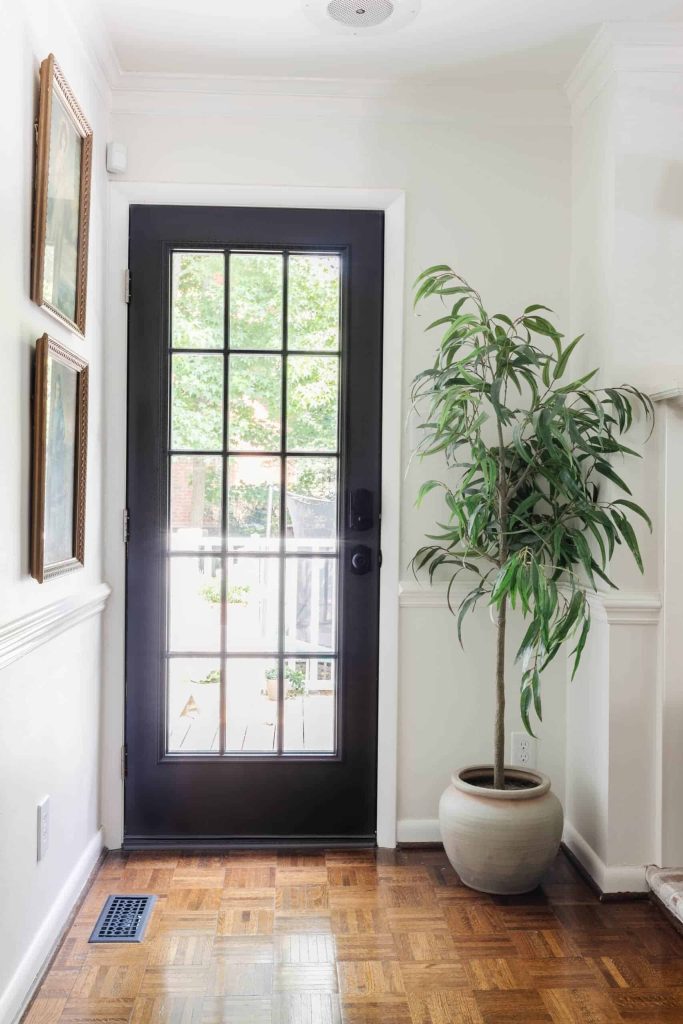 Lauren has a lot of gorgeous French doors in her living space and she used Wrought Iron by Benjamin Moore. This is a great paint color option that is definitely black but still feels soft with its gray and blue undertones. It is one shade lighter than a true black.
She also has some great tips in this article for painting French doors, so you should definitely check it out if you're going to be painting window pane doors.
Onyx by Benjamin Moore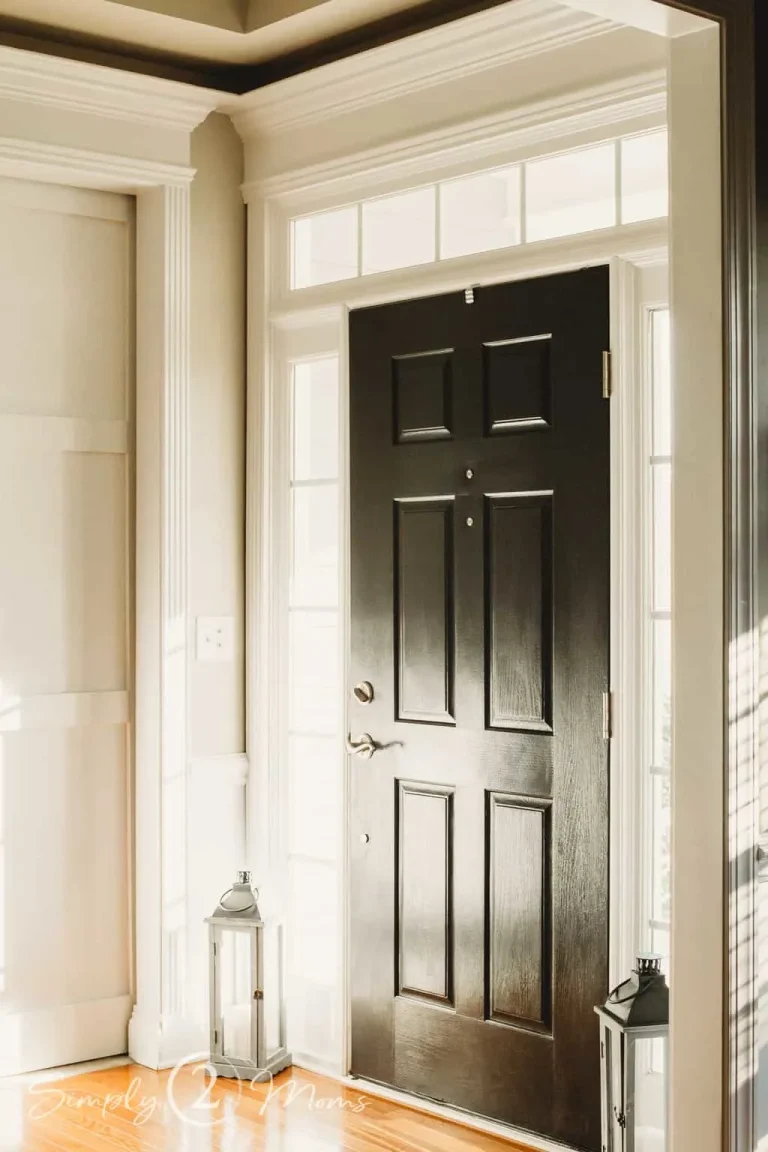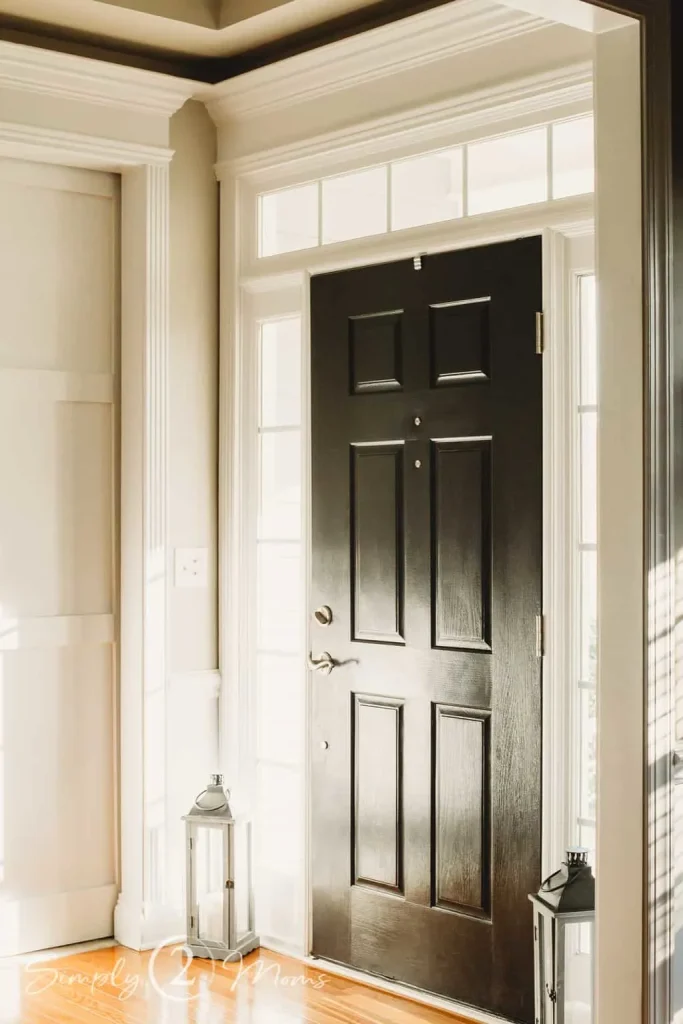 Onyx by BM is another great option if you're looking for black door paint color ideas. When compared to Wrought Iron, Onyx is much darker and more of a true black.
Anne from Simply 2 Moms used this color on the inside of her front door, which is a great way to "try out" painting interior doors in your home. This paint color is a gorgeous black color that provides a good contrast with lighter walls and trim colors.
Tricorn Black by Sherwin Williams
Tricorn Black by Sherwin Williams is a very popular black paint color that is deep and dark black.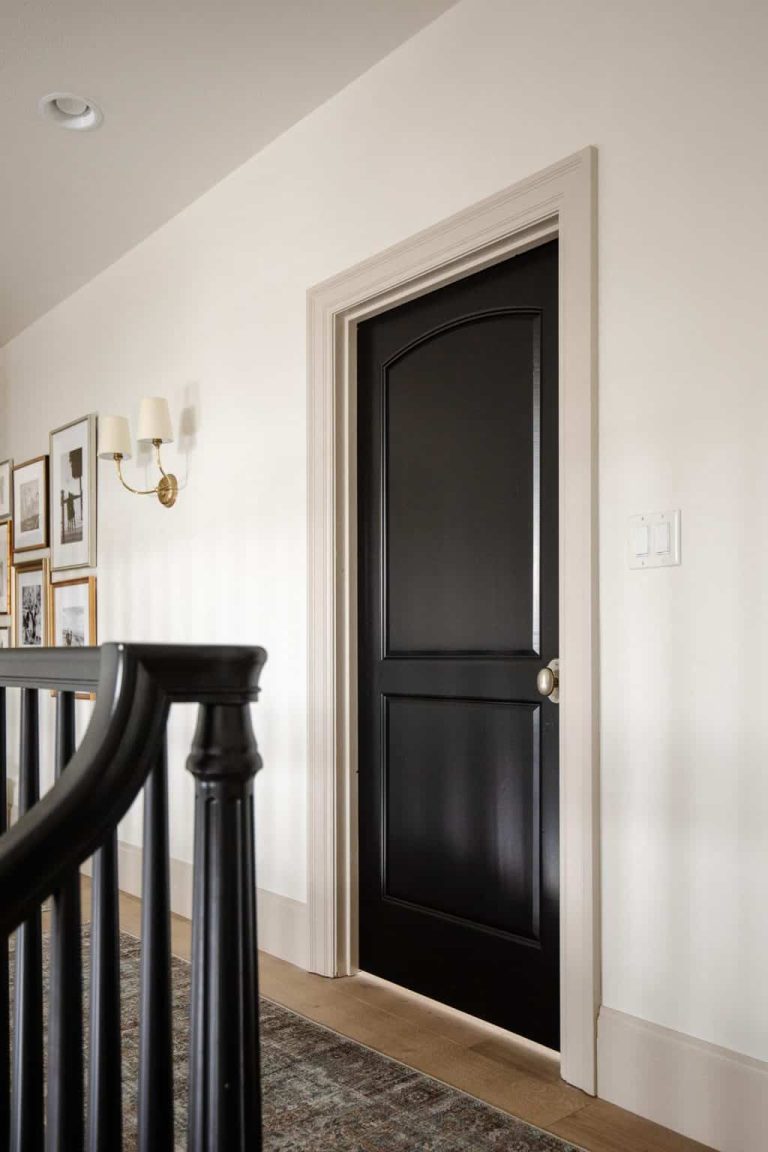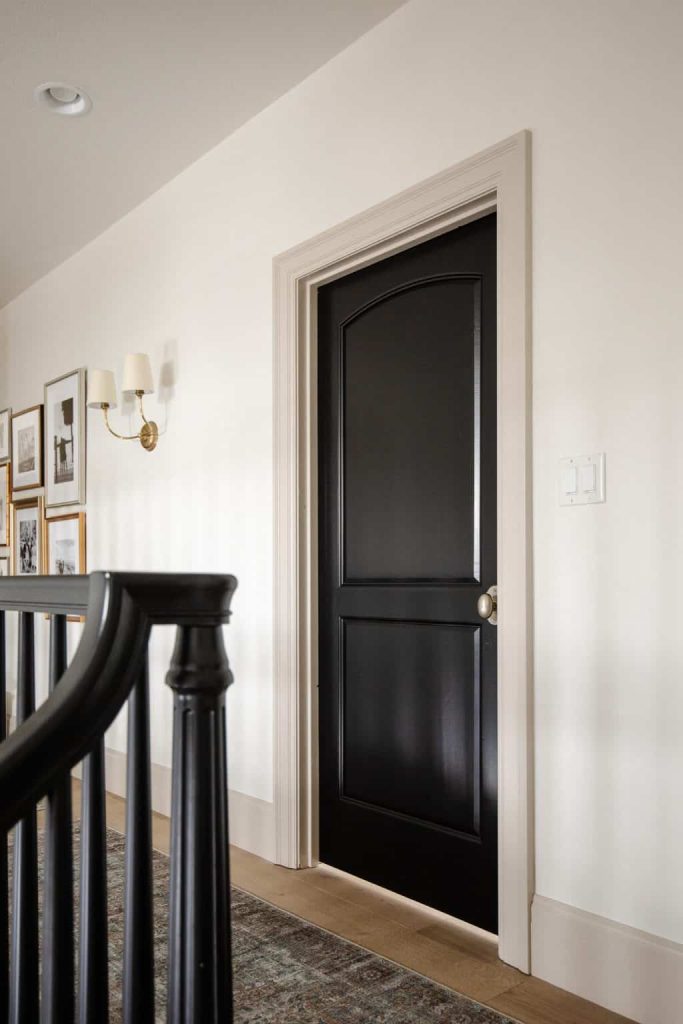 Chris Loves Julia used this paint color on all of the doors throughout their home and it seems to be a great match for the various other paint colors and wallpapers that they have. Check out the color on the doors more in detail here!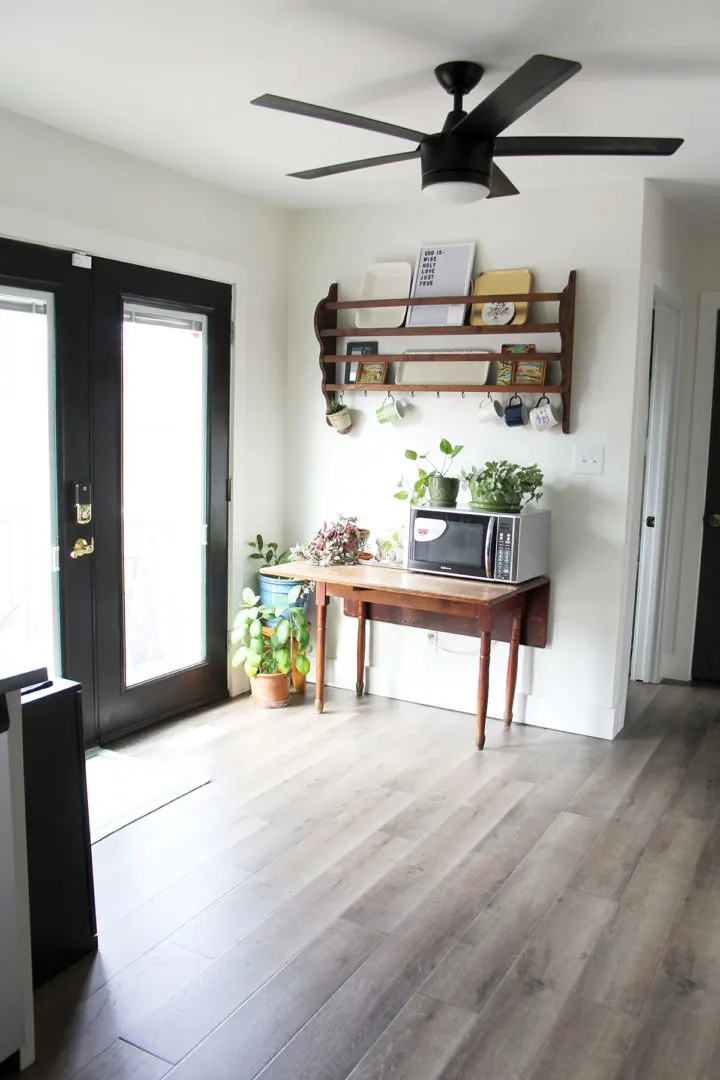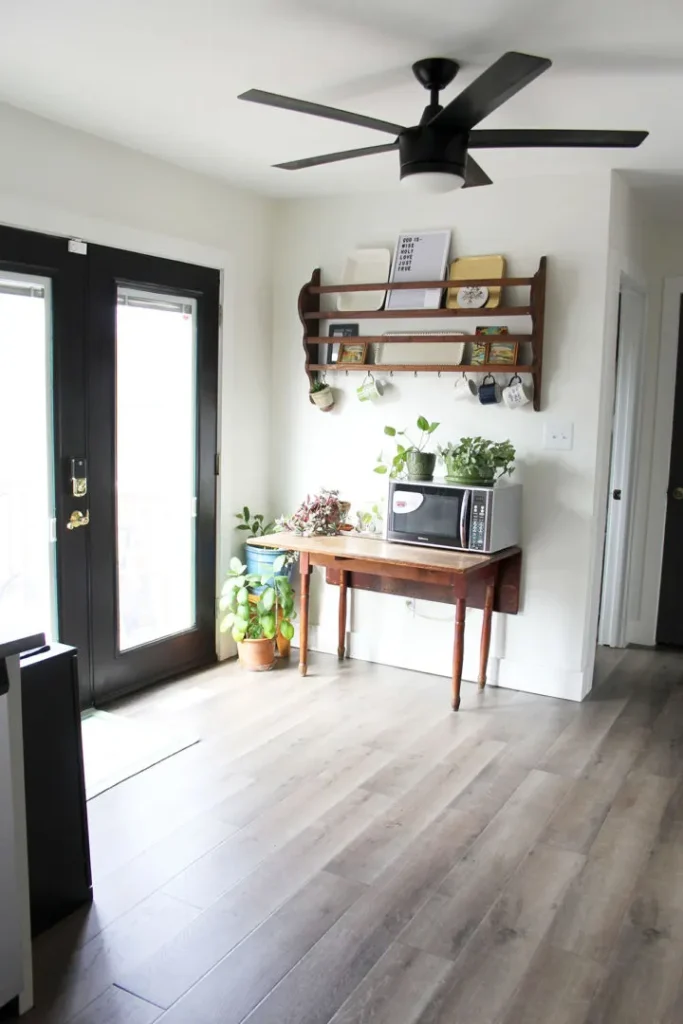 Lora from Craftivity Designs also used Tricorn Black on the interior doors in her home. It is really such a good true black paint color, which is probably why it is so popular.
Hale Navy by Benjamin Moore
If you don't want to go with dark gray or black for your door color, you could try something with slightly more color – like navy blue!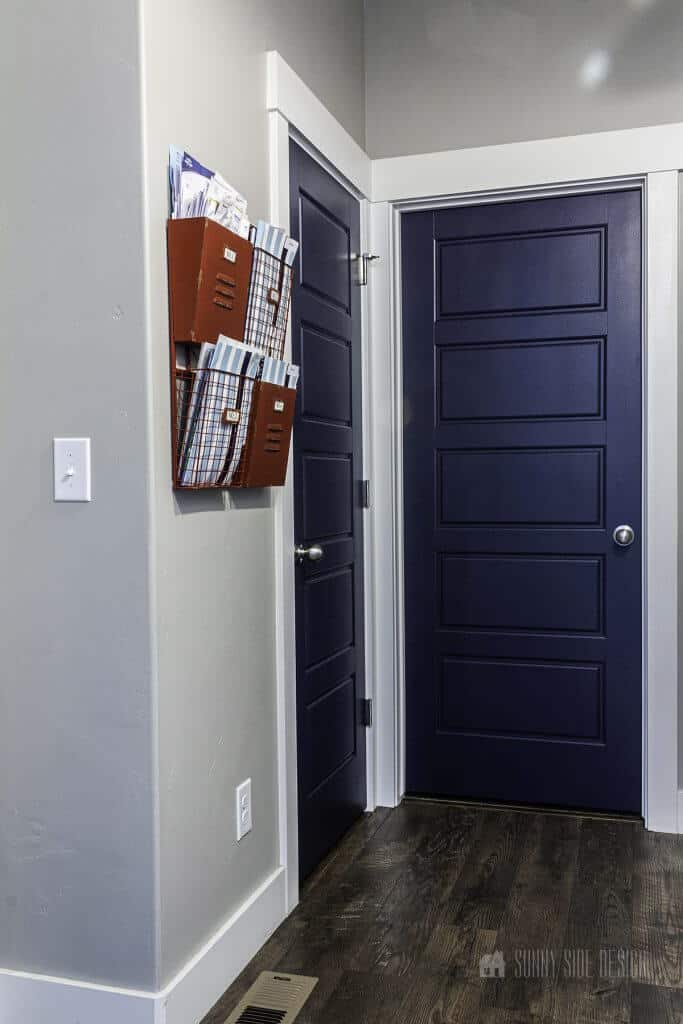 Stephanie from The Sunny Side used Hale Navy by Benjamin Moore on the doors here and applied it with a paint sprayer. The deep and rich navy blue color gives their home a high-end custom look, don't you agree? It even accentuates the detailing in the surrounding trim work.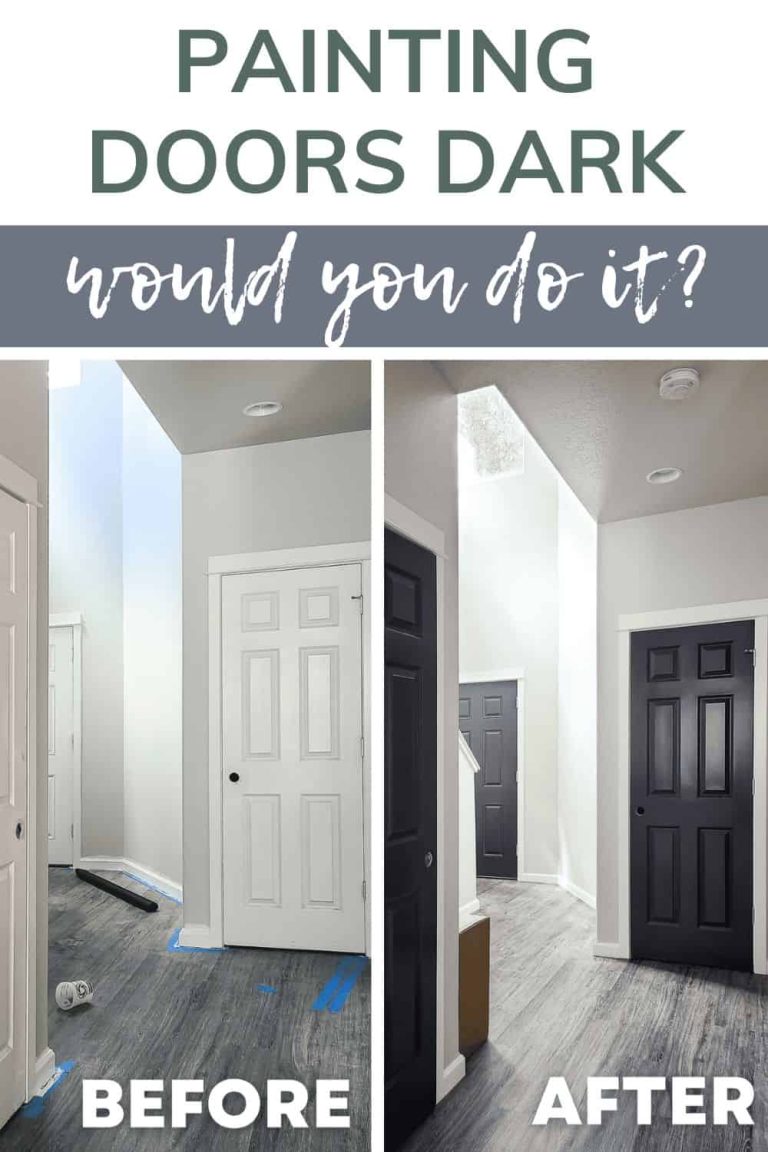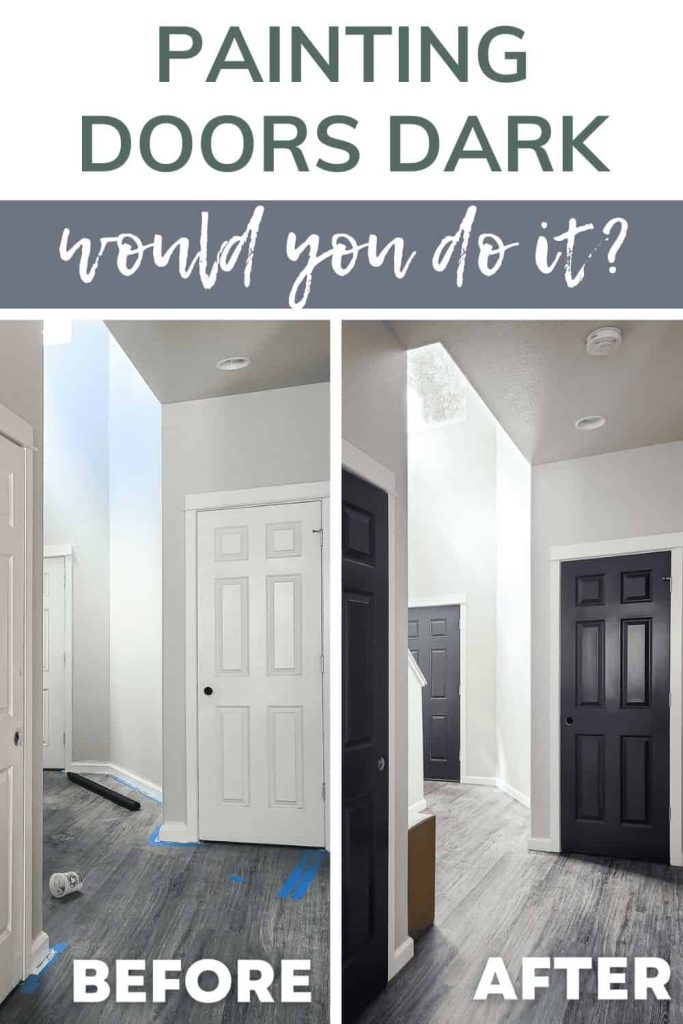 For more tips and tricks about choosing paint colors, check out this article which walks you through my entire 4-step process for how to choose paint colors!
Are you ready to take the plunge and paint your doors dark? What's holding you back from painting interior doors black?
Let me know in the comments below!