Thank you Brawny® Tear-A-Square® for sponsoring this post. Think of all the ways you can Put a Square There!
Looking for back to school teacher gifts for the first day of school? Grab some Brawny® Tear-A-Square® and download this free printable tag and card to make this easy teacher gift basket.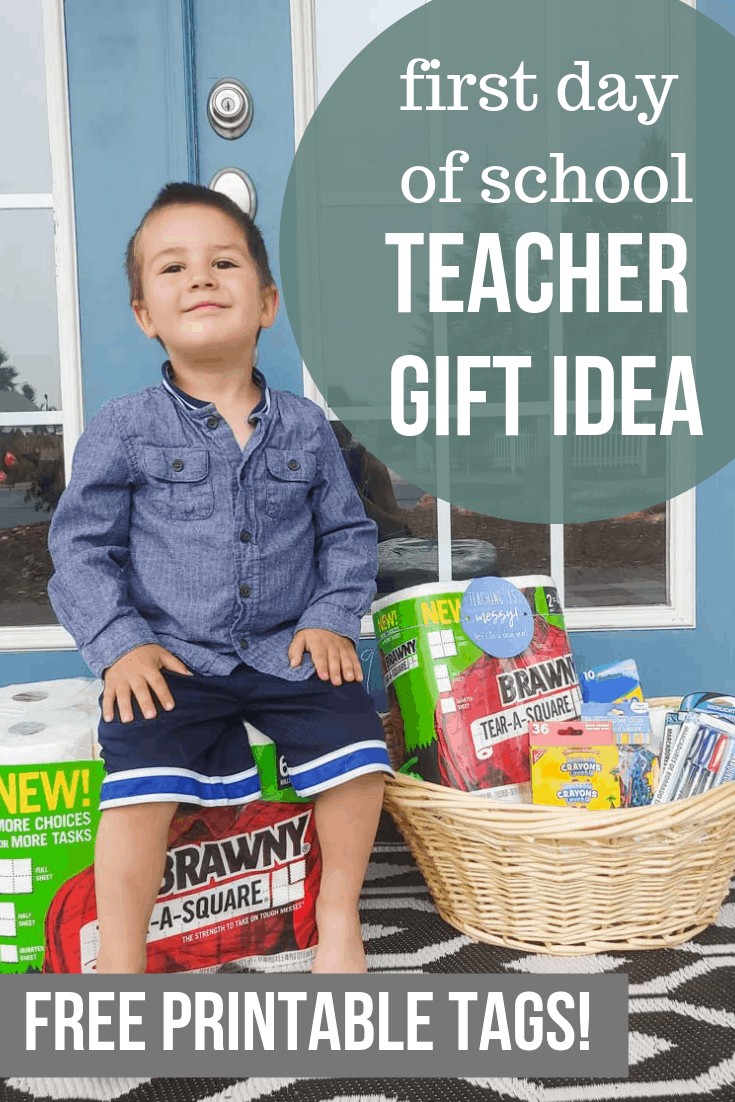 It's back to school season, which means that you are soaking in the last days of summer and eagerly preparing to ship those kids off to school again! There is so much to do in the back to school season – get new clothes, find a cute backpack, get your house organized for the new school routines…the list goes on.
I come from a family full of teachers – my parents and grandparents were teachers & my siblings are teachers, too! So during this back to school season, my mind tends to focus on the teachers. Maybe you're thinking the same thing and looking for back to school teacher gifts.
You can help get your child's teacher off on the right foot for back to school by bringing along a teacher gift basket on the first day of school! I can guarantee that your kiddo's teacher will definitely appreciate the gesture.
This year for Cal's preschool teacher, we put together a fun teacher gift basket with a cleaning theme and, of course, added in some handy school supplies, too!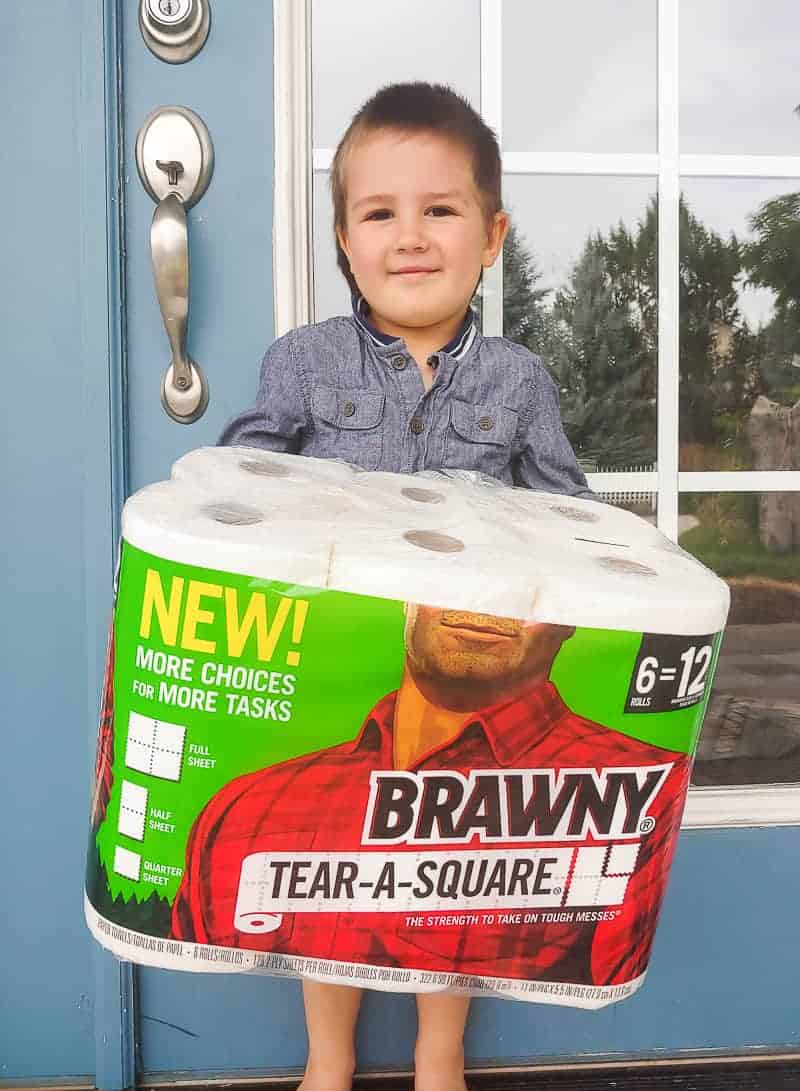 I make an adorable printable tag and card to go along with the teacher gift basket that says:
Teaching is messy. Here's to a clean year!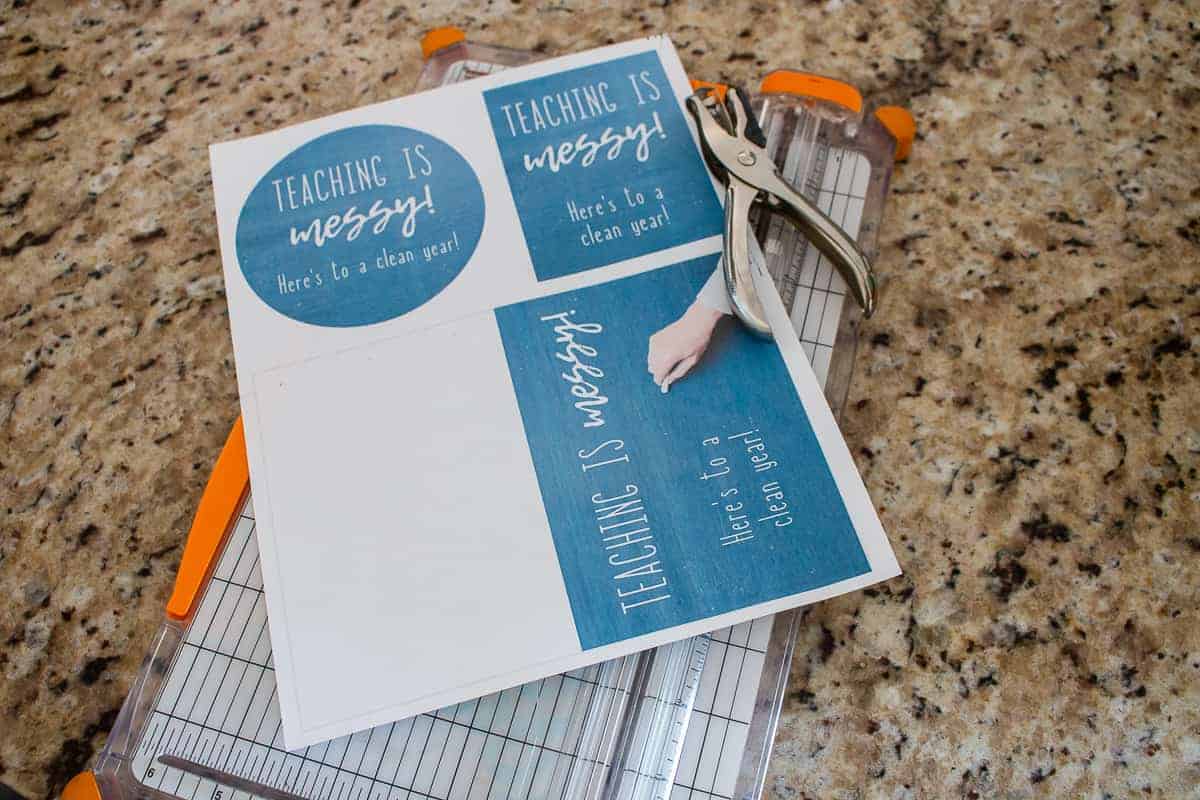 Because teaching IS messy and, goodness gracious, kids are messy!! With preschoolers, sometimes there are little messes and sometimes there are big messes, that's why we included a whole bunch of new Brawny® Tear-A-Square® paper towels, which has quarter sheet sizes so you can use what you need without the waste.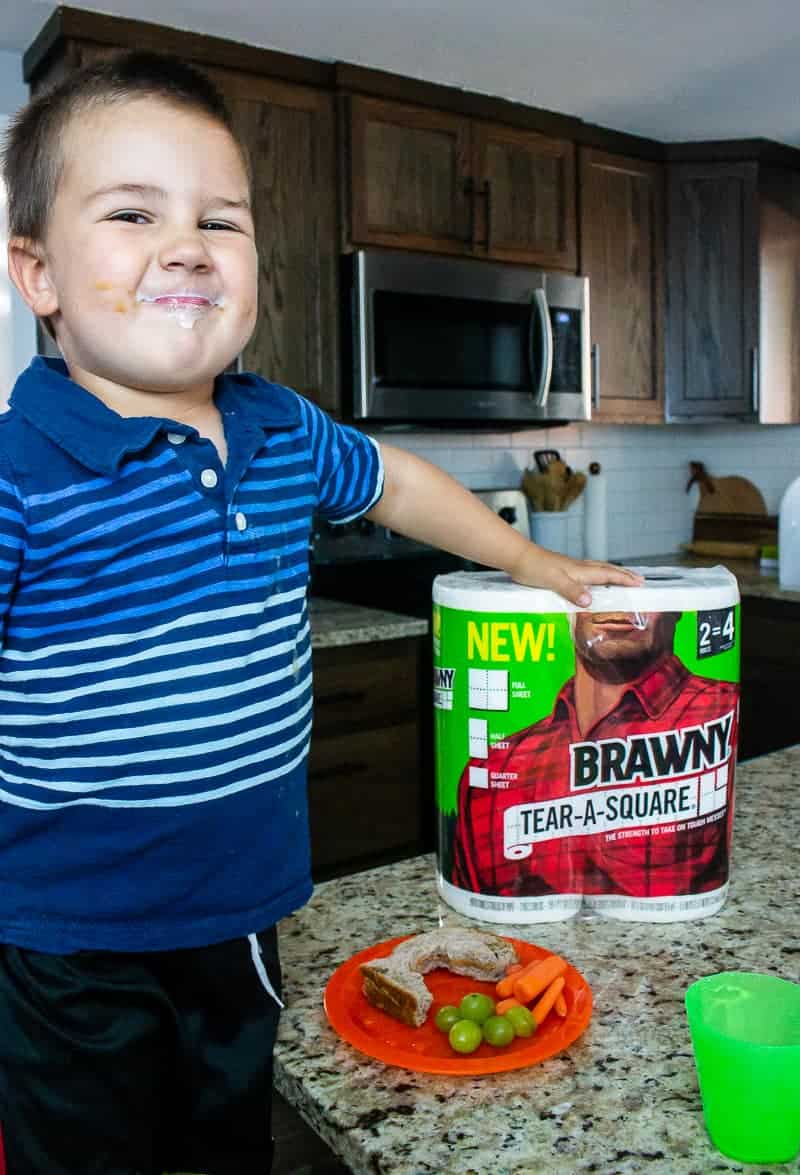 We've been using these paper towels at home and they have definitely come in handy cleaning up many of Cal's messes.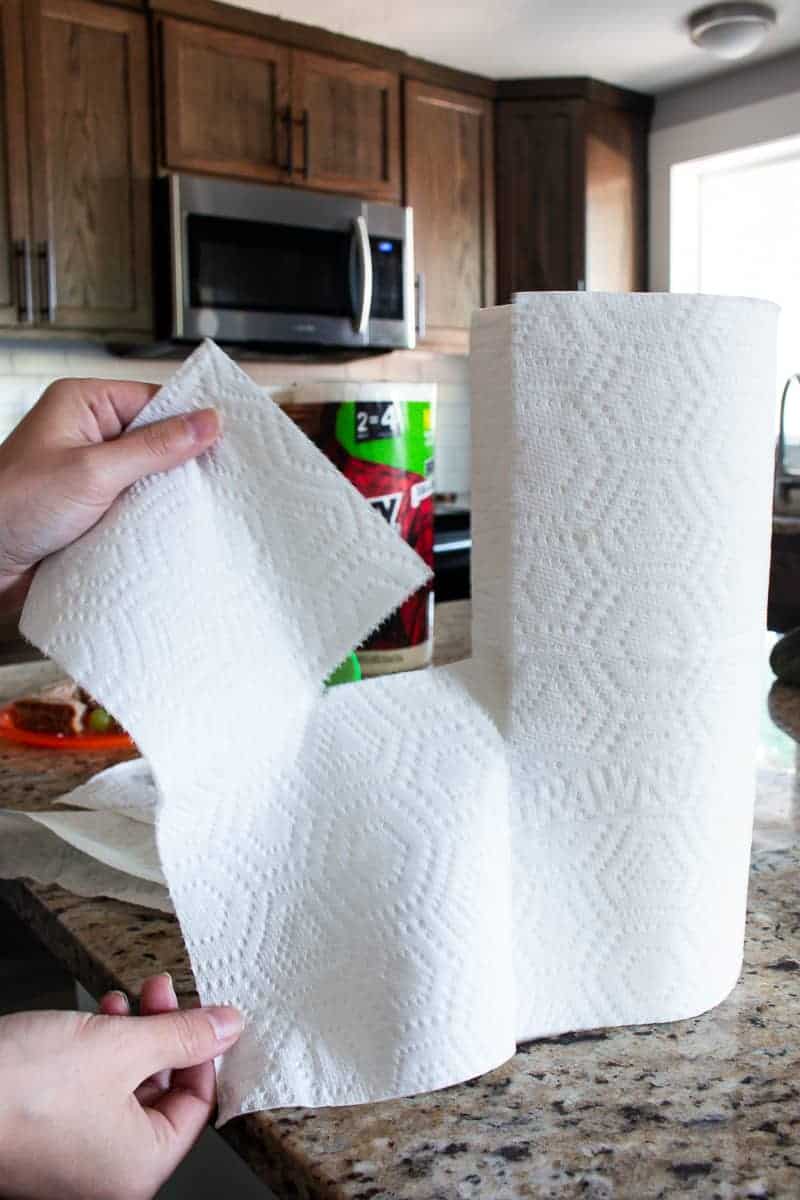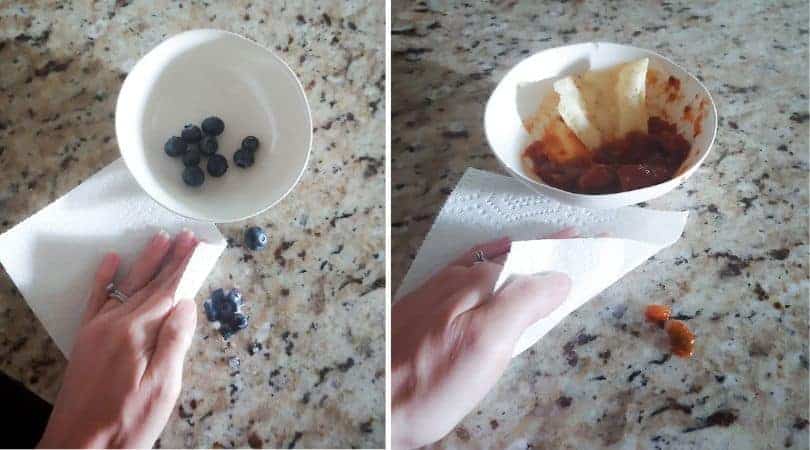 The paper towels actually have three different sheet size options – how cool is that?! You can use a full sheet, half, or quarter. The quarter sheet size is great for cleaning up small messes – like drips of salsa on the counter or preschooler smashed blueberries (because smashing blueberries is fun, right?). We have even used the small quarter size to clean the bathroom mirror and it works great.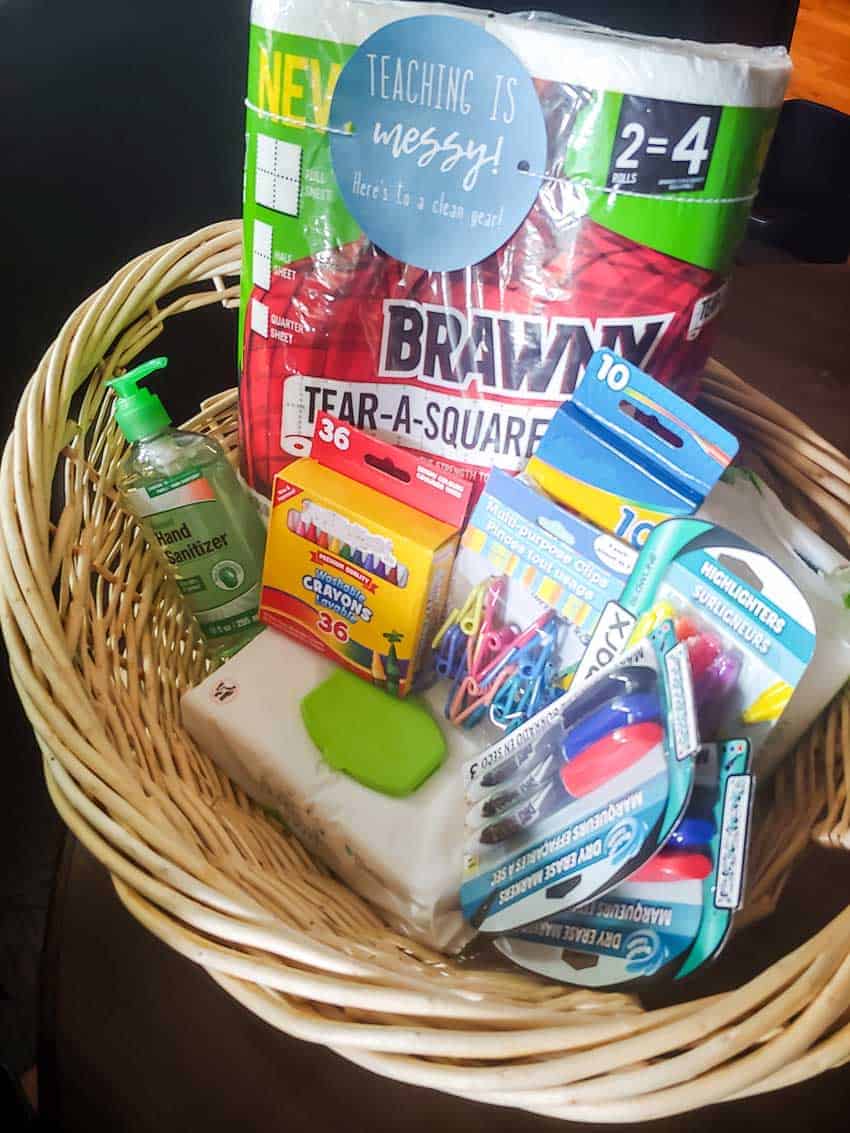 So, how do you make the teacher gift basket??
Putting the teacher gift basket together is so easy, which is great if your preschooler is helping you!
First, you need a basket, of course! I snagged this big basket (that was just the perfect size for our teacher gift basket) at a yard sale recently for $2.
Then, you just fill it up! I put the paper towels in back so the basket would be arranged with the taller stuff in the back. The packages of baby wipes also helped at the bottom to give the rest of the supplies some height.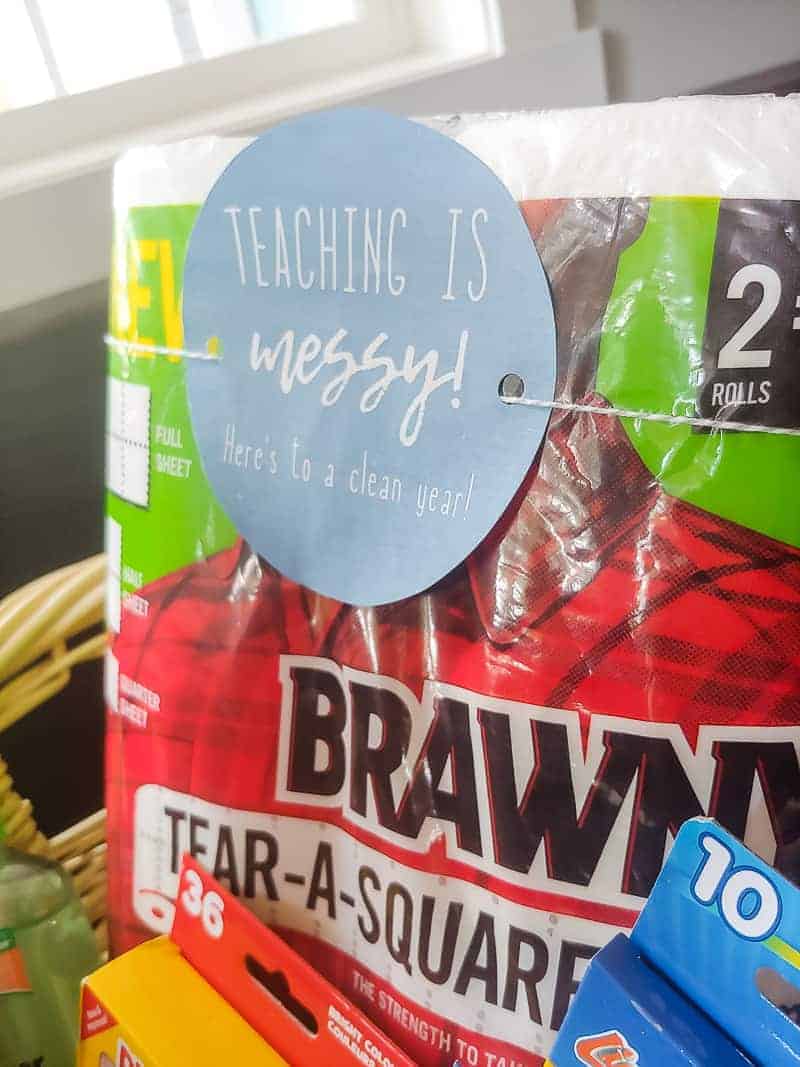 The rest of the basket was filled with baby wipes, hand sanitizer and then some fun school supplies, like notepads, crayons, dry erase markers, highlighters, etc.
Lastly, just download and print out the tags. (Sign up is below). I made two tag options (rectangle and circle) and a card option. Just use whichever one works best for your basket.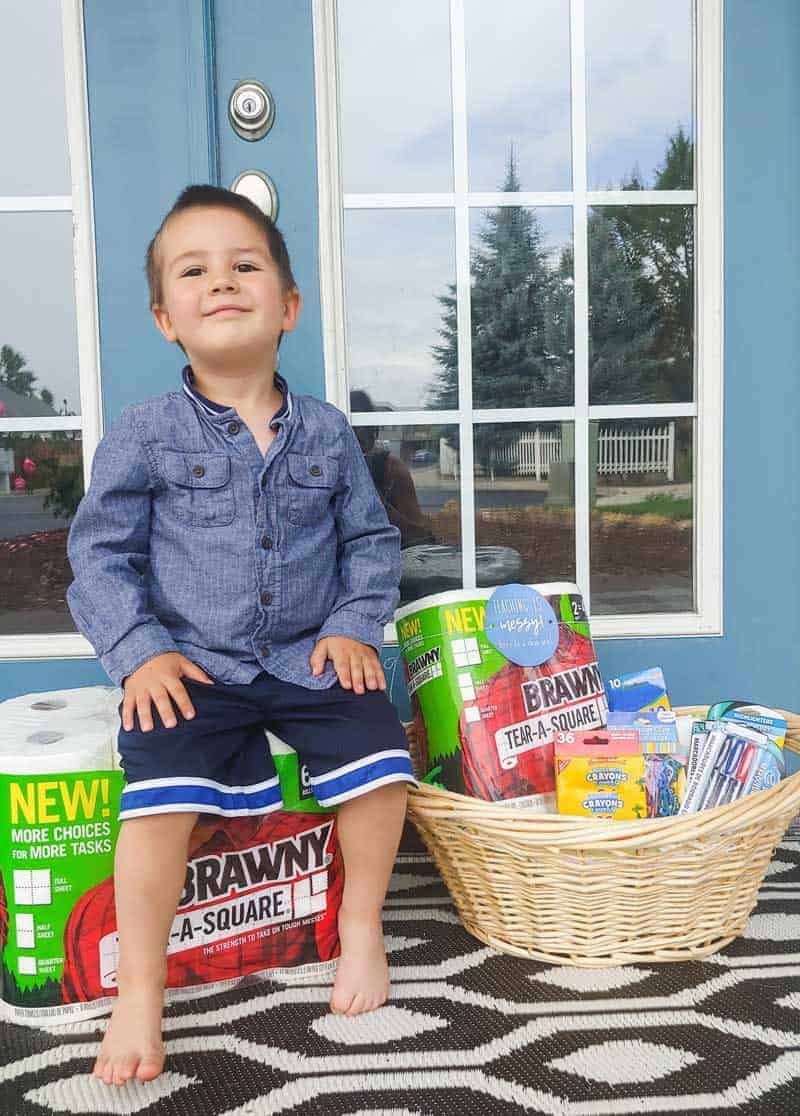 How do I get these free printables for the teacher gift basket?
All you have to do is sign up below!
Cal can't wait to give his teacher the teacher gift basket for back to school! I know she'll definitely appreciate all the paper towels for cleaning up – especially the flexibility of the new Brawny® Tear-A-Square® paper towels.
What are you doing this year for back to school teacher gifts?
Let us know in the comments below!