Do you love succulents for decor, but don't want to have to maintain them? Check out this gorgeous DIY fake succulent wall decor that is so easy to make!
This is a sponsored post written by me on behalf of High & Mighty. All opinions are 100% mine. This post also contains affiliate links, but nothing that I wouldn't recommend wholeheartedly. Read my full disclosure here.
Did you guys see our big bathroom reveal last week?? If so, you probably noticed that GORGEOUS super cool focal point on the wall.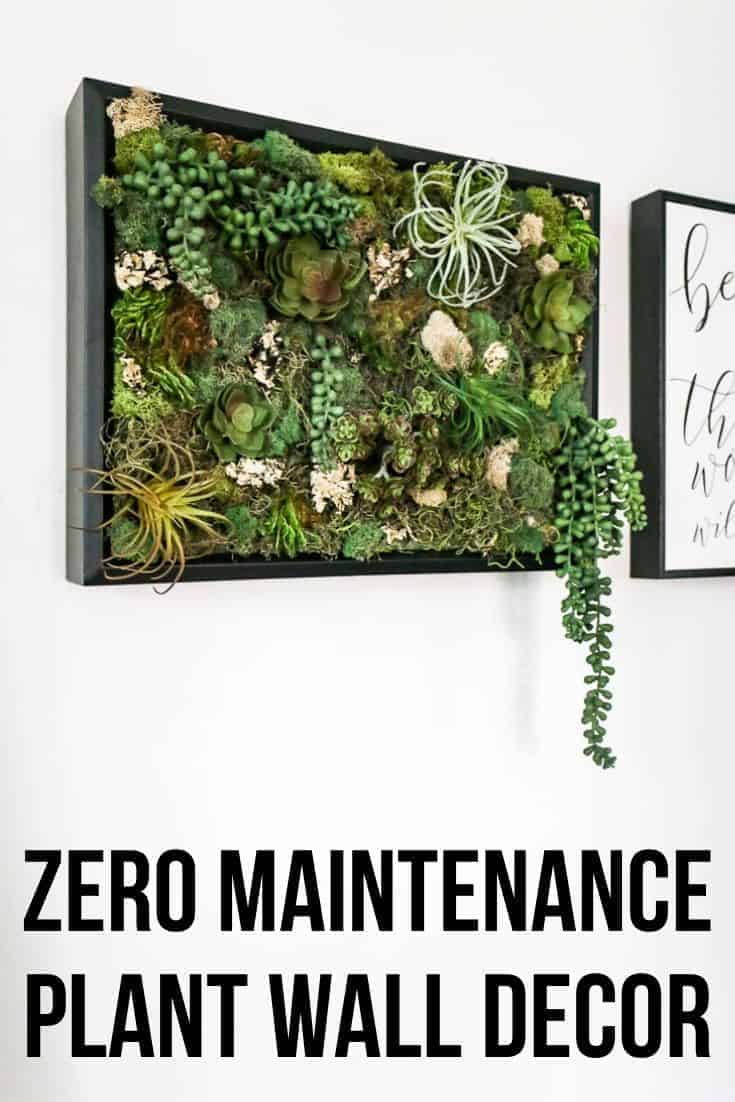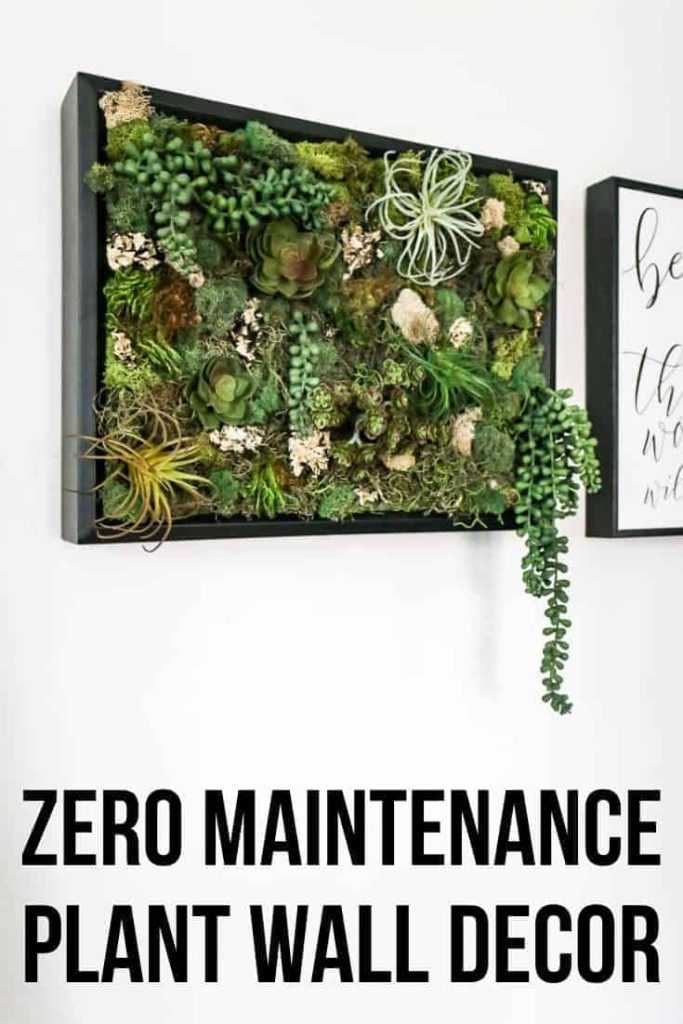 Yes, for sure, I'm proud of our bathroom that we renovated in just six weeks.
But I'm so equally proud of making this simple, yet impactful succulent wall decor. It adds life to the room without adding any maintenance because, believe it or not, these are all fake succulents.
I honestly don't think I've made something this cool in a long time. I can't believe just how easy it was to make (and hang).
Here's a quick behind-the-scenes video of making this fake succulent wall decor:
If you love DIY videos, be sure to subscribe to our YouTube channel!
Step-by-Step: How to Make Framed Fake Succulent Wall Art
Step 1: Prep your shadowbox frame.
For this succulent wall decor, you'll need to take the back off of the shadowbox frame and remove the glass entirely.
Step 2: Cut floral foam.
Now you want to cut the floral foam down to size so it fits perfectly into the shadowbox. I just used a little keyhole saw to do this, but it did make a huge mess so you may want to do it over the trashcan.

Step 3: Start with the moss.
I started by laying out the moss over the floral foam. This was really because I wanted to make sure I liked all the colors together and I wanted to make sure I had enough.
Step 4: Roughly plan.
Next, you want to roughly plan out where the bigger fake succulents will go.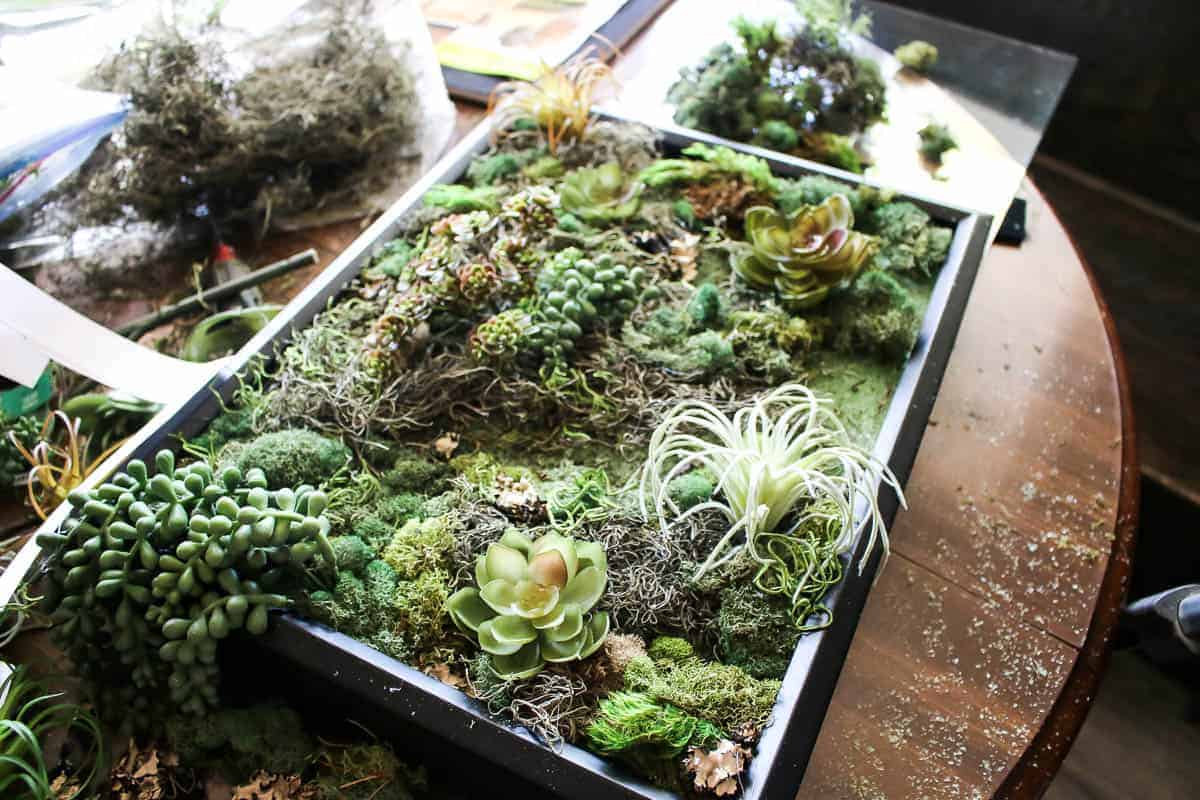 Step 5: Work in small sections.
Now you can start attaching your moss and succulents! All you really do is grab your hot glue gun and start gluing. The moss should easily attach to the floral foam with hot glue. For the succulents, just cover the stem with hot glue and stick it straight into the floral foam. I found it easiest to work in small sections and continue filling into all the blank spaces with more moss.
Step 6: Put it all together.
It's really pretty simple. Just push the floral foam into the shadowbox and reattach the back panel. Depending on the depth of your shadowbox and foam, it may be a tight squeeze to fit the back panel on, I had to push pretty hard to get it back into place.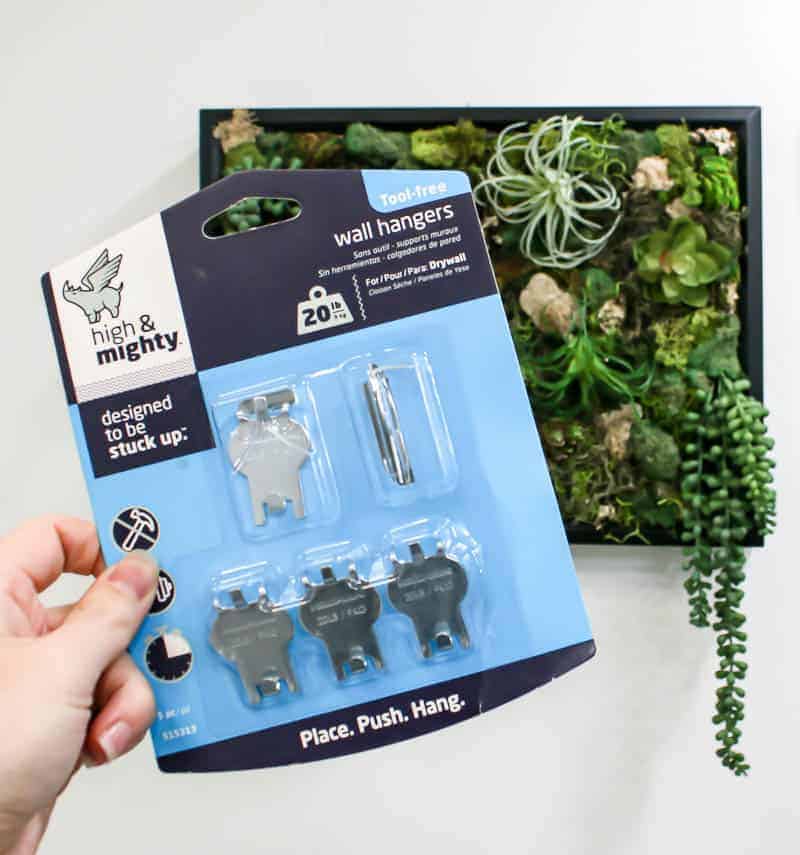 Step 7: Hang it up.
Now, this is where my friends from High & Mighty come in. I was wrapping this succulent wall decor up when we were getting ready to finish the bathroom. I don't have to tell you that our tools were spread out all the way from the garage to the bathroom.
The state of our house was completely embarrassing. There's just no way I could have found a nail and hammer in the mess.
Luckily you don't need ANY TOOLS to use the High & Mighty wall hangers. We just added a little picture hanging wire to the back of the frame.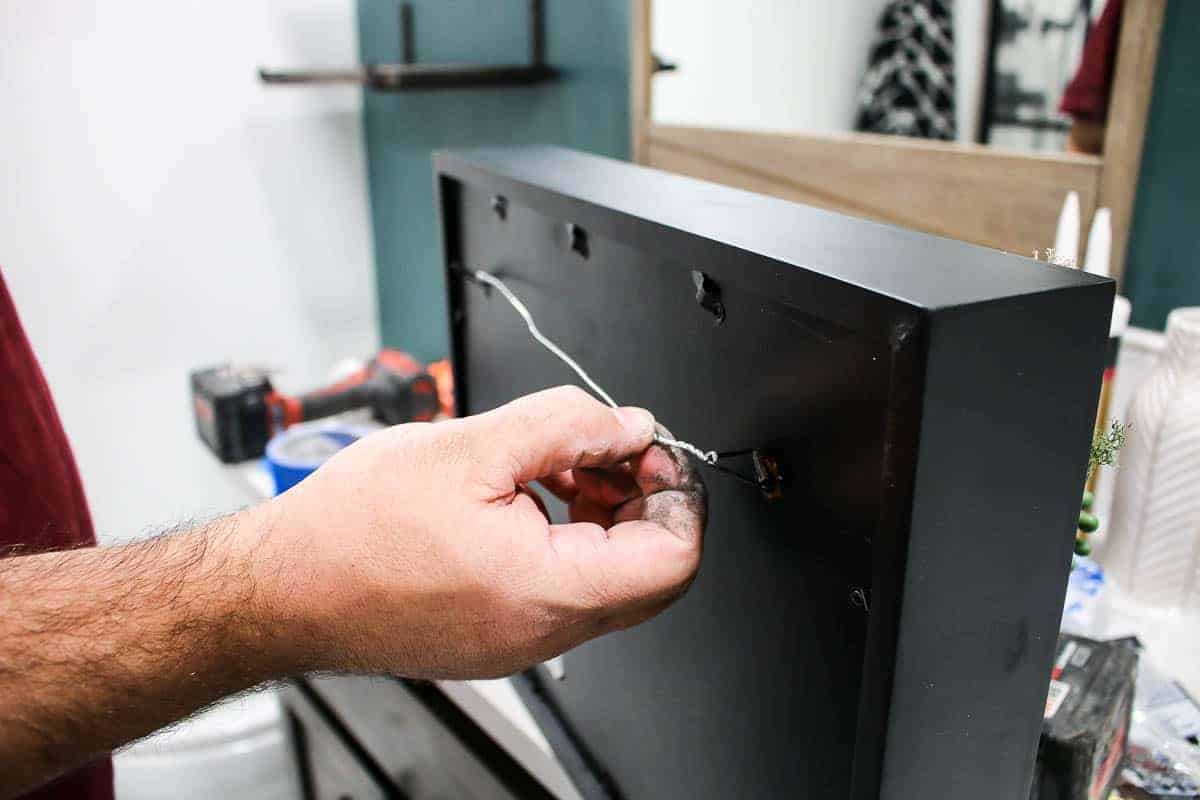 Then you seriously just push the wall hanger into the wall with your thumb and voila! Their tagline is "place. push. hang." and it's perfect because it's so true. It was so quick and easy.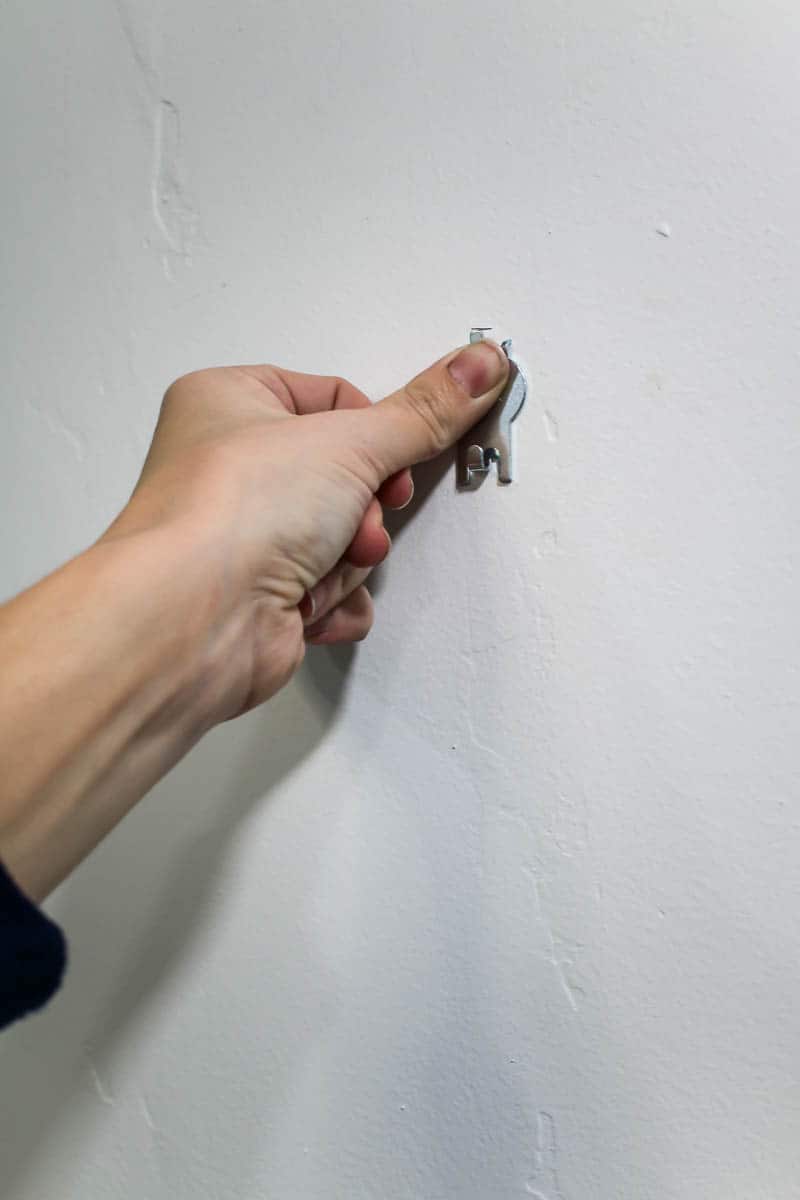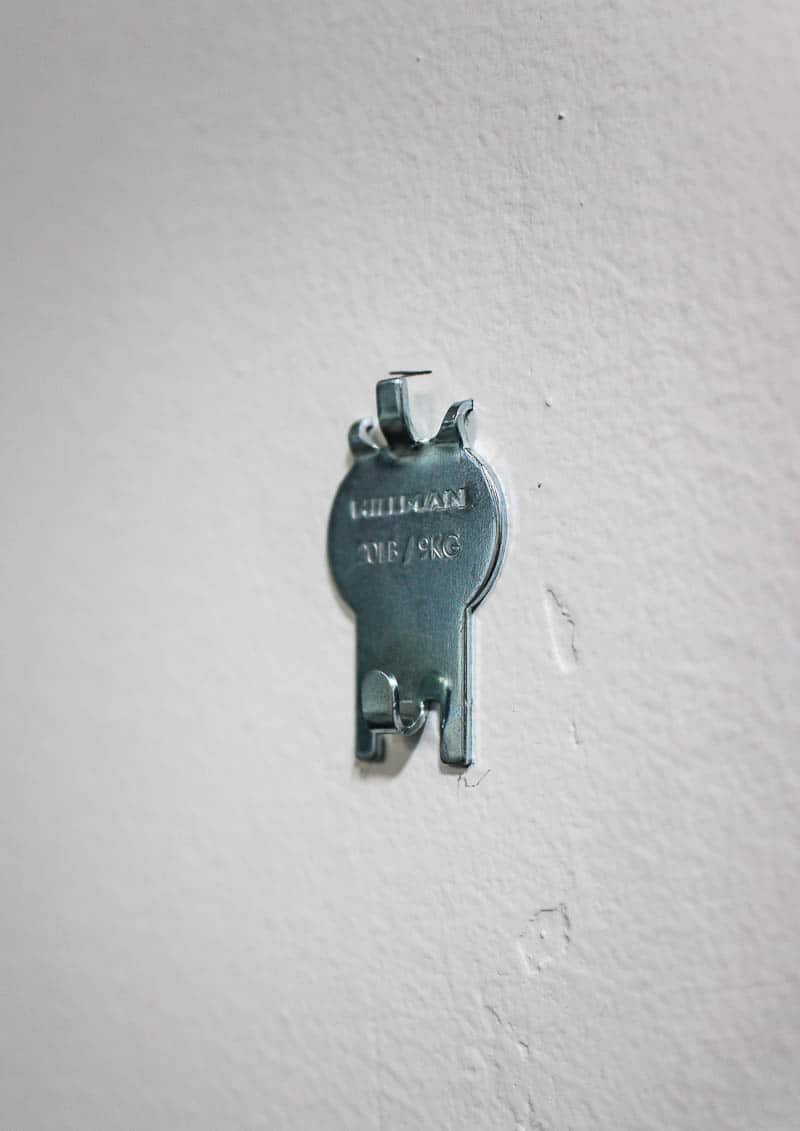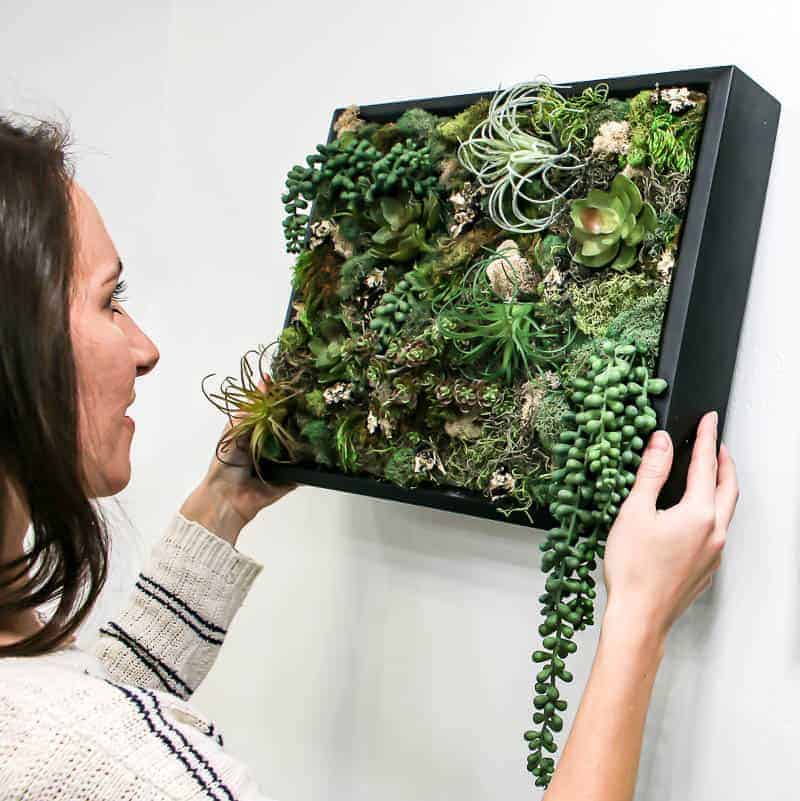 Our fake succulent wall decor was pretty light so we only needed the 20 lb hanger, but they also make hangers for heavier items too! And they have hooks and floating shelves that I seriously can't WAIT to try out!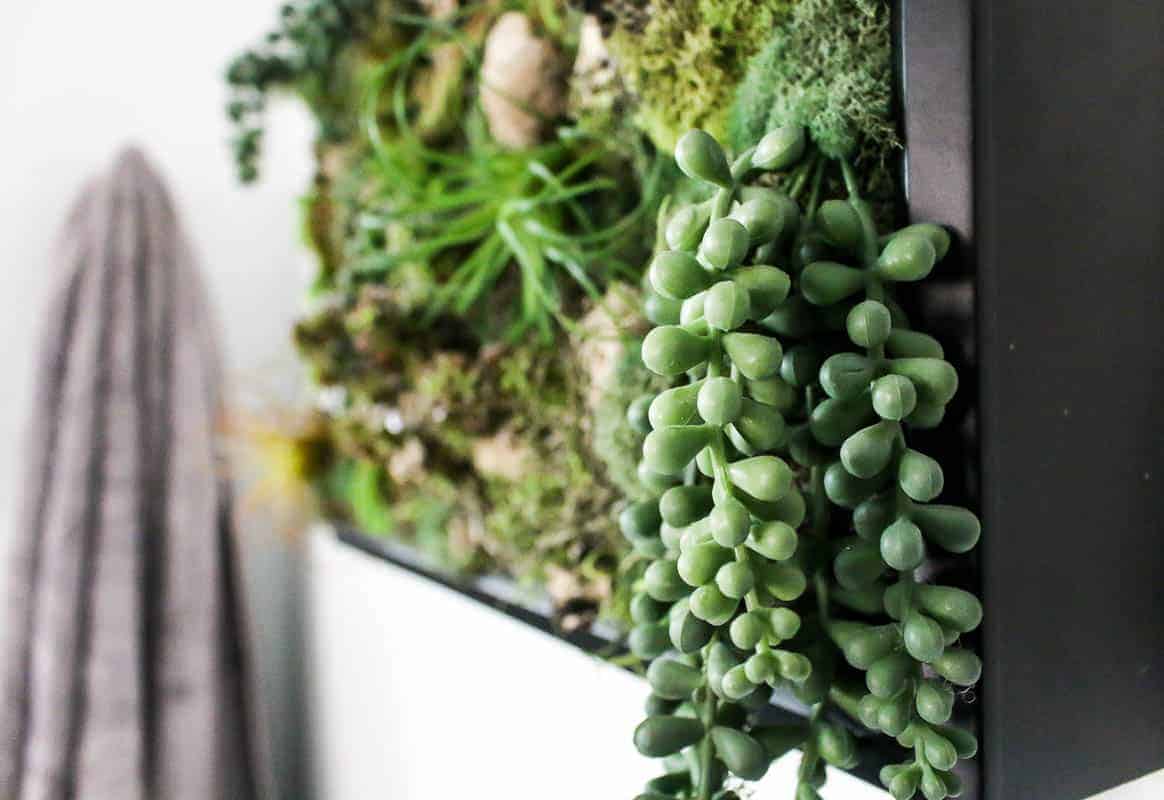 You can find High & Mighty products at your local hardware stores (Home Depot, Lowe's, True Value), at major retailers (like Walmart, Michaels, and Target), or on Amazon!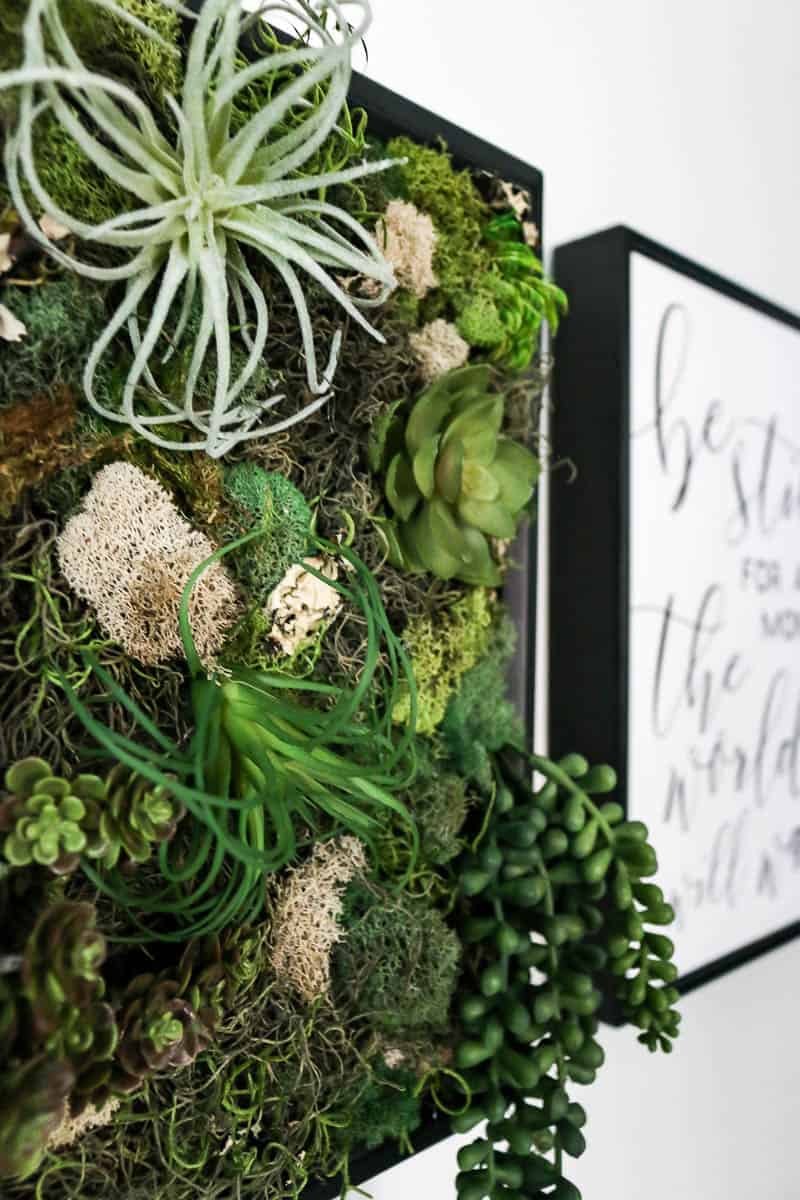 This is seriously one of those DIY projects that you make, hang up and sit back and say…"dang, I made that".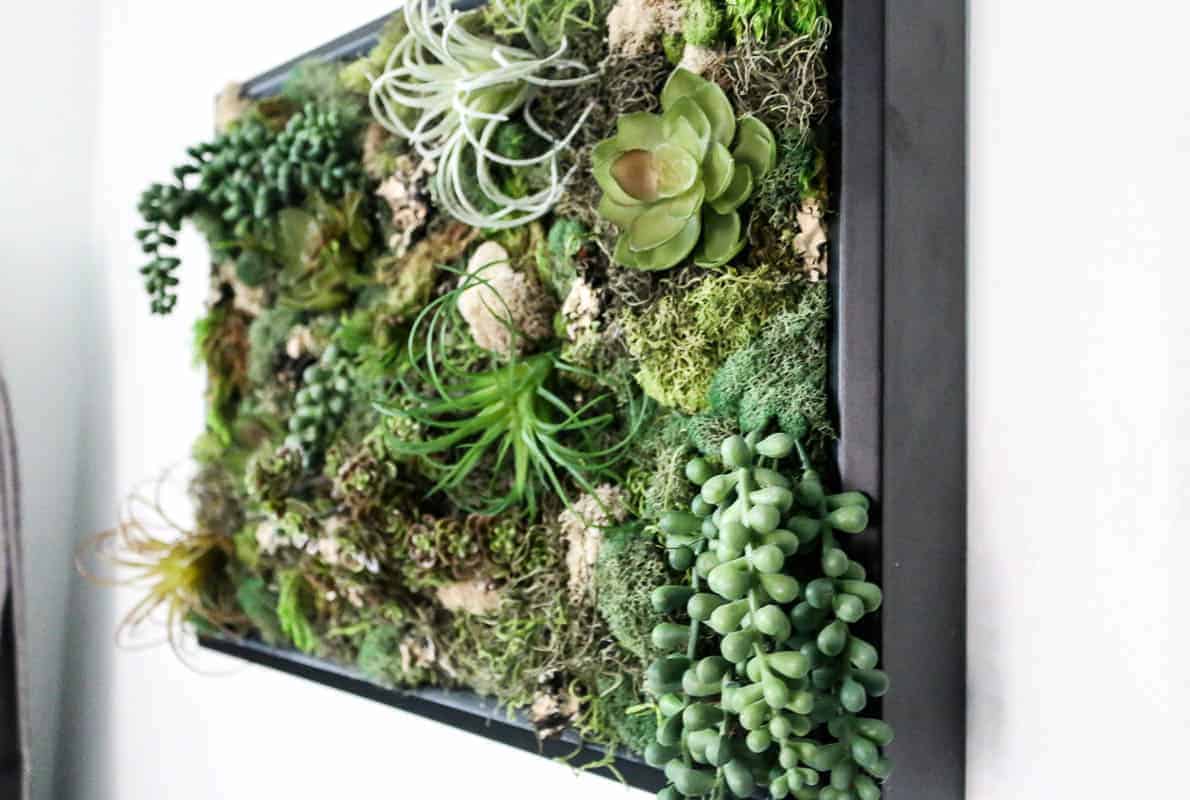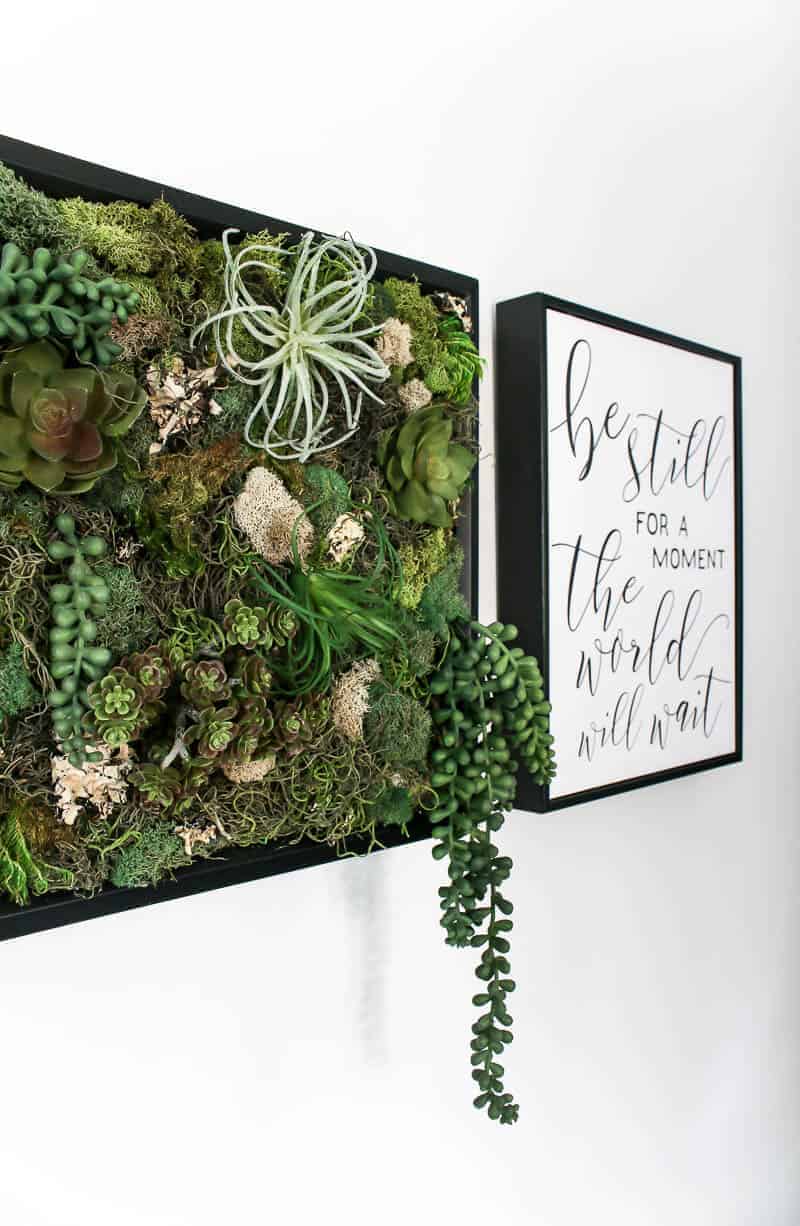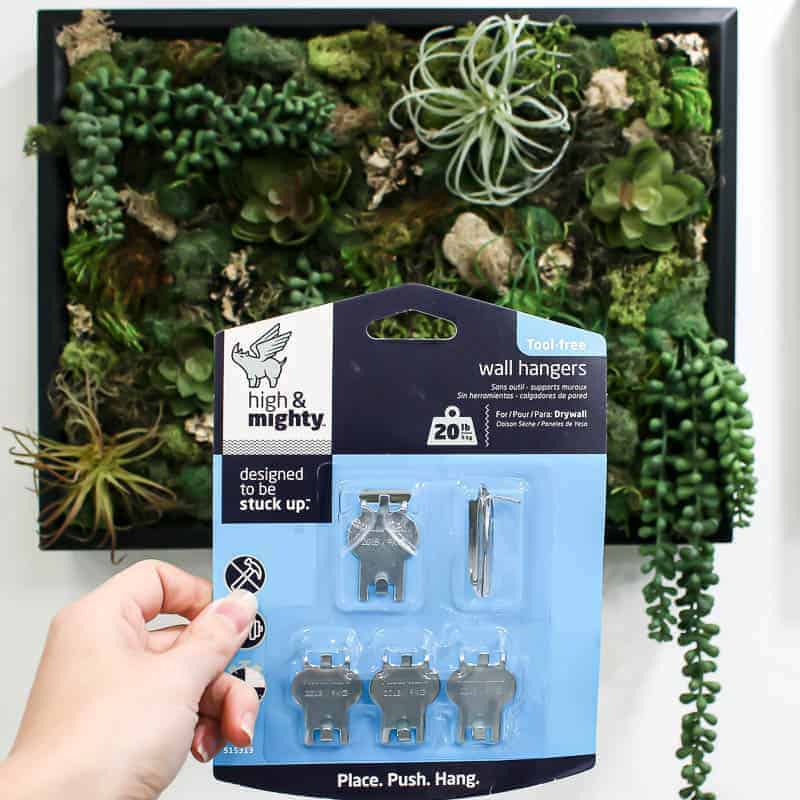 Where would you hang a succulent wall decor like this in your home?
Let me know in the comments below!!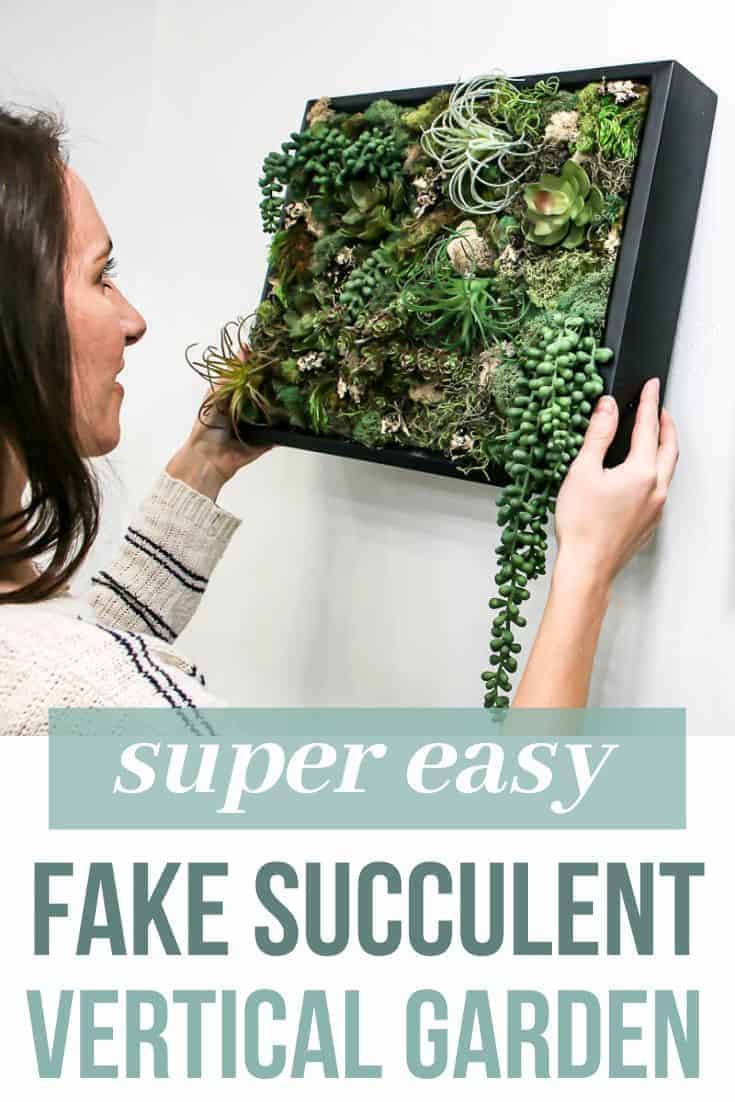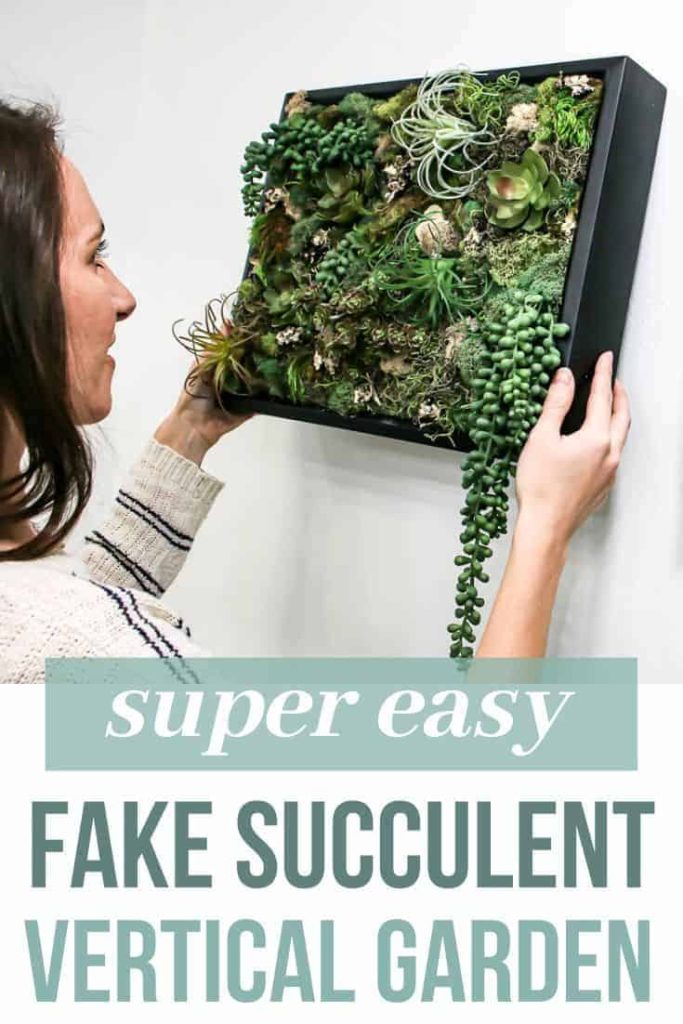 How To Make Fake Succulent Wall Decor
Love the look of succulents as decor, but hate the upkeep? This zero-maintenance fake succulent wall art is the perfect solution! Here's how to make this hanging succulent garden in just a few simple steps.
Materials
Floral foam
Hot glue
Picture hanging wire
Instructions
Prep your shadowbox frame
Cut floral foam to fit inside frame
Start with the moss and attach with hot glue
Roughly plan locations of fake succulents
Work in small sections
Put it all together with attaching with hot glue
Hang it up with High & Mighty Wall hangers (no tools required!)