Procrastinators unite! These 10 last minute gift ideas for Christmas will save you just in time for the holidays because you can print them at home. And they are super budget friendly…each of these last minute gift ideas is less than $10!
Are you a procrastinator? You know the type…. always running a little bit behind schedule and waiting until just the very last minute. I'm not personally much of a procrastinator by nature, but I can definitely understand the last minute rush to get your holiday shopping done just in time…because I've been there some years.
Well, procrastinators…you're in luck today because all of these 10 last minute gift ideas for Christmas that are printable… which means all you have to do is push print on your computer at home and then wrap up you last minute Christmas gift and BOOM…done. There's really something for everyone on your holiday shopping list…from the winos to the little kiddos.
Related – Other Easy Christmas Gift Ideas:
This last minute gift ideas post contains affiliate links, but nothing that I wouldn't wholeheartedly recommend anyway! Read my full disclosure here.
Etsy is the perfect place to shop for printable anything and there is NO shortage of great last minute printable Christmas gifts there. I'm always blown away by the amazing, talented Etsy shop owners out there.
These last minute gift ideas are also budget friendly, which is always appreciated this time for the year! Each of these gift ideas are $10 or less!
Are you ready to see these 10 last minute gift ideas for procrastinators?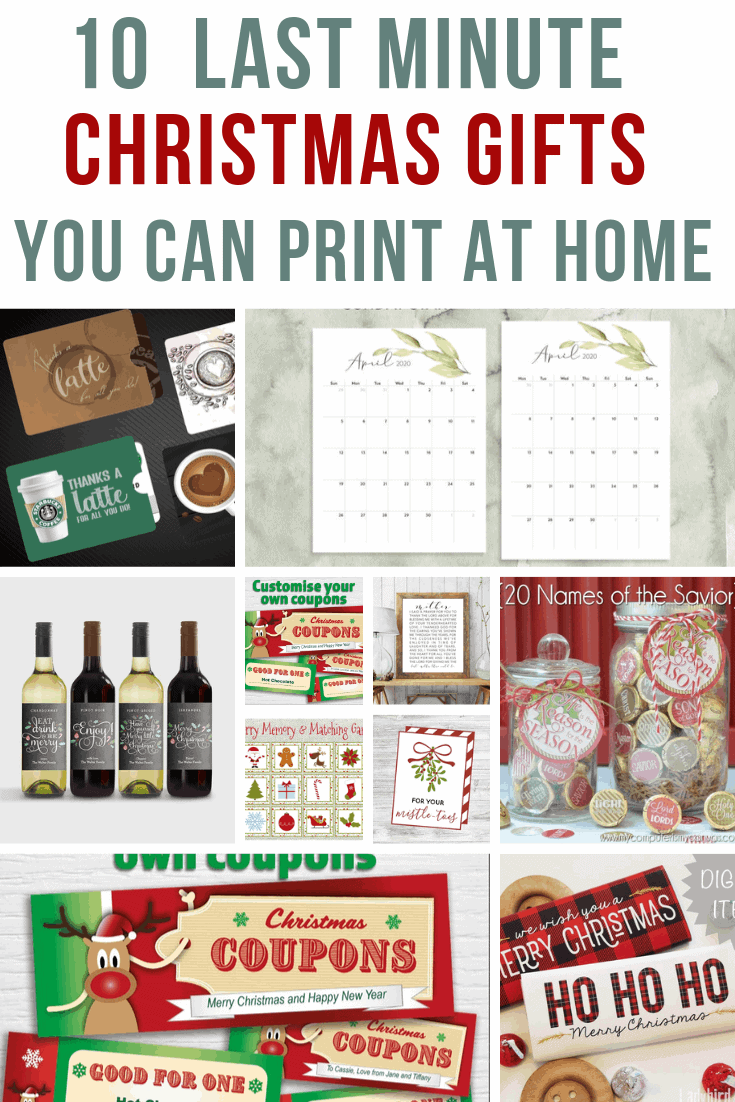 Last Minute Gift Ideas For Christmas You Can Print At Home
Photo Credit: www.etsy.com
This "for your mistle-toes" tag is the perfect simple gift idea for the ladies in your life. Add a pedicure gift card, nail polish, fuzzy socks, location...you name it. The ladies will love receiving these last minute printable Christmas gifts!
Photo Credit: www.etsy.com
Wine is such an easy gift for the holidays and the perfect gift idea for the hostess. You can make your gifted wine bottles even more festive with these adorable wine labels. The best part? They are customizable and you don't even have to wait to get it customized. The files come with editable text boxes for you to add your custom text. The ideas don't stop at wine bottles too...wouldn't these look adorable wrapped around some pillar candles for your Christmas tablescape?
Photo Credit: www.etsy.com
There's always someone in your life (or a few people) that you are always saying thank you to!...Whether it be your kiddo's teacher or coach or your assistant at work, chances are you owe someone a big fat Thank You this holiday season. Grab them a gift card and say thanks with this cute gift card holder.
Photo Credit: www.etsy.com
Who wouldn't love getting a big jar of kisses??...and I mean chocolate! 🙂 These cute stickers for the bottom of Hershey's kisses and a cute tag for you to tie on to the jar. This is a great idea for gifts from the kids. They can have fun helping by putting the stickers on the candy.
Photo Credit: www.etsy.com
This matching game looks like it would be hours of entertainment for little ones. It's perfect for preschool and younger elementary school aged kids.  All you do is print and cut and TA DA! What a great way to give this last minute Christmas gift.
Photo Credit: www.etsy.com
Everyone needs a new calendar for the new year, right? The calendar pages could be clipped to a fun clipboard and hung on the wall or even arranged on large hanging sheet. I love the cute designs with a botanical theme.
Photo Credit: www.etsy.com
I always loved giving coupon books when I was a kid. This is a great AND EASY DIY Christmas gifts for kids or adults. The files come with editable text so you can add in whatever you want for the coupons. It doesn't get any easier than that!
Photo Credit: www.etsy.com
This is such a cute way to dress up a simple candy bar...which everyone would love to get this Christmas! I love these cute and creative designs that transform the candy bar into a cute holiday greeting with adorable buffalo plaid pattern!
Photo Credit: www.etsy.com
Mason jars are seriously the best for simple gift giving. There are so many options for how to fill a mason jar with fun presents. After you filled your mason jar, you need to decorate it a bit, right? These mason jar labels are oh so cute. The printable files come with lots of different tag options to choose from.
Photo Credit: www.etsy.com
This one is SURE to tug at your mom's heart strings when she opens this printable gift. What a beautiful poem!
Procrastinators, have no fear. The solutions for your last minute holiday shopping is here! 🙂 Printable Christmas gifts are way to go if you're looking for last minute gift ideas that are budget friendly.
Which one of these last minute gift ideas is your favorite??
Let me know know the comments below.