Do you have outdated gold mirrored closet doors that you're dying to replace? Try DIYing it with this sliding closet door makeover. I'm including lessons I learned and what I'd do differently too!
Today I'm sharing the long awaited sliding closet door makeover from our office renovation. I've gotten so many questions about these doors and you guys really loved them.
This sliding closet door makeover article contains affiliate links, but nothing that I wouldn't recommend wholeheartedly. Read my full disclosure here.
Where the idea behind the sliding closet door makeover came from
Over the past couple of years, I've seen countless DIY bloggers using electrical tape on their windows and French doors to either make faux window panes or cover the white window pane lines.
Every time I see a transformation like this, I'm shocked with how amazing it looks! I love that it's a super budget friendly hack and easy for anyone to do.
I've also seen a few bloggers tackle sliding closet door makeovers by painting the metal frames.
So when I looked at our outdated gold mirrored closet doors in our office I thought I'd combine these two ideas:
Paint the gold frame black
Create faux windowpane lines with electrical tape
When the idea hit me one day, I was SO excited. I thought it was freakin' genius. I tried describing it to be a few people and no one really could "see it" like I could in my head – so I just went for it.
Why I almost didn't write this article
Here's the truth though. I was very hesitant to share the sliding closet door makeover here on the blog as a tutorial because now that it's all said and done I would probably do it differently.
With the method that I used, the paint isn't very durable. Which I realized while I was painting.
It also would have been much easier to spray and get in all the nooks and crannies, but I was SO concerned about getting paint on the freshly painted walls or our new shiplap ceiling – that I opted for brushing the paint on. And….. let's just say it took A WHILE!
I always want to make sure the projects we teach you work well, so I was just not going to share a blog post for it because I wasn't confident that it was the best way. I was just not going to say anything about the doors….but SO MANY people have been asking about the sliding closet door makeover, so thought I would you tell you how I did and how I would do it differently.
What I would do differently
1. Use oil versus water based paint for metal
Pro – Oil based paints are much more durable and preferable for metal surfaces
Con – Oil paint has more fumes

This was one of main reasons that I decided to go with water based because the office doesn't have any windows

Con – Water based paint is cheaper

But it's not worth the extra savings if you're looking something durable on metal

Con – It's harder to clean your supplies

Oil based paint has to be cleaned with mineral spirits
Another idea too is to use something that is acrylic based, which is similar to oil with durability. This tutorial covers a great acrylic based coating to use.
2. Spray instead of brush paint on metal frame
Pro – You'll get best coverage in all the small spaces of the metal closet door frame by spraying
Con – You have to mask everything else off and be very careful with overspray
Pro – Spraying is generally faster than brushing paint

…But you have to keep in mind all of the extra time required to mask and tape everything off.
You could use a paint sprayer with a paint of your choice (learn all about our paint sprayer and how to use it here) or a can of spray paint, like this.
3. Sand lightly before painting
You'll see in the tutorial below that I cleaned the with rubbing alcohol before painting, but I should have probably also lightly sanded the surface with ultra fine grit sandpaper too! This helps give the paint something to stick to.
4. Remove doors and paint outdoors
To help with the fumes and overspray issues, you could remove the closet doors and paint them outside.
Supplies for sliding closet door makeover:
Rubbing alcohol
Round cotton pads
Tape measure
Dry erase maker
Level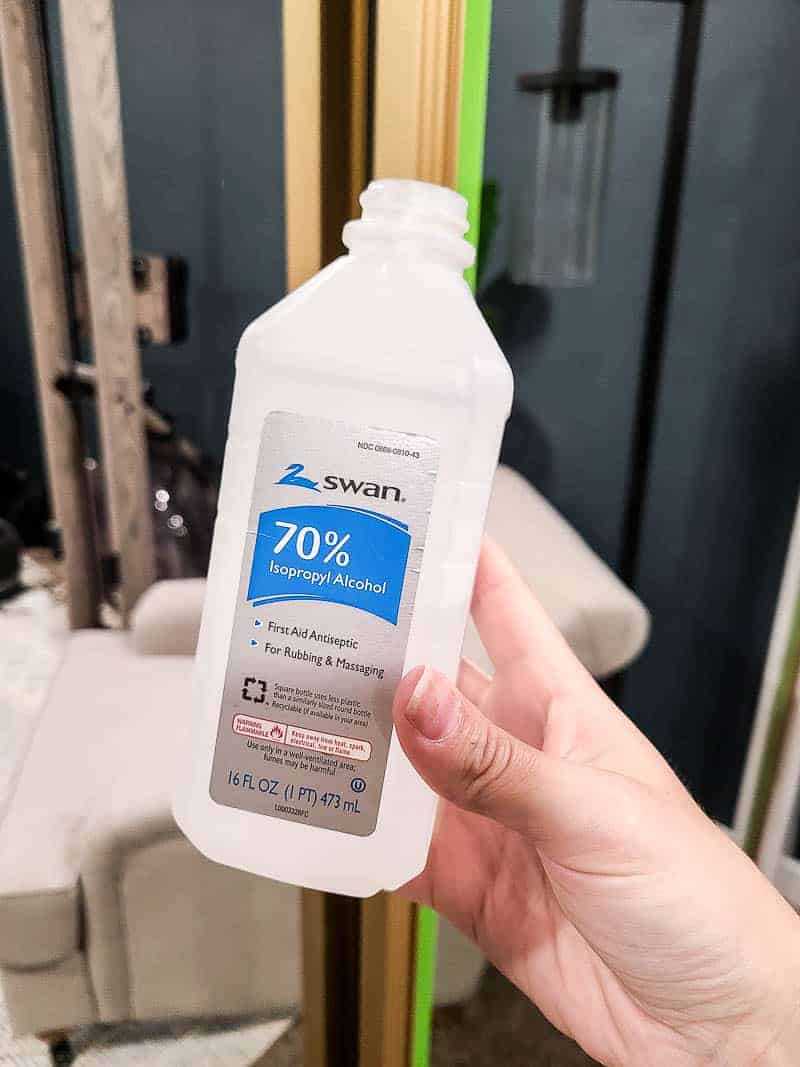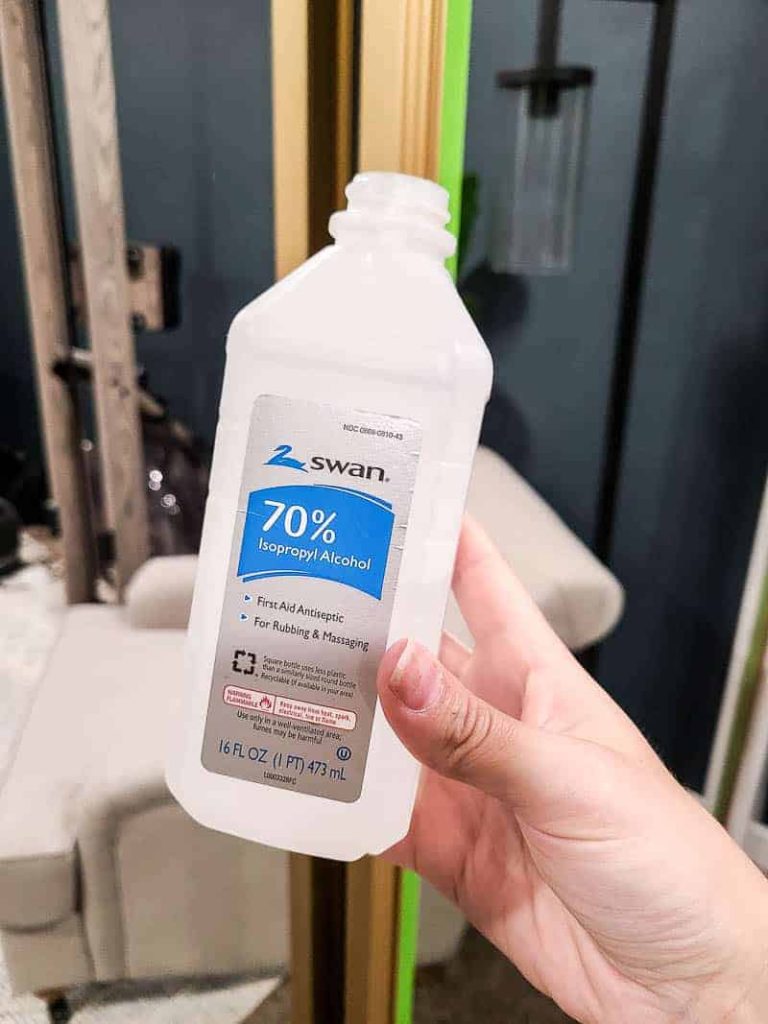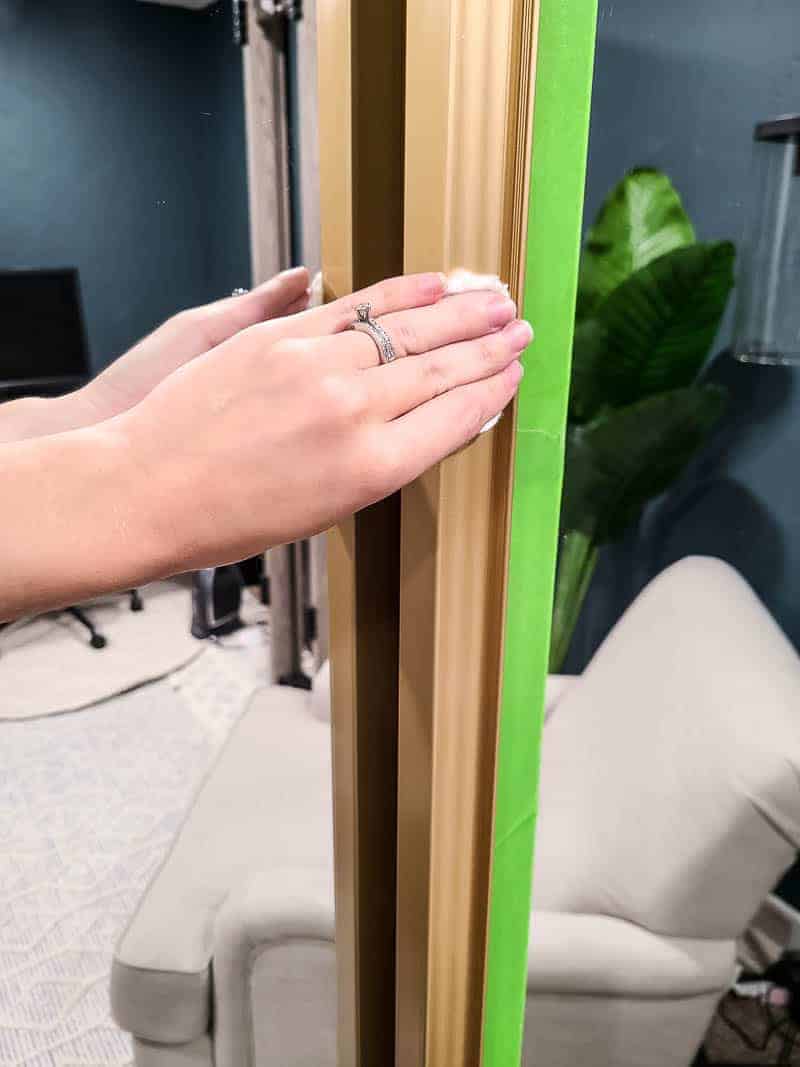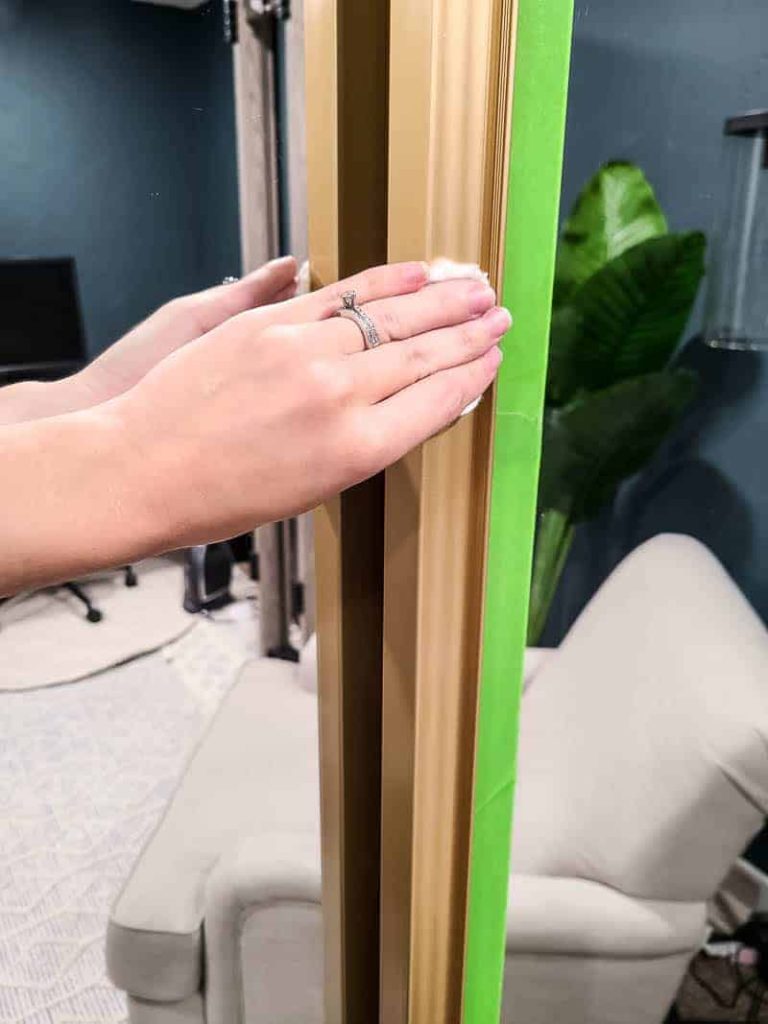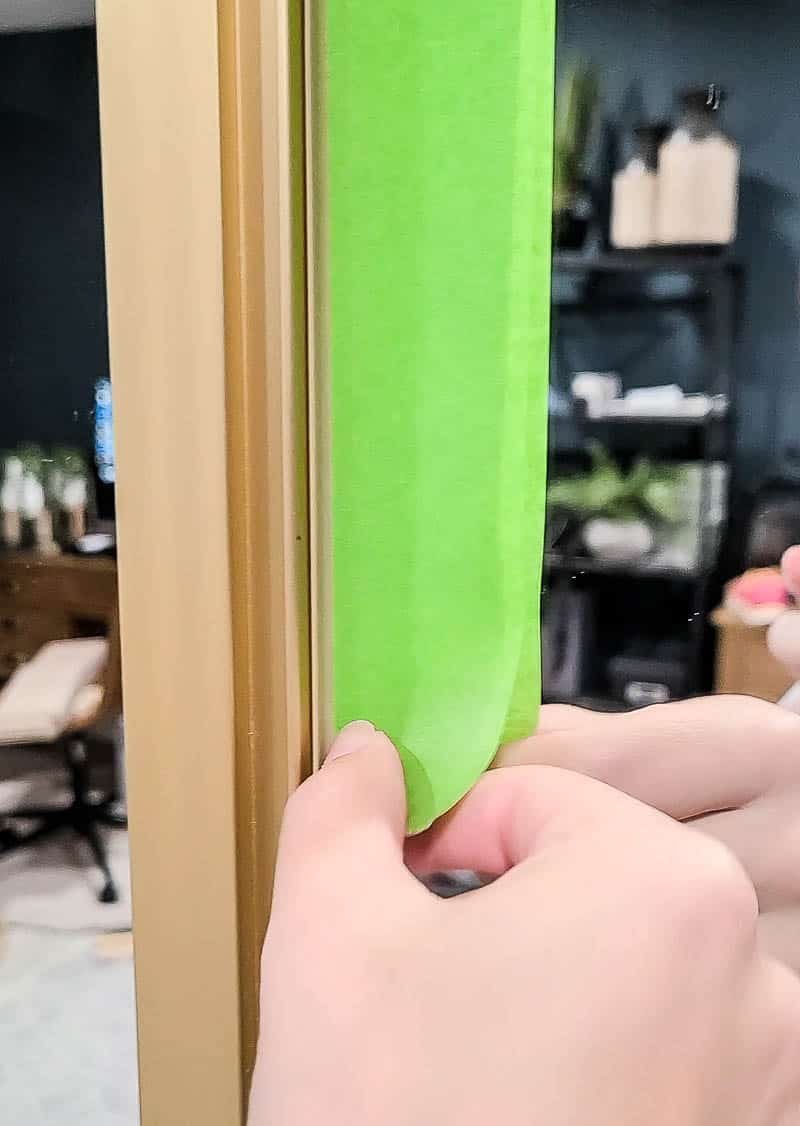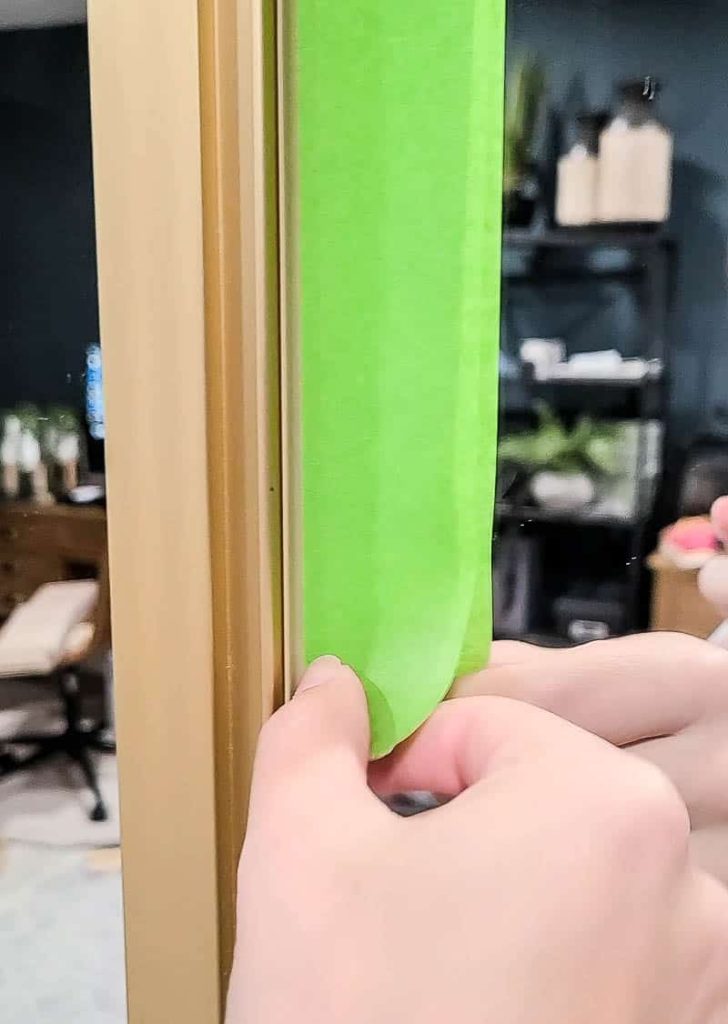 Step 1. Clean & prep mirrored closet doors.
I started by cleaning the mirrors with Windex & using rubbing alcohol on the metal closet door frames with round cotton pads.
Then I finished by taping off the wall and mirrors so I didn't get paint on them.
What I'd do differently here – As mentioned above, I'd start with lightly sanding the metal frame with ultra grit sandpaper first. Clean well after sanding.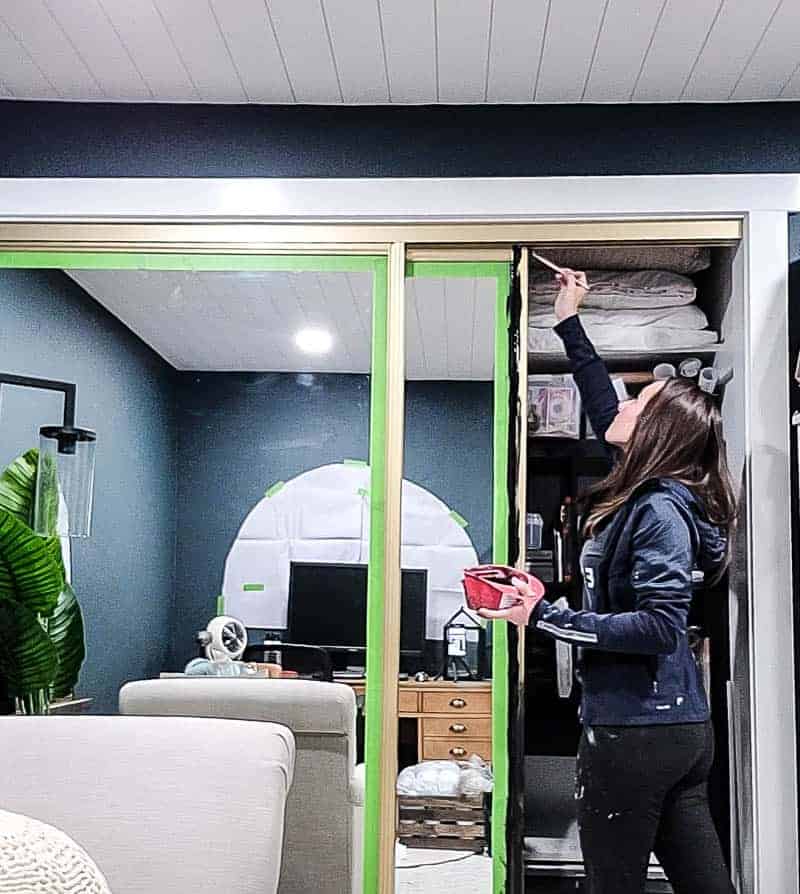 Step 2. Paint metal frame on closet doors.
Next you can paint your metal frame on the closet doors. To do this, I used a nice paint brush and this paint in a flat paint sheen. I added in this paint additive to help avoid brush marks.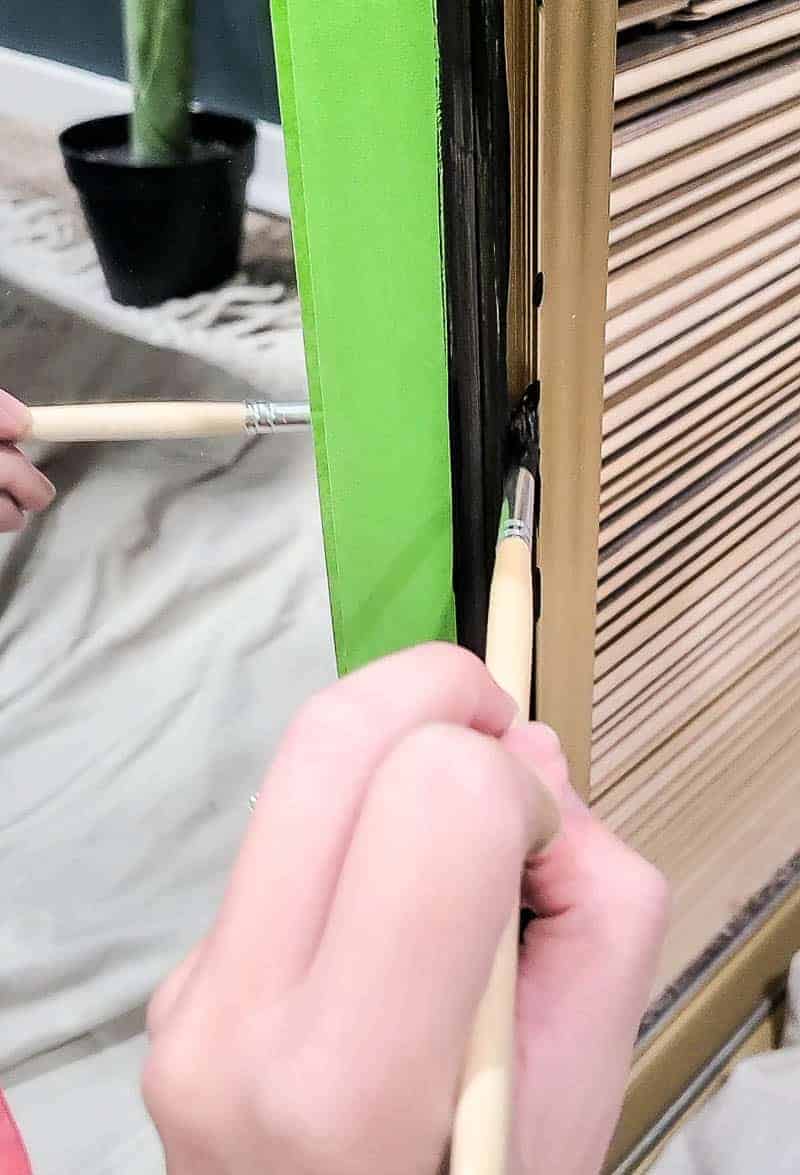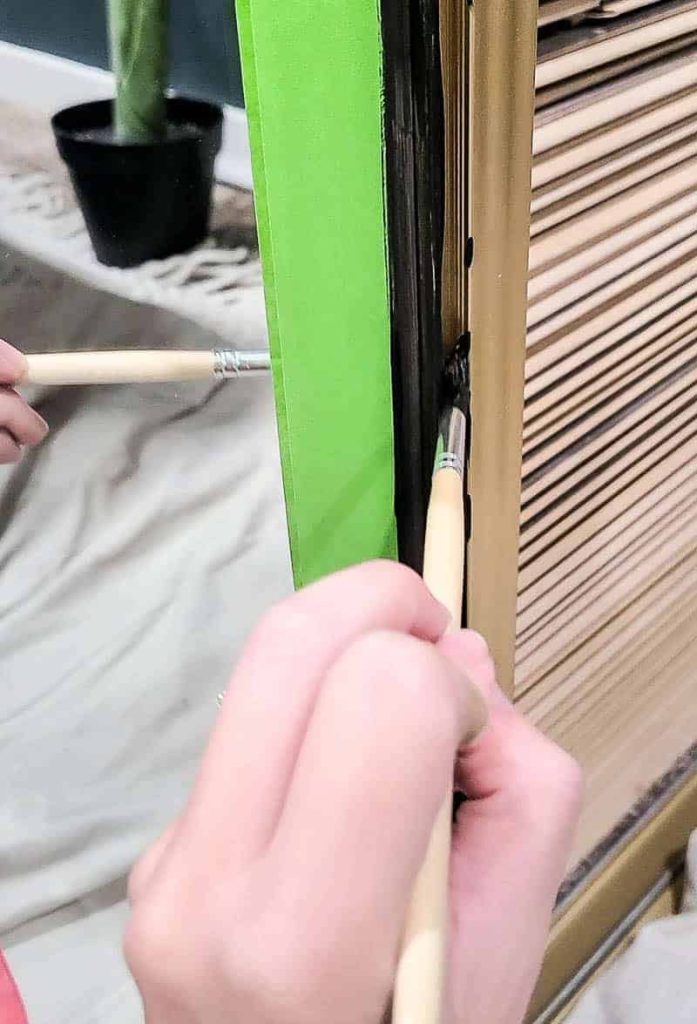 To get into the smaller spaces, I used a small artist paint brush.
I didn't bother painting the track on the bottom floor because it would just get scuffed up anyway and you can barely tell.
What I'd do differently on the paint – As mentioned above, if I were to do this sliding closet door makeover again, I'd use an oil based (or even acrylic based coating) instead of a water based paint. I'd also opt for spraying rather than brushing (either with a can of spray paint or using my paint sprayer).
Step 3. Make faux windowpane grid lines with electrical tape.
I measured out equal parts on window, marked it with a level and dry erase marker and simply added black electrical tape to make the grid lines so the mirrors looked like a window.
I also added the electrical tape on the border of the mirror so it's a nice crisp line there.
It was easiest to have the electrical tape of over the edge and then cut off the excess in a nice straight line with an Xacto knife.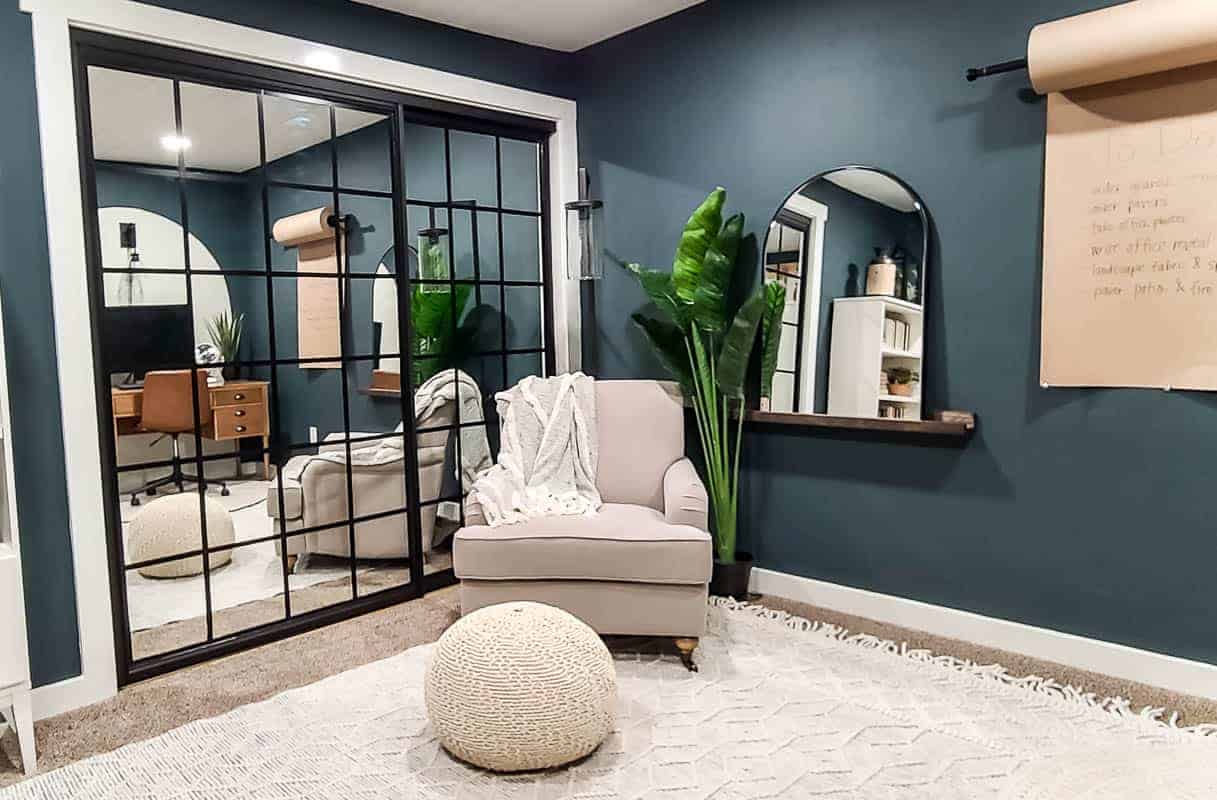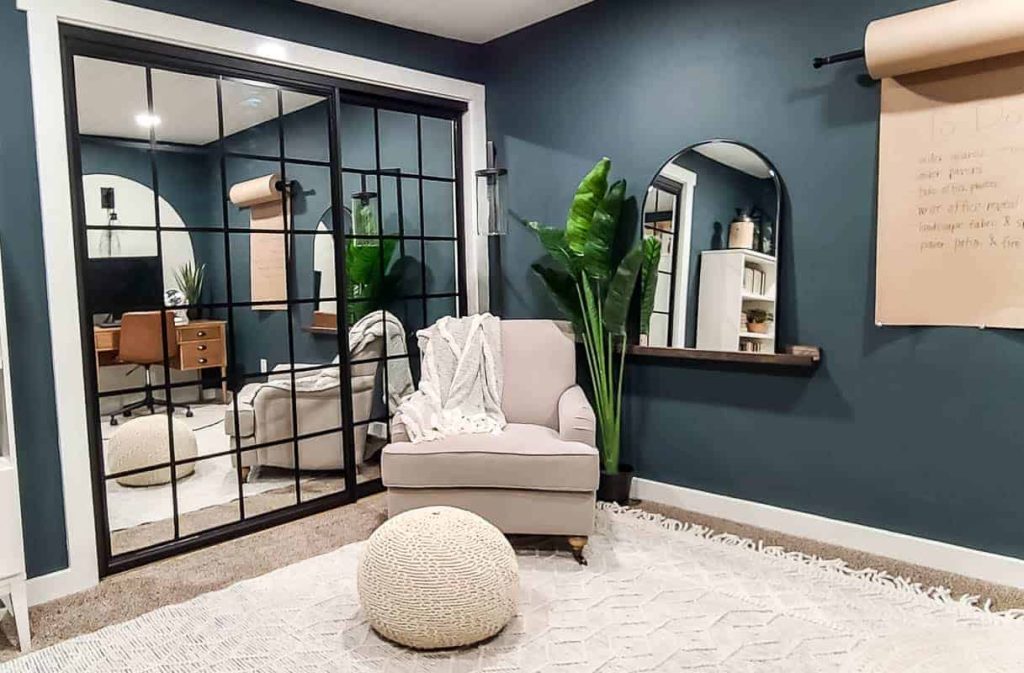 Despite having a few regrets and some paint that's already chipping here and there! The closet doors look pretty dang good in pictures, right?!
I'm not super worried about the little details because this closet in our office definitely doesn't get used as much as it would in, say, a bedroom.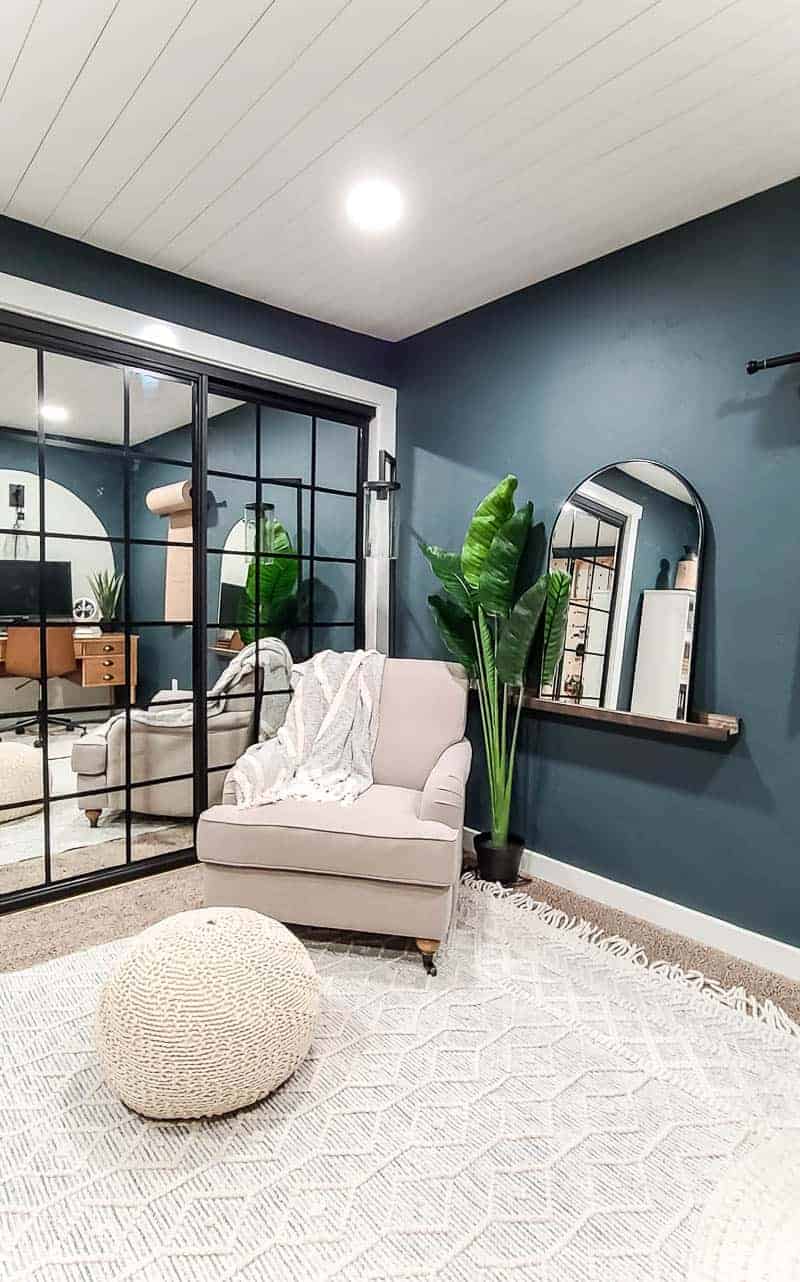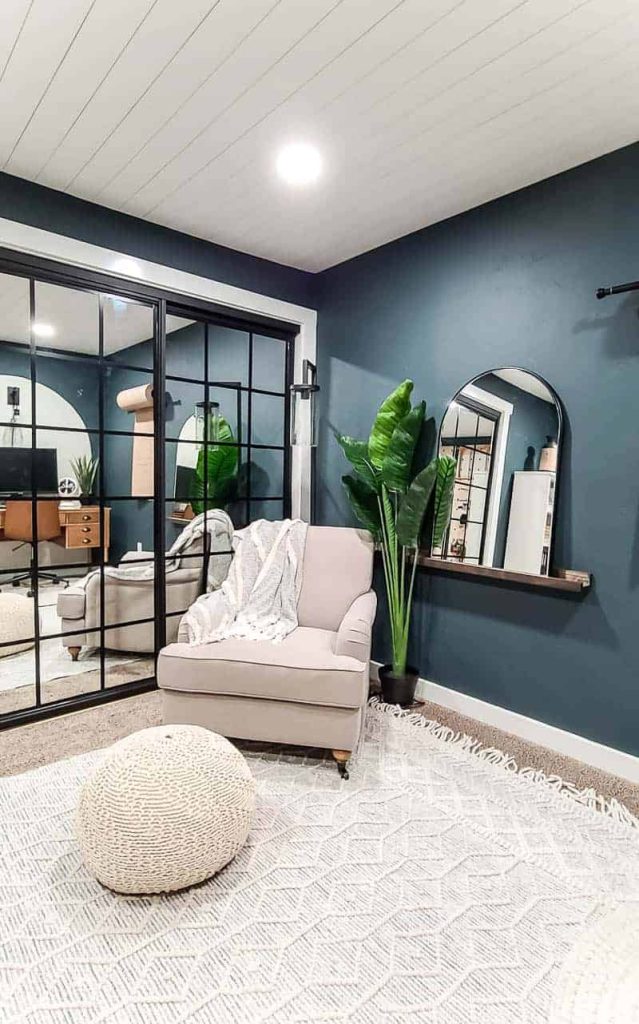 But I am a "recovering perfectionist" so it pained me a bit that it didn't turn out perfect. So I wanted to be honest and share all of the things that I'd do differently I were to do this sliding closet door makeover again!
By following my advice here on ways to change this tutorial for the better, I think you'll be happy with your updated mirrored closet doors! So much better than the outdoor gold mirrors right?
Here's a look at the before and afters!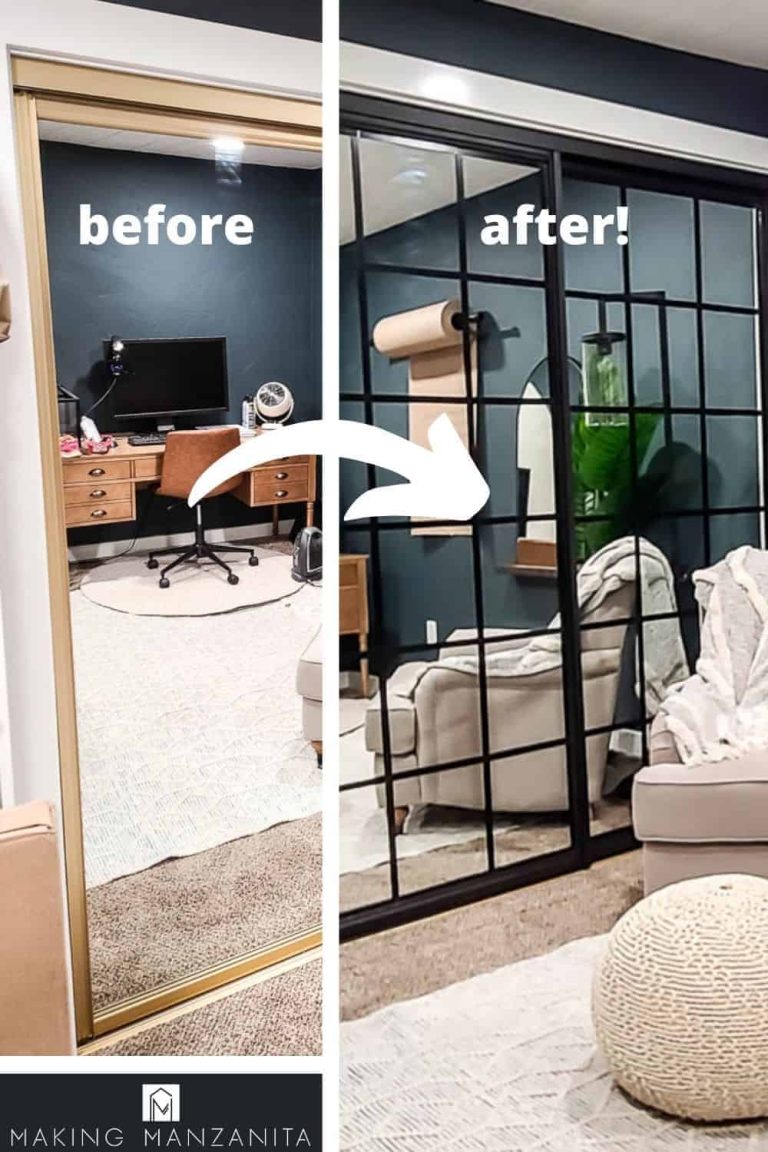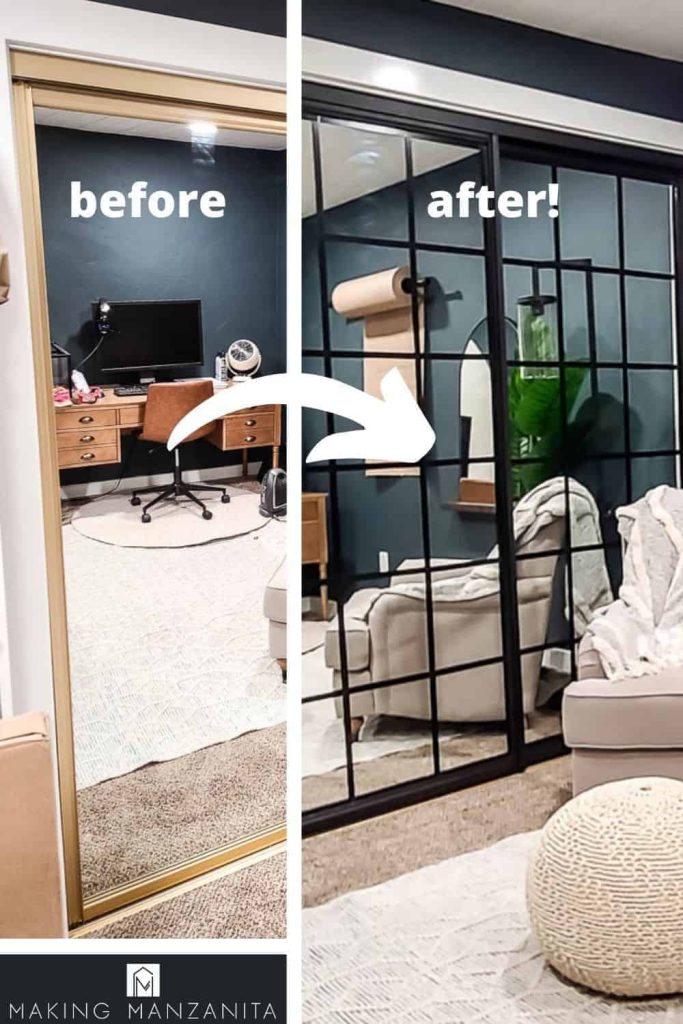 Would you do a sliding closet door makeover at your house?
Let us know in the comments below!