The wedding binder is a crucial part of your wedding planning organization that you don't want to skip. Here's some wedding binder tips for you to follow as you make your wedding planning binder!
If you've been following along on my ultimate wedding planning checklist,  next up on your to-do list is to start a wedding binder and/or Pinterest board (or boards!). Pinterest and Google Docs can be very essential tools in the wedding planning process, but getting organized with a real wedding planning binder is a necessity. The wedding binder is a crucial part of your wedding planning organization that you don't want to skip. It helps to get your wedding binder set up as soon as you start your planning, so that you are organized from the get to.
This wedding binder tips post contains affiliate links, but nothing that I wouldn't wholeheartedly recommend anyway! Read my full disclosure here.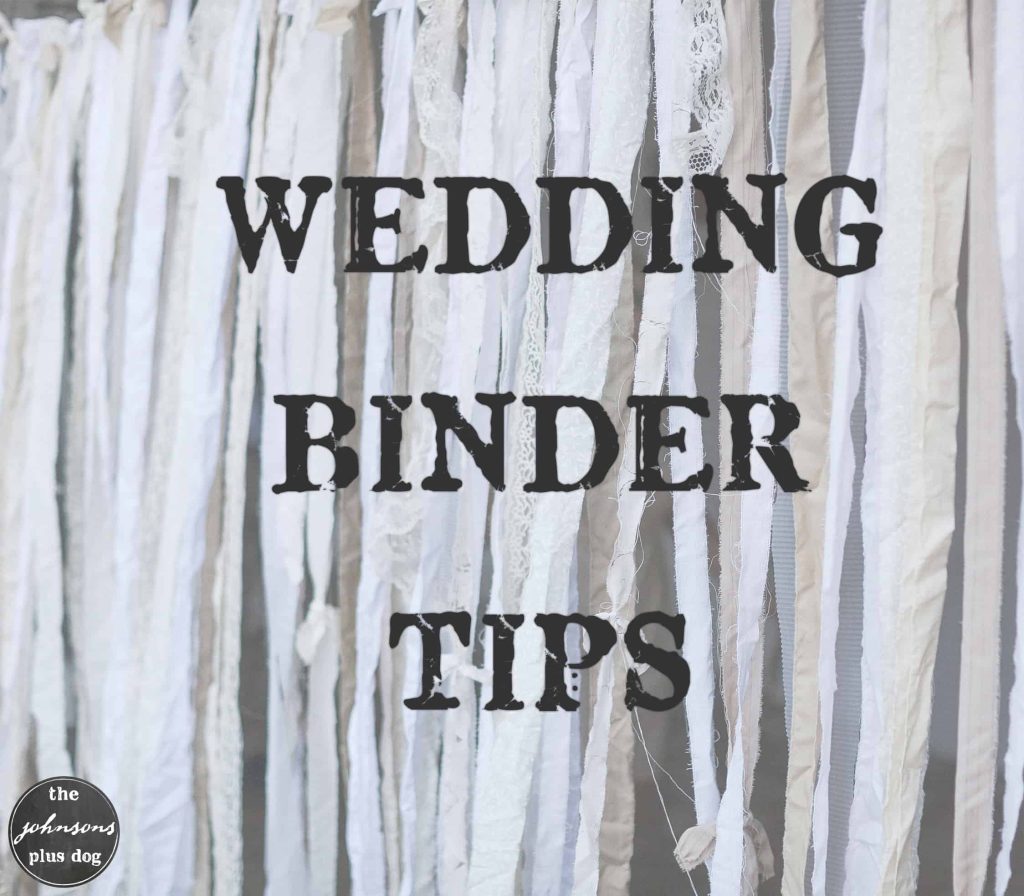 How Pinterest can help you plan your wedding
Pinterest has become a huge part of the wedding planning process the last few years. I know that it made planning my wedding easier. However, you, of course, can't plan your entire wedding on Pinterest.
Pinterest should be a place of wedding inspiration and ideas. Your wedding planning binder or files should be your place of organization and action.
Using Pinterest is simple. You can create one or multiple boards for your wedding ideas. Don't forget that you can create secret boards. This is great a great way to keep certain elements of your wedding as a surprise to guests. Also, secret boards can be handy if you're planning a wedding but still looking for the groom or waiting for him to pop the question ;).
Another feature that I love about Pinterest is contributor boards. You can invite others to pin to your board. This is such a fun way to get your bridesmaids involved with your wedding planning, especially if they are located far away.
The only potential downside to Pinterest is that you may get "pin-crazy" and end up with thousands of pins on your wedding board and you won't remember what you actually wanted to use. Once you really start hunkering down on the wedding to-do's, it is a good idea to go through your board/s and save/copy/print the pins that you really want to work on incorporating into your wedding day. You could even create a fun photo collage and put the pages in your wedding binder.
How Google Docs can help you plan your wedding
I, for one, used Google Docs for a majority of my wedding planning. You name it… my wedding budget, checklist, day-of timeline, contact lists, decor inventory, song lists, venue research, my guest list (complete with addresses & RSVPs and after the wedding, I even used it to track my thank you cards sent).
Here's a few things I love about Google Docs:
You can share the files with others and they are updated in real time. This was especially useful when working with my wedding coordinator (read my post on the benefits of hiring a wedding planner). You can share them with your MOH, your family members, and your other vendors (ie: song list with DJ, photo list with photog).
You can view the files anywhere. There's a great app you can download for your phone or tablet. You can also access your Google Docs from any web browser by logging onto your Google account. This is great because it allows you to refer back to something while you're on the run. I'm the type of person that gets major satisfaction from checking something off my to-do list – so much so that I will write something on my list, just to cross it off. Having the app was great because I was able to check something off the list as soon as it was completed.
While we're on the topic of using brilliant technology to help plan your wedding, I loved these apps for wedding planning that Pop Sugar recently featured.
Why you still need a wedding binder
Call me old fashion, but I still needed a binder after all of this technology. Probably the same reason why I have to keep my handwritten to-do list on my desk at all times. There's something rewarding about writing down plans and ideas in such a concrete way that made a wedding binder a no-brainer. It was also a great place to store flyers, brochures, business cards, contracts, floor plans, etc.
How to set up your wedding binder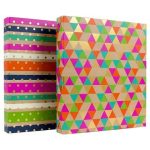 Purchase a cute three-ring binder or use one you already have laying around. I'm sort of falling in love with these ones shown on the left from Target.. I may need to create another planning binder for just about anything as an excuse to buy them.
Get some clear dividers with pockets. I like the clear ones so you can see into the pockets. I would highly recommend using the pocketed dividers so you can throw loose papers and business cards in there.
Create your desired sections. I had sections for: venue, vendors, ceremony, reception and decorations. You could also add sections for: transportation, attire, guest list and honeymoon plans.
I added a few pages of binder paper in each section for random notes. I printed each contract, plans, etc. and put in each section.
Also, I used the annual Real Simple WEDDINGS Magazine: Your Guide To Planning A Beautiful, Stress-Free Celebration that my wonderful MIL gave me. I absolutely LOVED this, so it makes me so sad that Real Simple does not publish this anymore. However, you may be able to snag an older one off Amazon. 
UPDATE: I've created a detailed tutorial on how to set up your DIY wedding binder here! 
Need some wedding binder inspiration?
Lastly, I will leave you with a little wedding binder inspiration. This post from Gloria Joy just may be the prettiest wedding planning binder I've ever seen and she's even provided the links to the printables she created. If only I had found these before my wedding 🙂 Go check it out.
Even though there is incredible technology (like Pinterest and Google Docs) out there to help you plan your wedding, having a wedding binder is essential to your organization during your wedding planning. Are there any other printables you loved for planning your wedding? Is there any other tips you have from setting up your wedding binder?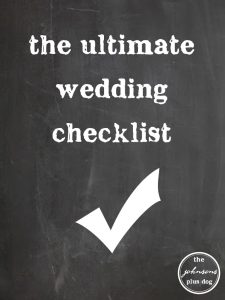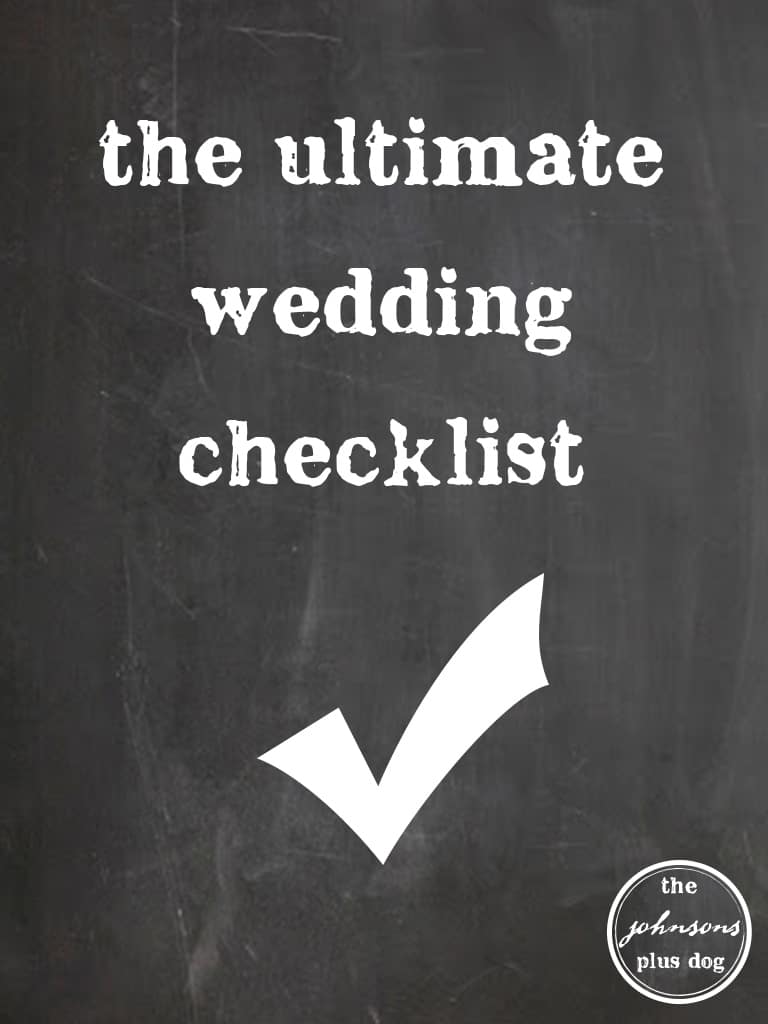 follow along on my ultimate wedding checklist