This shop has been compensated by Collective Bias, Inc. and its advertiser. All opinions are mine alone. #CollectiveBias #PersilLaundry
Even though your washing machine is used for washing things….it still needs to be cleaned! Learn how to clean your washing machine naturally in this easy step by step tutorial. By following these steps for how to clean washing machine, you'll be able to say bye bye to that mold, mildew and gross smells coming from your washer!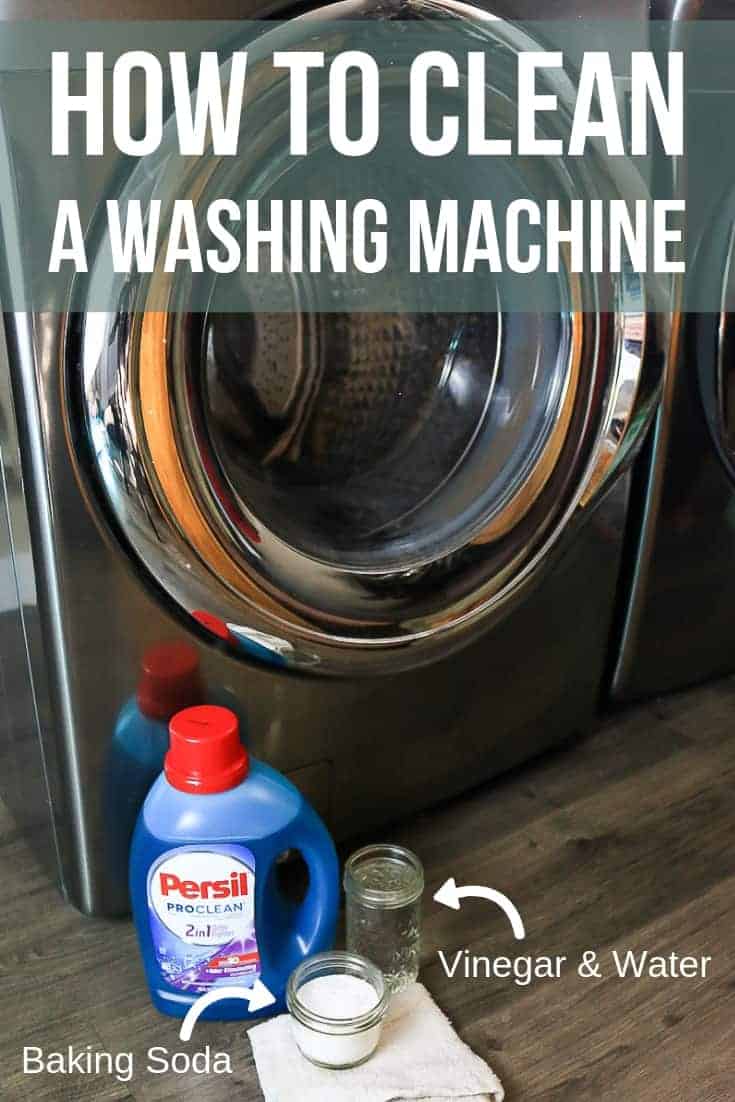 Earlier this year, we added a second kiddo to our family. If you think your laundry is a lot with one kid, you'll be shocked how the piles get bigger with the 2nd kid. Lately, we feel like all we do is laundry. And it's not that smells-not-too-bad adult laundry…it's the why-can't-I-get-this-god-awful-smell-out kind of laundry. The gross stuff.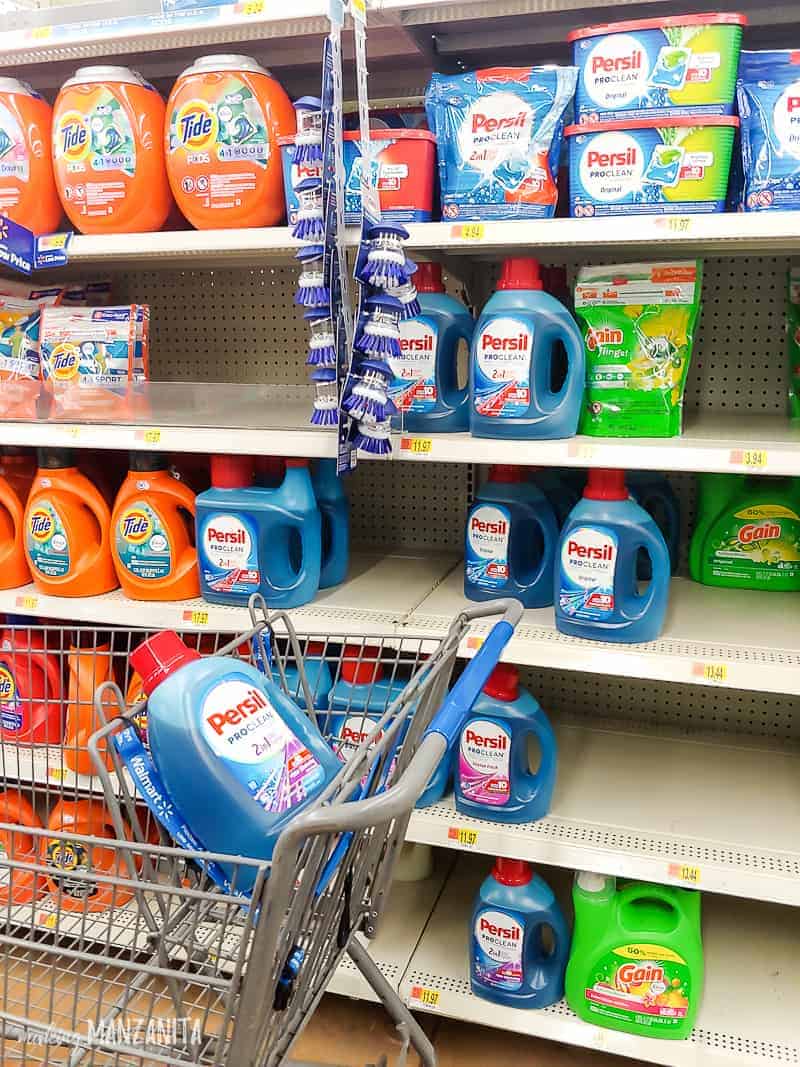 I was so pumped to try out Persil® ProClean® Laundry Detergent and knew that the 2-in-1 Odor Fighter would be the right choice for us. I headed to Walmart to grab the Persil laundry detergent and found it right where I expected – in the laundry aisle.
After trying this stuff out, I was surprised just how well it breaks down the odors and makes our clothes smell great – even the baby's gross ones! Not to mention, it helps remove tough stains and if you've had a baby – you know a thing or two about tough stains. If you haven't tried Persil yet, you're going to love it.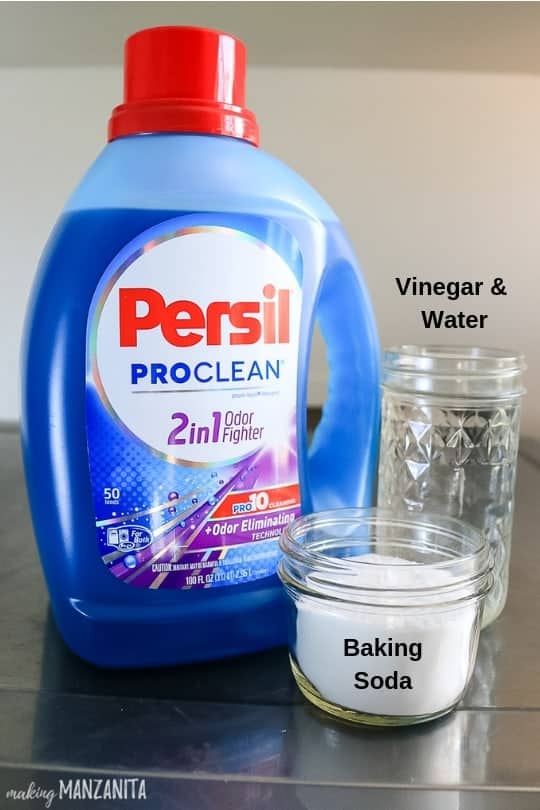 How do you know when it's time to clean your washing machine?
Well, in our case, it was more than obvious! If dirty pictures gross you out – quick, scroll ahead!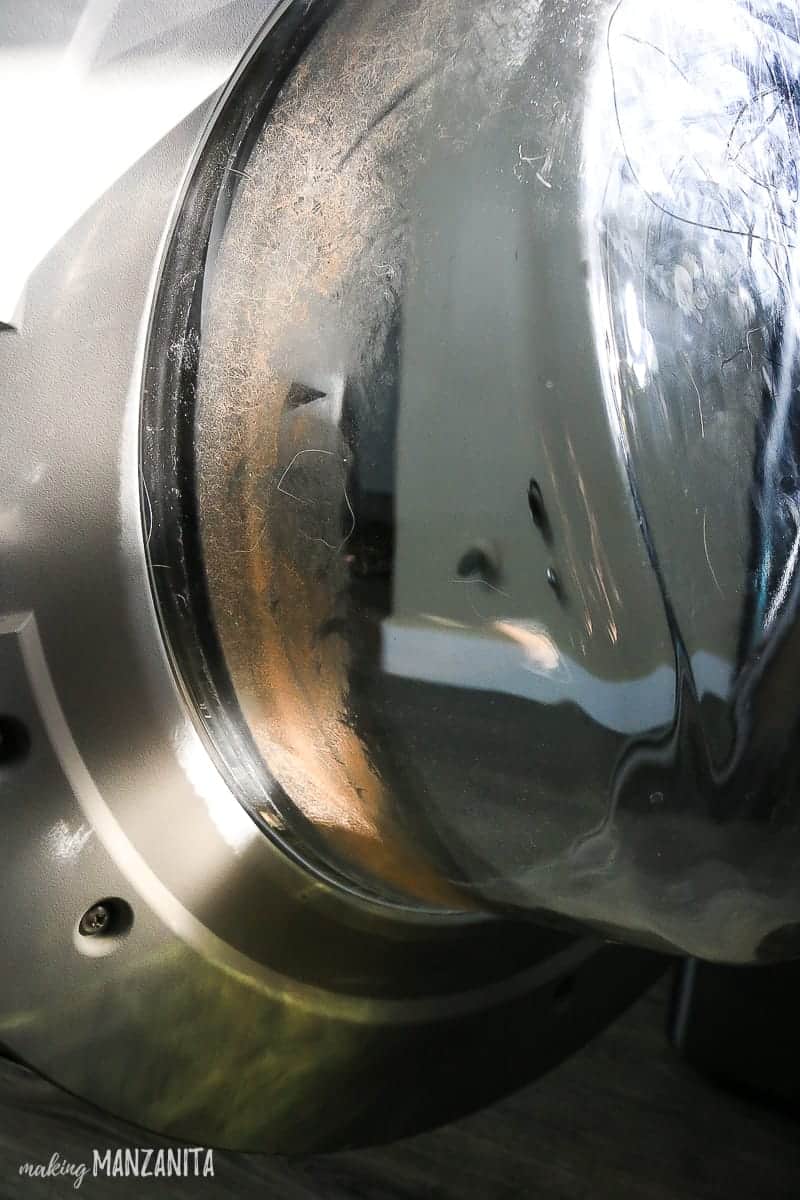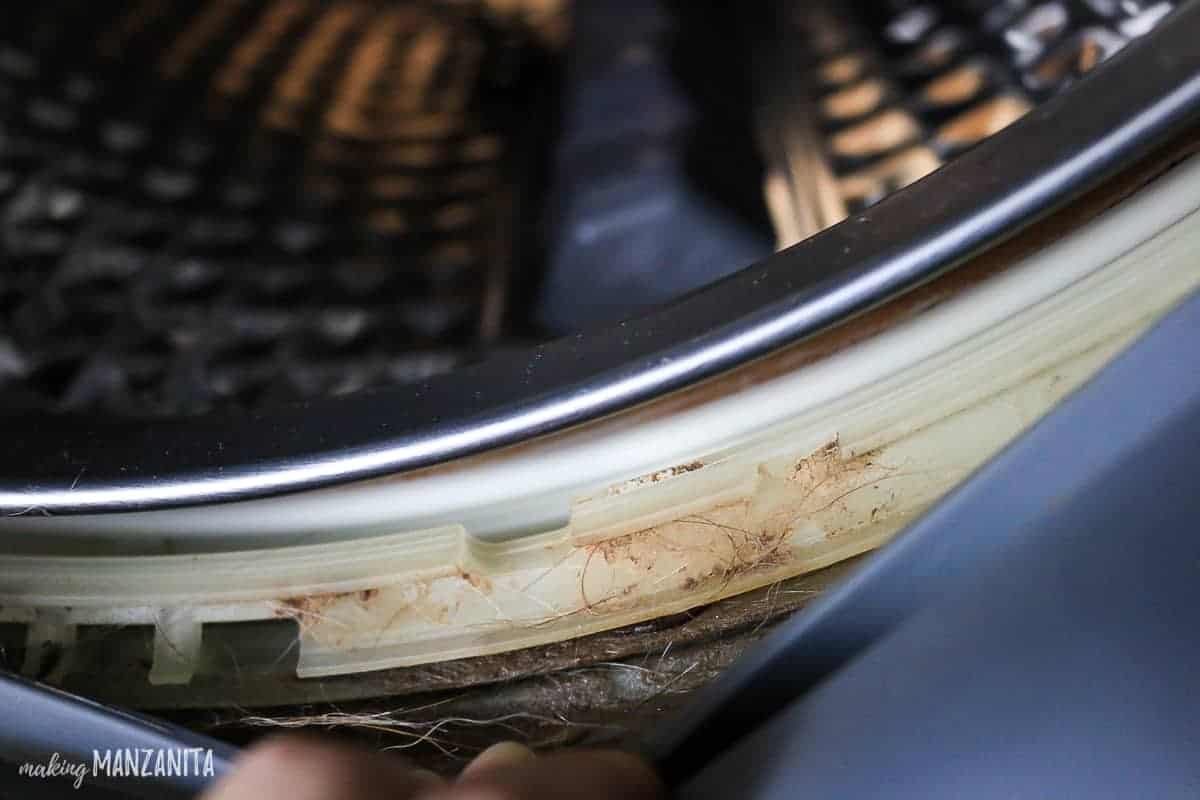 Yuck, right? It was clearly time to clean our washing machine.
Here's some tall tale signs that you need to clean your washing machine:
You know when you're using an awesome odor fighting laundry detergent and there's still a weird smell being left behind in your clothes, it's time to clean your washing machine out!
Open the door and take a big whiff – if it smells musty, moldy or just gross, it's time to learn how to clean your washing machine.
Peel back the seal of your rubber gasket…if you see mold it's time.
The more we've used our washing machine the past several months, the dirtier it has become. We've been busier than ever, so cleaning our washing machine has really taken a back seat and it's gotten really bad! It was in desperate need of a deep cleaning, so I thought it would be a perfect chance to teach you how to clean your washing machine! I think you're going to love this tutorial!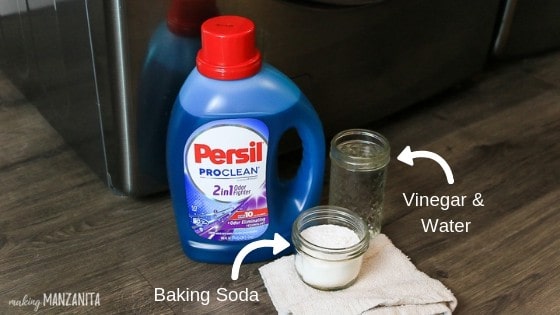 What you need to clean washing machine:
Cleaning vinegar
Essential oils
Water
Baking soda
Cleaning rags
Make vinegar cleaning solution.
I mix about half water and half white distilled cleaning vinegar. We use the cleaning vinegar, which is slightly more acidic. Regular white distilled vinegar works just fine too!
If you don't like the smell of vinegar, you can mix in some essential oils. I added about 10 drops of lavender.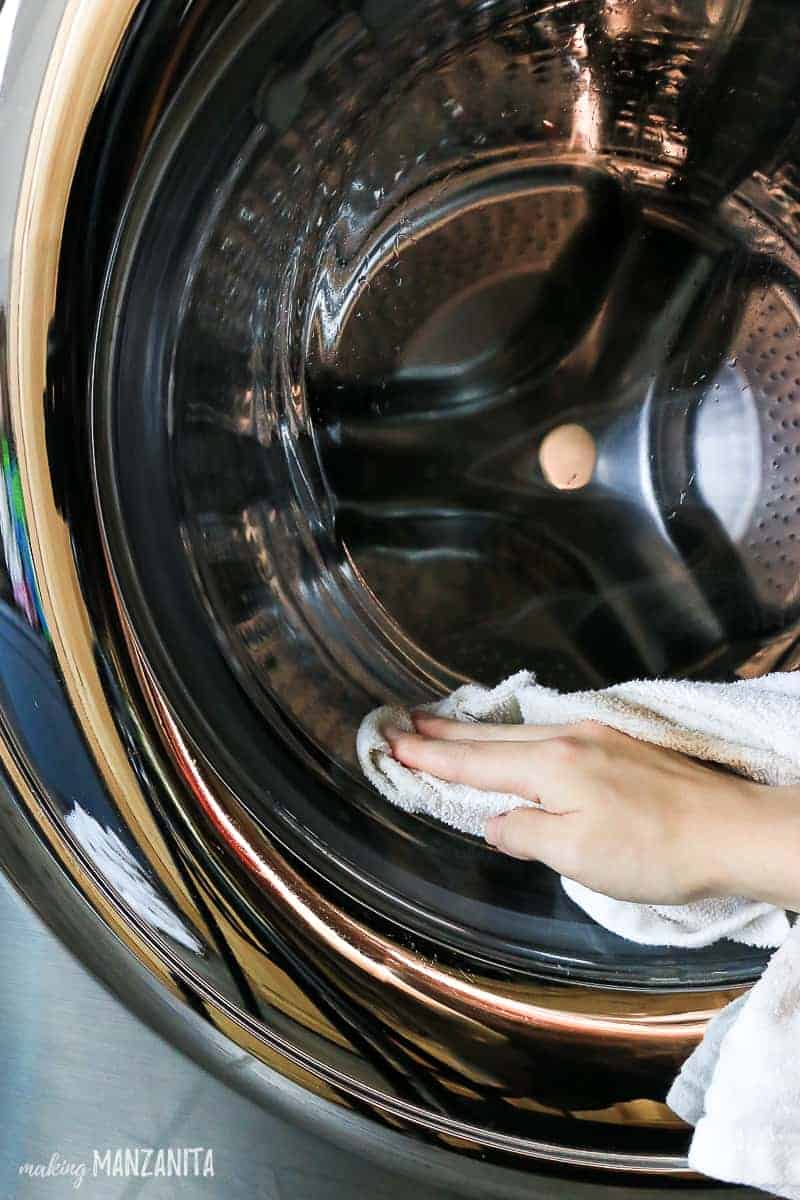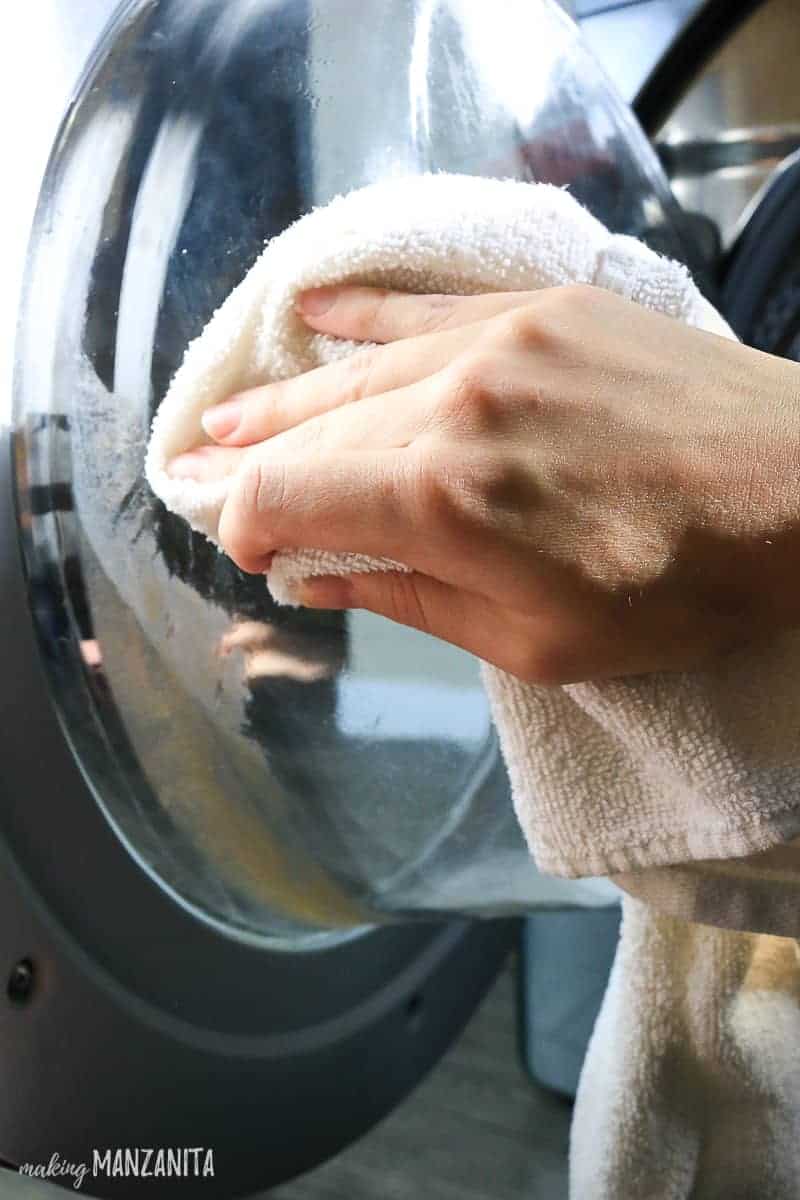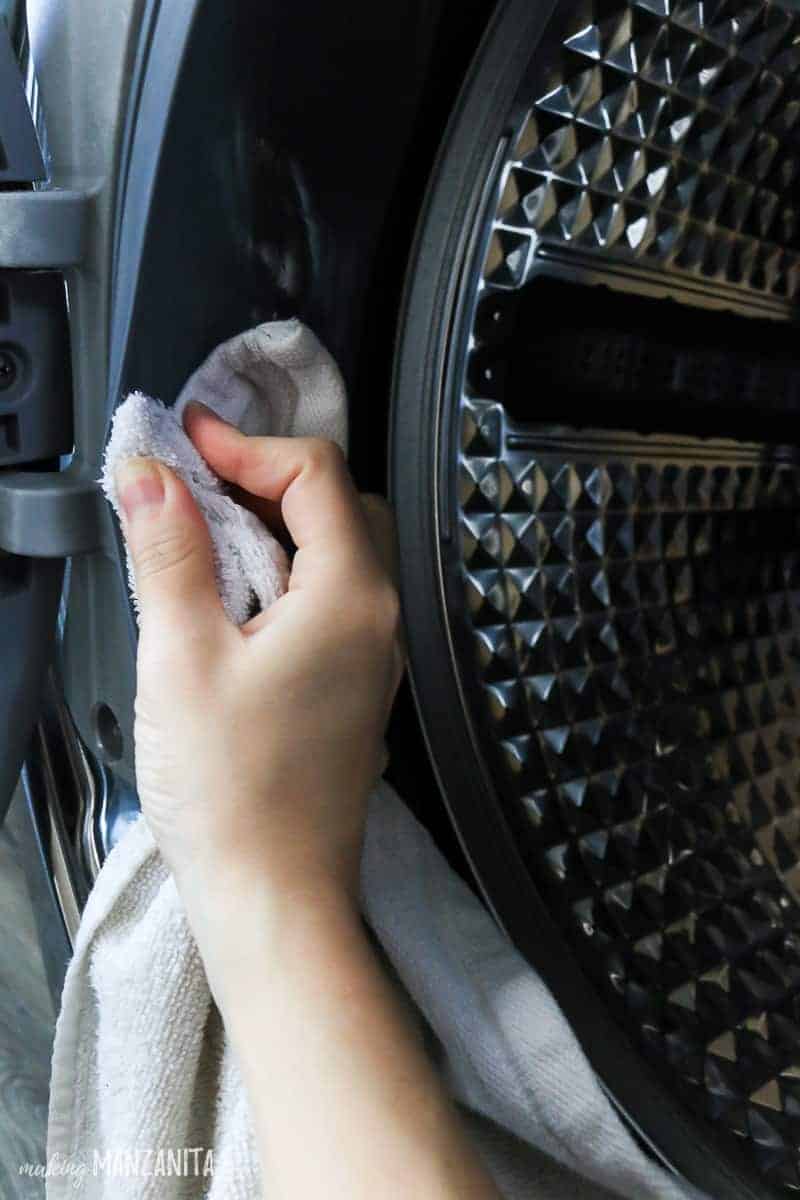 Wipe down washing machine.
Dip a cleaning rag in your vinegar/water solution and start wiping! I usually wipe down the washing machine in this order:
Entire outside
Inside of door (this is really where grim builds up)
The rubber seal (this is where the mold usually is hiding…we're going to really deep clean this later, so just wipe it down right now)

Clean soap trays and drawer.
Remove your soap trays and wash those in the sink. Wipe down the entire inside of the drawer with the rag soaked with the vinegar solution.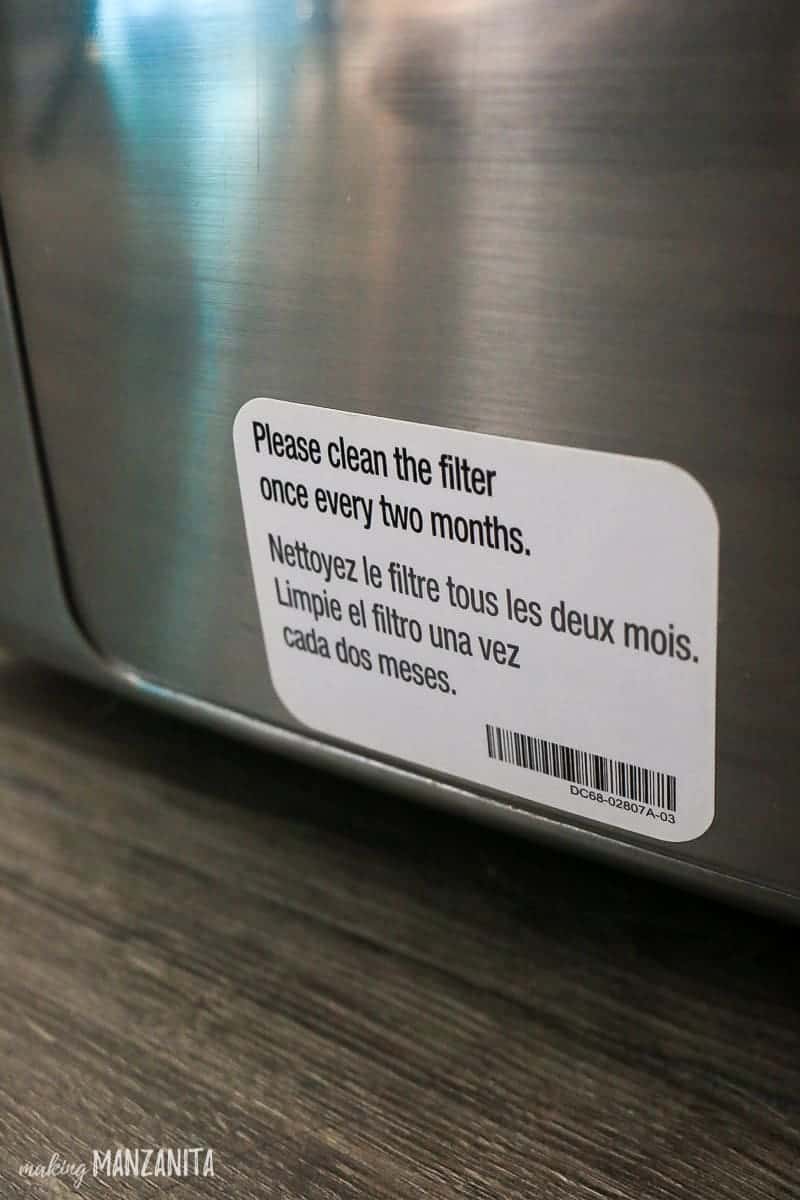 Empty filter.
Be sure you take out the filter and get all the gunk out. We DEFINITELY were overdue for cleaning ours out. I can't believe how much stuff was in there! We also found one of my toddler's socks, goodness gracious. Once you toss everything out give the filter a good rinse in the sink. If there is any grim or mold growing on the filter, give it a scrub with the baking soda and vinegar solution before putting it back into the washing machine.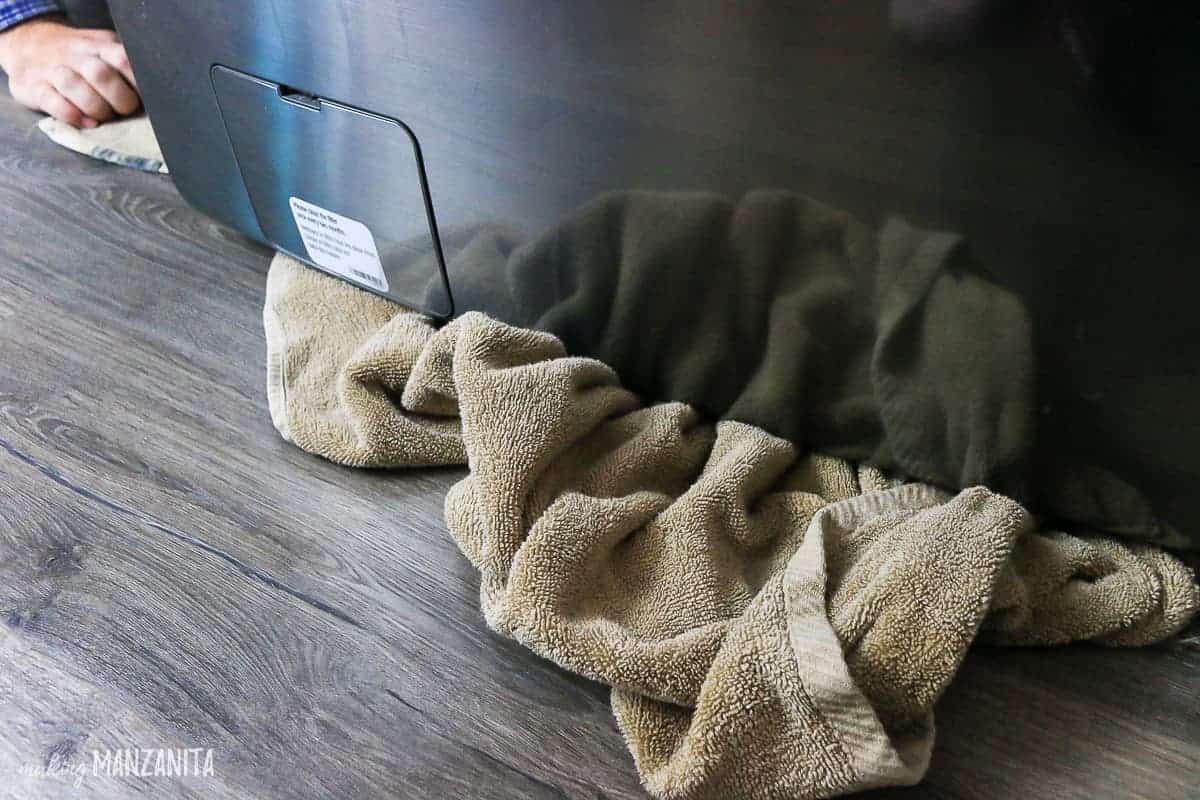 Warning – Before you open up your filter door, be sure to line your floor with towels. A surprising amount of water usually comes out and goes under the machine. We always have the towels ready. To get it nice and dry, feed a dry towel under the machine and out the corner to dry everything up.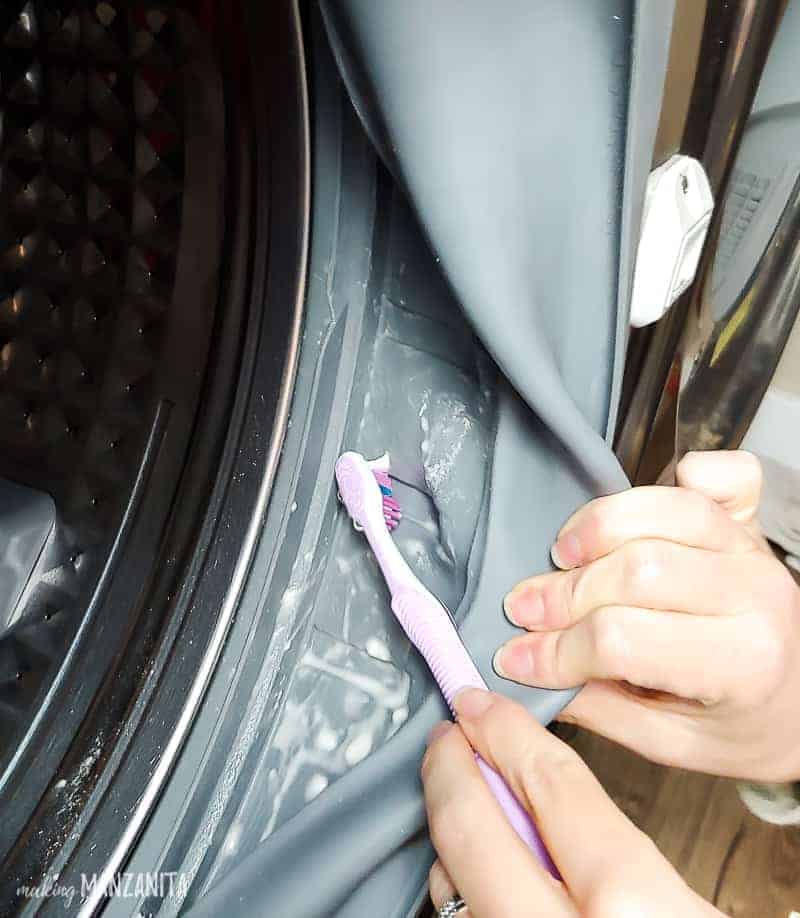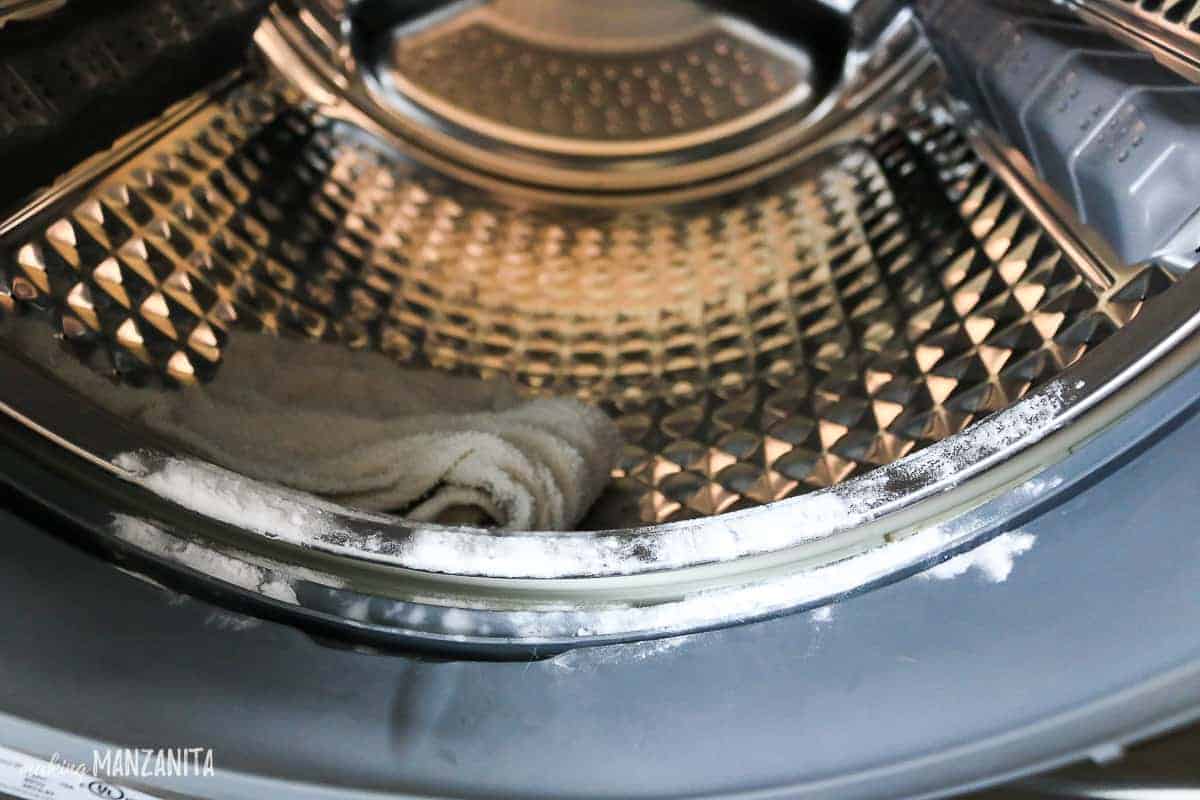 Clean rubber gasket of washing machine.
Sprinkle rubber seal (aka rubber gasket…aka door boot…whatever you wanna call it) with baking soda.
To really start fighting that mold and mildew, sprinkle the inside of the gasket with baking soda and start scrubbing with your rag dipped in the vinegar. Most of it will wipe right up.
For the tough spots, you can grab a toothbrush and scrub. The combination of the baking soda, vinegar and toothbrush really is the secret sauce when you're cleaning your washing machine.
I find the the bottom part of the seal gets the worst. This is probably because if there's any water left in the washing machine, this is where it would rest. For this area, you can sprinkle baking soda all over (on both the inside of the seal and back behind it as well). This soak your entire rag in the vinegar cleaning solution and tuck it into the rubber gasket and back behind it too. Let that sit for a good ten minutes or so.
Then grab the rag, wipe everything again.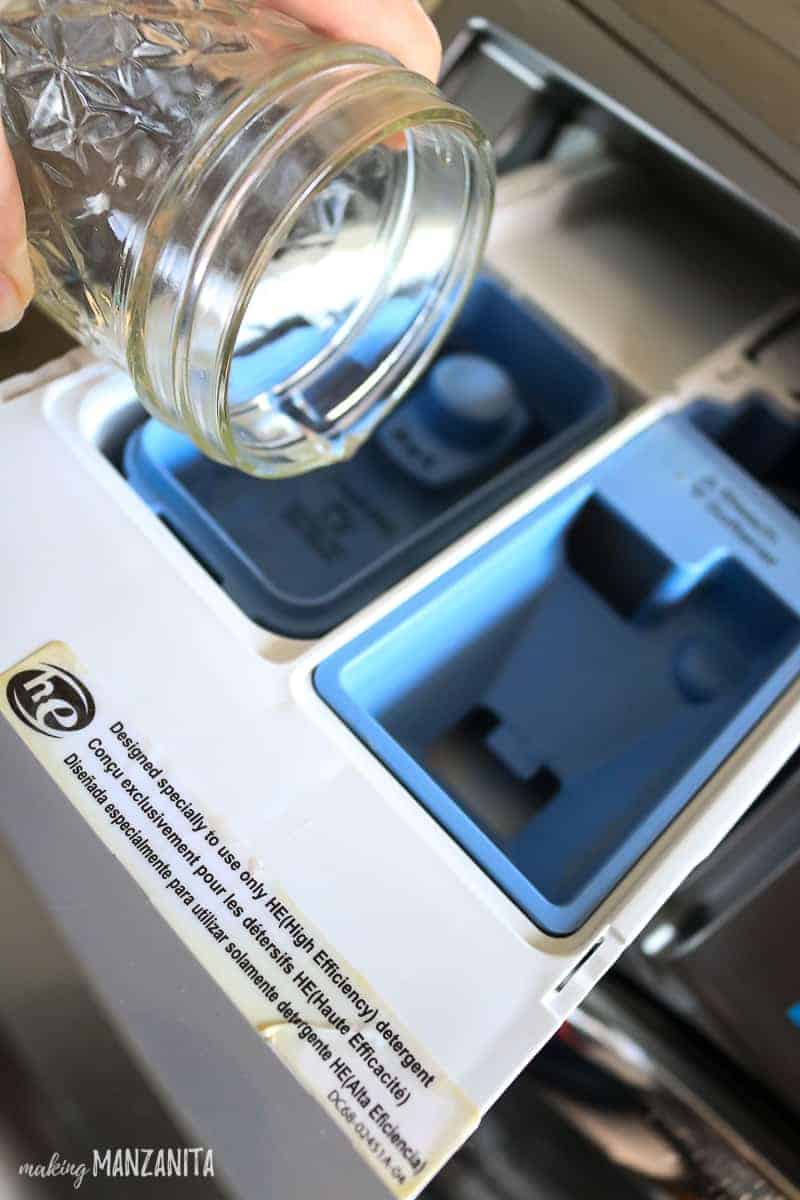 Run washing machine clean cycle.
Toss the rest of your baking soda into the drum of the washing machine along with any towels or rags you used.
Fill the soap tray with a full cup of the vinegar cleaning solution.
Next, run your washing machine on the "Self Clean" cycle (or just the longest/hottest cycle if you don't have a cleaning cycle). Ours goes a full 4 hours!!
After your washing machine is done with the clean cycle, open the door immediately and wipe everything down again.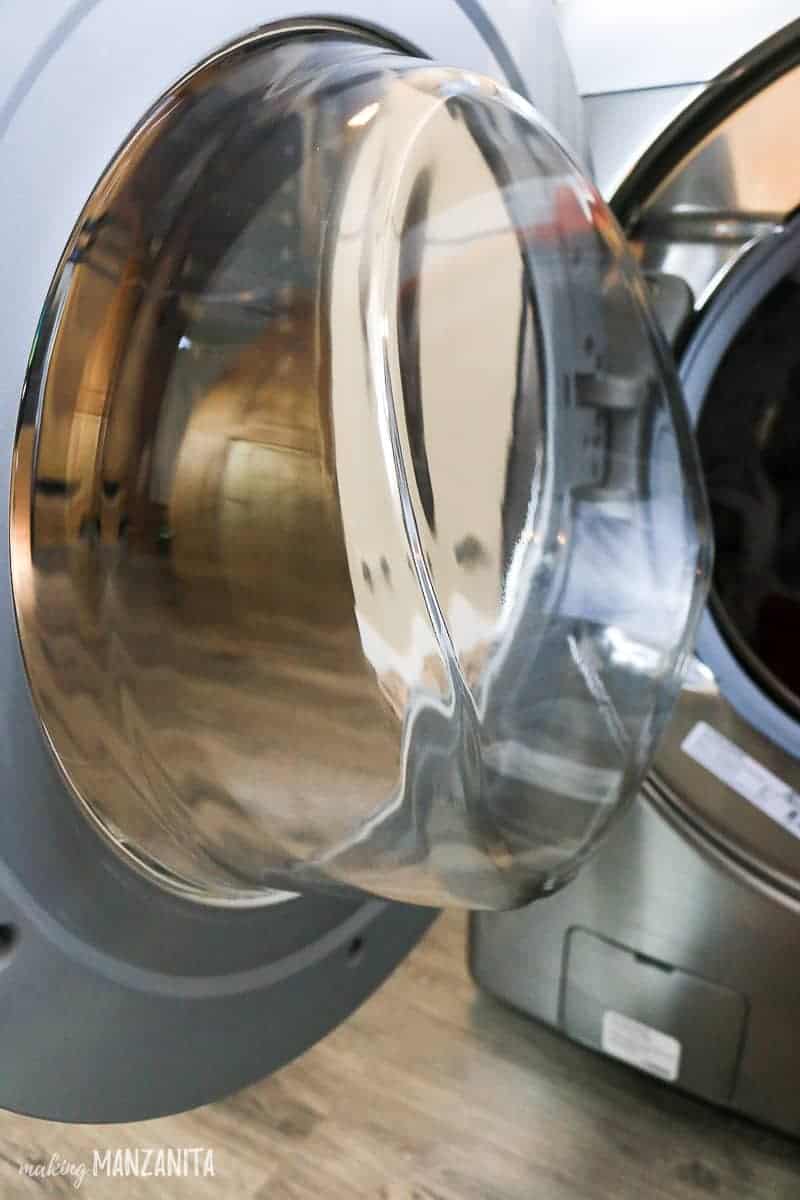 For best results, here's some washing machine maintenance tips to use going forward:
To keep the mold at bay, always keep the washing machine door open when it's not in use. This helps BIG TIME to prevent mold from growing. We definitely try to do this in our house, even though our toddler hates it when any doors are opened. (Yes, even my 2 yr old is Type A).
Empty filter every 2 months. You can see we weren't…ahem…doing this. Gross.
Repeat this tutorial for how to clean washing machine every few months (or when you start noticing the grim building up on the door or in the rubber seal).
Wipe out the drain of the rubber seal frequently…especially if you have dogs like we do. Hello, dog hair.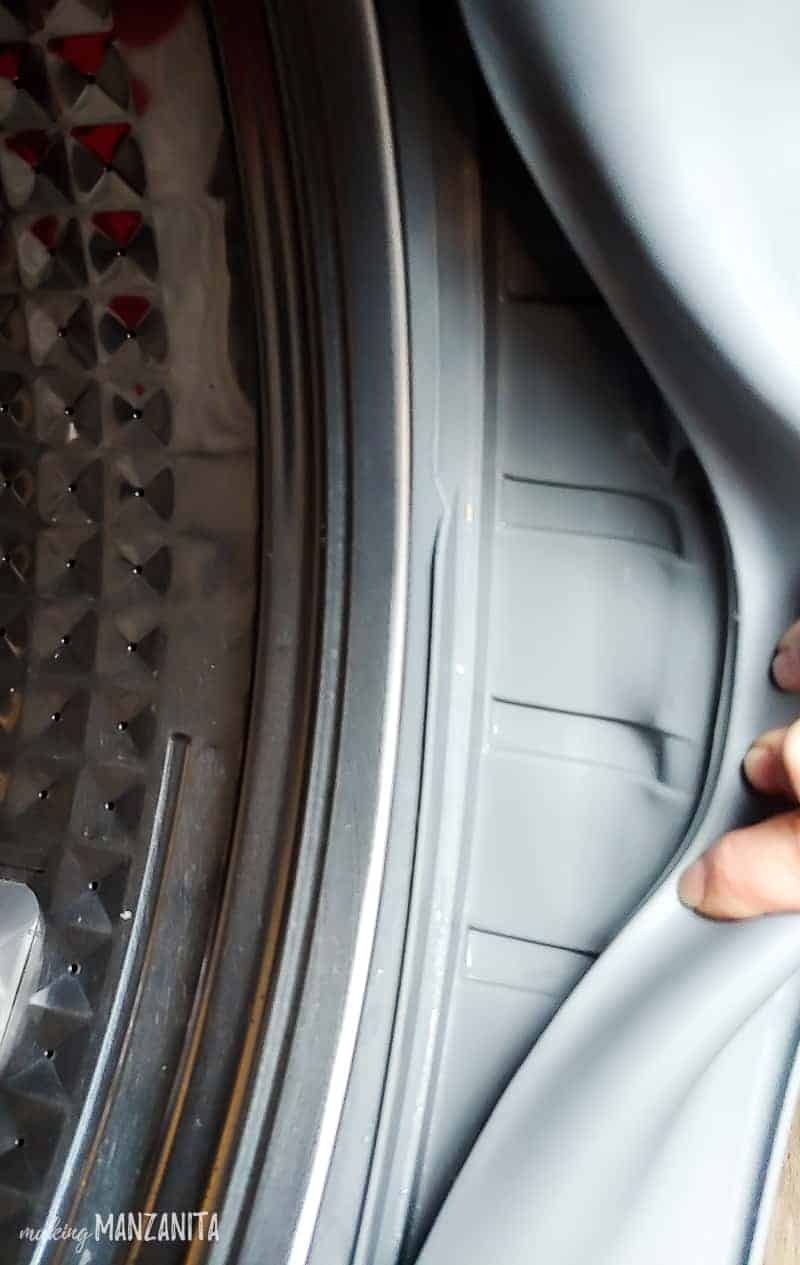 Look at how pretty it is now?!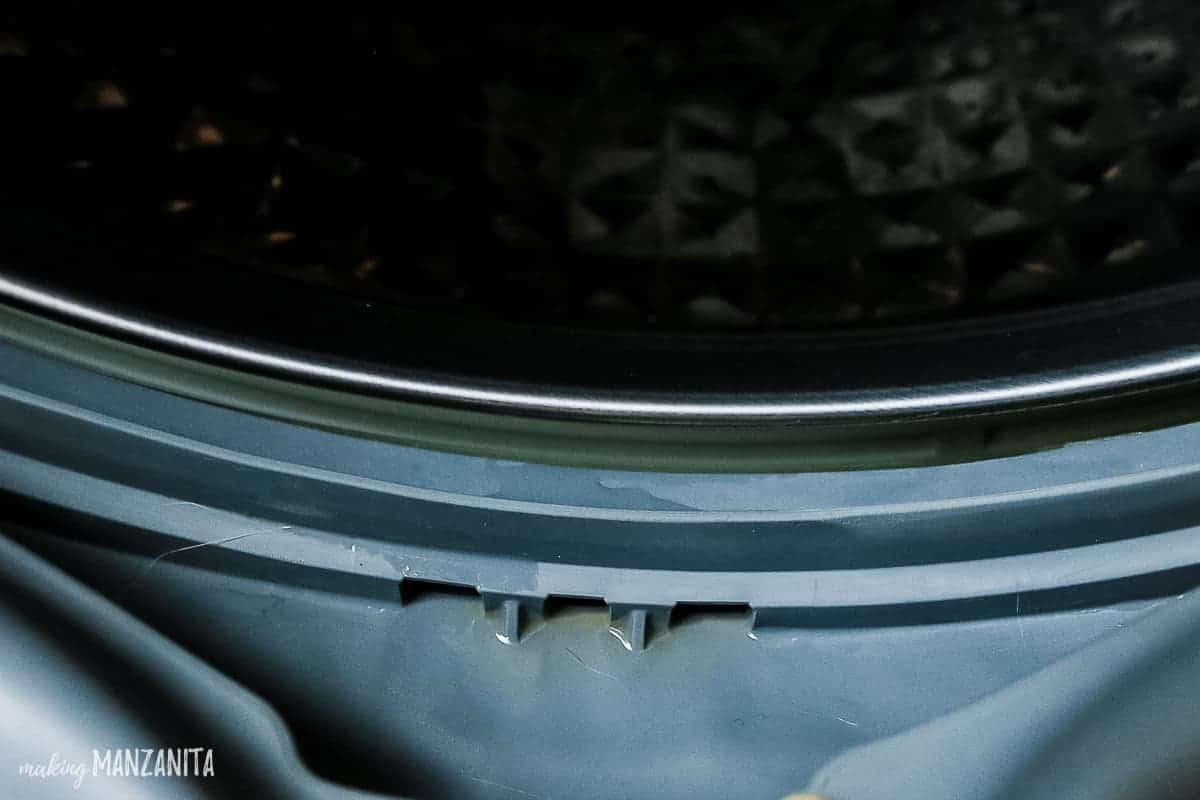 Cleaning your washing machine is a not so fun part of adulting, but if you stay on top of it, it shouldn't take long to get your front loading washing machine spic and span again! Armed with the awesome Persil laundry detergent and a super clean washing machine your clothes will finally being smelling fresh again!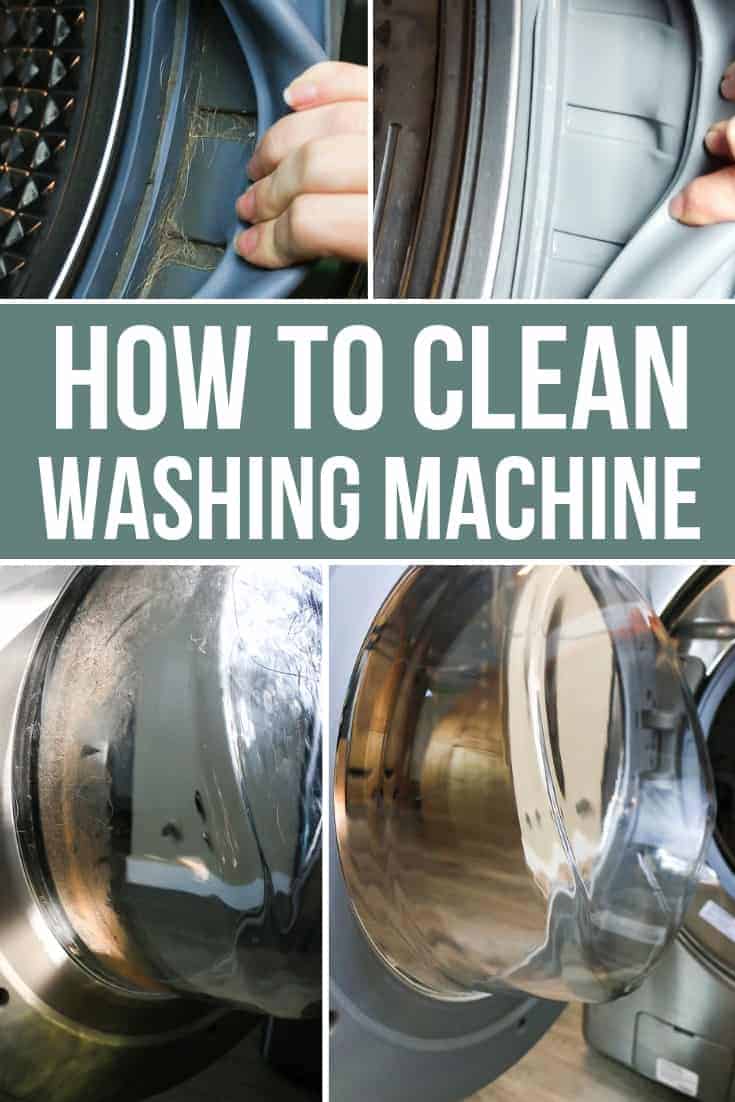 How often do you clean your washing machine?
Let me know in the comments below!